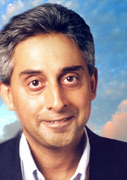 CROSSING A HALF CENTURY is an important milestone. So when NASA turned 50, the august space body celebrated in typically expansive style. It played The Beatles song "Across the Universe" and beamed the transmission in the direction of Polaris, the North Star. Polaris is 431 light years from Earth so it will be a while before anyone there gets to hear anything. Nevertheless, Yoko Ono declared this the beginning of a "new age". Disappointingly, NASA failed to also toss Ms Ono into space where she may have provided a useful sideshow to the lunar eclipse.
When I turned 50, I simply switched on the radio and listened to Bob Dylan's classic "Knocking on Heaven's Door". I did not think it wise to wait 431 light years. While the good people of Polaris wait interminably for Radio NASA to crank up the volume, things are happening faster here on planet Earth where business travel could be revolutionised with the advent of hypersonic jets.
Send us your Feedback / Letter to the Editor

Share This Page
Better known for their kabuki-slow inventions like cricket – in which grown men stand around on a field for five days, growing beards, squinting at the sun, and occasionally taking a break for tea – the Brits have finally come up with something a tad faster. A firm called Reaction Engines has come up with a design for an aircraft capable of flying at Mach 5 or five times the speed of sound. That's fast. Imagine your wife hollering for you to bathe the kids. In a jet like this you would be travelling five times faster than her voice. Ah freedom. Boss screaming again about spreadsheets and deadlines? No problem. You're literally ahead of the game.
Aboard a jet like this you would be travelling at five times the speed of your wife's voice. Ah freedom ...
The A2, as this potential streak in the sky is called, could fly from the UK to Australia in under five hours. Your shoes would still be in London as your eyeballs arrive in Sydney. And it could hop across the pond – this time from Hong Kong to New York – in about the same time. While we shall have to wait around 25 years for this privilege (a lot better than 431 light years), it is a device worth waiting for. The A2 hopes to carry 300 passengers and will run on clean burning liquid hydrogen producing no pollution at all.
All this for the price of normal business class, say its inventors. The only downside for those keen on tropical sunsets while they grope their companions will be the complete absence of windows though the outside view will be projected onto an interior screen.
Travellers to India will find things more sedate, if no less pollution-free, as TATA Motors works feverishly to produce a small car that runs on compressed air. Not gas, or petrol, or ethanol, but plain old-fashioned air. Luxembourg-based MDI's Air Car technology is a spin-off of French Formula One research and development. When it hits the road, this nifty taxi could trundle 300km on a single fill at speeds of up to 60kmh on compressed air, or 200kmh employing a combination fuel-and-air mode. Reassuringly, the literature says, "the car is made of foam and fibreglass but has survived official crash tests".
Everything in this green and clean vehicle is stuck together, with glue. You'll be glued to your seats when this breaks late 2008...
Compressed air is stored in Airbus designed fuel tanks. And how does everything hang together in this clean and green vehicle? With glue. That's right. The whole contraption is stuck together. "And how was your trip to the Taj?" "We were glued to our seats the entire way." Well, that's one way of restraining people without bothersome seatbelts. Even more novel is the inflatable car from XP Vehicles. It may debut in Asia late 2008 as the Niko, with a 600km range on a single charge of eco-friendly hydrogen batteries. Tight parking? Deflate the bonnet and squeeze in. The airbags used to construct this car use fabric similar to that used by NASA Mars probles.
Then for cruise aficionados there's hours, if not days, of joy pursuing the ancient art of kite flying. What do kites and ships have in common? Well, in the old days, ships used sails, those vast unfurlings of canvas to mop up every last whisper of air, even in the doldrums. Now a giant kite as large as a football field is being employed to help power a German freighter. This revolutionary concept is said to reduce emissions up to 50 percent in optimal conditions. SkySails, the company manufacturing these vast kites plans to rig up a few thousand ships. The kite-sails flutter about 1,000ft above sea level where air currents are faster and stronger.
Eventually, cruise ships shall be able to rendezvous on the high seas and challenge each other with daring kite-cutting manoeuvres. Move over Kite Runner, this is the real deal. Perhaps with improved technology and even bigger kites, these ships may actually fly, or parasail across the water. During the typhoon season, they may even get up to Mach 5. Who knows? Next time you're in the water, watch the skies for flying ships. If an airborne oil-tanker decides to plonk down unannounced, move your family away, fast, and place your mother-in-law at the spot marked X. Then roll the video.