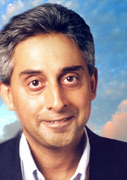 I STOOD there breathless. She sashayed up, looked at me through soft beseeching eyes and slipped away, the tinkling bells on her feet tracing her passage through the snow. My heart pounded in my ribcage. I would never see her again. It was now or never. Finally, the words wheezed out: "Let's get back to 9,000ft." My taxi driver nodded. The shaggy yak lumbered away, her bells still jingling, and we sped down from the oxygen-starved Khardung La pass billed as the "highest road in the world" at 18,380ft, to the more civilised elevation of Leh where, after a while, I was able to fill my lungs with something approaching air and walk six feet to the washroom without my head exploding.
My teenage son, at that critical age when kids finally string together one complete coherent sentence, seemed immune to the altitude. So we sallied forth and continued to bond – he with his MP3 player, and I with my bed. His sentence, when it arrived, was clear and to the point. "Chill dad," he said, in a weak attempt at restraint as I attempted to gather our things to raft the Indus.
Send us your Feedback / Letter to the Editor

Share This Page
The testy road that snakes up through the mountain ranges of Ladakh in north India, through shingle and snow-melt, crossing Khardung La to drop abruptly into Nubra and Shyok Valleys where two-humped Bactrian camels roam free – unmolested as yet by David Attenborough's prying lens – is high and treacherous, but by no means the most dangerous road in the world.
This lifeline of Bolivian commerce plunges 11,000ft, inscribing death-defying hairpins on a single lane road - with two-way traffic
That appellation goes to the tenuous groove along the Andes snaking from La Paz to the Amazon lowlands. This lifeline of Bolivian commerce plunges 11,000ft, inscribing death-defying hairpin bends on a single lane road that accommodates two-way traffic. So hazardous are some stretches that locals stand guard at the bends to direct traffic and prevent cars from colliding and taking the shortest route down, vertically.
If you are so inclined, get in touch with Gravity Tours (www.GravityBolivia.com) who will rig you up with a bicycle and then shadow you down the 64km route. This is not just for professional mountain bikers. Inexperienced cyclists are welcomed too by the irrepressible Kiwi operator who always ensures a bus follows at a safe distance, just in case pedal power and gravity fail to get the job done.
The road descends from the chill of the Andes to the steaming tropical jungle as you doff layers of clothing one by one. So how can you tell whether you're a suitable candidate for downhill gravity biking? Pull up your t-shirt. Lift up your tummy overhang, and let go. Did it drop? Well... seems gravity will work just fine on you.
Not too far from the remote Silk Road town of Xian, China, are the 72 jagged peaks of the 1,873m Mt Huashan (Flower Mountain, www.chinahighlights.com/xian). One of the five sacred Taoist mountains, and home to ancient schools of martial arts, this is an area of quiet contemplation and vigorous self discipline – well appreciated by snap-happy busloads of tourists who pack the swaying cable cars on their precarious run up to misty heights. Purists favour a narrow, vertiginous path clinging to the sheer cliffs made up of planks and iron chains to hold on to.
The illegal aliens end up in Stanley Prison, the alien fish, on restaurant tables. Take your pick.
If you don't fall off, the views at sunrise are stunning. This is equally true if you're still in Xian and part the curtains to behold factory roofs, belching buses and traffic jams. Xian has evolved into a proud industrial city rich in karaoke parlours, discos, and noisy malls. Presciently, the Qin emperor in 210BC moved the population underground. The impassive terracotta warriors deliver their verdict in The Mummy: Tomb Of The Dragon Emperor.
If you prefer an adrenaline rush at ground level, try the caminata nocturna in Mexico's Parque Eco Alberto, an evening stroll with the anticipation of whizzing bullets, overhead choppers, searchlights, megaphones and snapping dogs. Let your imagination flow. This tamer re-enactment of how Mexicans cross illegally into the USA is sponsored by the Hñahñu Indians on a reserve a few hours from Mexico City. As reality drama at its best, the caminata has drawn a few thousand local tourists who perhaps see this as a useful dry run before they make it to the CNN late news and a berth in California State Prison.
Of course you might simply race across the Sham Chun River from Shenzhen to Hong Kong for free. People do it all the time. Onlookers turn green with envy while would-be immigrants turn green navigating toxic waste and fish that have mutated into alien life forms. The illegal aliens end up in Stanley Prison, the alien fish, on restaurant tables. Take your pick.
If that doesn't leave your teenage kids breathless, throttle them.