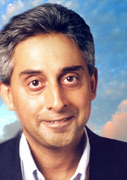 IT WAS A TENSE STANDOFF. Helmeted riot police, shields up, batons at the ready, facing milling angry crowds. Women screamed, fists flashed, the police dove for cover. In a familiar scene played out at flashpoints all over Asia, innocent passers-by caught in the spiralling violence, huddled, ran, and raised their hands high – to shoot it all in high definition video on their 3G mobile phones.
It's a high price to pay – anywhere from eight to ten mega pixels per click and we all know how expensive those SONY memory sticks are. The riot in question did not take place in Somalia, Iraq, Myanmar, or the Star Cruise buffet where blue-rinse grannies know a thing or two about elbow jabs. Nor did it happen in a final-sale melee at the mall amidst the merry soundtrack of lead-detectors pinging in the toys-from-China section. It was not Lehman investors racing to leap out of windows or pit bulls arguing over lipstick.
Send us your Feedback / Letter to the Editor

Share This Page
It occurred in sleepy Macau, on the beach. Well, I suppose if you must organise a riot, what better place than a beach in a UN "heritage" enclave that boasts a rich culture including a couple of churches – and more casinos than you can shake a stick at.
After one look at the unfolding drama - and a detailed study of the Macau GDP - the police baton charged the holidaymakers
Police closed in on the demonstrators, arresting the ringleaders. The issue? As one angry rioter explained, the tour guides took them to far "too many shops". The holidaying group from Hubei, China, was cajoled, bullied, and threatened into spending vast sums at gewgaw stalls. When the harried tourists enquired about the sights and refused to open their wallets further, they were abandoned on a beach and "locked out" of their coaches.
The police were called in. After one look at the unfolding drama – and a detailed study of the Macau GNP – they decided, rightly, in favour of the tour guides and baton charged the protestors. Flushed and angry, the guides complained that the group had spent too little. Capitalism will not be denied.
These are not isolated incidents. In mid-October 2006 a small tour group from Qinghai was abandoned, this time in Hong Kong. The crime? Not enough money spent on souvenirs. If there is one thing Honkongers hate, it is tightwad visitors from China who spend a per capita HK$5,600 – compared with say HK$4,500 for Taiwanese or HK$4,900 for Europeans – and then refuse to fork out a little more on a fake-jade bracelet to ensure that Hong Kong's prosperity and the frightfully important One Country Two Systems survives.
If the One Country Two Systems goes, with it will collapse Western hopes of a more democratic Hong Kong where tour guides are free to smack around not just Chinese tourists but South Asians, Japanese, Americans, Mexicans and pandas. For now, the One Beach Many Beatings policy appears to be having the desired effect albeit with a few holdouts and the occasional bleeding heart malarkey.
Buy more cheap t-shirts and fake watches - it's the only way to save Wall Street, home owners, Lehman, and our planet
In my callow youth I embarked on the Mother of all Journeys – a ten-day European romp with coach specialists Cosmos. I have to confess that my journeys with my mother paled against this experience. We set off from a small town in the Netherlands. The English tour guide, having just been dumped by an Italian boyfriend yet still completely besotted by things Neapolitan, was irked to discover my majestically Mafiosi name – Verghese – was irrevocably South Indian.
She sulked, sat me at the back of the bus, demanded extra money from the group for every side trip, refused to stop the coach for toilet breaks and packed in ever more shops and cheese factories where she picked up her commissions. And then the worm turned. One bizarre evening at Tivoli we finally said no to shops and souvenirs, and hijacked the bus to Piazza Navona and Rome's more memorable sights. The driver was only too happy to oblige. Had we been beaten back into the shops by riot police perhaps the Italian economy would not have arrived at its current parlous state.
Hong Kong's so-called "zero-charge" tour excursions where the guide nobly refuses a salary to pick up a commission on sales is a salute to Adam Smith.
CCTV reporter Sun Jing joined a Hong Kong tour in Shenzhen but was not allowed to video proceedings. A tour guide berated the group and informed them that the rule was simple: "No photographs. No videos. This includes the scenery outside." Hong Kong people were described as "very private". A shill who joined the group in Hong Kong then enticed the unwary into some doubtful purchases, with some items later proven to be fakes. The reporter managed to capture some footage but was evicted from the tour. Amazingly, the tour guide DID NOT DRIVE THEM TO THE BEACH FOR A BEATING. Perhaps traffic was bad.
Next time you tour, just shut up, sit back, and shop. Learn a thing or two from the guides. These are the real modern heroes. As Wall Street melts down, get some lipstick and a hockey stick and head out into the big bad world. It's a pig's breakfast out there. Buy more cheap t-shirts and fake watches. It's the only way to save Wall Street, home owners, Lehman, and our planet.