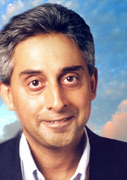 THERE IS NO FREE LUNCH. This is simply Growing Up 101. If you "borrowed" groceries, chocolate, books or more from the neighbourhood store your mother would likely ask, "Do you want a slap?" This is not a wise question to ask a kid. "No thanks ma, not today. I'm off to bully my kid brother. Ciao." Babies' botties have been smacked for less, and this, as anyone who has changed a diaper will attest, is a foolhardy act. Soiled nappies are borderline WMD, the one thing UN inspectors failed to look for in Iraq. Someone please add them to the airport hazardous carry-on list along with Scud missiles and nail-clippers.
Send us your Feedback / Letter to the Editor

Share This Page

Nothing is free, unless you happen to be a banker at the receiving end of a US$700 billion bailout. It may seem unfair, but bankers do stuff that Average Joe – including the plumber – cannot. They are trained professionals, from ivy-league institutions, with a 4.0 grade point average and a double PhD that enables them to handle global finance meltdowns in brilliant and creative ways – go to the office, take the elevator up, and jump out of a window.

Once all the seats have been cleared out of the cabin, the airline can pack in more passengers, standing only, commuter train style ...

Nothing in life is free. But then there's AirAsia. Not content with low fares, this spunky budget airline has done away with tickets altogether and is giving away 500,000 free seats from 22 June to 24 October, 2009. This is a smart move. Once all the seats are cleared out of the cabin, passengers will have to stand, as in commuter trains, thus enabling the airline to cram in ever more people and live up to the cheerful claim, "Now everyone can fly."

Perhaps a sultry stewardess in a red uniform will be sent to your house bearing an aircraft seat or two. No, wait. Here you actually GET TO FLY FREE. The airline also announced in early November 2008 that it was scrapping the fuel surcharge, levying just the airport tax and administrative fees. This provoked howls, and rightly, from Tiger Airways, which has never passed on any burden of fuel surcharge to its customers. Nor has Pan Am, which presciently stopped flying in 1991.

The riposte from Malaysia Airlines was quick. They launched their "all inclusive low fares" with prices starting at a barrel-scraping RM73 (KL-Penang). Yes, fly Kuala Lumpur to Beijing for RM972 and KL-Los Angeles for a trifling RM2,278, inclusive of fuel surcharge, airport tax, insurance levy and administration fees. In real terms, given the state of the global economy and other key indicators like US debt, falling gold prices, and the refusal by banks to accept my nose-hair as collateral, this is practically FREE.

It's a lot better than arriving late for an overbooked flight, and hoping to get a free flight voucher. But it can happen. Airlines routinely overbook by up to 20 or 30 percent based on their no-show statistics. When all the people actually do show up, confounding trends and maddening airline nerds, the flights fill up early, enabling those who arrived late but within the legitimate check-in time, to wring their hands at the counter, demanding justice.

These accidental tourists get paid US$700-$1,000 per person to disembark and catch a flight the next day...

If you have perfected this arcane art, you are perhaps also familiar with the "Sure-I'll-Get-Off-In-Ouagadougou" ploy that can magic up a quick holiday and leave you with some spare change to boot. Flights transiting, say, Tokyo, sometimes find the onward sector overbooked and ask for on-board "volunteers" willing to disembark for a day with a cash handout and hotel accommodation. These accidental tourists get paid US$700-$1,000 per person to vacate their seat and catch the next day's flight. Add it up for a family of four and the dollar signs start flashing in dad's eyes. Of course, they could volunteer again. And again. "Sorry son, looks like you'll have to learn Japanese." "Aw shucks dad!" "DO YOU WANT A SLAP?"

Other airlines have been giving away stuff free too. Festive handouts have included a Frisbee from the then bankrupt Sabena – to encourage in-flight exercise and put an end to deep vein thrombosis – and postcards from Mongolian Airlines featuring traditional dances, with the riveting caption, "Old, white-haired man reaches orgasm."

I did win a free flight once as a door prize. On Royal Nepal Airlines. At Kathmandu Airport, my name was ceremoniously announced. I made my way out of the aircraft cabin to see people scurrying up with garlands and popping cameras. Ah, the inevitable PR photo op. "Photograph?" I beamed. "No. This free ticket. You are offloaded." The approaching VIP waved to the press, looked at me, and shook his head, as he claimed my seat.

Thus, inspired and perhaps more than a little inebriated, Dancing Wolf Media will be organising a great seat giveaway for Christmas. You can pick any seat you like – they're blue, bent, and broken. No charge. Or you can jump out of our window. HAPPY CHRISTMAS.