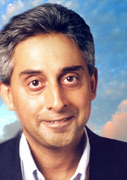 OKAY I'LL FESS UP. I'm into S&M. Spaniards and Mexicans that is. Unfortunately they don't seem to be travelling. At least not to Asia. Americans are too busy watching banks and home mortgages disappear to ponder the mechanics of fitting a size-40 butt into a 17-inch airline seat. The Chinese are far from bullish about the Year of the Ox and a visa-limiting Great Moral Leap Forward has crimped carousing casinos across the border in Macau.
Great Britain has ground to a halt as Brown mumbles and fumbles and Blair forlornly wanders the Middle East, a phantom punctuation mark, always right at the end of something. What thing? No matter. It bodes ill for the travel industry when the only seeming Scots around have names like Jagdeep Singh – at the Mumbai call centre.
Send us your Feedback / Letter to the Editor

Share This Page
Hotels and airlines are emptying out. Rooms in Bangkok can be had for a song and busy airline routes now offer all the legroom you need as you gratefully flop across the unoccupied middle row to enjoy the only true "flat-bed" sleep in economy. It's not all bad then is it? No toilet queues, no wildebeest stampedes as the movie ends and the biological imperative kicks in, no fight for the best restaurant tables, no cover charges, no black ties, no snobs, simpletons or scallywags getting in the way.
It's not in the Bible, but this feel-good exercise will possibly save you from DVT and help build a young child's character ...
The world is suddenly resoundingly empty and travel is what it really should be, a genteel life-changing experience. During the in-flight movie, simply grab any noisy brat running down the aisle to administer a sound pummelling in the dark before ejecting the subject, quietened and enlightened, in the opposite aisle. It's not in the Bible, but you get feel-good exercise that will potentially save you from DVT while at the same time helping build a child's character.
I just flew back on Cathay Pacific from New Delhi. Crew beamed, scurried about busily and even smiled at burly, bearded Sikhs intent on rummaging through the overhead bin during take-off and every time the fasten-seatbelt sign came on. That's what empty seats do. A few kids wailed but it was not dark enough for me to welcome any to my four-seat D-E-F-G gym for disturbed children. Their parents didn't gape at Everest regally panning past, or watch the movies. They kept staring at me. Dagnabbit.
So are empty hotels and airlines a good thing? The answer unfortunately is, no. Diminishing custom makes for an atrophied product and cut corners – like less sausage in the breakfast buffet, fewer bed turndowns, and higher fees for incidentals like currency exchange, telephone calls and the Internet. As in any business, hotels and airlines need constant reinvestment to upgrade product and services to woo travellers. All this comes from the collective travel pocket.
So how does the travel industry go about winning new custom? Clearly it needs to advertise to get the message out. This is easier said than done with limited funds, and TV and print advertising rates that would make a nabob blush. The problem with much of print media is while few people are reading it – many having made the smart migration to the Web – advertisers are made to pay a pretty penny for the few that are. The bulk of magazines today are to be found in empty hotel rooms, dentist clinics, and even at Toys "R" Us (we can't do the dyslexic R, sorry) because no one is buying them.
In advertising terms it is the equivalent of marketing DVT. Full stop. Now, with less to spend, hotels and airlines are finally looking at doing something smart and migrating online along with all those travellers, readers and information junkies. They hope people like YOU will see their brand and perhaps, just perhaps, put them in their Thousand-Things-To-Do-Before-I-Die-And-Discover-God-Is-A-Smart-Intel-Chip list. Print will never go out of fashion. It is simply going through a midlife crisis and will take a while to re-emerge, slimmer and hopefully better.
Meanwhile the world is on the Net. And rightly. Information travels at the speed of light and travellers want to be at the fast end of the wave.
It's not just the intrusive booking engines and bewildering best-price deals that hotels must push. It is the brand message...
It's not just the booking engines and best-price deals that hotels must push. It is the BRAND MESSAGE. The Internet is awash with cut-price offers. But RESEARCH always comes before RETAIL. It's common sense. You read a review before buying a laptop. You don't simply buy the cheapest. Why? Because your Baywatch Babes folder will disappear into the ether when the disc crashes. There's no value in offering 50 percent off if no one knows who you are. After all, a no-star scag-house and a five-star boutique hotel can look just as sassy and similar online. Who's to know? You have to be seen – and in the right places – to be sold.
This is what an Internet magazine like ours is all about – getting a credible message across to a genuine and receptive audience. As one reader commented, "I like your magazine. Please send me your member at once." Absolutely not. Our task is helping people find and compare brands. Not with the bewildering, random anything-goes of a hotel review site where there may be 200 rave reviews and 20 really perverse ones including a disturbing aside about Baby Ben falling off the balcony and cracking his skull. Would you stay there? At the end of this exhaustive research the traveller is no better off, supremely unable to distinguish between a genuine reader report, blackmail, and a professional hachet job.
And that's just the reviews for one hotel. How do travellers find new and unique offerings? Hotel websites all claim they are the best centrally located designer boutique rustic chic option since perhaps that Bethlehem stable. Fitness centres are all state-of-the-art with nary a Rembrandt in sight. Maybe they are.
We use a dispassionate journalistic yardstick to examine events and products. Offer us a freebie at a posh spa resort and, you guessed it, we'll go red in the face – with the rays – and linger on for days, weeks, months, judging every nuance, sniffing every aroma, savouring every chocolate, begging the general manager to let us stay a wee bit longer. "Would this room be available from 3pm this afternoon for, say, the rest of my life?" Truth is we pay our way. And honest travel writing is a sweaty, gritty business, a far cry from the romance of celluloid. We'll tell you the beach is superlative but it has rocks at low tide. Bad spot for your kids to swim. Excellent spot for your mother-in-law to dive in for photo-ops.
We shall continue to seek the best in travel for our readers – over a million now – in this plodding Year of the Ox. If, on the other hand, you are a noisy, pre-pubescent, frequent traveller aisle-runner, do try out our D-E-F-G Club. It's free.