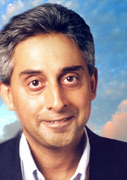 I AM ALL FOR STRAIGHT TALK, especially when it comes to airline security. So when I hear FAA experts talk about detecting "rare malfeasance" I nod my head. I think my grandmother died of that. They're clamping down on everything these days – nail-clippers, liquids, chainsaws, inflatable dolls, Cat Stevens, and even DVT, but not John Grisham. Well I, for one, would take DVT over Grisham, if it's SONY.
I recently came across a very compelling article that concluded, "Strong profiling is not mathematically optimal for discovering rare malfeasors". Sounds good to me. It compelled me to find a large dictionary and hit myself over the head, repeatedly. Unbeknownst to the humble Webster's Unabridged Dictionary, a hernia-popping tome of 2,230 pages, a "malfeasor" is commonly dark-skinned, turbaned, and Arabic-speaking, intent on blowing up a plane to get hold of some women and wine, when a budget flight to Las Vegas would get the job done with a lot less fuss. That's around 320 million people from Morocco to Oman.
Send us your Feedback / Letter to the Editor

Share This Page
A broader "malfeasor profile" might extend to all non-whites. That's around five billion people. It could also include those who simply look suspicious (Godzilla, Fidel Castro on his deathbed, or Donald Trump on a good hair day), and those who are acting suspiciously (pretty much everyone in Los Angeles, bankers, Fidel Castro on his deathbed, giant pandas who don't wish to mate in front of CNN cameras, and my son when he wants to borrow the car). Understandably, airport security is on high alert and air travellers everywhere are thumbing through fat dictionaries.
When I fly to the US, I get treated like a VIP. I get profiled. I'm not sure if it's TIME magazine but men in uniform fuss all over me ...
When I fly to the US, I get treated like a VIP. "You've been profiled, sir," the lady beams. "Great. Who by? TIME magazine?" It certainly beats standing in the queue for "aliens" wondering if you're headed to New York or Mars. Some lucky people have their clothes removed and get a massage by a uniformed official. Ask them to rub the soles of your feet. Airport spa treatments include reflexology. Doing things by reflex. Without thinking. Like using electric cattle prods to help you remember your flight number. It makes airports more secure because people who have been zapped by a Taser are statistically more likely to smile, even if it's just a death rictus. And who's to complain? I'd rather enjoy some good old-fashioned pampering than catch my flight.
Recently I had a sinus flare-up that coincided with a throbbing tooth in dire need of a root canal. Both converged for a wicked romp around my left maxillary cavity. Within a day my face had swollen up like a football. Fearing terminal "rare malfeasance" I took my baboon face to the dentist who was sufficiently alarmed to inject me with a gallon of antibiotic. I emerged wreathed in amoxicillin fumes, burped, and immediately cured a man standing next to me. Later, I resolved bird flu and SARS – if not bad manners – by simply heading into Hong Kong's peak hour MTR crush.
New profiling methods are being developed by the day. The latest is "square root biased sampling". Right. Umm. No matter what the technique, people are being bumped off flights for the slightest perceived infraction. In January 2009 a family of nine Muslim Americans was offloaded from an AirTran flight at Washington's Ronald Reagan Airport because passengers felt they were "talking suspiciously". Atif Irfan, a lawyer, says they were simply joking about finding the "safest' seats on the plane. FBI agents scrambled to quiz them quickly realised their gaffe, apologised, and sent them to Orlando on a US Airways flight (AirTran refused to accommodate the group on a later service). Unsurprisingly, AirTrans, a low-cost carrier for business travellers who refuse to mind their own business, is not among the great airlines of the world.
They could have been plotting anything from a spicy spinach dinner to variations on the achromatic scale, terrifying for some ...
Apparently US Airways had learned its lesson. On 15 November, 2008 one of their pilots offloaded three Indian Sikh musicians in Sacramento, flatly refusing to fly if they remained onboard. Perhaps he preferred Beyonce to religious chants. Maybe the trio were indeed guilty of "rare malfeasance" (occasional terrorism). They were dark, turbaned, and spoke a foreign language. They could have been plotting anything, from a spicy spinach dinner to variations on the achromatic scale, terrifying enough for some.
The problem is ignorance. No one knows the difference between a pacifist Sikh, a proud Afghan, and a full-blown nut. The FAA doesn't even know my birthday. Timothy McVeigh, the Oklahoma Bomber, didn't wear a turban. At the end of the day, it is not Muslims vs the World. It is not East vs West, or the Crusades all over again. It is a great many of US against a few but vocal THEM.
There's only one way to save the world. I feel a messianic moment coming on. That antibiotic stew is working up a good head of steam. Time to head for the airport. Did I hear someone sneeze? Burp. Peace be with you fellow travellers.