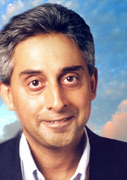 THERE's a certain je ne sais quoi about Thai women, a fatal attraction. She looked at me. I looked at her. "Here?" "Yes", she sighed without dropping her gaze, "again". She looked at me, incontinently. Flushed, I whipped off my belt and my shoes, savouring the moment. It was a frenzy of undressing. I removed my wallet, watch and jacket, and walked through the security scanner once more as my flight was called.
It's all worth it. From Thailand to India, the splendidly old-fashioned Great Holiday Sale is on in earnest. No catches, just bargain basement prices. And now the feisty yellow-shirt Thai government – once again besieged by protesting red shirts – has announced 50 percent off on stays at about 500 "blue" hotels around the country. This is a nation of colourful metaphors and colourful exchanges. It should make other more stingy Asian countries green with envy.
Send us your Feedback / Letter to the Editor

Share This Page
Less enviable was the Bangkok traffic gridlock with tailbacks halfway to the airport as pro-Thaksin demonstrators surrounded government house, and hollow-eyed commuters were once again left to grapple with mounting Weltshmerz, déjà vu, and tweeting traffic policemen, in no particular order.
It was so cheap, I simply collapsed, wordless, on a plank bench, and ate. Such is the power of competitive pricing ...
I considered my tight travel allowance and pondered that eternal question. Should I buy an ice cream, or Iceland? An exquisite quandary this. Instead, consumed by a fit of sartorial megalomania, I bought a Dunhill tie on deep discount for Bt2,600. This was still far more than my room at the excellent Courtyard Bangkok. And it is this sort of anomaly that has accountants everywhere looking for a piece of rope and a sturdy overhead beam.
In neighbouring Malaysia more enticements awaited. So while the new AIG CEO Edward Liddy faced the full vitriol of the US Congress and global opprobrium over US$165m in bonuses to the team that has turned his once proud company into a rubbish tip, I savoured a dosa (South Indian rice pancake) in Penang for the astonishing sum of RM1. I was miffed. This works out to about a billion Zimbabwean dollars (leaving aside the small matter of two million percent inflation). Still, in terms of real money, this is just HK$2 or US$0.25. I calmed down. It was so cheap, I simply collapsed, wordless, on a plank bench and ate. I had already consumed a stupefying curry dinner. But such is the power of competitive pricing. I ate, and ate, and ate.
Elsewhere on the island, at Fatty Loh Chicken Rice, sweating diners clawed through generous portions of aromatic Hainan chicken at just RM3.50 per serving. At the Batu Ferringhi night market, Rolex Oysters of doubtful parentage were changing hands for RM85 and complex BVLGARI watches with enough dials for a Mars mission, at about twice that, perhaps on account of the fact no one can pronounce the name. "Sure, I'll buy Bulgaria for RM160." It's a steal.
The moral of our times is, get rid of toxic assets and travel. I own some toxic assets. These include unwashed underwear and strange green things in the deepest recesses of my refrigerator that are so far past their sell-by date that they have mutated into intelligent life forms. I have broccoli that is on the verge of talking. When it does, I'll take it out on a date. There's nothing wrong with the queen of green.
Be a masochist and demand every possible restriction including the three nons – non-reroutable, non-endorsable and non-refundable
Yet, to extract the best deals when you travel, a few time-honoured maxims still apply. Don't fly direct. An indirect routing is cheaper. Why? Because it is inconvenient. You pay for convenience. Instead of flying Hong Kong-Hanoi for example, do Hong Kong-Bangkok-Hanoi-HK. This once cardinal rule of scrounger schlock travel has, however, come in for bruising with rampant fuel surcharges sometimes eliminating the more attractive price differential on longer indirect routings. Still, it is a sound principle.
Do shop for non-mileage tickets. Your frequent flier balance will atrophy but your actual travelled miles, and holiday smiles, will grow exponentially. Don't buy flexible fare tickets. Be a masochist and ask them to hit you with every possible restriction including the dreaded three-nons – non-reroutable, non-refundable, and non-endorsable. How much more inconvenient than that can it get? Well, to add agony to angst, don't pick flights between the convenient hours of 9am and 6pm and do plan your trip well in advance – at least 21 days – with an Apex (Advance Purchase Excursion) fare.
Weekday flights favoured by frequent travelling businessmen tend to be dearer than weekend hops. And tickets bought in countries with weak currencies are ofttimes cheaper. Discerning travellers might buy multi-sector coupons in places as far afield as Jakarta, Kathmandu or Buenos Aires. Maybe it's time to head to Harare. Or try Ouagadougou. My broccoli and I shall be off soon on a dirt-cheap dirty weekend. I'm waiting for her to say, "I do".