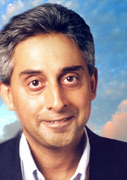 HONG KONG WOMEN have a way with words. Thus when after some careful thought my dinner companion informed me I had "good knees", I blushed and sat back, awaiting further compliments. My fibula and ulna are modest but worthy veterans too of my 50-odd years. I like women who appreciate bone structure. There's a rude honesty about romance cut to the bone. I wanted to tell her I've had something at the back of my mind for a long time, a medulla oblongata, but I kept this to myself. I recalled a secretary who had wept while leaving the company. "You are an octopus," she told me. I wondered if this was somehow related to my knees.
In the Fragrant Harbour where persistent smog makes it hard to read – or see – people, conversations take on a quixotic hue. Like the phone technician who called to inform me he was on the way. "I am your engine," he announced, bluntly. Perhaps he too was a multi-tasking octopus gifted with "good knees", or goodness. Now a new sign in my residence lift reads, "Please do not throw garbage into stool in order to maintain high personal virtue." Thus in the pursuit of high personal virtue I set out to virtuously re-examine the subject of carbon offsetting and the general reduction of emissions that are dooming our plant.
Send us your Feedback / Letter to the Editor

Share This Page
There's not much we can do about culling sheep in New Zealand, at least not with love-struck Kiwi farmers chasing them through that breathtaking Lord of the Rings countryside with wedding rings in their hands and mischief in their hearts. It would be heartless. It would also be a terrible blow to science. Joining the North Korean space race, China, Brazil, Australia and Africa probably generate enough bovine flatulence to float off into the Milky Way without any assist. India is overrun by sacred cows. Life's a gas. So much so, the Rashtriya Swayamsevak Sangh (RSS) a doctrinaire group intent on ridding India of foreign influences hopes to challenge the cult of cola by developing a soft drink manufactured from cow urine. How's that for recycling?
Animal methane is a far more potent greenhouse agent than carbon dioxide and livestock generate more gas than the transport industry
Animal methane is a far more potent greenhouse agent than carbon dioxide. And livestock generate more gas than the entire global transport industry. Hook these critters up to a gas pipeline somebody. Then forget about Iraq. At the end of the day, carbon reduction begins at home. Eat less red bean. But you'll also have to cut down on broccoli, Brussels sprouts, turnips, prunes, bananas, carrots, milk, cheese, beer and eggplant. Yes, do keep unnecessary lights and appliances off.
The greening of our planet continues. Earth Hour was celebrated on 28 March with much fanfare and publicity. Good citizens everywhere turned out the lights, for a full sixty minutes. In India, Philippines, Bangladesh, and Africa, Earth Hour/Day/Month/Year/Life has been celebrated since the dawn of time, albeit with fewer newspaper headlines. In these countries, eco-friendly governments ensure the lights are permanently out and development dollars go into deep bureaucratic pockets untouched by global recession. No electricity means zero guilt. It has the First World in a tizzy trying to catch up as cities from Chicago and Sydney tickle the light switches in a frisson of romantic fervour, impatiently waiting for American Idol to flicker back on the TV. Lack of electricity may have a father-to-be in a bind as his wife starts delivering quintuplets – all suspiciously resembling the postman – in the dark, but it's saving the world, and perhaps a few marriages.
Incredibly, the world's consumerist capital Hong Kong recently celebrated a "carbon-neutral wedding" (www.carboncareasia.com), zany but true, like the "Y2K compliant" sofa I had the honour to sit upon at the Hong Kong Adventist Hospital in 2001. After emissions for the small-footprint wedding had been calculated (not counting the fizzy champagne), guests purchased carbon credits in renewable energy projects.
As many as 35.5 percent of readers think carbon offsets are a useful initiative while 41 percent believe the whole idea is a gimmick...
Carbon offsets are calculated in VER or Verified Emissions Reduction. The idea is to invest in VERs to encourage decreased or clean emission projects. One VER is the equivalent of one ton of carbon dioxide eliminated from the air you breathe.
Hedonistic hideaway Six Senses has coined a new "Slow Life" mantra. Stay at Zighy Bay Oman, for example, and spend four hours each day – during the complimentary part of your stay – building village homes. This could make the Sultanate of Oman the most urbanised country in the Middle East as do-gooders turn a peaceful desert into a gridlocked Manhattan. "Here's a new home for you Mustafa." "Please you go home Yankee. I gotta ten home already... and where I park my camel? Who pay my property tax?"
In a March 2008 "Smart poll" at SmartTravelAsia.com we asked readers what they thought of carbon offset schemes. As many as 35.5 percent believed them to be a useful initiative, a more significant 41 percent felt the whole idea was a gimmick, and 21.9 percent didn't have a clue. There's a long way to go. To find out for yourself, why not invest in a VER? Or you could invest in one VERGHESE. This unique bio-experiment involves funding, fostering and feeding me, and keeping my kitchen clean, a very green initiative. In fact some of my walls are green, with fungus, but it's a start.