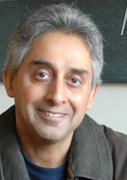 THE SECURITY GUARDS ran towards me, gesticulating. Onlookers stepped back, horrified. I had been caught in flagrante delicto. Red-handed. It was no use trying to talk my way out of it. I tried to button up and looked ashamedly at my hands. What a putz. Was that hair on the palms? For a moment, I wondered what my mother would say when she found out. Might I, like Pee Wee Herman, end up flashed across merciless acres of newsprint, another victim of sixty point Bodoni Bold? No, I wouldn't make the news. There are no newspapers in Hong Kong. At least not anything that actually carries news – as opposed to wraparound Gucci covers. And who reads print these days? They're all online Googling teen models. My chutzpah returned and I smiled at the first onrushing guard. "Yes?"
"You no take pictures here," he barked. I clicked shut the camera case and walked out of Pacific Place mall, my pictures secure in the inscrutable 10 megapixel Japanese bowels of my Nikon D200. The guard was right to fuss. Amateur snapping is outright dangerous. Governments the world over have fallen with sensitive photographs mysteriously leaked to the press. Later, at home, with the doors firmly locked and the curtains drawn, I marvelled at the lethal power of the scenes I had captured. It was shocking – grainy images of escalators, squalling infants, and out-of-focus shop windows. While not displaying the same level of artistry as Edison Chen and his friends or an uncut Paris Hilton video, these images would surely spell the end of Hong Kong and, most certainly, my own photographic career.
Send us your Feedback / Letter to the Editor

Share This Page
What is it about cameras that turns inane weekend picture-taking into an undercover CIA mission as you try to take a decent snap without being hauled before a judge for having compromised civilisation? Try clicking holiday shots at a mall, an airport or a hotel and, unless you're a sixteen-year-old in a low-cut dress smiling vacuously and flashing a V sign, the odds are there's a serious tackle a-coming.
You can virtually try on a dress, pose in 3D, take a screen shot and send it to the the G20 heads, or your tailor in China...
Designer labels want you to love their products. They pay through their noses for catwalk extravaganzas and fashion spreads in glossy magazines where their models and latest cuts are displayed from every angle. The same outfits are available for view and purchase on their own websites and in online stores. You can "virtually" try on a dress, view it in 3D, change colours, take a screen shot, and e-mail it to the heads of the G20 – or your tailor across the border in China – but you cannot walk into a shop and bare a naked camera lens.
In Kuala Lumpur a little security man with a big mission stopped me on the street, outside the Pavilion mall. "No picture." "Why not? This is public space." I pointed the camera at the security man. He smiled and posed. Later he wanted to see how his portrait had turned out.
At 30,000ft above Ladakh, atop the glorious canvas of the Himalayas, I was warned against taking photographs. Orbiting satellites with unimaginably sophisticated technology and lenses can detect every time a shaggy yak has a lascivious thought and count every hair on its back but you cannot capture on film what every schoolboy sees in any modern atlas every day in geography class – a mountain range that has been mapped, climbed, venerated, photographed and painted for eons.
In Bali at a posh spa resort up in Ubud a security guard slammed a giant palm against my lens. "No pictures." In Hong Kong a glamorous PR lady escorted me on a hotel tour and then paled when I took out my camera. "No pictures," she said, "it's our policy." What policy is that? The conventional bromide is that hotels protect their "brand' through careful control and dissemination of "approved" high quality images. It sets the tone. Any other angles – especially yours – are verboten. This is one reason why thoroughbred hotel shots in glossy magazines the world over are pretty, posed, perfect, and excruciatingly dull. Like temples and museums, if you've seen one room shot, you've seen them all.
Having driven for several hours to get to Ubud I asked the manager what the fuss was about? No pictures, he said. Company policy.
Pictures come to life when people walk into situations, moods, and light, and capture it on film, or disk, spontaneously. That's what enlivens any image. And the best photography is often flawed. Because it reflects life as it is.
Having driven several hours to get to Ubud for a story and with one eye on the rapidly setting sun, I asked the general manager at the Begawan Giri (in the days before it became a COMO) what the fuss was all about? It was just a camera. Not an AK-47. Surely hotel guests could take pictures. Yes they could. So why couldn't professional journalists take pictures? "Company policy." At the end of this palaver my colleagues and I headed for the restaurant. "Do you have reservations, sir?" "We have serious reservations."
If I meet that general manager again, I'll show him all my blurred pictures of Pacific Place mall. On the other hand, maybe I'll just send these to Beijing, one a day, until Hong Kong gets an elected government. Never underestimate the power of photography.