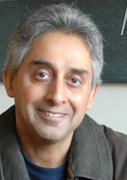 CYCLING IN HONG KONG is plain nuts. Ask anyone. Forget wind in your hair and dew on your lips. Think grit in your teeth and a ten-wheel lorry in your face. Bicycles are stupid, impractical, an unimaginable folly in a city of tormented traffic and vertiginous vistas. Thus when I walked into Lane Crawford, raked bare by appraising looks from black-uniformed staff, and saw the eyebrow exercising price tag on a new folding bicycle, I struggled to remain upright. "Eight thousand dollars?" The salesman nodded impassively. My friends choked.
Of course this was only Hong Kong dollars, and the Strida bike was a classic racing-green beauty, a date magnet with a well-sprung hand-crafted tan leather seat and features like a greaseless NASA-proven Kevlar drive belt that could run for 50,000 miles, long after your knees and hip sockets had come apart, and about three millennia after global warming had ended life as we know it on our planet. Future alien visitors might marvel at my Strida fossil and conclude that humans were amazingly advanced. "I like the green human with retracting limbs. But what's that gross thing next to it with missing teeth, grey hair and a Hawaii shirt? Some kind of primitive transport?"
Send us your Feedback / Letter to the Editor

Share This Page
Then there was that rustproof aluminium tubing that folded in five seconds flat with a snap and a click, and colour-matched rubber fenders for the tyres. It was the machine equivalent of Julia Roberts on steroids. I could feel the wind in my hair...
My friends frogmarched me out of the shop. I had to agree. A cycle? In Hong Kong? Outrageous!
This bike features a NASA-proven Kevlar belt that can run for 50,000 miles, long after your knees and hip sockets have come apart
The more I thought about it, the more absurd it sounded. Which marketing genius had dreamed up this twaddle? I decided to get to the bottom of the matter and there was only one way to do this. I dumped my friends, and returned the next day, 30 minutes before the store closed. The pressure was on. Twenty-nine minutes to self destruct. I sat on the Strida. It was brutally uncomfortable. Five jolting minutes on this saddle would permanently forestall any dreams of future fatherhood.
Could I ride it? Staff shook their heads. Did it have gears? No. Could it handle slopes? No. So what was the point? "Are you sure this thing folds in five seconds?" YES. "It's easy to carry?" YES. I tried to hoick it up. It was impossible. I tried again. But there were three salesmen holding me down. There is one cardinal rule in a china shop – no riding, carrying, or tossing folding bikes. And before anyone could say antidisestablishmentarianism (which, in Hong Kong, might take two generations), I broke the impasse. It was clearly a ridiculous idea. "I'll take it," I said. After all, it was my 53rd birthday. And a lot cheaper than a Porsche and a mistress in Paris.
I've had a long love affair with bicycles. More correctly, I've had a few short love affairs on a bicycle. A proud Gandhian, my father quite early on liberated me from the mindless monotony of the motorcar and sent me off to meet lady friends, if not my Maker, on a bicycle. It was character building he told my mother, the perfect preoccupation for a hormone-ravaged schoolboy. In New Delhi's quotidian Armageddon where belching buses (some set alight by rampaging students), elephants, cows, cars, horse carriages and careening lorries duelled it out on potholed roads, pedal-power was a noble pursuit, almost as environmentally unburdensome as harakiri. It was nature's way. The survival of the fittest. Watching me wobble up drenched in sweat, my lady friends instinctively knew in some Darwinian way, I was an Alpha Male, the chosen one, born to procreate – as soon as possible, before the exertion killed me. It caused a flutter in their hearts and a lightness of foot that caused them to stampede in the opposite direction.
It's the first time in 25 years in Hong Kong that a neighbour has made spontaneous contact, and not about the music volume
My Strida arrived and my heart sang. Perhaps it was the strain of trying to unfold it. I pressed, pulled, twisted, yanked, pushed, despaired, and lost interest, not unlike my first dates. I looked at the instructions again. Nope. Nothing worked. I finally did what any five-year-old would. I went to YouTube and watched someone snap the bike together in less than five seconds. His hands were a blur, like Superman changing in the telephone booth.
Eventually YouTube tossed up a sedate septuagenarian. "Snap the wheel magnets apart," he wheezed. It was easy after that. The tubing fell on my toes, the bike spun and clanged on its side, chairs overturned. It was a great workout. Who needs to pedal when there's Rubik's Wheels in the living room?
Then I discovered another great truth. Most of Hong Kong is a no-biking zone. The best pathways are off limits with large signs displaying what appear to be eviscerated cyclists. So I whirred around my car park, along with the toddlers in their red fire engines. That's where my neighbour fell upon my bike with cries of delight. "I have one just like this," he exclaimed. "We must ride together sometime." It's the first time in my 25 years in Hong Kong that a neighbour has spontaneously made contact other than to tell me to turn the music down. Out in the New Territories I finally got some wind in my hair and admiring looks from other Strida owners. They were a chatty bunch. New fifty-something horizons beckon.
And all because of a bicycle. Get one. If you live in a no-biking zone, fold it up and head out to New Delhi.