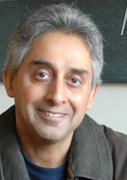 KISSING IS FUN. It is also highly dangerous. Especially if you happen to pick up a drunk cross-dressing gorilla in a Uganda bar or happen to peck your girlfriend on the cheek at the posh Jumeirah Beach Residence. A Dubai court recently handed a British couple a month's jail term and a US$300 fine for this seditious act. And rightly. It's high time Western travellers stopped teasing and went the whole hog, preferably atop the Burj Khalifa tower. Bring that gorilla along. It will not be out of place atop some soaring post-modernist whimsy.
This is a proud and prodigal yet prudish city where Oriental and Russian women accost travellers in smoky nightclubs to offer the astonishing revelation – "I love you". Of course, as in all great civilisations, you arrive at this point only after an agonising and ladylike interregnum of at least sixty seconds while she ascertains her new friend is sufficiently fat of wallet and slim of conscience. There is just too much posturing Wall Street flotsam around. And thus is the world's wealth more equitably redistributed to where it is needed most. This is TARP (Troubled Asset relief Program) at its best.
Send us your Feedback / Letter to the Editor

Share This Page
So how do you get in a kiss while on the road? After all, travel is ultimately about romance. Business travellers know this better than most. Kissing has proven benefits too. Mononucleosis can help you sleep most of that 20-hour HK-JFK flight (and perhaps the next two weeks as well). Hallelujah. For someone like me who needs laboratory conditions to secure half-decent shuteye, this is good news indeed.
You may return a tad pockmarked after a frenzied stoning or two, but there's always the Obama healthcare plan ...
But whom to kiss? Virgin crew are anything but. The Spanish Air Comet crew who posed for a nude calendar in protest against non-payment of salary aren't flying anymore. Keep them in their penury please. And Cathay Pacific crew prefer to give their mugwumps a stern dressing down rather than undressing aloft, which would do their cause a lot more good. They should know strike action and stranded air passengers do not good bedfellows make.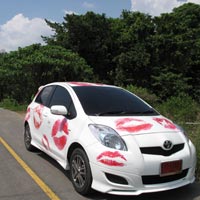 Kissing can also ensure you become a free guest of a foreign government at a time when hotels from Singapore to Bali are charging a usurious US$500 a night. There's nothing wrong with jail. Think of how much money this could save for your next charitable foray to save the blonde and buxom women of eastern Siberia. It is a Darwinian imperative and your company accountant will love you. There is no dearth of choice – Afghanistan, Somalia, Chechnya, Saudi Arabia, and now Dubai. You may return minus a limb and a tad pockmarked after a frenzied stoning or two, but then that's what Obama's new healthcare plan is for.
UK passport holders, 24-year-old Ayman Najafi, and 25-year-old Charlotte Adams were arrested in November 2009 after the precocious plaintiff, a two-year-old child, reported to her mother that the couple had kissed at a restaurant. In her son's defence, Najafi's mum later told the press Ayman had grown up in the UK and used "common British greetings" perhaps not including the raised index finger and head butting after the fifth pint.
Farther East, in Malaysia's Pahang state, a Muslim woman received a caning sentence, later suspended, for drinking beer. Perhaps it was the dreadful American Miller Lite she was consuming, in which case six lashes is far too lenient for such a serious lapse in judgement.
Kissing is dangerous. So is holding hands. I recall walking arm in arm with a lady friend, thus provoking an outraged tirade by a passing scooterist who called down the wrath of heaven. Heaven failed to oblige. This was New Delhi in 1979. I was never much at risk though. My first kiss came furtively in the dark playing hide and seek when I was 12 and, despite the head rush of this early victory, I had to wait till I was 20 for my second rather innocent contact. It has been downhill since.
A judge immediately issued a warrant for Mr Gere's arrest prompting the star to exclaim he had misjudged Indian customs...
While I held back honourably, preferring to mature like wine, Mr Richard Gere pranced onstage at a charity event and kissed blushing starlet Shilpa Shetty on both cheeks. A judge immediately issued a warrant for his arrest prompting Mr Gere to expostulate, that "the dance move was a naive misread of Indian customs."
Bottom line, kissing is good for you. Try it next time you travel. Here's why. The simple act of kissing brings into play a full 29 facial muscles otherwise lying dormant through neglect, bad humour, or botox. A bog-standard garden-variety kiss burns around three calories while a lung-licking French kiss sheds five. And, on average, each person spends just 20,160 minutes or two weeks of his life, kissing. That's not a lot. How on earth do these people ever get to sleep?
Back in Phuket I headed out for a drive up the coast to Krabi, in a "KISS" car. That's right. The audacious Twinpalms resort has a small Toyota Yaris printed all over with huge lipstick marks courtesy of their staff. Try it. Police immediately flagged me down. "Will I be staying on as a guest of the Thai government? May I choose the Phi Phi Islands?" They grinned, gave me the thumbs-up sign and waved me on, guffawing.