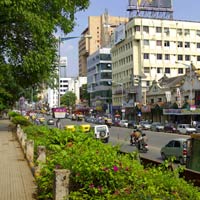 MG Road/ photo: Apoorva Prasad
RIDING the back-to-our-roots wave sweeping many an Indian metropolis today, Bangalore's astute politicians know, as have others before them, that renaming the city is so much more meaningful than fixing the collapsing infrastructure and dealing with traffic gridlock. So, like Bombay (now Mumbai) and Calcutta (Kolkata), Bangalore has metamorphosed from clumsy colonial diction into the politically correct, if tongue-twisting Bangalooru (derived from a corruption of a local phrase meaning, "city of boiled beans…"). Yes, the high-tech capital of Indian IT, now informally a verb ("Did you hear, John got Bangalored!"), has been named after a plate of beans.

Hotel Contact Information
All this has sparked acrimonious debate but there's no denying you'll find beans here aplenty, as well as idlis, dosas, rasam vada, biryani (spicy rice-meat pilaf) and my favourite, Chicken 65 (additional points for eating it in a truckers' "rest-o-bar").
Bangalore's infrastructure is creaking at the joints. This is evident at Bengaluru International Airport (see airport website) which is just a mildly expanded version of the testing airfield for Hindustan Aeronautics (HAL) fighter jets. The government-owned aircraft company is one of the reasons for Bangalore's original development. Bengaluru International Airport (still commonly referred to as Bangalore International Airport) opened to mixed reviews end March 2008, located 40km from town, a 90 minute car ride at best of times and even further from the city's burgeoning IT farms. Infrastructure has been slow to pick up as yet and the "highway" is developing. The airport offers improved facilities and occupies 3,900 acres of land east of the Bangalore-Hyderabad NH7 national highway.
Send us your Feedback / Letter to the Editor
Just yell Yelahanka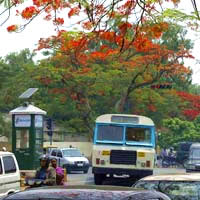 Bus travel/ photo: Apoorva Prasad
Only two baggage carousels serve all flights. If you're flying in from Delhi, try Spice Jet (www.spicejet.com). Alternatively Air Deccan (www.airdeccan.net) has really cheap tickets but terrible, low-cost carrier service, which sees you sharing your seat with chickens and goats, and being fed yesterday's sandwiches for an extra US$1 (about 51 rupees). Fly the more expensive Kingfisher (www.flykingfisher.com), Jet Airways (www.jetairways.com) or Indian Airlines (http://indian-airlines.nic.in) for a more reliable service with pretty edible complimentary food.
Returning from Bangalore, my own Spice Jet flight was typically delayed for two hours. Most of us then only narrowly caught it thanks to the one and only announcement: "This is the last and final boarding call for Spice Jet flight SG 215, err… 216, to Delhi". What happened to the first boarding call, no one knows. Maybe it got bundled onto an Air Deccan flight with the chickens.
On your way from the airport you can take a private taxi from one of the many persistent tour agency booths, or head out and flag yourself a vehicle of sorts. Meru cabs have arrived at the new Bangalore International Airport with radio taxis offering a New York-style Yellow Cab service. The V-Link Taxis - that first appeared at Mumbai airport - are a boon for business travellers. Auto-rickshaw (three-wheeler scooter) drivers may or may not speak English, just as they may or may not use the meter. Insist on the latter whenever possible, though some may tell you untruthfully that it doesn't work. Don't haggle too much because they won't. Just sit without discussing the price and pay what you like when you get there, or walk on.
Your most reliable option is to take a Karnataka Tourism Department Corporation (KTDC) prepaid taxi, though it's a little more expensive. This can be organised from a booth after the exit from the baggage lounge. However those that book their flight on www.MakeMyTrip.com can get a variety of offers, some of which involve a discounted flight and taxi ride into town.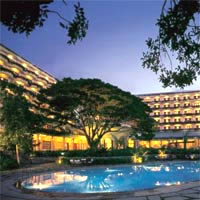 Oberoi Bangalore/ photo: hotel
I unfortunately had to pay nearly Rs500 to get to Yelahanka one night, which is fairly far out on the other side of town (near the air force base used for the air shows), since there's usually a 30 percent late-night surcharge added on after 10.30pm. The new international airport is finally open, along with the adjacent Trident. Unfortunately for most, both are an hour-and-a-half out of town, towards Yelahanka.
Downtown Bangalore hotels
For the best Bangalore business hotels and a sprinkling of budget options, head to MG Road. This is more or less where all the action is in Bangalore. Over the last few years it has become way more polluted, chaotic and crowded, but you still see old (and now abandoned) houses with jacaranda trees that must have been irresistibly charming in the old days. The area is home to The Oberoi, Bangalore.
Hotel prices here are, in a word, insane. Bangalore is among the most expensive cities in the world for hotel rooms. Visitors will also encounter a quixotic brand of economic apartheid. If you can prove Indian residency (regardless of nationality), you get Indian rupee rates, otherwise you get somewhat inflated dollar prices. Not all hotels apply this though and, at the end of the day, the percentage difference isn't that much at all – at least with most of the properties in this Bangalore hotel review. As an example, rack rates for a single at The Oberoi start at US$475 (approximately Rs20,900) for foreign visitors, and Rs17,500 if you can prove you live in India.
This extravagant amount of cash gets you a room with a balcony overlooking a central tropical garden. The rooms open onto an exterior corridor that faces the noisy and feverishly busy MG Road. Fortunately, a double-door system ensures that the bedroom itself remains quiet (if not the bathrooms). The fittings include a 30-something-inch Samsung plasma TV, a safe, shower cubicle and, in deluxe room bathrooms, a tub.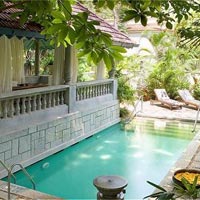 Taj West End/ photo: hotel
This being Bangalore, all hotels, budget or not, cater to the business traveller. Every hotel has WiFi Internet access. In some it's part of the package, in others, an additional charge.
The Oberoi certainly sees itself as a quiet, exclusive sort of place. The pool, surrounded by the garden, closes at 6pm. So does the small gym and refurbished 3,700sq ft spa and fitness centre. The business centre is small and has two-day old Japanese papers and international English papers. The conference centre is modest. There is however a 24-hour business centre and butlers are on call to assist with any need. The Oberoi knows what its clients want – peace and quiet after a long day at work. After sweating through the furious chaos of the city, sitting in the outdoor coffee shop is quite unbelievable, with its tall palm trees and tropical plants providing shade and soothing floral smells. But even the coffee shop closes after 11pm, discouraging unsteady young partygoers from barging in unwelcome in the midnight hours. In Bangalore, "all-night" clubs close at 11.30pm by law, as do all other bars (including those in hotels).
So... which coffee shop do you head to? The one at the The Taj Residency, of course.
A few score metres from The Oberoi, towards Trinity Church Road, is the bigger, less personal and more business-like Taj hotel; one of their three properties in the city. And like most hotels in Bangalore, it is under renovation – very much flavour of the month. In fast-upgrading Bangalore be prepared to deal with jackhammers, closed elevators and paint fumes. Perhaps the latter will help you forget the prices.
At the Residency, the rooms start at US$300. Its corner location offers a pretty good view of the city and the trees as they disappear romantically into the traffic fumes. There's a lounge for guests on one of the upper floors, huge flat-screen TVs in every room, and massage chairs in the suites. Also expect rollaway desks, well-scrubbed tubs and old carpeting. Some of the rooms have parquet flooring, which looks much better, and suites have a strange combination of carpet and stone. There's a business centre with small boardrooms, more conference space should you need it, a beauty parlour and men's salon. The pool is getting redone.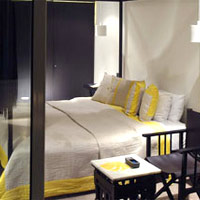 Funky Park Hotel/ photo: hotel
On Swami Vivekananda Road is the hip and happening Ista. This is a breakaway business traveller brand from the group responsible for the sedate and spiritual spa retreat, Ananda in the Himalayas. Expect funky, mod interiors with cool artefacts in cosy corners, an alfresco pool, views of Ulsoor Lake, and a laid-back yet with-it style that will appeal to the younger pin-striper on the go. Yes, there's Broadband, LCD TVs, and ergonomic beds.
On then to The Park Bangalore. Similar to The Park New Delhi, beloved of the foreign press, it has the same cheerful hallucinogenic overtones. Think neo-Indo-baroque. The exterior is Bauhaus, with bright red, yellow and blue squares emphasizing the building's modernist lines, and the interior follows suit. A large South Indian carved wooden pillar supports the lobby, which is walled off by huge orange drapes. Staff members are attired in suits with T-shirts that work well for Michael Madsen in Reservoir Dogs, but with the occasional potbellies and moustache, it's a bit of a stretch here
The bar, Aqua, sits around a modestly sized pool, and the restaurant i-t ALIA has a good reputation – if you can get your eyes off the surreal mood lighting. In-room modernism is a more familiar brand of Scandinavian chic, and allows the pulse to settle. Book online 30 days early to get the best discounts.
Two more hotels to hit the streets of Bangalore are The Zuri Whitefield, Bengaluru and Vivanta by Taj, Whitefield, both close to ITPL, KTPO, SAP Labs and other business parks. At The Zuri find another piece of urban chic to chew on. Think dark walls, opulent textures - modernity with a boudoir twist, all in 32sq m. Business travellers will be happy with the 32-inch LCD TV, IDD phone, safe, entertainment system, spacious bathtub, rainshower and complimentary WiFi.
The modern, colour-changing facade of Vivanta by Taj, Whitefield, standing at the main entrance to the International Tech Park, Bangalore (ITPB) and 45km from the airport, positions itself as a Bangalore business hotel. Rooms are smart with fun but tasteful décor. Mod-cons like WiFi, 32-inch LCD TV, IP Phone, ergonomically designed work desk and chair, and surround-sound home theatre are designed to keep your attention whether business or pleasure. The 24-hour business centre has good facilities, with mobile phones and laptops for hire, secretarial services and express check-in and check-out.
If you're looking for an affordable business hotel, which doesn't scrimp on leisure perks, then the Lemon Tree Hotel, City Center, Bengaluru, is a sound option. Its 187 rooms are bright and comfortable and include features such as LCD TVs, DVD players, work desks with ergonomic chairs, blackout curtains and high-speed WiFi. Once you've shed your pinstripes (or your crumpled tourist map), head to the spa or cool off in the rooftop swimming pool.
Other Bangalore business hotels
The remaining top-end Bangalore business hotels are located around the Bangalore Golf Club at High Grounds, about a 15-minute drive from MG Road. The Lalit Ashok Bangalore, located adjacent to the house of some top hombre, is blissfully quiet. A pleasant driveway leads to its curved white facade, fronted by a nice garden. The atmosphere here is certainly less frenetic, and the service more personal. Over the last few years heavy duty renovations had driven away all but the most hardboiled political heavies, yet now, with the work nearly finished, guests are returning.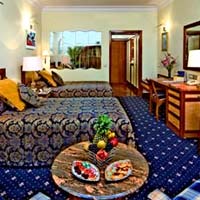 Le Meridien Bangalore/ photo: hotel
Huge windows run throughout The Grand's spa and massage rooms, located in a separate building, overlooking the pool and garden. Even Mahatma Gandhi got to appreciate the place at one point (granted, before it was a hotel) because there's a little memorial under the tree where he hung out.
Over at one corner of the hotel you'll find matchmakers meeting to arrange weddings between possible parties. Local legend has it that the spot is lucky. Staff press feverishly to persuade the parties to book the hotel's large convention centre that can host 1,000 people cocktail style. This feature makes The Grand a good Bangalore conference hotel choice as well.
On the other side of the golf course, on busier Sankey Road, is Le Meridien. This is another multi-storey business hotel with a 24-hour coffee shop, segregated smoking and non-smoking rooms, musty carpets, big TVs, DVD players and all the usual mod-cons. It also has elevator keys that keep you strictly to your own floor. There's a gym tucked behind the pool, and a women's salon below ground. However the whole hotel appears a cut below the rest of the five-star brands and it's definitely focused on being a Bangalore business hotel rather than a leisure hangout.
This is in contrast to the Sheraton-managed ITC Windsor Bengaluru, just a few hundred metres further down the road. ITC, the Indian Tobacco Company, is a remnant of British colonial times. From the outside the massive white Raj-era hotel looks like the mansion of the Lt Governor of Bengal, or some such stuffy residence. The staff seem to channel the spirit of a former lord and master. All are pointedly sniffy unless you happen to have a posh accent.
Decor here is dominated by paintings and prints of stiff British officers gallivanting on hunts, or being served tea by dark skinned servants. It does seem to forget that this was not the proudest moment in India's history. However the hotel has some of the best food in Bangalore, with restaurants such as Bukhara serving brilliant northwest frontier cuisine by the poolside.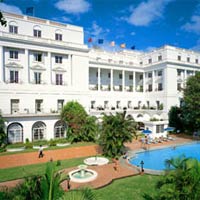 ITC Windsor Bengaluru/ photo: hotel
The original manor rooms are decorated similarly to the rest of the hotel, with classic Victorian furniture, tables and lamps. It could do with a little pick-me-up though. Once-fluffy carpets are limp and musty, and some of the wood panelling is chipped. Am I quibbling? I should be allowed to, considering the prices – a standard single starts at around US$400.
If you prefer your hotel rooms shiny and new, request one in the new Sheraton Towers wing, where the Victorian becomes faux-Victorian and cracks all but disappear. WiFi at the hotel costs Rs600 a day and can be accessed in one of the several guest lounges scattered around.
However those looking for real peace and quiet should make a beeline for the Taj West End. This isn't really a business hotel. It's a could-be spa retreat disguised as a colonial tea garden, selling itself as a Bangalore business hotel. The hotel grounds span 20 acres – and no, that's not a typo. This is a 125-year-old property that started out as an inn for British soldiers. A massive tree in the middle of the hotel is as old as the building, and its canopy spreads out to cover some of the rooms.
This isn't a standard hotel with a main body, and rooms are located in small, single or two-storey buildings that dot the property. The presidential suite actually has its own massage table in a gazebo-like open structure next to a little private dipping pool. I was told that guests have their favourite rooms here, and it's quite believable. Rooms are decked out like most grand hotels, with 39-plus-inch flat-screen TVs and four-poster beds. If you're lucky though (or pushy) you could get one of the older rooms with their massive, colonial-style bathrooms. These are the size of entire bedrooms in other hotels. Every room has its own verandah, looking into the gardens, which are wonderfully serene unless the site of yet another wedding reception.
The Taj West End is next to the Bangalore Turf Club, so when the races are on you can rub shoulders with horse owners, and perhaps a little former royalty. The hotel also has the only Vietnamese restaurant in the city and is soon opening a champagne bar. Great news, except you'll have to drink up by 11.30pm.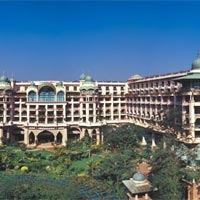 Leela Palace Kempinski/ photo: hotel
The Leela Palace Kempinski is considered the hotel that others set their rates by. However it's only a palace in the MGM sense of the word; it's all about the façade. From some angles it looks incredible, as if Scheherazade from The Thousand and One Nights might appear at any moment on one of the top balconies, scantily clad in billowing silks. Unfortunately, this image is lost as soon as you walk inside, where one descends from being a guest of the maharaja, to just another commoner, probably arriving for one of the hotel's many conventions.
However the hotel certainly lays it on. Incense wafts around the lobby, which is filled with expensive looking furniture and rugs. Across the hotel lobby is the Leela Galleria, a high-end shopping arcade filled with exclusive Indian and international brands. This is where you'd shop for Hugo Boss in Bangalore, and if you're looking for a cotton kurta try Anokhi (www.anokhi.com) on the floor below.
The 256 rooms are bedecked in a manner befitting a palatial hotel. All the usual tech – massive plasma TVs, hundreds of cable channels, DVD players – is available, with service options aplenty, from translation to babysitting. Heading farther out past the aforementioned Yelahanka off Doddaballapur Mari Road is the serene and green Angsana Oasis Spa & Resort Bangalore. Pick from one or two-bedroom suites that open onto patios and gardens. Expect a kitchenette, Internet access and the usual mod-cons. There are conference facilities for pin-stripers too and a raft of recreational facilities from tennis and aerobics to gym workouts, yoga, meditation swimming. Best of all, there's the opportunity to unwind at the Angsana Spa, choosing from a range of holistic treatments. After a spot of sweaty business in town, those in search of a Bangalore spa resort might explore this soothing option.
ITC Royal Gardenia, Bengaluru is all about going green, from its sustainable, pro-environment practices to its interiors. A vertical garden of plants runs up the length of this 292-room hotel, intertwined with an artistic mesh of concrete, cement, wood and glass. It is walking distance from malls and the business centre of UB City. Guests can expect complimentary breakfast, lounge cocktails every evening and free use of the board room (for up to three hours, subject to availability). Butler service is available for special requests. There is also a dedicated ladies-only wing.
Bangalore budget hotels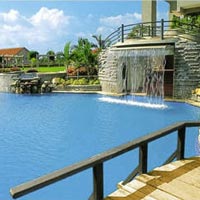 Angsana spa resort/ photo: hotel
With prices like Bangalore's, there have to be budget business options and these are generally located close to each other, in the approximate area between the golf course and MG Road. The service is uniformly tepid.
At Goldfinch, there are three restaurants. All looked closed around lunchtime. Since most business travellers arrive back at their hotels only at night, there's a deserted air about these Bangalore budget hotels during the daytime. The rooms are neat and clean, with all the standard accoutrements. Rooms start at US$150 (Rs6,000) per night for a single.
Note that the corridors of the well-decorated (and slightly smelly) 37th Crescent are not air-conditioned, which may be a good or bad thing depending on your list of priorities: comfort or, well, the survival of our species. There also don't seem to be many female guests because the gym and bathrooms all seem all oriented towards male business travellers. There are three eateries here too, and rooms start at US$140.
The Atria has all the makings of a bigger and better hotel. Except that it is not. A standard single starts at US$160 but 45 have been restyled as "lifestyle rooms" with higher rates. Facilities include all the standards: a basic TV, mini-bar, phone, WiFi Internet, a safe and a coffee maker. Their brochure claims that its "clients are unanimous that these rooms are as good as five star hotel rooms at much lower rates," and it's not bad for a budget hotel, I suppose. The air is a little dingy. Once again, three restaurant options await and the standard formula is North Indian, Asian, and a "continental" coffee shop.
The Hotel Ivory Tower is a budget business hotel tucked into the 12th and 13th floors of the Barton Centre, MG Road. Neat rooms, an ordinary TV, room service, a fridge, WiFi, and an electronic safe come for a scant Rs3,500 (single). Make sure you get a room with a view (and window), unless window-less holes-in-the-wall are your accountant's preference.
But is there room at the inn?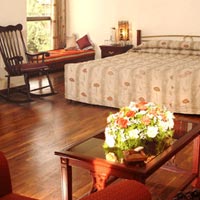 Atria hotel suite/ photo: hotel
So who likes what? The Lalit Ashok and Windsor Manor lay claim to having hosted visiting international royalty while The Oberoi is a favourite of Indian movie director Shekhar Kapur. Whether you want a Bangalore business hotel, a leisure hideaway, a wedding venue, a boring budget hotel or a mad Cinderella palace, it's all here, in the city of boiled beans. That is if you can find space. Or afford it. With hotel prices heading into the stratosphere and house-full signs aplenty, savvy visitors often stay in Chennai preferring an overnight train to Bangalore and back. Other businessmen fly in just for the day.
Grabbing a bite and other diversions
Once you've got your hotel sorted out, head to MG Road, which used to be Main Street for Bangaloreans (or is it Bangaloorians now?). One option is Styx (tel: 558-2259), known for its loud heavy metal and with one of the few DJs in India who knows of the Nine Inch Nails. In general, all Bangalore bars are excessively loud. They need to be to cater to the mostly young Indian clientele.
Quieter places include the legendary Koshy's Restaurant and Jewel Box (tel: 2221-3793) on St Mark's Road, a gathering place for pseudo-intellectuals. India's traditionally left-leaning and learned crowd likes its watering holes dirty, dingy and dark, and Koshys duly obliges. The service is terrible and the food inedible. Why does anyone go there? Probably to meet other local playwrights, directors, writers and artists.
The noisy outdoor Barista chain cafe on MG Road is on the grounds of the Barton Centre. The 13th Floor (tel: [91-80] 4178-3355) is a popular bar and restaurant which apparently serves dinner only, considering the somnolent staff at 4pm. But when it comes to life (after 8pm), the harried waiters will allow you to perform such drunk shenanigans as inventing your own cocktails, while admiring Bangalore's night-time spread below. ("BangBang": one part tequila, one part vodka, one part honey, chased down with lime. You don't have to like it, but my friend and I will be offended if you tell us to our faces.)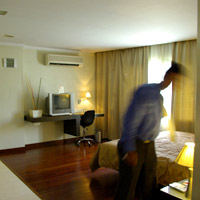 37th Crescent/ photo:Apoorva Prasad
Traffic is the bane of Bangalore. After tightly closing his eyes and fervently wishing that it would all go away, the chief minister must one day have suffered one jam too many. He has approved several road projects and a Metro, but all will pootle along at around the same pace as your taxi in rush hour. So get used to it. However, for mid-traffic entertainment, admire those elaborate cowboy hats worn by Bangalore cops. Martial manhood is proven nationwide by large moustaches, and potbellies for good luck. Despite their comic appearance, however, these rangers are usually more helpful and better trained than North Indian policemen.
Nearby, St Mark's Road has several restaurants, a classier looking Barista and a pub, and Church Street has scores of restaurants. Pick up a Times Food Guide at a street stall for an idea of the better ones, or walk into one of the many bookshops on the main street.
The Cauvery Karnataka State Arts & Crafts Emporium (www.cauverycrafts.com) is a good place to buy anything South Indian, from colourful wooden toys and sandalwood incense, to ornate carved thingamajigs.