CITY GUIDE
Mr Bean's Bangalore guide
A Bangalore business hotels review for the sweaty and intrepid. Stay in style or sumptuously shabby. Our fun guide to beds.
SEE ALSO Andaman Islands | Chennai | Delhi | Goa | Gulmarg | Himachal | Kerala Resorts | Ladakh | Mumbai | Pondicherry guide | Rajasthan | India Spas | Zanskar treks | Bhutan Guide | Nepal Treks | Singapore Hotels
JUMP TO Yelahanka for a taxi | Bangalore business hotels | Turf Club area | Bangalore budget hotels | Hotel Contacts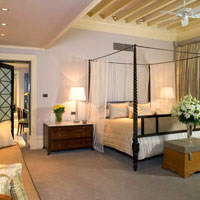 Elegant Taj West End/ photo: hotel
CITY NAMES all over the world often have a proud ring to them, laden with heritage and history. In India, a country burdened with 5,000 years of civilization, the results are a tad more remarkable. So it was with much aplomb and ceremony that the city of Bangalore, globally famed for its IT derring-do, was renamed Bengaluru, a moniker derived not from a famous king or historic battle or some obscure hypertext mark-up, but from a local phrase meaning, "city of boiled beans". Well, we knew those IT guys were all bean counters anyway.

E-mail Page

Print

Hotel Contacts
All this continues to spark acrimonious debate but there's no denying you'll find beans here aplenty, as well as idlis, dosas, rasam vada, biryani (spicy rice-meat pilaf) and Chicken 65 (additional points for eating it in a truckers' "rest-o-bar").
Bangalore is bursting at the seams with development on steroids and its infrastructure is creaking at the joints. This is evident at Bengaluru International Airport (www.bengaluruairport.com) which is an expanded, albeit neater, version of the testing airfield for Hindustan Aeronautics (HAL) fighter jets. The government-owned aircraft company is one of the reasons for Bangalore's original development. Bengaluru International Airport (still commonly referred to as Bangalore International Airport) opened to mixed reviews mid-2008, located 40km from town, a 90-minute car ride at best of times and even further from the city's burgeoning IT farms. Infrastructure is slowly picking up and the "highway" is developing. The airport offers improved facilities, faster entry and exit, and occupies 3,900 acres of land east of the Bangalore-Hyderabad NH7 national highway.
Send us your Feedback / Letter to the Editor
Just yell Yelahanka for a taxi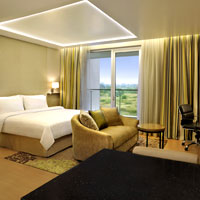 Bright DoubleTree/ photo: hotel
Only a couple of baggage carousels serve all flights. If you're flying in from a domestic point, try low cost airline Spice Jet (www.spicejet.com) or the fast-expanding and well regarded IndiGo (book.goindigo.in) that operates 180-seat A320-200s. Sample the more expensive Jet Airways (www.jetairways.com) or Air India (www.airindia.com) for more edible complimentary food.
On your way from the airport you can take a private taxi from one of the many persistent tour agency booths, or head out and flag yourself a vehicle of sorts. Meru cabs are available at Bangalore International Airport with radio taxis offering a New York-style Yellow Cab service in a modestly more beat-up contraption.
MEGA Cabs (also with GPS/radio hook-ups, www.megacabs.com) are available as well as part of the official reception. Hard-boiled old hands will acknowledge they are a boon for business travellers. Auto-rickshaw (three-wheeler scooter) drivers may or may not speak English, just as they may or may not use the meter. Insist on the latter whenever possible, though you will hear many imaginative reasons as to why this is an impossible request.
A reliable option is to take a Karnataka Tourism Department Corporation (KTDC) prepaid taxi, though it's a little more expensive. This can be organised from a booth after the exit from the baggage lounge. The new international airport certainly eases some of the travel pain of yore but it is an hour-and-a-half out of town, towards Yelahanka. Look it up.
Bangalore business hotels review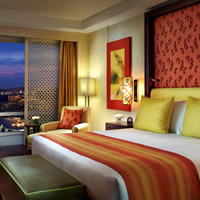 Ritz-Carlton Club Deluxe/ photo: hotel
A fresh crop of hotels aimed at well-heeled business travellers as well as indigent hipsters have arrived. By early 2014, the roster included the downtown JW Marriott Hotel Bengaluru; the lively and buzzing Aloft Bengaluru Whitefield (with extra large windows, outdoor pool, bright colours and high ceilings for the hip and happy, around 20km from Cubbon Park); a Sheraton, and The Ritz-Carlton, Bangalore. Also on the horizon is a slow-moving project for a 250-room Conrad in the IT suburbs of Indiranagar.
The contemporary 172-room Doubletree Suites by Hilton Bangalore (at Sarjapur near the Iblur Gate on the Outer Ring Road) arrived late January 2014 with bright pastel interiors lit up by vibrant cushions and a thoughtful array of space for living, dining and work in one to three-bedroom Suites as well as the Studios.
Expect toiletries by Crabtree & Evelyn and, for a long-stay stretch, a kitchenette (with dishwashers in the suites), and a small balcony to crank open up visual space. WiFi is free in all public areas and 3,000sq ft of function space is on offer for corporate meetings.
Work out at a 24-hour fitness centre, do laps in the outdoor pool (temperature controlled), or steam off in the sauna. Close to IT developments and technology parks, Doubletree offers a new staging base for hi-tech professionals and business suits in search of a stylish lift.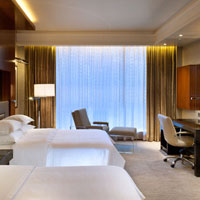 Sheraton Club/ photo: hotel
Hotel prices in Bangalore, as elsewhere in Indian metropolises, are insane. Visitors will also encounter a quixotic brand of economic apartheid. If you can prove Indian residency (regardless of nationality), you get modestly cheaper Indian rupee rates, otherwise you get gouged on dollar prices. Not all hotels apply this principle though.
The Sheraton Bangalore Hotel at Brigade Gateway serves up the fresh face of the brand with clean lines and warm tan earth tones in-room. The exterior is hard-to-miss uber-modern slimline steel and glass that from some angles resembles a flatscreen television. The 230-room hotel offers one of the more spacious pillarless ballrooms (800 theatre style) in town as well as an alfresco infinity pool with breezy views. Guestrooms have wood panelling to make corporates at ease and a minimalist zen that will appeal to many. The Presidential Suite is a lavish hideaway with near 360-degree views while 39sq m Club rooms (starting at around Rs12,500 per night) offer smart modular environs with access to the Club Lounge. Enjoy Indian, Italian or international cuisine, work out at the fitness centre, or de-stress at the spa. Brigade Gateway is connected to the World Trade Centre a little out of town but with easy access to the airport.
For the best Bangalore business hotels and a sprinkling of budget options, head to MG Road. This is more or less where all the action is in Bangalore. Over the last few years it has become way more polluted, chaotic and crowded, but you still see old (and now abandoned) houses with jacaranda trees that must have been irresistibly charming in the old days.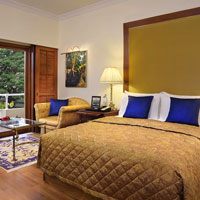 Oberoi "new" rooms/ photo: hotel
In this leafy downtown area you'll spot The Ritz-Carlton, Bangalore that was retailing in late 2013 at around Rs16,000 with 277 modern rooms in rich sienna and gold hues.
Expect a lot of texture, straight lines, burnished wood and shining marble. The accommodations also include 48sq m Club rooms with the attendant club benefits and roomy Executive Suites starting at 102sq m with 400 thread count linen, goose down pillows, gleaming marble bathrooms, 42-inch flat-screen TVs, Blu-Ray DVD players, Nespresso machines and complimentary newspapers and shoeshine service.
With shoes that sparkle to distraction, stride forth confidently to sample a range of F&B outlets including the aromatic frontier food Riwaz. Think smoky kebabs and chewy naans. There is a Ritz-Carlton Spa by ESPA to deal with your wellness needs while calories can be burned off at the fitness centre. Pin-stripers can contact a "conference concierge" about MICE events or a small corporate meeting. This address serves up 18,000sq ft of function space so there's ample choice.
This general area is home to a venerable name, The Oberoi, Bangalore. Choose a lower floor room with a balcony overlooking a manicured tropical garden that provides the centrepiece. These rooms open onto an exterior corridor that faces the noisy and feverishly busy MG Road.
Fortunately, a double-door system, fresh glazing, and deep carpets ensure that the new bedrooms - 160 were fully re-kitted by late 2013 - remain discretely quiet. A 40-inch flat-screen TV is hooked up to an iPad for you to toggle between in-room services and facilities from lighting to movies. This nifty product is called Oberoi E'nhance. Think marble bathrooms with standalone tubs, and LCD screens to stay in the loop.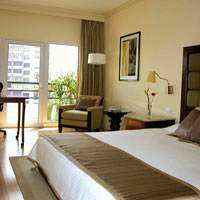 Vivanta by Taj MG Road/ photo: hotel
All this can be yours starting at a wallet-humbling Rs13,750 depending on season. The upgraded hotel unveiled new 344sq ft Luxury rooms (on higher floors with special 12-inch thick mattresses and wake-up Nespresso machines) and 842sq ft Executive Suites along with a new-look Spa and Fitness Centre. Now expect smart wooden parquet flooring, thick stitched quilts in deep gold hues, electric blue cushions, louvred wooden window shades, carpets, elegant classic lamps and brass coffee tables. Working desks are equipped with a data-port. Deluxe rooms face the gardens while Luxury rooms face the pool.
The Oberoi certainly sees itself as a quiet, exclusive sort of place. The pool, surrounded by the garden, closes at 6pm. Conferencing choices are modest but there are three modern meeting rooms for seminars and workshops. There is however a 24-hour business centre and butlers are on call to assist with any need. The Oberoi knows what its clients want – peace and quiet after a long day at work. After sweating through the furious chaos of the city, sitting in the outdoor coffee shop is quite unbelievable, with its tall palm trees and tropical plants providing shade and soothing floral smells. The coffee shop closes after 11pm, discouraging unsteady young partygoers from barging in unwelcome in the midnight hours. In Bangalore, "all-night" clubs close at 11.30pm by law, as do all other bars (including those in hotels).
So... which coffee shop do you head to? Straight to Rhythm the Lounge at the The Taj Residency that has morphed into the hip and bustling Vivanta by Taj, MG Road. A few score metres from The Oberoi, towards Trinity Church Road, is the bigger, concrete, and more business-like Taj hotel; one of their three Vivantas in the city.
Its corner location offers a pretty good view of the city and the trees as they disappear romantically into the traffic fumes. Expect huge flat-screen TVs in-room, and perhaps massage chairs in suites. Also expect rollaway desks, gleaming tubs and carpets underfoot.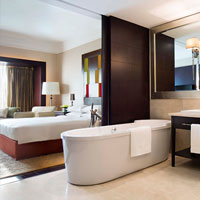 JW Marriott Exec Suite / photo: hotel
There's a business centre with small boardrooms, more conference space should you need it, a remodelled outdoor pool and a Jiva Spa with three treatment suites.
Off Swami Vivekananda Road is the hip and happening Hyatt Bangalore MG Road (formerly the Ista). This is a breakaway business traveller brand from the group responsible for the sedate and spiritual spa retreat, Ananda in the Himalayas now flies Hyatt colours with the same contemporary aplomb.
Expect funky, mod interiors with cool artefacts in cosy corners, an alfresco pool, great views of Ulsoor Lake, and a laid-back yet with-it style that will appeal to the younger pin-striper on the go. Yes, there's Broadband, LCD TVs, and ergonomic beds.
Another international newcomer is the 270-room JW Marriott Hotel Bengaluru (September 2013) a sedate construct with contemporary woody interiors that will appeal to corporate travellers, with breezy views of Cubbon Park to boot. This is a central downtown Bangalore location that kicked off with an opening rate of Rs12,150. Expect over 10,000sq feet of versatile event space for corporate meetings and conferences including outdoor venues and a de rigueur pilarless ballroom for everything from weddings to gala product launches.
Expect dark-tone woody bedrooms in Executive Suites with straight clean lines, classic lamps with lampshades by the bed, work desks, flat-screen televisions, sliding-door bathroom partitions and soaking tubs, and above average floor area leaving ample room for road warriors to swing a fully loaded MICE briefcase about. This is a quality address that scores well on this Bangalore business hotels review and compares favourably vs competitors like Leela, Taj and Oberoi.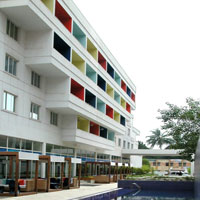 Funky Park Hotel/ photo: hotel
On to The Park Bangalore. Similar to The Park New Delhi, beloved of the foreign press, it has the same cheerful hallucinogenic overtones. Think neo-Indo-baroque. The exterior is Bauhaus, with bright red, yellow and blue squares emphasizing the building's modernist lines, and the interior follows suit. A large South Indian carved wooden pillar supports the lobby, which is walled off by huge orange drapes. Staff members are attired in suits with T-shirts that work well for Michael Madsen in Reservoir Dogs, but with the occasional potbellies and moustache, it's a bit of a stretch here.
The bar sits around a modestly sized pool, and the restaurant has a good reputation – if you can get your eyes off the surreal mood lighting. In-room modernism is a more familiar brand of Scandinavian chic, and allows the pulse to settle. Book online say 30 days in advance to get the best discounts.
The tech area of Whitefield is another good hunting ground. Explore the Aloft Bengaluru, Whitefield, a young and urban serving by muscle brand Starwood. Think bright rooms and décor with a signature Bliss Spa. Road Warriors with gelled hair can use the in-room data-port to connect their devices to a 42-inch flat-screen TV and surf the web with free WiFi. An Aloft Suite offers a bit more stretch space.
The Zuri Whitefield, Bengaluru is also close to ITPL, KTPO, SAP Labs and other business parks. At The Zuri find another piece of urban chic to chew on. Think dark walls, opulent textures - modernity with a boudoir twist, all in 32sq m. Business travellers will be happy with the 32-inch LCD TV, IDD phone, safe, entertainment system, spacious bathtub, rain shower and complimentary WiFi.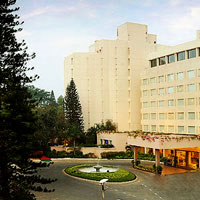 LaLit Ashok grounds/ photo: hotel
The modern, colour-changing facade of Vivanta by Taj, Whitefield, standing at the main entrance to the International Tech Park, Bangalore (ITPB) and 45km from the airport, positions itself as a smart Bangalore business hotel.
Rooms are smart with fun but tasteful décor. Mod-cons like WiFi, 32-inch LCD TV, IP Phone, ergonomically designed work desk and chair, and surround-sound home theatre are designed to keep your attention whether business or pleasure. The 24-hour business centre has good facilities, with mobile phones and laptops for hire, secretarial services and express check-in and check-out.
The third Vivanta sibling, 327-room Vivanta by Taj, Yeshwantpur, Bangalore, is near the Bangalore International Exhibition Centre and serves up 18,000sq ft of function and banqueting space along with a separate convention centre. This could be a useful Bangalore conference hotels choice.
Also in Whitefield is the smart, white cubist Alila Bangalore that makes a design statement with its clean lines, uncluttered interiors, woody hues, texture, and inviting sun drenched rooftop infinity pool set flush into a bleached-timber patio. This is not a large and gleaming muscle MICE hotel. It is a sanctuary.
In the technology district of this fast-growing city, the Alila, serves up its bread-and-butter 32sq m Studio Rooms with a balcony, work station, 32-inch television and complimentary WiFi. The 64sq m Soho Suite offers gleaming wooden floors underfoot, a living room with large flat-screen TV, and a bathroom with both shower and a soaking tub.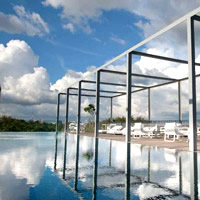 Chic, breezy, Alila pool/ photo: hotel
A Leisure Suite is the same size with day-bed loungers on the balcony, standalone bathtub and twin vanities. Open from 10am to 10pm every day, the Spa Alila is the highlight of the place for weary suits or those in need of a good wellness workout. Located in a lower density neighbourhood, the Alila offers breezy views and a relaxed ambience for discerning travellers in need of a break from the Bengaluru bustle.
If you're looking for an affordable business hotel, which doesn't scrimp on leisure perks, then the Lemon Tree Hotel, Electronics City, Bengaluru, is a sound option.
Its rooms are bright and comfortable and include features such as LCD TVs, DVD players, work desks with ergonomic chairs, blackout curtains and high-speed WiFi.
Once you've shed your pinstripes (or your crumpled tourist map), head to the spa or cool off in the rooftop swimming pool. Lemon Tree has several offerings in Gurgaon (across the border from Delhi) and is expanding its portfolio rapidly.
Bangalore Turf Club area and lux lodges
The remaining top-end Bangalore business hotels are located around the Bangalore Golf Club at High Grounds, about a 15-minute drive from MG Road. The LaLit Ashok Bangalore, located adjacent to the house of top local hombres, is blissfully quiet. A pleasant driveway leads through 10-acre grounds to its curved beige facade, fronted by a nice garden.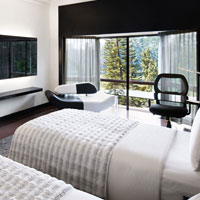 Le Meridien texture/ photo: hotel
With just over 180 rooms with serene pool or golf views, the atmosphere here is certainly less frenetic, and the service more personal. Thorough renovations have seen the property re-emerge with a jauntier stride.
Huge windows run throughout Rejuve–the Spa overlooking the pool and garden. Even Mahatma Gandhi got to appreciate the place at one point (granted, before it was a hotel) because there's a little memorial under the tree where he spent some time.
The 336sq ft Pool View Rooms are in contemporary trim with a 37-inch LCD television and WiFi (charged, alas).
Over at one corner of the hotel you'll find matchmakers meeting to arrange weddings between possible parties. Local legend has it that the spot is lucky. There are meeting rooms and function areas. Think a massive 33,500sq ft of event space and you'll spot this as a Bangalore MICE hotel biggie.
On the other side of the golf course, on busier Sankey Road, is Le Meridien Bangalore. This is another multi-storey business hotel with a 24-hour coffee shop, segregated smoking and non-smoking rooms, and evocative black-and-white décor with flashes of crimson that is both mod and stark.
Find big flat-screen TVs, DVD players and all the usual mod-cons. It also has elevator keys that keep you strictly to your own floor. There's a gym tucked behind the pool, and a women's salon below ground. The hotel is certainly focused on suits rather than leisure trippers and strongly pushes events and conventions.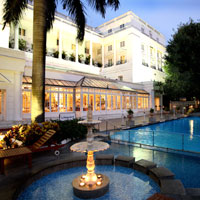 ITC Windsor Bengaluru/ photo: hotel
This is in contrast to the 240-room ITC Windsor Bengaluru, a Luxury Collection property from Starwood, just a few hundred metres further down the road. ITC Limited, (formerly the Indian Tobacco Company), is a storied relic of British colonial times. From the outside the massive blindingly white Raj-era hotel looks like the mansion of the Lt Governor of Bengal, or some such cavernous and echoing residence. The staff may rightly expect you to sport a thoroughly posh accent.
Think starched colonial white in neatly laid out manicured grounds with typical Regency Period touches like colonnaded walkways. Decor is dominated by paintings of stiff upper-lipped British officers gallivanting on hunts, or being served tea by dark skinned servants. Rooms range from classic to boudoir with broad candy-stripe bedspreads or purple velvet coddled in silk cushions. A Manor Room is a toned down classic in cream and royal blue prints while the Presidential Suite is awash with hoary wooden cabinets, plush deep seating sofas, carpets and gauze drapes tickling the pillows. Pick your space and era.
The ITC Windsor has some of the best food in Bangalore, with restaurants such as Dum Pukht and Royal Afghan serving brilliant northwest frontier cuisine. Unwind at the Kaya Kalp Spa with its myriad wellness treatments or book in for a convention. In years passed, the hotel has hosted a SAARC conference and a Miss World. Find meeting rooms in various sizes but this address is best suited to small or mid-size corporate meetings.
Those looking for genuine unadorned peace and quiet should make a beeline for The Taj West End. This isn't really a business hotel at all though service is crisp and intuitive and it even has a video-conferencing venue. It's a resolutely old world hideaway disguised as a colonial tea garden, selling itself as an address for business travellers on the go.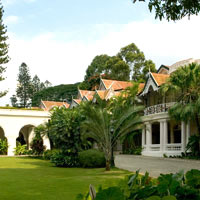 Stately Taj West End/ photo: hotel
The hotel grounds span 20 acres – and no, that's not a typo. This is a 125-year-old property that started out as an inn for British soldiers. A massive tree in the middle of the hotel is as old as the building, and its canopy spreads out to cover some of the rooms.
This isn't a standard hotel with a main body, and rooms are located in small, single or two-storey buildings that dot the property. The presidential suite actually has its own massage table in a gazebo-like open structure next to a little private dipping pool. Guests have their favourite rooms here and return like homing pigeons. The 450sq ft Luxury rooms are decked out grandly with wire-frame four-poster beds, flat-screen TVs with DVD players. If you're lucky though (or pushy) you could get one of the older rooms with their massive, colonial-style bathrooms. These are the size of entire bedrooms in other hotels. Every room has its own verandah, looking into the gardens, which are wonderfully serene unless the site of yet another wedding reception. Taj Club Rooms up the ante with lounge facilities, 42-inch televisions and butlers on call. Later, dip in the outdoor pool, swing out on the tennis court, or book an energising massage.
The Taj West End is next to the Bangalore Turf Club, so when the races are on you can rub shoulders with horse owners, and perhaps a little former royalty. The hotel also has the only Vietnamese restaurant in the city and is soon opening a champagne bar. Great news, except you'll have to drink up by 11.30pm.
The Leela Palace Bangalore (formerly a Kempinski) is widely regarded the hotel that others set their benchmarks by. It is a palace in the MGM sense of the word; all about the façade and glitz. From some angles it looks incredible, as if Scheherazade from The Thousand and One Nights might appear at any moment on one of the top balconies, scantily clad in billowing silks.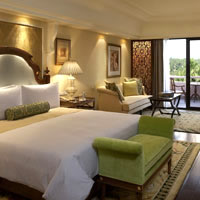 Leela Palace lux room/ photo: hotel
As with other Leelas, the finish is impeccable and hard to fault but you may, on occasion, forget you are a guest of the maharaja if you stumble into a teeming convention as a rumpled commoner.
The Leela certainly lays it on. Incense wafts around the lobby, which is filled with expensive period furniture and rugs. The rooms are bedecked in a manner befitting a pedigreed palace hotel. Pick a Royal Premiere Room with its classical furniture, silk lampshades, soft pools of light, tasteful paintings and photographs on the walls, fresh green settees and occasional balconies. It's 752sq ft of luxuriant space with WiFi, a 42-inch flatscreen TV and DVD player. Club rooms and Executive Suites add the convenience of butlers to do your bidding should you find it hard to unpack your impedimenta. At 1,085sq ft the Royal Club Suite is ample space for a major rumpus should you be so inclined. The spa is open from 6am to 10.30pm so there's lots of time for a rubdown aromatherapy massage or more. If you wish to compare Leela Palace Bangalore vs The Ritz-Carlton, do refer to our earlier paragraphs on newer luxury hotels.
Heading farther out past the aforementioned Yelahanka off Doddaballapur Mari Road is the serene and green Angsana Bangalore that has mercifully shortened its name, dropping the "Oasis" and more. Pick from one or two-bedroom suites that open onto patios and gardens. Expect a kitchenette, Internet access and the usual must-have mod-cons. There are conference facilities for pin-stripers too and a raft of recreational facilities from tennis and aerobics to gym workouts, yoga, meditation swimming.
Best of all, there's the opportunity to unwind at the Angsana Spa, choosing from a range of holistic treatments. After a spot of sweaty business in town, those in search of a Bangalore spa resort might explore this soothing option.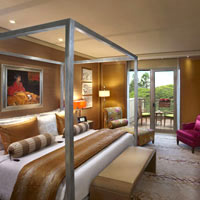 ITC Gardenia four-poster / photo:hotel
ITC Gardenia, Bengaluru (also a Luxury Collection property) is all about going green, from its sustainable, pro-environment practices to its interiors. A vertical garden of plants runs up the length of this 292-room hotel, intertwined with an artistic mesh of concrete, cement, wood and glass. It is walking distance from malls and the business centre of UB City. Rooms range from classic to bling and over-the-top. Club guests can expect lounge cocktails every evening and free use of the boardroom (subject to availability). Butler service is available for special requests. There is also a dedicated ladies-only wing.
For stretch room in green laid back hacienda-style red-tile-roof surrounds check out the Golden Palms Hotel & Spa Bangalore. This retreat is about 6km from the Bangalore international Exhibition Centre (BIEC) and boasts a pretty large spa facility.
Bangalore budget hotels
With prices like Bangalore's, there have to be budget business options and these are generally located close to each other, in the approximate area between the golf course and MG Road. The service is uniformly tepid.
At Goldfinch Bangalore rooms are neat and clean, with all the standard accoutrements. Some upgrades have seen partial screen glass windows separating bedrooms from the bathrooms, wood flooring and more.
Note that the corridors of the well-decorated (and slightly musty) 37th Crescent are not air-conditioned, which may be a good or bad thing depending on your list of priorities: comfort or, well, the survival of our species. There also don't seem to be many female guests because the gym and facilities all seem all oriented towards male travellers. There are a couple of eateries here too along with a jazz theme bar, and rooms, some brighter but quite basic, start at around Rs4,500.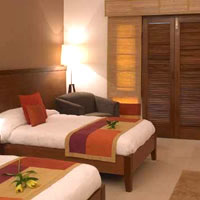 Angsana style/ photo: hotel
The Atria Hotel Bangalore has all the makings of a bigger and better hotel. Except that it is not. Rooms are not expensive and several have been restyled as "lifestyle rooms" with higher rates. Fresh décor has introduced more light, more wood, more fabric and sense of style with bed runners and fancy cushions. Facilities include all the standards: an LCD TV, minibar, phone, WiFi, a safe and a coffee maker. Not a bad choice if you are shopping for Bangalore budget hotels. Better than a guesthouse but clearly not on par with a business hotel. If the location works, everything else you need is all here.
The Hotel Ivory Tower is a budget business hotel tucked into the 12th and 13th floors of the Barton Centre, MG Road. Neat rooms, an ordinary TV, room service, a fridge, WiFi, and an electronic safe come for a scant Rs3,500 (single). Make sure you get a room with a view (and window), unless window-less holes-in-the-wall are your accountant's preference.
And that's our Bangalore business hotels review with a bit of on-the-cheap thrown in too. Stay in style or sumptuously shabby, it's up to you.
Send us your Feedback / Letter to the Editor
FAST FACTS

/ Hotel Contact List

Exchange rate: fluctuating at roughly US$1 = Rs66. All hotels will change money, but often at higher rates than Thomas Cook or others. Hotel rates fluctuate daily. Weekends are often substantially cheaper to attract families, since most travellers are here on business.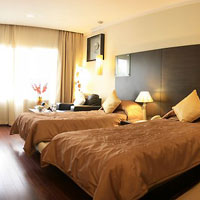 37th Crescent/ photo:hotel
A 12 percent luxury tax is standard at all hotels. Due to government regulations, the tax was until recently charged at the rack rate, not at the price you might have been paying. This is due to change. Restaurant prices may or may not include taxes (including 12.5 percent VAT) for service industries including hospitality, and 5-10 percent tips are customary but not required.
Any room rates listed here are purely for rule-of-thumb comparison. Rates fluctuate daily and depend on low and high seasons. Always check for the Best Available Internet (BAR) rate online or speak with your travel agent. In general, rates may range from Rs4,000 at a good three-star budget level hotel to Rs12,500-Rs16,000 at high end five-star hotels, going up to over Rs20,000 for luxury suites.
Bangalore business hotels directory
Alila Bangalore. Tel: [91-80] 2854-4444, fax: 2854-4445, (e-mail: bangalore@alilahotels.com or www.alilahotels.com/bangalore).
Aloft Bengaluru Whitefield. Tel: [91-80] 6670-7777, (e-mail: resv.bengaluru@aloftbengaluruwhitefield.com or www.starwoodhotels.com/alofthotels/).
Angsana Bangalore. Tel: [91-80] 2846-8892, fax: 2864-8897, (e-mail: bangalore@angsana.com or www.angsana.com).
Doubletree Suites by Hilton Bangalore. Tel: [91-95] 3561-1522, fax: [91-80] 6765-6567, (doubletree.hilton.com).
Golden Palms Hotel & Spa. Tel: [91-80] 2371-2222, fax: 2371-0022, (www.goldenpalmshotel.com/bangalore/).
Hyatt Bangalore. Tel: [91-80] 4936-1234, fax: 2554-9999, (bangalore.hyatthotels.hyatt.com).
ITC Gardenia, Bengaluru. Tel: [91-80] 2211-9898, fax: [91-80] 2211-9999, (www.itchotels.in).
ITC Windsor Bengaluru. Tel: [91-80] 2226-9898, fax: 2226-4941, (www.itchotels.in/hotels/).
JW Marriott Hotel Bengaluru. Tel: [91-80] 6718-9999 , fax: 6718-9000, (www.marriott.com/hotels/travel/blrjw-jw-marriott-hotel-bengaluru/).
Le Meridien Bangalore. Tel: [91-80] 2226-2233, fax: 2226-7676, (www.starwoodhotels.com/lemeridien/).
Lemon Tree Hotel, Electronics City, Bengaluru. Tel: [91-80] 4480-2000, (www.lemontreehotels.com/lemon-tree-hotel/).
Royal Orchid. Tel: [91-80] 4251-2345, fax: 4251-2346, (e-mail: rooms@royalorchidhotels.com or www.royalorchidhotels.com).
Sheraton Bangalore Hotel at Brigade Gateway. Tel: [91-80] 4252-1000, (www.sheratonbangalore.com).
The Chancery Pavilion. Tel: [91-80] 4141-4141, Toll free: [1-800] 425-4242 (www.chancerypavilion.com).
The LaLit Ashok Bangalore. Tel: [91-80] 3052-7777, fax: 3052-3052, (e-mail: bangalore@thethelalit.com or www.thelalit.com/the-lalit-ashok-bangalore/).
The Leela Palace Bangalore. Tel: [91-80] 2521-1234, fax: 2521-2222, (www.theleela.com).
The Oberoi, Bangalore. Tel: [91-80] 2558-5858, fax: 2558-5960, (www.oberoihotels.com/oberoi_bangalore/).
The Park Bangalore. Tel: [91-80] 2559-4666, Toll free: [1-800] 11-PARK, (e-mail: resv.blr@theparkhotels.com or www.theparkhotels.com/bangalore/).
The Ritz-Carlton, Bangalore. Tel: [91-80] 4914-8000, (www.ritzcarlton.com/en/Properties/Bangalore/).
Vivanta by Taj M G Road. Tel: [91-80] 6660-4444, fax: 6661-4444, (e-mail: vivanta.mgroad@tajhotels.com or www.vivantabytaj.com/MGRoad-Bangalore/).
The Taj West End. Tel: [91-80] 6660-5660, fax: 6660-5700, (e-mail: westend.bangalore@tajhotels.com or www.tajhotels.com/Luxury/City-Hotels/The-Taj-West-End-Bangalore/).
The Zuri Whitefield, Bengaluru. Tel: [91-80] 6665-7272, fax: 6665-7282, www.thezurihotels.com/bengaluru/).
Vivanta by Taj, Whitefield. Tel: [91-80] 6693-3333, fax: 6693-3344, (e-mail: vivanta.whitefield@tajhotels.com or www.vivantabytaj.com/Whitefield-Bangalore/).
Vivanta by Taj, Yeshwantpur, Bangalore. Tel: [91-80] 6690-0111, fax: 6690-0009, (www.vivantabytaj.com/Yeshwantpur-Bangalore/).
Bangalore budget hotel options
Goldfinch Bangalore. Tel: [91-80] 4129-1300, fax: 4113-8488, (e-mail: info@goldfinchhotels.com or www.goldfinchhotels.com/Bengaluru/).
Hotel Ivory Towers. Tel: [91-80] 4178-3333, fax: 2558-8697.
37th Crescent. Tel: [91-80] 4037-3737, fax: 6659-7989, (e-mail: reservations@37thcrescent.in or www.37thcrescent.in).
The Atria. Tel: [91-80] 2220-5205, fax: 2225-6850, (e-mail: atriahotel@yahoo.com or www.atriahotel.com).