FAMILY FUN
Why Hua Hin will Cha-Am you
In season this quiet Thai strip is straight out of "To Russia with Love". Our Hua Hin guide with boutique resort reviews, family friendly hotels and sumptuous spas.
with updates by staff reporters
SEE ALSO Phuket Guide | Bangkok Hotels | Koh Samui resorts | Chiang Mai guide | Thai spas | Krabi resorts | Child friendly resorts | Asian resort weddings | Pattaya guide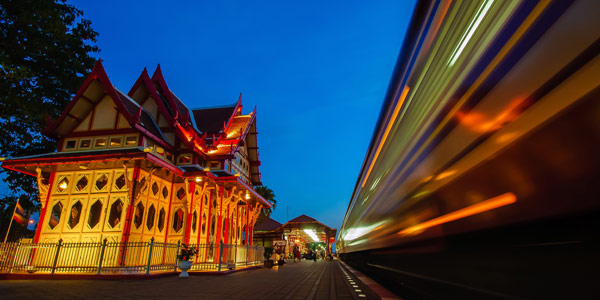 JUMP TO Cha-Am child friendly resorts | Hua Hin spa resorts review | Hua Hin shopping, nightlife, bars, and dining | Golf resorts and golf clubs | Hua Hin information
A "CHIC boutique resort" that turns out to be a concrete bunker painted in gloss turquoise. An "exquisite breakfast buffet" that consists of Nescafe and mini boxes of Frosted Flakes. "International clientele" that ends up being a gang of Russian businessmen and their bleached "Natashas" in the adjacent room. All this and FREE access to the pool and fitness centre and a complimentary welcome cocktail with that tiny de rigueur umbrella that invariably pokes into your nostrils as you wonder if this is pineapple, durian, or ginger or all of the above. Wasn't the pool free anyway? Well...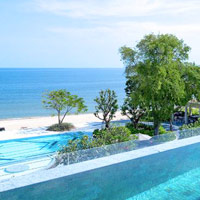 Ba Ba Beach Club private room plunge pool looking onto main pool and sea / photo: hotel
There aren't many things in life you can rely on, but ending up in a dodgy resort is one of them if you fail to do your homework.
It was with this great truth mind that my brother Mike and I approached the resort we'd stay in for our annual one-week family get-together in Hua Hin and Cha-Am, Thailand. We split into two groups and did what any data-obsessed family would do: we researched the 100 or so Hua Hin resort choices, sifting through PR gibberish and astonishingly turquoise seas and blazing white sand, and two weeks later, presented a shortlist, happily, without a bowl of borsch in sight.
Mike pushed for the Centara Grand Beach Resort & Villas Hua Hin (many years back a Sofitel), the reincarnation of the colonial-style railway hotel complete with fussy topiary and frighteningly fragile antique furnishing. All very deluxe, gracious and stuffy in a maidenly aunt sort of way.
His wife Jenny voted for the Evason Hua Hin – a casually-chic and exclusive hideaway at the far reaches of Hua Hin that looks and feels as if it was conceived by Greenpeace activists on a big budget, but is run like a Swiss watch. We all agreed that it was an excellent choice for a quiet escape from the rigours of life, but…

E-mail Page

Print

Hua Hin information
I preferred "in-town" romantic luxury lodging with candle-lit dinners on the beach, lots of facilities and great service. And it had to be quiet and private too. In my mind, Anantara Hua Hin Resort fit the bill to a T.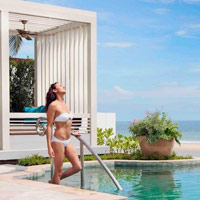 InterContinental splash, luxe style by the sea/ photo: hotel
After another 30 or 40 more emails and bags of frustration we reached a compromise – two nights at Anantara, three nights at Six Senses and a big blow-out dinner at Centara. Mike took his loss in untypically good stride.
But he had done his homework and knew that the heritage Centara Grand Beach best represents Hua Hin, the favoured beach resort for Thailand's royalty for some 80 years. The royal endorsement came in 1928 when King Rama VII chose the fishing village as the site for a royal retreat called Klai Kangwon (Far From Worries) Palace. Bangkok's elite soon followed and a clutch of private holiday homes and fine traditional resorts catering to the kingdom's aristocrats took shape.
Even after nine decades, a charming atmosphere of muted provincialism still prevails along this coast. If you're looking for bright lights and full moon raves you will be disappointed here. Hua Hin is all family friendly resorts with clutch international hotel chains, cosmopolitan restaurants and some top-notch golf courses. The beach, while narrow, is clean and remains almost free of beach touts and massage parlours.
A large part of why we picked this area is location. Just 200km south of Bangkok, Hua Hin and neighbouring Cha-Am can be reached by plane, public bus and private coach. By car it's an easy two-hour drive along a smooth six-lane highway. While separate if connected – and inseparable – entities, for the purposes of our Hua Hin resorts review we look at the area as a single whole.
Send us your Feedback / Letter to the Editor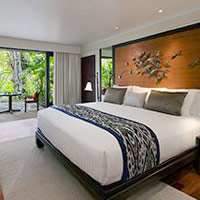 Anantara Premium Garden View room/ photo: hotel
Arriving by car from Bangkok (Bt2,000 or so one-way by taxi or Bt3,000 round trip, US$1 = Bt31.60), the first resorts you reach are along the sandy coast of Cha Am, a smaller city about 25km north of Hua Hin. From here, there is a mishmash of international standard resorts, budget properties and view-blocking condominiums stretching some 35km down the coast to Pranburi. Some sections are chock-a-block high-rise towers, while others are more secluded. Generally, the farther south you go, the quieter it gets.
The quality of the beach is consistent throughout – shallow and narrow in some places – and boasting fine, light-coloured sand. The water quality is good and waves are gentle enough for small children. This is no Phuket or Andaman shoreline but it's clean, if somewhat muddy in parts. With well over 100 beachfront resorts to choose from room rates can be very competitive with some hotels offering discounts of up to 50 percent, especially on midweek bookings.
Anantara Hua Hin Resort (huahin.anantara.com/) is an excruciatingly well-planned resort conceived by a committee of hospitality professionals. Scoff if you wish, but the result is memorable. Anantara ticks all the right boxes. The 187 rooms feel intimate and reflect Thai textures and culture. Silk-clad staffers glide across hardwood floors to offer unobtrusive service in this sort-of-boutique hotel experience minus the quirks.
Mike and Jenny appreciated the large rooms and liked the two-storey buildings nestled in the resort's tropical garden, overlooking an expansive beachfront. Lagoon rooms have high ceilings and comfortable terraces with sofas, while bathrooms keep you smelling sweet with a potpourri of natural soaps and beauty products. We dined on seafood at the beachside Sai Thong grill. There's also a signature Italian restaurant.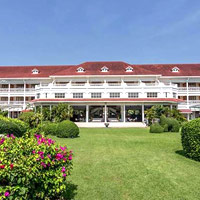 Centara Grand greens and topiary/ photo: hotel
After locavore lobster we planted our daughter Lucy in the children's club for a few hours and enjoyed a visit to the fitness centre, a few games of tennis and a treatment at the spoiling Anantara Spa, a popular wellness escape. This is a good Hua Hin child-friendly resort with attractive spa facilities.
The group also runs the newer and 'younger' AVANI Hua Hin Resort & Villas (www.minorhotels.com) with a more contemporary feel, plenty of pool space, a spa, and wedding and meeting facilities.
Originally built in 1923, the 249-room Centara Grand Beach Resort & Villas Hua Hin (www.centarahotelsresorts.com a former Sofitel) has been superbly renovated and expanded numerous times since. The hotel offers modern deluxe comforts among the gracious confines of a bygone era. There are four swimming pools, a good spa, a children's club, tennis courts and other facilities. Expect ceiling fans, rolling green lawns, some amazing topiary, and a nice stretch of seafront. Of course, luxury comes at a price. This sumptuous retreat is among the best Hua Hin wedding resorts with a setting right out of the silver screen and ceremonies on the beach. It works effortlessly for honeymooners as well as families with kids in tow, and the conference-bound. This is a classy location for a small corporate meeting a stone's throw from Bangkok. Enjoy a classy CEO chinwag indoors with cool teakwood underfoot or get sand or grass between your toes with an alfresco location.
Early the next morning we headed for Evason Hua Hin - Six Senses (www.sixsenses.com/evason-resorts), about 30 minutes south of Centara Grand in Pranburi. Jenny was sold on the private pool villas, world-class restaurants, well-respected spa and the resort's environmentally friendly philosophy or "purpose". As our personal butler Joy enthusiastically explained, the Six Senses "core purpose" is to "create innovative and enlightening experiences that rejuvenate our guests' love of SLOW LIFE [sustainable, local, organic, wholesome, learning, inspiring, fun, experiences]". It may sound like a lot of corporate mumble-jumble, but you can't argue with the results.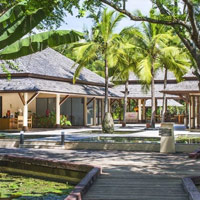 Sheraton Hua Hin Pranburi - spacious digs for meets or families/ photo: hotel
The rustic but luxurious rooms spread over 22-acres of tropical gardens appealed to my rugged Canadian lumberjack roots. The whole experience reminded me of a posh fishing camp in an uncharacteristically sunny Saskatoon. A studio is set up with pale wood floors, tables and chairs, with mosquito nets hung over plump white beds set next to a white bathtub and look-in bathroom. There's an LCD television set up on the work desk facing the bed. Pool Villas set within private walled compounds up the luxe ante.
Next-door is the Sheraton Hua Hin Pranburi Villas (formely the Six Senses Hideaway Hua Hin, www.sheratonhuahinpranburi.com/), that rebranded in 2014 with very spacious Pool Villas and Pool Villa Suites averaging 300sq m give or take a bit. This Sheraton also offers rather unique alfresco options with lawn-and-pool settings for small corporate meetings or modestly sized events. The lawn venue can accommodate around 100 persons while two villas for meetings can host up to 90 each in U-shaped settings or theatre style. The meeting spaces are welcoming of light, which infuses a freshness to the ambience.
Cha-Am guide to child friendly resorts and spas
Starting up on the north of this stretch of coastline, at the opposite end of the accommodation scale, is the slew of boisterous self-contained resorts in Cha-am that are popular with Bangkok families. A good-value choice in this range is the former Holiday In, now The Regent ChaAm.
The 559-room The Regent Cha Am Beach Resort (regent-chaam.com/) is no slouch when it comes to facilities with two pools, tennis, squash, volleyball and a kids' club. A more Thai-style place, it offers a wide variety of room choices to fit most budgets. Pick a 32sq m Superior with wooden floors and turquoise walls, or a plump for a two-bedroom themed Family Suite running from 64sq m to 84sq m.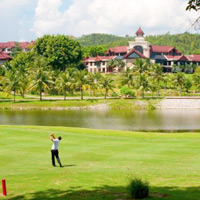 Springfield Royal Country Club is one of the best Hua Hin golf resorts with 36 holes to play / photo: hotel
The Anavana Villa makes a stab at contemporary chic, while a Regency Family room serves up bunk beds to squeeze in those tots. Enjoy spa facilities and multiple swimming pools (each wing has one).
The Springfield@Sea Resort (www.springfieldresort.com/atsea/) is an example of the newer livelier hip boutique resorts than have sprung up along the coast. This Springfield (there are are other siblings) has over 100 rooms and most provide sea views from sweet-scented botanical verandahs. Large family suites are a good bet with kitchen (but not cooking) facilities and there are a few luxury villas. The Springfield also has a full spa and meeting rooms and a well kitted out children's area outdoors. This is a good Hua Hin family-friendly hotel with good exercise and play facilities and cheap mini-bar beer (Bt45) for the dad. It is popular with Thais from Bangkok and undergoes renovations from May 2018 on closing about half the resort by turn as the work progresses.
A popular 36-hole golf course is the centrepiece at the 97-room Springfield Royal Country Club (www.springfieldresort.com/golf/),where meetings facilities are also on offer should you tire of swinging out. If you're in need of a Hua Hin golf resort for a longer stay, give this one a gander. On the hill slope looking onto the greens, the group also runs the cottage-based Springfield Village (springfieldresort.com/village/).
A fun high-end choice with great vibes, lively photos and sculptures is So Hua Hin (www.so-sofitel-huahin.com/, formerly Hotel de la Paix and originally launched as an Alila). Designed by one of Thailand's leading architects, the hotel's collection of 70 or so rooms and pool villas, is comfortable and luxurious, created with minimalist straight lines and mod cubes with cooling water features. A second phases brings more rooms on line mid 2018.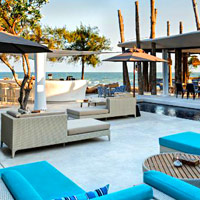 So Hua Hin - party town/ photo: hotel
Garden rooms feature a terrace, while villas have a private pool and terrace. Each pool villa features a master bedroom, lounge and dining area, and a room that can be converted into a second bedroom or nursery.
Rooms come with WiFi, flat-screen TVs, music and film collections, mood lighting and rain showers. There are two pools (one for family use), a splendid spa, fabulous breakfasts and good dining. Families can check out the library, which has a collection of magazines, novels and games for kids. So Hua Hin can easily ramp up the volume for cool Hua Hin resort weddings and destination experience. Give it a look if you're young and restless - and even if you aren't.
Close by, the small but popular and friendly Ba Ba Beach Club Hua Hin (www.bababeachclub.com/huahin/) serves up an intimate 'cottage' feel getaway with smart contemporary rooms in pastel tones with patios or verandahs with plunge pools, many with a grand ocean view looking over the main pool and green lawns. Pick a Beachfront Pool Suite on the ground floor from where you can step into the gardens and pad out barefoot to Cha Am Beach. Expect a Nespresso machine, iPod loaded with music, and high speed WiFi and Internet. Also enjoy a beach club and fitness centre.
For larger groups or families that want to stay together there's a Five Bedroom Residence Pool Villa in contemporary straight lines and black trim. Keep an eye also on sibling Ba Ba Beach Club Phuket. This resort is the brainchild of the group that also runs the luxury Sri Panwa pool villa resort in Phuket.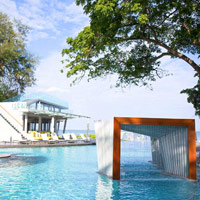 Veranda Resort and Spa/ photo: hotel
The first thing that strikes you about Veranda Resort and Spa Hua Hin - Cha Am - a mouthful from Sofitel's M Gallery www.verandaresortandspa.com - is the imposing curved tile roof that soars above. A contemporary beach resort choice, Veranda has a little over 100 rooms with an amazing 12 or so categories, all perked up along with the entire place following a Bt100 million refurbishment. Pick a Beachfront Pool Villa, a Slider Pool Suite, or a Veranda Jacuzzi. Of course there's more. The Family Jacuzzi Suite is one of the newer offerings.
The sprawling blue pool with several activity areas - sand pit, water slides, sun loungers - is the centrepiece of the action and looks onto the sea with a stretch of nice sand. The pool is open 7am to 7pm. Veranda Spa (9am to 8pm) serves up natural herbal and holistic treatments. Try a 120-minute 'Serenity Journey' with body polish, massage and bubble bath.
The 240-room Sheraton Hua Hin Resort & Spa (www.sheratonhuahin.com/), is actually a tad north on Cha Am Beach. When it arrived it was one of the new-wave all-inclusive international resorts, offering value, mixing family-friendly facilities with good service in a luxe package. The low-rise architecture is bright and airy with lots of nooks and crannies to give the Sheraton the feel of a much smaller resort. It remains a popular child-friendly hotels pick here.
Terraces in the Garden View and Lagoon rooms on the second floor are bigger and look over a large pool. An interesting choice, for families without wandering toddlers, are the lagoon access rooms on the first floor that open directly onto the pool. Expect contemporary minimal rooms with pale wood wall panels, desks and chairs, large LCD TVs, and grey ceramic tile floors. There is plenty of natural light.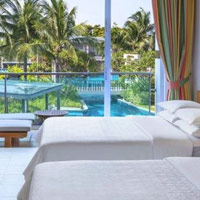 Sheraton Lagoon View/ photo: hotel
And yes, you'll find irons and ironing boards and hairdryers and hypoallergenic pillows (upon request). There are several restaurants and bars, a spa, fitness centre and busy kids' club. For Hua Hin conferences or corporate meetings there are facilities for up to 1,200 people. Expect a grand ballroom and two other meeting spaces. And weddings on the beach are a snap.
Fairly close is the Ace of Hua Hin Resort (formerly the Radisson Blu until the changeover in Jan 2019 www.aceofhuahinresort.com/). This is a smart and contemporary pastel-room resort with an unfussy feel and clean lines. Expect bright cobalt-blue pools, including some rooms with similarly sharp-toned private pools looking onto the sea (like a 156sq m Ace Seaview Suite Private Pool). Also expect a spa and fitness centre.
The advantage of the nearby Dusit Thani Hua Hin (www.dusit.com/dusitthani/) is that it offers a real Thai experience in five-star surroundings. The three-decade-old high-rise hotel harks back to traditional Thai "royal" décor with plenty of gold trimmings, black accents and dollops of crystal.
With almost 300 rooms, the throngs of conventioneers cruising the lobby and package tour groups crowding the buffet tables may not be to everyone's taste. But things get done at a fair clip. Expect good service and a Thai feel. The pool area is extensive and fronts the seaside.
Hua Hin spa resorts and family escapes
Things crank up a notch at Dune Hua Hin (www.dunehuahin.com/). With just five rooms on offer the style is highly personalised and luxurious. In-room you'll find standalone baths and modern minimalist décor with all the extra gizmos and gadgets, including free Internet, iPod docking and LCD TVs.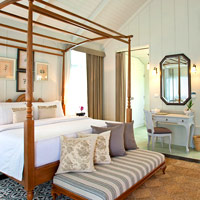 Devasom Beachfront Villa, colonial style / photo: hotel
Devasom Hua Hin (devasom.com) is a tiny and quite classy boutique hotel on a doll's house scale with 24 rooms and cottages running along either side of a small pool facing the sea from the middle of which sprouts a much photographed tree pruned and clipped in the shape of a heart. Villas are colonial Thai with white painted wooden walls, white dresser, and a large four-poster bed on a jute mat set on delicate porcelain tiles.
This is Gone With The Wind on a smaller scale. Expect a standalone claw-foot bathtub, separate rain shower, complimentary WiFi, 32-inch LCD television, hairdryer, and a private courtyard space.
The Hilton Hua Hin Resort & Spa (www3.hilton.com) offers no surprises and fewer thrills. It is a high-rise conventional hotel, a bit out of date – and place – on this fast-developing strip. On the plus side, the Hilton is well located in the central village area with easy access to shopping, the night market, and good beachfront seafood restaurant stalls. The rooms have been spruced up over the years and there is much swimming to be done on the premises but a highlight here on account of its high-rise construct, is the panoramic breezy view from the Lotus Sky Bar. Pop up here for a chillout sundowner.
At about the centre of Hua Hin and certainly close to much of the town action is the small and charming Laksasubha Hua Hin (www.laksasubhahuahin.com/) with beach frontage, a small pool and a twee colonial style with virginal white rooms (modestly ruffled by crimson cushions), porcelain tile flooring, and stressed wood furniture in shades of grey and blue. Garden Verandas run to 58sq m with a small balcony and DVD player.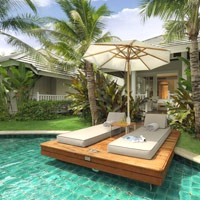 Rest Detail Pool Village is a stylish enclave in Cha Am / photo: hotel
While its playful logo featuring three wise monkeys is singularly light-hearted, the Rest Detail Hotel (www.restdetailhotel.com/), quirky name aside, is pretty serious about serving up a contemporary chic and down to earth experience. Just down the strip from the Hilton, this is a modern Hua Hin boutique-style hotel set on the beach with four-poster canopied sun loungers, straight lines, squares, and geometric precision. A rectangular blue pool licks out towards the sea around which is set the Pool Village accommodation.
There are 65sq m rooms by the seafront in the Beach Village along with larger Pavilions from 260sq m to a whopping 485sq m. Double-storey Pavilions feature upstairs verandahs and patio dining downstairs. Rooms have timber parquet underfoot, starched white interiors, with modern decor and controlled bursts of colour. And for massages and spa treatments in all sizes and shapes, there's the Restfully Yours wellness escape. WiFi of course is free.
Another smart choice is Asara Villa & Suite, Hua Hin (www.asaravilla.com/). Villas and suites range in size from 120sq m to 360sq m. Villa bedrooms have separate entrances, making it a great choice for friends and families travelling together.
All rooms are modern and stylish, but surprisingly homely with comfortable sofas at every turn – even on the beach. The spa, with private chambers, couples' suites and outdoor thatched pavilions, is a must if serious about relaxation. These are two that tend towards the Hua Hin boutique resorts scale of things.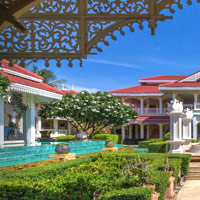 Wora Bura's Thai colonial design is quite attractive/ photo: hotel
If you're looking for a private romantic hideaway free from nosy neighbours or curious colleagues, consider the Haven Resort Hua Hin (www.haven-huahin.com). Minutes from the airport, and with just over 50 rooms, the Haven is a Thai-style resort tastefully furnished with hardwood floors, flowers and local handicrafts. This is a contemporary cubist construct, smart and minimal, looking over the pool towards the sea. The deluxe villas have private rooftop terraces, outdoor showers and views of the beach, while the suites benefit from a private plunge pool, a rooftop deck and an outdoor Jacuzzi. Facilities are limited (there's a small fitness centre, a spa, and one restaurant serving Thai and Continental cuisine) and the service is warm and friendly, rather than slick.
The Imperial Hua Hin Beach Resort (www.imperialhuahin.com/) is a 124-room child friendly option with a large beachfront pool and several restaurants and activities to pick from. Expect a fitness room, sauna and a children's playground along with a spa. If you're in need of meeting space for a corporate conference the hotel has private function rooms that accommodate around 120 persons each.
By contrast the 77-room (three-villa) Wora Bura Resort & Spa (www.worabura.com/) is a neat and sedate Thai-style faux-colonial escape with a large beachfront pool, stately fountains and gardens. Pop into the spa or plan a wedding on its seaside lawns. This is an all white tile-roof hideaway cast in a similar mould to the Centara Grand but on a smaller scale.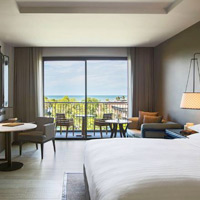 Hua Hin Marriott Deluxe Sea View room / photo: hotel
The longtime Hua Hin Marriott Resort & Spa (www.marriott.com) was completely rebuilt and relaunched in its original location thus confusing many who thought this is a separate resort. It is a well-managed all-inclusive Hua Hin spa resorts pick with 219 rooms on seven floors, minutes away from the town centre and the largest shopping mall. It's typical Marriott so expect a seamless holiday experience, a wide variety of dining choices (we recommend Big Fish, the beachside restaurant for seafood, and Amber Kitchen serving all-day Thai) and never-ending facilities.
There's a large free-from pool, a kids' club and pool, a Quan Spa, fitness centre, whirlpool, jet skiing, volleyball, tennis and much, much more. Ask about the attractive family packages with free meals for children. The spa is quite an experience with everything from body scrubs and wraps to facials, pedicures and massage lessons. There are wellness services for kids too in case they are stressed out watching dad working.
A relatively newish kid on the beach, the InterContinental Hua Hin Resort (huahin.intercontinental.com/), is the flagship property for InterContinental Thailand, setting the benchmark for the area. Set along the beachfront at Petchakasen Road, the 119-room resort includes ten rooms with direct pool access and three beachfront villas with private plunge pools. Standalone bathtubs and large airy rooms are the order of the day with floor-to-ceiling windows opening onto large shuttered balconies. Décor moves away from overwhelming Thai influence and keeps it smart, contemporary and simple.
The presidential suite doubles up as a wedding chapel too, if you're in the mood. Being on a good stretch of beach close to town doesn't do the resort any harm either. InterCon's arrival has helped set the pace for the growing crop of Hua Hin luxury resorts.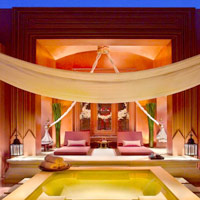 Hyatt Regency's BARAI Spa/ photo: hotel
But you may wish to slow down at the Spa InterContinental with a 'Golden Revitalizer Signature Facial' or 'Touch of Siam' massage. Child-friendly facilities include a Planet Trekkers kids' club and cooking classes for all ages. Kids can learn Thai boxing too.
This is a comfortable and stylish Hua Hin conference hotels pick with space for rooming participants as well as hosting gala events in a 335sq m ballroom (for 200 banquet style), a courtyard for up to 500, function rooms, and the intimate La Residence, a two-storey space for 20.
The Hyatt Regency Hua Hin (huahin.regency.hyatt.com/) offers big rooms with large balconies at a quiet end of town. Made up of clusters of low-rise buildings in traditional Thai design, the resort covers 12.5 acres stretching along 315 metres of white sand beach. It is a well-run full service five-star resort, with five dining choices and a spa. With Camp Hyatt for kids, plus a massive freeform pool and water slide (that runs up to seven metres), the Hyatt is a top-notch choice for families with toddlers and kids of all ages. The BARAI is a unique spa mini-retreat with 18 treatment rooms and everything from hydrotherapy to Vichy treatments and salt water swims. The Hyatt focuses on beach weddings too with garden space along the beachfront and offers a range of meetings options and venues. A 38sq m Deluxe comes with a king-size bed or a twin configuration, a balcony, a sofa, and flatscreen TV. Expect woody tones, green hues, and grey ceramic tiles underfoot. The space is simple, functional and effective for its minimalism where kids won't knock down priceless Ming vases and the like. WiFi is complimentary.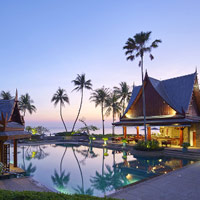 Chiva-Som poolside is off-limits for phones and cameras/ photo: hotel
We'd be amiss if we didn't include the Chiva-Som Hua Hin (www.chivasom.com/) on this Hua Hin spa resorts review as it is one of the original Thai wellness pathfinders. This Hua Hin luxury spa resort compares very well vs other top hideaways of its ilk and it is a mini fitness destination on its own with a vast range of room styles that at times tend to take the design in several directions at once. A much needed new look is being introduced to the rooms and the resort May-Oct 2018 and again May-October 2019 during which periods the resort will be closed for renovation.
It is not a place where you can pop in for a night or two – but a total wellness destination that offers programmes on balancing and rejuvenating the mind, body and spirit. It was one of the first in Thailand – even in Asia – to set the wellness craze in motion. A minimum three-day stay is required depending on the treatment programme chosen. The spa is staffed with expert health professionals including consulting doctors, naturopaths, fitness instructors, spa therapists, nutritionists and alternative health practitioners. For fussy vacationers, this is certainly one for the diary. Be warned though that its no-technology policy - which means no photos or phones in public spaces (including the very romantic pool area with its sea-fronting Thai sala) - will be seriously irksome for many trying to capture a romantic memory on their iPhone or camera.
The resort celebrated its 20th anniversary in 2015, unveiling new-look rooms designed by Ed Tuttle, also known for his extraordinary work on Aman Resorts. The feel is rich Thai with contemporary flair. Expect gleaming wood floors, louvered partitions, crisp white lines and scalloped ceilings with gold hues set in recessed octagons. Mood lights can set the tone. Pick from Thai Pavilions or Ocean Rooms.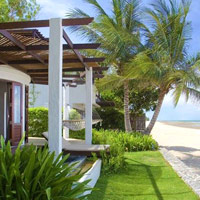 Rustic chic Aleenta is on the beach/ photo: hotel
Expanded Ocean Rooms now feature twin vanities and views across the Gulf through floor-to-ceiling windows. Apres massage savour the sea breezes in a balcony or verandah. This is what guests can look forward to as the renovations roll through. If you spot hints of Aman 2.0, now you know why.
And for romantics on the loose in need of seaview bungalows and pool villas, there's a rustic slick offering from Aleenta Hua Hin Resort & Spa (www.aleenta.com/huahin/) with a spa, all mod-cons, and activities ranging from cooking classes and Thai boxing to tai chi, meditation and kite surfing. This is a Pranburi nature and wellness escape on an intimate scale (just 25 residences) for families or honeymooners. Several units have a plunge pool. Suites are steps from the beach with well-lit open views. Ladies may not emerge from the spa once they've browsed the 'body sentimentality' menu. Try a body polish, a salt glow, Dead Sea nourishment, or a white mud body wrap. After all that, there's always the aroma of the in-house bakery to lead you to more sensory delights. There is an onsite wedding planner to sort out a romantic beach wedding if that takes your fancy. Hua Hin resort weddings with understatement and nature and wellness by the mile is the forte here. Mark it down.
The Marrakesh Resort and Spa (www.marrakeshresortandspa.com/), Hua Hin, is a jaunty pink-walled Moroccan fantasy between Soi 83 and Soi 85 with a palm-tree-lined sea-facing pool and a range of accommodation going up to a Jacuzzi Suite.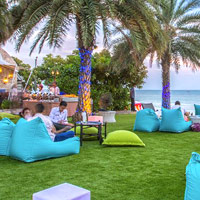 Marrakesh beachfront Al Bahr/ photo: hotel
The resort offers 'customised' service with a can-do attitude be it off-the-menu ordering or a midnight splash in its 24-hour pool. Why should resorts pools clock off at 8pm? Exactly. You get the idea.
This is a place to spoil yourself and stretch the boundaries of fun. The Noora Spa is on hand for wellness escapes and the beach is right outside if you wish to burn calories by leaving footprints in the sand.
Park on a stuffed cushion on the lawns at Al Bahr and let sea breezes run through your hair. Also expect a fitness centre and a kids' club for the younger set to keep them entertained while you get down to the serious business of romance and holidaying.
Farther south in Pranburi is another Moorish adult Disneyland fantasy, the Villa Maroc Pranburi (www.villamarocresort.com/) with campy doll's house villas and rooms like some pop-up kids' book. It is fun nevertheless and is not for the serious and sober. The pink yellow or white stucco wall escapes are set in small courtyards with pools, gardens and water features and run along a nice stretch of beach. As the sun dips, park at a rooftop dip pool where you'll get some pretty decent selfies and more.
Not too far from the main Night Market, is the strikingly white on-the-beach Putahracsa Hua Hin (https://www.putahracsa.com/), a very contemporary cubist affair with a sunny pool and smart minimalist rooms with wooden floors or pearly mosaic tiles with walk-in cupboards and perhaps balconies.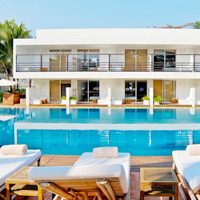 The stylish and modern Putahracsa / photo: hotel
There are varying styles. This is a popular hangout and charges for the pleasure. Its location close to in-town activities is an attraction for many.
The Holiday Inn Resort Vana Nava Hua Hin (www.ihg.com/holidayinnresorts/) is a fully fledged waterpark resort and part of the Vana Nava complex with 19 thrilling water rides and other big-splash diversions.
Expect child-friendly facilities by the mile, a breezy open air pool (with a grand city and ocean view), fitness and spa facilities, a chic Sky Bar for sundowners, and rooms with irons and ironing boards, hairdryers, mini-bars, coffee and tea making gizmos, and rollaway beds.
Hua Hin and Cha-Am are active fishing ports noted for fine, fresh seafood. Thai visitors and those in the know generally skip the resort restaurants and head straight for stalls along the beachfront or in Hua Hin's Night Market on Phetkasem Soi 72 near the clock tower. Dining here is a very simple affair and restaurants display English menus and fresh seafood on tables in front. Most also serve non-seafood dishes and forgettable Western choices – including borsch – all at very reasonable prices.
Visitors can mark down Chatsila Night Market and food centre, Plearn Wan (a small stroll-through vintage village recreation of old Hua Hin with shops and food), and the lively Cicada Market (with local handicraft, entertainment and eats).
Another enclave of seafood restaurants in Hua Hin is on Naresdamri Road, just south of the pier, near the Hilton.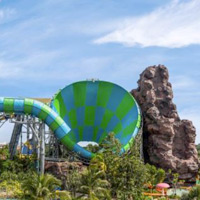 Holiday Inn is next to the Vana Nava water jungle with splash slides and other thrill activities/ photo: hotel
Ao Takiap Beach, five kilometres to the south, has several famous places and there are some excellent restaurants to the north as you approach Cha Am. Lively competition can only benefit consumers and resorts in the area put in an extra effort to attract trade. They don't try and compete on price with local outlets, but focus on creative menus and good service at reasonable prices. Some resorts offer cash vouchers or discounts at inhouse restaurants or free meals for children as part of the room package.
Seenspace Hua Hin is an unusual beachfront mall that somehow combines a pool bar with shopping and dining and a laid back vibe. At 1899 Petch Kasem Road is the somewhat twee and newer The Venezia theme shopping and restaurant area for those missing Venice. In Hua Hin? Hardcore Thailand aficionados may walk by with an amused smile but others may enjoy the 3D Museum, a mini-zoo, and a 200m Grand Canal replete with gondoliers. Farther along Petch Kasem is For Art's Sake, a 4D Museum with lots of selfie opportunities.
A few sights worth dragging yourself off that comfy lounger include the Hua Hin Railway Station, a colonial gem built in the reign of King Rama VI. Klai Kangwon is the palace that started it all. In 1926 King Rama VII decided Hua Hin would be a grand place to build a summer palace and so it was done. The three Spanish-style mansions are open daily from 9am to 4pm (tel: [66-32] 511-115).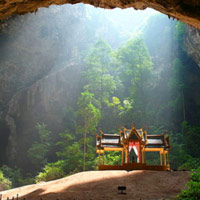 Phraya Nakhon Cave comes alight when the sun's rays touch it mid-morning
Located in a charming old traditional house on Naepkhehat Road, the Hua Hin Arts and Crafts Centre exhibits contemporary works of Thai artists, old furniture and photographs of old Hua Hin.
Want to stretch your legs more than round an art gallery? Try climbing the 400 steps to Khao Chong Krachok or Mirror Mount monastery and visit a small pagoda and a troop of playful monkeys. Enjoy the views. Another regular for Thai visitors is the mystic Phraya Nakhon Cave where at around 10am the sunlight shoots through a gap in the hills to briefly ignite a small Thai pavilion. Get your cameras ready for this one. More intrepid nature lovers can explore Pala-U Waterfall, about 60km west of Hua Hin an nice green day visit. There is a hike up to the various waterfalls that may be heavy going for very young kids.
Hua Hin golf courses and clubs
There's a lot of golfing to be had in Hua Hin and Cha Am. If you get sick of waves lapping on deserted sand beaches take a swing at one of these – our pick of the best golf courses in Hua Hin, all within a short drive of the resorts mentioned here. Royal Hua Hin Golf Course (tel: [66-2] 411-360, www.golfhuahin.com/royalhuahin.htm) has the accolade of being the oldest golf course in Thailand, opened in 1924. Good maintenance has ensured that it has aged more like a fine wine and less like you mother-in-law.
With the electric carts and decent clubhouse at modern The Black Mountain Golf Club (www.bmghuahin.com) you don't even have to pick up a golf club to have a good time.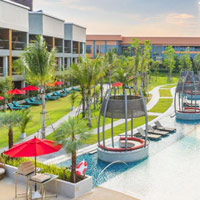 AVANI offers a fun playground for the young and restless/ photo: hotel
But if you're here to swing the well-linked course is a bonus. This is luxury golfing with well-appointing villas and condominiums for endless days and nights course-side. At Banyan Thailand Hua Hin (www.banyanthailand.com/) you'll find a golf club, a smart villa resort and meetings and conference facilities.
Palm Hills Golf Club and Residence (palmhills-golf.com), about 10km north of Hua Hin in Cha Am, is a popular course in a good location. Considered one of the best golf resorts in Thailand, Springfield Royal Country Club (www.springfieldresort.com/golf/) has a resident PGA professional and thanks to high levels of competition between clubs, won't cost you any more to play.
Another choice about 25 minutes away is Majestic Creek Country Club and Beach Resort (www.majesticcreekcc.com/) with challenging water hazards, fresh grass, and 27 holes to help it stand out from the crowd. Also consider the scenic 36-hole greens of the Lake View Resort & Golf Club (www.lakeviewgolf.co.th/) and the smaller Army-owned 18-hole Sea Pines Golf Course (www.golfsavers.com) set along the beach with brisk water and wind challenges.
Send us your Feedback / Letter to the Editor
FAST FACTS

/ Hua Hin information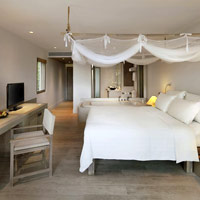 Evason's rustic chic Studio/ photo: hotel
Exchange rate is roughly US$1= Bt31.60. Use the moneychangers areas for the best rates. Hotel rates will fluctuate with the season, rising in winter and dropping in wet summer months. Expect rates ranging from around US$50-$60 at smaller unfussy Thai-run establishments, to US$100-$120 at international brands and top boutique hotels, and rising to US$180-$200 and up at luxury five-star hotels.
Numerous taxis and limousines services depart from Bangkok International Airport and take two to three hours to reach Hua Hin or Cha Am. Prices vary but start at Bt2,000 one way. Or Bt3,000 for a round trip. You can hire a self-drive for about the same per day.
Air-conditioned buses depart Bangkok's Southern Bus Terminal on Sukumvit Road about every 30 minutes for Hua Hin.
Express trains depart daily (about 13 in all) from Bangkok for Hua Hin and Cha-Am several times per day. Tickets can be booked in advance at any train station or at www.railway.co.th/main/index_en.html.
For more information, check out the Tourism Hua Hin site (www.tourismhuahin.com/).