THE EYE-POPPING Beijing experience begins the moment you touch down. Designed by Sir Norman Foster to resemble a coiling dragon, Beijing International Airport's Terminal 3 has a floor area of a million square metres and took Rmb21 billion, 50,000 workers and four years to build. Bigger than the combined size of all Heathrow's terminals, it's just one of the many contemporary flights of fancy across the capital that sprung up prior to the 2008 Beijing Olympic Games. Factor in the imposing monuments of earlier eras and you've got a city built to impress.
Beijing is an immense but neatly arranged metropolis. The ancient city was built on two axes, with concentric ring roads emanating from the Forbidden City. The modern city is largely following suit: the 760-hectare Olympic Green lies directly to the north of the Forbidden City, and a sixth ring road has been completed. It all looks very straightforward on a map, but the traffic is choking, so choose your hotel location carefully and allow plenty of travelling time.

Hotel Contact Information

See Slide Show
Arriving at Beijing Capital Airport
Beijing Capital Airport (en.bcia.com.cn) consists of three terminals and six concourses. Most domestic and international flights arrive and depart from Concourses C-E in Terminal 3, except the majority of Hainan Airlines, Xiamen Airlines and China Southern Airlines flights which still use Terminal 1 for domestic and Terminal 2 for international flights.
From the airport, the quickest (16 minutes) and cheapest (Rmb25) way to reach downtown is via the Airport Express (www.bjsubway.com). The 28km light-rail express line has four stops: Terminal 2 and Terminal 3 of the airport, and two in the city, at Sanyuanqiao (with transfers to metro Line 10) and Dongzhimen (with transfers to metro Lines 2 and 13). Airport-bound trains depart Dongzhimen 6am to10.30pm. City-bound trains depart Terminal 3 from 6.21am-10.51pm and Terminal 2 from 6.35am-11.10pm.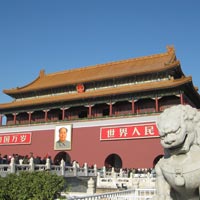 Tian An Men/ photo: Vijay Verghese
Airport buses run from Xidan, Beijing Railway Station, Gongzhufen, Fangzhuang, Zhongguancun and Wangjing to Terminal 3, with shuttles between the terminals. Personal vehicles and taxis should take the Airport Southern Line exit from the Airport Expressway.
Send us your Feedback / Letter to the Editor
As you exit the airport, ignore the taxi touts and jump in an authorised cab (the meter starts at Rmb12 and goes up in Rmb2 increments per kilometre after three kilometres) for the 45-minute or so trip downtown. There is virtually no English spoken so make sure to have the hotel address in Chinese characters or, better still, call the hotel and have them direct your driver in Chinese. There is an extra Rmb10 charge for the Airport Expressway toll. On then with our Beijing guide and a look at some Beijing boutique hotels, budget digs, and business options.
Bringing its own special brand of contemporary smarts for transit passengers and those requiring a stay near the airport is the Langham Place Beijing Capital Airport. This playful 372-room hotel (open 16 August, 2010) with Djs in the lobby and an art gallery, serves up large beds, oversize baths, flat-screen LCD TVs with DVD players, iPod docks and, of course, Wi-Fi. Rooms start at 45sq m. The two-floor Club L will keep business suits entertained with Internet stations, a pool table, games and, yes, a boardroom. Also available are conference and meeting spaces playfully termed in airport-speak, Foxtrot, India, Juliet, Kilo, Lima… Dance the night away at Fuel, sample Chinese at Ming Court, or enjoy the work and play vibe at Portal. It is a 30-minute drive into town and around 15-20 minutes by train.
Central Beijing business hotels, boutiques, courtyard inns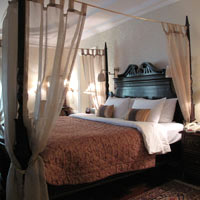 Historic Raffles Beijing/ photo: Verghese
Beijing business hotels span all genres and styles. Let's start with a Beijing grand dame. The present-day Raffles Beijing Hotel on stately Chang'an Avenue close to Tiananmen Square is the capital's oldest hotel building and something of a Beijing institution. When the Beaux Arts-style building opened in 1917, it boasted the city's first private baths with flush toilets, and telephones in each room.
Despite now being sandwiched between dour wings of the old Beijing Hotel, a US$12 million renovation has revived the nostalgia and romance of its early 20th century heyday, complete with Venetian chandeliers, marble staircases and Persian carpets.
The 171 rooms blend French whimsy and chinoiserie while discreetly integrating modern toys for today's travel elite, including flat screen TVs in gilt frames, free WiFi and a 24-hour valet for every guest. We particularly like the nine Personality Suites, dedicated to luminaries associated with the hotel – from Deng Xiao Ping to Charles de Gaulle (who forged bilateral diplomatic ties between China and France here in 1964). Explore nine "Personality Suites" that range from around 70sq m to 80sq m with creaking floorboards accessed via Beijing's very first lifts. Find four poster beds, a split-level room, rich carpets in muted but resolute tones, an old-world sofa, large wooden work desk with complimentary WiFi (in public areas too), small lampshade chandelier, a wooden almirah, bedside clock with a classic face and a large flat-screen TV. In the bathing area find a bathtub, rain shower and twin vanities. For business suits there's a flat laptop-friendly safe.
Behind the original building, a skylit atrium connects a '90s tower, which now houses 77 Raffles Inc Executive Rooms, with access to a sleek executive lounge, gym and indoor swimming pool. Signature French restaurant Jaan seats just 40 beneath vaulted arches alongside the original 1926 sprung wooden dance floor. La Vie serves classic high tea on silver tiered stands, while the distinguished Writer's Bar offers comfy leather armchairs and "Beijing Sling" cocktails – adapted from its Singapore parent's famous recipe.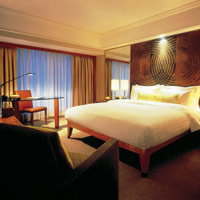 Grand Hyatt room/ photo: hotel
Just across the pedestrianised Wangfujing with its teeming shoppers and Beijing shopping malls from kitsch to high end as at the Lotte Intime, the Grand Hyatt occupies an enviable location above the popular Oriental Plaza shopping mall, which has a handy basement supermarket. The hotel is housed in a sleek arc of reflective glass smack next to offices and shopping. Taxis stream up frequently though Friday evenings, as anywhere in Beijing, can get tight. Standard rooms are sleek, if somewhat small, while the higher rooms offer views over the winged rooftops of the Forbidden City.
The real show-stopper here is the flamboyant Club Oasis, with a 24-hour gymnasium, massage facilities, solarium and lagoon pool surrounded by stone columns, waterfalls, luxuriant foliage and a synchronised virtual sky. The ever-popular Made in China restaurant serves up some of the best Peking duck in the capital from its wood-fired oven. Pick from the vast dim sum menu too. This is one of the best Beijing business hotels in town. It may not be as personal as some but it is brisk and efficient.
Sitting just off Wangfujing behind a traditional painted gate, the wing-roofed Peninsula Beijing offers emperor-worthy accommodation. Originally opened in 1989, (with a recent US$35 million renovation), the Peninsula may not look as cutting edge as its peers, but offers superior service and classic corporate comforts.
Road warriors will appreciate the directional hints in the guestrooms – push/pull engravings on the shower door, pre-set mood lighting, bedside master switches – making you feel instantly at home in the surrounds. There's also 42-inch plasma screens, MP3 docks, free Wi-Fi, delicious Davi bath products, a DVD player with complimentary movies in each room, and a luxury shopping arcade including the likes of Harry Winston, Louis Vuitton, Bulgari, and Dior. An ESPA features Oriental, Ayurvedic and European wellness treatments for women and men in lush surrounds, while the Peninsula Academy can take you to the National Acrobatics Academy or a Beijing furniture restoration factory in your leisure time. This is among the top Beijing business hotels.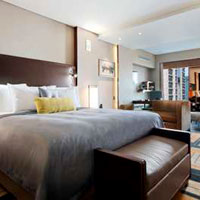 Hilton Wangfujing/ photo: hotel
Next door to the Pen, the 255-room Hilton Beijing Wangfujing is a premium mould-breaking "lifestyle" Hilton property. Although part of the Macau Centre, which sits right on the shopping promenade, you enter from the rear of the complex. This gives the hotel an intimate feel, enhanced by a stylish lobby with fireplaces. Hilton plays up the design cachet throughout – especially in flamboyant restaurants Chynna and Vasco's Macanese – and features a 24-hour gym and business centre, spa and indoor swimming pool.
Carefully considered rooms start at 50sq m and come with a large walk-in wardrobe and neatly tucked-away bag rack. The open-plan bathroom features a deep-soak tub, some looking onto the city, double-jet massage showers and Crabtree & Evelyn products. Other top-level in-room amenities include 42-inch flat screen TV, DVD player, iPod docking station, VGA plug-in cable, pillow menu and even a pet goldfish to keep you company. Executive rooms include fax/printer/copier, on-call concierge team and access to the Executive Lounge with views of the Forbidden City. The hotel can arrange corporate meetings for 50 to 200 in smart hi-tech surrounds.
In the same vicinity is new Beijing boutique hotel, The Emperor. The 55 rooms are smart with a mod design and LCD TVs and high-speed Internet access. Butlers are available at your beck and call. Expect bright splashes of colour like contoured sofas following the curve of the wall and train-sleeper style lime-green sitting alcoves running along corridors.
China's prolific budget chain, Motel 168, has nabbed a prime location opposite the Peninsula near Wangfujing. Branded as a Motel 268, the 256-room property offers basic rooms starting from, you guessed it, Rmb268. Double-storey Family Rooms come with two bathrooms and an extra pull-out bed for Rmb538.
Also close to Wangfujing, the Regent exemplifies contemporary urban class. The design by Hirsch Bedner Associates delights with clean lines, glass lifts and pretty splashes of violet, but also integrates ornate traditional carvings from the owner's sandalwood museum. Café 99 hosts one of Beijing's best Sunday brunches, or you can tuck into prime steaks on leather club chairs at the Bar & Grill. All 500 rooms come with plasma TV, DVD, floor-to-ceiling windows, coffee press and lemongrass-infused bath products. It is worth, however, paying extra for access to the Executive Club nestled at the top of the hotel – where soaring windows offer dazzling sunset views of the Forbidden City.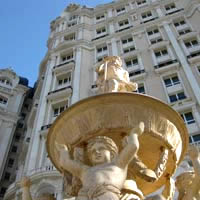 Baroque Legendale/ photo: Verghese
Why have a trite souvenir shop in the lobby when you can have a Rolls Royce dealership? If you are not in the market for a Rolls, Lamborghini, Ferrari and Maserati showrooms are parked next door. A Southeast Asian spa, light-bathed gym, and heated swimming pool with "floating" pool tables and bar round out the excellent facilities. The affiliated four-star Park Plaza adjoins the hotel.
Just opposite The Regent, the Legendale hotel is an uncompromisingly baroque, Parisian confection seemingly plucked off the Seine and plonked down in Beijing. It is a breathtaking, if incongruous, edifice. Step inside to marvel at the astonishing faux-Euro flourishes – marble busts, chandeliers, bronze statues, and carpets deep enough to swallow your foot. With a sibling in Macau (the Landmark Hotel), the level of opulence is unsurprising. The 390 rooms circle a central, well-lit atrium, offering plump beds, drapes, ornate bathrooms, a large laptop-size safe, free plug-in Broadband, an iron and ironing board and classic Roman numeral clocks. An ajoining tower offers 79 apartments and a popular Portuguese and Chinese restaurant.
Just past the cathedral on Wangfujing, the almost ageing Crowne Plaza's freshly renovated look belies its mid-range rates. Its 360 cheery rooms feature fashionable carpeting, small flat-screen TV, and frosted glass bathroom. A soaring lobby is home to the comfortable Atrium Lounge and Champagne Bar.
Past the infamous Donghuamen Food Market and into a quiet neighbourhood behind the Forbidden City, Hotel Kapok wraps its distinctive milky-green latticed frame around a five-storey former government building. Designed by influential local architect Zhu Pei, the 89-room hotel flips the traditional hutong concept on its ear – re-working the system of courtyards and public spaces in the vertical for the modern-day traveller. Glass corridors wrap around a central courtyard leading to the 27 suites and 62 standard rooms, some with private pebble courtyards.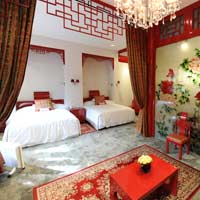 DuGe Boutique Hotel/ photo: hotel
Rooms feature a small flat screen TV, gingko print wallpaper, and a spacious glass bathroom. The Kapok suites are a luxurious 106sq m with an enormous circular soaking tub. Unfortunately the TV doesn't grow with the room size and you may find yourself straining to watch the screen from the modular chaise lounges. A nice setting to be sure but, unfortunately, Kapok suffers from lacklustre, hands-off management that will see you fending for yourself.
Beijing's traditional courtyard residences are well suited to being redeveloped as boutique residences. Several enterprising owners have created small inns – though the results tend to be more homely than hip. Hotel Cote Cour SL is a delightful exception among Beijing boutique hotels. This 14-room gem set around a 500-year-old courtyard mixes traditional Chinese charm and contemporary chic. Expect flat screen TVs, free WiFi and a swanky lounge where the chef cooks up whatever is fresh from the market that day. Though not as spacious as the suites, the Deluxe Superior (number 203) is the room to book, with higher ceilings and bustling street views. A second launch hotel by the same folks is in the 798 Art District.
For boutique on a budget, try Guxiang 20 housed along trendy Nanluoguxiang Hutong. Rooms here start from Rmb480, ranging up to Rmb1,399 for its three spacious suites, all of which come with big wooden patios overlooking the hotel's rooftop tennis court.
Just off Nanluoguxiang, DuGe Courtyard Boutique Hotel is a handsome new addition to the courtyard accommodation scene. The Qing dynasty residence has been remodelled to include10 bedrooms with private en suites, each with its own design theme – such as Silk Road Courtyard and Gold Lotus Room – and featuring original antiques, custom-designed furnishings and contemporary artworks. A small pavilion bar and lime-lacquered Chinese dining room opens onto a sunny courtyard. Beijing's funkiest shopping boutiques and several cool diners lie on the doorstep too.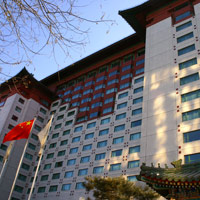 The Peninsula / photo: Verghese
Another courtyard charmer is the Red Capital Club Residence, owned and operated by the people behind the Red Capital Club, one of the city's most endearing dining destinations, which sits two blocks away through ramshackle alleyways. Home to a mere five suites swathed in the Red Capital Club's commie-chic style, the converted courtyard is hidden in an alleyway near the Swissotel, and makes up in elegance what it lacks in space. A bomb shelter in the central courtyard has been converted into a climb-down wine cellar.
Outside town, is the sibling Red Capital Ranch, offering rustic luxury at the former site of a hunting lodge along a section of the Great Wall dating back to the Qin Dynasty (221BC).
Lu Song Yuan used to be a stop on the backpacker circuit until renovations took things up a notch. The hotel, a series of traditional courtyards, is located in the hutongs near the Drama Academy, and the ancient grey-brick neighbourhood is perfect for wandering. Due to the size of the traditional courtyard residences, the above options don't feature health clubs or business centres.
Hip Beijing business hotels, Central area, Sanlitun

If you're in need of a hip and happening hotel in Beijing with all the trimmings, you can't go past Swire's 99-room small luxury hotel, The Opposite House. Designed by Japanese architect Kengo Kuma, the emerald cube glass exterior gives way to minimalist, Zen interiors around the central atrium, which look more like a mod art gallery than a hotel. Sunlight filters through a giant gauze drape, creating a kaleidoscope of mood and light as it encounters red glass walls, brushed oak floors and a giant Perspex medicine cabinet in the lobby. This constant interplay of light and colour is just one more element that separates this playful, multi-textured hostelry from stiff-neck cookie-cutter establishments. Where else would you walk into a lift chamber called "The Egg"? Well, boil me up Scottie.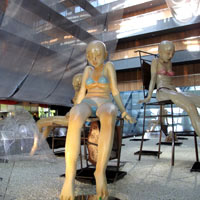 Opposite House, quirky art/ photo:Verghese
Equally spaceage, is the absence of a reception desk. Guests are whisked through the check-in procedures by hosts in Jetsons-like uniforms wielding futuristic digital clipboards and cameras, taken past changing lounge sculptures and art works, then beamed up in glass lifts to the keycard-protected residence floors. Ninety studios and nine suites feature minimal Zen lines and easy-to-use electricals with a do-all button switching on the lights. Expect heated floors, personalised service, and the soothing golden hues of American oakwood. Deep soaking bathtubs are constructed entirely of wood and the kick-ass sound system is wired all the way through to the rainshower. A ribbed rough-wood floor provides traction for the feet so you won't skid around post shower.
Other touches include a swivel flat-screen TV (LISTEN UP - with the volume controlled via the DVD player), comfy bed, free WiFi, work table, stacked data-port, four multi-pin electrical sockets, and an evening turn-down face mask with a hand written note inviting you to relax and slough off the day's grime and stress. The flat laptop safe is rather slim and a gauze drape slides down the glass partition to partially protect the modesty of whoever is soaking in the tub. The full length windows are welcoming of light and, should anyone across the street choose, a fair amount of scrutiny. This is not one-way glass. People can see in but there's adequate window texture to keep you and your Victoria's Secrets safe. Ladies and long-maned men will appreciate the satisfyingly powerful hairdrier that emits a B747 growl when it gets into stride. This will somewhat offset the fact that the bathroom is a tad dark for a proper shave and makeup.
The Opposite House lies at the southern end of The Village at Sanlitun, Swire Properties' colourful new retail and entertainment development, and close to the infamous Sanlitun bars strip. But then, why step outside when it's always hopping inside, thanks to Northern Asian restaurant Bei, southern European hottie Sureno, sexy lobbyside cocktail lounge Mesh and throbbing late-night bar and club Punk (see Beijing nightlife for more about these venues). (The Opposite House is showcased in our exclusive by-invitation Top Asian Hotels Collection, featuring the best Asian hotels, resorts and spas in a printable A4 page with stunning visuals.)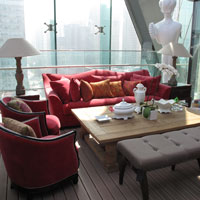 Eclat Beijing patio deck/ photo:Verghese
Sanlitun is the spot for cool Beijing shopping in all stripes. Situated next to the Parkview Green mall in the convenient, developing neighbourhood of Fangcaodi is the Hotel Eclat Beijing that pushes whimsy to extreme limits and actually gets away with it. Walk in through the art lobby littered with eye-popping curios including the whale-morphed-into-submarine bronze sculpture and catch a glass lift up if only to marvel at the pint-sized love-seat sofa. The 102 rooms start from the 16th floor. Every level has a Dali sculpture (imitation of course) and some unique quirk that will have your camera clicking in no time. For example, you'll spot gold Buddha statues, a grand piano. or a collection of limited edition pedal bicycles from the likes of IWC, Ferrari, Gucci, Chanel and others.
Pale brick walls lead through quiet corridors to a 35-38sq m Deluxe room with a granite-floor entrance that gives way to dark wood timber in the bedroom area. Find a Panasonic massage chair, Blu-ray DVD and a Samsung 3D television plus B&O music system, iPod dock and three multi-pin sockets at the wooden work desk. There's an Illy coffee machine, a compact bathing area with partial view of the bedroom from the tub (the glass partition turns opaque at the flick of a switch), and there's a laptop-friendly safe for pin-stripers on the go. The transparent plastic chair is from no less a design personage than Philippe Starck.
The Deluxe Pool Suite carries the fine-tuned extravagance further. A spacious and airy living room leads to an outdoor pool and patio with a sofa arrangement. Enjoy a workout bike or grin at the bowler-hat hanging lamps above the dining table, While its Taipei sister property trips up trying to squeeze in a lot of fun into a small space, here things are thought out and planned. This is a genuine top-rung Beijing boutique hotels choice with quality finish, a sense of style and never-ending distractions. Despite all this, rooms are functional, welcoming and bright. And, should you need a pick-me-up in the morning, simply stroll across to Parkview mall to marvel at the playful Miss Piggy (with tattoos and nipple show-through). Yes, there's one in Taipei too. This is a hotel for people who think they are different. And it will work for those with more pedestrian taste too.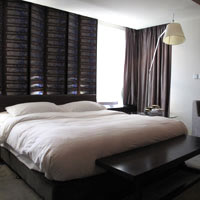 Hotel G GREAT room/ photo:Verghese
Close by in the Sanlitun area, Hotel G Beijing (no relative of g hotel in Manila and Penang) is another aspirational boutique-style property that somewhat pulls it off. The room categories are simple – Good, Great, Greater and Greatest. Take your pick. The smallest is 45sq m. A 54sq m GREAT room is darkly appealing with charcoal tones, different colours for windows, floral print wallpaper, a pillow menu, an old-fashioned bell alarm clock and assorted bric-a-brac.
Find an iPod dock, a wood work desk (guests can rent a mobile phone or Nespresso machine), a laptop-friendly safe, black slate floor and large, well-lit bathroom with rain shower plus tub, and L'Occitane toiletries. Further whimsy permits guests to choose their own window "mood" lighting resulting in lively, if unpredictable, bursts of colour across the purple and otherwise nondescript and boxy facade. The 110-room hotel offers sexy '60s Hollywood-inspired interiors, the bright and brisk Scarlett Wine Bar & Restaurant, and the Japanese eatery Morio. Reasonable rates include bonus 'goodies', like complimentary WiFi, breakfast, local calls and mini-bar. A fun place with lively service but not entirely on the beaten track and borderline love hotel if your tastes run to more conservative.
The lofty Park Hyatt Beijing on the city artery Jianguomen Avenue, spans the 37th to 49th levels of the Yintai Centre, opposite the China World Trade Centre and new CCTV tower, and right above Guomao metro station. The 63rd floor lobby is a stunning entrée, with wraparound views of the sprawling metropolis and hills beyond.
The 237 rooms and suites flip traditional room design layout and have guests entering into a limestone-lined open bathroom with massive deep soaking tub, heated floors, separate toilet and rain shower and a walk-in wardrobe. Pass through this spa-like space to the luxe living quarters equipped with hi-tech amenities like plasma TVs, DVD players, Wi-Fi, adjustable mood-lighting, electronic blinds – and more great views. Staff is efficient and welcoming, intuiting guest requirements, ensuring everyone is speedily served.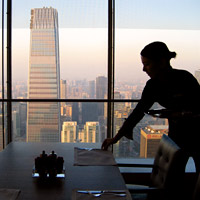 Park Hyatt Beijing view/ photo: Verghese
Splash out at the highest dining room in the city, the China Grill on the 66th floor, a relaxed international eatery under a glass pyramid with prime meat and seafood and cloud-piercing views. China Bar on level 65 is a great place to unwind in style. There is also a two-storey Tian Spa, two gyms, two stunning pools and crisp business facilities. All in all, Park Hyatt is a premier luxury Beijing business hotel choice.
Not too far from the Park Hyatt the Fairmont Beijing (opened 2010) is a futuristic reflective glass construct that towers over the landscape like an angular sharp-cornered bag handle with a cutaway right in the centre opening up views, light and air. It is an unusual eye-catching design with a pink hue that will not appeal to all in a city where architectural whimsy is de rigueur. Walk in to spot a riot of texture and patterns, gold, tiles, and more. The hotel offers 222 rooms and suites with BOSE sound, cordless phones, Nespresso coffee machines, 42-inch flat-screen TVs and look-in glass-wall bathrooms with oversize soaking tubs and walk-in rain showers as well as electronic toilet seats that will have Japanese guests enraptured. The young at heart can play with the yellow rubber ducky.
Expect dark-wood furnishing and cabinets set off by bright cushions, a work desk, and plenty of stretch space. If you're counting and your eyes are up to it, the bed linen is in 400-thread count. That's smooth enough for frazzled executive bottoms as well as luxury leisure trippers. A cherry-wood work desk serves up a data-port with two multi-pin sockets, and an iPod dock. While WiFi is charged, one consolation is the big laptop-size safe. Later, get a rubdown at the Willow Stream Spa.
The Grand Millennium Beijing arrived in April 2008, with 521 rooms, a spa, indoor swimming pool, sauna, and butlers on the executive floors. Part of Fortune Plaza, it is close to the new CCTV headquarters and The Place shopping. The adjacent TVCC building, which was to house China's first Mandarin Oriental was damaged by a fire in January 2009 and the hotel operator has postponed plans to open in the capital.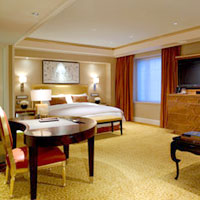 St Regis Diplomat Deluxe/ photo: hotel
A cosy choice among top Beijing business hotels, St Regis, is located in the leafy diplomatic quarter smack in the central business district. The hotel makes an impressive first impression with its high ceilings, sweeping marble staircase, European chandeliers, Roman-style fountain and towering palm trees. It has been smartly refurbished and returned with its hallmark classic touches – Chinese quilts, bronze artefacts, gleaming wood cabinets, big-screen TVs with DVD and, of course, butlers. Rooms are spacious, the decor rich and inviting, and the colour tones have been lightened, brightening up the entire feel of the place. The standard Deluxe is a well-sized 323sq ft and includes facilities such as a writing desk and comfy chair, laptop-size safe with power point inside, minibar and WiFi.
Shangri-La manages four Beijing properties, most of which lie within spitting distance in the eastern Chaoyang district. In keeping with Shangri-La's group-wide initiative launched in January 2009, all hotels offer free WiFi throughout. A big corporate thumbs-up. The Kerry Hotel Beijing (formerly the Kerry Centre) forms part of an office, residential and retail mall complex. The rebranding mid-November 2011 represents the group's foray into a less rigid business hotel model with an emphasis on lifestyle. The revamped hotel offers a new club floor and standard rooms come stocked with a DVD player, Bose sound system, USB ports, and a Nespresso coffee maker. Also expect a bathtub with separate rain shower cubicle and an LCD TV and digital clock built into the mirror. Two features which set the Kerry apart are paperless check-in and check out as well as complimentary use of the minibar for every guest upon arrival.
The 716-room China World, a favourite with the government, is about as "Imperial Beijing" as it gets – all lacquered red columns, Ming vase lamps and carved staircases. Things tone down in the guestrooms decorated in comfortable neutrals with Internet access and flat screen TV. Aria is a mod-European restaurant with a fine wine selection and live jazz. The fitness centre features a heated indoor swimming pool and an Oxygen Room, and there's an extensive shopping mall in the basement. Shangri-La's four-star Traders Hotel shares China World's five-star fitness facilities and luxury shopping.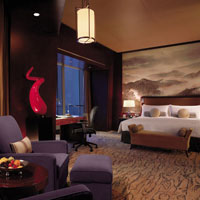 China World Summit Wing/ photo: hotel
Yet another hotel by the brand is the China World Summit Wing Hotel, which opened in August 2010 in the city's newest landmark – the China World Tower – rising 81 storeys above the China World Trade Centre, shopping mall and exhibition hall. Although slap bang in the heart of the bustling business district, it only takes around 15 minutes by taxi to reach the Forbidden City and Tiananmen Square. In an attempt to provide a more bespoke and personal service the hotel has limited its number of rooms to "only" 278, all of which are located on the upper floors with jaw-dropping views. These are also some of the most spacious hotel rooms in the city with the standard Executive starting at a generous 55sq m. Other boutique flourishes include a goodie box in the room filled with your favourite treats (they will send you a questionnaire in advance) and fresh "fortune cookies" at turn down.
In-room facilities include Nespresso coffee machine, well-stocked minibar, tea pot with posh teas, writing desk with multi-plug sockets, 40-inch flatscreen TV, DVD, a handy reading light built into the bed's headboard, iPod dock, Internet, iron and board and laptop-sized safe. The marble bathroom contains a separate powder room area, a soaking tub, 15-inch flat screen TV within the mirror, separate rainforest shower and L'Occitane toiletries (Bulgari in suites and above), and complimentary bottles of Welsh spring water. Rooms have a cozy contemporary design with charming Chinese elements such as traditional landscape paintings above the bed.
Also expect a 24-hour gym, infinity pool, CHI Spa, four restaurants, lounge and two bars including Atmosphere on the 80th floor – among the highest bars in Beijing. There is also a convention centre featuring the 2,340sq m Summit Ballroom and 772sq m China Ballroom, plus 12 large meeting rooms. Come by car or land on the helipad. The entire hotel has a bold, funky and contemporary decor with cute touches such as breakfast snacks served on a real piano. Expect big bursts of zesty colours, eye-catching art and chill-out tunes.
There's another Shangri-La out west, just past the Beijing Zoo. This pleasant garden hotel's 142-room Valley Wing, is full of top-end delights like the Blu Lobster fine-dining restaurant and a 1,000sq m CHI Spa, dressed in rich, earthy chocolates and ochres, with teak sliding doors and traditional Tibetan artefacts.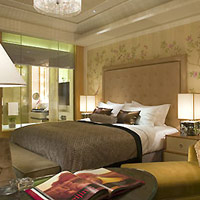 Sofitel Wanda/ photo: hotel
Ladies should try the 150-minute "Empress Imperial Jade Journey", designed especially for CHI Beijing. Based on Empress Cixi's beauty regimen, the treatment features a lotus milk bath, milk and honey wrap, and pampering jade facial using golden caviar and a customised piece of jade to massage along the meridians.

Back in Chaoyang, Accor's global Sofitel flagship is quite a surprise. The 417-room Sofitel Wanda Beijing anchors the mammoth Wanda Plaza integrated urban hub. Ignore the unprepossessing but strikingly modern shoebox periscope exterior and wander into the bright lobby with its huge choice of sitting areas scattered around like so many cosy living rooms. The wall-length Swarovski crystal flowers display is an eye-catching talking piece that cost a cool US$3 million or so. At the other end of the lobby another huge (and equally expensive) Chinese modern art mural covers an entire wall depicting courtly history.
Conjuring French art de vivre with classy chinoiserie flourishes, the brand's luxury ambitions are evident in the seductive black and gold furnishings, hand-painted silk wallpaper, free WiFi, 42-inch flat screen TVs and L'Occitane bath products. Suites come with see-through magic bathroom glass walls that frost-over at the flick of a switch, and toilets have the added delight of a 27-inch TV screen. Best of all, ladies will love the huge "light" frame around the square mirror that throws light right on your face rather than ghoulishly across it. The hairdryer has a conveniently positioned plug point right under the basin. The Rain shower is a drizzle but the hand shower is a force to reckon with and hot water is quick to arrive. Taps are conveniently old-fashioned and shower instructions are clear. No fiddling about with shampoo dripping into your eyes here. For business travellers, the work desk is positioned next to a data-port with several electric sockets. There is a top-loading flat laptop-friendly safe too.
The M Bar has re-emerged as the Chinese restaurant Yipin and French flair is served up by the plateful at Heritage. Le Spa features a range of massages, beauty and wellbeing therapies using Lancome products. The Sofitel Wanda is a Beijing business hotel with a difference and with 3,277sq m of meetings space it is no slouch when it comes to organising conferences or small corporate meetings. (Sofitel Wanda Beijing is showcased in our exclusive by-invitation Top Asian Hotels Collection, featuring the best Asian hotels, resorts and spas in a printable A4 page with stunning visuals.)
Another property that has opted for European-style intimacy over sweeping Forbidden City-esque grandeur is the Ritz Carlton Beijing, just down the road from the Sofitel. In fact, the Ritz Carlton has the smallest five-star lobby in Beijing, a wood-panelled parlour entered through bevelled glass doors that gives it a residential feel. It is classic old-world elegance and top-drawer service all the way at this 305-room stunner decked with chandeliers, sconces, flocked wallpapers and silk armchairs.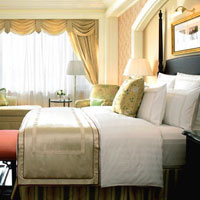 Ritz-Carlton Executive Suite/ photo: hotel
The rooms are equally sumptuous—in particular, the magnificent beds. Sleep as if afloat on a big squishy marshmallow in an enormous plump featherbed that you may find impossible to vacate when that dreaded morning alarm squeals. Likewise the deep soak bath in the grand marble bathroom is the perfect place to wash away the stresses of the day. Charming lamps add a warm glow to rooms and exude elegance. The standard Deluxe is 48sq m and includes 42-inch flatscreen TV, writing desk, iPod dock, laptop-size safe, iron and board, high-speed Internet and minibar.
The Lobby Lounge is a great spot for classic high tea, while Executive Club guests get the run of a delightful lounge straight out of an English country manor, with five food and beverage presentations throughout the day and evening. There's also a ritzy spa and even a wedding chapel. Cognoscenti in search of Beijing business hotels with style, luxury and understatement can simply plonk down here.
Right next door, the JW Marriott opened by the same owners comes equipped with similar high-end conveniences, along with views over the neighbouring power station from back-facing rooms. The contemporary design is a bit bland, but we do like the Quan Spa, in sophisticated chocolate tones designed to appeal to male corporate guests. Both hotels are part of China Central Place with easy access to the excellent Shin Kong Place shopping centre. Service here is attentive and efficient with ready smiles.
Another Marriott worth noting (there are nine Marriott hotels in the city) is the humongous Beijing Marriott Hotel City Wall, which opened in 2008 in a central locale near Beijing Railway Station and the Second Ring Road. The cupola-topped monolith boasts – wait for it – 1,312 rooms, making it the largest Marriott outside the USA. It also has over 4,000sq m of banquet and meeting space, five restaurants and bars, a Quan Spa, gym and swimming pool and a full-service business centre.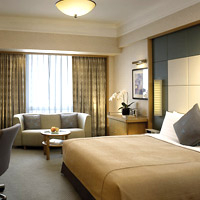 Shangri-La's Kerry Hotel Beijing/ photo: hotel
The popular mid-range option Courtyard by Marriot Beijing has been rebranded as the Pentahotel Beijing. It's still affordable but the European hotel chain is redesigning rooms and guest hangout areas in an attempt to give the place some added designer oomph. The revamp should be complete by late 2011. The 299-room property offers easy access to downtown shopping at the New World Centre and nearby Pearl and Silk Markets.
Hilton Beijing is located in the northeast of the city at a convenient entry point to the Third Ring Road. The 15-year-old hotel has a new executive tower with 126 rooms, bringing the total number to 503. Rooms feature ergonomically designed furniture, LCD screens in both the living area and bathrooms and Bose CD players. Five function rooms and the availability of WiFi throughout the entire tower make rooms here a smart choice for business travellers.
Doubletree by Hilton Beijing situated on the Southwest 2nd Ring Road within striking distance of the Financial Street office area, offers contemporary 30sq m rooms and 60sq m one-bedroom suites with 32-inch flat-screen TV, and iron and ironing board. Pin-stripers can avail of cell-phone rentals and a business centre.
Not far away, the 17-year-old Swissotel opposite the Poly Theatre has recently completed a long renovation. TVs are of the boxy variety and the tub resembles a footbath, but other amenities are fresh and comfortable. They also offer free local calls, faxes and Broadband on the executive levels, a Hong Kong International Medical Clinic, Bank of China and post office. This is an old timer that chugs on happily with a useful location for in-town calls or a quick airport getaway.
The Kempinski Hotel Beijing Lufthansa Centre is quite a mouthful but does offer a decent blend of business and leisure facilities with 526 rooms, a functional Executive Club floor and lounge, seven restaurants including a great little deli in the lobby, a wellness centre, heated rooftop pool and beauty salon. The hotel also prides itself on its ability to manage meetings of various descriptions. Mark it down on your list of Beijing conference hotels.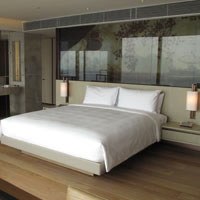 EAST, Beijing/ photo: Verghese
The Great Wall Sheraton was China's first international five-star hotel when it opened in 1984 with its signature gleaming reflective glass facade. Years later its location still works to its advantage. The 827 rooms have had a bright and contemporary makeover and feature the obligatory Sheraton Sweet Sleeper Bed. If it's meetings you're after, this is among the more useful Beijing conference hotels with over 1,700sq m of space to play with.
Beijing business hotels in the East

In the fast-developing east near the old Lido is the EAST, Beijing (September 2012), a new and hip urban office-shopping-hotel environment for road warriors in search of something different. The reflective glass tower rises above the INDIGO shopping complex with 369 rooms on offer, each with sweeping views. This is a modern and minimalist space for business travellers with iPod Touch technology. Each room features a Beijing photograph stretched across one wall, in a single vivid colour. Rooms start at 30sq m and go up to 70sq m for a Studio.
The entry-level URBAN rooms serve up a polished stone-floor foyer that doubles as the bathing area on one side with a sliding door leading to the timber-floor bedroom with an invitingly plump bed draped in creaseless stark white cotton. WiFi is free. Expect a rain shower, a flatscreen swivel TV, and a desk with data-port. Shopping is downstairs and a large urban park is in the offing as the development expands with green lung spaces.
This is neither a luxury-end digs nor a texture-heavy boutique inn. It is functional, fast and effective with clean lines and light pastels that will not jar the eye. Eat or play, the options are all here. One entire floor is devoted to meetings space with an open kitchen and a "candy wall" too with 16 different kinds of distraction. Shopping for hip Beijing hotels? This could be a winner if you do not require to be in the centre of town. (EAST, Beijing is showcased in our exclusive by-invitation Top Asian Hotels Collection, featuring the best Asian hotels, resorts and spas in a printable A4 page with stunning visuals.)
Beijing business hotels to the North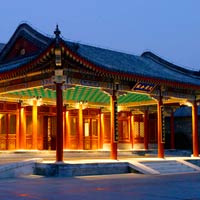 Aman at Summer Palace/ photo: hotel
The Aman at Summer Palace, Beijing opened in September 2008 next door to the Qing dynasty imperial retreat in the city's northwest. In true Aman understatement there is no in-your-face hotel sign, just two white stone lions guarding a quiet entrance just before the East Gate to the Summer Palace. Aman Beijing's pavilion suites are housed in century-old dwellings once used by palace guests awaiting an audience with the Empress Dowager Cixi. The seductive design unfolds like a mini Forbidden City, through a procession of meditative courtyards, willow-studded lakes soothing corridors and pavilions, often adorned with a guzheng player or master calligrapher in action. Grey hutong stone provides a stunningly simple texture for walls with delicate spotlights bringing out the tones. Classical Chinese furniture completes the ensemble.
Rooms in the heritage buildings celebrate ancient Chinese culture in Aman's contemporary streamlined style and feature king-size four-poster beds, hi-tech conveniences, butler service and private grassy courtyards. Although it has just 51 guestrooms, Aman has 357 staff and four restaurants, including The Grill, The Chinese Restaurant and excellent French kaiseki diner, Naoki. The underground spa is a splendid retreat as is the brilliantly seductive indoor pool, large, heated, and beckoning with dark blue-purple tiles. Also underground is a decadently surreal movie theatre with reclining padded leather chairs. Take in a screening of Last Emperor in situ. Also find two squash courts, a gym, a Pilates studio, and private hairdressing suites. Work, entertain, and play, at a price.
Westin and InterContinental both opened second properties in the city's north prior to the Olympics. The Westin Beijing Chaoyang offers 550 rooms and suites, and eight restaurants and bars. The top four floors of the hotel hold Westin Executive Club rooms where guests have access to a private lounge with food and complimentary drinks, as well as business services. Business travellers are well catered for with ample meeting facilities and a Meeting Concierge on hand for tech support. There are also plenty of options for relaxation at the Heavenly Spa, which covers the whole of the fourth floor and contains a 25m swimming pool, gym, Jacuzzi and saunas. InterContinental Beijing Beichen features 333 guestrooms and 42 suites including four restaurants and lounges, a Spa Intercontinental, 24-hour gym and Executive level premium services.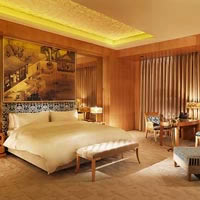 Pangu 7-Star Suite/ photo: hotel
Pangu Plaza stretches the length of seven football fields along a perimeter of Beijing's Olympic Park and is home to a high-rise office tower, shopping mall and a "seven-star hotel", where Bill Gates, Henry Kissinger and Evander Hollyfield were rumoured to have stayed during the Olympics. The Beijing Pangu 7 Star Hotel offers 234 rooms decorated in European style with Chinese flourishes and precious antiques. Traditional Chinese "courtyards in the sky" come with wooden columns, magnolia trees, a swimming pool and sweeping views of the stadiums and Olympic Green. Dining options include Japanese and French restaurants, 26 Chinese private dining rooms and a top-floor lobby bar, along with a banquet hall and three multifunctional halls. The striking Pangu 7 Star Hotel is almost a mini-destination with developing spa features and an immense ballroom that is expected to rank this address as one of the best Beijing conference hotels around for meetings of all sizes and persuasion. MICE planners take note.
aloft Beijing, Haidian, mixes modern, urban design with hi-tech amenities in a new-age "haute hostel" concept for the budget conscious. Rooms are pared back, but funky and functional, offering a well-edited selection of necessary luxuries. Suffer the paper coffee cup with one-serve tea and coffee bags, soap dispensers in the bathrooms, canteen-style breakfast trays and absence of robe, toothbrush and mini-bar, but delight in free WiFi throughout, 42-inch flat-screen TVs, Bliss bath products, high ceilings, designer flourishes, and of course, the low rates. Refuel at "re:fuel", a complimentary snack bar that is open all day and night. Other dining options include Nook, "re:mix" or "w xyz". There's also a "re:charge" mini gym and indoor lap pool. Aside from the jazzy Four Points by Sheraton hotel opposite, and massive but rather miserable shopping complex down the road, there isn't much happening in this university area. The hip entry from Starwood is a new concept tested in the virtual world of Second Life. Really. Well, unreally, actually...
Beijing business hotels to the West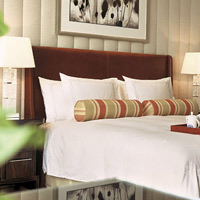 Ritz Financial Street/ photo: hotel
Skipping across town (easier said than done) to Financial Street: a modern district along the western section of the Second Ring Road lined with over 300 financial institutions and several impressive hotels.
Top of the pops is the Ritz Carlton Financial Street, a sparkling modern complement to the aforementioned Chaoyang property. Clean lines, sensual Sino design and cosy dimensions have won this 245-room hotel a slew of industry awards. Be sure to take a mellow dip in the softly-lit pool, which has moulded marble Jacuzzi beds and a movie screen showing old black and white films (without sound). If you're hungry head to signature restaurant Cepe, one of the capital's best mod Italians. For a spot of glitzy Beijing shopping just head next door to the giant Lane Crawford, Dior and Louis Vuitton. A good address if you're shopping for top Beijing conference hotels.
On arrival at your room you'll be welcomed by a small statue of an animal such as a mandarin duck or horse which helps to promote good feng shui throughout the hotel. The standard Deluxe is 535sq ft and feels nicely welcoming thanks to the warm copper and olive tones, cozy furnishings and elegant contemporary Chinese decor. Facilities include writing desk, Internet, PC and fax hook-up and dataport, laptop-size safe, 37-inch LCD TV, iron and board and hairdryer. If space is an issue, try the 2,739sq ft suite for size. It comes with Ming-style furniture, a freestanding bathtub, sauna, and a library area that includes a printer and fax machine.
InterContinental Financial Street is extremely comfortable and corporate, though not quite as impressive as its newer neighbours. Its X-Change bar is a chilled spot for drinks and live music, while Steak Exchange serves mammoth cuts of Australian beef and oversized desserts straight out of Alice in Wonderland. I-Spa pampers with organic Jurlique products.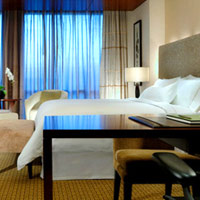 Westin Financial Street/ photo: hotel
The Westin Beijing Financial Street is a massive twin-tower complex around a contemporary Zen garden housing 486 rooms and no less than seven restaurants (Senses does a big Sunday brunch). As per the brand's holistic approach, there's a 2,094sq m Heavenly Spa, a 24-hour gym, heated pool with underwater music, nightly unwind rituals, bath butler and running concierge. The building complex additionally houses 205 residences and one of the largest ballrooms in town at 890sq m. The total meeting space at the Westin Financial Street is over 1,686sq m in various combinations, making this a solid choice among Beijing conference hotels.
That's the long and short of Beijing business hotels, budget finds, and Beijing conference hotel options. Take your pick. Remember to have everything written down in Chinese and pick your location wisely to beat the traffic jams.
Beijing shopping is rife with deals if you know where to look. Bargain hungry shoppers can haggle to their hearts desire at the Silk Market (corner of Jianguomenwai Dajie and Dongdaqiao Lu) where over 1,700 stalls sell clothes accessories, trinkets and pearls, and the excellent antique market at Panjiayuan (Panjiayuan Qiao, Chaoyang District), which attracts 10,000 vendors and up to 70,000 visitors on a busy day.
Dashilan, with its look of genuine antiquity, is back after a long renovation with a host of restaurants and traditional shops. Look out for Qianmen Street, which showcases several of Beijing's "time-honoured brands". On Wangfujing are several malls and side alleys with trinkets and gew-gaws. A bigger option is the Intime Lotte department store.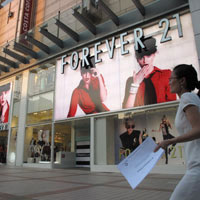 Beijing shopping at Wangfujing
The usual designer brand shopping is everywhere in hotel shopping arcades and larger malls. Expect everything from Dior and Louis Vuitton to BVLGARI, and an eye-catching Shanghai Tang (at the Grand Hyatt). For more unique finds, check out the boutiques along Nanguoluxiang Hutong (Xicheng District). Grifted at number 32 and Plastered at number 61 sell funky Beijing-inspired gear by locally based graphic designers.
Delve into the contemporary Chinese art scene at 798 Art District (Dashanzi, 4 Jiuxianqiao Lu, Chaoyang District). The 798 Warehouse, and international heavyweights Ullens Center For Contemporary Art and Faurschou Gallery, are especially recommended.
For more eye-popping stuff and sightseeing, Beijing's latest architectural icons need to be seen to be believed. Start at the Olympic Green in the city's north where the pale blue, bubble wrapped " Watercube" National Aquatics Centre sits calmly beside the strapping steel " Bird's Nest" National Stadium built by Herzog and de Meuron. Head towards Tiananmen Square to the futuristic translucent dome of French architect Paul Andreu's National Grand Theatre. Finally, on the East Third Ring Road don't miss the astounding new CCTV headquarters designed by OMA, whose two 40-storey, 60-degree-leaning towers twist to connect at the bottom and top.