ROMANCE
Maldives beds for all reasons
These stunning specks of costly coral in the Indian Ocean are not easy to find, or reach. A Maldives resorts review for top for dives, weddings, honeymoons, and kids.
with original reporting by Royson Ellis
SEE ALSO Abu Dhabi business hotels | Seychelles resorts | South Africa game parks | Sri Lanka resorts | Colombo guide | Underwater hotels | Barcelona guide | Vietnam resorts | New York guide | Krabi resorts

Taj Exotica Resort & Spa, Maldives
JUMP TO Island hopping and Malé beds | Where on earth is my atoll? | Hotel Contacts
ARE THERE ANY JAWS here? The sunburned German tourist gestured towards the water and asked again, "Any jaws?" A beach cleaner looked up perplexed, and shook his head. "No sharks," he muttered cheerily, "it's safe." And without further ado, following the German's lead, we all dove in. There are sharks of course – after all this is the mid Indian Ocean – but not the kind with skull-cracking jaws and the sort of deep rib-pounding orchestral accompaniment to send people screaming from the water. Sharks are fed, hand fed even, baby sharks reared, and on some islands you might manage to swim with them – the smaller ones at least. Sharks have enough on their minds with all the bad press Hollywood has given them and if, perchance, you stop by a glassed-in underwater diner or, armed with money and sufficient moxie, descend to the depths to seek them out, they will treat you with immaculate disdain. There's enough fish in the sea, quite literally.  Still, it would be wise to have a good dive instructor on hand.
The islands are one endless picture-postcard. Literally. It is a threatened idyll. Our Maldives resorts review changes by the year, if not the month, as new dream visions take shape. Long gone are the days when a palm-thatched hut by the beach with brackish water in the bathroom, and fish with everything (breakfast, lunch and dinner) were the highlights of a holiday there. Thirty years ago, if someone smiled at you in a resort he was almost certainly Sri Lankan, since the Maldivians were too shy to let their feelings show. Things have certainly changed.

Slide Show

E-mail Page

Print

Hotel Contacts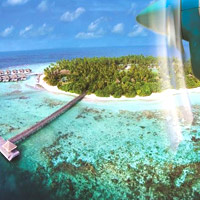 Plane approaches Outrigger Konotta/ photo: hotel
Toss out a question and your Maldivian hosts will respond with a ready smile and wit, waxing eloquent on the wonders of their delightful archipelago. And much they have to talk about. These islands have gone through rapid transition, catapulting from 19th century dhoni sailboats to howling 21st century speedboats with triple engines and enough thrust to land a wrestling marlin on the moon. They have survived the 2004 Boxing Day tsunami and rising waters to play host to a million visitors each year. To get your atoll bearings, check our Maldives Map. And an informative and useful site for visitors from the Maldives Tourism Promotion Board is at www.visitmaldives.com.
In 2015 just over 1.2 million arrivals poured into the country, around 29 percent from China and 40 percent from West and Eastern Europe. The year 2012 saw the year's total hit a million for the first time as pale-skinned tourists disgorged from aircraft in search of the ultimate, stress-free vacation: sea, sun, sand and sophistication by the bucketful – all quite incredible, considering the population of the Maldives is only around 369,000. Brush up your Putonghua and join a safe 'snorkelling' tour, where would-be swimmers bobbing around in bright orange life jackets are towed around the island. Everything is possible.
Political turmoil in 2012 and after caused travellers to pause momentarily but despite talk of applying the brakes on these hedonistic hideaways by applying stricter Islamic codes, far-flung resorts on remote atolls have escaped sanctions. What traveller wants to see three-piece suits on the beach? Tourism accounts for roughly 30 percent or more of GDP, so it's highly unlikely you'll have to worry about packing a marriage certificate or brown-bagging your mojito for DIY evenings. Bikinis are kosher, but just do thing with discretion and follow your island's lead. There's no need to embarrass your hosts.
Send us your Feedback / Letter to the Editor
As tourism has expanded from the core of Malé Atoll to the whole apple of the Maldives, with resort openings in the northern tip of Haa Alif Atoll and in the deep south across the Equator in Addu Atoll, more Maldivians are getting a taste of tourism and sharing in its rewards. See our easy reference Maldives Map.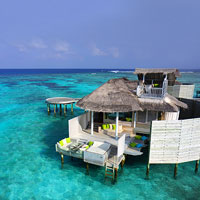 Six Senses rustic chic over water stays/ photo: hotel
Tourism arrived in the early 1970s as the hippy trail snaked down through India to wind up in isolated fishing villages causing consternation to islanders as foreigners lounged about on the beach in what appeared to be their underwear, and sometimes no-wear at all.
Since 1972 over 109 picture-postcard islands (with more in the pipeline) have been transformed with state-of-the-art infrastructure (including water desalinisation plants and garbage disposal units) into stunning getaways offering privacy, solitude and unspoiled sugar-white beaches enclosed in turquoise coral gardens, but with all modern conveniences for those hankering after some city comforts.
Desalination is a costly and painstaking business – worth bearing in mind while running showers and taps. Electricity is expensive and, despite the increasing use of air-conditioners, you will often be able to get by quite comfortably using ceiling fans. Several resorts shun TVs to offer a genuine escape though some have succumbed to noise and karaoke.
The visitor's first glimpse is usually from the air – a breathtaking rhapsody in blue, from the dark turquoise of the Indian Ocean to the crystal azure of lagoons lapping golden rings of sand and clumps of coconut palms. There are 1,192 islands in the Maldives stretching for 511 miles from north to south and as the arriving jet zooms low to find the runway protruding into a lagoon, every one of them appears priceless. Closer acquaintance confirms the pilot's-eye view is right: the Maldives is priceless – as well as pricey. And it will only get steeper.
To attract big-spenders, most resorts have added superlative over-water accommodation with fine dining options. This separates upmarket guests (who might pay upwards of US$1,500-$2,000 per night, including breakfast of course) from the mass market mob on all-inclusive package deals in holiday-camp style beachside cabanas. A mid-range hotel may still set you back a cool US$200. We have looked at all styles of escapes in this Maldives resorts review penned and updated regularly by our veteran journalists.
One&Only Reethi Rah sun soak/ photo: hotel
Expect a middle-market onslaught in 2016-2017 when the multi-hotel and guest house Thumburi Integrated Resort (www.investtourism.gov.mv) development launches on conjoined islands in Laamu in the south, a 30-minute domestic flight from Male – that will disembark you on land, not on the water. Maldives in fact has four airports and this will rise to five. With beds in the pipeline that won't pummel your wallet unduly, it's not all painful pilliwinks in pockets, which is good news for the salaried class everywhere.
The impact of tourism development (both physical and social) has been somewhat blunted by regulations designed to protect the environment and people. Go soon if you want to keep ahead of the crush. With a second international airport open in Gan in Addu Atoll giving access to hitherto unseen areas, and a slew of new properties, things may not remain quite so idyllic and quiet for much longer.
A very informative and useful site – to keep abreast of developments in the islands as well as to plan a holiday and check out a comprehensive list of resort escapes – is run by the Maldives Tourism Promotion Board (www.visitmaldives.com). And without further ado, herewith a Maldives resort review and fun guide with our select pick of some of the best Maldives resorts for a family outing or a honeymoon holiday.
Island hopping and Malé beds
Visitors are transported by speedboat or, for farther destinations, by a Trans Maldivian Airlines turbojet or seaplane (www.transmaldivian.com) or a turboprop flown by Maldivian (www.maldivian.aero). In 2013 the Blackstone Group acquired the formerly largest seaplane fleet carrier, Maldivian Air Taxi, along with Trans Maldivian Airways (TMA). Both are now operated under the TMA banner, and have 44 Canadian propeller Twin Otter aircraft in the fleet, serving over 40 resorts. Flight timings of seaplane services are set the day before to link up with international flight arrivals and departures.
With no fixed schedule to go by, things may appear a tad dramatic, but it all works out in the end. Service is friendly and informal with barefoot pilots handling both the baggage and the flying. Views are terrific from any seat. Just remember to pop your eyes back in their sockets after landing.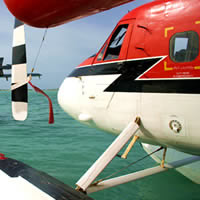 Seaplane island hops/ photo: Vijay Verghese
Another notable addition to these Indian Ocean skies is Mega Maldives (megamaldivesair.com), which launched December 2010. The Maldivian airline offers scheduled charter flights between Shanghai, Beijing, Hong Kong and Male 16 times per month, plus domestic flights between Male and Gan, making resorts in Addu Atoll such as Shangri-La's Villingili Resort and Spa more accessible. In 2014, Mega Maldives introduced two weekly charter flights between Hong Kong and the west Pacific Ocean island of Palau.
The Maldives is a 100 percent Sunni Muslim republic with about 390,000 people who live in 200 inhabited islands and the country's capital island of Malé. The capital has a population of about 130,000, a few trendsetting restaurants and transit hotels (but no alcohol) and little to appeal to the hedonist from the west and east.
Pleasure-seekers are thoroughly pampered on exclusive resorts where spas, bars and romantic alfresco restaurants compete for attention with a brilliant see-through underwater world. The fact that all these acres of unspoiled coral are right at your doorstep simply adds to the allure.
The airport is on its own island and is linked by road to the newly created residential island of Hulhu-Malé. Arrival facilities are simple as long as visitors have a return ticket and a confirmed hotel reservation. A 30-day visit permit is given to all nationalities on arrival.
All arriving luggage is X-rayed for bottles since the importation of alcohol is prohibited. Any found is kept in bond for the visitor's departure. However, that's when homeward-bound alcohol-lugging passengers hit a snag as bottles (unless purchased from – and properly wrapped and sealed by – the airport's duty-free shop) won't be allowed on board departing flights.
There is a well-stocked duty-free shop selling wines and spirits, as well as others with upmarket perfumes and fashions, in the airport's two-storey departure lounge. As many flights depart late at night, if you return at the end of your resort holiday to the airport by a seaplane, which only flies in daylight, be prepared for a long wait – or check in to the airport hotel or one in Malé. There are a couple of undistinguished cafes serving the staple hamburger and chips, and a Swensens Ice Cream Parlour at the airport entrance offers ice-creams. The airport recently installed a few free internet kiosks for those desperate to get connected before heading home.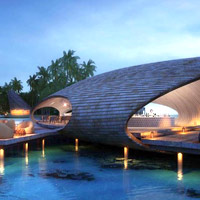 Sunset bar at St Regis Vommuli/ photo: hotel
Malé the capital, 10 minutes by ferry from the airport island, has developed rapidly over the past two decades from single storey sea-front shops adorning sandy streets, to a fairly cosmopolitan town – at least in appearances. It now boasts paved streets, tree-lined avenues, a clutch of restaurants serving everything from Thai to Continental, the odd internet café and a busy waterfront drive where boats from resorts, and the airport ferry, pick up and drop off passengers. The crushed coral and dirt alleys that hosted gritty cyclists have given way to roads where taxis and posh vehicles ply. Hotels have sprung up to cater for businessmen, many from Sri Lanka, and international government officials, as well as travellers transiting en route to a sun-drenched escape farther away. Buildings have grown to 10-storeys and have acquired reflective glass frontage.
Taxis charge between 25 and 30 Maldivian rufiyaas (US$1=Rf15.40) for most trips with an extra Rf5-10 for luggage. However, if your feet will transport you in the heat, the island's size (not much more than a single square mile in area) means most places are within a 20-minute walk.
There are a few affordable (think US$100-$150 a double per night) guesthouses in the capital with pride of place going to the Beehive Nalahiya Hotel, located at the busy junction where Orchid Magu (road) meets the main shopping street of Majeedhee Magu, a 20-minute walk from the jetty. Its glass-walled, timber-floored lobby is wonderful for people-watching and it has astute reception and efficient housekeeping staff. Built as an apartment block, the WiFi-enabled, comfortable (if small), self-contained bedrooms can be rented individually by the day or night.
At about US$300 a night, Traders Hotel, Malé - rebranded in 2015 as Hotel Jen, Shangri-La's hip brand - is a modern high-rise construct, featuring a top-floor infinity pool with a sea view and a spa. The hotel boasts meetings facilities with free WiFi. It is on the north shore of the island not far from the ferry terminals. The hotel operates a free speedboat service from the airport that takes around seven minutes. Although rooms are a little on the small size (which is not uncommon for Malé), it is rated among the top picks as a useful staging point if you need to stay overnight before heading off to one of the other islands. But it is in the far-flung atolls that the sea begins to exert its charms at some of the best resorts in Asia, each on its own private island.
Where on earth is my atoll?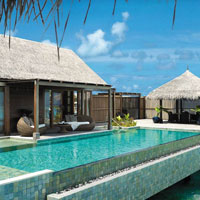 Shangri-La's Villingili/ photo: hotel
The closest hotel to the Malé International Airport, and the only one that can be reached by road, instead of by sea or air, is the Hulhule Island Hotel, a five-minute drive from touchdown. Run with Singaporean efficiency (by an associate company of Singapore Airlines), it is a bland mid-rise construct with 136 plain ceramic-tile-floor bedrooms (some with balconies), a couple of restaurants and a bar as well as a pool and that anonymous ambience typical of airport hotels. It's good for an overnight stay after a late arrival while awaiting the next day's boat or flight to your chosen resort.
The development focus in the Maldives swung inexorably towards the two poles – southwards with the arrival of Shangri-La's Villingili Resort & Spa on the huge island of Villingili, close to Gan International airport on Addu Atoll, at the archipelago's southern tip; and to the far north of Haa Alifu Atoll where JA Manafaru is a more recent incarnation of The Beach House Iruveli.
The Shangri-La Villingili Resort & Spa Maldives on Addu Atoll is among the top Maldives luxury resorts with an arsenal of distractions including its signature CHI, The Spa - with an endless menu of holistic treatment - tennis, gym, dive centre with a decompression centre, kayaking, sailing, water-skiing, and yacht cruises.
Within the 12-hectare grounds are ocean villas and tree houses each with at least 133sq m of stretch-room. The presidential Villa Laalu goes up to a whopping 957sq m. Expect aircon, iPods and docks, DVD players, espresso machines, a pillow menu, and Man Friday butlers. Guests can pop over to Gan to ride bicycles the 17km length of five scenic, causeway-connected islands. More than 25 dive sites are within striking distance of this resort including the coral-encrusted wreck of British Loyalty just 30 minutes away.
Other pioneers can stay on Gan at the Equator Village created out of accommodation that once served British Royal Air Force personnel. The causeway and new highway links Gan with other non-tourist islands in the Addu Atoll group, so visitors can actually meet islanders as well as hotel staff.
The right choice of resort in the Maldives is vital since it is not possible to leave and go down the street to another hotel if the selected one doesn't suit. With the sole exception of Kuramathi, all the islands dedicated to holidays have only one resort apiece. There is no ferry service between resorts, although there are boats and seaplanes daily to the airport island of Hulhule. Pick from top-drawer – and flashy – getaways, soothing spa resorts, or go for something simpler. There's something for everybody.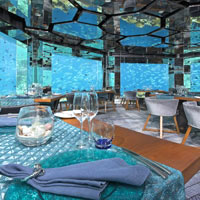 Anantara Kihavah underwater dining experience/ photo: hotel
Few visitors arrive without having made a reservation in advance and most holidays are sold on the "package" principle that includes airfare and transfers. A good local travel agent (such as Inner Maldives, www.innermaldives.com) can arrange accommodation for independent travellers. Single travellers in search of romance will be guided to islands with a lot of single guests, or advised to try another country.
Despite their top drawer appeal, several islands are ripe for family fun (many Maldives child-friendly resorts rank among the best, not least for the quality of care), honeymooning couples, lovers of nature, both on shore and underwater, and the city-stressed. This is not a country for touring or mingling with the local populace, or for hectic nightlife beyond karaoke carousing. Since the resorts are horizontal it is usually a long walk (instead of an elevator ride) from room to restaurant.
Resorts in North Malé Atoll close to the airport are popular with those who feel they have travelled enough by the time they arrive and want only a short boat ride to sprawl on the beach.
The country's oldest and grandest resort is Kurumba Maldives. The 181 villas and rooms blend rich woods and high ceilings with the warmth of Maldivian style and design. The 74sq ft Beachfront Deluxe Bungalows have walk-in wardrobes, private terraces and daybeds perfect for dozing in the late afternoon sun. The 200sq m Pool Villas have private swimming pools, Jacuzzis, espresso machines, open-air garden showers and butler service on request.
The resort is just 10 minutes by speedboat from the airport. All rooms are equipped with in-room safes, minibar, hairdryers and IDD phones. A pioneering resort with easy access, Kurumba is also within boating range of a number of other North Malé Atoll islands. With one of the largest overwater bar decks in the Maldives, a spa, and eight top notch restaurants, including Indian, Arabian, Chinese, Italian, and a Japanese counter, Kurumba Maldives is a classic resort that sets the standard for the rest.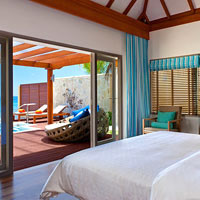 Sheraton room / photo: hotel
The Sheraton Maldives Full Moon Resort & Spa is on an idyllic picture-postcard island a 15-minute boat ride from the airport. It offers a sugar-white sand beach and 176 renovated lodging choices ranging from deluxe rooms and beachfront cottages to over-water bungalows and suites. The clutch of 20 Ocean Villas offering striking views of the Indian Ocean, a plunge pool, hammock, alfresco shower, roomy outdoor living space and a garden area. The prized stand-alone beachfront cottages serve up.
Robinson Crusoe thatch roofs, family-friendly tile floors and sunning patios with wraparound sea views. The 52 water bungalows offer 54sq m of space for romance, or a date with a good book. There is air-conditioning but ceiling fans are available if you prefer to savour balmy breezes. Expect a 40in LCD TV with news and entertainment, a DVD player, safe, and complimentary WiFi. That's the wrap on our Sheraton Maldives review.
There are some engagingly eccentric resorts close to Malé that cater for the whimsical. Rooms at Gili Lankanfushi, Maldives are born of fantasy and resemble storybook timbered constructions sprouting from a lagoon. Some villas require a rowboat to shuttle you around. At the top-end of their line are the Crusoe Residences and the Private Reserves. Gili Lankanfushi is also in North Malé Atoll not far from the airport.
The swish Four Seasons Resort Maldives at Kuda Huraa is among the more stylish Maldives luxury resorts just a short speedboat ride from the capital Malé and the airport. Several thatch-roof villas are over-water with breezy views in all directions. Designed in the manner of a Maldivian village, the Four Seasons Kuda Huraa serves up a spa set on its own private island. Hard to beat. And there's a second choice – the Four Seasons Resort Maldives at Landaa Giraavaru – but that's in the northern Baa Atoll, 30 minutes away by seaplane. Bear in mind that while everything in these sun-dappled islands is pricey, Four Seasons islands are the top-end offerings in this Maldives resorts review and come with a stiffer price tag.
North Malé Atoll houses another excellent hideaway. The small 48-room Banyan Tree at Vabbinfaru (15 minutes by speedboat from the airport) underwent a thorough renovation in 2012, which added private dipping pools to the distinctive conical thatched villas. The island is informal with trendy public areas and a nice blue lagoon.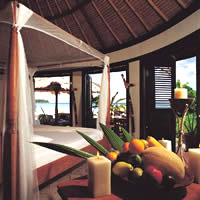 Banyan Tree Vabbinfaru villa/ photo: hotel
Highlights include stingrays that come right up to the jetty to feed in the evenings and a sunset cruise to watch schools of spinner dolphins. Banyan Tree also runs a marine lab that focuses on conservation efforts. Staff is friendly and access to neighbouring islands – as well as the airport – is a plus point.
Part of the same group, the neighbouring Angsana Ihuru, lounges leisurely just on the horizon, and is a slightly lower priced version. It was one of the first devoutly eco-minded Maldives resorts and that philosophy remains a driving force. This tiny island (it takes less than five minutes to walk around it) boasts a sugar-white beach with one of the best house reefs in the Maldives. In 2012, this family friendly Maldives resort renovated 45 of its signature lime green beachfront villas in addition to its dive centre. Thanks to the upgrade, the resort offers wade-in child-friendly snorkelling and the Maldives's first SNUBA programme. A hybrid between diving and snorkelling, SNUBA allows you to dive up to six metres while connected to a floating raft.
Snorkelling is right on your doorstep and excellent visibility. Spot parrot fish, groupers, surgeon fish and the occasional moray eel. More serious divers can partake in the five-star PADI training programme and explore more than 30 nearby diving sites. Or grab a sea canoe and flex some muscle.
This small and intimate hideaway is one of the best Maldives resorts for family fun and punches well above its class. The wade-in reef makes things hugely accessible with shallow sandy paths leading through the see-through waters to the drop-off where manta rays glide by watched by moray eels. This means you can snorkel just before lunch and then race in to grab your spaghetti. At many other resorts, snorkelling involves a journey by boat to the best spot on the reef. This opens up great underwater vistas but can be time consuming.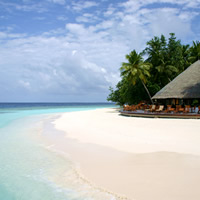 Angsana has a walk-in family-friendly Vijay Verghese
One resort rapidly gaining a following is the One&Only Reethi Rah also in North Malé Atoll. Large and glamorous, it is an uncompromising hedonistic escape with six kilometres of coastline, endless expanse of white sand beaches (12 in all), 128 private villas, a spa, and a staggering 40 swimming pools (37 of these with bungalows). The plush villas – all with dedicated villa hosts, a Nespresso machine, DVD, widescreen TV and Broadband – offer a minimum 135sq m of space, so go ahead and swing a cat by the tail – or your kids by their hair. Each month features a Saturday night Full Moon party where guests mingle at an Arabian Nights restaurant laid out with carpets, cushions and aromatic candles.
Long popular with British visitors, much-photographed Baros concentrates on conviviality, in its mature, lush atmosphere with stylish water bungalows and garden villas. The resort has been rebuilt in sumptuous fashion and has the added attraction of superb cuisine while retaining competitive pricing for its bungalows and villas. Also in Malé Atoll, Huvafen Fushi boasts the first underwater spa, and each of its 44 rooms sport a private pool.
Still in North Male Atoll, and strong on city-style infrastructure, which makes it look more suited to Miami than Maldives, is Paradise Island Resort & Spa with its rows of water and land villas totalling 260 rooms and five restaurants.
Bandos Island Resort & Spa is another retreat with a metropolitan atmosphere but with the ruggedness of its vegetation carefully preserved. With a generous 178,900sq m at its disposal, this is a larger, more spread out coral island with 215 rooms. Bandos is visible from the capital Malé, just a short hop away by speedboat. This was the second tourist resort to open in the Maldives. Its pedigree ensures standards remain high and the hospitality warm, with prices that won't pinch as much as some with rates from US$250 up. A 53sq m Deluxe is reminiscent of a whitewashed Marbella adobe. Interiors serve four-poster beds with timber flooring. More upscale Water Villas are on offer too. The resort is keen on promoting weddings in the Maldives and has several plans on offer.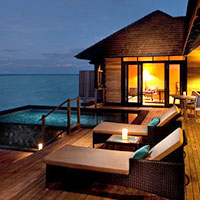 The Sun Siyam Iru Fushi Maldives Infinity Water Villa/ photo: hotel
For those in search of activity, muscle-bound distraction and organised extravaganzas, there is the Club Med Kanifinolhu (also known as Kani) on the picturesque Kanifinolhu Island. It has benefitted from a major post-tsunami overhaul. The 75 smart Lagoon Suites are built on stilts and offer fabulous views of the water. Indoors, enjoy an LCD screen and a free-standing tub. The Beach Villas offer landscaped terraces while the 143 Superior Rooms are housed in two-storey bungalows. The Kani all-inclusive package includes the de rigueur activity-based itinerary – aquafitness, badminton, beach golf, volleyball, deep sea fishing, kayaking, soccer and windsurfing – that has made Club Med a fixture for families with a French accent, and the young and muscled. Kani is a 35-minute speedboat ride from the airport.
Adaaran Select Hudhuranfushi was a downmarket property known as Lohifushi until its rebranding as an Adaaran Select resort lent it a happy-go-lucky holiday ambience. The island, a coconut plantation until it became a resort in 1979, is lush with mature vegetation including huge banyan trees; it also has a full-sized football field. Strung out over the lagoon and accessible from a dark wooden causeway, the resort's Prestige Ocean Villas are available at a premium compared with the all-inclusive rate of the densely packed beach villas. A fine dining restaurant and an overwater club-style dining room have been added as an alternative to routine buffets in the huge main restaurant. Transfer from the airport by speedboat takes 30 minutes.
The Sun Siyam Iru Fushi in Noonu Atoll a 45-minute seaplane flight north of Male, offers comfortable digs and access to high speed internet. Think 52 acres of sugar-white sand, an unrivalled ocean vista, Water Villas, and top-class snorkelling. This is a versatile escape and a splendid option for child-friendly Maldives resorts. If you enjoy fresh seafood, this could be the nearest thing to heaven.
Water Villas serve up glass floor panels bringing the sea literally into the bedroom underfoot, rain showers, and top-notch i-spa bathrooms. Add to this a Bose home theatre system and you may never even need to step into the water. Grab a full-bodied red from your own in-room wine cellar. Try an Infinity Water Villa with a lava-stone pool set in a timbered sun deck with sweeping vistas, and a rainshower for a cool down.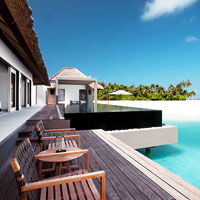 Cheval Blanc Randheli by LVMH, super luxury/ photo: hotel
Step right into the sea. Beach Villas are on the sand set in private walled compounds open to sea breezes. Expect a broad range of menus and water-based activities. The Spa offers holistic ayurvedic treatments for body and soul. This island retreat is a good location for kids with the Koamas Kidz Paradise, where you can leave the children to enjoy a day filled with fun activities such as sand painting and gecko hunting.
Toward the northwest of the Maldives archipelago, on Noonu Atoll, is the LVMH property, Cheval Blanc Randheli. The designer brand group has injected a touch of unobtrusive contemporary with a modular cubist design in bleached tones and cream with rustic stressed wood boardwalks, verdant grassy trim, cobalt-tile pools looking onto infinite azure vistas, and a mix of Island Villas, Water Villas, and Garden Water Villas. Expect clean straight lines and angled walkways across the sandy island with thatch-roof villas set on the sands or upon stilts over water.
The villas are spacious and open to light, breezes, and the elements, if you so desire with well designed entrances and windows for maximum visual line of sight. At the ocean-facing Cheval Blanc Spa start off with a hammam spa or yoga before dipping into an arsenal of wellness treatments. Kids can enjoy a water slide and free-form pool. And to prove that this is spoiling luxury at its seamless best, do take the 40-minute flight to Randheli from the main airport on a custom made Twin Otter in signature grey taupe and yellow with leather interiors and cooling towels, a far cry from the rattle and shake of regular seaplanes.
In Noonu Atoll on Medhufaru Island in the Edufaaru Lagoon, are luxury villa residences, all in a signature circular design, from Soneva. The Soneva Jani resort (1 October 2016) includes a variety of accommodation and private residences - one to three-bedroom over-water villas and a three-bedroom beach villa. It's a quirky all-wood stockade design favoured by Soneva with the addition of splash slides for kids - or adventurous adults.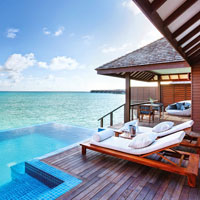 Hideaway Beach Resort villa pool deck/ photo: hotel
Also to the north of the airport on a 1.4km island with less than five percent of the area developed and 103 private villas well spaced out for maximum privacy, is the refurbished Hideaway Beach Resort & Spa Dhonakulhi Maldives (reopened October 2014).
The strength of this resort is the space, the size of the villas (ranging from 176sq m to 1,400sq m) and the butler service that comes with each pampered stay. All villas have butler access so there's no need to unpack, draw your bath and deal with mundane chores. Concentrate instead on enjoying woody interiors, breezy views, private pools perhaps, soaking tubs and blue panoramas.
Decor is simple and sparse with neat understatement, the villas a sturdy construct with shingle roofs and timbered patios, sun decks with sunning chairs, and bright blue plunge pools. The island offers a good house reef, as many as 28 dive sites within reach, a marina, and a Mandara Spa for those who prefer the ministrations of a masseuse with oils and potions. Massage or marina, fishing or water sports, there are options galore. A 705sq m Family Villa with pool is a good size to spread out and toss those Louis Vuittons about with careless abandon.
Across the channel from Malé in South Malé Atoll, resorts are undisturbed by jets flying overhead. Adaaran Prestige Vadoo is on a three-acre island, now a manicured garden retreat, with 50 detached villas built on columns over a translucent lagoon, linked to the island by winding wooden walkways. Four offshore villas can only be reached by butler-powered boat. The interior layout is spacious with wooden floors and sliding screens, Broadband, two flat-screen televisions (one's in the bathroom), bags of cupboard space, a Jacuzzi for two, and a dining deck with small plunge pool. The resort has been divided into Sunrise Water Villas, Sunset Water Villas, and Honeymoon Villas. There are also six Japanese-style villas. There is a gourmet-class international restaurant, a Japanese restaurant, spa, gym, hair salon and swimming pool on the island itself. It is already popular with Japanese, Korean and Chinese guests as well as dedicated divers of all nationalities. From the airport, it's 20 minutes by speedboat.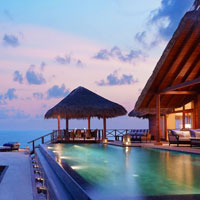 Taj Exotica suset/ photo: hotel
The Holiday Inn Resort Kandooma Maldives, serves up a slew of the "new" inn fare with iPod docks, flat-screen TVs and Wi-Fi. Sited in South Male Atoll, a 40-minute boat ride from the international airport, this is an accessible island with good dive possibilities – explore the Kandooma Channel, the caves and an underwater mountain. That's one way to climb a peak without breaking a sweat. Expect in-room orange juice and tea leaves (not packets) to concoct your own brew, and large picture windows to take in the views from over-water villas or garden bungalows. For a rubdown there's the Kandooma Spa. There's also a Kid's Club with face-painting and fun games for the little ones, making this a good child-friendly option for harassed families with toddlers in tow.

Also in the South Male Atoll, the Indian-managed Taj Exotica Resort & Spa makes the maximum use of the attractions of the tiny Embudu Finolhu island. Magnificently transformed after the tsunami, it offers classic grand-hotel-style accommodation with a tropical touch in 64 thatched villas with timbered floors (the deluxe versions each have a private pool) and lagoon villas with sun decks. Rooms are unfussy and homey with white ceiling beams soaring upwards, lots of woody features, and wicker chairs. The views are grand and, if you're one of the lucky ones with a private pool, you get more lounging chairs set on a sunken deck looking out at panoramic vistas.
Deluxe Lagoon Villas stretch over a generous 94sq m, with Molton Brown toiletries, butlers, aircon – ah for a sweat-free afternoon at times – and LCD televisions. The island is just a 15-minute private luxury speedboat ride away, available around-the-clock from Malé International Aiport – so no need for delays if your flight lands at an awkward hour. It's a narrow island, 780m long, with an extension created by the arc of jetties – resembling an arrowhead – serving its offshore villas. There is a pan-Asian restaurant as well as an overwater Mediterranean one and a wine room. Set in a huge lagoon, it offers safe swimming as well as the ultimate island for smooth relaxation.
(The Taj Exotica Resort & Spa is showcased in our exclusive by-invitation Top Asian Hotels Collection, featuring the best Asian hotels, resorts and spas in a printable A4 page with stunning visuals.)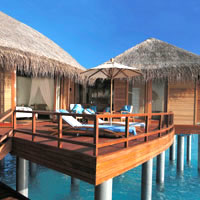 Anantara Dhigu/ photo: hotel
Sister resort, Vivanta by Taj - Coral Reef, is in North Malé Atoll on Hembadhu and popular as a more value rate retreat for the young and restless. Vivanta is a hip offering with a more informal party atmosphere and plenty of dark-stained wicker chairs for lounging about in. There is a Presidential Nirvana Suite too with a private pool for high rollers.
A 40-minute speedboat ride deeper into South Malé Atoll will deposit you at Cocoa Island by COMO's fantasy array of 33 live-aboard dhonis (Maldivian boats) strung out across the water on stilts overlooking a sandbar tongue that leads on to some clear snorkelling waters. This offering from COMO Hotels and Resorts is a stylish retreat with traditional flair. Step right out of your dhoni-styled suite into emerald water teeming with marine life. There is also a COMO Shambhala Retreat with holistic spa treatments and yoga on tap through visiting specialists and workshops. Learn diving, sample South Indian food, or simply dip in the pool. Not so much one for the kids, it's more a honeymooner paradise.
The five-star Anantara Dhigu Resort & Spa Maldives, spread over five acres in South Malé Atoll, is an all-villa boutique resort. Situated about 25km from the capital Malé and the airport, 35 minutes away by speedboat, the resort comprises beachfront villas (some with their own pool), over-water suites and pool suites and, a nice child-friendly touch, two-bedroom villas that will comfortably host families with kids. The Dhoni Kidz Club is for children aged three to eleven, offering a variety of distractions, and babysitting from US$15 per hour. There is an Anantara Spa with glass floors for eye-popping views of marine life underfoot. One of the fun features kids will enjoy is the hotel's Coral Adoption Programme – with a first hand look at the hotel's work to protect the local coral reef.
Among the broad range of dining options is the Baan Huraa Thai restaurant set on the water away from the main complex at the edge of a reef at Anantara Veli Resort & Spa. Grab a dhoni to sail into the sunset, and dinner. At Anantara Veli expect high-speed WiFi, surround sound, flat-screen TVs, DVD players, MP3 docks, espresso machines and rain showers to get that salt off. The seven Ocean Pool Bungalows, added in 2012, sit atop a secluded rise overlooking the ocean. The resort has also added Deluxe Over-Water Pool Bungalows – aimed at couples out for a romantic holiday. Cartwheel across 125sq m of space or take a dip in the private plunge pool. The design is natural and island-inspired with hardwood floors, white linens and floor-to-ceiling glass doors.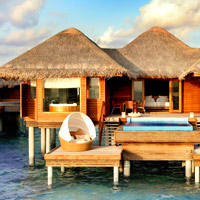 Stylish Huvafen Fushi / photo: hotel
Sibling resort, set on Velighandu Huraa island, Anantara's Naladhu Maldives offers 19 exclusive ocean houses named after Maldivian plants. Each elegant, 225sq m house with white-gabled roof has a personal plunge pool and large teak sundeck. Mod-cons include in-house WiFi, Bose surround theatre system, LCD satellite TV, iPod and CD player. Banish stress at the in-house spa or explore the island's underwater world with Naladhu's own PADI dive team.
Situated deeper south in the same atoll, Adaaran Club Rannalhi is promoted as an all-action, all-inclusive, fun resort and is managed with panache by the Sri Lankan hotel group that introduced the Adaaran concept to the islands. Rannalhi has an additional claim to fame – a pretty decent house reef that hosts a variety of fish and coral. The lagoon is almost tailor-made for swimming and snorkelling.
Managed by Singapore's HPL group is the rustic back-to-nature Rihiveli Beach Resort, Maldives, in the bottom tip of the South Male Atoll. The 48 bungalows at about 22sq m each offer a simple escape "without modern distractions" like air-conditioning. There are ceiling fans, a few outdoor showers and a range of water sports.
Dhaal Atoll lies much farther south, but it's worth going there to sample the delights of Angsana Velavaru (the sister resort of Angsana Ihuru in North Malé Atoll). The thatched conical roofs of the 79 beachfront villas help them blend in with the vegetation, offering a plush sanctuary among the palm leaves. If you like a good soak, go for a Beachfront Jet Pool Villa or take the plunge with a Deluxe Beachfront Pool Villa. Standard Beachfront Villas have gardens and an outdoor shower so you can whistle along with the birds as you lather up.
There are also 34 two-storey InOcean Pool Villas situated one kilometre from Velavaru Island. All have infinity pools and hammocks suspended over the water – flop down for an afternoon siesta or sleep under the stars. Expect posh perks such as flatscreen TVs, DVD players, iPod docks and coffee machines.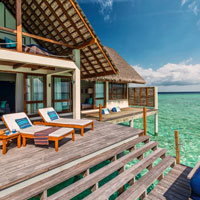 Four Seasons Landaa Giraavaru/ photo: hotel
Families can swing each other by the hair in the spacious Sanctuary InOcean Pool Villas, which have a second bedroom with twin beds. Beaches are dazzling but the house reef is some way out. It's 40-minutes by plane from the airport.
Velassaru Maldives places emphasis on minimalist chic, achieved through subtle use of teak, stone and thatch in the design of the rooms. These match the demands of today's guests with iPod docks in every room. There are 28 Water Villas over the lagoon, 17 Water Bungalows, 30 Beach Villas and 52 Deluxe Bungalows. As well as a swimming pool, dive school, water sports station and a fitness centre, the resort boasts a spa and a connoisseur's experience in dining. The Vela restaurant offers "world cuisine with an informal vibe" while the Etesian is a Mediterranean themed restaurant and Sand is billed as a "food theatre" beachside grill. In spite of its makeover, Velassaru retains the high standards of a Universal Resort, such as can be experienced on its sister island Kurumba.
A 30-minute seaplane flight north from Malé takes in Baa Atoll where the Four Seasons Resort Maldives at Landaa Giraavaru serves up 103 posh thatch-roof villas and water villas with rugged unspoiled nature in the UNESCO World Biosphere Reserve. Things are not too rugged at your villa. Expect timbered sunning patio, plunge pool, a DVD player, down pillows – and a fax if you insist on it. Care was taken not to overwhelm the island's pristine, wilder, tousled charm. Yet, pampering is close at hand at the Spa and Ayurvedic Retreat with 10 treatment pavilions, four of them over-water, steam rooms, massage therapies galore and yoga. A stilted Water Villa offers Maldivian-style retreat with an A-frame porch leading across a timber patio down steps to a lounge deck with cobalt sun sofas.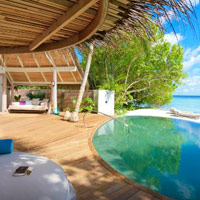 Milaidhoo Beach Pool Villa/ photo: hotel
The two-level villa has wooden floors and clean lines with white gauze drapes fluttering across the full length sliding glass doors.
The Two-Bedroom Family Beach Bungalows look more like Alpine chalets than beach huts, set on wooden plinths on a sandy bed, with the added luxury of a pool. Also available to guests is the Four Seasons Explorer, a luxury catamaran – with three-decks, 10 staterooms and one suite – for sea-breeze-in-the-hair Indian Ocean cruises and trips to remoter islands. It also provides a link to sister property Kuda Huraa. Landaa Giraavaru is hedonism at its best. It is rated by our editors as one of the top Maldives resorts on this review and ranks consistently high for its unblemished environs and luxe manicured surrounds.
Also in Baa Atoll, a 30 minute seaplane hop from Male and a 15-minute boat transfer, is the uber luxe 5.4 hectare Milaidhoo Island Maldives (late 2016), with 50 beach and over-water villas. This is a grownup playground (though children over nine years old are welcome) and is unabashedly aimed at honeymooners and couples. The 29 Water Pool Villas weigh in at 219sq m with Alpine A-frame thatch-roof residences fronting a broad timber patio and pool looking over the ocean.
Think, white walls, woody tones and minimalism with a bright pink bed runner perhaps. The 18 Beach Pool Villas provide 290sq m of elbow room with a freshwater pool and spacious bathrooms. If you're wondering what else is special about the area, remember, Baa Atoll is a UNESCO World Biosphere Reserve.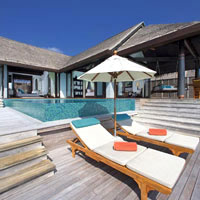 Anantara Kihavah sun deck/ photo: hotel
Dusit Thani Maldives opened in September 2012. Located on Mudhdhoo Island in Baa Atoll, 35-minutes north from the capital by seaplane and just a 10-minute speedboat ride from the domestic airport. The resort consists of 100 villas, both beach and over-water, with two 560sq m beach houses. Look forward to an outdoor rain shower, Nespresso machine, free WiFi, plasma TV, Bose surround sound and in-villa wine cooler. Outdoors, dive into the 750m swimming pool with swim-up bar along with tennis courts, a dive centre and spa. Still have time to snorkel?
Also in Baa Atoll is Anantara Kihavah Villas, a resort that fully embraces the beauty of its natural surroundings while adding a few playful contemporary twists, like the stunning underwater restaurant. All villas have private pools, complimentary internet access, high ceilings, timber interiors and marble floors. The spacious 259sq m Overwater Pool Villas are the top pick here with walk-in wardrobes, wine chillers and sundecks that angle across the water with stunning views.
Or hop into a glass-bottom Jacuzzi to give the marine life a rare glimpse of your own bottom. The Beach Pool Villas sit happily on the sand and are complemented with Thai silk, rich earthy fabrics and elegant wooded accents. There are sunken tubs for two and sun loungers that hover over private infinity pools. Beach life doesn't have to be rustic and guests will find all the latest mod cons including Bose sound systems, iPod docks and espresso machines.
At the swimming pool you can borrow a chill-out iPod from one of the resort's Sunshine Butlers who are also on hand to give five-minute back massages and, if you're feeling really lazy, clean smeared or salty sunglasses. There's also tennis, yoga, a kids' club, beach sports and cooking classes. Water sports enthusiasts will be spoilt for choice and there's also a PADI dive centre. Later, stroll along the jetty to one of six overwater treatment suites at the Anantara Spa. Anantara has four resorts in the Maldives.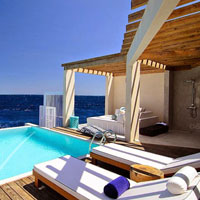 Amilla Fushi, contemporary clean lines/ photo: hotel
Amilla Fushi Resort Maldives, also in Baa Atoll is a stylish late 2014 entrant with a contemporary feel that is a far cry from the traditional Maldivian constructs. Think spacious Lagoon House or a six-bedroom Beach Residence. The design is minimalist with straight lines and cubist flourishes. Some elements are positively futuristic and would not seem out of place in a Paris museum.
Along with a fine range of restaurants and a spa. Expect plenty of greenery that offsets the white and cream flat modular buildings, fine white sand beaches, timber walkways, sun patios, and private swimming pools. Of an evening, step into the Wine cellar for a peek at, or small taste of, 8,000 bottles of aged grape with choice cheese pairings. Definitely worth a look.
On the other side of Baa Atoll, Royal Island Resort and Spa has 150 suites and beach villas and a quiet efficiency to its holiday atmosphere. The forested island resort of Soneva Fushi is just south of it, created with a designer-rustic, Robinson Crusoe flair. Unsurprisingly, its villas are called Crusoe Villas. It offers 55 large woody villas with various bedroom combinations and has an unusual ace up its sleeve – a working observatory with a state-of-the-art telescope to observe the stars and rings of Saturn if you so choose of an evening. The clear skies afford excellent viewing. The three-bedroom Villa One offers 1,400sq m of stretch space as well as a pool while the nine-bedroom Villa 11 weighs in at 5,540sq m. The smaller villas have greater appeal we think and a sense of intimacy though the design style throughout is welcoming and homey.
Another resort gaining a strong following in Baa Atoll is the Coco Palm Dhuni Kolhu with a stunning emerald lagoon.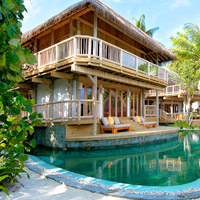 Soneva Fushi, Robinson Crusoe lifestyle/ photo: hotel
The Adaaran Prestige Water Villas built around a crescent-shaped jetty off the island of Meedhupparu are 40 minutes by seaplane from Malé, in Raa Atoll, just north of Baa Atoll. Each of the 20 spacious Water Villas offer the latest in hi-tech amenities along with glass panels built into the floor to peruse marine life, and private sundecks with Jacuzzis. Choose from dining in the restaurant, or being served by a private butler in your villa. Adaaran Select Meedhupparu is the name of the main resort island and this has 215 especially designed, brightly painted beach rooms and an atmosphere dedicated to holiday. The Adaaran Ayurveda Village for intensive toning up and beauty programmes is part of the resort, with 24 secluded cottages and a resident Ayurvedic doctor advising on special wellness regimes.
Loama Resort Maldives at Maamigili serves up villa stays with spa treatments and excursions to private neighbouring islands for a spot of snorkelling fun. Expect four poster beds, timber floors, and a simple rustic feel. The resort - with 105 over water or beach front villas - is on Raa Atoll, a 45 minute seaplane flight from the International airport at Male. Or you could take a 30-minute domestic flight to Ifuru Airport with a boat transfer.
The Sun Resorts Group's Kanuhura in Lhaviyani Atoll to the east, is about 150km from the airport and describes itself as a barefoot chic resort and great care goes into ensuring a comfortable and natural stay. It closed for a major renovation in 2015 and reopens November 2016. Enjoy spa treatments under laundered skies or head off to a romantic private island. There's also a kids club, making this a worthy Maldives family-friendly resort. Also in this atoll, what began as an island for campers has evolved into Kuredu Island Resort, now with 383 rooms, a 35-minute flight from the airport. Popular with scuba divers, it has retained a jolly, matey atmosphere. The free WiFi also entices a few who wish to remain connected.
To the north of Lhaviyani Atoll (and east of Raa Atoll), resorts are being opened for the first time in Noonu Atoll.
The scene-stealer may be the Mandarin Oriental Maldives Maavelavaru, which brings the Mandarin Oriental's panache to the islands. Although no date for its opening has yet been announced, it could be up and running in 2017.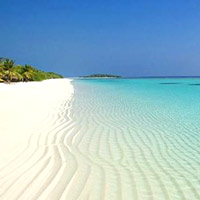 Barefoot chic, Kanuhura white sands/ photo: hotel
The resort, 185km north of the capital and a 45-minute flight by seaplane, offers 114 villas, including 20 water villas and no less than four presidential suites, all ranging in area from 300sq m to 1,750sq m, some with private spa facilities.
Expect a fully equipped fitness centre, a badminton court, tennis courts, squash courts, a soccer field and a sun-drenched lap pool. Also on the menu is a water sports centre with a full service diving school catering for guests who wish to explore the abundant coral reefs that fringe the island. For added peace of mind, the resort plans to have a decompression chamber and emergency medical clinic available on the island. There's many ways to decompress from city life. Toss out those suits. The Spa at Mandarin Oriental, Maldives focuses on the well being of its guests by offering a serene, meditative setting. The spacious spa, covering over 13,000sq m of tropical gardens, is to feature 14 treatment villas and six suites, surrounding an outdoor Jacuzzi. The Spa at Mandarin Oriental Maldives threatens to be a mini-destination in itself.
Back to real life in the Maldives, in Haa Alif Atoll are to be found the northern-most resorts of the archipelago as well as the island of Utheem, the birthplace of the 16th century hero of the Maldives, Mohamed Thakurufaan who drove out the Portuguese colonisers. There are organised boat trips to the island from resorts in the area.
J Resort Alidhoo is located on the 35-acre Cinnamon Island. It was closed for renovations mid 2016 so check with your booking agent. Buggies are available but walking anywhere on the island is easy and pleasant in the lush vegetation. Its 100 rooms, served by butlers, are on the periphery either on the beach or offshore in 45 overwater villas, seven of which are duplex with large parlour and upstairs bedroom.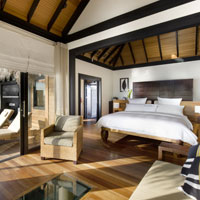 JA Manafaru Villa/ photo: hotel
The kids can exhaust themselves at the Alidhoo Kids' Club while you recharge your batteries at the Chavana Spa. This is a place that promises laid back fun for families.
The 35-acre resort JA Manafaru (formerly The Beach House at Iruveli Maldives), is based in the far north of the archipelago on Manafaru Island in the lagoon-fringed Haa Alifu Atoll - 75 minutes away from the capital by seaplane. Somewhat spoilingly, the 84 rooms and villas all offer private pools set in sun-dappled timbered decks. Find snuggeries and open-air dining areas to take in some iridescent 20 megapixel sunsets. Accommodation here ranges from swish 110sq m Water Villas nested in a fringe of coconut trees, 150sq m Beach Villas discretely radiating out on stilts at either end of the island, and Suites, all the way up to a 600sq m two-bedroom Royal Island Suite. Unsurprisingly, this is a splendid location for nuptials should you be in the market for a romantic Maldives resort wedding. This hideaway can throw a bash to fill many albums.
Water sports are abundant. Walk straight through the powder-white sand and immediately set about snorkelling. Dive supervised with a PADI team, head out for some deep sea fishing, swim in one of two inviting infinity pools, or opt for further muscle-wearying action – canoeing, sailing, windsurfing, water-skiing and jet-skiing. City slickers will appreciate the 18-hole golf simulator. And at the end of all this, the spa offers a tranquil escape in a garden setting with a good mix of holistic remedies including ayurveda, aromatherapy and wellness rituals.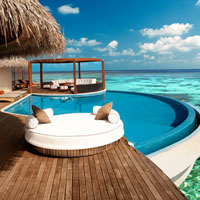 W fun and style/ photo: hotel
It is a seaplane transfer to the parallel atoll to the west known as Ari Atoll, where the islands are crowned by the hockey-stick shape of Kuramathi. The island previously boasted three resorts Kuramathi Village, Kuramathi Cottage and Spa and Kuramathi Blue Lagoon, but in 2009 all three merged to make Kuramathi Island Resort, run by Universal Resorts. Whether you fancy an overwater experience or a bolthole on the beach, this sprawling resort has 290 villas to choose from and an endless array of aquatic activities. If you enjoy watersports then try your hand at windsurfing, wakeboarding, diving or sea kayaking. There is also a gym, tennis courts, a fresh water infinity pool and a spa offering everything from tropical massages to henna tattoos.
The kids' club will keep youngsters busy from 8.30am until 10pm with treasure hunts, guided snorkelling trips and talks about local marine life. Children between three and 12 are welcome to sample the Bageecha Club, which includes two playrooms, an entertainment room, a dining room and an outdoor playground. If you've worked up a hunger then feast the night away at one of 10 restaurants and six bars serving pizza, Thai snacks, seafood, freshly grilled steaks, and, of course, frozen fruity cocktails. Let off some steam at the disco or scare away the wildlife at the karaoke bar. Alternatively, grab your loved one and watch a romantic flick under the stars or check out a live band on the beach. If you're trawling for a child-friendly Maldives resort, then make a note.
South of Kuramathi is Fesdu island, with 78 plush private villas as an ultimate Maldives luxury resort this time under the aegis of Starwood, is the W Retreat & Spa Maldives. Each villa features a private plunge pool and sun deck while the resort boasts a slew of other intriguing options, like 15 BELOW, an underground vodka bar 15 feet down. There is also the spoiling over-water AWAY Spa for holistic treatments, massage and other herbal remedies.
Accommodations include 46 over-water villas (Ocean Oasis Retreats) with glass floors to view marine life, and 28 two-level Beach Oasis Retreats. Dive, snorkel, explore, tan, or head indoors to your 42-inch plasma TV and that signature W bed. The W Retreat & Spa Maldives is a short seaplane flight from the main international airport. It is one of the top drawer Maldives luxury resorts on offer and a fun place for the young and restless. This is the sort of place to match that virginal white evening dress with a good daub of crimson lipstick. But most of the time, we'd guess you'll be in your bathers.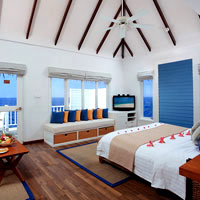 Centara Grand white-beam villa/ photo: hotel
The Centara Grand Island Resort & Spa, Maldives is located in South Ari Atoll, a 25-minute eye-popping seaplane flight from Malé. This sybaritic spa retreat has made a splash with 102 inviting suites and villas and one of the more interesting house reefs around complete with a coral-encrusted shipwreck to entice serious divers. Suites and overwater villas range from 87sq m to 159sq m, with a separate living room. In overwater villas this extends outdoors to take in those spectacular sunsets. That's a lot of stretch space around the large freeform pool for honeymooners or the family. The resort can arrange a Maldives beach wedding - or move the nuptials underwater.
Perhaps the best thing about a stay at this Centara is its "cashless" all-inclusive concept. Your "Ultimate All-inclusive Programme" will give you access to not just footprints in the sand but also lazy champagne breakfasts that run to late mid-morning; a choice of lunch, tea and dinner venues that will serve up anything from Italian to fiery Thai; and US$100 credit per person per day to toss around at SPA Cenvaree where carefully curated wellness escapes await, from Indian head massage to scrubs, lotions and relaxing rubdowns. WiFi is free throughout the resort. For the more sporting inclined, a personal trainer has set up fitness workouts for your calorie-burning pleasure. We'll bet though most of your time will be spent on or underwater as you sample some excellent dives, windsurfing, and snorkelling. There is a second sister property called Centara Ras Fushi Resort & Spa Maldives set on a small island with walkways undulating outwards flanked by water villas. Both are good honeymoon escapes.
Constance Moofushi Resort is also in the South Ari Atoll. If you're looking for barefoot chic and a friendly island vibe, you've found it. The 24 Beach Villas, 56 Water Villas and 30 Senior Water Villas come equipped with snazzy mod cons such as WiFi, Mac minis, LCD TVs, iPod docks, and CD and DVD players. Rooms are bright and airy with huge windows welcoming of sunshine. Natural woods and organic shades create an ambience of tropical elegance suitable for couples or those with beach babes in tow.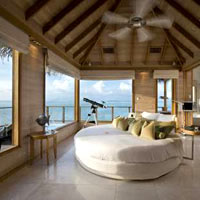 Conrad Maldives Sunset Water Villa/ photo: hotel
The overwater spa includes a yoga pavilion for morning sun salutations, plus there's a wealth of non-motorised water sports such as windsurfing and kayaking. Underwater enthusiasts can hang out with the fishes in the surrounding house reef and explore dozens of nearby dive sites. Swimmers and snorkellers have three placid lagoons at their disposal.
Sister property Constance Halaveli Beach Resort Hotel in the North Ari Atoll offers 58 Water Villas, 12 Family Beach Villas, eight Beach Villas (all with plunge pools), eight two-storey Beach Villas, three restaurants, a spa, kids' club and babysitting services.
The Conrad Maldives Rangali Island graduated from a Hilton (which originally developed the two islands) to set a new benchmark for luxury breaks – with a mix of unabashed fun and well designed villas – and retains its perch as one of the best Maldives resorts on our review. It is set amidst the de rigueur shimmering sands and turquoise lagoons with upscale, thatched-roof, on-the-water accommodation. The Conrad Maldives occupies two islands – Rangali, where the spacious and spoiling water villas are located, and Rangali Finolhu, where the over-water Spa Retreat and beach villas are based. A caution: all Beach Villas are undergoing renovation until October 2016. The resort remains open.
There is a spa as well on Rangali Island ensuring guests are pampered no matter where they are staying. The islands are connected by a 500m boardwalk (that also serves as the seaplane jetty). An indefatigable powered dhoni shuttles regularly across the lagoon as well. Rangali Finolhu, the main island, offers a lounge and bars that could compete with the best of Hong Kong's Lan Kwai Fong. The public areas are stylish, fraternal, and informal with sand underfoot. Service is friendly and quick despite the larger number of guests here when the resort is busy. The best snorkelling is off the east beach of Rangali Finolhu though those staying at water villas on the other island can simply step off their patio and into the blue for a quick dip and a view.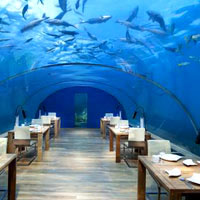 Conrad Maldives, Ithaa underwater dining/ photo: hotel
A games room, a 24-hour business centre with free WiFi, and a large shopping plaza ensure all guests are fully occupied no matter what their preference. Watch a movie on a large flat-screen TV at the relaxation centre or catch the rays. Water villas are vast, a full 86sq m, with an attractive timber interior – much like a Swedish log cabin – spacious washrooms, and well-thought-out touches, from three-pin (square) plug sockets to electrical switches all labelled in large type for the uninitiated. Check into a Sunset Villa with its uncluttered layout, open vistas and handy telescope for that bikini vigil just in case the fish bore you. The circular master bed actually swivels a full 270 degrees to let you follow the sun. Expect a kitchenette and space for four grownups and two tykes.
The Spa Retreat offers 21 water villas and nine treatment rooms. But, for a true-blue marine experience, head five metres below to an exclusive wine cellar and glassed-in underwater restaurant. Small wonder the Conrad is regarded as one of the best Maldives luxury resorts, its drool worthy spa simply more spectacular icing on the cake. The Conrad is one to mark down in your diary for honeymoons, weddings or a wind-in-the-hair family holiday. There's plenty of space here to disperse guests and ensure a fair degree of privacy in various corners and sandy snuggeries. In any case, who needs sand when there's a telescope to play with in-room. More boy's toys please.
In South Ari Atoll is the spread out and entertaining playground of LUX* Maldives featuring 36 Beach Pavilions, 12 Sunset Junior Suites, 87 Water Villas, 57 Beach Villas (some with private polls), and one ultimate LUX* Villa. The only resort on the island of Dhidhoofinolhu, LUX* offers four kilometres of sugar-white shoreline, shallow lagoons, and pretty decent marine viewing. Expect a gym, two pools, PADI dive centre, spontaneous beachside movie screenings, boat house and tennis courts. This aims to be a five-star Maldives luxury resort.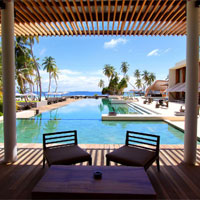 Park Hyatt style/ photo: hotel
The travel slowdown has taken its toll. A true blue Robinson Crusoe wannabe adventure on a little island further south in Faafu Atoll at around US$15,000 fell off the booking lists mid 2016. Here the grandly-named bespoke Rania Experience Private Residence in The Maldives offered very upscale "barefoot living", with unlimited fine dining, diving, yoga, fishing and spa treatments on demand, and no one around to gasp at how much money you're spending. You could also commandeer an 86ft yacht to do your bidding. The resort took only one booking per night, but for the ultimate beach party, accommodated up to 12 people. Keep an eye out for its possible return
Far south in the relatively unexplored Gaafu Alifu Atoll, 400km from Male, the Park Hyatt Maldives Hadahaa (formerly Alila Villas Hadahaa) has a commendable green footprint with only 20 percent of the island developed and large areas earmarked for "biodiversity protection". Fish are protected but your wallet is not with Park Villa rack rates starting at US$1,040. Continuing to explore and expand the boundaries of contemporary leisure design space, Park Hyatt serves up stunningly mod water cabins with sloping roofs and wraparound glass windows. Look out for 50 Villas, including 14 Park Water Villas perched above the Indian Ocean, 20 Park Pool Villas with a private plunge pool and 16 Park Villas, all with in-villa iPads, 37-inch LCD TVs, and complimentary WiFi.
With just 50 villas, the resort ensures an element of personalisation and seclusion that is disappearing at larger establishments. Dive into two freshwater swimming pools and then get a relaxing body treatment at The Vidhun Spa. The resort offers unique diving opportunities in this undisturbed atoll as well as clear skies for stargazers.
The Jumeirah Group has two properties in the Maldives mix. Jumeirah Dhevanafushi is located on Meradhoo Island, also in the Gaafu Alifu Atoll. Its villas range in size from 206sq m to 640sq m and are categorised as Revives, or larger Sanctuaries.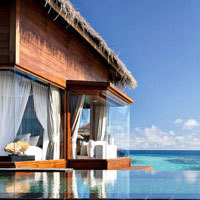 Jumeirah Dhevanfushi/ photo: hotel
The 22 beach properties come with your own private stretch of sugar-white sand and a swimming pool while the 16 overwater villas have private butlers and a choice of sunset or sunrise suites.
All rooms are equipped with personal butlers, an Apple media centre with 42-inch flatscreen TV, outdoor rain showers, complimentary WiFi and adjustable mood lighting. This stylish, contemporary resort has three restaurants, an extensive menu of water sports and a spa with overwater treatment rooms and yoga.
Set apart from the main island by 800m of coral reef, is The Ocean Pearls – a cluster of 16 two-tiered overwater villas aimed at those with ocean-deep pockets. This upscale private island retreat is self-sufficient and has its own circular pier, reception, elevated library, concierge, private butlers, a spa room and restaurant. This unique two-in-one resort concept makes Jumeirah Dhevanafushi stand out from the Maldives crowd but villas don't come cheap. Expect to pay a wallet-emptying US$5,000 for a villa at The Ocean Pearls or at least US$1,400 for accommodation at the main resort.
A second property called Jumeirah Vittaveli on Bolifushi Island in the South Male Atoll, has an assortment of suites and villas (some with swimming pools), all with outdoor showers and tubs and walk-in wardrobes. Beach Villas allow you private access to the sand and Beach Suites feature rooftop terraces. Stay in a Lagoon Villa or Suite and you can step out of your bedroom and dive straight into the calm turquoise waters. On the menu at this family-friendly Maldives resort are a generous kids' club and dedicated children's swimming pool, a host of beach activities and water sports, a spa, and gym.
Ayada aerial view/ photo: hotel
The Turkish-style Ayada Maldives, a relative newcomer on the scene, opened in 2011 in the southern Gaafu Dhaalu Atoll, and 'floats' roughly 270 miles south of Male. The family-friendly resort sprawls across 15 hectares, with impressive stretches of soft sandy beaches, a 3,500sq m AySpa with eight treatment rooms, a dive centre, and a kids club. Choose from an assortment of 114 Ottoman-inspired villas and suites. The 33 Beach and Ocean Villas are made of natural elements, such as teak, marble and terrazzo, and come with private plunge pools, terraces, 42-inch LCD TVs, free WiFi, a Nespresso machine, direct beach or ocean access, and personal butlers.
In addition to the common amenities, Water Villas also include over-water hammocks, while Sunset Ocean Suites go all-out with glass-panelled floors in the living room and bedroom. Expect earth tones and flashes of orange, parquet flooring, crisp white walls with white roof beams sloping upwards, and oversized sun beds. Timbered walkways stretch out around the island linking water villas with the island. In the stylish seclusion of an AySpa Treatment Suite, luxuriate with a pick of wellness remedies like a 'Skin Nourish Ritual" or an "Indulgence Hammam Ritual". ESPA massages await too. If travelling with typhoon tykes, check out the Family Beach and Ocean Suites, which feature separate bedrooms and common outdoor terraces. This is a family-friendly resort with a welcoming ambience.
Another relative newcomer to Dhaalu is NIYAMA (opened 2012), an edgy luxury resort spread over two islands, Embudhufushi and Olhuveli, and about a 40-minute flight from Male. Choose from 86 studios and pavilions, most of which include private pools.
Starting from 160sq m, the 22 Beach Studios feature timbered terraces, open-air bathrooms, gardens, a freestanding tub, complimentary snacks, private waterfall, sunbeds, rain showers, 40in plasma TV, BOSE sound system and, most importantly, a front-row seat to the beach. From there, the pampering escalates. The 225sq m Water Pavilions have separate dining and living rooms, plus an on-call butler, private infinity pool, Jacuzzi, and private grill.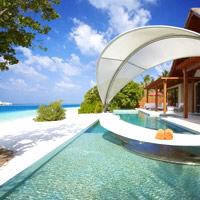 Get partying at Niyama/ photo: hotel
If you bother leaving your over-water pavilion, explore the underwater nightclub, the glass-floored wine cellar, or catch rays atop the rooftop bar. Ultra contemporary business facilities await in The Lair, and kids of all ages will enjoy the indoor games – darts, pool table, Xbox 360, Wii, etc – at ACTIVE. There are also all kinds of watersports, a coral nursery, private dhoni excursions, and customised treatments at the 24-hour LIME Spa.
The St Regis Maldives Vommuli Resort (September 2016) on Dhaalu Atoll occupies a de rigueur private island with a Padi Dive Centre and pro diving equipment. Yes the rich and famous can make bubbles too. This promises to be a fine getaway with the added lure of a focus on Maldives beach weddings with a backdrop to make jaws drop. The resort features largely overwater villas, some set around an arcing three-point jetty, the others hugging the island's shore. Also watch for the space-age Sunset Bar.
Six Senses Laamu is on Olhuveli Island in the Laamu Atoll, towards the south of the Maldives archipelago. It takes 40 minutes by plane to reach Kadhdhoo Airport, then 15 minutes by boat to Olhuveli Island. Guests can choose from 100 Beach and Water Villas or Water Villa Suites, all of which are designed with a focus on natural materials in order to create cosy yet stylish retreats.
The Beach Villas have private beach access, panoramic treetop dining decks, outdoor bathrooms with rain showers and gardens with inviting daybeds. Expect pale stressed-wood floors, novel leaf design fans and romantic gauze drapes for a mosquito-free night. The woody textures show off the orange settees by the work desk. The Water Villas – sheltered by curving wood panels for maximum privacy – have sunken ocean-view glass bathtubs and aquarium dining decks with all-glass tables allowing views of the deep blue beneath. Perch on a sun-drenched deck amidst playful neon-green cushions. As well as the usual array of water sports and diving there is also a surfing beach and an open-air cinema.
Overlooking the resort's organic garden is Leaf Restaurant offering food picked and caught only hours before it is served. There is also a sunset bar, an ice cream parlour and a glass-walled wine bar rising 6.4m out of the sea. The signature Sis Senses Spa offerings are especially eye-catching, with four "nest" suites that blend in with the rustic surrounds.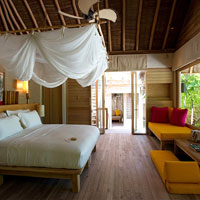 Six Senses Laamu/ photo: hotel
Try treatments like the "Aromatherapy Ayurveda Fusion" or the "Signature Laamu Facial". A whole bunch of rubs, wraps and massages await your glance as well. This is a thoughtfully designed resort with people – rather than cold supermodels – in mind and it makes the most of the available space to create and experience that is welcoming and homey yet classy.
One of the newest resorts on the block is Maalifushi by Como, Maldives (opened June 2014) in the far southwest Thaa Atoll with a combination of footprints-in-the-sand garden suites as well as over water villas. It's a sliver of an island with a palm-tree spine. There are 17 Water Suites with a private pool set dramatically just over the sea, and another 16 Water Villas with modestly larger pools in an equally stunning setting. At 120sq m there's more than ample stretch space. Expect wooden parquet floors, carpets (a unique touch for the Maldives), hanging bronze lamps, four-poster gauze-draped beds, 48-inch plasma televisions with DVD player, bathtubs and rain showers. And yes, that most important of tropical luxuries, the humble aircon. The COMO Shambhala Retreat at Maalifushi provides a wellness escape with an arsenal of spa facilities. The trasnfer to the resort involves a domestic 35-minute flight followed by a 25-minute speedboat ride. You can't get more private than that.
In the Shaviyani Atoll, around one hour north of Male, The Viceroy Maldives (opened 2012) was closed by mid-2016, a possible casualty of the travel slowdown. The sprawling 17-acre retreat inhabited the island of Vagaru with 60 spacious beach and overwater villas – the smallest of which offered 1,108sq ft of stretch space, plus a sunny outdoor terrace and refreshing plunge pool.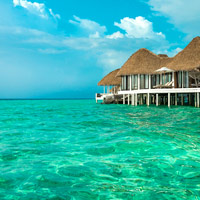 COMO Maalifushi vistas/ photo: hotel
The Outrigger Konotta Maldives Resort was in operation by 2015 with a string of Beach Pool Villas and Ocean Pool Villas in Gaafu Dhaalu Atoll, a half-hour boat ride from Kaadedhdhoo airport.
Bowing out are The Regent Maldives (Maalefushi Island in the Thaa Atoll), and Raffles.
Planned for the Shaviyani Atoll is long-in-the-works JW Marriott Gaakoshibee Resort and Spa Gaakoshibee Island. Also watch for the Bulgari Resort Maldives on Kudakurathu Island. And in 2018 Haa Alifu Atoll will welcome the upscale Chedi Dhapparu from GHM Hotels on its very own long and spectacularly beautiful tapering island.
And that's our Maldives fun guide to resorts for weddings, honeymoons or blissed-out spa escapes with the kids in the hands of a babysitter. And no, there's no "Jaws" that will ruin your romantic idyll. Step into the gin-blue seas.
Send us your Feedback / Letter to the Editor
FAST FACTS

/ Hotel Contact List

US dollars are an accepted currency and many visitors never even see a Maldivian rufiyaa (US$1=Rf15.40). Carry small denomination dollars. Taxi rides around Malé town are normally Rf25-30 a single hire. The airport departure tax is usually included in the air ticket price; if not it is US$12.

The former US$8 "bed" tax at hotels has been discontinued as of 2014, but has been replaced by a 12 percent goods and service tax (GST) which is generally added to your bill. There is a service charge of 10 percent added to food and beverage bills in most resorts, but not always to the room rate.

Room rates are not easy to pinpoint since most rooms are sold as part of a package that includes the meals and, often, the flight. Look out for the best available rates (or BAR) online and check with your travel agent if not booking directly. In general room rates at smaller, less lavish islands, will start around US$250-$450, climbing to US$700 for two per night in a brand-name resort, and from US$1,000-US$2,000 or more a night at luxury resorts.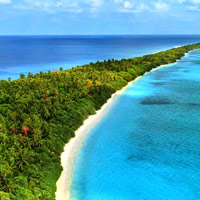 Chedi Dhapparu in 2018/ photo: hotel
Low season rates (May until July, September to October) are cheaper than in August or in the November to April main season. Rooms booked through a Malé travel agent are discounted below the rack rate. Bear in mind that several resorts operate on their own Resort Time, an informal arrangement that could be one hour ahead of Malé time. Don't miss your flight on account of a silly miscalculation.
Where a resort has speciality restaurants as well as a main dining room, it is usually best to stay on a bed and breakfast rate and pay extra to sample the restaurants. Some resorts, though, give a credit to full board clients when they want to try one of the a la carte restaurants. All resorts have diving centres with both local and expatriate licensed instructors and even the faint-hearted end up trying an introductory dive and quickly get hooked on the underwater experience.
An informative and useful site from the Maldives Tourism Promotion Board is at www.visitmaldives.com.
Travel Agents for the Maldives
There are many options for travel agents in the Maldives – one of the larger local travel agents is Inner Maldives (tel: [960] 300-6886, e-mail: info@innermaldives.com, www.innermaldives.com) in Malé with rooms from US$200, its own transfer boats and a meet-and-greet service. Get into Maldives Travels is an award-winning travel agency (tel: [960] 330-8505, e-mail: info@getintomaldives.com, getintomaldives.com). It has a large range of resorts across the archipelago under its banner, with room rates starting from US$170.
Another good choice is Island Holidays Maldives (tel: [960] 332-0856, e-mail: holidays@dhivehinet.net.mv, www.maldivesisles.com). Crown Tours (tel: [960] 332-9889, www.crowntoursmaldives.com), and Vermillion Maldives (tel: [960] 3334-630, e-mail: info@VermillionMaldives.com, www.vermillionmaldives.com) are well regarded operators.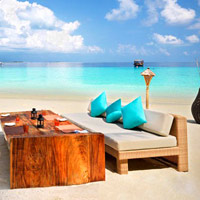 Jumeirah Vittaveli beach bar/ photo: hotel
Also check out Virgo Maldives (tel: [960] 764-5051, e-mail: info@virgomaldives.com, virgomaldives.com), Sunny Maldives (tel: [960] 333-8527, e-mail: sales@sunnymaldives.com, www.sunnymaldives.com) and Lets Go Maldives (tel: [960] 334-7755, e-mail: info@letsgomaldives.com, www.letsgomaldives.com).
Airport and Resort Transfers
The resorts arrange transfer by seaplane to and from the islands at the time of booking, and the cost is anything from US$350 to $500 each way, according to distance. The resort will also arrange speedboat or motorised dhoni (local boat) transfer to islands closer to the airport, at between US$100-$250. The cost of transfer is usually built into the holiday package price. The ferry to Malé from the airport costs about Rf10 – if you pay US$2 don't expect change. Resort representatives meet all passengers on arrival at the airport, and assist with transfers.
Maldives resorts and hotels
Adaaran Club Rannalhi. Tel: [96] 664-2688, fax: 664-0379, (e-mail: res.acr@adaaran.com.mv or www.adaaran.com/clubrannalhi).
Adaaran Prestige Water Villas. Tel: [960] 658-7700, fax: 664-0379, (e-mail: res.mir@adaaran.com.mv or www.adaaran.com/prestigewatervillas).
Adaaran Prestige Vadoo. Tel: [960] 664-3976, fax: 664-0379, (e-mail: res.vadoo@adaaran.com.mv or www.adaaran.com/prestigevadoo).
Adaaran Select Hudhuranfushi. Tel: [960] 664-0375, fax: 664-0379, (e-mail: res.hrf@adaaran.com.mv or www.adaaran.com/selecthudhuranfushi).
Adaaran Select Meedhupparu. Tel: [960] 658-7700, fax: 664-0379, (e-mail: res.mir@adaaran.com.mv or www.adaaran.com).
Amilla Fushi Maldives. Tel: [960] 660-6444, (e-mail: info@amilla.mv or www.amilla.mv).
Anantara Dhigu Resort & Spa Maldives. Tel: [960] 664-4100, fax: 664-4101, (e-mail: dhigumaldives@anantara.com or dhigu-maldives.anantara.com).
Anantara Kihavah Villas. Tel: [960] 660-1020, fax: 660-1040, (e-mail: kihavahmaldives@anantara.com or kihavah-maldives.anantara.com).
Anantara Veli Resort & Spa Maldives. Tel: [960] 664-4100, fax: 664-4101, (e-mail: velimaldives@anantara.com or veli-maldives.anantara.com).
Angsana Ihuru. Tel: [960] 664-3502, fax: 664-5933 , (e-mail: reservations-ihuru@angsana.com or www.angsana.com/en/em-maldives-ihuru).
Angsana Velavaru. Tel: [960] 676-0028, fax: 676-0029, (e-mail: velavaru@angsana.com or www.angsana.com/en/em-maldives-velavaru).
Ayada Maldives. Tel: [960] 684-4444, fax: 684-5555, (e-mail: reservations@ayadamaldives.com or www.ayadamaldives.com).
Bandos Island Resort & Spa. Tel: [960] 664-0088, fax: 664-3877, (e-mail: sales@bandos.com.mv or www.bandosmaldives.com).
Banyan Tree Vabbinfaru. Tel: [960] 664-3147, fax: 664-3843, (e-mail: reservations-vabbinfaru@banyantree.com or www.banyantree.com).
Baros Maldives. Tel: [960] 664-2672, fax: 664-3497, (e-mail: info@baros.com.mv or www.baros.com).
Beehive Nalahiya Hotel Malé. Tel: [960] 334-6633, fax: 334-5533, (e-mail: info@beehivehotels.com or www.beehivehotels.com).
Centara Grand Island Resort & Spa, Maldives. Tel: [960] 668-8000, fax: 668-8888, (e-mail: cirm@chr.co.th or www.centarahotelsresorts.com).
Cheval Blanc Randheli. Tel: [960] 656-1515, fax. 656-1818, (e-mail: info.randheli@chevalblanc.com or randheli.chevalblanc.com).
Club Med Kanifinolhu. Tel: [960] 664-3152, fax: 664-4859, (e-mail: kanccrec01@clubmed.com or www.clubmed.com.hk).
Cocoa Island by COMO, Maldives. Tel: [960] 664-1818, fax: 664-1919, (e-mail: cocoaisland@comohotels.com or www.comohotels.com/cocoaisland).
Coco Palm Dhuni Kolhu. Tel: [960] 660-0066, fax: 660-0022, (e-mail: reservations.dhunikolhu@cocopalm.com.mv or www.cocopalm.com/en/dhuni-kolhu/location).
Conrad Maldives Rangali Finolhu. Tel: [960] 668-0629, fax: 668-0619, (e-mail: mlehi.maldives@conradhotels.com or conradhotels3.hilton.com/en/hotels/maldives/).
Constance Halaveli Beach Resort Hotel. Tel: [960] 666-7000, fax: 666-7001, (e-mail: resa@constancehotels.com or www.lhw.com).
Constance Moofushi Resort. Tel: [960] 668-1010, fax: 668-0509, (e-mail: resa@constancehotels.com or www.moofushiresort.com).
Dusit Thani Maldives. Tel: [960] 660-8888, fax: 660-9999, (e-mail: booking@dusit.com or www.dusit.com/dusitthani/maldives/).
Equator Village at Gan. Tel: [960] 689-8721, fax: 689-8020, (e-mail: reservations@equatorvillage.com.mv or www.equatorvillage.com.mv/).
Four Seasons Resort at Kuda Huraa. Tel: [960] 664-4888, fax: 664-4800, (e-mail: reservations.maldives@fourseasons.com or www.fourseasons.com/maldiveskh/).
Four Seasons Resort Maldives at Landaa Giraavaru. Tel: [960] 660-0888, fax: 660-0800, (e-mail: reservations.maldives@fourseasons.com or www.fourseasons.com/maldiveslg).
Gili Lankanfushi Maldives. Tel: [960] 664-0304, fax: 664-0305, (e-mail: info@gili-lankanfushi.com or gili-lankanfushi.com).
Hideaway Beach Resort & Spa Dhonakulhi Maldives. Tel: [960] 650-1515, (e-mail: sales2.ru@lilybeachmaldives.com or hideawaybeachmaldives.com).
Hotel Jen Malé, Maldives. Tel: [960] 330-0888, fax: 330-0790, (e-mail: hjmd@hoteljen.com or https://www.hoteljen.com/male/maldives/about/).
Holiday Inn Resort Kandooma Maldives. Tel: [960] 664-0511, fax: 664-0513, (e-mail: reservations.hikandooma.com or www.holidayinnmaldives.com).
Hulhule Island Hotel. Tel: [960] 333-0888, fax: 333-0777, (e-mail: sales@hih.com.mv or www.hih.com.mv).
Huvafen Fushi. Tel: [960] 664-4222, fax: 664-6202, (e-mail: info@huvafenfushi.com or huvafenfushi.peraquum.com).
J Resort Alidhoo. Tel: [960] 332-1331, fax: 332-1616, (e-mail: info@jhotelsresorts.com or www.jhotelsresorts.com).
JA Manafaru. Tel: [960] 650-0456, (e-mail: reservations.manafaru@jaresorts.com or www.jaresortshotels.com/Properties/JAManafaru/).
Jumeirah Dhevanafushi. Tel: [960] 682-8800, fax: 682-8811, (e-mail: jdmreservations@jumeirah.com or www.jumeirah.com).
Jumeirah Vittaveli. Tel: [960] 665 -8111, (e-mail: jumeirahvittaveli@jumeirah.com or www.jumeirah.com).
Kanuhura. Tel: [960] 662-0044, fax: 662-0033, (e-mail: reservations@kanhuhura.com.mv or www.kanuhura.com).
Kuramathi Island Resort. Tel: [960] 666-0527, fax: 666-0556, (e-mail: reservations@universalresorts.com or www.kuramathi.com).
Kuredu Island Resort. Tel: [960] 662-0337, fax: 662-0332, (e-mail: info@kuredu.com or www.kuredu.com).
Kurumba Maldives. Tel: [960] 664-2324, fax: 664-3885, (e-mail: kurumba@kurumba.com or www.kurumba.com).
Loama Resort Maldives at Maamigili. Tel: [960] 658-8100, fax: 658-8110, (e-mail: res@loamahotelsandresorts.com or www.loamahotelsandresorts.com/).
LUX* Maldives. Tel: [960] 668-0901, fax: 668-0902, (e-mail: stay@luxmaldivesresort.com or www.luxresorts.com).
Maalifushi by COMO, Maldives. Tel: [960] 678-0008, fax: 678-0009, (e-mail: maalifushi@comohotels.com or www.comohotels.com/maalifushi).
Mandarin Oriental Maldives Maavelavaru. (www.mandarinoriental.com). Under construction.
Milaidhoo Island Maldives. Baa Atoll. (e-mail: welcome@milaidhoo.com or www.milaidhoo.com/).
Naladhu Maldives. Tel: [960] 664-4105, fax: 664-4188, (e-mail: stay@naladhu.com or www.naladhu.anantara.com).
Niyama Maldives. Tel: [960] 676-2828, fax: 676-2676, (e-mail: info@niyama.com or niyama.peraquum.com).
One&Only Reethi Rah. Tel: [960] 664-8800, fax: 664-8822, (e-mail: reservations@oneandonlyreethirah.com or reethirah.oneandonlyresorts.com).
Outrigger Konotta Maldives Resort. Tel: [960] 684-7770, fax: 684-7772, (e-mail: konotta@outrigger.mv or outriggermaldives.com/index).
Paradise Island Resort & Spa. Tel: [960] 664-0011, fax: 664-0022, (e-mail: info@paradise-island.com.mv or www.villahotels.com/Resorts/Paradise-Island-Resort-Spa).
Park Hyatt Maldives Hadahaa. Tel: [960] 682-1234, fax: 682-1235, (e-mail: maldives.parkhadahaa@hyatt.com or maldives.hadahaa.park.hyatt.com).
Rihiveli Beach Resort. Tel: [960] 664-3731, fax: 664-0052, (e-mail: info@rihiveli-maldives.com or www.rihiveli-maldives.com).
Royal Island Resort and Spa. Tel: [960] 660-0088, fax: 660-0099, (e-mail: info@royal-island.com.mv or www.royal-island.com).
Shangri-La Villingili Resort & Spa. Tel: [960] 689-7888, fax: 689-7999, (e-mail: slmd@shangri-la.com or www.shangri-la.com/male/villingiliresort/).
Six Senses Laamu. Tel: [960] 680-0800, fax: 680-0801, (e-mail: reservations-laamu@sixsenses.com or www.sixsenses.com/resorts/laamu/destination).
Soneva Fushi Resort & Spa. Tel: [960] 631-9698, fax: 2631-9699, (e-mail: mail@soneva.com or www.soneva.com/soneva-fushi/home).
Soneva Jani. Tel: [960] 660-0304, (e-mail: reservations@soneva.com or www.soneva.com/soneva-jani).
Taj Exotica Resort & Spa. Tel: [960] 664-2200, fax: 664-2211, (e-mail: exotica.maldives@tajhotels.com or taj.tajhotels.com/en-in/taj-exotica-maldives/).
The Sheraton Maldives Full Moon Resort & Spa. Tel: [960] 664-2010, fax: 664-1979, (e-mail: sheraton.maldives@sheraton.com or www.sheraton.com/maldivesfullmoon).
The St Regis Maldives Vommuli Resort. (www.starwoodhotels.com/stregis).
The Sun Siyam Iru Fushi. Tel: [960] 656-0591, (e-mail: info@thesunsiyam.com or thesunsiyam.com/irufushi/).
Velassaru Maldives. Tel: [960] 665-6100, fax: 664-3041, (e-mail: info@velassaru.com or www.velassaru.com/).
Vivanta by Taj - Coral Reef. Tel: [960] 664-1948, fax: 664-3884, (e-mail: vivanta.coralreef@tajhotels.com or vivanta.tajhotels.com/en-in/coral-reef-maldives/).
W Retreat & Spa - Maldives. Tel: [960] 666-2222, fax: 666-2200, (e-mail: reservations.wmaldives@whotels.com or www.wretreatmaldives.com).