BALI, "THE ISLAND OF THE GODS". The very name conjures visions of soporific tropical tranquillity outdone only by a five-day kabuki performance staged on the beach. The airport is another matter. Signs exhort passengers to "Make Good Queue" but chaos is the norm as everyone attempts to wrestle into the x-ray line before exiting to arrivals. There is a new arrivals area and the new and expanded international airport terminal looms racing to completion in fits and starts. Before you get to our Bali spa resorts guide you need to get through all this.
As growing numbers of travellers will attest to, Bali is acquiring more bite. I enjoyed a serendipitous moment as a security man opened the car door and a slobbering Alsatian stuck his massive head in, drooling all over my lap. The dog proceeded to sniff me in parts that have remained unmolested since my mother last changed my nappies a very long time ago. Mirrors on long poles were run around the rim of my car.

Hotel Contact Information

See Slide Show
I watched heavily muscled men in dark blue uniforms march, parade, perform synchronised push-ups, shout and pump their fists in the air, not unlike a Club Med get-together. Later at Uluwatu Temple, I enjoyed a dazzling sunset as surf crashed into the cliffs far below. Applauding the scene were apple-cheeked tourists and cheeky red-bottomed monkeys who snatched cameras, hair-bands, necklaces and hair beads – pretty much anything with a shine. Terrified children bawled and women pleaded for their jewellery. My driver pleaded with a monkey to return his baseball cap while the simian snarled and scowled.
Chedi Club dining view/ photo: Verghese
I bought some raw corn and parleyed an exchange with the canny mischief-maker. The money snatched the corn and tossed the cap in our general direction. This is the barter economy at its best and most entertaining.
Send us your Feedback / Letter to the Editor
This is Bali, the Island of the Gods, Drooling Dogs, Manic-Depressive Monkeys and Testosterone-Crazed Security Guards. You couldn't ask for a more VIP welcome. It's a delightfully heady mix and that's even before you get to the majestic landscapes, the brooding volcanoes, stunning Bali resorts, and eye-poppingly green rice fields. There's more Bali fun stuff for families or solo adventurers in our detailed Bali Guide.
In our annual Best in Travel Poll Bali has been consistently voted to the top in the "Best Holiday Destination in Asia" category. Bali's return to prominence signals traveller's growing intolerance of tacky gewgaws and crocodile shows – no matter these crocodiles can dance the samba and send WiFi e-mail. Today's well-informed travellers demand authenticity – which Bali has in spades – and they recognise that security is something we all have to live with.
New Bali resorts and openings
On then with our Bali resorts review though it's a tough script to follow with a slew of hotel openings through 2013 and 2014. Watch for names like The Stones Hotel, Autograph Collection (from Marriott, in Legian, opened November 2012), Sofitel (Nusa), The Ritz-Carlton (Nusa), the humungous 745-key Mulia Bali (Nusa, opened late 2012), Centara Grand (Nusa late 2013) from Thailand, Kempinski (Nusa), Pullman G (Kuta), Le Meridien Jimbaran (opened December 2012), Maya Sanur, and a new InterContinental in Canggu (2014). Bali Golf & Country Club has closed for a major overhaul and will return in late 2013 as the Bali National Golf Resort sporting fresh greens (but the same par 72 course) and a bevvy of villas and hotel rooms possibly from Shangri-La (2014). Also keep an eye out for the grand beachfront Regent Sanur (June 2013). Much choice then for Bali resort weddings, small corporate meetings and child-friendly escapes.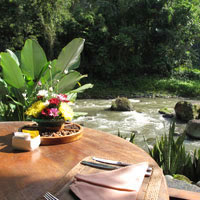 Royal Pita Maha breakfast/ photo: Verghese
There are still handsome discounts to be had at most establishments though the cut-rate deals of earlier years are fading fast. The fresh top-end onslaught may help win better rates for travellers by mid-2013 on. Five-star properties may retail in the low season for anywhere between US$100 and US$150 per night and all properties have regular specials.
Of course, top-drawer establishments will draw the line higher and Bali villa properties will set you back US$250-US$600 or more, so balance your need for a bargain and decent bed to ensure you end up with the latter.
If you have the moxie – or a barnacle for a mother-in-law - try a local guesthouse, or losmen. Some are very good though not quite what the in-laws had in mind. With the Indonesian rupiah exchange rate at around US$1 = Rp8,522 (it fluctuates considerably on a daily basis) things couldn't possibly get more welcoming. Check our Bali Map and dive in. If you're looking for a hotel Bali offers endless, and confusing options.

See Slide Show

See 3 Minute Video Guide
Nusa Dua hotels, Bali villa deals, golf resorts
Nusa Dua in the far south is a safe and sanitised custom-built tourism enclave resembling the drive in to Singapore from Changi Airport. You may chew gum here and harmonica-playing Marlboro horses can roam free. This is mega-resort country and the glittering wall-to-wall red-tile roofs prove it. It could be Bali with a lobotomy but some excellent resorts have rescued it from the sort of monotony that has ravaged so many other Asian destinations.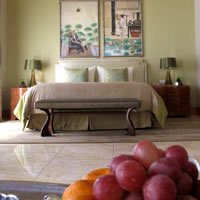 Mulia Villa/ photo: Verghese
The oldest resident and one with the most mature gardens and a good spread of beach is the Nusa Dua Beach Hotel & Spa. After a major 2010 revamp the stand-alone, cream-wall spa with its lap pool and greenery is an even bigger draw and not just for hotel guests. An exclusive but friendly Palace Club caters for Club guests. A Premier Room weighs in at 42sq m with herringbone wood parquet flooring, flat LCD TV, a work desk plug-in internet, batik bed runner and balcony. These rooms were renovated in 2011 to include a flat laptop safe, a rainshower and a bathtub with a glass partition to the bedroom.
The rejuvenated resort is a very child friendly Bali hotel with extensive greens, water features, and packs of geese and acrobatic squirrels that will all but take the breakfast right out of your hand. The pizzas are not bad at all and at the seaside Chess you can enjoy drinks, snacks – and even a game of actual chess on a giant stone chessboard. The Residence at Nusa Dua Beach Hotel is a discreet getaway for dignitaries with its own private driveway, pool and beachfront. Take in traditional dance shows, walks and the sound of pounding surf.
Drop off kids aged three to twelve at the Gecko Kids' Club between 9am and 5pm. Here they can while away the time learning Indonesian and play traditional games. But wait, there's more. The Club also offers a whole range of water sports, including aqua volleyball, aqua basketball and even aqua golf. The ballroom meanwhile will handle 400 persons cocktail style.
For a contemporary Bali luxury villa option check out Kayumanis Nusa Dua (also in Ubud and Jimbaran). The villas are plush and smartly set out but do not accommodate children below 16 years. Expect a rustic chic ambience and smart service.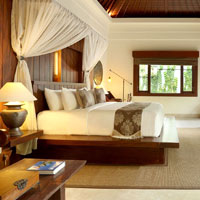 Centara Grand Nusa villa/ photo: hotel
From Thailand with bold silk accents and plenty of wood underfoot and the occasional plunge pool for the pampered few, comes the Centara Grand Nusa Dua Resort & Villas (second half 2013). As its name suggests, this ensemble is along the tourist enclave of Nusa Dua in the far south of the island. Expect a spread out lowrise two-floor complex with suites and pool villas with a total of 82 keys. Rooms start at 75sq m with flat-screen TVs for the digitally inclined, standalone bathtubs for the more romantic set, raised plinth beds with half canopies, and a tropical feel throughout.
Pool villas offer from one to three-bedrooms with pools running from 20sq m to an almost Olympian 75sq m. Splash out big time, Thai style. Kids can enjoy a separate fun pool while parents lounge around a spacious freeform body of water with waterfalls and snuggeries and sun beds to catch the rays. Camp Safari, the Centara kids club, will keep tots and young 'uns entertained while mum and dad duck into SPA Cenvaree or the fitness centre. A shuttle bus runs to the main Nusa Dua beach. Not just a Bali family resort for all ages, Centara plans to make its mark as a Bali conference hotels venue with large 200sq m function rooms and proximity to the Bali Nusa Dua Convention Center.
The Club Med is for people with French accents who like to use coloured beads for money. Well no more actually. The place sports the usual raft of adrenalin-charged activities. Sultry women with pneumatic bodies that look like someone's robustly applied a bicycle pump to them, waft about in day-glo bikinis, accompanied by bronzed men with arms like tree trunks.
Petit Club Med handles tots aged 2-3 years, Mini Club Med deals with kids from 4-10 years and the Juniors' Club Med entertains 11 to 12-year-olds. There's also a circus school for kids complete with a flying trapeze but nothing too vertiginous of course. Explore the Club Med Spa with its Turkish bath, a six-hole putting course, and the wide swathe of beach with snorkelling possibilities. Right next door the Bali Desa Suites offers Balinese-style villas in a compound 100 metres from the beach.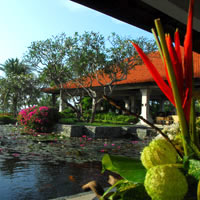 Grand Hyatt pond/ photo: Verghese

You can always tell a man by his socks, and a hotel by its public toilets. The public loos at the 636-room Grand Hyatt Bali are impeccable with enough room to swing a horse by the tail. There are splash pools and lap pools and wading pools and… just be prepared to walk a lot. A LOT. There are five pools in all. Never a dull moment for the kids who can enjoy supervised activities and action at Camp Nusa.
The Grand Hyatt has completed an extensive renovation, emerging with bright contemporary décor, and the dramatic new kriya spa echoing the cadences of a Balinese water palace. This is a spacious, breezy complex with water features that come alight in the evening. Each spa villa has its own courtyard, plunge pool, soaking tub, and twin massage facilities. The colours are light, pastel, and soothing.
The pale, cool stone runs in clean straight lines defining water pools and channels, offering a pleasant counterpoint to the heat of the overhead sun. Sample a Traditional Healing Massage, a Yoga Massage, a Balinese rubdown or an exotic Warm Stone Massage. All spa treatments are based on traditional Balinese healing philosophies combining harmony, purity, energy and bliss. You can't ask for much more than that. There are wellness treatments by the bushel here but you'll be well advised to book in advance.
At the Grand Hyatt Bali, enjoy Italian by the beach, assorted fare, cultural shows, Balinese exhibitions and shopping at the Pasar Senggol Balinese Village, book one of three tennis courts, or sample an arsenal of water sports. End your day nursing a nightcap and enjoying live music at the Pesona Lounge. This was the resort largely responsible for putting Bali on the Asian holiday map with its brand-name clout and welcoming service. (Grand Hyatt Bali is showcased in our exclusive by-invitation Top Asian Hotels Collection, featuring the best Asian hotels, resorts and spas in a printable A4 page with stunning visuals.)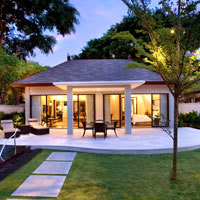 Laguna Resort & Spa villa/ photo: hotel
Next up in the Nusa Dua five-star fraternity is the smart The Laguna, a Luxury Collection Resort & Spa, Nusa Dua (formerly the Sheraton Laguna Resort & Spa, part of the Starwood Luxury Collection), which has a charming Lagoon Spa and refurbished rooms including the Lagoon Access Rooms enabling you to tumble out of bed and into the pool assisted – in the event of too much champagne – by 24-hour butlers.
Water sports enthusiasts will not be left wanting. Scuba diving, snorkeling, wind surfing, fishing, sailing and kayaking are just some of the activities on offer.
The Laguna Spa has its own Spa Villa where a raft of treatments is on offer. This is a good Bali conference hotel choice as is its sister property next door, 334-room The Westin Resort, Nusa Dua. The Westin is a straight up convention hotel albeit with all the trimmings of its fancy Nusa Dua peers with a large atrium lobby, three swimming pools, four floodlit tennis courts, and the now de rigueur WestinWORKOUT.
Kids will be kept busy at the Westin Kids Club while frazzled parents unwind at The Westin Spa. The spa offers both indoor and outdoor treatment rooms, replete with gardens and gazebos. You can even choose to have your massage in a pavilion on the beach. Pick a family room if you have tiny tots in tow or opt for the luxurious Royal Beach Club suites which, unusually for a conference hotel, can compete with the best on the island. All rooms are fitted with visual telephone alerts and audible emergency alarms to help disabled guests.
In this vicinity, the Inna Putri Bali (formerly Hotel Putri Bali Nusa Dua) is going through a head-to-toe renovation. It returns in late 2013.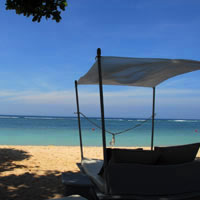 Westin beachfront/ photo: Verghese
The Spanish-run Melia Bali (which includes a private compound housing ten plush villas with plunge pools) is green, laid-back and inviting. Set in 25 generous acres, the Melia Bali launched the group's young Yhi Spa brand and offers more than a fair bit of wellness indulgence with extensive treatment menus. There is a large lagoon-style pool, a 3,000m jogging track and two floodlit tennis courts. By the beach enjoy a new timbered boardwalk and sun deck with sun umbrellas. Grab a cool drink or a bite at the restaurant. Scheduled activities such as water aerobics, Balinese dance lessons, fruit carving and cooking demonstrations are available daily. The secluded and intimate Garden Villas are a world apart from the main resort with thatch roofs, each with150sq m of private gardens and its own swimming pool. Inside you'll find a DVD player, and a pillow menu. The resort has a Kid's Centre.
The Ayodya Resort Bali (formerly the Bali Hilton), and its exclusive Ayodya Palace wing, is crammed with all manner of striking statuary depicting scenes from the Hindu epic, the Ramayana. Its design is supposed to mimic a traditional Balinese water palace with ample lagoons and pools. This child-friendly Bali resort is hotel-cum-museum and girdles a beachfront lagoon with swimming pool. Kids can avail of Camp Ananda with its special games, camp counsellors and "art corner".
The 541 rooms all feature private balconies that overlook the pool, gardens and lagoons, but the Ayodya Palace wing offers additional amenities including access to the Ayodya Palace Lounge (with its private pool), complimentary breakfast, tea and cocktails, gym access and meeting facilities. Another decent option in the Nusa fringe area near the golf course is the cosy, compact and green, The Grand Bali – Nusa Dua (formerly the Swiss-Belhotel Bali Aga), a smart away-from-the-beach option that will not unduly test your pocket. Rooms are simple with wooden floors and the usual mod-cons but this medium-rise complex is neat, green, manicured and friendly. Find a spa, a jogging track, tennis courts, and lawn bowls as well as WiFi and a business centre for workaholics. All this is topped off with an exuberant cobalt-blue swimming pool. No special kids' facilities but a children's menu is available.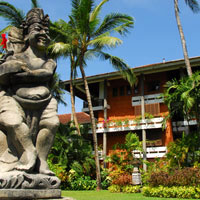 Melia statue/ photo: Verghese
New and businesslike neighbour Mercure Bali Nusa Dua (Jan 2013) serves up 201 modern and colourful rooms with free WiFi in a compact lowrise building also set away from the beach not far from the small hotel-style Hotel Santika Siligita Nusa Dua Bali (Jan 2013) with its plain but neat rooms. Santika, just outside the Nusa Dua enclave on a fairly busy access road, is a value option at around US$50 for a superior room.
Alas not on the beach, but cheerful and brilliantly welcoming of kids, the Courtyard Bali Nusa Dua (by Marriott), opened in March 2011, is the 900th iteration of this value brand. It boasts 234 rooms and seven suites. This is a neat grey-stone construct with clean lines and a Zen sense of space. Expect an onsite lagoon swimming pool that meanders playfully around, dedicated beach club facilities on Nusa Dua Beach, and a fitness centre to work up a sweat. When you're done, stop by the Courtyard Spa and let the therapists get to work. As at other Courtyards there is an all-purpose Momo Café. Also let the tots run wild at the kids' club. Close by is the Hotel Novotel Bali Nusa Dua Hotel & Residences, quite a mouthful, but a pleasant residential complex set away from the beach overlooking the golf course with 175 smart and contemporary rooms, a Kids' Club, conference room, and spa services.
At the far end of the Nusa strip is the Bali Golf and Country Club with its 18-hole championship course. The greens are closed for a major overhaul and re-turfing after which the place will return late 2013 as the reborn Bali National Golf Resort. At the old course, the daily rate for 18 holes was US$165.
The club also used to manage one of Bali's best-kept secrets, The Villas at Bali Golf and Country Club. These lovely thatch-roof villas were in three and four-bedroom layouts with villas 11 and 12 conveniently opening onto the tee for Hole 9. The villas all fall under the general area redevelopment.
Stately Amanusa/ photo: Verghese

The style at neighbouring Amanusa, one of the Aman resorts Bali trinity, is equally elegant and understated. So much so you might assume you've walked into someone's home. There is no formal check-in or check-out. You arrive at a breezy open-sided lobby and are escorted to your villa. Smiling staff will address you by name. The fact that there are just 35 villas, each with substantial separation, open areas, great views and soothing greenery everywhere, adds to the sense of intimacy. People with wallets deeper than the Grand Canyon holiday here yet the ambience is convivial and friendly. Amanusa – and the other Amans – shatter the image of the snobbish high life. Things are accessible, friendly, and there is heart. The beguiling genuineness of Bali is in ample evidence here. Dine at the Mediterranean restaurant and plunge into the stunning "sunken" pool. Or dine Thai at the belvedere with Cinemascope views of Mt Agung in the distance and monsoon lightning crackling along the purple horizon. Pop by the library to grab a book or board game (or to get on the Internet on the single laptop), then head to the beach club – a two-minute pootle away – where you can lounge in a comfy balé. Or burn off some calories at the all-weather tennis courts. Ball boys or doubles partners will mysteriously materialise.
Spacious villas, spaced well apart, are set in individual walled compounds with open views across the golf course below. The floor is cool chequered white-and-grey marble. Thatch roofs soar high above four-poster beds shrouded with gauzy cotton drapes. Expect a heaped plate of exotic fruit set by the lounging divan and the concealed TV with Bose sound (the sole concession for city slickers). An old fashioned wooden work desk now features modern three-pin square electric sockets (and additional plug points are available around the villa). Hurrah! Also expect, wonder of wonders, high speed WiFi. Stay connected or, better, toss all your hi-tech impedimenta into the pool should you happen to be parked in a drop-dead romantic pool villa. All villas offer breezy outdoor patios with a canopied day bed. Perfect for a good book or a long commune with your inner child. Shower indoors or outdoors, pour on Aman handmade lotions, soak in a tub, flit around the twin vanities and play with the various sliding louvred doors. The Amanusa villas are stylish but simple and therein lies their enduring charm.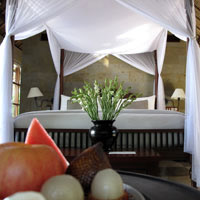 Amanusa in-room style/ photo: Verghese
And if all this is not enough, now welcome the Aman Villas (mid-2013), a secluded set of private hideaways serving up ten 4,000sq ft accommodations with three to six-bedroom ensembles - huge living areas with separate bedroom villas, living room and dining areas and, of course, that staple emerald swimming pool that runs long enough for fast calorie-burning laps. The Aman Villas are a short buggy ride up the hill away from the main complex. You'll have your own chef and butler, so don't even think of moving. See also sister-resort Amandari (Ubud) and Amankila (Candidasa). (Amanusa, Amandari and Amankila feature in our exclusive by-invitation Top Asian Hotels Collection, featuring the best Asian hotels, resorts and spas in a printable A4 page with stunning visuals.)
At this end of the Nusa Dua beach stretch is The St Regis Bali Resort that opened late 2008. With 2,820sq m of recreational space and 350m of beachfront there's pretty much something for anyone no matter how pernickety, from swimming, gym and yoga to jet therapy pools, sauna, wedding chapel, and the dedicated Remede Spa with its glowing onyx lamps set amidst reflecting pools. The hotel features a combination of suites, "residences" and villas with plunge pools and gardens. Upper storey suites in the main building get a generous balcony while ground floor digs enjoy a private garden with relaxation bale.
The 79 suites offer a spacious (at least 92sq m) homey feel with differing furniture and lampshades that attempt to break the symmetry of this vast sybaritic playground. Expect 42-inch flat-screen TVs, iPod docking stations with a comprehensive data-port for music, work and connectivity, Broadband and WiFi throughout the resort, multi-pin adaptor power sockets, large flat laptop-friendly safes, butlers by the bushel and, in the villas, complete Bose sound systems.
Pick up a movie from the DVD library to wind down after a long day and put those speakers to the test. All rooms are soundproofed, and the well-stocked bathrooms even feature their own flat-screen TVs. A one-bedroom villa by the beach will satisfy most needs while immediate access to the neighbouring Bali Golf & Country Club is a plus for big swingers.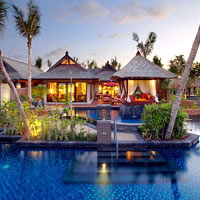 St Regis Lagoon Villa/ photo: hotel
The resort driveway rises up in a straight line to an imposing lobby from where, of an evening, flame torches line the way past a central free-form pool to the beach. There are several choices if you want to take a dip beyond the main pool, including a 3,668sq m swimmable lagoon, a dedicated kids pool and the Aqua-Vitale Pool in the spa replete with pressure jets to soothe complaining muscles. Palm trees and green features are taking root and shall provide more privacy, especially for ground floor units.
Amidst the art, artefacts and sculpture that dot the resort are a series of whimsical wooden cows that unconsciously inject a dab of humour and accessibility to what is in many ways a grand, almost imperial, enterprise. You might expect to turn a corner and run into a coliseum or the odd vestal virgin amidst the hip and happy.
The St Regis is not your run-of-the-mill Bali resort straining to be higgledy-piggledy local. It is a high-end establishment with gleam and gloss, a contemporary feel, and structured lines - yet Bali is in evidence, from the puppet Boneka restaurant to the elaborate water features that lead to the sand. As our St Regis Bali review concludes, with a 4:1 staff-to-room ratio the pampering should be palpable.
The Balé, with 29 stylish private pavilions (they don't call them villas) each with a small pool and garden is located just across from The St Regis, rising up a hillock. It has extended its accommodations with fresh new pavilions in an uncluttered setting, each in its own compound with open shower areas, day beds, glass-panelled bathrooms, big soaking tubs, pool, 40-inch flat-screen plasma TV, DVD player, iPod dock and complimentary high speed Internet access. The resort's approach is minimalist with streams linking rectangular pools filled with smooth, rounded volcanic rocks to set off the pale beige sandstone.
This Lifestyle Retreats property also features an intimate, small and secluded spa. Try yoga, Tai Chi, deep water toning, or the 120-minute "Tropical Romantic Ritual". The spa's packages also include a two-course meal specially designed by the Executive Chef to compliment the treatments.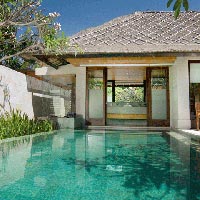 The Bale Single Pavilion/ photo: hotel
The food at the gourmet Faces poolside is light and excellent. Or, for something lighter still, check out Bliss at the spa. The Balé has been compared with Aman and there are certainly some similarities, not least the outdoor shower and the light stone (reminiscent of Amankila). Upon check-in you'll get to choose from eight spa soaps. Don't grab them all. Toiletries include an emery board, razor and sewing kit. The largest 11m pools are with double pavilions 22 and 23, 19 and 20, and 16 and 17. While not located on the beach, the resort has a Beach Club a short walk away.
From Jakarta haute hoteliers Mulia comes the sprawling Mulia Bali, a mini destination on its own with three hotel experiences in one. Stroll through The Mulia (an all suite seafront medium rise complex), the Mulia Resort, the middle section set away from the beachside with hotel accommodation, and the Mulia Villas, set farther inland up a rise with electric buggy access. Run the gauntlet of a thorough but smiling security detail to arrive at a breezy, modern raised lobby with pyramidal glass skylights adorned with large hanging blown glass discs. The space is vast and imposing with cool marble underfoot and homey deep seating furniture at various intervals for tuckered out legs. The accent is on contemporary rather than classic Balinese, an architectural meld that might be equally at home in Sanya or Cannes. It is comfortable and roomy.
From the lobby the two arms of the 526-room Mulia Resort stretch out seawards, tipped by the exclusive The Mulia with its high-end suites and many ocean-facing balconies doubly blessed with Jacuzzis. A 63sq m Royal Suite in Mulia Resort serves up 400 thread-count cotton linen, pale baby blue and cream textures, flat screen TV, balcony, sofa bed, twin vanities, soaking tub (perhaps with a view of the courtyard pool), rain shower, iPod dock, laptop safe and nifty mobile device charges. It is a pleasing ensemble save for the fact that the work desk lacks a convenient electric socket and ones you find might be the old-fashioned recessed round-hole two-pin variety. WiFi is charged in-room though it is free elsewhere in the resort's public areas.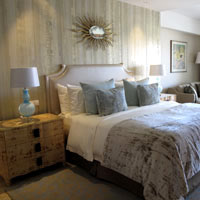 Pastel Mulia Resort room/ photo: Verghese
A short buggy ride leads up to the spacious Villa reception. One Bedroom Villas offer a canopied sun lounger, patio and 50sq m hydrotherapy pool with clean lines and contemporary yet classical furniture. Bathrooms are huge and the bedrooms may remind you of a posh apartment with a homey feel. The décor is muted and the feeling is welcoming and recognisable rather than in-your-face exotic. It is a quiet luxury aimed at worn travellers seeking a standard definable experience. The treated "bug-free" roofing soars neatly above the pale pastel surrounds featuring flat screen TVs, big Jacuzzi, indoor and outdoor showers, twin vanities, Nespresso machine for a quick cuppa, and a small safe.
Mulia Bali is a grand, borderline bland, sprawling essay, easy on the eye, with plenty of stretch space and a strict rulebook. That upscale restaurants require a smart dress code is not unusual. What is a departure from the resort norm though is a strict adherence to the two adults and one child policy per room, and the fact that restaurant tables cannot be joined to accommodate larger groups.
The hotel plans to uncompromisingly maintain high luxury standards, an aim that will delight some and alarm others. Take your pick. There is much to like. Mulia Resort Bali is no slouch on trimmings – enjoy several swimming pools scattered around the 745-key complex, a kids club, kids pool, a Mulia Spa for wellness pampering, a fitness centre and business centre for workaholics. This is a top MICE address with superb, glittering conference facilities (though design limitations mean larger buses cannot venture into the main lobby).
The Mulia aims to be a romantic getaway as well as a family-friendly Bali resort with a confident pitch to the Bali weddings market (there are three wedding chapels) and meeting planners. Take a look. This is something different for when thatch-and-grit is not your cuppa.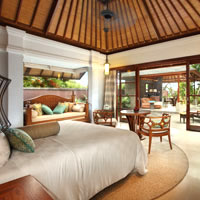 New Nikko Bali pool villa/ photo: hotel
Heading on from here along the coast is the secluded Nikko Bali Resort and Spa perched on a cliff with four pools and fun-filled camel safaris on the beach. The little ones will be fully occupied with the dedicated kids' lagoon and pool featuring 30m water slides. There is also a Jungle Camp for kids aged six to twelve.
New feathers in the cap at this lively, friendly resort are the addition of 19 pool villas (in one to three-bedroom layouts with indoor and outdoor showers and butler service) by mid-2013, and a new 1,100sq m convention centre with banquet space for 760 persons. Clearly MICE and weddings (with the addition of a separate open air wedding pavilion for 30 guests) will be the name of the game at this upgrading property and the place is well positioned to offer both style and value in a reasonably compact space without all that sweaty walking around.
The hotel boasts a Mandara Spa and has introduced a smart Executive Lounge, Nikko Bali Club (with its own swimming pool), and Club Rooms. The Mandara Spa offers eight comfy spa villas, as well as a Beachside Bale. Gaze at the sweeping views of the Indian Ocean while masseurs work at revitalizing those aching muscles, or simply pile on the pampering with manicures, pedicures, facials, you name it.
All the rooms and suites have re-emerged with a contemporary decor with Balinese flourishes. The higher end Nikko Club Executive Floor boasts 73 rooms that include freebies like access to the Nikko Club Lounge (not for those under 12), with complimentary breakfast, refreshments, evening cocktails, WiFi, and more. If you like vast ocean views, this one's for you.
En route to the Nikko, on a hilltop, is the Sekar Nusa Villas. The Sekar Nusa has cottages, each with a private pool or Jacuzzi, and two communal pools. It's quite pleasant but lacks access to (or facilities on) the beach. Spa treatments and bike rentals are available. This is a good set-away-from-the-crowd budget option though you will certainly find a few flag-waving groups passing through.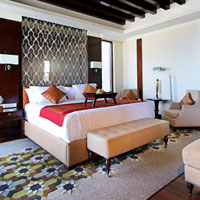 Samabe villa/ photo: hotel
The Shanti Residence is a modern, splendidly private villa retreat in Nusa Dua not far from the Nikko and 30 minutes from airport. There are five suites of which three have their own plunge pool or garden. Each is staffed by a personal chef, butler, housekeeper and chauffeur. The Residence overlooks the ocean and is within minutes of the beach. At its heart is a large infinity pool with a timber deck for alfresco dining and entertaining.
Also from the group are Four@Drupadi in Seminyak with themed accommodation, The Lotus Residence set in paddy fields, and The Satung in Ubud. The Satung occupies 15,000sq m of prime real estate on the banks of the sacred Agung River. Expect a 1,200sq m garden, a restaurant and a dedicated yoga and ayurvedic centre for chakra balancing overlooking the stream.
Also opening mid 2013 in the general Nusa Dua area, a bit farther west after the Nikko, is the villa and suite Samabe Bali Resort & Villas. Expect contemporary chic, bright splashes of colour, and smart rooms with sea views. Pick from a suite or a larger one or two-bedroom pool villa. One bedroom Garden Pool Villas start at a generous 265sq m and are aimed at the honeymoon and Bali resort wedding set. Dawdle in outdoor showers or soak in a standalone tub. Or spa out. You get the drift…
Set just away from Nusa Dua at Taman Mumbul and within easy reach of the airport is the Swiss-Belhotel Bay View, a combination of residences, suites and villas. This is a business and leisure all-suites resort with the whole works – kitchen, pantry, living room, Internet, and satellite TV. Expect a business centre, three swimming pools, a children's club, and the rooftop Kawas Spa with herbal baths and signature treatments. Shuttles run to Kuta and the beach club. The resort has recently opened the Bay View Villas, which offers 34 one-bedroom villas and five two-bedroom Pool Villas. Confused? We're just warming up. As we said, "Welcome to Hotel Bali – you can check out but you can never leave…
Benoa hotels and resorts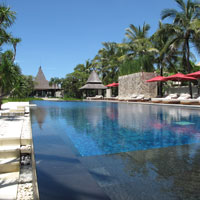 Royal Santrian, Benoa/ photo: Verghese
Among the smartest picks along the Benoa seafront is The Royal Santrian (sister property of The Puri Santrian and Griya Santrian, Sanur), with a breezy 2.5 hectares by the beach with three oceanfront Royal Villas and 17 Deluxe Villas. The resort is contemporary and smart with clean lines, an attractive slim pool running arrow-straight towards the beach (lined by crimson sun umbrellas) and thatch-roof luxury villas with private pools. There is a Royal Spa on the premises with a range of treatments. Regular shingle-roof villas are set in private walled courtyards with generous pools and lounging pavilion. Inside expect beige woody tones, dark wood floors, huge flat screen TV, big safe, dressing area, twin vanities for him and her, rain shower, and bathtub. It is a smart ensemble set off by verdant lawns and large stone statues. At one-bedroom Royal Villas also expect Royal Butler service, handy for all that packing and unpacking. Plan a romantic Bali wedding here, enjoy a honeymoon dinner under the stars.
Another nice spot on the Benoa stretch is the attractive child-friendly Novotel Benoa Bali with almost 200 rooms, a few beach cabanas, three pools, two whirlpools, a tennis court, fitness centre and a shuttle bus to Nusa. In season, the resort offers daily recreational programmes poolside. With a dedicated Kids Club, there are enough activities here to keep an army of tots fully occupied for a week.
The other contenders are the Melia Benoa, which sells all-inclusive packages and has a spa, the more basic Aston Bali Resort & Spa, and the larger Grand Mirage Resort with its Thalasso Bali hydrotherapy spa where seaweed, seawater and assorted water jets, sprinklers and foaming baths await. This was the first Thalasso on the island. Grand Mirage remains a very family-friendly Bali hotel and is littered with activities for kids from water polo to giant chess. Hotel Ibis Styles Bali Benoa is a 174-room smart, mod and businesslike value option from about US$70 on the early Benoa stretch on the main road (not by the beach).
In stately contrast is the impeccable and sprawling 353-room Conrad Bali Resort & Spa. The large and breezy lobby offers immediate ocean views and leads on down to the pools, massage bales and the beach. The resort present clean, well-planned, imperial lines, almost a Rome-comes-to-the-beach sort of look, with open spaces as well as snuggeries for couples. Arriving early or have a late departure? No worries, the hotel has set up the Reflections Lounge for guests to relax while they wait. The rooms are bright with an abundance of blues including blue-ripple carpets, woven headboards and, replacing the customary yellow rubber duck, a green rubber turtle to grace the bath. The golden "bangkirai" wood from Borneo adds to the sense of lightness, and glass, full-length walls, enable you to look out from the washroom to keep an eye on the TV or the kids, or the hubby.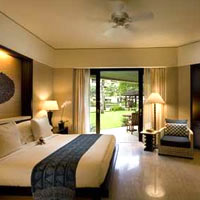 Conrad Bali Resort & Spa/ photo: hotel
The safe is large enough to handle a laptop. A nice touch is the wireless Internet available throughout the resort and there is high-speed access in the rooms as well. There's a spa, and a state-of-the-art Games Zone is equipped with everything from computer games and SONY Playstations to Monopoly.
Pizza by the metre? The Conrad can do that too. The latest feather in its cap for those in search of a romantic Bali wedding is "Infinity", its dedicated weddings venue.
This all-white, tented, futuristic venue with floor-to-ceiling glass panels and attractive water features, offers ample light, breeze and views. It is set in a 1,200sq m Ocean Garden reserve. Soothe your conscience after all that extravagance by donating to the needy through one of the many community causes that the Conrad Bali donates too.
For something smaller, simpler, cheaper, look at the Rumah Bali, Bed & Breakfast where rooms start at just US$73. In larger rooms enjoy a pool, breakfast on your porch, kitchenette, TV, VCD player, fridge and safety box. Rooms are spacious, wood-floored, with four-poster beds complete with mosquito drapes. Private villas are also available from US$275 a night, which boast three bedrooms, fully equipped kitchen, private pool and a sundeck.
Uluwatu luxury resorts, Ungasan spas and villas
In secluded Uluwatu, I drove past another clutch of heavily-muscled guards, knowing these people would wrench my head off if I so much as looked liked misspelling Bulgari, one of the newer designer boutique resorts to open on Bali. For the uninitiated, it is spelled two ways, BVLGARI in capitals and Bulgari in lower case, and never to be confused with Bulgaria (which also claims a few resorts). The difference between a night at the chic Bulgari Resort Bali and a Bulgaria resort is about the GDP of Bangladesh. Now you know.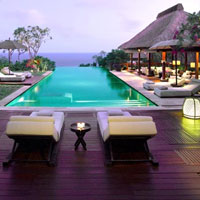 Top-of-the-line Bulgari/ photo: hotel
Bulgari, and its attendant leggy models, glitterati, beautiful people, hangers-on and impoverished journalists, is a welcome pick-me-upper for Bali. Its 59 swish villas with Bang & Olufsen flat-screen TVs, DVD players, private gardens and plunge pools, ocean vistas and spoiling BVLGARI amenities cascade down a quiet Uluwatu hillside, just past Pecatu village, hoping to offer the ultimate in branded designer chic. Splash out at the arm-and-a-leg Bulgari Villa, a 1,300sq m area boasting its own 20m pool, a meditation pergola, a spa treatment room and even a private cinema, or spoil yourself silly at the Spa, a traditional ensemble complete with hand-carved teakwood doors at the entrance.
Each self-contained villa has its own sundeck running alongside a dark-timbered bedroom under a traditional sloping alang-alang thatch roof. Indoors, Balinese gives way to textured, minimalist Italian. The starched white-linen bed with its intricate songkat runner looks out over the ocean through floor-to-ceiling glass panels with the black-floor bathroom just behind similarly bathed in light.
There is a bathtub and outdoor shower. The general layout of the entire complex is a tad compact with thatch roofs running in unbroken tiers down the hill, ending dramatically cliffside, where views from an alluring infinity pool and signature restaurants plunge into the blue yonder. Over a year on since the opening, maturing greenery has lent further privacy and character to the villa plunge pools.
Enjoy the splendid BVLGARI amenities, the funicular leading down to the crashing surf and tanning beach far below, the spa and, yes, even a few Bali edition watches. The beach is picturesque but not inviting of a swim on account of the coral and rock.
Bring along a book and a sharp 20 megapixel camera. And pose. Welcome to the latest Bali luxury villa offering and BVLGARI Hotels & Resorts where the fun begins at a paltry US$750 per night if it's off season.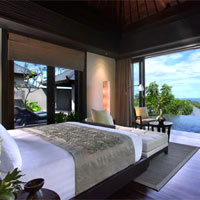 Banyan Tree Ungasan/ photo: hotel
Another option in this area is the Blue Point Bay Villas & Spa, a Japanese-owned complex with private villas set on the cliff, each with a pool and undisrupted views. There are two main swimming pools and a dedicated spa.
The Banyan Tree Ungasan, Bali, is on Bali's southernmost peninsula, sprawling across the cliff-top near the Uluwatu Temple. The resort opened end 2009 with a signature Banyan Tree Spa (with nine treatment rooms), pool villa accommodation, and a buggy road winding down in hairpins to a private beach. Each villa boasts private gardens, outdoor jet pool and 10m infinity pool. The Pool Villa – Ocean View starts at a camel-swinging 403sq m. Walk in through a slate-grey compound wall to find yourself on a sunny sundeck patio with a belvedere looking over the cliff at the crashing surf far below. The views are vertiginous and vast.
Leave the pink bougainvillea to step into the villa living and dining area with floor-to-ceiling glass windows that are relentlessly welcoming of light. Drop onto a sofa and watch the latest movies on a large flat-screen TV, gaze out over the pool, or wander into the HUGE toilet to rummage about the goodies - twin vanities, a soaking tub, lotions and potions, and well-lit mirrors to spot each and every hidden mole. Flooring alternates between cool marble in the living room and dark timber in the bedroom. Find literally acres of space for parties, weddings, and corporate functions. The views are breezy and unobstructed especially from the almost Mediterranean Ju Ma Na Bar where, with a cool sundowner in hand, you can see forever. And yes, the WiFi is free.
The minimalist designer-chic 60-villa Alila Villas Uluwatu is spread over 13.5 hectares and perched atop a dramatic cliff looking across pounding surf and open ocean vistas. The low-rise villas offer contemporary design with clean, straight lines in cream with plenty of sluice-gates in courtyard walls for the wind to whistle through. And refreshing it is. No better place to enjoy this than from the tree-house style belvederes that sit vertiginously atop the cliff with randomly placed horizontal wooden beams for walls, with vast, almost disconcerting gaps to allow the eye to view the sunsets undisturbed. The 84 villas start at a generous 291sq m for a one-bed pool villa.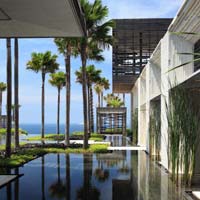 Alila Villas Uluwatu/ photo: hotel
With all this stretch space there's plenty of room for the 32" flat-screen TV, DVD, WiFi, iPod dock, safe, espresso machine, tea making facilities, private bar, twin vanities, outdoor dining terrace, private cabana, indoor and outdoor rain and jet showers, stand-alone bathtub, and Alila toiletries. Alila Uluwatu serves up contemporary style at wallet-humbling prices and for the wellness inclined there is the Spa Alila with five treatment villas.
The resort has gone to considerable lengths to be environmentally sustainable with a number of green features incorporated in its design. Stone lattice-work walls are accommodating of both sea breezes and light. Water is recycled and local nurseries grow the shrubs and trees that provide a refreshing green burst in what is otherwise a doggedly drier part of the island. A somewhat different and contemporary Bali escape.
Another development making a name for itself in this South Bali area is the Karma Kandara (see also Jimbaran). Expect quality luxury villas with good finish, a spa, varied food and beverage choices and a beach club. Think space, gleaming marble floors, flat-screen TVs, timber sun decks and plunge pools vertiginously dangling cliff-edge.
Jimbaran villas and spa resorts
Halfway to Kuta, along a pleasant bay facing west, is Jimbaran. The area has acquired a fashionable collection of resorts, eateries and private villas. Perched over a secluded promontory, is the stately eco-friendly AYANA Resort and Spa. Formerly the Ritz-Carlton, Ayana features its own 22,000sq m hydrotherapy Thalasso & Spa, almost a resort within a resort. If this place were any bigger, it would mint its own currency and hand out passports. Amidst the gardens and water-features, are the spa villas, a spa suite and a 650sq m "aquatonic" pool. Don't ask me what that means. The water flows and swirls in varying temperatures while jets and hidden currents massage and relax.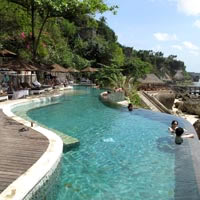 Ayana Resort pool/ photo: Verghese
The latest feather in the cap of Ayana is its dramatic Ocean Beach Pool. This is a phantasmagorical elevated 80sq m seawater pool with molded "ergonomic" underwater recliners. Grab some rays – and fabulous views of the surrounds – from 10m above sea level. Look out too for the clifftop Ayana villa with gym, kitchen, spa and three bedrooms lavishly spread over 3000sq m, plus a small lawn for private functions or weddings.
If you're in need of a Bali luxury villa, the awfully private accommodations at the far periphery of the resort may be just the ticket. Spa out, organise a resort wedding, enjoy that second honeymoon, practice your golf swing, go mountain biking, host a meeting, or simply romp with the kids. Here, you can manage it all. Your appetite won't be ignored either. There are 12 restaurant and bar options sprinkled generously throughout the resort. Little touches include the small bottles of cold mineral water the valet will thoughtfully place in your car before you drive away. This is a swish address but definitely a family-friendly Bali hotel for your diary.
The Four Seasons Resort Bali at Jimbaran Bay (yes, that's the entire name) cascades down a hillside above the shimmering sea. Its stylish thatch-roof villas feature a separate Balinese dining pavilion, courtyard and plunge pool. Bathrooms not only have separate bathtubs and showers, there's also access to a private outdoor garden shower. There are additionally nine spacious Estate Homes (up to four bedrooms) with plush interiors and private pool. In-room facilities include DVD and CD player, down pillows, iron and ironing board, and hypo-allergenic pillows. Ocean Front Villas offer twin vanities, old style water faucets, a laptop-size safe, Broadband (charged), a plump bed with mosquito net, small plunge pool, outdoor breakfast area, flatscreen TV, DVD, Bose entertainment centre, and large light-welcoming windows. Usefully, bedside you'll find a large numerical digital clock. Clutterbugs will enjoy the twice-daily bed turn-down service. The main infinity pool at the resort looks over the bay and is well positioned for both sun and breeze.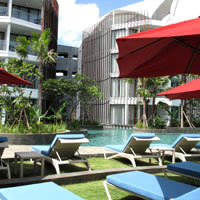 Le Meridien poolside/ photo: Verghese
The spa is a big draw. Spa suites feature outdoor soaking tubs, cleansing "rain showers" and a generous array of treatments. The resort also offers two to four-bedroom private residence rentals located adjacent to the property, a five-minute walk from the beach. PJ's restaurant has gone to be replaced by a two-level restaurant with a swimming pool. Dip, eat, and enjoy the sunsets.
Karma Jimbaran is a gracious all-villa affair with 40 one to six-bedroom pool villas to pick from. Expect alang alang elephant grass thatch roofs, private pools, a Living Pavilion with state-of-the-art kitchen, an eight-seater teak table, satellite TV and DVD and CD player with surround sound. All are sprinkled with local artworks and Balinese antiques. As at their Koh Samui property, the restaurant is trendy and different. Karma Lounge serves all manner of culinary creations. After hours, pop by the Karma Spa and Wellness centre for some serious chakra realignment, massage or beauty treatment. Kids aged two to eleven can be dropped off at The 3 Monkeys kids club, which has an arsenal of handy activities. Water sports, ceramics making, sandcastle competitions and Balinese dance are just a few of the distractions. This is a handy Jimbaran option covering a range of traveller requirements.

The new Le Meridien Bali Jimbaran (December 2012) is a study in contrasts. Set within protective concrete walls - a modern equivalent of a jungle kraal - without the usual arrival hoopla as at other larger establishments, the resort is easy to miss. From the hotel entrance by the main road, a buggy takes you up a somewhat cramped ramp to the lobby. From then on it's like Alice falling down the rabbit hole into Wonderland. And the result, if you're young and hip, is just as entertaining, from the lazily whirring ceiling "punkahs" at the lobby and the brightly coloured walls and cushions to and The Beatles "Abbey Road" collage, there's distraction by the metre. With an inward facing courtyard design, three-storey buildings ringed around a large central free-form pool, Le Meridien has made the most of a compact plot to extract fizz and wow with more than a hint of W Retreat DNA. For one, the staff is excellent. Service is brisk and attentive. Stand a moment in deep thought and someone will wander by to assist.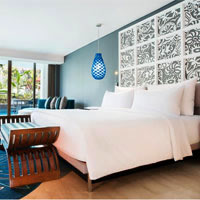 Le Meridien room/ photo: hotel
There are 118 rooms, all with free WiFi, the pick of the bunch being the ground level walk-in pool access rooms and the penthouse suites with their grand canopied terraces that offer the only sea views from this resort. It is unlikely you'll miss the views. There's much to do within. A Lagoon View Room weighs in at 62sq m with bright powder blues predominating. Expect a plump white bed, a 3D smart TV (you don't need to be too smart to use it), split-level digs leading past a blue sofa to a small balcony (facing the pool). The bathing and dressing area is immediately to your left and right as you enter but this open plan approach has been seamlessly melded into the design. Find a standalone bathtub, big rain shower for a feel of the true blue tropics, and a notebook size safe. The wooden work desk has a three-socket multi-pin plug and all switches in the room are wondrously large, tactile and idiot-proof. The last thing you need on a holiday is a wrestle with the light buttons at 3am. A ground floor 82sq m Aqua Studio Suite Lagoon Access appears a lot more spacious with its grey-blue walls, dressing closet, flat-screen TV and verandah for step-in pool access. The cafe by the pool leads to a bar from where you exit the hotel, cross a small street with a row of shops behind which is one of Bali's best beaches. This is a child-friendly hotel with its J Kids Club to keep the tykes at bay while their mums rediscover endless ways - and reasons - to smack daddy's teeth. All in, despite the lack of view and immediate beach access, this is a hotel that injects much needed youthful vigour and attitude in an area otherwise dominated by slower paced luxury hotels. (Le Meridien Bali Jimbaran feature in our exclusive Top Asian Hotels Collection, featuring the best Asian hotels, resorts and spas in a printable A4 page with stunning visuals.)
Ensconced on a generous slice of property smack in the middle of Jimbaran Beach, is the spacious 418-room InterContinental Bali Resort. There are Classic Rooms, Singharaja Rooms and a swish Club InterContinental wing in the more secluded north of the 14-hectare property. The InterCon offers six attractive outdoor pools, Jacuzzis, the tempting Spa Uluwatu, villa retreats, and breezy oceanfront massage tents. Check out the renovated Sunset Bar, perfect for sipping on sangria while watching the sunset from the shoreline. Rooms are ample with a working desk, Asian-style three-pin square plug points, a small safe for your video camera, a balcony, and an extensive in-room massage menu.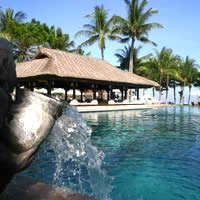 InterCon Bali pool/ photo: Verghese
If you poke about the mini-bar you'll also find two monogrammed InterCon Bali golf balls. Neat. A massage-by-the-sea in a gauze-curtained bale is one of the hotel's must-dos especially when the weather gets really pleasant July-September. Stretch out, get pummelled and sleep.
The private balcony is nice spot in which to unwind and it also has a nifty drying rack so you don't slop wet clothes all over the bed and sofas. Refurbished rooms, now in muted beige and white tones with occasional splashes of coloured cushions, offer 37-inch flat-screen plasma TVs, DVD player, timber floors, and louvred floor-runner wood-slat windows - in wood tones in regular rooms and white in the Club InterContinental rooms.
The overall feel of the interiors is now more airy and welcoming of light. In 58sq m Club Rooms expect a coffee-maker, large work desk, iron and ironing board, and Broadband access for which you'll need to pay. Wi-Fi is complimentary in the lobby and public areas. Bathrooms are spacious with separate soaking tub and rainforest shower and a butler is never more than a call away.
Club guests can additionally avail of the new Club Lounge, a Club Pool, an "Inspiration Space" lounge with books on Bali and visiting lecturers, as well as an InterContinental Bali Resort lounge at the airport. Down in the lobby order a "Prada's Sangria". No "Cartier Omelettes" available as yet but relax, prada in Balinese, means "golden".
The spacious grounds and welcoming staff offer a child-friendly resort feel with facilities to match. Kids will enjoy the added facilities including horseback beach rides, trampoline, soccer and drawing (does anyone still do that?). The InterContinental Bali Resort also sports what it terms a new children's resort called Club J. The club incorporates an air-conditioned clubhouse housing a raft of activities like mini basketball, table hockey, "turtle workstations" for art and more. An "Internet Cave" offers four work stations for older kids. Children are split into two age groups, four to seven years and eight to twelve years with corresponding activities and distractions. Adults will also have their hands full with complimentary activities including Balinese music lessons, yoga, beach soccer, Balinese cooking classes, painting, and more. This is a top child-friendly Bali resort.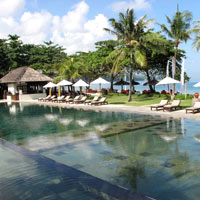 Jimbaran Puri pool/ photo: Verghese
Farther up the road down a narrow turn-off leading to the beach is the Orient-Express Hotels-run Jimbaran Puri Bali, a boutique resort on the beach that has been completely refurbished with a nice swimming pool and the Spa at Jimbaran Puri. The 120sq m Luxury Cottages, some with pools, serve up kingsize beds as well as sofa beds for younger guests, roomy bathrooms with terrazzo soaking tubs for romantics and rain showers.
Two Bedroom Garden View Pool Cottages may be a mouthful but offer excellent duplex suite accommodation for four with flat-screen TV, iPod dock, DVD player and sunken pools. Moving up the luxury scale are the One and Two Bedroom Deluxe Pool Villas with 350sq m of rumpus room. Enjoy the Beach Spa with outdoor bales for two, perfect for a romantic sunset rubdown, or try a more exotic 60-minute "shirodhara" forehead warm oil drip for just over US$70. A 30-minute Balinese coffee scrub will set you back US$32.
The Library is a useful refuge for book lovers or those in search of a fast iMac with internet access. Think deep armchairs, and heavy teak bookshelves reminiscent of how grandma did it. Jimbaran Puri Bali uses understatement to make a strong point - it is an oasis of meditative calm minutes from the thrum of Jimbaran village. Set right on the beach there's access to gardens and sand underfoot. Small wonder this makes a useful escape for honeymooners or those planning a resort wedding in Bali. Simple wedding and blessing ceremonies kick off at about US$850. From here you can go up to as lavish as you like.
Here, expect a butler to do your every bidding, breakfast, high tea, complimentary mini-bar, and free Internet access (there is WiFi throughout the resort as well). A Deluxe Pool Villa with a single bedroom still has enough room to swing a horse by the tail with 350sq m of fun space for honeymooners or families. The two-bedroom villas stretch to 400sq m. Close by are the small-scale and traditional Puri Kosala Cottages.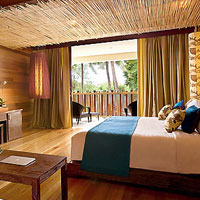 Kupu Kupu Jimbaran rustic chic/ photo: hotel
Also consider the pleasant and quiet Villa Balquisse that was renovated in early 2011. There are two villas. Villa Balquisse I has two (double) bedrooms and a two-storey bungalow with private pool. This would be comfortable for a couple with children in tow. Villa Balquisse II has three (double) bedrooms and two more connecting bedrooms. In-residence chefs serve up Asian and Western set and a la carte menus. Its spa offering, the Henna Spa, boasts six spa treatment suites. The resort also runs a villa in Seminyak and another in Umalas (Kuta).
Or pop by the inviting Jamahal Private Resort & Spa where a one-bedroom pool villa will cover most needs with mini-bar, safety box, CD/DVD player, rain shower, and the obligatory WiFi. The Jamahal Spa employs Balinese treatments interspersed with hot stones and Javanese massage. This is a rather special and intimate Bali luxury villa getaway with just 10 suites and three villas, with a lagoon pool stretching throughout. This boutique resort is a hit with wedding parties, and it arranges a traditional Balinese wedding replete with a cendrawasih Balinese dance, uluwatu blessings and more.
Kupu Kupu Jimbaran (opened April 2011), the sister property of the quirky Kupu Kupu Barong up in Ubud, offers 30 suites in traditional Balinese style along with a spa by L'Occitane.This is a stylish and contemporary construct with a long and narrow central pool set on a broad timber boardwalk flanked on both sides by the suites on two levels. Rooms are modern and functional with all the usual mod-cons including safe, DVD and flatscreen LCD television. In-room expect lots of rustic touches. For some information on booking Bali villas see our Fast Facts at the end of this story.
Kuta Beach resorts and Legian hotels
Up the sunset coast in Kuta, a 15-minute drive from Jimbaran, there is a riot of accommodation. This is clutter-and-clatter country if you're into that kind of thing but you can get away in the Tuban area (which sees itself as rather more upmarket) or at the north end of the main Kuta Beach Road.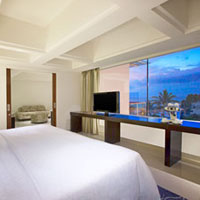 Sheraton Kuta Oceanview/ photo: hotel
Choices here include the trendy and popular Hard Rock Hotel, which has numerous innovative promotions and packages, spa treatments, handy Internet, and a guitar model once played by Sting. Here you can let your hair down, get a good massage in a sheltered cabana poolside, and let your kids go wild at the Lil Rock Kids Club. It is a family-friendly establishment. At the Rock Spa, try a "Stereo Massage" with two therapists working in tandem, a "Hard Rock Massage" utilising a range of healing oils, or an "Indian Head Massage" using ayurvedic techniques. The focal Centrestage doubles as lobby bar, rock venue and guitar museum. The hotel boasts the largest free-forming swimming pool in Bali, replete with its own sand island, and organises daily Aqua Rockersize activities in the pool. There's even a 5m rock-climbing wall for mountaineer-wannabes.
The 203-room Sheraton Bali Kuta Resort (opened end of 2012) has upped the ante on this formerly beer and bellies t-shirt sunset strip. Next to the Beachwalk shopping centre with a podium pool that looks over at the sea (the beach is across the main road), fine Italian dining, and a super International buffet at its streetside all-pink Feast restaurant (Rp250,000), this is a hangout for everyone from families to conventioneers. There are nine meeting spaces with the largest offering 700sq m of MICE space. Replacing the Sahid Jaya, and just up the road from Hard Rock, this weighty contender offers rooms with balconies, several with sea views.
A 46sq m Oceanfront Room has free WiFi (throughout the hotel as well), see-through glass bathing area partition with the bathtub fashionably facing the bed, good, bright ring lights on the mirrors in the toilet, a rain shower, and a laptop-friendly safe for workaholics. The stone floor sets the stage for an unfussy room that is simple, functional and friendly. At the work desk expect a three-pin multi-socket with data port and large tactile room switches. Suites offer iPod docks and cycles are available on a complimentary basis for a pootle around the strip. A scooter with a sidecar will set you back about Rp20,000 an hour. Need an upgrade in the Kuta life? Sheraton is one to look at.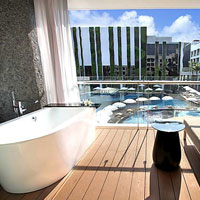 Stones (by Marriott)/ photo:hotel
Heading up the road from Sheraton, on the Kuta Beach Road bordering Legian, is another higher end offering, this time from Marriott's Autograph Collection, The Stones Hotel, Legian Bali (late 2012). Turn in past the smart office-cum-display-showroom sporting gleaming Bentleys and motorbikes and drive in through a narrow "giraffe neck" leading away from the beachside bustle to a chic, contemporary enclave that miraculously opens up to reveal a minimalist space age lobby and a refreshing azure pool around which the two wings of the medium-rise 308-room hotel are set. This inner oasis is bright and welcoming of light and breeze. The pool is the dominant feature with step-in sun loungers in the shallows where drinks can be served. Of an evening you might find a lone saxophonist wading about lost in a musical reverie. It's a cool touch at a hotel that has much more to entice the discerning set to Kuta's raucous party. This contemporary resort has a residential feel - vertical gardens providing a green lung and eco eye candy - and it is situated far enough up the Kuta strip to be well away from the noise and bluster. Stones offers great access to nightlife, sunsets, and hair-braiding on the beach with the option of a fast retreat.
From the sea-breezes at the lobby walk into the air-conditioned comfort of the hotel wings. A 32sq m Deluxe Pool View serves up clean, mod design with light pastels and cream wooden parquet flooring in a compact setting with open views, a large bed, 47-inch mega-flat-screen TV (with 60 channels), and a balcony with a soaking tub. Yes, there's a curtain should you be feeling squeamish. The hip, young and restless will be pleased to encounter blazing speed free WiFi, iPod player, Bose sound, two three-pin multi-plug electric sockets by the round shell-plated desk, an alarm clock that projects onto the ceiling (very cool), and a giant rain shower with organic soap. The foyer doubles as the dressing area with the cupboard at one side and the bathing area on the other. There are 135 pool view rooms with balconies and ground floors offer the option of direct pool access with 3,500sq ft of water to splash about in.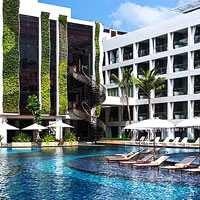 Stones pool + vertical garden/ photo: hotel
There's a 1,500-pax sit-down ballroom for MICE travellers. The hotel is no slouch on meetings and aims to set a new benchmark in Kuta as a Bali conference hotel. Room service? Try the in-room Gourmet Express served by red-shirted delivery boys. It's as close to home as you can get. Mark this one down for the family or a corporate meeting getaway.
Further up the road is the new Pullman Bali Legian Nirwana. This is another modern construct with 353 rooms with balconies, king-size beds and interactive TVs. As with other Kuta properties it is facing the beach but separated by the road. WiFi is free and there is a Kids' Club too making this a child-friendly choice.
The Holiday Inn has been reborn in the gentrified neighbourhood as the Holiday Inn Resort Baruna Bali with several rooms enjoying a sea view, breezy balconies, a beachside bar and rooms with Internet, Wi-Fi, in-troom video games, and flat-screen TVs. This remains a true-blue child friendly Bali hotel with the Rascal's kid's club (and even special KidsSuites with bunk beds) and for the older set there's the Tea Tree Spa.
After hours at the beachfront chill out with a cool cocktail and cooler music. The ballroom can manage up to 264 persons enabling this to double as a Bali conference hotel for smaller meetings and groups. This is a highly rated hotel that scores well on our Bali resorts review despite several lower category rooms that border on compact. It is a good pick in the Kuta and Tuban area close to shops, nightlife, entertainment and the beach.
The old and stately mega-resort-style eight-hectare Discovery Kartika Plaza Hotel has 318 sea-facing or garden-view rooms, tropical gardens, several restaurants and even an inhouse shopping plaza. The more compact Bali Dynasty Resort offers kids a 56m water-slide to rev up for a heroic splashdown in the hotel pool and complimentary entrance to the Enchanted Garden Kids Club, as well as an all-adult Lazy Pool and Grace Kelly's Irish bar for the parents. The all-water Waterbom Park, an ideal distraction for families, is right across the road.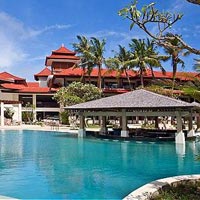 Holiday Inn Baruna pool/ photo: hotel
Not to be outdone, the very tasteful former Hotel Imperial Bali is now the Accor-run The Royal Beach Seminyak Bali - MGallery Collection (previously the Sofitel Seminyak Bali), gracing 4.5 hectares of prime beachfront. The 128 rooms are bright and contemporary while 17 Spa Villas offer up to 260sq m of living space with oversized bathtubs and private plunge pool. The Royal Beach Seminyak specialises in meetings for small executive groups with themed activities and special outdoor events.
Other options in the area include the Padma Resort Bali at Legian and the 228-room Patra Bali Resort & Villas. The Patra Bali Resort & Villas, formerly a company retreat for the Pertamina group (then briefly Patra Jasa), has some of most spacious two-storey bungalows anywhere on the island. The beach however is a tad pebbly and it is close to the airport. Still, it is a reasonable BIG-family option with plenty of negotiating room, 12 acres of garden and children's facilities. The huge villas offer a "resort within a resort" feel. Not a bad choice for those watching the wallet and in need of space within shouting distance of Kuta's shopping and nightlife.
Another small and friendly spot, right in the middle of the action, is the mid-range Poppies Bali with 20 thatch-roof cottages set amidst scented frangipani and hibiscus. Each cottage comes with a private garden area featuring a sunken bathtub. The resort offers a swimming pool and Jacuzzi, a reading room, and a pool bar. The place has been a favourite of those in "the know" for years and has survived price wars and the arrival of brasher competition.
The charming Alam Kul Kul Boutique Resort, an environmentally friendly Bali boutique resort is a good value option. It is compact but stylish and its breezy, informal Papa's Café looks across the road onto the beach. This is a good spot for a sundowner and Mediterranean morsels. Alam Kul Kul has standard rooms, thoughtfully designed Family Rooms (with a queen-size bed and two twin-beds) and private villas with four-poster canopied beds and outdoor baths. It also features one of the original Balinese "Jamu" spas. The Jamu Traditional Spa is tucked away in a quiet, leafy corner. Leafy corners abound as the owner refused to have any foliage destroyed. An architect who wanted to hack down a coconut tree was told quite bluntly, "You can go, the trees stay." Quite right. The tree in question now protrudes proudly through the café roof. This is a no-hassle friendly resort across the road from the sunset beach.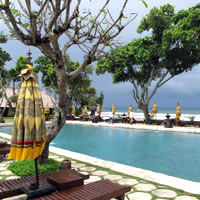 Oberoi boutique flourishes/ photo: Verghese
New Kuta Hotel – A Lexington Legacy Hotel (formerly New Kuta Condotel and Best Western) has 265 rooms all with private balconies along Kuta Beach. This is a fairly bland hotel-style development, 30 minutes from Ngurah Rai International Airport. A four-star option with clean hotel rooms and Balinese villas is the Legian Beach Hotel spread over four hectares. There is also a spa on site. Doubling as a long-stay residence and a hotel, the Aston Kuta Hotel and Residence (one of a growing list of Astons in Bali) serves up 209 rooms within a short stroll of the beach. Expect extensive banqueting and meeting facilities at this unpretentious but handy performer, plus gym, pool and spa treatments. In-room there's a work desk, safe, hairdryer and minibar with Superiors starting at 31sq m and Family rooms offering 46sq m of stretch space. Regular shuttles operate into the Kuta shopping and beach strip.
Another property to watch for in the Kuta and Tuban area is the Rama Beach Resort & Villas.
Seminyak resorts review, villa retreats, hip hotels
A 15-minute drive north from Kuta brings you past Legian to Seminyak, home to crashing breakers, vast stretches of sand, a handful of top-drawer resorts and a good selection of trendy bars and cafes. Waves can get high and there is a strong undertow at times. It is not unknown for an occasional guest to swim out and fail to return and settle his bill, which is rather uncivilised.
Opened March, 2011 on this posh, if tumultuous stretch of beach is the W Retreat & Spa Bali - Seminyak, with 232 rooms and villas, a sumptuous spa, and the trademark W bed to commence your romance. There is a 332sq m meeting space for the discerning few who really want to splash out. This is gently curving grey-stone affair fronting the sea and beach with a lavish 1,790sq m three-tier swimming pool in between. The upper level is for tiny tots to splash down.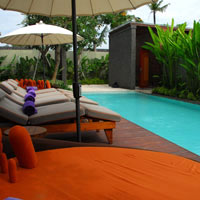 W Retreat villa/ photo: Verghese
The lobby is awash in mood lights – think ethereal purple and neon green – and bright pink cushions. Sunset views are liberally on tap from sea-view rooms as well as from a breezy alfresco beachfront bar.
The hotel lists its features out loud and proud, and all in caps. There's its WHATEVER/WHENEVER service, a SWEAT fitness centre, and the AWAY spa. For some over the top pampering, head to the WET pool, where the staff will do bring you everything you need, be it sun care amenities, towels, games, snacks or cocktails. They'll even help you clean your sunglasses. WiFi is free throughout the resort. Top-line "Extreme WOW" three-bedroom villas require a rather bumpy buggy ride across to a secluded compound with pool, sundeck and more orange furniture than you can shake a stick at. There's party space for a dance get-together, a kitchenette, spacious bedrooms with furry pom-pom orange cushions, large circular terrazzo bathtub, free WiFi and more. If you're in the mood hire a W Mini Cooper or a Smart car.
The unabashed "Spectacular Ocean Facing" room starts at 64sq m with predominant greys, as elsewhere, and aged pale wood on the floor with white whorls. Slide the doors of the checked mother-of-pearl panel to reveal the 40-inch LED flat-screen TV. Carpets are a pale green with cushions to match. The balcony is terrific with a day bed and a chair in case you can't make up your mind. In-room expect a long work desk, data port, multi-pin electric sockets, iPod dock, BOSE sound system and DVD player.
The safe can handle a laptop. The bathroom, behind a glass-wall partition, offers twin washbasins in jungle green while a cream terrazzo standalone tub and large rain shower complete the ensemble. The overall feel in-room is bright and airy with mischievous signs to egg you on. Look for the small, chatty, ceramic ladies in the bathroom. If a villa is more to your liking pick a stylish two-bedroom Marvellous Villa with its own pool.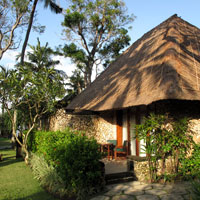 Oberoi lanai/ photo: Verghese
The Oberoi Bali was one of the first designer resorts and it is still green, manicured and attractive. The luxury lanais and villas are well spaced out to afford maximum privacy. The Oberoi's Luxury Villas follow floral names and themes and some feature private pools set within a very generous courtyard. The lanais offer raised beds, perhaps a tad too high for some, a tape player, hairdryer, sunken bath and a BIG old-fashioned Elsafe to lock your laptop and more.
The large German hairdryer emits a satisfying whine like a B747 ready for takeoff. There are tea and coffee-making facilities and a flat-screen TV with DVD player. WiFi in public areas is free but costs around US$22 per day in-room. The four 380ml complimentary bottles of mineral water are a godsend when the humidity and heat peaks.
This is designer Bali at its affordable best. The sunken swimming pool follows the style of a Balinese water garden and care is taken to maintain a local style right throughout the resort. The result is authenticity, space, and green acres – soothing in the extreme. Everywhere you'll find cosy seating and tables to enjoy the sea views shaded by the signature saffron umbrellas. This is a resort to lie back in and savour an unhurried pace.

Up the road is the swank and stylish all-suite The Legian Bali, run by the fast-expanding GHM hotel group. The 70 or so suites feature rich-toned wood, cool marble and balconies looking onto the sea. There are spa suites as well. If it's aroma you want, puff a Havana at the bar. There is a fair selection on offer. The hotel is a medium-rise construct, almost cubist if you will, with fine woodwork and lots of space for the breeze to rush through. The 30m adults-only oceanfront pool is small but stylish and is a good spot from where to catch the last rays. The resort has spruced up following some deft touches following a five-month renovation mid-2012, reopening late June. Expect better lighting, more spit and polish, and a swank Three-Bedroom Beach House with a sunny patio and HUGE ocean views. If you're in search of Bali hip hotels, this could be one for your diary. The spa offers an extensive menu of wellness treatments.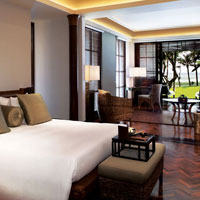 Legian Bali room/ photo: hotel
An upmarket add-on here is the exclusive The Club at The Legian, featuring ten one-bedroom villas and one three-bedroom villa in private compounds with 10-metre swimming pools, all with personal butler service. These are not your run-of-the-mill plunge pools built for toddlers with big wallets who enjoy splashing about in three inches of water. They are swimming pools. The discrete little Club enclave is set apart from the main resort. Walk, or use the buggy.
The Legian is popular with the hair-moussed upwardly mobile and the Japanese (who know a gem when they find one). Sit back at the beachfront restaurant and watch the sun set over a mirror-smooth infinity pool. Next morning sample the hotel's enticing breakfast menu. Get your eggs done just right. Tight security is the norm. (The Legian and The Club at Legian feature in our exclusive Top Asian Hotels Collection, featuring the best Asian hotels, resorts and spas in a printable A4 page with stunning visuals.)
Also in the vicinity is the very contemporary The Seminyak with its oceanfront infinity pool, lily ponds and water features and stylish rooms, many with glass partition bathrooms with standalone tubs, rain showers, flat screen TVs and gleaming wood floors. Pick from the Garden Wing, Ocean View Suites or thatch-roof villas (with Jacuzzi, 42-inch LCD television, DVD player and iPod dock) for larger parties. The resort offers a spa as well a pavilion that can host 150 guests for a wedding.
Do take a look at the very pleasing The Samaya Seminyak Bali with its remodelled private courtyard villas and a main pool set in a broad expanse of green lawn fronting the ocean. The whole Samaya ensemble underwent complete transformation and expansion by late 2012 with 30 new beachside villas and 22 villas at the Royal Pavilion (across the road away from the beach). On the seafront, 23 villas have private pools and seven at the Royal Pavilion offer the added luxury of a private plunge. A One Bedroom Pool Villa has 220sq m of rumpus room with a patio and pool enclosed within a white-walled courtyard. Expect free WiFi and mod-cons like a flatscreen television, laptop-friendly safe, iPod dock and Bose sound. Walk in through a foyer to the step-up bedroom with its custom made bed, and around the back to view a Jacuzzi, huge rain shower and indoor and outdoor bathing facilities.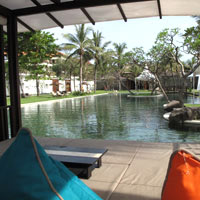 Samaya pool bale/ photo: Verghese
Samaya has a friendly laid-back feel and attentive service. The Breeze beachfront bar is a cool hangout for sundowners and more and the inhouse spa is popular. Sit at the bar or settle into a sofa, alfresco. Along the seafront massage balés offer much holistic spa indulgence. The Samaya is a Seminyak boutique resort with a tranquil air about it, a Club Med antithesis if ever there was one. Also managed by the same group is the Samaya Ubud Bali, which offers guests the opportunity to stay along the River Ayung. Think contemporary villas with traditional touches, spa treatments and spa pool, and the riverside Swept-away restaurant for romantic or wholesome dining.
This is the Club Med antithesis if ever there was one. And it offers its very own dedicated Spa at The Samaya. Also managed by the same group is the Samaya Ubud Bali, which offers guests the opportunity to stay along the River Ayung.
Samaya sister property The Kayana Seminyak, Bali, opened in late 2007, as part of the group's "Royal Collection". Close to the W but with no beach access, this Bali luxury villa resort serves up 24 residences with plunge pools and more, and outdoor living and dining areas. Pick from Deluxe Villas, Pool Villas, and the Two-Bedroom Villa. The design is Balinese with interiors suggesting a happy mix of the traditional and modern.
The 200sq m Deluxe is crisp and clean with terrazzo floors, a garden courtyard with breakfast bale, large flat-screen TV in-room with DVD player, iPod dock and free WiFi. The minibar is complimentary too except for the wine. The safe is large and laptop-friendly. The solitary two-bedroom villa is a lavish 400sq m with butler on call.
At the Ayur Spa indulge yourself with, well, what better than the 180-minute Kayana Indulgence involving a floral foot bath, a scrub, citrus body wash, herbal tea and a Kayana massage. This romantic Seminyak villa escape doesn't come cheap. It is a narrow, elongated plot with a single and tight buggy road lined with fragrant frangipani trees. The walled courtyards don't offer views but the living space has been well thought out.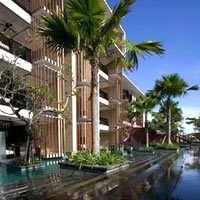 Anantara Resort Seminyak/ photo: hotel
The 59-suite (and one penthouse) Anantara Resort Seminyak is on Bali's hippest strip. The resort is uncompromisingly modern with a stark outline. The large 80sq m suites offer plasma TVs, WiFi, private balcony, iPod docking station, Bose DVD player, and contemporary décor. The five-storey resort offers ocean views in a contemporary setting with a chill-out rooftop bar. Guests can savour Thai cuisine at the lobby restaurant, splash out in two infinity-edge swimming pools, or get limbs stretched and kneaded at the Anantara Spa.
The Villa Sin Sin run by the Kafe Warisan group, is a small complex, modern in design. Its low-slung "A" roof resembles a stealth bomber in a tropical setting with Balinese touches. Villa Sin Sin has its own chef, provides spa services, and babysitting is available at all times to guests of its three villas. It is 10 minutes from the beach by car but is certainly a comfortable and chic choice for a family. Expect to fork out upwards of around US$400.
The Contiki Resort Bali, which positioned itself as a playground for the young, hip and restless if they were between 18 and 35 is now The Breezes Bali Resort & Spa. What happened to the young and hip? Where once the doors were closed to Anna Nicole Smith and her ilk with near-death oldies in tow, this 133-room fun Bali resort has been prised open for all.
The place covers 2.7 hectares and offers an array of attractions like volleyball, water polo, a spa, yoga and aerobics. This is a family-friendly four-star hotel set around a four-tiered lagoon pool a short walk from Seminyak Beach. There is a Kids' Club as well for minor distractions.
In the vicinity is the mod but messy Bali Mystique with a decent and well-kitted apartment complex and a Hobbit-style gnome-villa hotel section. Can be fun, depending on your mood and the prices are often a bargain. The dark and brooding Villa Ananda Resort is for the intrepid. Lots and lots and lots of traditional motifs, dark stone, bright rooms, brick walls, a bit of garden in the back.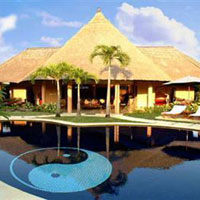 The Villas Seminyak/ photo: hotel
Still in Seminyak is The Villas Seminyak (formerly The Villas Bali Hotel & Spa). Fifty conical thatch-roof villas serve up cobalt blue swimming pools, with a private entrance and garden, as well as Internet access and satellite TV. A 200sq m One Bedroom Villa offers a pool with garden, kitchenette, large en suite bathroom, flat-screen TV, DVD player, dining area and walk-in wardrobe for those fussing over what to wear for dinner. Keep it simple. Bathers will suffice.
Three Bedroom Villas stretch to an elephant-swinging 600sq m with a larger pool. Breakfast is normally included in villa rates, but the chef can cook for you at your villa if you are so inclined. The Bali Deli is just across the road should your nose be twitching for a hot croissant. The Prana Spa - a fantasy Indian Bollywood meets Love Boat - with its exotic archways, crenelated ramparts, cotton drapes and extravagant green and orange hues, serves up a huge variety of treatments. Expect a playful attitude and lots of kitsch at this Bali honeymoon hideaway with attitude.
An understated newcomer to Seminyak is the 12-villa The Amala, which includes six one-bedroom Spa Villas, featuring steam showers scented with Ginger green tea, spiced citrus and more, plus five one-bedroom Pool Villas with kitchenette, butlers and complimentary WiFi, and the Amala Residence. Luxuriate at the spa or check out the Wellness Studio. Explore tai chi, yoga, meditation, Pilates and more. The main pool includes Jacuzzi jets to massage the feet and back. This is a sister property of The Bale in Nusa Dua also run by Lifestyle Retreats. It is worth noting the Amala is inland on Jalan Kunti near the Bali Deli, a cheerful enough location close to shops and eateries. A five-minute cab ride will get you to a good spot on Seminyak Beach.
For a relatively cheaper (not cheap) and cheerful hotel with a smart contemporary air, try the cream and cubist The Haven on Jalan Raya (the Suites are on Jalan Arjuna). Expect modern rooms with large LCD TV, DVD player, coffee-making facilities and the Atma Spa.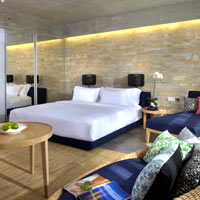 U Paasha Seminyak/ photo: hotel
From Thailand's Centara Hotels group, the Centra Taum Seminyak Bali is a value proposition for families and holidaymakers a short distance from the beach near a happening nightlife district. Kerobokan, the actual location, is reasonably close to Tanah Lot temple and the Seminyak beach-and-restaurants strip. This is a smart and clean "village style" layout in contemporary and clean straight lines with bright purple sun umbrellas by the pool to lift holiday spirits. WiFi is complimentary and there is a children's pool. In all, a family-friendly Bali hotel.
Another contemporary face in this smart enclave is the U Paasha Seminyak Bali(May 2013) from Thailand-based U Hotels & Resorts. The hotel offers 94 spacious bright and airy suites with 50sq m of stretch room and four penthouses at a roomier 70sq m. Expect pastel tones and modern light-wood furniture offset by deep blue upholstery with honeycomb tile and mirror bathrooms, strip-layer stone walls, WiFi, flat screen TV and iPod dock with speakers.
A Bali villa in Seminyak for weighty wallets
Some of the best private Bali villas are in this area and some worthwhile Seminyak villa options include Uma Sapna (from two to six-bedroom villas), Downtown Villas, Lakshmana Villas (private residential-style villas with personal chef and butlers in attendance round-the-clock), The Elysian (Bali luxury boutique villas with trendy poolside café, bar, and Mediterranean fusion food), and the Sentosa Private Villas & Spa.
The Maya Sayang Villa Seminyak offers private pool villas in a somewhat narrow and long compound that lacks a top-class restaurant but is still welcoming and friendly. There are 11 villas with TV and Internet access with rates running from US$280 for a three-bedroom villa. For some information on booking Bali private villas see our Fast Facts at the end of this story. Close by The Oberoi in a good location near nightlife and restaurants though not on the beach is the modern cubist, starched-white Villa Aqua with four bedrooms, iPod docks, swimming pool, Jacuzzi, steam room, DVD players and a library stocked with books and CDs.
Pan Pacific Nirwana/ photo: hotel
Other options could include the Bali Rich Luxury Villa & Spa Seminyak (with properties in Ubud and Sanur too) and Bali Niksoma. At Bali Rich find spacious modern villas with partial alang-alang roofing, marble underfoot, four-poster beds with gauzy drapes, widescreen LCD TVs, DVD players and garden courtyards. Some newer villas offer private pools. Splash out. You may need a minimum four nights to check in.
Bali Niksoma serves up some stylish boutique flourishes in a neat compound with contemporary Deluxe Rooms, and Suites with wooden parquet flooring and four-poster beds for in-room romance. Two pools with striking white and red sun umbrellas look out onto the sea while a spa is on hand for kneading tired muscles. Divine Villas offers hideaways in Seminyak and Canggu.
Canggu resorts and spas, Kerobokan, Tanah Lot
Moving on into the Kerobokan and Canggu area there are a few interesting choices led by the very comfortable Pan Pacific Nirwana Bali Resort (formerly Le Meridien Nirwana Golf & Spa Resort) next to the Tanah Lot temple. Pan Pacific took over on 1 April, 2010 (with renovations continuing until end 2011). Set above the cultural pageantry of the brooding temple that catches the rays of the setting sun, the resort is nestled in rice paddy fields spread across 103 acres and offers its signature 18-hole golf course to big-swing enthusiasts.
Designed by Greg Norman, the Nirwana Bali Golf Club course has won numerous accolades over the years. This is an idyllic Bali golf resort that doubles seamlessly as a Bali conference and small meetings venue. Later detox at the spa.
The resort is on the coast but a word of caution: no swimming. This is a rocky shoreline with strong currents. The Sunset Ocean Deluxe offers a cream tile floor and a verandah with two chairs and a table. The new beds are all white with dark wood furniture. Expect a flat-screen TV, white louvred window shutters to peek into the bathroom, a decent hairdryer to untangle the damp evening locks, a small safe for jewellery but nothing larger, and iron with ironing board. WiFi will set you back roughly US$15 per day.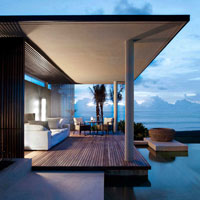 Alila Villas Soori/ photo: hotel
A deep blue four-tier swimming pool sits atop the grassy crest sloping down to the sea. The resort, large and stately, is perfect for away-from-it-all conferences and small corporate meetings with some golf thrown in. The ballroom can host 300 persons classroom style. It is not easy to breeze into town however. Expect drives of 30 minutes to an hour to Kuta depending on the vagaries of traffic.
A newish 42-villa escape from Alila (opened December 2009) is sited near Tanah Lot and its storied steeples and dancing celebrants. The Alila Villas Soori, like the breezy complex in Uluwatu, offer a contemporary look and feel melded into the flowing Balinese rice-terrace landscape, with a particular focus on being green. Expect a library, gym, and Alila Spa, a doctor on hand 24 hours a day, an infinity pool, and beach cabanas set on the speckled black sand.
The one-bedroom Beach Villas with pool start at a very generous 156sq m with one 10-bedroom villa offering 4,600sq m of stretch space. In-room amenities include a flat-screen TV with DVD player, iPod dock, and Internet access. WiFi is available right through this eco-friendly property. The chain's signature Spa Alila is on hand to knead away the day's tension.
Also look at the seven elegant villas of the Plataran Bali Resort & Spa (formerly the Novus Bali Villa, and before that, the Canggu Puri Merta) where spa treatments await, and the compact sea-facing Grand Balisani Suites with rooms and a few cottages. The reticent but beautiful Puri Ratih Bali has been wound down alas.
The Hotel Tugu Bali is a minute's walk from the salt-and-pepper beach and its huge breakers. The owner is a dedicated antique collector and incredible pieces of all sizes litter the resort. It's a mad assortment of nostalgic memorabilia not unlike your grandmother's attic that will either charm or completely throw you. I like it enormously. There's a single access road through the paddy fields and should the temple throw a festive bash you may need to divert, adventurously.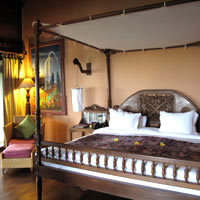 Hotel Tugu Bali/ photo: Verghese
Tugu includes a replica of the bungalow of German artist Walter Spies who did much to promote Indonesia. The villa has the original door, camera and family pictures and is an assault on the senses with its tinted glass windows, bright cobalt blues and ceramic tile floors. Expect a blue mosaic plunge pool too and traditional furniture.
The bed is large and heavily ornate with woodcarvings, and a ceiling fan whirs lazily above. Original letters, photos and paintings litter the mantelpieces. This is truly a step back in time save for the Wi-Fi, which is refreshingly complimentary and the flatscreen TV.
The red Puri Le Mayeur villa "floats" above a lotus pond and has its own plunge pool. The upstairs Rejang Suite is accessed via a creaking wooden corkscrew staircase. Find a spacious verandah, tiny safe, the aforementioned flatscreen TV, and a beaten metal bathtub. Every villa is authentic and astoundingly different. Herein lies the charm of this place.
Rummage through all the bric-a-brac. Or try a spoiling spa treatment in one of the custom-built spa villas. Alternatively, sign up for the complimentary classes on Balinese dancing and gamelan music.
There's also a Villa Tugu Bali, with six bedrooms, set on a breezy hillock near the hotel on an 8,000sq-metre plot with gymnasium, pool, tennis court and parking for ten cars. This is one of the best Bali spa resorts around. Step in to discover why. It also offers a grassy area near the beach (set a few minutes' walk away) for weddings.

See Slide Show

See 3 Minute Video Guide
Quiet hotel Bali choices in Sanur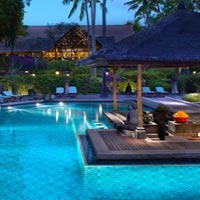 Bali Hyatt pool/ photo: hotel
In traditional and fairly non-touristy Sanur, the sunrise beach in the southeast where many prominent local families maintain their residences, a popular family-friendly option is the Bali Hyatt, which doubles as the official botanical garden with acres of eye-popping verdure set in vast water features and flanked by grey-stone carvings. The rooms are woody and traditional, featuring lots of batik and Indonesian woven ikat, teak flooring, and balconies. There is a terrific dedicated spa on site designed like a Balinese village. The Spa at Bali Hyatt offers a tranquil sanctuary where an hour's pummelling and oil rub would set you back just around US$60.
The attractive Griya Santrian and Puri Santrian are two stalwarts in this neighbourhood, Family-run Puri Santrian is stylish and spacious with a good stretch of beach, mature foliage with meandering walks, and three swimming pools. Premium Deluxe rooms offer contemporary space with a 40-inch LCD television while Santrian Club accommodation (for adults only) is higher end with four-poster beds and top-notch service. Griya Santrian is one of the oldest hotels on this strip and offers breezy rooms with balconies or terraces. Both Santrians have spas. The Sanur Paradise Plaza Hotel (formerly the Radisson) lacks a beach and is plonked down next to a major highway intersection). It focuses on value conferences and MICE events.
A major contender for upscale business in this formerly mid-range area is the Regent Bali (June 2013). A grand and stately construct, it is right at the end of the Sanur strip, perched at the very edge of a sharply tapering beach, with good ocean views. A large infinity pool on a raised podium offers a spot for breezy evening sips while canopied bales at the edge of the beach offer a feel of sand underfoot. This 120-room address includes 94 suites, one Regent Villa, and 25 residences on narrow Jalan Kusuma Sari close by the Hyatt.
The spacious Deluxe Suites weigh in at 90sq m with textured interiors in dark, woody tones, with latticework, carved cabinets, artefacts, and contemporary furniture punctuated with brighter cushions. Expect king-size beds with additional stretch, mod-cons like iPod docks with BOSE sound and large flat-screen high definition televisions, spacious living areas, and expansive bathrooms taking up almost 30 percent of the floor space. Look over water features and the central courtyard greens on to the distant islands.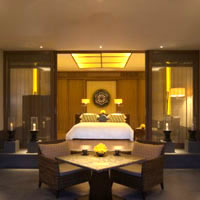 Regent Bali, Sanur choice/ photo: hotel
A 181sq m Premier Spa Suite (one of only two) offers more than ample elbowroom with 70sq m set aside for the bedroom, and the Regent Villa is a pampering beachfront 937sq m two-bedroom hideaway. And, everywhere, expect those ubiquitous butlers waiting to do your bidding. A spa with Balinese wellness treatments is on hand for tired limbs while the Regent Kid's Club tackles those typhoon tykes with an arsenal of goodies from PlayStations and the Wii to art and craft classes. There is a children's pool as well. WiFi is available throughout the hotel. Whether you want a honeymoon escape, a child-friendly Bali hotel, or a spot for a unique Bali resort wedding, this could be one for your diary.
Villa Mahapala offers a mystical escape immersed in zodiac symbols and Chinese astrology with a choice of 20 upscale pool villas – four of these in a two-bedroom format and 350sq m of living space. In villas, expect outdoor showers, LCD flat-screen TVs, in-room safety box, Internet access, and a Yukata robe. Also available are a fitness room, swimming pool and Jacuzzi.
The Raddin has become the Mercure Resort Sanur run by Accor with 189 rooms housed in Balinese thatch-roof cottages. There is direct access to the beach and meandering stone-tiled walkways leading through the five-hectare gardens. Children's activities are available at the supervised Kids Club. My pick in Sanur is the whimsical dolls-house Tandjung Sari whose 26 split-level bungalows and tiny remodelled pool by the beach offer something very different from the pack. Families can try the family room, which boasts two master bedrooms, an upstairs living area and an open sun terrace on the ground floor.
But don't expect service to come on rollerblades here. This resort is dinky in proportions but mature in years. Park at the beachside restaurant and watch the sun come up on Sanur and, later, try your hand at kite flying. There is the Jamu Traditional Spa for aromatic rubdowns and, thoughtfully, a library. Villa rates are more reasonable than most along with cheaper Internet deals on the hotel's website.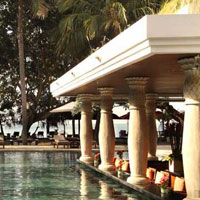 Smart Puri Santrian pool/ photo: hotel
The renamed Grand Inna Bali Beach (formerly Inna Grand Bali Beach) has a highrise hotel wing as well as some nice villas but service is appalling. The property was rebuilt several years ago after a devastating fire. At relaunch, they held a photographic exhibition in the lobby. Not of the splendid Balinese countryside, but of the place going up in smoke. For some information on booking Bali private villas see our Fast Facts at the end of this story.
A smart entity on this quiet stretch of coast is The Pavilion Bali with sumptuous pool villas ranging up to very spacious two-bedroom pool villas with kitchenette, DVD player, private gardens, Balinese decor, butlers to unpack and repack your luggage and Wi-Fi. There is a spa on site with a range of treatments for weary muscles and a library. The resort is close to but not on the beach.
Candidasa and Manggis

The third Aman property, Amankila, is set high on a headland in Candidasa (an hour-and-a-half to the east, now connected by a fast motorway that traverses black sand beaches and fishing villages). Its 34 villas are connected by extensive walkways and a buggy transports you down to a Beach Club, offering daily yoga classes, and a stunning lap pool on the salt-and-pepper coast. The signature triple stepped swimming pools are the first thing you'll see when you arrive. Pop by the library and grab a book to read while you lounge by the poolside. Wind surf, kayak or rent a Hobie cat.
The views are breathtaking and romance is sensually ever-present, especially if you book into one of the pool villas. The villas are narrower than those at Amandari and Amanusa but more than adequate.
The bedroom leads into an open plan bathroom with twin vanities, two washbasins, two closets and pretty much two of everything you can think of. No more domestic spats. Yes, rich folk argle-bargle too over the washbasin in the morning. Expect to walk a lot at Amankila unless, sensibly, you're sleeping in and enjoying your surrounds. Floors are in cool polished marble while the villas - and the resort - are in cream limestone that catches the sun and sets the ensemble alight in orange hues depending on time of day.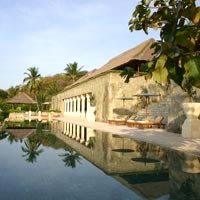 Amankila main pool/ photo: Verghese
WiFi works and is free though mobile phone reception is patchy at times. Large plump white beds await in-villa with indoor soaking tubs, and rain shower. The hairdryer is substantial but you may take a while to find the right electric socket for it. Gadgets can be recharged on the work desk in the bedroom that houses a "secret" panel (under one end) with several three-pin plug points. A multi-plug adaptor is provided in each room so you should be able to connect once the mystery is resolved. Lamps and spotlights work wonderfully well to create any romantic mood you choose. Small wonder this getaway is constantly voted among the top Bali romantic resorts.
Should you have a private pool there's little need to move out at all. Enjoy your own sun loungers and dive into a huge basket of fresh fruit. With stilted walkways running up and down the hill, buggies are quietly at hand whenever needed. But then, a brisk walk never hurt anybody. Opt for cycling in neighbouring rice fields or through Manggis Village (named after the ubiquitous Mangosteen), do a three-hour snorkelling cruise, dive, or laze in one of the gazebos around the main three-deck pool where stunning vistas and ocean breezes await. You could get married too if you pluck up the courage to say, "I do." (Amanusa, Amandari and Amankila feature in our exclusive by-invitation Top Asian Hotels Collection, featuring the best Asian hotels, resorts and spas in a printable A4 page with stunning visuals.)
The Alila Manggis, is a laid-back sanctuary with no airs but plenty of style. Set amidst a coconut grove in gardens facing a salt-and-pepper beach, the resort is arrayed around a large square central swimming pool. For tired limbs there's the Spa Alila where you might try out a Balinese Massage for an hour or a two-hour Seaweed Farm Body Wrap involving, among other things, exfoliation with sweet almond and sugar oil. There are 53 rooms and two corner suites housed in a two-storey thatch-roof building. The Superior rooms on the lower floors boast a private terrace while Deluxe rooms on the upper floors all have their own balconies.
Also in the vicinity is the saucily named Bali Shangrila Beach Club (no relative of the Hongkong-based Shangri-La group), with swimming pool, kids' pool, private beach, video games and iron with ironing board. An interesting option here in east Bali is the Candi Beach Cottage with four-star cottage accommodation on the beach, with pool, and spa.
Ubud resorts review, villas, Sayan, Payangan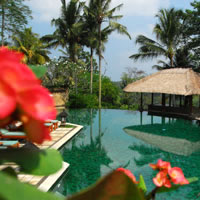 Amandari pool/ photo: Verghese
As with ice-cream, you must save the best licks for last, and so it is with Ubud, the central hill country wherein resides the true soul and heart of Bali. This is a fast-growing community, not just of frenzied artists and creative fiends, but of shoppers, travellers and local residents coming up to escape the sultry plains weather. Unfortunately, the traffic on Ubud's narrow, winding roads has multiplied as a result, and it is not always easy to whiz through. Head up here for culture and Bali shopping at its best passing en route villages specialising in silver, gold, art, stone work, furnishings and batik. On then with our Ubud resorts review.

Amanresorts' gem, Amandari, is perched on the lip of the Ayung River Gorge, in Ubud, with an emerald pool that disappears over the edge. Amandari is used freely by Hindu priests as a thoroughfare to the sacred river during the daily blessings and ceremonies. Near the pool are three shrines and a seventh century tiger statue. Armed with strong legs and a bottle of mineral water guests can trudge down almost right to the river's edge. It is a stiff climb back up. Amandari is authentic, quiet and spoiling. You know you are in Ubud, Bali. The cliff-edge sliver of reflective emerald that is the pool forms a stunning centrepiece with the children's dance school and 30 villas radiating out on either side. A spacious ground-floor bedroom villa offers natural soap, an outdoor tub, interior rainshower and twin vanities for him and her. Expect an iPod for music and a host of albums to pick from and two three-pin plug sockets on either side of the bed but no television. This is nature at its best. There is a work desk and free WiFi with good download speeds. Other units serve up a large airy living room on the ground floor with a small bedroom up a corkscrew wooden staircase. Take your pick. The upstairs bedroom is thoroughly local but the creaking staircase is not for the faint hearted.
More spoiling is the spacious Amandari Villa. At one end of the resort is Amandari's spa with two open-air bales, sauna and steam room. The resort returned with fresh sparkle in mid 2009 after detailed renovation and refurbishment. Service is welcoming and attentive if understated with the feel of being in a friend's home. Of an evening enjoy the local kids performing Balinese dances learned at the resort's school. Villas are traditional and unfussy with clean spaces and cool marble underfoot. Opt for a villa with the bedroom on the ground floor if you are averse to attempting the whimsical corkscrew wooden staircase up to the romantic ship-bridge cabin. Pool villas are available too with blackened granite terraces and "natural" Balinese plunge pools. Nothing overly modern here. And no coy boutique influences. This is the very heart of Bali. Unspoiled. Perfect. (Amanusa, Amandari and Amankila feature in our exclusive by-invitation Top Asian Hotels Collection, featuring the best Asian hotels, resorts and spas in a printable A4 page with stunning visuals.)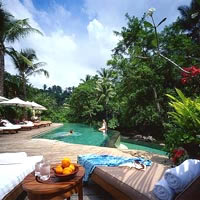 Four Seasons Sayan pool/ photo: hotel
The spa is a main feature at the Four Seasons Resort Bali at Sayan. The Sayan resort is architecturally different, to say the least. Upon arrival, you are greeted by a serene, if perplexing, circular lotus pond high above the valley. On my first visit I thought I had missed the turn. To get to the open-sided, airy lobby you actually descend through this idyllic lotus pond.
The Four Seasons Sayan features both 18 suites as well as 42 private villas – with the customary CD and DVD player, yukata robes and hypo-allergenic pillows – and its swimming pool licks the very edges of the Ayung River below. Access to the premium Royal Villa is again down, through a private lotus pond that doubles as a meditation and yoga area. It offers a private plunge pool and outdoor shower facilities. All dining facilities at the resort look over the valley at sumptuous forest and paddy field views.
Kayumanis Ubud (which also runs tasteful luxury villas in Nusa Dua and Jimbaran) nestles in cinnamon groves looking over rainforest above the Ayung River. Do note the resort does not take in children below 16. Villa types range from Balinese and Oriental to primitive. Despite the thatch roofs there is of course nothing primitive about the finish and modern furnishings. Later escape to the Kayumanis Spa. The resort is just south of the Four Seasons at Sayan. The group can arrange for a whole host of dining excursions, including picnic lunches and full moon blessing dinners, and even cooking lessons for those gastronomically inclined.
Right off the scale when it comes to indulgence is the secluded COMO Shambhala Estate. COMO has revitalised this elegant establishment bringing a fresh buzz to the place. The five spacious "residences" as they are called (housing 21 suites), are spacious, pretty and utterly private, slung around the hump of a garden hummock at the centre of the resort and surrounded by jungle. All feature breathtaking pools and a butler.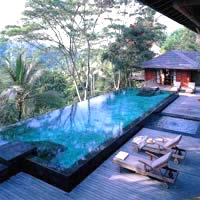 COMO Shambhala Residence/ photo: hotel
Two Retreat Villas come with private therapy rooms and private pools. Complimentary WiFi is available throughout the premises, a thoughtful touch. The COMO Shambhala Estate at Begawan Giri boasts an attractive spa, Kedara (formerly The Source), set further down the hill near a natural spring and waterfall. There are complimentary daily activities such as guided walks and yoga, and the Estate also boasts a wide range of wellness programmes. Toya Mampeh, the spring, is known in local lore for its healing properties. This mineral-infused water also feeds the chlorine-free Vitality Pool. This is one of the top Bali spa resorts in our review.
The Uma Ubud (also a COMO resort) is almost a small self-contained village with Balinese style villas featuring chic modern bathrooms, some with plunge pools and Broadband access for those refusing to part with their laptops. There's plenty of green space, tranquil nooks and corners for a reflective moment, water features, rockeries and shaded walkways. Spa out in a treatment room, steam off your city stress, or settle in to some soothing yoga. Extreme sport lovers will enjoy the white-water rafting, trekking and biking offerings.
Another more recent entrant is the Ubud Hanging Gardens by Orient-Express Hotels. As the name suggests, the Balinese villas,are perched - pretty securely - above the Ayung River gorge, the de rigueur location for any upscale Ubud hangout. The 38 villas with thatched alang-alang roofs are set on wooden pillars with four-poster beds inside, outdoor showers and plunge pools. The Ayung Spa close by the river offers birdsong (which is free) and fancy herbal spa treatments like the signature "Ayung Beautifying Ritual". Enjoy walks through the rice paddy or forest, or learn cooking. A panoramic spot with open, refreshing views.
Making a smart comeback is Kupu Kupu Barong Villas & Tree Spa a Hobbit-style villa reserve on the Ayung gorge that had closed a long while for major renovations. The new-look Kupu Kupu Barong is smart, better polished, and with a charming spa and the three hectares of lush green. It features 34 suites in traditional Balinese design.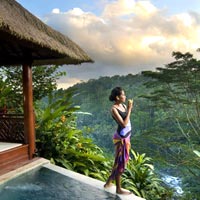 Kupu Kupu Barong Ubud/ photo: hotel
The villas offer vertiginous views of the river from wooden balconies – and some rather steep steps to get to breakfast. Fortunately, a butler can be arranged to do all the running about. Villas all come with private plunge pools, outdoor terrace, LCD TV, DVD player, and bathrooms furnished with L'Occitane amenities. This is one of Bali's oldest boutique hotels (it opened in 1986 as a restaurant) and is worth a look-see. The small main pool is now a stylish clean-lined infinity affair overlooking the gorge with a flutter of pink or red sun umbrellas. This is an excellent spot to pose for a photograph.
The signature La View restaurant (with an alfresco terrace) serves up Asian with French accents. But for something completely different, step into the Mango Tree Spa, run by L'Occitane and set in the branches of a mango tree. Surprisingly, this contrivance works, complete with water features, Jacuzzi and more. Aim high and step into the Tree Spa treatment room nestled atop bamboo trees.
The delightful Ibah now renamed the Warwick Ibah Luxury Villas & Spa is a treat and a sight for sore eyes with its dense green, stone walkways, and dreamy pool with romantic snuggeries carved into the rock. The 17 villas are tasteful with four-poster canopied beds. It has a health spa and the overly active can hop on a complimentary mountain bike and head off for a pedal-powered exploration of Ubud.
Located along the Campuhan River valley rim, the resort setting is verdant and atmospheric. At the two-bedroom Villa Frangipani duck through an antique doorway and ascend stairs past a waterfall to enter the living pavilion. You get the picture… While a standard suite may start at around US$260, a pool villa will go from US$600 up.
The smart but relaxed Kamandalu Resort and Spa has had a chequered history and was once managed by Banyan Tree. It is set amidst verdant rice-fields above the Petanu River. While some parts of the complex are compact, others are spread out with generous views. In April 2011, the newly renovated Ubud Chalets came on line.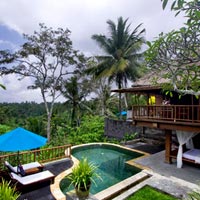 Kamandalu Pool Villa/ photo: hotel
Newer villas offer two-level privacy with open valley views and a cliff-edge pool with sundeck and all the tropical props you may need. Find four-poster beds, flower petals and, imaginatively, towels-turned-swans. Staff is attentive and courteous. The ambience at Kamandalu is laid-back and relaxed and the pool overlooks lawns running down the hill to cottages and the lip of the river. Later check out the Kamandalu Spa. Refurbished rooms are smart and chic. Choose from pool villas, garden villas, or larger family pavilions that will accommodate two couples with a few tykes in tow. Located on the road heading up to Penelokan, the Kamandalu is well positioned for drives up to Lake Batur, Besakih Temple, and the north.
Right next door is the compact and exclusive enclave of the Viceroy Bali with its manicured lawns, a handful of discrete pool villas in varying configurations, the top-of-the-line two-bedroom Viceroy Villa, and The Lembah Spa. Freshly minted in July 2011 were ten new villas replete with private pavilions, living room with sofa, 47-inch TV, iPod dock and more. Soon to come are tennis and yoga centres to round off the resort experience. The ambience is traditional Balinese and though the resort is small there is a well-defined sense of space.
Step down from the lobby to the inviting infinity pool hanging demurely above the river gorge. The views across the valley are exhilarating. If you wish to skip the 45-minute drive from the airport, simply opt for a helicopter transfer.
For a real Ubud gem, pop into the green and gracious Puri Wulandari, a Bali boutique resort and spa. It is set some distance away from the road in lush paddy looking down over the Ayung River. The 35 thatch-roof villas are elegant and private and the terraced gardens are a treat. The villas feature their own brilliant blue valley-edge plunge pools with stunning views, and outdoor shower areas.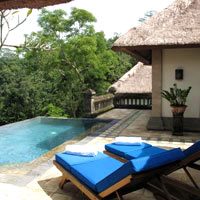 Charming Puri Wulandari/ photo: Verghese
A One Bedroom Villa offers 200sq m of stretch space in a private compound with that alluring plunge pool, blue lounge chairs, a belvedere, and a thatch-roof villa with four-poster bed, a boxy TV, DVD player, dressing room with twin vanities, a sunken tub and outdoor covered shower. There is no internet in the villa but WiFi is available in the public areas. The mood is languorously traditional, unhurried, and classy. From the moss-covered stone walls to the beaming smiles, everything here spells understated quality. The Lila Ulangun Spa has a wealth of treatments and massages ranging from aromatherapy to Javanese lulur and Balinese boreh. Keep an eye on this one. Puri Wulandari is a hidden gem.
Just north of here in Payangan is the Alila Ubud. The centrepiece is a stunning tongue of pool jutting out like a high-dive board over the Ayung gorge. The Alila is serene and professional with a laid-back ambience. There are 54 rooms set in separate two-storey arrangements on stilts, looking out over the valley. There are also four Valley Villas with a deck overlooking the Ayung River, and four Pool Villas with private pools, gardens and a lotus pond. The villas include personal butlers, in-room spa treatments and 24-hour room service. The ensemble is intended to mimic a Balinese village.
Thatch roofs mix with terrazzo floors and gravelled walks in a comfortable rustic chic that permits quiet indulgence without the self-conscious inhibition of many high-end getaways. You'll find, terraces, back gardens, private balconies, breezy views, jungle critters and chirruping things, as well as iPODs. The all-new linen has a high thread count with a posh feel that should not limit your romantic overtures. Spa Alila is a dedicated offering with a wide range of treatments and a tempting array of take-back products. The Alila Ubud is a nice away-from-it-all escape.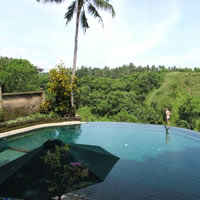 Pita Maha main pool/ photo: Verghese

The verdant, villa-style Pita Maha Resort and Spa (where I regularly enjoy a very flavourful meal with great views of the valley and the hotel's wondrously blue swimming pool), is a useful pit stop. The villas nestle along a steep and heavily wooded slope leading down to the river. Birdsong and monkey calls are ever in the ear, a refreshing change from the Big City.
Statuettes welcome you at every curve of the stone pathways along with beaming smiles from staff. The neighbouring sister-property is the Hotel Tjampuhan Spa that boasts the "actual" home of Walter Spies, the aforementioned German artist. Both Pita Maha and Tjampuhan are well sited high up the valley with open views and stunning cliff-edge infinity pools. Pita Maha villas come with satellite TV, bar, and sumptuous furnishings. (The Pita Maha is showcased in our exclusive by-invitation Top Asian Hotels Collection, featuring the best Asian hotels, resorts and spas in a printable A4 page with stunning visuals.)

A third and far more luxurious development by the Pita Maha group is the Royal Pita Maha, not far from the Ubud Pita Maha Resort along the same valley as the Amandari. This is a smart pool villa development offering space and upmarket frills. For starters, when you walk into Royal Pita Maha's panoramic lobby, you'll be assailed by a breathtaking view encompassing a huge swathe of the valley. Far below, the sacred river gurgles along. Each thatch-roof villa compound is totally private within mossy-stone walls, the villa set several steep steps above the swimming pool, with open valley views. The Deluxe Pool Villa bedroom is at the centre of the layout with a large gauze-draped bed, often strewn with rose petals for honeymooners. At either side, step down a few rungs to access the living room with a work desk, divan, and old-fashioned but potent box TV; or the spacious bathroom with its apple-shaped terrazzo tub and soothing organic toiletries. There's no problem with fast hot water unlike at several other resorts. Enjoy free WiFi and plenty of light on account of the floor-to-ceiling windows. Opt for a Ayung Healing Villa (lower down the slope) with a natural water pool and organic breakfasts, or a Royal Pool Villa, also set closer to the river below in green surrounds.
Royal Pita Maha/ photo: Verghese
Take two elevators (yes they have a couple here) and walk down winding steps past the Sacred Pool, stone statues, and a spring water pool, to get to the lip of the Ayung River against which is perched a breezy open-sided pavilion that serves organic breakfasts. Savour steaming Eggs Benedict served on sweet potato with crab cakes and pour down litres of fresh juice, all the while gazing upon a wondrous, smoky river scene only modestly ruffled later in the morning by the delighted squeals of white-water rafters as their inflatables bump the boulders.This is as close to Eden as you can get in Bali and one of the best spots for a meditative - or romantic - bite.
The entire resort blends unobtrusively into the surrounds with Balinese flourishes at every turn. The place is brimming with stone carvings, several of playful monkeys and frogs, and there is a large main swimming pool high up the hill below the belvedere restaurant (from where the best views are on tap). Visit the library and try out the meeting room. Or head to the dedicated spa enclave with massage suites and all manner of wellness, Balinese and international. This is a grand setting for a honeymoon, Bali resort weddings, or a small corporate meeting for a CEO chinwag. Art flourishes have been provided by a member of the Ubud Royal Family, the main sponsor of this charming getaway. (The Royal Pita Maha is showcased in our exclusive by-invitation Top Asian Hotels Collection, featuring the best Asian hotels, resorts and spas in a printable A4 page with stunning visuals.)
Not far from the Hotel Tjampuhan, up the hill across the road, a series of hairpins lead up to Penestanan where the road eventually peters out to become a paved path, the privileged preserve of villagers, cyclists, beatific chickens, and a few travellers in the know. This area hosts a couple of tiny hideaways including Villa Nirvana that opened early 2011.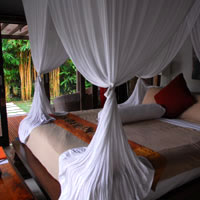 Villa Nirvana, Penestanan/ photo: Verghese
Owned by Singapore-based journalist Vikram Khanna, the six villa units set on individual green terraces, are somewhat different from the Bali mould, vivid Mediterranean in style, with a saffron theme, chill-out music, and friendly staff. Expect mod interiors, shimmering blue-tile pools, a restaurant, and healthy juices. This is a useful spot for some undisturbed yoga.
Four more Ubud options are provided by the Komaneka resorts group. Pick from the Komaneka at Monkey Forest, the Komaneka Tanggayudawith its pool villas and spa overlooking the Oos River, the Komaneka at Bisma (opened 2008) set in verdant rice paddy terraces on a rather narrow access road above the Campuhan River, and the Komaneka at Rasa Sayang near the Monkey Forest. These resorts are small scale, friendly, and laid back with artistic touches like the polished driftwood benches at Bisma in the breezy lobby overlooking a tongue of green - the swimming pool set above the river.
A charming and smaller Ubud villa option is the Villa Semana that has a secluded spa and 10 lovely villas set in gardens overlooking the Ayung River gorge. The villas have unimpeded views in most directions. They offer a traditional Balinese escape with thatch alang-alang roofs and reasonable distractions inside including a minibar, a CD player, hair-drier and tea and coffee-making facilities.
The calming Maya Ubud Resort and Spa is worth a look-see for its stylish concept featuring, among other things, beaten metal in surprising places, including the bathtubs and sinks. Set aside from the hubbub, the Maya stretches along the spine of a low green spur leading into a bend of the river. Deep down the gorge, on the river, is its delightful spa. Funky compact villas look over the valley. These feature small pools, garden, TV, as well as coffee and tea-making facilities. There are hotel rooms in the main lowrise building as well and funky toilets. This is a stylish property that has made a name for itself.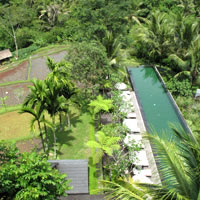 Komaneka Bisma jungle pool/ photo: Verghese
For something a little different explore ARMA Resort. Run under the aegis of the Agung Rai Museum of Art (ARMA) this is a stylish set of 16 rooms in eight villas and a pool. Money earned here goes into maintaining the museum so it is money well spent indeed. Expect a swimming pool, a fine art gallery, all manner of art and cultural workshops, and meeting facilities.
The Kori Ubud is a well regarded Balinise-style chalet getaway a few minutes south of central Ubud in Sanggingan village with 12 rooms overlooking views over rice terraces, a spa with two treatment rooms, a swimming pool, an art gallery and cooking classes for those wishing to stir the pot. Ask for a villa set higher up the hillside for more open views.
The Ubud Village Resort & Spa overlooking rice paddy fields with lotus ponds and manicured gardens is a calm retreat with a fitness centre, a business centre with Broadband Internet, Wi-Fi hotspots in the gardens and, curiously, a u-shaped pool. Garden Pool Villas are a generous 284sq m with four-poster beds, private pool, marble-floors, outdoor showers and hand-carved volcanic stone bathtubs. There are also two whopping big Village Suites offering 350sq m of space, featuring a private verandah, gazebo and pavilion. Check out sister Ubud Village Hotel.
A self-styled Ubud boutique resort option is the Champlung Sari Hotel in the Monkey Forest area. There are two pools, three restaurants, and a spa with double treatment rooms for couples offering Javanese and Balinese treatments. This Ubud hotel is a reasonable option but is not in the luxury or top-service category. Monkeys racing in to steal breakfast portions are part of the constant entertainment.

The Chedi Club Tanah Gajah, Ubud run by the Singapore-based GHM group, offers 20 self-contained units (nine with pools) in five hectares of garden looking onto rice fields. This is an extension of The Club at Legian concept, a private home away from home format, spoiling, rustic, and mellow.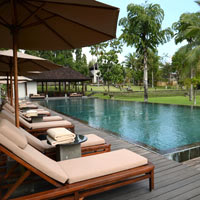 Chedi Club Tanah Gajah/ photo: Verghese
Formerly an architect's home The Chedi Club offers a fair share of whimsy with an away-from-it-all ambience with birdsong, water features, breezy views and spoiling amenities. The resort is very homey, unhurried and welcoming, spread out in shockingly green acres with walks and ponds and any number of statues especially of the characterful Hindu elephant-headed God Ganesha, some playful, some sombre, some ornate, others darkly ascetic. The area is also famous for its elephant caves.
Rice fields open out in all directions (there are no boundaries demarcating the resort) presenting a soothing open-ended panorama from bedrooms or dining halls. Within this rustling verdant continuum are pool villas, three spa villas and a Two Bedroom Estate. Decor is Indonesian (Javanese in style) and uncluttered. Expect carved wooden beds, ceramic tiles underfoot, beaten bamboo headboards, a flatscreen TV, DVD player and a Bose home theatre. There is a 35m pool if you need to stretch those muscles with some fast laps, a fitness centre, tennis court, open-air amphitheatre, an art gallery, and a spa with a meditation room. Mark down this exquisite getaway. It scores high on our Bali resorts review not least because it is different, with the rice fields providing a refreshing setting. (The Chedi Club Ubud features in our exclusive by-invitation Top Asian Hotels Collection, featuring the best Asian hotels, resorts and spas in a printable A4 page with stunning visuals.)
Other promising candidates include the Natura Resort and Spa with just 14 villas, the secluded Biyukukung Suites & Spa with tasteful rooms and satellite TV, the Nandini Bali Jungle Resort & Spa with 18 Balinese 42sq m chalets, and the Sungai Spa (in Payangan near the Alila).
A small and neat spot on the Ubud main street is the Aniniraka Resort & Spa, a trendy sort of place, compact and friendly, with just 11 pavilions (not villas) each with a private terrace. Aniniraka is surrounded by lush paddy fields and a small upstairs restaurant overlooks the green with a tiny alfresco section with a few tables.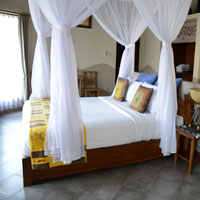 Mara River lodge bedroom/ photo: Verghese
For an Ubud villa option also check out Waka Resorts & Cruises which runs a few boutique resorts in Bali including in Ubud, Gilimanuk and Lembongan. This is the same company that specialises in Bali adventure and off-road itineraries. See our Bali Guide. For some information on booking Bali private villas see our Fast Facts at the end of this story.
Pemuteran, North Bali and East Coast, Tulamben, Tembok
If heading south from Ubud with the kids in tow, explore the Mara River Safari Lodge (easily accessed via the east coast highway too if coming from Kuta or Seminyak), a theme resort with thatch-roof accommodation, jungle sounds, camel or elephant rides, and a night safari. It's not too rustic. The 38 simple lodge rooms in the Kenyan style offer aircon, free WiFi, TV, babysitting services, swimming pool and a spa. Expect cement floors, simple but clean toilets, a bed with gauze drapes suspended above it, a small hairdryer, a GIANT safe, coffee maker, mini-bar, and a balcony or verandah with views across a moat. Spot zebra, white tigers, komodo dragons, oryx, and more. Safari tours at the Bali Safari & Marine Park take in animal shows, lion cub petting, personal encounters with orangutans and more. The park is clean, well managed and staffed by bright young kids who are both energetic and attentive. It is a nice antidote to temples and processions when all that gets to be too much.
Far up in Bali's less-discovered north are pepper beaches (not really black sand) and, in the northwest, high ranges clad in virgin rainforest. Against this dramatic backdrop in the Pemuteran area you'll find the quietly elegant Puri Ganesha Villas and its four two-storey Balinese-style villas with a broad stretch of beach. Pick one, two or three-bedroom space and plonk down in a lounge chair on a breezy wraparound verandah. All the villas face east to catch the first rays of the morning. A decent lap pool set in a refreshing bed of green grass looks out at the sea.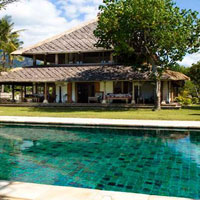 Puri Ganesha Villa Sepi/ photo: hotel
This is a spot for yoga, a slow unwind, a LARGE good book or that conversation with your better half. This is not a five-star in-your-face kind of place. For that head to Nusa Dua. As the owner Diana von Cranach mischievously, but honestly, declares on her website, "Don't expect to find power showers, fluffy white towels, straws or canned drinks...expect to enjoy fabulous organic food, and litres of complimentary volcanic mineral water". Puri Ganesha encourages guests to support reef preservation and school programmes through the Pemuteran Foundation (www.pemuteranfoundation.com).
This is wonderful retreat, laid-back, and quiet. If you really want to go the whole hog they'll even arrange a five-day detox programme for you. The minimum stay is two nights. Also take a look at the smart Damai Lovina Villas high on a spur looking over the coastline (some excellent food is to be had here and there's a spa), the expansive Matahari Beach Resort & Spa and, heading west along the coast, the 129-room low-rise Sunari Villa & Spa Resort (formerly Sol Lovina).
Also in north Bali, near Seririt and perched above the Sea of Java, is the Zen Resort Bali, a small boutique hotel featuring Balinese architecture. There are 15 ocean-view villas. Guests can indulge in individually created spa packages, or meditate and practise yoga on the special yoga pavilion. There's also a forest walk to a sacred temple and a tranquil beach. At the end of the day, take in the sunset from the treetop meditation terrace. The resort is a three-hour drive from Denpasar, and two hours from Ubud.
Lots of tours available to explore the northern beaches, countryside and rainforest. The Mimpi group has one of its three dive resorts here, on Menjangan Island. The Mimpi Menjangan Resort exploits the natural hot springs and offers a nice cottage setting.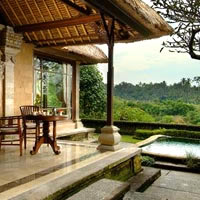 Pita Maha Ubud/ photo: hotel
The Mimpi Tulamben Resort, near Kubu, on the east coast, has a pebble beach and offers easy access to the wreck of the USS Liberty. And the Mimpi Resort Jimbaran rubs shoulders, comfortably, with its high-class neighbours.
En route to the north try stopping off at the spectacular Bali Handara Kosaido with its Jurassic Park golf course inside a misty volcanic crater. The Bali Handara Kosaido Country Club is about a one-and-a-half-hour drive north from Nusa in a setting greener than a punk hairdo or the broccoli your mother fed you. The 18-hole green fee for is US$150 for visitors but around half that for in-house guests. Ponder this. A superior room at this scenic Bali golf course will set you back just US$95 a night. All the 43 rooms face the course and have private terraces. The course has seen better days but it certainly provides a stunning backdrop.
On the Jalan Singaraja-Amlapura road winding along the island's ruggedly beautiful east coast at Tembok, is the The Spa Village Resort Tembok - Malaysian YTL's first foray into Bali. This dedicated spa resort offers a cosy seaside setting with just 27 rooms, two suites and two villas. Expect elegant Balinese design in a contemporary setting, generous space, marble bathrooms with sunken baths, and balconies or terraces with panoramic views. The villas have private plunge pools. The highlight is of course The Spa where assorted treatments await minus the shrill rings of cellphones and pagers (which are discouraged, along with smoking). The Spa Village Academy holds classes on Balinese massage techniques, herbal remedies, and more. This is a distant location but it offers an away-from-it-all feel with little distraction. Sweeping views, a pebble beach, and spa treatments galore.
Besakih, Sidemen, Penelokan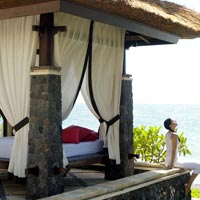 Spa Village Tembok/ photo: hotel
South of Besakih, still in the highlands, and with terrific views of the hills and paddy fields was the charming little Subak Tabola Inn in Sidemen, which appears to have fallen off the radar. The rooms were clean and had a spacious porch.
Grandly perched above Lake Batur and its sulphurous volcano cones, the Lakeview Hotel & Restaurant continues to provide an exhilarating vantage point for an overpriced and mediocre but friendly must-have lunch buffet (around Rp60,000 plus a huge amount of tax). You'll also need to buy a Rp10,000 ticket to enter the general Penelokan area. Lakeview Hotel offers a pool and decent unfussy lodgings at US$61 for a Standard. The Deluxe Room balconies look out over the lake for a sumptuous sunrise scene.
That's Bali north, south, east and west. Take your pick. As I negotiated security checkpoints, slobbering dogs, instant festivals and devotees thronging tiny roads, I slowed down behind a van bobbing elegantly along the rutted road with a large sign. "Quality before service" it said. Well…