SPA REVIEW
Malaysia spas for all tastes
At these Malaysia spa resorts, indulge in everything from Balinese and Thai to Swedish, Japanese and Ayurvedic. Scrub, exfoliate, wrap, balance chakras...
updated by Jakki Phillips
SEE ALSO Brunei Guide | Langkawi Guide | Penang Guide | Kuala Lumpur Shopping | Sabah guide | Kuala Lumpur Hotels | Australia Spas | Bali Spas | India Spas | Taipei Spas | Thai Spas | Tioman Guide | Kuala Lumpur Nightlife
JUMP TO Langkawi spas | Penang | Perak | Kuala Lumpur hotel spas | Port Dickson | Pahang | Terengganu | Tioman Island | Sabah | Sarawak | Hotel Contacts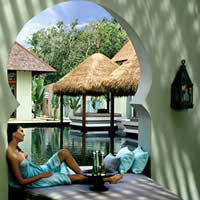 Four Seasons, Langkawi/ photo: hotel
MALAYSIA has laid claim to several intriguing firsts – the tallest twin towers, the biggest Mexican bun, the longest variety show and the most number of heads shampooed in one day at a mall. Now there's another feather in the cap of Malaysia "Truly Asia" (as its TV adverts intone).
We're talking some of the best spas and spa resorts east of the Suez. It's time to roll out the tikar (mat) and succumb to Mak Minah's (Aunty Minah's) therapeutic touch as she sinks her fingers into your flesh, kneading away ailments while realigning your spine and repositioning your organs.
What the…! Did my big toe just switch places with my nose?
Malaysia spas offer a good range of offerings, from dedicated luxury spa resorts, small spa hideaways and traditional ayurvedic establishments, to healers and mystic masseurs with long waiting queues. You'll find spa menus with the regular assortment of body scrubs, exfoliation, masks, massage, aromatherapy, reflexology and hot soaks. There's something for everyone. Our Malaysia spas and spa hotel guide.

E-mail Page

Print

Hotel Contacts
Langkawi spa guide
Head for the island of Langkawi in the Andaman Sea off Malaysia's west coast where mythical tales, massages, facials, manicures and pedicures offer a heady mix for all wallets.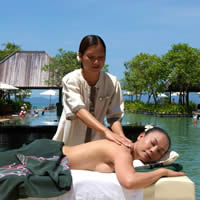 JivaRhu, Tanjung Rhu Resort/ photo: hotel
At the JivaRhu Spa, Tanjung Rhu Resort, you'll be pampered at one of 12 independent villas, built on a stretch of landscaped gardens with views of the Andaman Sea. Villas come complete with intimate open-air enclaves, private gardens, outdoor steam rooms, saunas, showers and outdoor Jacuzzis. Latticed woodwork roofs in the foyer and pathways create a genuinely local ambience. Expect Malay traditional treatments like the candlenut body scrub plus traditional remedies.
You may get mistaken for dessert if you treat yourself to one of the tasty body wraps that include pumpkin and orange, neem and honey, yoghurt and papaya. Or perk up with the After Sun Healing package that promises to soothe your over-tanned skin with a cucumber and yogurt wrap, and an aloe vera body wash.
Send us your Feedback / Letter to the Editor
Also available are Thai and Ayurvedic treatments. Prices start at RM250 for 50 minutes. The exchange rate is roughly US$1 = 3.19 Malaysian ringgit (RM).
Following a similar trend is long time favourite, Ayura Spa at Berjaya Langkawi Resort, one of the island's first complete spa retreats. It's a natural gem, quiet and peaceful, nestled between lush rainforests and crystal clear waters. A combination of unmistakably Malay influenced massages, facials, body scrubs, wraps, hand and foot spa treatments are offered. Marine based treatments like algae seaweed wraps are just as popular. Manicures and pedicures start from RM70.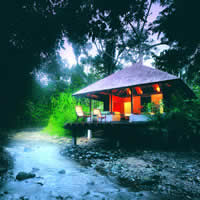 The Spa, Datai Langkawi/ photo: hotel
The Spa at The Datai can be found in a secluded corner of Langkawi Island within mature, protected rainforest. It's a spoiling, upmarket escape, all the more pleasurable if you happen to be staying at this stunning property with its lovely beach cove.
At the luxurious spa, a must-try is the "The Datai", which includes a foot polish, jade massage, organic facial, ayurvedic body polish and bathing ceremony, and lasts for an indulgent three hours.
Forget floaty pan pipes, you'll hear lapping waves and exotic bird song at the open-air V Botanical Spa at The Andaman (A Luxury Collection Hotel), also in Datai Bay. Perched high on a hillside, with a bird's-eye view of the beach, the spa is part of V Integrated Wellness resort.
Under the cool shade of the rainforest, enjoy holistic therapies, beauty treatments, meditation retreats and lifestyle workshops. Try a "Kahuna Wave" massage in one of the breezy pavilions and don't forget to set your alarm for some sunrise yoga. Work up an appetite in the fitness centre, which offers a range of daily exercise classes, then snack at the V Healthy Cuisine restaurant.
Recommended is Casa Del Mar's The Spa, where double massage sessions can be arranged so couples can unwind together. A one-hour relaxing aroma massage costs RM120. This is a nice intimate retreat, well worth a visit.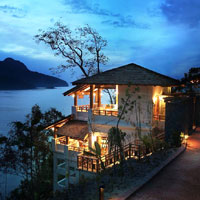 Andaman's V Integrated/ photo: hotel
The Heavenly Spa by Westin on the beachfront at the The Westin Langkawi Resort & Spa offers a wide range of massages and wellness and beauty treatments. Start off with a "Serenity Welcome" head and neck aromatic oil massage as you ponder the menu while being fussed over by trained therapists who will customise your session.
Perhaps splash out on the 220-minute RM900 signature "Wish" package incorporating a Kese body treatment, a "Heavenly Massage" and relaxing facial.
The spa menu at Teratai Spa, Meritus Pelangi Beach Resort is extensive with a good mix of Asian-inspired facials, body wraps, scrubs, massages and hair care. The Moorish-style Four Seasons Resort Langkawi has 20 villas, each with a private spa and treatment room, as a well as a dedicated spa, "suspended over water" - a special touch
Penang spa resorts
We continue our Malaysia spas guide in the island of Penang, just south of Langkawi, where pampering goes hand in hand with an obligatory bowl of steaming laksa (noodles in coconut curry broth). Look out for the luxurious CHI, The Spa at the Shangri-La Rasa Sayang Resort and Spa that occupies a separate wooded area, secluded but accessible, with individual treatment villas redolent of exotic aromas. A two-and-a-half-hour "Enchanted Journey" is RM690, and a one-hour massage is RM270.
A somewhat recent Penang addition is Sanjiwani Spa at Jerejak Resort & Spa. Set in the former penal colony of Jerejak Island, the spa, perched atop a hill, allows for stunning views of the sea, hills and glittering lights of the city.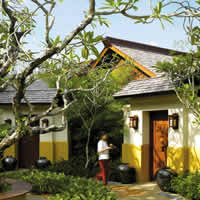 CHI, Rasa Sayang, Penang/ photo: hotel
Choose top-to-toe pampering with traditional Javanese, Sundanese, Thai or Balinese massages, as well as facials, body scrubs, wraps and aromatherapy. A three-hour spa package, which includes a scrub, bath, full-body massage and buffet lunch, is RM450.
The Northam is all reflective gold and glitter on the outside but remarkably tasteful inside. Suites are elegant with lots of gleaming wood and sharp finish. There is a Suite Spa at Level 9 with nine treatment rooms, all with Jacuzzi, steam room and sauna. Treatments start from RM98 for a 50-minute massage. The stunning pool on the same level, offers breathtaking views of Georgetown and the sea. There is a broad-timber lounging deck if you simply wish to snooze or enjoy a cocktail while surfing the Internet with complimentary WiFi.
Close by Shangri-La's Rasa Sayang is the renovated 309-room Parkroyal Penang Resort (formerly Grand Plaza Park Royal). The place is cheery and is a good Penang family resort now with the addition of the St Gregory offering everything from aromatic rubdowns to Balinese massage for harried parents. The "Love Bird" package for couples is around RM850.
At the Hard Rock Hotel Penang expect attitude, guitars, smiles and wellness treatments with a difference at the Rock Spa. Pick from a 30-minute "Rub my Back" at RM80, a bells-and-whistles Hard Rock Massage for an hour at RM170 with fingertips and knuckle pressure and even a dash of ear reflexology, or a signature "Hot Rock" massage with heated stones. Why stop there? There's body scrubs, wraps, and waxing to get you in shape for even a Rio bikini.
Indulgence in Perak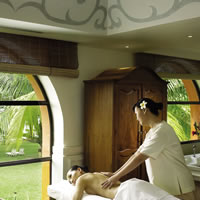 Parkroyal Penang St Gregory/ photo: hotel
Privately owned Pangkor Laut basks in all the usual publicity surrounding a top island getaway. It's no wonder hundreds of travel pilgrims the world over keep coming back religiously to the Spa Village at the Pangkor Laut Resort. Spa Village has tended to the nails and toes of some famous stars.
Perhaps dangerously, on this idyllic island, all cares (including your mounting credit card bills), are easily forgotten. Leap into the Ayurvedic, Chinese, Balinese and Japanese spa menus. There are resident Ayurvedic, Malay and Chinese spa specialists for consultation. Begin your spa experience with a footbath and an invigorating Chinese Foot Pounding – previously only enjoyed by Chinese concubines. Not to be confused with foot binding.
Next, relish the traditional Malay 'circulating' bath before surrendering to a Japanese-style cleansing with a goshi-goshi cloth. This is then followed by a dip in the heated rotenburu pool. Try the Shanghai Scrub, where a masseuse gently exfoliates and washes your body. For a right royal pampering try the "ukup wangi" scented body steaming – a ritual used by princesses preparing for their wedding night. A 50-minute massage is around RM290.
The Spa Village features both indoor and open-air spaces spread over four acres along a quiet bay between the sea and the rainforest. Stay at any one of the 22 spa villas, situated over the sea with direct access to the Spa Village. It's enough to make you sing like Luciano Pavarotti. After all, he has stayed here too.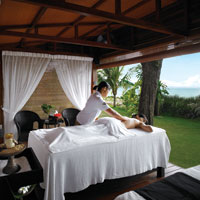 Rock Spa at Hard Rock/ photo: hotel
The Banjaran Hotsprings Retreat is a wellness resort hidden in the jungle and surrounded by cliffs. Guests must stay a minimum of two nights and prices include villas, spa cuisine, select massages, exercise classes and health consultations.
Treatments draw upon Malay, Chinese and Indian traditions. Choose from Chinese medicine, ayurveda, energy healing and ramuan spa journeys, as well as more contemporary massages, facials and bathing rituals.
For rejuvenating heat therapy soak in the resort's hot springs and dipping pools, or sweat out your toxins in the thermal steam cave. Cool off with a bracing plunge into an ice bath or have a refreshing outdoor shower using spring water direct from the rainforest. Alternative therapies include a pool where fish will nibble away rough skin, and a meditation cave. You can also swim in the freeform pool, work out in the fitness centre or enjoy a reiki healing session in an amethyst cave.
Once you've worked up an appetite head over to The Pomelo restaurant for some healthy spa cuisine. Dishes are made using local organic produce and are free from artificial seasoning or flavourings. Wash it all down with a bottle of organic wine (yes, alcohol) – then head back to that thermal steam cave.
Kuala Lumpur hotel spas and Putrajaya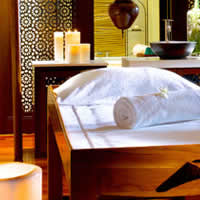 Spa at Westin Langkawi/ photo: hotel
Malaysia spas immediately bring to mind coconut trees and white sand beaches, but a lot of the unguents and potions are being applied daily at city spas, day spas and hotel spas offering an oasis in the urban swirl.
The well-heeled are all clamouring to join the chic, award-winning urban Energy Day Spa Ampang. This Kuala Lumpur day spa is positively Zen-like, swathed in light, clean lines and contemporary aesthetics. Energy Day Spa adopts a holistic approach to wellness, treating the body, mind and soul with everything from sun damage and pigmentation to out-of-balance chakras. Get your facial fix with intriguing skin illuminating and alpine de-stressing. Or, try rebalancing and healing through holographic techniques and reiki.
Without having to bust your budget, happily mix these with some yoga, Pilates, meditation, dance, tai chi and qi gong. After all, treatment prices run from only RM38 to RM448 while packages start at RM299. The spa's location in one of the city's malls means you can take your renewed self for some bargain hunting straight after. There is a second day spa in Mont Kiara with five treatment rooms and a rooftop relaxation area.
You don't have to be close to the sea to enjoy its benefits. Simply check into The Spa at the Mandarin Oriental Kuala Lumpur, a stone's throw from the world's tallest twin towers, for a complete sensory journey. The spa, drawing upon both eastern and western influences, helps you to soak your worries away in rich marine nutrients. A favourite is the Time Ritual Ultimate Body Treatment, which supplies the body with vitamins and minerals while firming, toning, and eliminating toxins. Shed the crusty wrap layer and emerge silky smooth. Other treatments include body wraps, scrubs and facials.
Escape the chaos and discover quiet seclusion at the green and leafy Spa Village. Located on the fourth floor of The Ritz-Carlton Kuala Lumpur, this urban retreat offers treatments inspired by local traditions. Walk through the landscaped gardens to the tree-lined lap pool or float around in hot and cool dipping pools.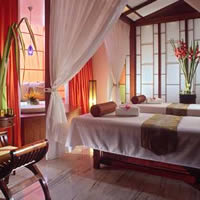 Hilton KL spa room/ photo: hotel
Enjoy a traditional royal Malay treatment in one of eight private suites, each with its own outdoor shower and sunken bath. Gentle breezes will keep you cool during tropical rubdowns in the outdoor cabanas.
For something a little different, try the 60-minute "Sensory Exploration" treatment, which explores sound, sight, smell, taste and touch. Smell aromatic towels, taste sweet and sour fruit and listen to bamboo flutes as flashing lights change from ocean blue to soft lilac. Yes, this is a spa treatment not an exotic night out on the tiles. Pay RM150 for a group session or RM225 for a one-on-one experience.
In keeping with the spa's inventive approach to pampering is the Chinese Peranakan treatment. Expect to be marinated in milk, rice, mulberry leaves and egg, yes egg. Hopefully there's no bacon to go with it.
Stylish Senjakala Spa, quietly tucked away, lures men in for some body pampering within its coloured walls and plush furnishings. This is your spot if you are the new urban male or metrosexual who doesn't mind manicures, pedicures, body scrubs, facials or even waxing. Senjakala Spa defies the trend, offering unique experiences like the 90-minute Tantric Yoga Massage, for RM140, using varied techniques that tease and tantalise. For RM120, delight in the ultimate overhaul, the Twilight Touch Massage. Combining advanced Swedish, Thai and Malay techniques, it is topped up with a spot of chakra rebalancing to renew the libido. Hmm… The spa stays open till midnight seven days a week.
Got more time to spare for your Malaysia spa odyssey? Venture into the outskirts of the city to Sembunyi Spa at Cyberview Lodge Resort & Spa. Imagine 10,000 square feet of breathtaking surrounds right in the heart of the technology hub, Cyberjaya. With its rustic, tropical ambience, Sembunyi Spa is slowly becoming a hotbed of R&R for couples. Forever Yours allows couples to indulge in a rich milk bath, followed by a yoghurt scrub, petal mask and a revitalising massage. All for RM640 per couple. In Petaling Jaya (a 15-minute drive from downtown KL, if the traffic is kind), the Bali-theme Life Spa at the Hilton Petaling Jaya is an option.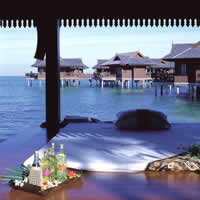 Spa Village, Pangkor Laut/ photo: hotel
Pick your favourite blend of spice - the energizing baliaga (peppermint), balijegeg (sandalwood) or refreshing "sunrise" (jasmine and lavender). An hour-long massage is RM168 per person. Hilton Kuala Lumpur has a similar spa concept, Clark Hatch & Fitness Life Spa. A one hour massage here will set you back RM119.
Finally, dive into the ultra hip Angsana Spa, part of the Crowne Plaza Mutiara. Try a two-hour Angsana massage, priced at RM322 using palm strokes and thumb pressure to de-stress and strengthen your inner qi. For something more esoteric, and fun, visit the Putrajaya Shangri-La's Health Club & Spa for a zodiac sign consultation that forms the basis for your specific treatment. Each zodiac sign is associated with certain colours, oils, scents and rituals. Check out the "The Zodiac Ritual" (RM180 for 45 minutes), an energetic high of pressure massages, or pick something a la carte off the shelf and luxuriate in a wrap or scrub.
Port Dickson smoothie
Avi Spa is built over the sea at Avillion, near Port Dickson, and has a unique open-air, floating relaxation lounge that bobs on the water. Sprawl amidst plump white and turquoise cushions and take in panoramic ocean views and blazing sunsets.
For treatments such as the banana smoothie wrap, head to one of seven private suites, complete with verandahs and sea-view baths. Signature treatments are based on the elements – water for confidence, earth for balance, wind for happiness and fire for passion.
Water babies should try the marine ritual, which includes a sponge scrub, mud wrap and mineral-rich facial. The pampering lasts two and a half hours and costs RM780. For silky smooth hair try the Peranakan-inspired coconut oil hair treatment. This 6,250sq ft contemporary retreat also offers a library stocked with books about health and wellbeing.
Spice it up in Pahang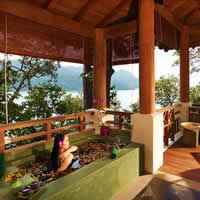 Spa, The Andaman, Langkawi/ photo: hotel
On the Malaysian east coast, there's nothing particularly Swiss about the Samsara Spa at the Swiss Garden Resort & Spa. The theme is devoutly Balinese, from the use of herbs and spices like coconut and coffee to its exotic ambience. Trademark treatments like the Samsara Royal (RM270 for one hour and 45 minutes) and Samsara Spices (RM380 for two-and-a-half hours) are in great demand. Combine your treatments with a sampling of the spa's exciting dishes, cooked in rich Malay herbs and spices. Treatments start from RM170.
At the bit-of-everything Colmar Tropicale, Berjaya Hills (formerly the Bukit Tinggi Resort), should you tire of the rabbit park, golf, riding, the French chateaux and the Japanese Village, head for the Tatami Spa offering a bit of zen combining a spot of furo (bathing) with an onsen experience (alfresco hot rock mineral pool).
Terengganu treatments
Set in a beautiful Javanese garden with little ponds, Taman Sari Royal Heritage Spa at the Awana Kijal Golf & Beach Resort is one of the few spas in Terengganu. The spa is an extension of the well-regarded Mustika Ratubuana International list of spas in Indonesia. Naturally adapting a Javanese theme, from decor and music to treatment, the spa gives an unparalleled opportunity to relax and rejuvenate with traditional royal treatments. A Javanese full body massage will cost RM120 per hour.
The swish Tanjong Jara Resort - styled after a sultan's palace of yore - offers restorative Malay treatments at the Spa Village. Highlights include a three-hour "Couples Spa Experience" with special body treatments based on Malay wedding rituals, and the "Urutan Gamelan", a traditional Malay massage for women.
Tioman Island for beach bods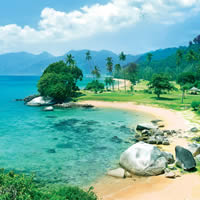 Berjaya Tioman beach/ photo: hotel
Samadhi Spa at the JapaMala Resort & Spa is completely enfolded by towering boulders creating the atmosphere of a cosy cave. The spa centre overlooks the beach but massages can also be enjoyed in pavilions by the sea. A highlight at the spa is the 45-minute Before Sun treatment. Himalayan rock salt is blended with lemongrass and ginger essential oils to create an exfoliation remedy that will leave your skin soft, and moisturised. Then head out to the power-white sand.
The Ayura Spa at the Berjaya Tioman Resort offers a 90-minute signature massage for RM215. Berjaya Redang Resort's Ayura Spa is another option. There is a range of packages to relax, revitalise, energise or balance. They start from RM295 for two hours.
Sabah spa hotels and getaways
Our Malaysia spas guide now crosses over on a two-hour flight to Sabah (Borneo) to enjoy the blissful Borneo Spa set in the spectacular green surrounds of the Nexus Resort Karambunai, a 30-minute drive from Kota Kinabalu. This outdoor spa, sprawled over 40,000sq ft with 14 therapy rooms blends native Borneo massage skills with pure essential oils from plant extracts from around the world. Scented treatment rooms ensure utter privacy. Alternatively, outdoor massages overlooking the South China Sea and in-room massages can also be arranged. Time stands still at Karambunai. There's no rush; take time to relish hot or cold spa pools, steam and sauna rooms, before showering for your treatments.
The Borneo Fusion treatment combines acupressure, Thai and shiatsu massage to boost energy levels and "balance emotions". This non-oil massage uses finger pressure, forearms, elbows and feet and can last for one hour or 90 minutes.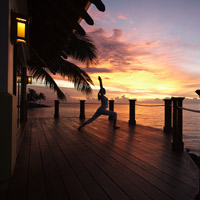 Shangri-La's Tanjung Aru/ photo: hotel
At the Shangri-La's Tanjung Aru Resort and Spa in Kota Kinabalu, the group's signature CHI, The Spa is located on its own secluded private island with a 4,161sq m spread including eight spacious island villas, a yoga pavilion that catches the sea breezes, and wholesome spa cuisine. Mix together tropical ingredients like volcanic mud and cocoa and you get some exotic treatments like the "Borneo Volcanic Mud Wrap" and the "Pearl Cocoa Scrub".
CHI Balance meanwhile focuses on harmonising your energy flow with a tingling massage to get the chi flowing. Or opt for the "Mountain Tsampa Rub" and have your skin exfoliated with grains of barley. Yoga can be enjoyed on an extensive timber deck that enjoys expansive views. Sister resort Shangri-La's Rasa Ria sprawls across a superb and broad stretch of sand with a dedicated spa close to the resort's signature golf course. The Spa at Dalit Bay offers a wide range of treatments.
Another option, perhaps, is vegging out at the Mandara Spa at Sutera Harbour. There are six treatment rooms for your own private massage, as well as six suites if you want to share the experience with a friend. Mandara Spa is open until 10pm, perfect for that post-dinner bit of pummelling you've always wanted.
A short ferry ride from Kota Kinabalu is the peaceful island of Gayana. Here you'll find the Gayana Eco Resort with 52 overwater villas and an on-site marine ecology research centre dedicated to protecting endangered giant clams. Dive or snorkel by day then head to the Solace Spa for some well deserved pampering.
Each spa suite has its own shower and whirlpool and treatments are inspired by the elements. Try not to snigger as you book the "Wind" package (RM850 for three hours), which includes a nutrient-rich caviar facial and edelweiss massage. For something more tranquil opt for the "Water" package (RM650 for three hours) and drift off with a soothing scalp massage and camomile body scrub.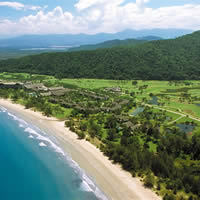 Nexus Resort Karambunai/ photo: hotel
On the opposite side of the island is sister property Bunga Raya Island Resort and Spa offering the same menu. Treat yourself to a tropical rubdown in a breezy private pavilion perched high on the forested hilltop.
More steam in Sarawak
The Jungle Spa Retreat, part of the Borneo Highlands Resort, is aptly named. It brings the rainforests to you. Treatment rooms are reminiscent of Sarawak's dense forests, with rooms decked out with tropical plants.
The spa opens out onto a well-manicured garden. Located high up in the Penrissen Highlands, it affords spa goers cool mountain views. Treatments include traditional massage, foot reflexology, aromatherapy and organic facial and body treatment. Its signature Bidayuh massage employs a local technique that helps to lengthen and loosen the muscles using homemade massage oil brewed of herbs, coconut, pepper and ginger. It heats and warms your body for better blood circulation and promotes skin healing. Jungle Spa takes you a step closer to nature and rejuvenation. A 60-minute Bidayuh massage is priced at around RM126. And, for Malaysia spas of every description, price and location, that's a wrap.
Send us your Feedback / Letter to the Editor
FAST FACTS

/ Hotel Contact List

Prices and treatments at Malaysia spas are subject to frequent change. Check in advance before booking. The prices quoted in this story are approximate rates only. The exchange rate is roughly US$1 = 3.19 Malaysian ringgit (RM).
Langkawi
Berjaya Langkawi Resort - Malaysia. Tel: [60-4] 959-1888, fax: 959-1886, (e-mail: langkawi.ayuraspa@berjayahotel.com or www.berjayahotel.com/langkawi/).
Casa del Mar Langkawi. Tel: [60-4] 955-2388, fax: 955-2228, (e-mail: info@casadelmar-langkawi.com or www.casadelmar-langkawi.com).
Four Seasons Resort Langkawi. Tel: [60-4] 950-8888, fax: 950-8899, (www.fourseasons.com/langkawi).
Meritus Pelangi Beach Resort. Tel: [60-4] 952-8888, fax: 952-8899, (e-mail: resvn.pelangi@meritushotels.com or www.meritushotels.com).
Tanjung Rhu Resort. Tel: [60-4] 959-1033, fax: 959-1899, (e-mail: resort@tanjungrhu.com.my or www.tanjungrhu.com.my).
The Andaman, V Integrated Wellness. Tel: [60-4] 959-1088, fax: 959-1168, (e-mail: info@vintegratedwellness.com or www.vintegratedwellness.com).
The Datai. Tel: [60-4] 959 2500, (e-mail: reservationsdatailangkawi@thedatai.com.my).
Westin Langkawi Resort & Spa. Tel: [60-4] 960-8888, fax: 966-6414, (e-mail: westin.langkawi@westin.com or www.starwoodhotels.com).
Penang
Parkroyal Penang Resort. Tel: [60-4] 881-1133, fax: 881-2233, (e-mail: reserve.prpen@parkroyalhotels.com or penang.parkroyalhotels.com).
Hard Rock Hotel Penang. Tel: [60-4] 881-1711, fax: 881-2155, (e-mail: info.penang@hardrockhotels.net or penang.hardrockhotels.net). From RM299.
Jerejak Resort & Spa. Tel: [60-4] 658-7111, fax: 659-7700, (e-mail: reservation@jerejakresort.com and www.jerejakresort.com).
The Northam. Tel: [60-4] 370-1111, fax: 370-2222, (e-mail: reservation@northam-hotel.com.my or www.northam-hotel.com.my).
Shangri-La Rasa Sayang Resort and Spa. Tel: [60-4] 888-8888, fax: 881-1800, (e-mail: rsr@shangri-la.com or www.shangri-la.com).
Perak
Pangkor Laut Resort & Spa. Tel: [60-5] 699-1100, fax: 699-1200, (e-mail: plr@ytlhotels.com.my or www.pangkorlautresort.com/spa/).
The Banjaran Hotsprings Retreat. Tel: [60-5] 210-7777, fax: 210-7778, (e-mail: info.kl@thebanjaran.com or www.thebanjaran.com).
Kuala Lumpur and Putrajaya
Crowne Plaza Mutiara. Tel: [60-3] 2148-2322, fax: 2144-2157, (e-mail: reservation@cpmkl.com or www.crowneplazakl.com).
Cyberview Lodge Resort & Spa. Tel: [60-3] 8312-7000, fax: 8312-7001, (e-mail: hotline@cyberview-lodge.com.my or www.cyberview-lodge.com).
Energy Day Spa Ampang. Tel: [60-3] 4256-8833, fax: 4256-8832, (e-mail: info@energymindbodyspirit.com or www.energymindbodyspirit.com).
Energy Day Spa Mont' Kiara. Tel: [60-3] 6201-7833, fax: 6201-5833 (e-mail: info@energymindbodyspirit.com or www.energymindbodyspirit.com).
Hilton Kuala Lumpur. Tel: [60-3] 2264-2264, fax: 2264-2266, (e-mail: kuala-lumpur@hilton.com or www.hilton.com).
Hilton Petaling Jaya. Tel: [60-3] 7955-9122, fax: 7955-3909, (e-mail: petaling_jaya@hilton.com or www.hilton.com).
Mandarin Oriental Kuala Lumpur. Tel: [60-3] 2380-8888, fax: 2380-8833, (e-mail: mokul-reservations@mohg.com or www.mandarinoriental.com/kualalumpur).
Putrajaya Shangri-La. Tel: [60-3] 8887-8888, fax: 8887-8889, (e-mail: slpt@shangri-la.com or www.shangri-la.com).
Senjakala Spa. Tel: [60-3] 2031-8082, fax: 2052-0488, (e-mail: info@senjakala.com or www.senjakala.com) .
The Ritz-Carlton, Kuala Lumpur. Tel: [60-3] 2782-9090, fax: 2143-8080, (e-mail: spavillagekl@ytlhotels.com.my or www.spavillage.com/kualalumpur).
Negeri Sembilan
Avi Spa. Tel: [60-6] 647-5740, fax: 647-5790, (e-mail: info@avispa.com.my or www.avispa.com.my).
Pahang, Terrengganu, Tioman, Redang spas
Awana Kijal Golf, Beach and Spa Resort. Terrengganu. Tel: [60-9] 864-1188, fax: 864-1688, (e-mail: awanakij@tm.net.my or www.awana.com.my).
Berjaya Tioman Resort. Tel: [60-9] 419-1000, fax: 419-1718, (e-mail: tioman.rsvn@berjayahotel.com or www.berjayahotel.com/tioman/).
Berjaya Redang Resort. Tel: [60-9] 630-8866, fax: 630-8880, (e-mail: redang.rsvn@berjayahotel.com or www.berjayahotel.com/redang/).
Colmar Tropicale, Berjaya Hills. Pahang. Tel: [60-9] 288-8888, fax: 288-3333, (e-mail: sales@colmartropicale.com.my or www.berjayahotel.com/berjayahills/).
JapaMala Resort & Spa. Tioman. Tel: [60-9] 419-7777, fax: 419-7979, (e-mail: reservations@japamalaresorts.com or www.japamalaresorts.com).
Swiss Garden Resort & Spa, Kuantan, Pahang. Tel: [60-9] 544-7333, fax: 544-9555, (e-mail: resvns_sgrsk@swissgarden.com or www.swissgarden.com).
Tanjong Jara Resort. Terengganu. Tel: [60-9] 845-1100, fax: 845-1200, (e-mail: travelcentre@ytlhotels.com.my or www.tanjongjararesort.com).
Sabah and Sarawak
Bunga Raya Island Resort and Spa. Tel: [60-88] 271-000, fax: 271-100, (e-mail: info@bungarayaresort.com or www.gayana-eco-resort.com/bungaraya_site/).
Gayana Eco Resort. Tel: [60-88] 442-233, 475-533, fax: 475-714, (e-mail: info@gayana-eco-resort.com or www.gayana-eco-resort.com).
The Jungle Spa Retreat, part of the Borneo Highlands Resort. Sarawak. Tel: [60-82] 577-930, fax: 576-680, (e-mail: enquiry@borneohighlands.com.my or www.borneohighlands.com.my).
Nexus Resort Karambunai. Sabah. Tel: [60-88] 480-888, fax: 480-999, (e-mail: info@nexusresort.com or www.nexusresort.com).
Shangri-La's Rasa Ria Resort. Tel: [60-88] 792-888, fax: 792-777 (e-mail: rrr@shangri-la.com or www.shangri-la.com).
Shangri-La's Tanjung Aru Resort and Spa. Tel: [60-88] 327-888, fax: 327-878 (e-mail: tah@shangri-la.com or www.shangri-la.com).
Sutera Harbour. Tel: [60-88] 318-888, fax: 317-777, (e-mail: reservations@suteraharbour.com.my or www.suteraharbour.com).