CITY GUIDE
Sharks, toys, nasi padang
Singapore fun guide for families, with a few sharks, street food, music, leggy ladies, and transvestites. Roll the dice at the casino, ride the Flyer, or tremble at Universal Studios.
with photography by Vijay Verghese
SEE ALSO Singapore hotels guide | Singapore shopping | Singapore nightlife | Kuala Lumpur hotels | Tioman guide | Asian casino hotels | Kuala Lumpur nightlife | New York guide | Fastest roller coasters | Hong Kong fun guide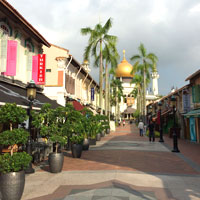 Bussorah Street area kebab cafes and bars line the lane to Sultan Masjid/ photo: Vijay Verghese
SINGAPORE lives with a disadvantage. Economic success, social stability and a political scene with all the excitement of a Japanese flat garden has left the Republic with a reputation of being straight laced and stitched up.
They say it is a bit like one of those sticks of gum they banned there; the spearmint wears off fast and you're left with one long dull chew.
That's not altogether fair. In a city where you can walk in the darkness between rhinos and hyenas in Bukit Timah, where you can sit out on Orchard Road over a coffee and watch stalking sales people with clipboards hunt down passers by and where you can spend an evening of transvestite music and dance, listening to a drag comedian slag off local custom and practice, there is a wild side bursting to be enjoyed. Even wilder, is shopping in Singapore, an art in itself, not to mention nightlife, Singapore bars and dining.
The Resorts World 'integrated' complex of hotel and entertainment for high rollers on Sentosa Island boasts child-friendly hotels, luxurious digs and fun by the mile. 'Integrated resorts' is the new buzzword for naughty gamers - and casino hotels - who need a respectable label and a convenient excuse to cart along the entire family. Nothing blushingly rude happens at these places. It's good clean fun as long as the kids stay away from the green velvet tables and croupiers. Universal Studios offers entertainment in Cinemascope with theme areas including The Lost World, Madagascar, Ancient Egypt and New York. Stroll a replica Big Apple, swoon over Marilyn Monroe, and evade rampaging dinosaurs. Sentosa is worth a half-day or full-day jaunt and is large enough to keep you sufficiently engaged.
With years of experience running screaming from Godzilla, the Japanese will love this. Alternativerly throw your money away at the new Resorts World Casino (www.rwsentosa.com).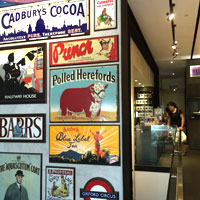 The MINT Museum of Toys is a charming escape for kids and oldies alike/ photo: Vijay Verghese
Kids will have a treat while parents wander down nostalgia lane at the MINT Museum of Toys (9.30am to 6.30pm, tel: [65] 6339-0660, www.emint.com/) at 26 Seah Street just behind the venerable Raffles, where a private collector has stashed thousands of items for your eye-popping pleasure. Think enamel signs, collectables, super heroes and a small shop with stuff from Belgium, Germany, Japan, UK and USA. An adult ticket is S$15, while kids (from two to twelve), and senior citizens aged over 60, get in for half that. MINT stands for 'Moment of Imagination and Nostalgia with Toys'. And it is just that. Whizz through in 10 minutes or an hour. It's up to you. At Level 5 is the Outerspace section. One floor down is the Characters level followed by Childhood Favourites at Level 3. Stop for a rooftop soft drink or coffee. There's a pit-stop in the basement too. An engaging collection and welcoming staff to enjoy a whimsical moment or more. So on with our Singapore fun guide, no holds barred.
Of the fifteen to twenty individual ways I have found to spend time in Singapore, we'll keep eating out down to one and only this one because it's messy. Go to the East Coast Sea Food Centre (Block 1206 East Coast Parkway, ask for Jumbo) 15 minutes out of town up the Parkway and eat pepper and chilli crab. There are about ten fairly similar restaurants lined up together by the seaside serving sea food and particularly crab, spiced and covered in dark sauce which makes you fingers sticky and lick-able before yielding up soft flaky meat. For a big enough group it can be a huge indulgence for around S$50 a head. The sea breezes - which can have your shirt stuck to your back in minutes - are an added plus, as are the views.
Oh alright then, I'll include eating durian fruit too only because the best place to eat it is in the Geylang district which has a colony of red-light establishments replete with painted ladies reclining on musty sofas in dimly-lit rooms, found in the even numbered streets off the main road. The area is, however, safe as a pussycat and the other streets have splendid small local restaurants where you can eat fresh ripe-smelling durian.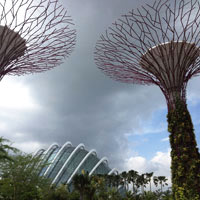 Gardens by the Bay/ photo: Kate Springer
A lot of tosh is talked about durian. The taste is unremarkably pleasant. The smell is merely of men's sweaty socks fermented in sugar.
The after hours haunts along the ever-bopping Boat Quay and Clarke Quay are well documented and these are certainly worth a look-see though things may appear a tad twee at times. No sea breezes here, just powerful weapons-grade air-conditioning. Bring along your parka.
Send us your Feedback / Letter to the Editor
Singapore shopping doesn't sound very alternative but it can become compulsive if you go to the Mohamed Mustafa Shopping Centre (145 Sayed Alwi Road, tel: [65] 6295-5855) in the Serangoon Road area of Little India. No Singapore guide can be complete without some mention of wallet-bashing. This used to be a humble collection of outlets used only by Indians and then stories of its low prices and mind-boggling varieties attracted a much wider spread of Singapore customers. It now boasts multiple levels and is open 24 hours. They say you can even buy a car there.
An excellent area for a browse or a long leisurely dip into a hookah (sheesha) bar to the accompaniment of a Turkish kebab perhaps, is the Arab Street area around Jalan Sultan and bounded by North Bridge Road and Beach Road. This is an area called Kampong Glam. It was once a Javanese enclave, a spot for pilgrims on the Haj to congregate and pick up supplies and advice. The area is a warren of shophouses converted into restaurants - think nasi padang (try the excellent and usually crowded Sari Ratu, 20 Pahang Street, or Sabar Menanti), tea by the yard, biryani, tandoori, Dubai delicacies - with cafes, bric-a-brac stores, vintage collections, carpets, massage parlours, and much more. The North Bridge Road area is home to Muslim restaurants, fancy dress shops, fragrance shops, money changers, and quite a few spas and massage parlours manned by sleepy seeming ladies in skimpy garb. Arab Street is a whirlwind of cafes and street table hangouts like Blu Jaz Cafe (www.blujazcafe.net). Close to the Sultan Masjid at 55 Bussorah Street is the Green Kiwi (www.greenkiwi.com.sg) backpacker hostel, a S$18 a night dormitory affair in a characterful two-floor bright green Chinese shophouse. Expect WiFi, breakfast, clean bathrooms, and lockers.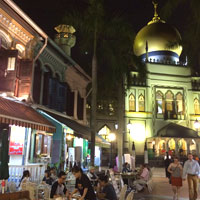 Sultan Masjid, North Bridge Rd/ photo: Vijay Verghese
Farther inside the scrum towards the central Sultan Masjid area are Turkish eateries and curry restaurants, while on Beach Road you'll spot more upscale offerings and a few budget stay options like The POD (a capsule hotel that beds you down in bunks, train sleeper style, www.thepod.sg). Also look for NOX 'dine in the dark' (269 Beach Road, tel: 6298-0708, www.noxdineinthedark.com where tasty morsels await the intrepid, served as they say, totally in the dark. You will certainly not be in the dark about the bill when it arrives. At the other side of this happening district at The Sultan boutique hotel on Jalan Sultan, head upstairs to the Singapore Jazz Club that hosts assorted talent and charges a S$50 entrance. Right next door is FRESH, a small intimate bar with cosy rooftop seating as well.
Orchard Road shopping malls of course dominate the Singapore designer brands arena and if your wallet is up to it, head there. Dive into Ferragamo, Louis Vuitton, Max Mara, Christian Dior, Gucci, Chanel and French brands with unpronounceable names. Attractive big discount Singapore summer sales feed the tourist shopping frenzy at places like Ngee Ann City, Takashimaya, Hereen, Lucky Plaza, Paragon, Tang's (next to the Singapore Marriott), Forum (Toys R Us), Shaw House, Tanglin Mall (with the hugely popular That CD music store) and the less pinching Far East Plaza where you can choose between fast-food and tailors.
There's a large Kinokuniya bookstore at Takashimaya. Borders has gone.
Armchair anthropologists can sit outside at the Coffee Club at Paragon shopping mall on the busiest section of Orchard Road and watch their fellow creatures as they move by preyed upon by desperate sales people carrying lethal doses of insurance venoms. You see workers families, students and a favourite local sighting, rich Indonesian women with bursting designer carrier bags.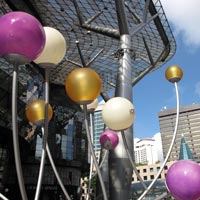 Ion, Orchard Road, mega shopping mall
For real armchairs, planter's chairs and all manner of Asian antique bric-a-brac head to Dempsey Road and its fascinating furniture warehouses. Also in the neighbourhood is the new, cool and hip Dempsey Hill development with reconverted warehouses doubling up as fancy restaurants and alfresco cafes. Try the steaks at the high-ceiling brick-and-mortar The Prime Society (tel: 6474-7427, www.theprimesociety.com), sample all manner of cheeses at jones the grocer (www.jonesthegrocer.com), or chill out at Margarita's (tel: 6471-3228) or Harry's @ Dempsey (tel: 6471-9019).
Durians are clearly in vogue. You can sit on The Esplanade outside Singapore's new Cultural Centre which everyone agrees is designed after one, and catch a free outdoor concert on Friday or Saturday night. It could be local performers or, during a festival, international groups. After that you can eat local hawker-style food next door alfresco at Makansutra Gluttons by the Bay.
Somewhere very few visitors go to is Holland Village, Singapore's Notting Hill Gate, a mix of apartments, cafes and spas. One path to follow there would be a nice foot reflexology session in a day spa followed by coffee and laksa noodles then a meander through shops selling antiques, silk shirts and beaded Indian slippers, ending up with a hair salon job – including your nails – and a splendid Italian repast. For Italian or Mediterranean, try ever-popular Original Sin (tel: [65] 6475-5605, Block 43 Jalan Merah Saga, #01-62 Chip Bee Gardens, Holland Village), Sistina, or Michaelangelo's. Later, off Orchard Road, knock back a pint or two, nibble on tapas, or sip Argentinian red at Emerald Hill.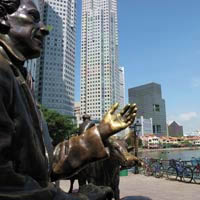 The CBD: A river runs through it
The Singapore Flyer (8.30am-10.30pm www.singaporeflyer.com) is a 165m-high ferris wheel in the Marina area that churns slowly allowing visitors to enjoy huge panoramas over a 30-minute "flight". It'll set you back just S$29.50 (adults) and $20.65 (kids). Strap yourself in and see the island as never before. If it's a fresh bay breeze you're after, head up to Ku De Ta (Marina Bay Sands SkyPark, tel: 6688-7688, www.kudeta.com.sg) on the top floor of the towering Marina Bay Sands Resort. Pick up a ticket from the hostess at the elevator by Tower 3, and then whoosh up to one of Singapore's trendiest venues. At sea level you can wander around the futuristic Gardens by the Bay.
Singapore represents a lot packed into a small place so walking round it is a perfectly viable way to explore. For long and steamy but informative trudges, The Original Singapore Walks (tel: [65] 6325-1631 or www.singaporewalks.com) lays on walking tours with themes lasting one-and-a-half to two hours either in the mornings or early evenings. The walks have themes such as "The Time of Empire", a colonial district walk and the suitably inscrutable "Red Clogs Down the Five Foot Way "for a Chinatown walk. The walks, conducted by people who sound as though they know what they are talking about, have the great merit of beginning bang on time outside a clearly lettered entrance of an MRT underground train station.
As befits a tropical island Singapore has ways of putting you underwater beyond snorkeling and scuba diving. It drops you into a tank with a bunch of sharks. This is not just what the government might like to do with the opposition. It is actually what Underwater World and Dolphin Lagoon (www.underwaterworld.com.sg) does for its visitors. Anybody who can swim and is 12 years and above gets a ninety minute session – 30 minutes of that 'wet time'- with qualified divers getting acquainted with tanks and kit and going under with sharks (presumably de-fanged and doped with marine 'halcyon') and eagle rays. Sessions are from 9am-5pm, price is S$95 and survivors get a t-shirt.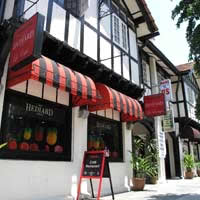 Tudor Court, Tanglin, end of Orchard
On dry land or as dry as mature secondary rainforest can ever be, Singapore offers the visitor with nature and imagination the Bukit Timah Nature Reserve (www.nparks.gov.sg) right in the undisturbed heart of the island. There are quite a few activities that can be arranged in the reserve but one of its most striking features is the HSBC Tree Top Walk.
This is a free standing suspension bridge connecting the two highest points in the reserve over 250m in length and up to 27m high through the top of the rain forest canopy. It is open 9am-5pm and from 8.30am on weekends and holidays. In fact the bridge is a part of the Mackrichie Nature Trail and you can best include it in the seven-kilometre round trip walk. For the averagely unfit, that should take you a gentle 3-5 hours depending on your pace.
One nightlife feature of Singapore, also up near Bukit Timah that is already quite well known to visitors is still talked of with enthusiasm by locals.
The Night Safari (tel: [65] 6269-3411 or www.nightsafari.com.sg) covers a zoo park area with 900 animals of 35 species over eight simulated warm climate geographical zones. The visitor can just walk through it passing rhinos, giraffes, hyenas and all sorts of characters you might bump into taking a stroll through the Burmese jungles or African savannah at night.
It takes three hours and it operates from 7.30pm to midnight, costing S$20 for adults and S$10 for children. You can do the whole thing by a tram too and I really wish they wouldn't tell you that.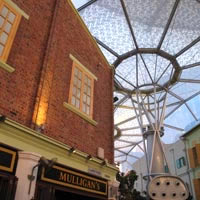 Clark Quay warehouse chic
Nightlife of a loud and rather less sophisticated kind is available downtown. Zouk (tel: [65] 6738-2988 or www.zoukclub.com) nightclub is a homegrown Singapore Club created from three converted 1919 warehouses and immensely popular amongst young Singaporeans.
Their Mamba Jamba music nights are almost three line whips amongst local clubbers.
A slightly different audience – mostly expatriate men said my tutting taxi driver – went to Crazy Horse Paris. Well, apparently not enough men, as the show dropped the final curtain end January 2007 after a brief, unconvincing stint.
The 450-seat theatre with bar and bistro staged glamorous dance shows with costume, music and song – all of it flashing – and nude women or rather artfully nude women, carefully choreographed with cleverly colourful lighting playing over the naughty bits. You would never know whether this was in spite of Singapore's social prudishness or in line with it.
Definitely not in line with that but a part of the city's theatrical tradition is Gold Dust (Orchard Tower Rear Block Level 2, 1 Claymore Road) a cabaret in a long tradition of transvestism and performance.
Opened in 2005 and a successor to the long standing rougher Boom Boom Room, Gold Dust is an upmarket show in the New York theatre/bar style with music, mardi gras costumes and now some girls mixed in with the transvestites. Centre stage is Singapore's drag superstar Kumar a stand-up comic and satirist who does a very popular Singapore comedy show. It makes you feel that however far respectability stretches in this town, you are on the edge of it. Shows from 10pm, S$22 weekdays and S$28 weekends.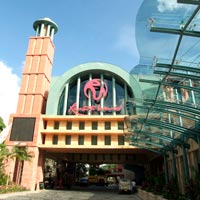 Resorts World Casino/ photo: Ivy Tsang
Any good Singapore guide will contain a smattering of islands. You can be physically on the edge too. Singapore's main island is surrounded by a casting of small islands which, apart from the famous and heavily linked up Sentosa, now sporting monstrous development in the name of Singapore fun, are largely ignored by tourism promoters. On Sentosa, head to Resorts World Casino (www.rwsentosa.com), a first for the city, and Universal Studios. The complex hosts a range of stays including child-friendly hotels like Hard Rock Hotel and Festive Hotel. More in our Singapore business hotels review and family hotels roundup.
Among other islands, the most active is probably Pulau Sakijung Bendere or St John's Island which Singaporeans are very fond of for picnics, the swimming beaches, barbeques and hiking. The Lazarus Islands are a couple of small sandy outcrops which are recommended for swimming scuba and snorkelling. For diving, so is Pulau Biola or Violin Island but the water there is rougher and the marine life impressive.
Pulau Tembakul or Pusu Island is of course really a giant turtle that turned itself into an island to save first a Chinese fisherman and then a Malay Muslim one. Now there is a Malay temple and a Chinese shrine there, there are regular pilgrimages, and the two groups swap visits. It is a geological mystery model in community relations.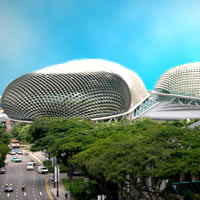 The Esplanade 'durian' is a hot spot for theatre and music shows / photo: Vijay Verghese
And apart from the half dozen or more islands that house chemical plants or cement plants or are left to nature to be strafed and bombed by the military, there is Pulau Ubin which is good for cycling and has I'm told a shrine on the grave of a German girl but where and why I have yet to find out. Access to all these Southern Islands is by a mixture of ferries and boat-hire that can be arranged at Clifford Pier. And that's our Singapore guide. Head off to the sharks and inspect teeth, pick the Singapore flier ferris wheel, or just shop your heart out.
Send us your Feedback / Letter to the Editor