BUSINESS TRAVEL
Jakarta survival guide
Our Jakarta business hotels review with a smattering of shopping and dining. But watch that traffic or you'll be becalmed for hours.
SEE ALSO Bali resorts review | Bali Spas | Bali Guide | Singapore Business Hotels | Bangkok Business Hotels | Kuala Lumpur Guide | Asia Dives

The Dharmawangsa Jakarta
JUMP TO Soekarno-Hatta International Airport | Business hotels | Shopping options | Dining | Hotel Contacts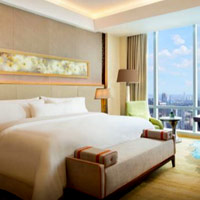 Westin Jakarta pastels/ photo: hotel
THERE is nothing like flying smack into a South China Sea typhoon to make one appreciate the simple things of life. I was heading back to Hong Kong on a rollercoaster storm-buffeted flight, having just sampled the biggest ride of them all – the mind-boggling typhoon that is Jakarta, seething with traffic, hustlers, demonstrators, pushcarts, scooters and wheels of every description. Yet, for all the apparent mayhem, real and imagined, the Indonesian capital had been surprisingly stimulating, friendly, and accessible. I peered at my Jakarta business hotels review notes as the bucking flight touched terra firma, and sighed gratefully.

E-mail Page

Print

Hotel Contacts
Jakarta has undoubtedly had a bad rap in the past few years. Fears of terrorism – starkly underlined by the 17 July 2009 blasts at the Ritz-Carlton and JW Marriott – political instability, and chronic pollution don't tend to make for cheery reports. But life ticks along in Jakarta, business appears to be booming, construction sites are everywhere, and fancy hotels are opening their doors to business travellers hoping to strike a few deals in the city. The gleaming office blocks are in blunt contrast to the slums but, still, the city has a charm all of its own – people are warm and chatty, and there are lush pockets of green amidst the all-pervasive grey.
Send us your Feedback / Letter to the Editor
There are millions of people in Jakarta – around ten million at last count. Needless to say, it's busy. Be prepared for the traffic. It's a hot topic of conversation amongst locals and travellers alike. Traffic woes can be kept to a minimum however. Just kick back in your hotel and make people come to you.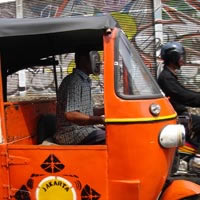 Jakarta scooter/ photo: Jane McLean
Some of the bigger hotels offer so many facilities that it is possible to do all your business, exercise, shopping, eating in one very big and comfortable space. Top hotels in Jakarta are havens in the middle of the bustle. And some of them are very lovely havens, indeed. Some connect conveniently to office blocks or super-smart Jakarta shopping malls, making it easy (but not necessarily cheap) to pick up a couple of Indonesian souvenirs, or that Louis Vuitton case. International brands are easily found, keeping shopping-addicts well entertained. There are dozens of golf courses, so plenty of opportunity to do business on the greens. Be aware of security though. It is tight everywhere. Searches of cars, bags, bodies are common – don't fret, it's all in the name of safety.
Arriving at Soekarno-Hatta International Airport
Jakarta's airport (so named after first President Soekarno and first Vice President Hatta) is 20km west of the city, and is relatively easy to navigate. Tourist visas can be obtained on arrival depending on one's nationality. Nationals from Brunei, Chile, Hong Kong, Macau, Malaysia, Morocco, Peru, the Philippines, Singapore, Thailand and Vietnam do not require a visa to enter Indonesia. Visa application forms can be found at www.indonesianembassy.org.uk. There are only two visa-on-arrival counters, so if your flight lands at the same time as a few others, run. Otherwise you'll be standing in a queue for a fair amount of time. The actual visa application process is straightforward. Ensure your passport is valid for six months, hand over US$10 (for a stay of seven days or less, US$30 for more than seven days), and you're set. For longer stays, apply for a visa in advance. After the visa process, proceed to the immigration queue. Three muted televisions behind the immigration desks are presumably there to prevent terminal boredom, which is great if you like watching cricket without the commentary.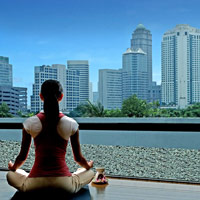 Yoga at Shangri-La/ photo: hotel
The arrivals area has money exchange counters, ATM machines, rental car counters, and taxi information. Most hotels offer airport transfers (for quite a substantial sum) but metered taxis are a good option to get into the city. As most Jakarta guides will point out, the best and most reliable taxi company in Jakarta is the Blue Bird Group (tel: [62-21] 798-9000, www.bluebirdgroup.com). They operate Blue Bird Taxis (blue Toyotas with various logos on the door, and a Blue Bird Group sign emblazoned across the top of the windscreen) and the more expensive Silver Bird Executive Taxis (usually a black Mercedes). For even more exclusivity, there is also a Golden Bird fleet. A Silver Bird will fly you into the centre of Jakarta in about 45 minutes for around 145,000 Indonesian rupiah. You could also try zipping around town on a Limobike. Available to rent daily or for single trips, the distinctive yellow Limobikes and protective Limobike gear will get you through the ever worsening traffic of central Jakarta (tel: [62-21] 798-9898, www.ningratmudamandiri.com). Rides 10km and below Rp35,000, up to 20km Rp40,000 and up to 40km Rp45,000). The exchange rate is roughly around US$1=Rp9,500.
So where are the hotels? Jakarta is huge, so it's best to find out where you'll be doing most of your business and pick a hotel accordingly. The airport is to the west, and Jakarta's port is to the north. The true centre of the city is Merdeka Square, holding the National Monument, a tall gold-tipped spire around which traffic seethes at rush hour. The Presidential Palace is next to Merdeka Square. Jakarta is so vast that there are a number of areas that are mini-centres on their own. Jalan Thamrin connecting with Jalan Sudirman farther south is the main road through the city. Perhaps most important for business travellers is the area south of Merdeka Square. Named the Golden Triangle, it is home to the city's major banks, multinational businesses, superior hotels, shiny shopping malls, foreign embassies, and is considered to be Jakarta's central business district.
Business hotels review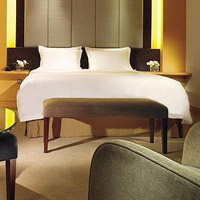 Grand Hyatt room/ photo: hotel
The latest addition to the Jakarta skyline is the gleaming reflective glass frontage of The Pullman Jakarta Central Park (November 2011), 25 minutes from the airport and about a 20-minute run downtown when the traffic is amenable. With 317 rooms, including 55 suites, Pullman signature rooms on higher floors offer generous views through floor-to-ceiling windows over West Jakarta with flat-screen televisions ranging from 32 inches to 42 inches, fast Internet access, and iPod docks in higher categories. Central Park Mall is next door for shopaholics and business travellers will appreciate brisk service and the crisp contemporary interiors.
On to our Jakarta business hotels review. A fitting place to start is at the tip of the Golden Triangle, at Bundaran HI, a large and active fountain at the roundabout where Jalan Thamrin joins Jalan Sudirman. Four hotels stand on each corner. Take your pick.
The newest kid on this hotel block is Hotel Indonesia Kempinski. Theoretically it's not the newest, but rather the latest incarnation (and newly managed by Kempinski) of one of Jakarta's landmark hotels. The original Hotel Indonesia was officially opened in 1962 by the former President Soekarno. The hotel is only one part of a giant complex that includes Kempinski Private Residences, an office tower and the large and swanky Grand Indonesia shopping mall. Hotel Indonesia Kempinski has kept its original exterior, but has been fully revamped on the inside. Rooms come in two adjacent low-rise buildings, one of them housing Executive Club rooms. The 289 spacious rooms are contemporary in style with subtle Indonesian touches – carpet is blended with a batik design – and all have the most up to date technology from the 42-inch flatscreen TVs with iPod connections to WiFi Internet. There's no shortage of dining options – a total of ten restaurants, no less, and a direct link to the mall offers even greater choice. Get massaged, smoothed, watered at the rooftop Anantara Spa, or take a dip in the pool with fine views over Jakarta's urban sprawl. Extensive meeting and banquet facilities complete the picture.
Just across the road is the Grand Hyatt Jakarta, also with direct access to yet another vast shopping mall. This time it's Plaza Indonesia, which houses everything from Diane Von Furstenberg to Kate Spade and Rebecca Taylor. If you can't be bothered walking a few steps to the mall, just stop by Hermes in the lobby of the Grand Hyatt. But it's not all about shopping, and work probably needs to be done. So head for one of the 428 rooms and suites, which are well turned out for the business traveller – no nonsense, minimalist with a masculine but sophisticated touch. A marble entranceway leads to a good-sized bedroom with 37-inch flatscreen TVs, and large desks.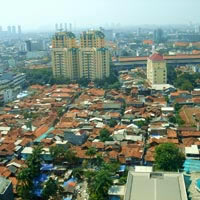 Jakarta view / photo: Jane McLean
Broadband Internet access is available for US$15 per day and WiFi is offered in public areas. Bathrooms are marble with a separate bath and shower. Upgrade to a Club Room for US$55 and get benefits such as free Internet and access to the Grand Club lounge. An attractive pool area with gazebos offers respite from the bustle, and there are six food and drink outlets for your culinary needs, including Sumire for Japanese and the Seafood Terrace (with some of the best seafood in town). There are 13 apartments for long-stay guests. Grand Hyatt is among the top Jakarta business hotels.
Aryaduta Hotel Jakarta is an ageing five-star hotel that is also managed by Hyatt. The hotel is a five-minute drive from Gambir railway station. There are 325 rooms and suites furnished with an Indonesian touch. They come with satellite TV, Internet access, three telephones, minibar, and a safe. The hotel caters for those in town for business with its 10 meeting rooms, boardroom and business centre. Dining options include the casual poolside bar or brasserie, or the slightly more upmarket Japanese and Italian restaurants. There is an outdoor pool and a gymnasium, and massage is available on request.
The Japanese-managed Hotel Nikko stands directly opposite Grand Hyatt with an austere black-and-white-marble lobby and rooms that are equally staid. There are two towers – the main tower and the Nikko with more expensive, larger rooms in the latter. It is a conveniently located option that offers all the amenities required in a business hotel, including Broadband Internet access, a business lounge, and ten function rooms – one of which accommodates 1,000 people. Hotel Nikko has six restaurants and lounges (including Origami for Japanese, and the Oak Room for wine and cigars), a pool, a fitness centre and spa. There's a shoe-shining service and a barber in the lobby, so no excuses for grubby pumps or bad hair. A shuttle bus goes between the hotel and Grand Indonesia on weekdays.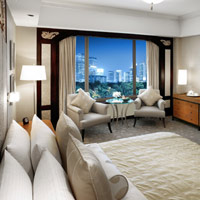 Shangri-La Executive Room/ photo: hotel
Mandarin Oriental, Jakarta is the other five-star property looking out over the busy roundabout. It underwent full renovation and reopened in 2009.
To the south on Jalan Sudirman is Shangri-La Hotel, Jakarta. It's a bit farther from the shopping malls, but is next door to office towers that house some of the big local banks as well as companies like Citibank and Exxon Mobile. A circular driveway leads up to the hotel entrance, transporting guests slowly away from the gridlock and fumes. As James Hilton said, "at Shangri-La, all was in deep calm" and it is certainly true at this Jakarta escape.
The place may be surrounded by urban development, but the grounds are expansive and the gardens lovely, creating a substantial oasis set away from the din outside. There are 668 rooms with superb views across the hotel's large pool, of a striking mosque and the city beyond. Rooms are spacious and businesslike with large desks, flatscreen TVs, and Broadband Internet access. Free WiFi is available in public areas. Bathrooms come with separate bath and shower. Upgrade to one of the 105 Horizon Club rooms and you'll get (among other benefits) express check-in, free breakfast, afternoon tea and cocktails in the Horizon Club and, thoughtfully, a complimentary clothes press on arrival.
There are dining options aplenty – eat at SATOO overlooking the pool or nip down to the basement for a nightcap at B.A.T.S. The former is the sort of place that effortlessly combines tranquil family evenings with a brisk breakfast pace as businessmen scuttle in and out, most gorging on the vast buffet and downing freshly brewed coffee that takes a while to arrive but is well worth the wait.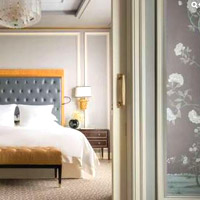 New Four Seasons all-Suite style/ photo: hotel
The hotel is brisk and busy, a popular spot for meetings, gatherings and fashion extravaganzas. For health buffs, there's a fitness centre, tennis courts and a putting green. Staff at Shangri-La are delightful – the kind that will chat as they serve. One struck up a conversation and proudly whipped out pictures of his wife and son. Service here is, well, like at home. Unsurprisingly, Shangri-La scores well on our Jakarta business hotels review. It is a versatile lodging that has something for everyone. Shangri-La Residences opened in May 2008 offering long-stay guests similar services to the hotel, but in an adjoining building.
With a 20-year heritage behind it, Four Seasons Hotel Jakarta (June 2016, at Jalan Jend. Gatot Subroto) finally moved and reopened in Capital Place, a mixed use development in the financial district, with 125 luxury suites designed by Cesar Pelli. Classic understated interiors offer pale grey pastel flourishes, flower motifs on walls, a puckered leather headboard, classic darkwood drawers, carpeting, and lavish marble bathrooms. Cream divans, large flatscreen TVs and large windows complete this lush ensemble. Also expect an alfresco pool, a well featured and stylish luxury spa (with a hammam), complimentary WiFi and 24-hour fitness centre access. This reinvented hotel serves up four food and beverage options including the darkly inviting Nautilus Bar and Dolcetto for quick healthy foods and coffee on the fly. Think The Regent Singapore perhaps and the picture will take shape.
The Keraton at The Plaza (opened early 2012) is well positioned for both leisure and business travellers. Expect complimentary WiFi and more. The hotel serves up an engaging blend of contemporary and classical Indonesian with soaring glass windows in the lobby through which light streams in. This is complemented by marble and local flourishes.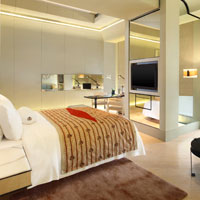 Keraton style/ photo: hotel
In-room find Blu-ray DVD, 42-inch flat-screen TV, iPod dock, and a second 25" LCD TV with PC hook-up. All this within pastel tones and clean lines and the occasional soaking tub for tired apres-work bodies. Room decor is very easy on the eye and does not strain to make a point. The 140-room Keraton at The Plaza aims to make ripples among the top Jakarta business hotels. Add to this, butlers, a spa, and The Luxury Collection Concierge. Shopping by the yard is all available right around the corner.
Staying south of the centre, still in the Golden Triangle, Mega Kuningan Complex is a new and ever-developing commercial district. It is a quiet area almost empty of traffic. A couple of the biggies, JW Marriott and Ritz-Carlton, are located here, as well as some of the finer apartment blocks in town. Gran Melia Jakarta is another Kuningan resident, with a distinct exterior and interesting design angles inside. In the 428 rooms and suites, expect satellite TV, Broadband Internet, minibar, alarm clocks beside the bed, and safes. Bathrooms have separate shower and tubs. Guests are spoilt for choice on the dining front – a grand total of eight restaurants to suit all tastes from cool and casual by the pool to European fine dining at Colvmbvs on the fourteenth floor. There is ample space to do business with 11 meeting rooms and a pillar-less ballroom that can fit 3,000 bodies for a standing reception (1,700 for dinner). Feeling energetic? Swim in the pool, hit the tennis courts or jog around the running track.
JW Marriott Jakarta is an all-mirror glass affair, and one of the newer Jakarta business hotels, open since 2001. It is one of the two hotels targeted in the 17 July 2009 blasts (the other is the Ritz-Carlton) that caused substantial damage. As our reporter noted on an earlier visit, once your car or taxi makes it through the lift-bonnet and open-door searches by stern security men, you'll be greeted with a mix of modernity and elegant homeliness.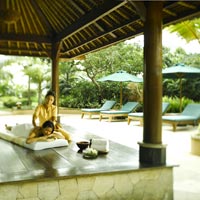 Spa at JW Marriot Jakarta/ photo: hotel
A café outside the lobby is a pleasant place to while away some time reading the paper or studying the doormen, who appear to greatly enjoy opening doors for a steady stream of business people. The 333 rooms are warm-toned, light and spacious with glass-topped desks, 25-inch flat-screen TVs, Broadband Internet (free depending on the room package), and safes that will fit a laptop.
Bathrooms are also spacious with separate bath and shower. Executive Floor guests get access to a private lounge (with lovely views) and a butler service. Dining choices include Japanese at Asuka, Cantonese at Pearl or the popular and extensive buffet at Sailendra. A pool and fitness centre will satisfy exercise cravings, and be sure to get knuckles popped and hamstrings pummelled with an Indonesian massage at the spa.
Not far from here on Jl. H.R. Rasuna Said Kav is the soaring Gama Tower which welcomed The Westin Jakarta (August 2016) on its higher floors from 50 to 69. Touted as the 'highest hotel in Indonesia' - though 'tallest' may be more appropriate, the SkyLobby is perched on the 60th floor with amazing views of the city. The 272 Hirsch Bedner designed rooms are bright and contemporary in pale yellow-gold pastels. Expect a spa, a WestinWORKOUT fitness studio, and a 200-capacity top floor banquet space for flashy events - with a view of course.
Directly opposite (and linked by an underground tunnel) sits The Ritz-Carlton Jakarta, Mega Kuningan, it's grand facade damaged by the 17 July 2009 blasts (which also targeted the JW Marriott). On an earlier visit our reporter noted its 62 rooms are spacious and decadent with 47-inch flat-screen TVs, large safes, floor-to-ceiling windows, Internet access, as well as large bathrooms, also with flatscreen TVs and BVLGARI amenties.
The hotel is elegant, sophisticated and European in style; with perhaps a more austere feel than its sister property across the road. The 333 rooms feature floor to ceiling windows, 42-inch plasma screen TVs, 300-thread-count linens, sunken marble bathtubs in the bathrooms – in short, it's all pretty fancy. There is Broadband Internet access available in rooms (as well as WiFi in public areas) and safes that will hold a laptop.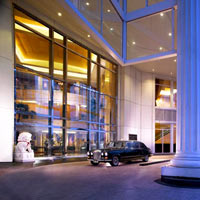 Ritz-Carlton Jakarta, Mega Kuningan/ photo: hotel
The restaurants at The Ritz-Carlton offer predominantly western fare (Italian at Portovenere or plenty of grilled meat at The Steak House), but if it's Asian fine dining you're after, just walk through the tunnel to the JW Marriott.
Meeting facilities are also shared between the two hotels, so if you run out of room at one there is the option of going across the road. There's a pool, health club and a spa with 21 treatment rooms. This is a solid Jakarta business hotel choice.
The swanky The Ritz-Carlton Jakarta, Pacific Place, in Sudirman is the second Ritz in the city. Its 62 rooms are spacious and decadent with 47-inch flat-screen TVs, large safes, floor-to-ceiling windows, Internet access, as well as large bathrooms, also with flatscreen TVs and BVLGARI amenties. The hotel has a 44,000sq ft ballroom, an Executive Club, meeting rooms, a spa and health club, as well as tennis and basketball courts. It also has direct access to Pacific Place mall and Jakarta's stock exchange. There are one, two and three-bedroom suites for long-stay guests.
Opened March 2015 in Kuningan the chic 173-room Raffles Jakarta brings fresh flair to this upscale district along with its de rigueur butlers. Expect hushed grey pastels and cream marble in rooms with rich blue carpets, soaking tubs, rain showers, twin vanities, flat-screen TV, DVD player and surround sound for your evening news - or apres-work movie. A pillow menu is available for stressed road warriors and that trademark shoeshine service.
Signature rooms, like the Raffles rooms, are a spacious 60sq m with floor-to-ceiling windows welcoming of light. The Dian Ballroom offers 2,500sq m of open unobstructed space for small corporate meetings, bigger conferences and MICE events or weddings and banquets.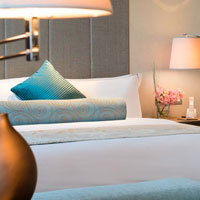 Raffles Jakarta pastels/ photo: hotel
The spa with six treatment rooms is available for wellness workouts while the fitness centre provides a 25m outdoor lap pool, tennis courts, a children's pool, yoga space and Jacuzzi.
Le Meridien Jakarta is on Jalan Sudirman, distinctive from the road with its blue and white exterior. It's directly opposite the World Trade Centre, another major business block. This hotel has a unique style with an emphasis on Javanese furniture and art.
The lobby is bright and breezy with windows looking through to the pool, rock and water features, blue columns, oversized Javanese paintings on the walls and a dragon slithering down the banister of the staircase.
Two towers house 346 rooms and suites that vary in size from 34sq m to a whopping 180sq m. Room features include flatscreen TVs, Broadband Internet and dual-line telephones. Bathrooms are spacious with separate bath and shower. Royal Club guests get access to a smart business lounge with meeting facilities, free Internet access and a tasty afternoon tea buffet. If you're feeling extravagant, you could spend a fair bit more for the jaw-dropping penthouse. The "Rumah Kudus" is a traditional Javanese palace house, built in 1820 and covering two floors. It is made from exquisite, intricately hand-carved teak wood with two bedrooms (one with a four-poster bed), and traditional Indonesian furniture.
There are six restaurants and two bars at Le Meridien – sample the meze at one of the only Lebanese restaurants in Jakarta or rendezvous at 'Le Rendez-Vous' in the lobby. The pool and garden area provides peace from the traffic outside, while the spa has enough treatments to please the fussiest of spa goers.
Next door is InterContinental Jakarta MidPlaza, which caters largely to the Japanese market with a number of the staff speaking Japanese. It is sleek in style with Asian touches such as Japanese art and Chinese wood cabinets in some of the rooms. Features include 42-inch flatscreen TVs, Internet access (both plug-in and WiFi), large desks, and spacious marble bathrooms with separate bath and showers. A newly redesigned Club Lounge offers fine views and benefits for club guests that include private access, personalised check-in, free laundry and pressing services, complimentary local calls, and free Internet access. Court your business colleague at the seductive, dimly-lit Italian restaurant, Scusa.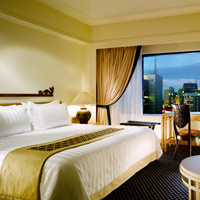 Le Meridien Superior/ photo: hotel
North of the Golden Triangle, just past Merdeka Square near the Presidential Palace and the National Museum, is one of two hotels in Jakarta by the Alila brand. Alila Jakarta has a pared-down look with wooden floors in the lobby and neutral toned furniture. This theme continues in the 215 rooms, with parquet floors, and minimum fuss. In rooms expect TVs (not flat screen), free Broadband Internet, a mini-bar, coffee-making facilities, a safe that will fit a laptop, as well as DVD players in the larger suites. There is a small rooftop pool, a fitness centre, and a spa with treatment rooms that are large enough to fit groups. Eat at Shanghai Storm or 'buzz' café. Alila Jakarta has one floor set aside for ladies only.
The Millennium Hotel Sirih Jakarta is located south and slightly west of the national monument in the district of Sirih. Its 400 basic rooms offer satellite TV, Internet access, coffee and tea-making facilities, and a minibar, which is only set up if requested. Computers (with Internet access) and fax machines are available in the business centre; there are 17 meeting rooms and a ballroom for events or conferences. Not a huge choice of dining options here – there is just the one Chinese restaurant. There is a pool and garden area that is occasionally used for weddings.
On Jalan Thamrin is the four-star Sari Pan Pacific Jakarta, also near Merdeka Square and convenient to embassies and businesses located all along this busy main drag. The all-enduring 18-storey, 32-year-old hotel has 400 rooms that are on the smaller side, with satellite TV, minibar, a small safe and Broadband Internet access (for around US$16 per day). Suites have extras such as DVD players, and small kitchenettes. The hotel lobby lays claim to one of Jakarta's original Japanese restaurants as well as one of the only Irish pubs in the city – the nightly live music has revellers enthralled but does not echo up to the rooms, say guests. After a few pints it doesn't really matter anyway.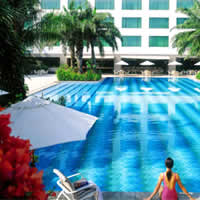 Mulia poolside/ photo: hotel
There is a quaint conservatory on the top floor where you can look down at the lines of traffic, and a business lounge where breakfast and evening cocktails are served. The ground floor pool attracts plenty of locals on weekends where guests can book in for cooking lessons or send the kids off to 'Science Magic Class'.
Other hotels near Merdeka Square and the National Monument include the large Hotel Borobudur, and the three-starred Hotel Arcadia Jakarta and Ibis Tamarin. Ibis has several properties in Jakarta offering simple, workable rooms and limited facilities.
Occupying 23 acres of land, Hotel Borobudur is certainly one of the bigger Jakarta hotels with 695 rooms, suites and serviced apartments. The lobby is a grand affair with a sweeping staircase and plenty of marble. Rooms are spacious and feature coffee and tea making facilities, Broadband access, satellite TVs , three-line telephones, safe and a minibar. Much larger Junior Suites have a separate lounge area, bedrooms with an en suite bathroom, fax machine, and complimentary Internet access. The newly revamped Executive rooms are warm and contemporary in design and offer ergonomic work stations, as well as modern bathrooms with separate baths and rain showers. Train like an Olympian in the Olympic-sized pool, sharpen your racquet skills on one of the three squash courts or eight tennis courts, or sweat up a storm on the running track. Pilates and yoga classes are available for free at the fitness centre. To replace all that lost energy, wine and dine at one of the six restaurants and bars. Hotel Borobudur has ample space for meetings and events and also has a comprehensive business centre, which offers secretarial services as well as local interpreters. The hotel is child-friendly with a supervised kids' club and an outdoor playground.
Moving southwest is the huge and rather grand Indonesian-owned Hotel Mulia Senayan. With 996 rooms, it is certainly not small, and its busy lobby reflects the vast size.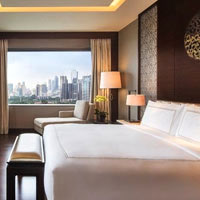 Fairmont Jakarta/ photo: hotel
It is in a good location for offices in the Senayan area, and is also handy to Senayan Golf Course, which it overlooks. Rooms have 40-inch flatscreen TVs, dual-line telephones, Broadband Internet access (WiFi in public areas). Those in Mulia Executive Rooms get access to the Executive Lounge, which offers benefits such as complimentary green fees at the nearby golf course. There are ample meeting facilities, eight restaurants and bars, a fitness centre, spa, and swimming pool.
Not far from the Jakarta Convention Center and the Indonesia Stock Exchange, the Fairmont Jakarta (opened January 2015) is also conveniently connected to the Plaza Senayan shopping mall and office tower. This makes it a good bet for both leisure and business stays though the chances are you will be an executive suit in need of Fairmont's signature brisk service and amenities that include 380 rooms with skyline views, 108 Sky Suites that range up to 128sq m offering excellent long-stay options in a residence style set-up with kitchen and dining area, afternoon tea at the Peacock Lounge, the Willow Stream Spa, and 3,500sq m of meeting space including a 1,200sq m ballroom for MICE and more. In-room expect timber flooring and darkly corporate woody tones, flat-screen television, long working desks, often with a fabulous city view, and cream furniture. It is stylish and functional.
An interesting Jakarta business hotel at a value price is the HARRIS Suites fX Sudirman. Centrally located on Jalan Jend Sudirman in Senayan, this funky hotel's 147 rooms and suites are roomy and bright with the signature HARRIS orange tones visible throughout. The staff is friendly, and the hotel offers a slew of facilities and services to keep pinstripers happy connected.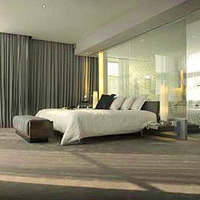 Kemang Icon Illusion/ photo: hotel
Expect spacious rooms with free WiFi, phone, hairdryer, inroom safe, flatscreen TV, characterful orange flip flops and even aromatherapy oils. Guest will have access to a small pool, gym and tennis courts. Since its located right inside the fX Sudirman Mall, there's plenty of dining options too. Grab a room on the top floors to get a good view of the city.
The Kemang district in South Jakarta is a quaint residential area that is popular among expats, with boutique shops, good restaurants and a couple of great hotels. Kemang Icon is one of them. Managed by the Alila brand, it's a small Jakarta boutique hotel serving up only 12 rooms. But what it lacks in size it makes up for in all its quirky substance. Each room (with names like Imperia, Intrigue and Ionic) has its own theme – try sleeping with the 300-year-old Chinese puppets on the wall of the Intrigue room, or get intimate in the dark and seductive Intima room. Regular guests have their favourites – request a room in advance if one in particular appeals. High ceilings accentuate the spaciousness of the rooms, which have plasma TVs, free plug-in and Wireless Internet access, and complimentary gourmet snacks. Bed and bathrooms are open plan. Bathrooms are all-white affairs with free-standing bathtubs and L'Occitane amenities. The hotel is chilled out and homely, despite the idiosyncratic design. The rooftop pool and bar area is an excellent spot to wind down after a day's work.
The Grand Kemang, with 203 rooms, is a slightly older hotel that opened in 1974. It has been through several makeovers to end up in its current guise, which has an urban contemporary edge. The rooms are minimal in design with Indonesian art on the walls. All rooms come with TVs, minibar, Broadband Internet, and small bathrooms. For more space, try the 'Chiara' Suite. There is a pool and gym, a business centre and plenty of dining options – for Englishmen wishing for a taste of home, there's always bangers and mash at The Stanford Arms.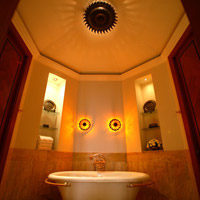 Bathe in style at Dharmawangsa/ photo: hotel

In a residential tree-lined quiet street near Kemang sits one of the most elegant of the city's hotels. At The Dharmawangsa, expect the ultimate in good taste, understated sophistication and style. Everything is nigh on perfect here; you'd be hard pressed to find a blade of grass out of place on the manicured lawn.
The Dharmawangsa is uniquely Indonesian in character; the architecture is based on the surrounding residences, so it feels more like a stately home than a hotel. Don't expect glitz and glamour, but rather subtle flourishes – musicians playing traditional Javanese instruments in the lobby, fresh jasmine flowers in the rooms, Indonesian artefacts resting neatly in the entrance hall.
All 99 rooms and suites are designed from one of five Indonesian styles: Java, Bali, South Sumatra, East Indonesia and Pesisiran. Rooms have private balconies, and large marble bathrooms. TVs are hidden in wooden cabinets, and there is Internet access and WiFi.
Indeed. You could spend days here, just perched by the pool, being pampered at the spa, or in the library reading a book. If you really need to leave, there are classy chauffeur-driven wheels on hand. Lounges and restaurants are equally refined – try Sriwijaya Restaurant for fine French-inspired Indonesian cuisine, the Jakarta Restaurant for international fare and Asian, or the well stocked Wine Cellar. Dharmawangsa is more a welcoming residence than a hotel and is an excellent choice for long stays in Jakarta.
(The Dharmawangsa Jakarta features in our exclusive by-invitation Top Asian Hotels Collection, featuring the best Asian hotels, resorts and spas in a printable A4 page with stunning visuals.)
The 253-room DoubleTree by Hilton Jakarta - Diponegoro serves up meetings facilities, an outdoor pool for an evening refresh and three restaurants. The hotel is not far from Plaza Indonesia, where more entertainment and food offerings are to be had. The meeting space at the hotel spans a generous 1,400sq m with seven function rooms and a ballroom that can handle up to 800 persons cocktail style.
Shopping is a popular pursuit for well-heeled Indonesians. And this is certainly reflected in the number of Jakarta shopping malls. They are virtually everywhere. And some of them are very upscale indeed. Expect to see all the brands including Louis Vuitton (seven stores), Gucci, Chanel, Cartier, and plenty more. If these are the shops you're after, be sure to visit Grand Indonesia (www.grand-indonesia.com) and Plaza Indonesia (www.plazaindonesia.com). Both are smart, huge affairs to rival any shopping mall in, say, Hong Kong. In fact, Grand Indonesia has some stores that cannot be found in Hong Kong like TopShop and GAP. Continue your Jakarta shopping binge with Harvey Nichols, SEIBU, and Alun Alun department store (www.alunalunindonesia.com), where you'll find Indonesian clothing and handicrafts.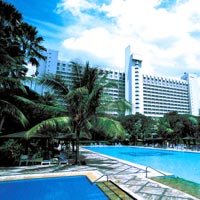 Hotel Borobudur pool/ photo: hotel
Senayan City (www.senayancity.com), part of a new development that includes apartments and offices, has dozens of shops and restaurants, as does Pacific Place (www.pacificplace.co.id). For computer stores and electronics, head to Mangga Dua mall (tel: [62-21] 601-7771). Sarinah Department Store (Jalan Thamrin) is an option for Indonesian souvenirs, and for antiques (that may or may not be the real deal) head to Jalan Surabaya, a flea market in Menteng. Bargain hard. Moving away from the giant malls, Jakarta bargain shopping is at its best at Tanah Abang Market in central Jakarta. Trawl here for the cheapest prices for jeans, T-shirts, and casual trousers. Ancol to the north has cheap clothes for kids but this can be a bit of a hike when the traffic is backed up.
Some Jakarta dining options
It is not hard to find places to eat in Jakarta. The big hotels all have fine choices with varied cuisines – anything from Japanese, Cantonese, Lebanese to Italian, French, Indian and, of course, Indonesian. The high prices are in line with the five-star service at many of these places. The shopping malls also offer a huge array of eating choices, from sushi to burgers to gado gado or a bowl of pho. Starbucks continues its quest for world coffee domination and is everywhere, competing alongside other coffee chains such as Coffee Club and Coffee World.
For simpler non-hotel Indonesian food try Sate Tomang (www.satetomang.com) or Sate Khas Senayan (tel: [62-21] 392-8763), which has a number of outlets in the city. If colonial ambience is more your style, visit Oasis (No.47, Jl. Raden Saleh Raya, tel: 315-0646) for Indonesian fare in an old Dutch villa. And if your belly is up to it, pick up some noodles or an avocado juice from one of the many street vendors around the city. Other eclectic options might include old-timer Kinara (Indian), Café Batavia (international) in an old antique-crammed colonial building, Baby Buddha (Thai), or the livelier Black Cat Jazz and Supper Club.
Pick carefully. There's always that traffic to contend with.
Send us your Feedback / Letter to the Editor
FAST FACTS

/ Hotel Contact List

Room rates may be subject to a service charge and government tax unless stated otherwise. Several hotels offer promotional rates especially during the monsoon season from October to April. The exchange rate is currently around US$1=Rp9,500. Generally, only major hotels accept American dollars. Pick up a copy of magazine Jakarta Java Kini (www.jakartajavakini.com) found at many hotels and restaurants for the latest goings on.
Jakarta business hotels and long-stay guide
Alila Jakarta. Tel: [62-21] 231-6008, fax: 231-6007, (e-mail: Jakarta@alilahotels.com or www.alilahotels.com/jakarta).
Aryaduta Hotel Jakarta. Tel: [62-21] 23521234, fax: 2351-8600, (e-mail: info.jakarta@aryaduta.com or www.aryaduta.com).
DoubleTree by Hilton Hotel Jakarta - Diponegoro. Tel: [62-21] 3190-4433, (doubletree.hilton.com).
Fairmont Jakarta. Tel: [62-21] 2970-3333, (e-mail: Reservations.Jakarta@Fairmont.com or www.fairmont.com/jakarta/).
Four Seasons Hotel Jakarta. Tel: [62-21] 2277-1888, (www.fourseasons.com/jakarta/).
Gran Melia Jakarta. Tel: [62-21] 526-8080, fax: 526-8181, (e-mail: gran.melia.jakarta@melia.com or www.granmeliajakarta.com).
Grand Hyatt Jakarta. Tel: [62-21] 390-1234, fax: 390-6426, (e-mail: jakarta.grand@hyatt.com or www.jakarta.grand.hyatt.com).
Grand Kemang. Tel: [62-21] 719-4121, fax: 719-4131, (e-mail: rsvp@gk.mesahotelsandresorts.com or www.grandkemang.com).
HARRIS Suites fX Sudirman. Tel: [62-21] 2555-4333, fax: [62-21] 2555-4321, (e-mail: res@harris-fx-jakarta.com or fx-jakarta.harrishotels.com).
Hotel Borobudur Jakarta. Tel: [62-21] 380-5555, fax: 380-9595, (e-mail: welcome@hotelborobudur.com or www.hotelborobudur.com).
Hotel Indonesia Kempinski. Tel: [62-21] 2358-3800, fax: 2358-3801, (e-mail: reservations.jakarta@kempinski.com or www.kempinski-jakarta.com).
Hotel Mulia Senayan Jakarta. Tel: [62-21] 574-7777, fax: 574-7888, (e-mail: reservation@hotelmulia.com or www.hotelmulia.com).
Hotel Arcadia Jakarta. Tel: [62-21] 230-0050, fax: 230-0995, www.ibishotel.com/gb/hotel-1734-hotel-arcadia-jakarta/).
Ibis Tamarin. Tel: [62-21] 3912323, fax: 315-7707, (www.ibishotel.com/gb/hotel-1867-ibis-jakarta-tamarin/).
InterContinental Jakarta MidPlaza. Tel: [62-21] 251-0888, fax: 251-1777, (e-mail: jakarta@ihg.com or www.ihg.com/intercontinental/).
JW Marriott Jakarta. Tel: [62-21]5798-8888, fax: 5798-8833, (www.marriott.com/hotels/travel/jktjw-jw-marriott-hotel-jakarta).
Kemang Icon by Alila. Tel: [62-21] 719-7989, 719-8968, (e-mail: kemangicon@alilahotels.com or www.alilahotels.com/kemangicon).
Millennium Hotel Sirih Jakarta. Tel: [(62-21) 230-3636, fax: 230-0880, (e-mail: sales@millenniumjkt.com or www.millenniumhotels.com/millenniumjakarta/).
Raffles Jakarta. Tel: [62-21] 2988-0888, (e-mail: jakarta@raffles.com or www.raffles.com/jakarta/).
Shangri-La Hotel, Jakarta. Tel: [62-21] 570-7440, fax: 570-3530, (e-mail: reservations.slj@shangri-la.com or www.shangri-la.com/jakarta/shangrila).
The Dharmawangsa. Tel: [62-21] 725-8181, fax: 725-8383, (e-mail: reservation@the-dharmawangsa.com or www.the-dharmawangsa.com).
The Keraton at the Plaza, Jakarta. Tel: [62-21] 5068-0000 Fax: [62-21] 5068-9999, (e-mail: luxurycollection.keraton@luxurycollection.com or www.luxurycollection.com/keraton/).
The Westin Jakarta. Tel: [62-21] 2788-7788, fax: 2788-7789, (e-mail: res.westinjakarta@staystarwood.com or www.starwoodhotels.com/westin).
The Park Lane Jakarta. Tel: [62-21] 828-2000, fax: 828-2222, (e-mail: info@parklanejakarta.com or www.parklanejakarta.com).
The Pullman Jakarta Central Park. Tel: [62-21] 2920-0088, fax: 2920-0099, (e-mail: reservation@pullmanjakartacentralpark.com or www.pullmanjakartacentralpark.com).
The Ritz-Carlton Jakarta Mega Kuningan. Tel: [62-21] 2551-8888, fax: 2551-8889, (e-mail: rc.jktrz.leads@ritzcarlton.com or www.ritzcarlton.com/en/Properties/Jakarta/).
The Ritz-Carlton Jakarta, Pacific Place. Tel: [62-21] 2550-1888, fax: 2550-1999, (www.ritzcarlton.com/en/Properties/JakartaPacificPlace/).