SO WHO'S THE REAL "Pearl of the Orient"? Phuket? Penang? Macau? The three have come close to blows over this prized mantle though attention was briefly distracted at one point with the announcement of Hongkong as the "City of Life". If you were presented a choice between visiting the "Pearl of the Orient", the "City of Life" or the "City of Brazen Hussies Who Will Do Unspeakable Things", where might you place your motivated travel dollar? Our top choice, of course, was shown the door. But that's another matter.
The fun has gone out of destination monikers and we must content ourselves with labels like "Land of Morning Calm" and "Surprising Singapore". Phuket has the makings of a true-blue picture-postcard destination. For one, it has generous lashings of brazen hussies, and ladies with deep voices, firm handshakes and bobbing Adam's apples who will convince you, after quite a few Singha beers, that they are all famous models of Swedish descent.
After a few Singha beers the world is a very nice place indeed. And yes, there's terrific beaches, turquoise seas, hideaway islands, fabulous arcing bays, giddy discos, fine food and cut-price knock-offs of any designer label you care to mention. Khop khun krap. Or, simply, thanks.

See Slide Show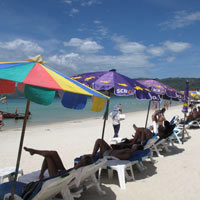 Patong Beach: Catching the rays
Phuket is a maturing and increasingly crowded "pearl" but it reigns supreme with some of the best beaches and clearest waters along the Andaman Sea. Shaped like a tear drop (or pearl) and connected to the Thai mainland by the Sarasin Bridge at the very northern tip of the island, Phuket's best (and most popular) beaches reside along the mid section of its "wild west" at whose epicentre lie the bright neon lights, shops, bars, hawkers and the scrambling massage ladies of Patong Beach.
Twenty years ago Patong was just a quiet backwater with casuarinas trees, the odd shop and no beach road. Today, if you doze off on the beach, you will likely wake up with dreadlocks and an army of tough ladies pounding your back before you can say "Oh Krap".
Patong has burst into prominence – and dogged notoriety – like teenage acne. This is where beetroot-faced travellers assemble to strut their cellulite wobble and parasailing skills. If you prefer men with necks like tree trunks and women with bodies like ripening corn, you'll have to head to Club Med.
Send us your Feedback / Letter to the Editor
Patong is the epicentre of Phuket's tourist gew-gaws, t-shirts and bars but before you head down, try the chic beachfront boardwalk environs of the Twinpalms Catch beach club and restaurant (tel: 316-567, www.catchbeachclub.com) on quiet gentrified Surin Beach, a 15-minute drive up the coast. Excellent food (check out the Tuesday seafood beach barbecue and Friday night barbecue), chill-out music, eye-popping sunsets, and beautiful people with microwave tans. You'll want one too. Fastest route? Sit by the fire. That's right. Twinpalms has merry flames licking up from the timbers to create a festive mood. Despite the heat, it works, and lends some offbeat romance to the spot.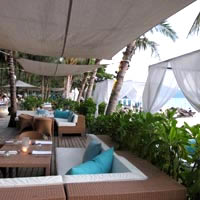 Catch by Twinpalms on Surin Beach
Mega restaurants along Patong Beach Road churn out acceptable Thai and international fare while those in sois (streets) further inland turn up the lights, volume and prices to snare beer-dazed visitors unaware that their green curry chicken should have less water and more spice. Just about every cuisine, including bland English stodge (pub grub at The Green Man, tel: 280-757, www.the-green-man.net), is available along with Muslim "halal" and kosher.
At the corner of the beach road (more properly Thaweewong Road) and throbbing Soi Bangla, is the ever-popular Savoey Seafood (tel: 341-171, www.savoeyseafood.com) with obligatory cultural shows, dances and hordes of flummoxed tourists including snap-happy Japanese.
Elsewhere, quieter and more interesting dining choices might include Mom Tri's Kitchen (which has a well stocked cellar and romantic views over the Andaman Sea, tel: 333-568/9, www.momtriphuket.com) and the Boathouse Wine and Grill (tel: 330-015/6/7, www.boathousephuket.com), Lim's (tel: 344-834) for Thai in a modern setting at Kalim Bay, Krajok See in the heart of Phuket town for home-style Thai cooking in a Chinese shophouse where the dancing continues late with the odd sprinkling of celebrities, or the stylish Watermark at Boat Lagoon (www.watermarkphuket.com) for modern Sydney fusion.
The Two Chefs chain (www.twochefs-phuket.com) has three locations in Kata and Karon, and offers Western fusion cuisine. For fresh seafood try Mali Restaurant (tel: 284-404 ext 6, maliseafood.com/), which has branches both in Kata and Karon. The menu covers both Western and Thai. The star attractions are daily catches from the Andaman Sea. In Phuket town, locals recommend La Gaetana, a small family-run Italian nosherie with finger-licking-good food.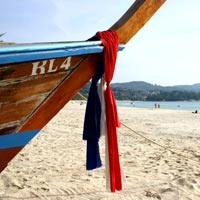 Kata Beach fishing boat
On the east coast, Laem Hin restaurant lets you net your own fish before the meal gets cooked. And worth noting too are old stalwarts like Kaneang I and II at Chalong Bay for good value Thai seafood. If you enjoy noodles, try asking for the special Phuket yellow egg noodle called "mee luang". It is a spaghetti-thick soft yellow noodle and utterly delicious. In Phuket town, Tung-ka Café atop Rang Hill is a pleasant spot with nice views and decent ice-coffee. Also check out Anna's Phuket for more upmarket international cuisine, or for some Thai food head to Siam Indigo.
Don't get overly adventurous with the menu or you may be disappointed. Needless to mention, the views and menus are always enjoyable at the cliff-edge Baan Rim Pa (Kalim Beach Road near Patong, tel: 340-789, www.baanrimpa.com). This is a popular spot for sundowners or lavish white-tablecloth dining laced with liberal doses of Singha Beer or a genteel European red or white. Good nosh, convivial atmosphere and jazz. Bookings are normally advised, especially if you wish to catch a stress-free sunset. Lie back to tinkling ivories, sample Royal Thai cuisine and browse Baan Rim Pa's worthy Thai Cookbook that, fortunately, is also available online. Another excellent sundowner viewpoint, albeit, a far drive out, is the rooftop Baba Nest (www.sripanwa.com) at the swish Sri Panwa villa resort. A plain timber deck with floppy red-and-white stripe cushions ringed by water looks out over just about everything. Breezy, informal yet chic, and thoroughly entertaining without too much noise or unnecessary razzmatazz. Set a little lower down is the elegant and minimalist Baba Pool Club set in water.
You can also pick up some Thai cooking tips of your own at the newly opened Blue Elephant Governor Mansion Phuket Cooking School & Restaurant (tel: 354-355, e-mail: phuket@blueelephant.com, www.blueelephant.com), the chain's 13th international location. Lessons run mornings from 9.30am-12 noon, and afternoons from 1.30-4pm. Coyote on the Patong Beach Road serves up feisty Tex-Mex and margaritas with a live band in attendance.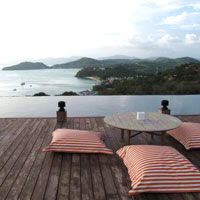 Baba Nest at Sri panwa
For transport, the simplest way to get around Phuket is to hire a Toyota Vios (about $40 or so per day with insurance) or a regular car where you don't have to wrestle with the gears. Motorbikes and mopeds are available but risky on Thailand's anything-goes roads. Both Avis (Phuket Airport tel: [66-89] 969-8674, www.avisthailand.com) and Budget (Phuket Airport tel: [66-76] 205-396, www.budget.co.th) have offices at various hotels and at the airport. The ubiquitous red-van tuk-tuks are the conventional mode of transport and will charge from Bt100-Bt500 depending on the distance. Remember to set a price before you set off, and don't forget to haggle. From the airport to Patong may cost Bt600-Bt800 and up.
Our Phuket fun guide now meanders into the dim but none-too-discreet world of after dusk nightlife. Soi Bangla is the neon hub of Phuket, and even if you don't get to see it you will certainly hear it if you are within shouting range. Several open-air bars line the little sois branching off the road where hammered Scandinavian tourists hammer nails into sawed-off tree trunks demonstrating poignantly why men will remain proud Hunters while the women grab the home, the TV, the kids, and the life insurance.
The traditional Thai greeting of "Sawasdee" is replaced here by urgent cries of "Cola" and "You handsome butterfly". This butterfly hauled himself through the pulsating throb of the Soi Crocodile and its pouting transvestites all offering to pose for the price of a drink.
On past further photo opportunities with baby crocodiles and giant bored-seeming iguana lizards, past the earth-shaking Tiger discotheque and entertainment complex, and on to the Hard Rock. Correction. It used to be called Hard Rock but forceful complaints from the owners of that copyright prompted a modest though no less evocative adjustment to Rock Hard. The genuine McCoy arrived fairly recently and you'll find the distinctive Hard Rock Café (www.hardrock.com) guitars and neon farther down Patong south amidst the stately white contemporary columns of the Courtyard Patong hotel.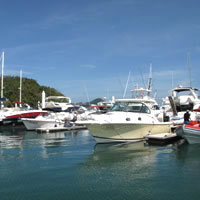 Speedboats at Ao Po Grand Marina
The timeless Simon Cabaret (tel: 342-011/2-5, www.phuket-simoncabaret.com) is in south Patong (not on the beach) with imitation Broadway shows performed by plumed and sequined transvestites (or katoeys as these demure lady boys are termed in Thailand). There are a couple of shows each day following which the "actresses" throng the car park insisting on expensive photo ops.
Pop by the Banana disco (drawing a gay crowd), Hollywood disco, Seduction disco or the Lime bar. Most Patong hot spots get buzzing late, well after 11pm. Patong is also home to reassuring landmarks like Starbucks, McDonald's, Haagen-Dazs, and assorted Japanese restaurants, seafood by the kilometre, and the Molly Malone's pub. Dedicated nightowls with itchy feet might head to Phuket town and check out discos like Timber Hut, Jammin and Kor Tor Mor.
In Patong, spot scores of competing G Armani tailors. Get yourself a suit in a day, Armani style. You don't need to speak Italian. These gents are Indian. Phuket shopping options in Patong are mostly of the trinket and gew-gaw variety. Grab a t-shirt or the latest DVD. Ocean Plaza along Soi Bangla offers quick shopping options if you and your foaming Singha are in a rush to be reunited.
The JungCeylon complex is mod, lowrise and aimed at the hip crowd. Farther north near Surin Beach are a couple of upscale complexes like The Plaza where you'll find pricey clothes and knick-knacks at Cocoon and Lola. Also at The Plaza are art galleries Aleenta, Galerie Martini and Soul of Asia. Sivalla does antiques and jewellery, while the top-floor Silk restaurant has moved to Andara. Nearby, at the Amanpuri turn-off is the well stocked but a tad snooty Oriental Fine Arts with statues, bronze pieces and assorted artefacts. Near Phuket town you'll also find the self-styled "world's largest jewellery showroom", Gems Gallery Phuket (tel: 255-001, www.gems-gallery.com). Open from 9am-6pm, expect over three acres of space filled with every kind of sparkle imaginable.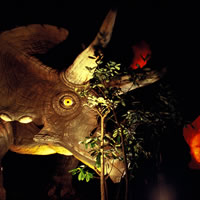 Dino Park: Mini golf for kids
Up in Bang Tao at the serene Laguna Phuket, Canal Village offers a hassle-free shopping experience 10am-8pm with fashion and accessory outlets including a few Jim Thompson silk shops (www.jimthompson.com). And for a large mall experience, there's always the Central Festival Phuket (www.centralfestivalphuket.com) near Phuket Town. The latter even offers free shuttles to and from several Patong hotels. Up north at Mai Khao, neighbouring the Anantara and JW Marriott is the newer and more serene Turtle Village (www.facebook.com/pages/Turtle-Village-Mai-Khao-Phuket/) with more upscale shops along with touristy knick-knacks.
Heading south along the west Phuket coast, splendid family-friendly entertainment is available in the form of the ever-popular Dino Park (next to and run by the Marina Phuket Resort, tel: 330-625, www.dinopark.com). Here, close to Karon Beach, full-scale tyrannosaurs and triceratops roar as volcanoes heave and smoke erupts within a very convincing Jurassic Park mini-golf theme park. Dino Park is open from 10am till midnight.
Daytime excursions range from the vigorous to the ridiculous. The former includes John Gray's Seacanoe (tel: [66-76] 254-505/6/7, www.johngray-seacanoe.com), who will paddle you out for a kayak exploration of the azure coast. Explore full-day Similan Islands or Koh Phi Phi tours, browse elephant safaris, leisurely white-water rafting in Phang Nga and snorkelling trips to outlying coral reefs. Alternatively, Phuket Adventures (tel: 610-201, e-mail: info@phuket-adventures.com, www.phuket-adventures.com) organises island-hopping speedboat adventures between Phang Nga, Phi Phi Island, Krabi, Coral Island and more. Movie buffs might try Andaman Leisure Phuket's (tel: 360-830, e-mail: info@andamanleisurephuket.com, www.andamanleisurephuket.com) James Bond Phang Nga & Canoe itinerary. This day-long tour features visits to Hong Island, Panak Island, floating Sea Gypsy Village and, as the name suggests, James Bond Island (the film location for The Man with the Golden Gun).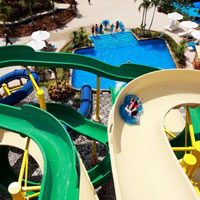 Centara West Sands slides/ photo: hotel
The best people to talk with for off-road adventure are Siam Safari (tel: 280-116, 280-107, e-mail: info@siamsafari.com, www.siamsafari.com). David Attenborough has used their services so you'll be in good hands. An alternative Phuket cruise and game fishing option is to link up with Wahoo cruises (tel: [66-76] 281-510, or www.cruises-phuket.com) and do an island spin on quality powerboats.
Still in need of kid-friendly fun? Venture out to the Patong Go-Kart Speedway (tel: 321-949, www.gokartthailand.com) and the energetic can trek up to Ton Sai waterfall (off highway 402 at junction with 4030) or the Kathu falls (off 4020). Nervous parents can take their brood to Laguna Phuket for a safe elephant plod or horseback canter. Check out Phuket Bangtao (Laguna) Riding Club (tel: [66-76] 324-199, www.phuket-bangtao-horseriding.com). Musclebound corporates can sign up for Laguna Phuket's team-building hernia-popping Quest programme involving a rope course, rock-climbing and several more activities for those eager for a raise. Adrenaline junkies could head to Jungle Bungy Jump (tel: 321-351, www.phuketbungy.com) near Patong Beach, which features hair-raising and death-defying offerings like backwards bungy and catapult bungy from atop a 50m tower. The Centara Grand West Sands Resort & Villas has a huge water park with giant slides and more to keep everyone wet, less wild, tired, and placated.
Those looking for shows and culture might enjoy the Siam Niramit Phuket (tel: 335-000, e-mail: infophuket@siamniramit.com, www.siamniramit.com) cultural heritage show, which colourfully presents Thai history, culture and religion in a staggering 1,740-seat theatre. Shows run at 8.30pm every day except Tuesdays, but gates open at 5.30pm to allow visitors to enjoy outdoor performances, elephant rides, and even a traditional Thai village with a floating market. Offering a different sort of spectacle at Kamala is the tad over-the-top but fairly slick Phuket Fantasea (tel: 385-111, e-mail: info@phuket-fantasea.com, www.phuket-fantasea.com), a sound-and-light extravaganza.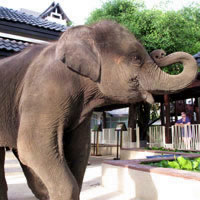 Baby Elephant Walk at Angsana
Numerous Thai spas have sprung up in recent years, many attached to resorts. The Banyan Tree Spa is a dedicated and exceedingly plush facility. The Aman Spa at Amanpuri, occupies its own private headland with secluded treatment pavilions and meditation salas.
For something smaller in scale, visit the Hideaway Day Spa in Laguna (tel: [66-76] 271-549, www.phuket-hideaway.com). Set in green environs, the spa's small salas (pavilions) look onto a small lagoon. A two-hour "Timeless Thailand" herbal aromatherapy with steam sauna and massage will set you back Bt2,450. Just about every hotel and shack with two coconuts and a bottle of oil has a spa signboard up. Shop carefully but it is hard to go terribly wrong. Also see our more detailed Thailand spas story.
No Phuket fun guide would be complete without a sprinkling of golf courses and club greens. You don't need to hug a tree but you might try teeing off at Laguna Phuket Golf Club (tel: [66-76] 270-991/2, www.lagunaphuket.com/golfclub), or at the immaculate Blue Canyon Country Club (tel: [66-76] 328-088, www.bluecanyonclub.com). Other choices include Phuket Country Club (tel: [66-76] 319-200/1/2/3/4, www.phuketcountryclub.com), Loch Palm Golf Club (tel: [66-76] 321-930, www.lochpalm.com) and the Mission Hills Golf Resort & Spa (tel: [66-76] 310-888, www.missionhillsphuket.com). How much will all this dent the wallet? Green fees and caddy charges for 18 holes at Blue Canyon's premier Canyon Course are roughly Bt5,600. The club's second Lakes course is a touch cheaper.
The scenic west coast offers unlimited sundowner options and almost every spur and rise between the coves features a lookout point for sunsets. What beaches to pick? The nicest and cosiest stretches of sand in our book are the picture-postcard Freedom Beach near Le Meridien (about 20 minutes and around Bt300 per person by boat from Patong), Pansea Beach (host to Amanpuri and The Surin Phuket), and the quiet Nai Thon Beach farther north close by the Andaman White Beach Resort.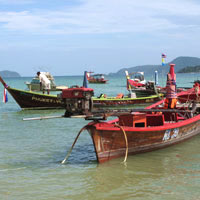 Rawai beach in the south
Laguna has a good stretch with a smattering of hawker stalls and up north Mai Khao Beach is a broad uninterrupted swathe of shimmering sand.
The southern coastline is rocky and less welcoming to swimmers though there are intimate sandy coves here and there. Sunsets are big business at Promthep Cape in the far south, which has turned into a horrendous tourist-trap-cum-parking-lot at peak times. Far better to turn off just before the "sunset view point" towards the cluster of tall, white wind-power fans churning slowly in the breeze. Get there by 6pm, sit down and enjoy the view. Slow down. There's lots of time for those brazen hussies later.