ODDITIES
Travels with my mouse
Get a new life, acquire a vampire wife, and practise your salsa. How to travel the world virtually free at SecondLife.Com – chased by giant genitalia.
updated by Kanishk Verghese
SEE ALSO Singapore nightlife | Phuket guide | Kuala Lumpur nightlife | Shanghai nightlife | Bali fun guide | Hong Kong fun guide | Child friendly resorts |
JUMP TO What is Second Life | A whole lot of grief | Can the sane survive? | Real brands and interaction | Private tales | Travelling the world free | Shopping in Second Life | Politics | Get started | Animated time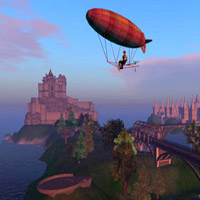 Caledon serves up steampunk Victorian whimsy
AFTER ALL THOSE LAUNDRY-GRAZING touchdowns at Hong Kong's old Kai Tak Airport, and miraculous landings off Boracay in planes built of paper – or perhaps a very durable cardboard at best – I thought I was inured to just about everything. Yet, here I was, falling from the sky. This was no dream.
Down I went, arms flailing. Through the clouds. SPLAT. On the pavement. And that's how I landed in Amsterdam, sans visa and passport. No one batted an eyelid. Not even as others fell from the skies. Muggins from Scotland, Kimi from Korea and Maxie from the US. We staggered upright. And went shopping.
Of course in Amsterdam with half the population smoking weed by the bushel it's the self-respecting way to travel. Stagger. SPLAT. In Second Life, an eyebrow-raising thrill-a-minute virtual reality landscape encompassing everything from Scotland and Hollywood to the laid-back Amsterdam, denizens "teleport" themselves to destinations at will.
Some drive cars, others fly planes, and newcomers, or "newbies", fall from the skies. Forget about Boeing and Airbus. Forget about jet lag. This is travel at its wildest, wackiest best.
Send us your Feedback / Letter to the Editor
What is Second Life?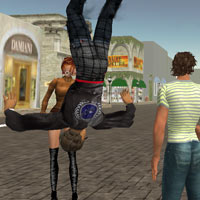 It's raining men, Halleluja...
No airline seats for Easter? Summer bookings jammed? In-laws from hell arriving? Head off to SecondLife.Com (secondlife.com/) and its online community of just under a million (according to owner Linden Labs). Travel, shop, build, rent, design, exhibit, play, dance, date and, well… even have sex. Meet vampires, felines, Goths, extraordinary people, ordinary people, cyborgs, giant bats, cavorting beasts and nuts. Most of it is free.
If you must make money, do so, in Linden Dollars which are convertible to the US dollar and vice versa at fluctuating rates. You can even earn Linden dollars at most locations sweeping pavements, dancing, sitting on bar stools and joining groups. In early 2017 the exchange rate was US$1 = L$259 but players need to make a minimum purchase of US$2.50.
Transactions were in the region of US$500 million in 2015 and while the total active community has dipped a bit, the real world monetization of Second Life profits continues to grow. No small beer this. At any given time as many as 20,000 people may be on. It's not a Mumbai or a San Francisco but there's enough traffic to slow or crash computers, leaving people bald or even naked while the computers scramble to catch up on the body rendering.
The 2003 brainchild of Philip Rosedale, Second Life is more than just a community. As he likes to say, it's the creation of "a new country" where the community itself directs development and social norms. Consequently you are as likely to stumble upon a priapic nudist beach as you are to chance upon a quiet art show or a heady jazz concert. Building styles range from fin de siecle French Palace to Faceless Mega Mall and Grown-Up-Kids-On-LSD.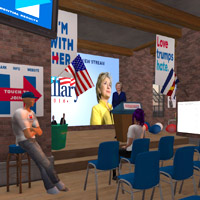 Hillary Clinton waits for an audience at an unofficial campaign HQ
Here, big is necessarily better. A Second Life avatar (your 3D likeness) is giant size. Everyone is around seven feet – the men sporting bursting biceps and women with bosoms about to explode like over-inflated Zeppelins. You can create your own avatar and shop for different body shapes and eye-popping private parts at other establishments.
Run by Linden Labs, Second Life is an adult community. There used to be a separate Teen Second Life too for the 13-to-17-year-olds. However, since January 2011, the grid for Teen Second Life has been merged with the original, with more stringent privacy settings. Parents can go online for information or find people in-world at Second Life with the last name Linden and bearing the group title "Liason". They'll direct you and explain how it works. In 2013 Linden Labs came up with Blocksworld (play.blocksworld.com/), an iPad game for kids and grown ups. Since 2013 much has changed. NextGen avatars are more realistic and engaging. And there are new attractions like Winter Wonderland (winter-wonderland), the mysteries of Hell's Heaven 2.0 (the-hells-heaven-2), and The Drakensberg Mountains (drakensberg-mountains). Or head to the misty steampunk Victorian world of Caledon (caledon) - land in Caledon Oxbridge and find your way to various towns.
A whole lot of grief
Scallywags get up to serious mischief (or "griefing" as it's termed). They blast newbies with giant guns, nuke entire neighbourhoods, and send people into orbit or into "negative coordinates". Others barrel down main roads vaunting their Viagran manhood. The disgruntled vent their ire by buying parcels of land in plush neighbourhoods and setting up large posters complaining about George Bush, taxes, and other peeves. The first reported Second Life millionaire Ailin Graef held an in-world interview with CNET using her SL persona Anshe Chung only to find herself bombarded with giant penises – all captured on video and briefly posted on YouTube. Understandably, residents are encouraged to report abuse. And they do.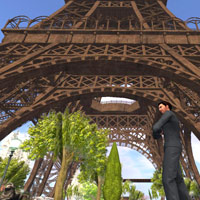 And now, a quick dash to Paris
Don't accept gifts from strangers (they may carry viruses and Trojans). And don't offer passwords and e-mail addresses to people intent on phishing for your bank details, accoutred in glam head-turning finery. That gorgeous hunk or shy newbie you just met at the bar could just as easily be a college kid or the head of an online crime syndicate. Linden Labs says it takes strong action against hackers, fraudsters, crooks and people using abusive language. Account suspensions and warnings are the order of the day. Watch out for weapons, account abuse, intolerant remarks, obscene images, spam, and hate speech.images, spam, and hate speech.
Can the sane survive in Second Life?
Why then would any sane person visit? Well, admit it, this sort of zany madness can be fun if not downright addictive. It's right up there with smacking noisy children around the house and chucking the in-laws off a high floor. Be whomever you want and do whatever you want, almost without limits.
Debbie from Holland frequently escapes to Second Life and now her boyfriend is paranoid she'll meet someone in this virtual madhouse and run away with him. Leaving aside the fact that the entire presumption is preposterous, how can a human be terrified of a virtual rival?
This is a place where nuts shack up with horses, and not in a cuddly way. You can't run away and live in a virtual home forever. Not even in a Cinderella Castle. (I've supped in one and marvelled at the furniture while the kindly no-nonsense Goth owner showed me around and conversed with erudition and flair.)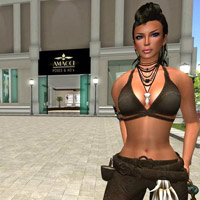 The latest in women's wear and hair by Amicci - but it will cost
Fortunately, not everyone here is a perv (or pervert) as their profiles (which you can click to read) proudly proclaim. "I'm not your cyber slut" read one, "move on." Most residents are looking for friends, fun, and companionship. Some are starting over in real life; others are looking for business leads and inspiration. Some braver profiles also carry pictures of the person in his or her "1st Life" or Real Life.
Real brands, real interaction
The entire enterprise may seem one huge virtual hallucination. But look again. Second Life is merely a virtual gateway to a travel landscape extraordinaire. Virtual travel is just one part of it. At the other end of this cyber melting pot lie real people. The online community is growing fast. Chats are real even if the monikers and faces are not. I've talked with bears, stared at giant bats that seemingly spoke no English, tried halting French, had a date, and marvelled at ungainly kludges with Body Parts From Hell. I've also made some interesting friends.
Major brands like Toyota, SONY, Starwood, Reebok, American Apparel, Brazil's TAM Airlines and NBC have made a beeline for Second Life to ensure they have a share of this exposure. SL fashion shows have landed real life jobs for designers and various forums are available to argue lost causes of any ilk.
At Toyota Scion City you could once test drive, or spectacularly crash, a car built to various specifications. The Scion was an early entry-level model from Toyota. Mazda had an island where it tested its new concept cars before tossing them to real people on real roads.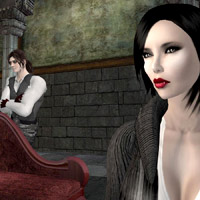 Grab a vampire wife for a bloody good time
Large companies like the non-profit USA-based TechSoup may hold large virtual conferences for 50-100 people in a Second Life setting, thereby eliminating the hassle or constraints of a Facebook or Skype. IBM holds conferences in this forum and Texas A&M runs classes at Second Life, making education accessible and interactive.
Aloft (the hip hotel brand from Starwood) tested its design concepts in Second Life. There were sites screening the latest movie trailers, and others selling tickets online to see movies in real life. And at Media Island run by SONY BMG you could listen to music and watch videos sitting in comfy leather chairs surrounded by goldfish in bubbling glass tanks.
Private tales to bring on a flush
Private parts are a headache, especially if you forget to wear them. (They are often versatile and obey keystroke commands to do just about everything except buy the groceries.) Thus it was I had to inform the glamorous Giselle that not unlike Mr Michael Jackson, I suffered from anatomical anomalies – having dropped that most vital of parts on the street. As a result we could not now go on to make babies and lead a life of unmitigated virtual bedlam. Her cleavage heaved and she disappeared, no doubt to fall from the sky on some other hapless newbie.
Shortly after, Dancing Dude fell from the skies, right on my head. He jerked about contorting in unbelievable poses, dancing to a primeval inner rhythm - or a berserk animation. "How do I stop?" he pleaded. "I've been dancing for days." Moments like that are worth the wait.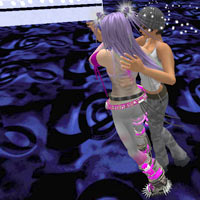 Club dancing is a doddle - but you'll need balls...
At a pulsating club, I watched exotic pole dancers and listened to rave music. One dancer was from Beijing (in Real Life or RL), one was from Denmark. "Hello" I said to my newfound Beijing friend. "LOL" she replied (chat-speak for laughing out loud). "Must be cold in Beijing." I ventured again. "LOL." "Great moves." "LOL." Eventually, she dug deep into her vocabulary book and gushed, "ROFL" (or rolling on the floor laughing). I hadn't said anything.
SL (as Second Life is termed) may not always provide riveting conversation but there is one exception. A good lover has to be a GREAT TYPIST. It's all in the fingers. I thought back to my early Harold Robbins books that were entirely responsible for my adult education and got typing. "AAAARRRGGGHHHH." There's politics too. My neighbour cavilled at life in the USA. "It's been so hard living in this country under this B.S. [Bush] administration," he grated. "Aaarrgghhh," I said, "oh, sorry… wrong chat."
Travelling the world free
Later, at the very popular Club Extreme, which also has an outdoor casino, poker machines, and pole dancers, I listened to some great oldies pop rock like Little Red Corvette and danced with a divine angel with blue lights flashing around her fairy wings. As we twirled, my hand passed through her body. "I think I touched your liver," I said, and she blushed at such intimacy. She offered me a home in Vin Santo Ellis complete with an upstairs studio, a loan I gratefully accepted, if only to help change in and out of clothes for a day. It beats changing in the street.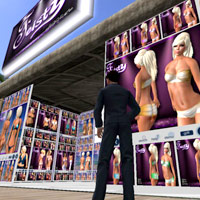 Things can get naughty in adult zones
That evening a statuesque redhead walked into my abode demanding to know if I was a squatter. I protested that this was my place. She smiled, sat on my kitchen sink, and proceeded to charm me. We talked at length and I suggested she model for my story on Second Life. She agreed. From there it was a giddy whirl through Amsterdam – where more people fell out of the sky, on my head – and the dance floor, where I managed a stylish Cakewalk, effortlessly.
Much of what happens in SL, or at least with dance and more private animations, is controlled by coloured balls. These can be bought, or scripted if you are a Harvard math wiz. Click on one and your avatar gets going. There are balls for men and others for women. Take care to click on the correct one, especially if you're entertaining romantic notions.
Drop by dark neon Kowloon (not as lively as the real thing, we can tell you), or sit on a park bench under the Eiffel Tower in Paris. In Hollywood, sail, buy magazines like Vanity Fair at the newsstand (or something more mature), swing out at golf or stroll the Walk of Fame. Visit the academy and vote for your favourite movies. For something more atmospheric, partake in tai chi at the Lost Gardens of Apollo where things are soft-focus and uncompromisingly medieval, with classic columned temples, sylvan green meadows, flowering trees and, yes, falling people. Destination worlds change often and are as easily populated, as abandoned as newer thrills emerge.
Enjoy live music or pop by a dance club - or something more mature if that's your fancy.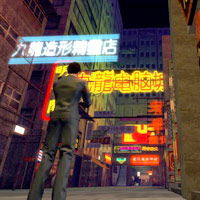 Contemplating the alleys of Kowloon, Hong Kong
The Second Life destination guide will help you connect with whatever you need. Destinations are categorised by genre and interests. Info hubs are available on some maps with more on places to visit and things to do.
If you can't teleport (or TP) into any area it means the region is full. You'll just have to wait and endure the street-side babble and chasing pervs wherever you are.
I dropped by to visit friends in Scotland. It was cold. Stoic lads wandered the greens in kilts, one carting a giant grey concrete slab that later turned into a guitar. He strummed some engaging melodies. Another gentleman appeared to be in a trance, his body hunched over against the cold, or so I thought. He was away, but sprang to life – and chat – when his office accountant had passed his desk, or so he reported impishly. Then he went on to show us the finest tartans and blades. You can pick up a fine Glasgow Tartan outfit for L$1,000.
I was not too sure about skirts and haggis and, anyway, the girls from the Firth of Forth with a bit of girth up north were rather distracting. He said he was Bond, James Bond – Sean, the ultimate in Scottish manhood. You might run into a friendly greeter who will recommend Nessie's Pub.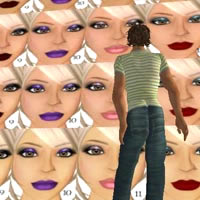 Go glam and pick a new face. Hmm...
Shopping in SL is a hoot. It is perhaps the driving force of this virtual community apart from property where the real money is to be made. As in the real world, stuff for women far outnumbers stuff for men. This is particularly true of body shapes, hair-dos, and fashions. Not that men come off too badly.
There are shops everywhere. You might look a ponce, but heck, how often can you wear a purple body-hugging pinstripe shirt with red striped underwear, pointy shoes – and bat wings? People do.
Of course you can purchase white underwear, Christian and clean, the way your mother and God intended. You'll find Tommy Hilfiger boxers too. No need to do the laundry.
Just touch an item, read the description (some places allow you to try on a demo for L$1), and buy it. The item goes into your inventory.
Politics, news and views online
But, hit the wrong button, and your clothes could disappear leaving your dangly bits exposed to the elements, cooing escort girls, well wishers, sales ladies handing out their business cards, and roving reporters (Adam Reuters once manned a Reuters virtual news bureau in Second Life and there was even a Second Life Herald reporting on local events). A forum is available for just about everything. If not, start your own group and have a good rant. Politicians like former Virginia Governor Mark Warner have actually staged town hall meetings here and conducted SL interviews fortunately not rained upon by giant penises.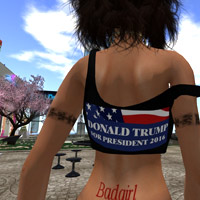 There's Donald Trump tees and tanktops too in Second Life!
In the run-up to the presidential poll, at the Barack Obama "unofficial" Second Life campaign headquarters we were given a free Obama shirt, hat, pin and banner, as well as the chance to register online to vote in real life. Years back, in search of the John McCain headquarters, we came across the quaint Straight Talk Café, where our choice of shirt, hat and pin (thank goodness the Obama banner wasn't out) came under irate scrutiny and attack. When the crowd calmed down, a visibly annoyed republican told us to go to the John McCain Information Center. This was years back of course. We had not yet entered the AT era (After Trump). The headquarters were at the time under reconstruction as they had been vandalised by "malicious" liberals. Well, it's all history now. But Trump has his t-shirts and tank-tops circulating in virtual reality.
How to get started in Second Life
To get started, download and install the free Second Life software. Log on, choose a body and begin your journey. After you arrive at the Information Centre for the first time, browse your map, look for helpful landmarks and teleport yourself to any location. Teleporting is different to flying. Pick a location from your address book, or map, hit the button and you're there. Sort of…
One thing you'll need to do when you arrive in the world, is acquire a shape and clothes. Newbies arrive with a rather limited wardrobe. They stick out like sore thumbs but are a bit better than the gangly newbie puppets of yore. The choices for skin and shape in Second Life are endless, so be bold. Many Second Life residents judge by appearances, and if you have "newbie skin" your stock goes down immediately.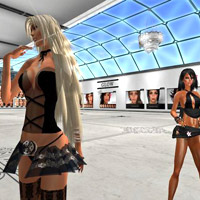 Shopping for cool skin and bodies at LAQ
No wonder Paintball Man blasted me. I got hit with every imaginable colour. It was a bruising entry. I stood my ground. I didn't know how to move. When I worked it out I ran for the hills.
The arrows control your moves. The "page up" button makes you fly and "page down" brings you back. The scroll wheel on your mouse helps you zoom in closer to your avatar and out if you need perspective.
Body shapes are outrageously muscular, or voluptuous, some are artful, others simply awful, and some furry. Buy a shape (or several shapes), wear it, and alter it by clicking on your "appearance" and making the necessary adjustments to neck, chest, legs and so on. Don't bring your height down to a modest six feet. You'll be a midget.
If you're shopping for hairdos, try Amacci (amacci) or enVOGUE Hair (envogue-hair) and if you want to invest in quality skin, yes, S-K-I-N, try popping by LAQ (laq) to gawp at their range of flesh and body shapes. It's all pretty realistic.
Pick up eyes, hair, clothes, shoes, fur, and of course all the aforementioned unmentionables. Then move on to house, furniture, iPods, an SL partner and pretty much anything else you can think of. Just don't attach your sofa or your house to your head. It is a disconcerting sight. And if you want to be really cool, get a vampire bride!
Having an animated time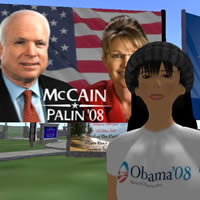 Remember them? It was an age ago. Political campaigns online
To acquire a proper walking gait instead of the default haemorrhoidal wiggle head to a suitable mall to browse walks, dances and sassy moves. Buy the walk and "wear" it. You might also want to grab some salsa balls while you're at it – one for him and one for her. Join Duran Duran or The Beatles fans as they restlessly roam cyber space looking for their idols and comparing notes.
Then, if you're in the mood for something alternative, head to Moorish castles, snuggeries, torch-lit resort cabins, and wilder establishments that can't really be written about in these genteel columns. That piqued your interest, didn't it? You may even spot a dinosaur strolling by.
So you really can travel the world FREE. C'mon. Get a life.
Send us your Feedback / Letter to the Editor