Shwedagon Pagoda reflection
YOU cannot be in Yangon for long before you have a nostalgic fit over the name. Rangoon was so much more redolent of the monsoon, pagoda, palms and colonial colonnades stretching along a steamy waterfront, beside a wide flat river coated with a dull shimmer. "Kipling begone!" said the military government, and former capital city Rangoon became Yangon and the country, once Burma, became Myanmar. To be fair, the name Yangon (meaning "end of strife") was given to the city (then a small settlement called Dagon) by founder King Alaungpaya back in 1755. This was anglicised as Rangoon by the British. When you are in Yangon, along with other people speaking English, you go to polite pains to call it just that. The city slipped modestly down the bureaucratic ladder in 2006 when the junta moved the capital to isolated Naypyidaw, which has been completely build ground up, about 300km north, but it has lost none of its charm or sleepy joie de vivre.
After nearly half a century of military rule, the country is slowly tasting democracy. April 2012 brought landmark elections, with Nobel Peace Prize recipient Daw Aung San Suu Kyi of the National League for Democracy – formerly under house arrest – voted into parliament. Such historic developments have led to more open relations with the West, and piqued interested among travellers. It has brought neighbouring countries a-courting and tightened ties with traditional partner Asean.

Hotel Contact Information

See Slide Show
While politics evolves at a seemingly breathtaking pace, this is a city from the 1940s pickled in aspic. Many of the official and commercial buildings of the downtown central district by the Yangon River are colonial period structures largely untouched. They have a certain delicacy of design and unity of grungy stucco. They complement each other and their particular surroundings. As a period waterfront phenomenon, they knock the spots off the bulbous town hall pomposity of the Shanghai Bund. Several are earmarked for development now as Yangon business hotels, office blocks and apartments.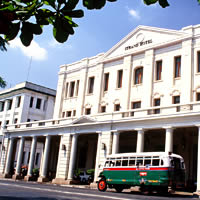 Pure nostalgia at The Strand
As any Yangon guide will tell you, there is a more notable vigour in the city than there was 20 years ago. There are more cars on the road, though few of them are less than a decade old. Taxis are all over. Buses are now running that cannot remember the war, although those that can are still grunting around carrying passengers on their rear fenders. Trishaws, sadly, are scarcer. New buildings are going up. Their architects will not be mentioned in the same breath as IM Pei or Norman Foster, but there are dozens of tall construction cranes on Yangon's very low skyline.
Send us your Feedback / Letter to the Editor
And there is more to come. According to government statistics, the number of Yangon visitors in 2010 skyrocketed by 40 percent compared with 2009 figures. The trend continued in 2011, with another 25 percent increase. Numbers are not a flood as yet, given the hassle of visas and restricted air capacity into the country. To handle the fresh influx of tourists, several schemes are afoot. The government announced plans to develop a 250-hectare hotel zone at Inle Lake as well as a new airport, Hanthawaddy International Airport, expected to be nine times the size of Yangon International and perhaps even completed by 2016.
Flights to Myanmar and Yangon
Yangon expects an increase in direct flights from abroad. Korean Air's four nonstop flights a week Seoul to Yangon (September 2012) represents the thin end of the wedge.
Several airlines already serve Yangon International Airport, which upgraded its terminal in 2007. The most frequent flights are out of Bangkok, Kuala Lumpur and Singapore. Singapore collaborates with Myanmar in maintaining Myanmar Airways International (MAI, www.maiair.com), a part government, part privately-owned operation that runs services into Yangon from Bangkok and Singapore daily, Kuala Lumpur five times a week, and Siem Reap, Phnom Penh and Guangzhou one to two times per week.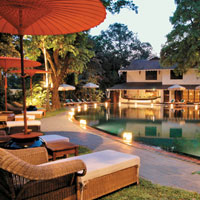 Posh Governor's Residence/ photo: hotel
MAI flies smaller and newer Airbus A320s and A321s, which are long narrow workhorses with a 3-2 seating configuration in economy and 12 big leather business class seats.
MAI is a cheerful experience with some expatriate pilots and overseas trained cabin staff who work with great courtesy and concentration. Food on board is generous and tasty if not exactly a sensation and the rich lubrication of the pork fillet with fried noodles was a useful preparation for my Myanmar food adventure. Alternatively Air Bagan (www.airbagan.com) has a variety of aircraft – including two ATR 72, two ATR 42 and two Fokker 100 jets. It operates an intricate domestic network, and flies as well to Singapore, Bangkok, Cambodia's Siem Reap and Kunming in China.
The international airport sits in fields about 30 minutes out of the centre. Business class passengers get their own bus for the 30-second drive to the terminal. As of 1 June, 2012, the government reinstated the visa-on-arrival programme for business travellers for US$50. You will need a fair number of documents and passport photographs. If you're a tourist, you can acquire a visa surprisingly fast from a Myanmar consulate. They are even available online (www.myanmarvisa.com). The consulate will also give you a form to be kept with it and presented to the immigration officer along with the landing form. These are neatly folded, put away somewhere, and you are let in fairly quickly for a maximum of 28 days.
Changing money and devilish exchange rates
There seems to be no requirement now to purchase US$200 of Foreign Exchange Certificates at the airport. This cumbersome interloper, after the old Chinese model, seems to have disappeared. We are now down to the two real currencies, the local kyat (pronounced "chat") and the US dollar.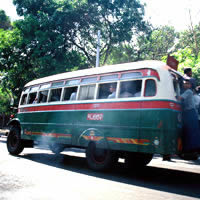 Sit inside, or out...
The kyat is divided into 100 pyas. On paper (and outside Myanmar) the official exchange rate is approximately US$1 = 883 kyat, but farcically, this rate is not actually available in the country. Most places, including five-star hotels, will offer an "unofficial" rate that fluctuates around US$1 = 1,000 kyat. You will often get a better rate for changing large US dollar bills, but these must be spotless. Even banks are reluctant to take notes with any mark or tear. Most substantial establishments like hotels and transport agencies take US dollars and more modest operations do too but you are likely to get change in kyat. You need a judicious mixture of both currencies in your wallet. Your hotel will help with this. Apart from in the major hotels, credit cards in Myanmar come from Mars. On then with our Yangon guide.
Getting around Yangon
If you do not have a pick-up arrangement with your hotel, a taxi from the airport for the 30-minute drive into town should cost between US$8 and US$10 depending on negotiation and the presence of air-con. Although there is nowhere in Yangon you would want to go that is more than 15 minutes from anywhere else, you might look at the town in three segments. To the south is the grid-work layout of the old centre by the river. A little to the north, is a "midtown" around the Kandawgyi Lake and the Shwedagon Pagoda, the above all, must-see masterpiece of Yangon. A little further to the north is the semi-suburban recreational area around the larger Inya Lake.
A fairly standard rate for a short taxi trip is US$2. From The Shwedagon down to the river it would be US$3 and from the river up to the Inya Lake possibly US$4. Car hire with driver (not a hotel limo) should be between US$35 to US$40 for a 10-hour day. The more days you hire for, the more negotiable this becomes. A knowledgeable driver, possibly recommended by a hotel, could be worth his weight in kyat.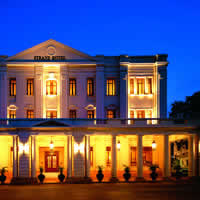 The Strand/ photo hotel
Yangon business hotels and colonial gems

Most hotels are so flexible on price (which includes 10 percent tax and 10 percent service charge) that they are almost reluctant to acknowledge a standard rate. Discounts can be upwards of 50 percent, especially during the wet season, although this is probably not true of The Strand on Strand Road by the waterfront, the elite period doyenne of the Yangon hotel scene.
Beautifully renovated to evoke its life in the 1920s, the building is an atrium with two wings focused on a lobby lounge with a black and white marble floor with teak inlay. Other floors are wood throughout. The suites are suitably vast with ceiling fans and fine bathrooms, which provide shampoo and conditioner. There is a long bar where you can get a beer for two bucks, The Strand Café, which looks onto street life, and the strikingly elegant Strand Grill, the prince of dining rooms in Yangon with black and gold Bagan prints, chandeliers and a vaulted glass roof. Afternoon tea at the hotel has become a Yangon institution.
Whisperingly quiet butlers materialise so rapidly every time you go in or out you might as well just let them keep the room key. The rich and the famous have flocked to The Strand for the service. You really do expect to see Somerset Maugham being ushered in to the lobby followed by his book bag. This is a must-see Yangon luxury hotel. (The Strand features in our exclusive Top Asian Hotels Collection, featuring the best Asian hotels, resorts and spas in a printable A4 page with stunning visuals.)
The 21st century's offer to the business traveller in Yangon is Traders Hotel on the corner of Sule Pagoda and Bogyoke Aung San Roads, slap in the commercial centre. It's a big busy Shangri-La sibling with all the straightforward comforts and a slew of facilities. It's one of the biggest and best Yangon business hotels with 270 guestrooms and one of its tallest buildings, with splendid wrap-around views of the city. The three Trader Club floors with 93 rooms in all, have been under renovation since late 2011, but come with separate check-in, breakfast, happy hour and business facilities. There is a clutch of serviced apartments that are highly negotiable. A standard room has a tea and coffee-making machine, a safe and an ironing board. It has a cheap minibar with a Coke at US$3.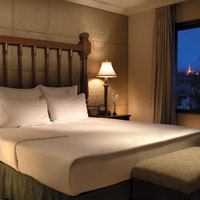 Traders Hotel, Yangon/ photo: hotel
The bathroom offers a standard selection of shampoos and hair and skin conditioners. Since Yangon bathrooms generally are not at all generous beyond the soap, this is unusual. There is a business centre with e-mail and fax facilities, a health club, two restaurants, a bar, a coffee shop, a pool and a clinic. It is only missing a crèche. It also has a very long, busy lobby. You get the feeling that if you sat long enough you'd see any businessman you needed to before lunch.
Just south on Sule Pagoda Road, another business option is the Centrepoint Towers Hotel (March 2013) with 300 rooms, including 79 junior suites and three executive club floors. Centrally located by the Yangon River and colonial quarter, the five-star hotel is part of a complex that includes a business centre with eight meeting rooms, banquet hall, gym, outdoor pool, spa and restaurants.
North of the city centre on Alana Pya Phaya Road is the PARKROYAL Yangon (formerly Grand Plaza Park Royal), which puts on a front as posh as its title. It has been called British colonial but it's more British imperial. The facade and the marble lobby are practically Lutyens in their size and design, spoiled by silly time-zone clocks behind the reception. A deluxe king room goes from US$178 upwards. The floors are teakwood, the furnishing is tasteful, the size is generous and there is a lot of natural light. Orchid Club rooms have private keyed access and a very elegant lounge with complimentary snacks and beverages. Apart from a big swimming pool and a tennis court with a blank white wall that would do well for firing squads, the hotel is notable for its sauna facilities, which include massage rooms and a gymnasium.
To the west and in the embassy quarter on Taw Win road is The Governor's Residence (once the Pansea Yangon), a Yangon boutique hotel rather off the main drag, managed by Orient Express. It is a restored teakwood colonial residence decorated with fretwork, bounded by wooden decks, which look over a sapphire blue pool and an orchid garden. In the house are a highly rated French restaurant, The Mandalay, an inevitable Kipling bar and a lounge. There are 45 guestrooms and two junior suites, with teakwood floors, sofas inset into windows with wood slat blinds and a big bathroom with a kidney-shaped black stone bath with Jacuzzi nozzles. Broadband is, most generously, free.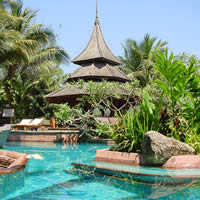 Kandawgyi Palace/ photo: Kandawgyi
North of the centre in midtown is the 208-room Kandawgyi Palace Hotel on the shores of Kandawgyi Lake, Yangon's little gem of water and peace near the heart of town. The hotel has a colonial wing, which includes a period theatre for nightly dinner and culture shows.
Mainly though, the theme is wood to a local design, with a heavy Thai influence and a wooden viewing pavilion atop the building attached to the Presidential suite. Trees in the garden date back more than 100 years.
There is an elaborate swimming pool by the lake, lakeside terraces, dining and bars as well as extensive business facilities and a very urbane French restaurant, Agnes. The Kandawgyi Palace is either a resort hotel in the city or a city hotel with resort facilities, but it has a considerable variety under its roof. A superior room starts at US$160. At the top of the range is the exotic Royal Bungalow, with a petal-strewn Jacuzzi at the bottom of the bed and an infinity swimming pool on its private terrace that seems to merge with the lake.
Also on the lake is the 303-room Chatrium Hotel Royal Lake Yangon (formerly Hotel Nikko Royal Lake Yangon and renovating till end 2012) on Natmauk Road. The lobby is encouragingly bright and calm. Cuisine concentrates on Japanese and Chinese, reflecting the bulk of its business clientele. It has extensive conference facilities with a ballroom and four meeting rooms, and 14 spa suites are on hand for weary worker bees wanting to end the day on a high note.
The refurbished 40sq m standard rooms are quite spacious, featuring walk-in showers, coffee and tea facilities as well as free WiFi. This is among the better Yangon business hotels to keep in mind.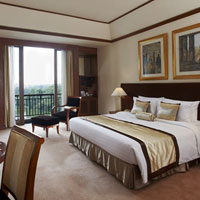 Posh and modern Chatrium/ photo: hotel
One of the youngest properties at Lake Inle is the Aureum Resort & Spa, located on the northeast corner. This elegant, sprawling resort opened in 2011 and includes 66 bungalows. With lakefront views, the 100sq m guest rooms are simple yet striking, with crisp white linens, canopied beds and warm orange accents. Despite its rural setting, the hotel has modern amenities such as a business centre, banquet room, restaurant, bar and spa.
Situated to the east of Lake Inle on Kaba Aye Pagoda Road is MiCasa Hotel Apartments, a comfortable but basic hotel popular for its one- and two-bedroom apartment suites. Touches of Latin inspiration can be found throughout the property, from the warm, red details in the guest rooms to the Spanish-style Tapas Bistro and nightly live music.
On top of what passes for a hill in Yangon with a moving view of the Shwedagon Pagoda in the sunset, stands the Mya Yeik Nyo Royal Hotel and City Club. It suffers from an interesting schizophrenia. The original hotel building is pre-war colonial and was once the residence of the general manager of the Standard Chartered Bank – and the commander of the Japanese occupying forces. Everything in there is still wood-fitted and period. The seven guestrooms in this building are vast with very high ceilings and littered with odd bits of furniture like Burmese dressing screens and antique dressing tables.
There is a billiard room and a display of Burmese artifacts in the entrance hall. The new, main building has very little to say to the old one. It is built in modern Chinese style involving lots of windows with net curtains. The 40 rooms are sensibly comfortable and, via a connecting door, some of them can be turned into a suite with a very large desk in the sitting room, which could be a great aid to the working traveller.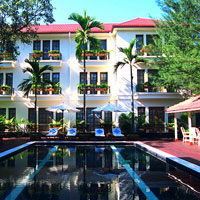 Savoy pool/ photo: hotel
The sales manager says that all the Asian guests want rooms in the new building and the Europeans all want to live in the old one. Listen up tightwads: minibar Cokes here are reasonably cheap US$2.50.
At the junction of the busy Dhammazedi and the fashionable Inya roads stands The Savoy, one of the most successful small Yangon boutique hotels. The converted home of a colonial doctor, it is dedicated to Kipling and run and largely patronised by Germans. There are only 24 rooms and six big suites, simply but tastefully decorated. All feel very residential. Room service is 24 hours and you can get your clothes pressed for free.
There are only two floors and no lifts, but the hotel still manages to squeeze in an impressive variety of dining locations, from a European restaurant with a young German chef upstairs to the alfresco Kipling's Terrace downstairs, as well as an easy-going Italian restaurant and private dining room. There is a cosy bar and a swimming pool in a courtyard setting. It is probably one of the best spots for value for money in Yangon. This is one to watch in our Yangon fun guide for nostalgia buffs.
Further north at the south end of the Inya Lake on Kabe Aye Pagoda Road stands a modern 366-room heavyweight, The Sedona Hotel, which greets you with a massive, stark, white lobby dominated by a rampant wooden elephant. Set in eight acres of garden, the hotel has a good view of the lake from higher rooms. There is a huge free-form swimming pool and at one end of it a pleasantly decorated Italian restaurant, Orzo. With an upstairs view of the pool is a Chinese restaurant and there's an Irish pub-style bar. Guest rooms are bright and basic, but quite functional. This place also doubles up as a good Yangon long-stay hotel.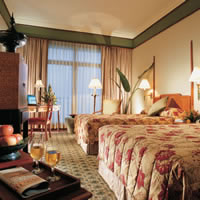 PARKROYAL Yangon deluxe/ photo: hotel
At the north end of the Lake, right on its shore, stands the Dusit Inya Lake, a brilliantly white 129-room property that was built by the Russians in 1962 and, miraculously, does not look like it. After subsequent renovations, a great deal has been expanded on the glass frontage and this broadly spacious hotel has a very good flow of natural light. All rooms, superior and deluxe, have deep balconies. Ask for a room in the West Wing. From there you get a mixed view of the 27 acres of gardens and the lake as well as an impressive sunset. The Soviets gave the rooms huge balcony windows and walk-in closets. The management has furnished the rooms in the "Speed Moderne" style of the 1930s. And that's the A to Z of Yangon business hotels for all budgets.
Yangon fun guide to dining
It would be a great shame to go to Yangon and not eat the local food. It is surprisingly varied and delicate, not as spicy as Thai and not as heavy as Indian. A good baptism would be a meal at Pandonmar Restaurant at 105-107 Kha-Yae-Bin Road (tel: 536-895). Open for lunch and dinner, it is a renovated colonial house with reproduction friezes of Bagan carvings and a trompe l'oeil masterpiece in the private room. Owner Sonny Aung Khin reduces the notorious levels of oil in the Burmese curries. "Oil level has been a status symbol", he says. "It has become obsessive and puts off the tourists". He creates wonderful salads and revives unusual dishes including balachaung, fried dried shrimps in garlic onion and chilli, a purely "British Indian" dish, he says. Try butter fish, a Yangon favourite. A la carte dishes cost around Kt3,500, with set menus from Kt7,000.
The Green Elephant at 33 Thirimingalar Lane (tel: 537-706) is a steady favourite among visitors. It serves a very pleasant selection of Burmese food, slightly modified for foreign palates. Dining is in a pleasant garden setting and they are open all day till 10pm. Also open all day till 10pm is Sandy's Myanmar Cuisine, located by the lakeside inside the Kandawgyi Palace Hotel (tel: 382-918) and a favourite of local expatriates, serving a fine a la carte selection of Burmese dishes for which Sandy has won culinary prizes.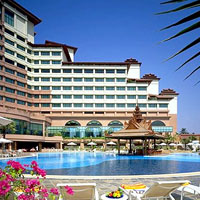 Longstay Sedona/ photo: hotel
At the risk of ruining this place by recommending it too much, go for lunch to Aung Thuka, an ethnic Burmese eatery on a side street off Dhammazedi Road, opposite the Savoy Hotel. It's an open-front rattle-bang restaurant with wooden furniture and Formica tops. Packed with lunching locals, the tables turn over quickly, but they won't mind if you linger. Language is not a problem, just point at the line-up of curries in pots at the counter. Accessories like raw veggies, sauces and soup come automatically. Any driver is bound to know where it is. Your bill including, say, a bottle of Myanmar beer, will come to about Kt3,000 for two.
Chinese food in Myanmar is an ancient input. In Yangon it is endemic. It is cooked by local chefs and can have definite Burmese twists. Chinese restaurants tend to be located in the "China town" west of the central district from 20th Street down. Western Park (tel: 225-143) on Ahlone Road, which serves fabulous Peking duck, is another very local experience. It's always busy and service is fast. The Royal Garden, (tel: 297-716) overlooking Kandawgyi Lake, is reckoned by some to be the best Chinese eatery in town serving Singapore Chinese. Hot on its heels, though, is Singapore Kitchen at 524 Strand Road (tel: 226-297), which is acclaimed for its seafood and crispy duck. Here a meal with a couple of beers comes to Kt3,000.
That prince of western restaurants, The Strand Grill, is also the priciest, of course. A dinner probably couldn't be got away with for much under US$50, bereft that is of a bottle from its fine cellar. Lobster thermidor is a signature dish, but the deer and lamb are memorable. They have come up with a new starter: a ball of foie gras and truffles deep-fried in a bread coating and called "the doughnut". It's to die for. Too many of them and you probably will. La belle France reigns in Yangon dining rooms.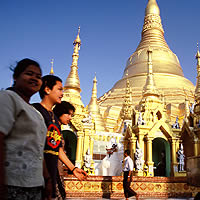 Burnished Shwedagon Pagoda
Mandalay (tel: 221-462) at The Governor's Residence mixes French outstandingly with Burmese cuisine, prices starting at about US$10 for a main course. Le Planteur restaurant and bar (tel: 541-997) serves French-Swiss food in a garden. The menu is a la carte or a set BBQ dinner. At the beginning of 2011, Michelin-star chef Felix Eppisser and his wife Lucia took over the restaurant. The Agnes at the Kandawgyi Palace Hotel is furnished with a Louis Quinze flourish and is a master of the steak Diane.
Yangon specialises in precious stones, pearls, silver, handicrafts and lacquer ware. There are some fine specialist shops that hotel concierges will guide you to. The Strand has a printed recommendation list. To just plunge in, go to the Bogyoke Aung San Market or Scott Market of yore. It is a huge closed market surrounded by a cloister of small, mostly trendy shops selling fashion accessories. In the market proper, stalls sell stones, jewellery, handicrafts, ropes of pearls and antiques, some for real and some not quite. The place is wide, clean, cool and unhurried.
Nightlife in Yangon
It exists, even for foreigners, be sure of that. Mostly you'll find it in hotels from about 6pm to 1am. Paddy O'Malley's, an Irish pub with music and a lively crowd, is in the basement of the Sedona Hotel (tel: 666-900). The Park Royal has The Music Club, a place of some revelation. They say it is popular with diplomats. It is a big square bar with a Filipino band. There are an inordinate number of beautifully turned-out local women wandering around in urgent need of a drink.
Open every day till "late", the 50th Street Bar and Grill (tel: 397-060), behind an impressive colonial facade on 50th Street, is a big, well laid-out pub with its wall scrubbed down to the brick, a mixed Western and local clientele and live music at the weekends. It is a very easy place to hang out and snack. Mr Guitar on Sayasan Road is similarly popular with locals and foreigners, open from 7pm to midnight and features unplugged music, mega screens, installations by its artist-owner and an outside courtyard. In both you might get a decent conversation.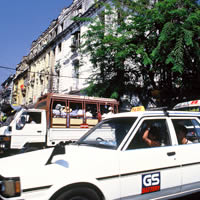 Yes there are taxis too...
A Mr Guitar 2 opened up a year or so back on Shwe Gon Dine Road – it is more of a restaurant (serving Thai hot pot and Chinese food) than a bar. Taking a different tack altogether is BME 2, an independent outfit watched over by the biggest Burmese lads in suits you've ever seen. It stands in a large lot next to the Summit Parkview Hotel at 350 Ahlone Road. There is a bar, attentive waiters, a big disco dance floor and of all things in Myanmar, a local girl rock band. Much of this you won't find any local Yangon guide so do ask around and check with your hotel concierge.
Mandalay, Bagan and beyond
"Yangon is a gateway," says George Ehrlich-Adam, general manager of travel agency Exotissimo. From it, he says, the standard travel pattern is a flight to Mandalay (the train can take up to 18 hours and so will a car), a boat to Bagan and a flight to Inya Lake. Visitors spend between five and 10 days doing this. To do justice to Bagan, you need a minimum of two days. To relax in a hotel on stilts on the lake and go back in time a bit, you need at least another two or three days. "So, if you've only got four to five days, you should drop Mandalay," says Ehrlich-Adam. The city itself is worth half a day at best. The main historical point of interest is the deserted ancient capital around it.
A good travel agent in Yangon can arrange an itinerary for you within hours. If you are outside Myanmar, it takes a little longer but they can also arrange, through faxes, a visa on arrival. Top-end hotels in Mandalay are the Mandalay Hill Resort Hotel at the foot of Mandalay Hill and the fully serviced Sedona Hotel. In Bagan, you could stay at the beautifully landscaped Hotel Bagan Thande or the Bagan Thiripyitsaya Sanctuary Resort (formerly Bagan Thiripyitsaya Sakura Hotel), which has rooms and bungalows.