CONFERENCES & MICE
Small corporate meetings in Asia
Helping CEOs and hangers-on with events or company conferences. Some great MICE venues and hot spots that may impress the boss and facilitate a swift kick up the bureaucratic ladder.
updated by staff reporters
SEE ALSO Asian resort weddings | Asian casino hotels | Asian golfing | Beijing business hotels | Sanya resorts | Hong Kong business hotels | Bangkok business hotels | Singapore business hotels | Bali resorts review | Phuket resorts | Palawan resorts | Rajasthan palace hotels
JUMP TO China | Hong Kong meetings | Macau | Japan | Thailand | Vietnam | Singapore | Bintan | India | Philippines | Indonesia | Malaysia | Brunei | Maldives | Korea | Taiwan | Mid-East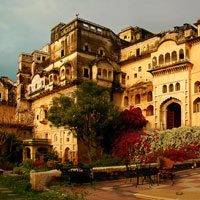 Historic Neemrana Fort, India - make a statement/ photo: hotel
YEARS BACK when Bollywood hot couple Aishwariya Rai and Abhishek Bachchan checked into the Dusit Thani Bangkok during an Indian International Film Academy (IIFA) awards show in Thailand, the hotel flew in top Indian chefs from Mumbai to cater for the celebrities' every culinary whim. After midnight, when their secretary announced that the stars were ready to eat, the white-knuckle kitchen sprang into action, bleary-eyed, starched uniforms and spices at the ready – only to be told that what the pair really wanted was hamburgers from McDonald's. This was duly arranged.
No matter how eccentric or mundane, it's business as usual for meeting planners and hotel event organisers from Bangkok to Bali. From a sit-down dinner on the Great Wall or kimono-wearing workshop in Tokyo to playing pirates in Phuket or brainstorming and team-building at a Java heritage site, there are plenty of options for rallying the troops around the conference table.
Send us your Feedback / Letter to the Editor
At times like these, hotel managers and event organisers need their wits about them. Late changes in guests' meeting plans? No problem. Unusual catering demands? Bring them on. When it comes to small meetings in Asia for gatherings of 20 to 50 people, Asian hotels pull out all the stops. All the more so if it is a high powered corporate meeting in Asia's new top drawer establishments where state-of-the-art goes hand in hand with speedy service for a customer who is always right.
Competition is stiff, with tussles between resort favourites Bali and Phuket and business hubs Bangkok and Singapore. What are the benefits of a corporate meeting in Hong Kong vs Shanghai or Macau, say? How would you compare the benefits of a company conference in Bali vs Phuket? And how do meeting planners sift through their lists of the best Asian conference hotels to find the right location at the right price?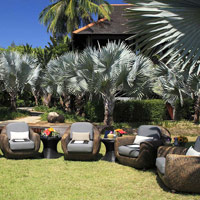 Vitamin D and team building at The Slate, Phuket / photo: hotel
Political strife, sensational news reports, and airport closures also quickly change minds. The highly charged – and publicised – China-Japan face off over a group of islands in the East China Sea, cost Hong Kong much Japanese MICE business while the red-and-yellow shirt confrontations in Bangkok proved a windfall for Singapore and Kuala Lumpur as meeting planners diverted their groups.
Meanwhile, with growing hotel and exhibition inventory, powerhouse China is challenging conference stalwart Hong Kong, while booming India is giving Southeast Asian destinations a run for their money. As air links improve and more luxury and boutique hotels spring up, Vietnam is joining the fray with ever more competitive deals and buckets of charm.
Many hotels will tailor-make packages (and rates), depending on group size, requirements and season. Just about every standard meeting package featured here includes lunch, at least two coffee or tea breaks, regular audio-visual equipment and stationery. Bear in mind that the listed rates generally exclude taxes and service charges. Meeting package rates are per person, per day (or half day). Below is a sample of some of the options available for small corporate meetings at Asian hotels and resorts. This is by no means a definitive guide of Asian conference hotels but a rule-of-thumb to indicate broad costs and destination options for more intimate gatherings. Prices are subject to constant change depending on season.
China conference hotels - the art of big
Sporting a whole new crop of architectural wonders following the Olympic Games, flexibility is key in Beijing, especially in the face of a bleaker economic outlook where booking lead times are notoriously short and competition is keen.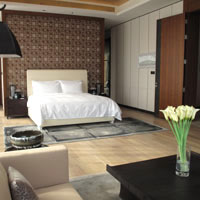 Yanqi Hotel by Kempinski, offers luxe Beijing style/ photo: hotel
An hour's drove from downtown Beijing, the unmistakeable glass-and-steel orb of the Sunrise Kempinski Hotel, Beijing (www.kempinski.com), reflecting across the tranquil Yanqi Lake, comes into view. It is surrounded by Chinese-brushstroke mountains and a range of developments that will please meeting planners in search of an offbeat venue for the next MICE break. The spreadout complex managed by Kempinski includes a scenic resort island that includes the luxe Yanqi Hotel and 12 designer-chic Boutique Hotels, each a unique self-sustained villa complex.
Yanqi Lake popped up on the map after hosting a grand APEC meeting in November 2014. There is an 18-hole golf course and, take note, the entire complex is non-smoking. With unique event space for small meetings or large glitzy banquets and weddings, this is a retreat where everyone from heads of state to corporate suits will feel at home. Think 2,866sq m of meeting space including a grand ballroom and 12 function areas at Sunrise Kempinski and further options including the Beijing Yanqi Lake International Conference Center. This is Chinese designed grand pavilion with Han and Tang Dynasty touches. The central meeting hall features a high ceiling with a huge jade and Swarovski chandelier set amidst painted wooden rafters. The centre presents 8,277sq m of meeting space in various configurations. The luxe wood, lacquer and marble Yanqi Hotel offers 1,001sq m of function space in hushed surrounds, with views of the lake, and the secluded Boutique Hotels area serves up upscale and very private options from 27sq m to 186sq m. These private villas are perfect for a CEO chinwag or bankers' conclave.
Classical and intimate The Ritz-Carlton, Beijing (tel: [86-10] 5908-8888, www.ritzcarlton.com), located in the central business district, 35 minutes from the airport and close to the city's main attractions, offers various meeting packages. It is a small but brisk venue. Room rates vary according to season. Value-added extras can include anything from dinner on the Great Wall of China or a function at the Forbidden City, to an art-gallery get-together.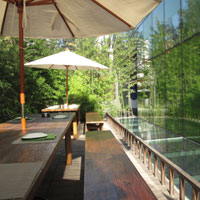 Hip Opposite House, Beijing/ photo: Verghese
Funky The Opposite House (tel: [86-10] 6417-6688, www.theoppositehouse.com) at the shopping and entertainment destination The Village at Sanlitun provides flexible event space for small meetings. A level below the hotel, Bei Space, is a 180sq m meeting area specially designed to offer versatile set-ups for small corporate meetings or more. The space can handle banquets and exclusive fashion shows. Expect good useful props like a projector (that can be positioned as suits), overhead screens, and quality sound system.This is a chic striped-down facility with a minimalist feel and exposed ceilings.
Gastronomes will like the teambuilding option in the fully equipped professional kitchen next door. There's no standard meeting rate – all packages are tailor-made. This is an Asian small meetings hotel with a difference and plenty of flair and attitude from its minimalist cubist décor to the wooden bathtubs. For funky meetings in Beijing it could be a toss-up between The Opposite House vs The Park Hyatt, a more hushed but no less quirky contender.
The innovative, multi-function 490sq m The Gallery on the third floor of the towering Park Hyatt Beijing (tel: [86-10] 8567-1234], www.beijing.park.hyatt.com) is divided into seven areas, including a large open kitchen, library and quiet corner for small meetings. A "meeting concierge technology butler" is on hand at the Gallery One and Two venues. For inspiration up high, the four salons on level 61 accommodate groups from 14 to more than 100. One level up, five dark-wood boardrooms feature local art, espresso machines, panoramic city views, and a glass-encased showcase kitchen with dedicated chefs.
Standard meeting rates start from Rmb500 per person. Add lunch and coffee breaks for another Rmb650 per attendee. Alas, WiFi is not included and will cost Rmb168 per device, per day.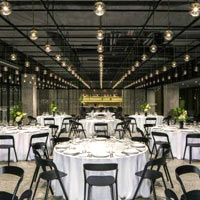 Chic new 'Bei Space' at Opposite House Beijing for meets and banquets / photo: hotel
Another option is the luxurious China World Summit Wing, Beijing, Shangri-La (tel: [86-10] 6505- 8811, www.shangri-la.com/beijing), which begins on the 80th floor of the China World Trade Centre. The hotel has a range of MICE facilities, ranging in size from 41sq m to 2,340sq m. There are two ballrooms, The Summit Ballroom and China Ballroom, an atrium, and 12 additional function rooms to accommodate between 10 and 300 people.
The curving 852-room Grand Hyatt Beijing (tel: [86-10] 8518-1234, www.beijing.grand.hyatt.com) is a striking modern construct and well located downtown close to offices, shops and restaurants. This is a biggie. With more than 2,900sq m of function facilities, it ranks high among top Beijing conference hotels and can do smaller corporate meetings too with equal aplomb. Full-day meeting packages start at Rmb680 per person and include two coffee breaks with snacks, buffet lunch and typical office amenities. Rooms will be at least another Rmb1,180 each per night including breakfast. Make sure you have a meal in the dumpling specialist Made in China restaurant.
With a downtown location next to multinational offices and government buildings around Wangfujing, the sumptuous dark-tone Waldorf Astoria Beijing (opened February 2014, Tel: [86-010] 8520-8989, waldorfastoria3.hilton.com/) with its signature gold frame exterior, presents a splendid venue for small corporate meetings with an underline of style and elegant service. There is space for up to 200 persons.
With 1,686sq m of meeting space, including nine state-of-the-art meeting rooms resplendent with natural light, The Westin Beijing Financial Street (tel: [86-10] 6606-8866, www.starwoodhotels.com/westin/) next to the huge Beijing Financial Street Conference Centre, has an outdoor Zen Garden for true enlightenment. This is a place for muscle meets where everything will be well oiled and humming. An ongoing business promotion for small groups comes from around Rmb600 per person. Choose creative meetings in the famous 798 Da Shan Zi art district or landscaped Song Qing Ling Courtyard in Houhai. Dragonboat racing and hill-side barbecues make for fun incentives.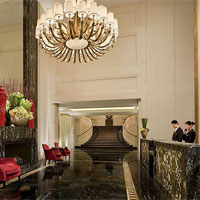 Stately Peninsula Shanghai/ photo: hotel
Shanghai, host of the World Expo 2010, is seeing a dramatic growth in conferencing venues from small to big. So how do you compare the MICE product, Ritz-Carlton Portman vs Park Hyatt Shanghai, or the historic Waldorf Astoria vs The Peninsula? At the larger end you have Grand Hyatt Shanghai vs JW Marriott across the Bund on the "other" side. Not easy choices.
The Peninsula on the Bund, Shanghai (tel: [86-21] 2327-2888, www.peninsula.com/Shanghai/) focuses on small- to medium-size meetings and, particularly, higher-level management summits. A full day's meeting at this stately address is around Rmb550 per person (for a group of 20). Add Rmb158 per person, per coffee break, and Rmb2,700 per room with breakfast. For a quick chopper getaway, the 14th-floor Rosemonde Aviation Lounge – just below the helipad with city and Suzhou Creek views – holds 20 people, boardroom style, with a separate lounge for breaks. New, slick and well run, but a little pricey at Rmb33,000 for a full-day meeting.
With a downtown city location, Portman Ritz-Carlton (tel: [86-21] 6279-8888, www.ritzcarlton.com) offers a daily meeting rate of Rmb600 per person for 20 people, including breakfast, lunch and extras, and room rates starting from Rmb1,100. Its 5,400sq m of meeting space includes 11 different function rooms.
Across the river in Pudong, the soaring The Park Hyatt Shanghai (tel: [86-21] 6888-1234, www.park hyatt shanghai.com) is a slick new tower hotel that boasts eight private dining and meeting rooms. If you suffer from vertigo, avoid the 93rd-floor meeting spaces catering for anything from 22-person corporate board meetings to 228 guests for cocktails. Meeting packages for 16 people and up start from Rmb790 per person, including a butler, WiFi, audio-visual team on standby, two coffee breaks and one business lunch. Rmb700 and up for half day.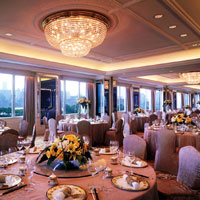 Pudong Shangri-La/ photo: hotel
Next to it is sibling Grand Hyatt Shanghai (tel: [86-21] 5049-1234, www.shanghai.grand.hyatt.com), another top-notch Shanghai conference hotel contender with sweeping views, classy facilities and attention to detail. Full-day meeting spaces for 20 people start from Rmb4,000, with additional charges for coffee breaks and lunch. With a group of this size, expect room rates from Rmb1,000 including breakfast.
Between its two towers – the classic 577-room River Wing and the luxurious 375-room Grand Tower – the Pudong Shangri-La, East Shanghai (tel: [86-21] 6882-8888, www.shangri-la.com/shanghai) serves up some of the largest MICE venues in the city. With 7,000sq m of indoor and outdoor event space, this veteran two-in-one hotel can accommodate groups from 10 to 1,700. If you're working with a flexible budget, look for the Chairman's and President's rooms – ideal for VIP meets. Tech savants will appreciate an in-house simultaneous translation system, multi-microphone hook ups, and complimentary WiFi. Views of the Huangpu River won't hurt either.
Waldorf Astoria Shanghai on the Bund (tel: [86-21] 6322-9988, www.waldorfastoriashanghai.com) is home to three ballrooms, the largest of which can fit 550 people, as well as six boardrooms suitable for small meetings and conferences. WiFi is free for all and tailor-made menus can be created upon request. This is a classy and classic Shanghai corporate meetings venue with a huge dollop of history and heritage.
Also worth noting is the polished new Four Seasons Hotel Pudong, Shanghai (tel: [86-21] 2036-8888, www.fourseasons.com/pudong/) that threw open its doors late 2012. This chic spot houses 805sq m of meeting space, including a 425sq m ballroom and four contemporary meeting rooms.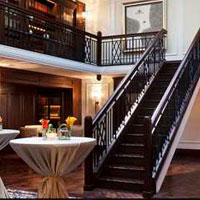 Waldorf Astoria Shanghai/ photo: hotel
For large events and conferences the JW Marriott Hotel Shanghai at Tomorrow Square (tel: [86-21] 5359-4969, www.marriott.com/hotels/travel/shajw) has everything you need. Under one large roof, you'll find 13,250sq ft of meeting space broken down into 17 meeting rooms a 6,265sq ft ballroom and 11 breakout spaces. There's also exhibition space on-site should the need arise. Mark this one down as a solid Shanghai conference hotels address.
Guangzhou remains a biggie. The Canton Fair lies at the heart of Guangdong's resurgent stride and it pumps in welcome dollars into the economy every April and October - this since 1957. The largest of its kind anywhere, the Canton Fair stretches across 1.16 million square metres of function space. To accommodate the twice annual influx, the trade fair moved from its previous location in Baiyun to the sprawling Guangzhou International Exhibition Centre on Pazhou Island, which is much closer to the downtown Tianhe District. The exhibition and display area continues to grow.
The striking Langham Place Guangzhou (www.langhamhotels.com opened late 2013) is by the Guangzhou International Convention and Exhibition Centre, in the thick of the Canton Fair action with direct access to both the convention area and the subway, ideal for those lugging heavy display material. This 408-room hotel serves up spacious hi-tech meeting venues, some open air, along with a commodious 3,000sq ft Great Room for more lavish occasions. Other choices in the area include The Westin Pazhou (www.starwoodhotels.com/westin)and the Shangri-La Hotel, Guangzhou (www.shangri-la.com/guangzhou). At the Shangri-La, pinstripers will enjoy the 6,000sq m of function space, including the 2,240sq m pillarless Pearl River Ballroom, a foyer with panoramic views, a 100-seat auditorium and eight smaller meeting rooms.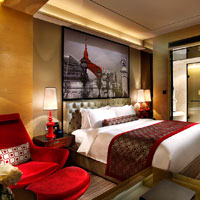 Sofitel Sunrich Guangzhou, Superior room/ photo: hotel
Away from the main exhibition area in a business district, at the Grand Hyatt Guangzhou (guangzhou.grand.hyatt.com/en), meeting planners have 1,315sq m of versatile function space at their disposal, including six meeting rooms and an impressive 979sq m Grand Ballroom that accommodates up to 720 banquet guests. Not to be outdone, the Sofitel Sunrich Guangzhou (www.sofitel.com), closer to the train station, has a smorgasbord of 17 meeting and conference venues to cater for MICE business. The 900sq m Grand Ballroom is a splendid venue for 800 persons theatre style and two larger salons can host around 300 persons each. The Sofitel is a stylish, modern, Paris-meets-China themed hotel wqith good service, smart rooms and excellent F&B - just what savvy meeting planners are in search of.
In fast-developing Chengdu, the home of the panda, some of the grandest event space is on offer at the 555-room InterContinental Century City (), which is part of a complex of hotels sharing the 2,800-person Crystal Ballroom. This is a spot for large showy conferences with a vast number of rooms and the Paradise Island Water Park for apres-meet big waves and make-believe seascapes. Also look at the classic business traveller favourite Kempinski Hotel Chengdu () on the second ring road not too far from this convention venue.
Niccolo by Marco Polo Chengdu (May 2015), is the new top-tier brand by the Hong Kong-based group better known for its stable of value business hotels.Find the spacious Niccolo Ballroom on the seventh floor, a circular belvedere 'Conservatory' on the eighth floor for ceremonial occasions, and 28 meetings rooms with versatile configurations. The Tiara Suite for bridal couples is the icing on the events cake.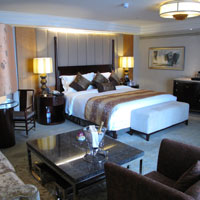 InterContinental Century City/ photo: Vijay Verghese
The seventh floor opens onto the expansive IFS 'sculpture garden' that hosts a mad ensemble of giant pandas and bronze fruit, making this an excellent MICE venue as well as a fine Chengdu hotel for small corporate meetings. Like to drive a car into the ballroom for a motor show? No problem.
Also check out the exquisitely textured marble highrise The Ritz-Carlton Chengdu (www.ritzcarlton.com) with two stylish ballrooms and 1,700sq m of function space, and the businesslike 279-room The St Regis Chengdu (www.starwoodhotels.com/stregis/) and its Astor Ballroom.
Referred to as China's "Oriental Hawaii", tropical resort city Sanya on Yalong Bay at the southern tip of Hainan Island boasts a number of international resort brands with modern meeting facilities. Attractions include nice beaches, plenty of sunshine but limited air links.
The Sanya Marriott Resort & Spa (tel: [86-898] 8856-8888, www.marriott.com), as with many local hotels, draws most of its business from the Chinese mainland. Take advantage of the location with meetings on the lawn or poolside pavilion, or team building on the beach. Afterwards, nip off to the spa, or to the international golf courses nearby. A full-day meeting package runs from Rmb428 (half day from Rmb328) in the low season – add Rmb100 to rates during the high season.
Next door the Sheraton Sanya Resort (tel: [86-898] 8855-8855, www.starwoodhotels.com/sheraton/) has been the proud host of several Miss World pageants and is no stranger to conferences and curious eyes. Designed a bit like a Balinese resort with plenty of space and water features, the hotel has a 1,250sq m grand ballroom but for smaller meetings one of the 11 function rooms will suffice.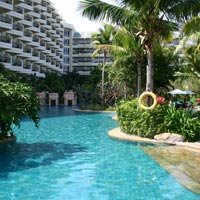 Breezy Sheraton Sanya/ photo: Verghese
Expect internet access in meeting areas, audio-visual equipment, pre-function space and video conferencing facilities. So while the CEO tans to Greek God gold, his hangers-on can glumly look on with Skype connections and fuzzy cameras. The Sheraton Sanya is among the top Sanya corporate meetings choices and compares well against even newer rivals.
Among the more unusual conference venues at The Ritz-Carlton, Sanya (tel: [86-898] 8898-8888, www.ritzcarlton.com/en/Properties/Sanya) are an ocean-front wedding chapel, the centre lawn or a sandy beach. There is more than 1,700sq m of meeting and banquet space too (full-day meeting for 20, from roughly Rmb500; half day from Rmb300). Expect a roughly 50 percent discount on rack rates for groups of 18 or more. Get that wax out of your ears while you're at it. Wind down with a choice of theme parties ranging from Hawaiian to a black tie, bare-foot do on the beach. Go on, leave your footprints in the sand.
Neighbouring St Regis Sanya (tel: [86-898] 8855-5555, www.starwoodhotels.com/stregis) is a sprawling space with outdoor and indoor areas for meets of various descriptions. There are six meeting rooms and the 816sq m Astor Ballroom with natural light and marina frontage. This is a luxury offering, perfect for CEO get-togethers or more. Expect large marbled lavish rooms with balconies.
For small meetings and events, The Conrad Sanya Haitang Bay (tel: [86-898] 8820-8888, conradhotels3.hilton.com/en/hotels/china) is worth a close look. This lux spot has a relatively small banquet room, 182sq m, but offers unrestricted access to the neighbouring DoubleTree by Hilton resort's (tel: [86-898] 8882-6666, doubletree3.hilton.com/en/hotels/china) more extensive ballroom and meeting facilities. The Conrad is a swish address for corporate meetings and your CEO shall not be disappointed.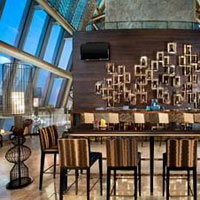 Soaring St Regis Shenzhen/ photo: hotel
In the vicinity is The Royal Begonia Sanya (a Starwood Luxury Collection property, www.starwoodhotels.com/luxury) that opened late 2012. This offers more intimate space with a maximum of 50 persons theatre style in one of two function rooms.
Shenzhen, China's southern business hub, would like to boost MICE events and rates can be competitive at times. The St Regis Shenzhen (tel: [86-755] 8308-8888, www.stregis.com/shenzhen), a literally towering venue, can likely accommodate most sizes and needs, with 11 meeting spaces totalling 2,100sq m. Full-day meetings start from Rmb750 per person. Discounted group accommodation rates, are from Rmb1,600 per night, including three complimentary pressings, breakfast and welcome treats. Expect to pay Rmb100 per laptop for daily WiFi.
The Grand Hyatt Shenzhen (tel: [86-755] 8266-1234, shenzhen.grand.hyatt.com) is a favourite among business travellers. No surprise this. Find extensive facilities, with more than 2,769sq m of event space and a 1,000sq m pillarless ballroom with sky-high ceilings. Nothing is standard here, so you can craft the perfect event on your own terms. Mark this down as a top Shenzhen corporate meetings hotel.
The Ritz Carlton, Shenzhen (tel: [86-755] 2222-2222, www.ritzcarlton.com/) is an upscale option in the Futian business district for a chic corporate affair. From the most exclusive board meetings to company-wide retreats, you can find a corner in the 1,319sq m of function space. That includes a 608sq m ballroom that can be broken down into three smaller salons.
In a corner of Shenzhen, closer to the overland bus border with Hong Kong in the west at Shenzhen Bay (a pleasant surprise, with few crowds and an orderly taxi queue), is the all marble JW Marriott Hotel Shenzhen Bao'an (February 2015, www.marriott.com).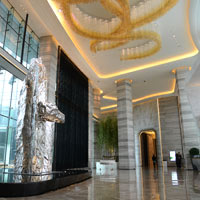 JW Marriott Shenzhen Bao'an lobby/ photo: Vijay Verghese
This is a 356-room Muscle MICE affair with elegant touches and more luxury trim than you could wave a stick at. It is about a 20-minute drive to the border. The scale and facilities at this JW will please meeting planners immensely. Consider this – eight meeting rooms with a combined space of 27,986sq ft (of which the Grand Ballroom serves up 2,070sq ft), assorted hi-tech paraphernalia for anything from stylish small corporate meetings to lavish conferences, trade shows, banquets or weddings, and the can-do attitude of a livewire general manager brimming with sparky ideas. Also expect a huge pre-function area with panoramic bay views welcoming of light. Mark it down as a top Shenzhen conference hotels choice.
If entertainment and amusement jibe better with your corporate culture, try The Venice Hotel Shenzhen (tel: [86-755] 2693-6888, www.szvenicehotel.com). This quirky Italian-themed hotel is home to three ballrooms and eight meeting areas.
The Venice Ballroom is the largest, stretching 685sq m, and holding up to 700 people. Function rooms can accommodate anywhere from 12 to 150, and each is named (and designed) after a city in Italy. Full-day meeting packages start at Rmb480 per person (half-day Rmb430).
Macau's Mighty MICE
Macau's lucrative casinos may have put it on the map, but its MICE facilities are nothing to sneeze at. Many head here for top-notch meetings and events, with plenty of entertainment on the side. For elegant, contemporary meeting spaces, head straight to Wynn Macau (tel: [853] 8986-3168, www.wynnmacau.com) on the Macau Peninsula. One of Macau's most luxurious hotels, the Wynn offers up to 2,200sq m of meeting space, state-of-the-art technology and customised itineraries. You can expect excellent food, meticulous service and classy casino facilities.
Situated on the NAPE waterfront, the nearby Mandarin Oriental Macau (tel: [853] 8805-8888, www.mandarinoriental.com/macau/) is another serene, sophisticated option with three banquet rooms and two additional meeting spaces. Also on the Macau Peninsula is Sofitel's Ponte 16 Resort Macau (tel: [853] 8861-0016, www.ponte16.com.mo). Located in Macau's Inner Harbor, this French-inspired property offers seven meeting rooms, all with natural light. The Baccara room has access to an outdoor balcony and pool, and all packages can include tailor-made menus upon request. Roll the dice or pop into Asia's first Michael Jackson Gallery – perfect for lunch breaks.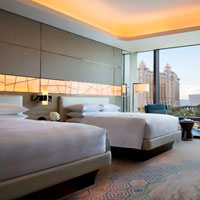 JW Marriott's Muscle MICE ensemble arrived May 2015/ photo: hotel
MICE space is spreading like a gambling addiction on the newer reclaimed Cotai Strip. The most notable addition to the meeting scene is the Sheraton Macao Hotel, Cotai Central (tel: [853] 2880-2000, www.starwoodhotels.com/sheraton/property/overview/), a gargantuan 3,896-room property in the Cotai Central shopping and casino complex. This family friendly hotel has a lot going on under its roof, with 144,523sq ft of meeting space, including the Kashgar Grand Ballroom and six smaller ballrooms. Of course, more intimate boardrooms are available as well. Or, spring for the hotel's "FIT Meeting" options, offering "healthy" meetings, fitness exercises and calorie friendly meals aimed at increasing team energy. The Sheraton is definitely a must-see on your top Macau conference hotels list. It is perhaps better suited to mega events.
The adjacent Conrad Macao, Cotai Central (tel: [853] 2882-9000, conradhotels3.hilton.com/en/hotels/macao/) is a bit more intimate, with a more sophisticated feel. Facilities won't be quite as comprehensive, but you can expect an impressive 53 conference and meeting spaces, as well as access to the Sands Cotai Central group's six ballrooms and 13,500sq m grand ballroom.
Of the Sands bunch, The Venetian Macao (tel: [853] 2882-8888, www.venetianmacao.com) still runs the show, but it has a very different feel. It's easy to get caught up in the canals and shopping, frescoes and food courts, but within the more than 100,000sq m of meeting space, you're sure to find a spot to park your group and buckle down. Full-day packages with lunch, two coffee breaks and typical presentation gadgetry start from HK$600 (half day HK$480 per person). Conferences of up to 10,000 can schedule events across the three properties.
Other Macau MICE and conference options in Cotai include the Grand Hyatt Macau tel: [853] 8868-1234, macau.grand.hyatt.com) in the City of Dreams complex – a polished and refined space for high end get-togethers – and Galaxy Hotel (tel: [853] 2888-0888, www.galaxymacau.com) in the Galaxy Macau complex.
In the Galaxy's second phase is Asia's largest JW, the JW Marriott Hotel Macau (www.marriott.com) with 1,015 rooms. It was unveiled in late May 2015. As with all the grand behemoths lining this glittering strip, the JW Marriott Macau serves up both Muscle MICE - with 2,700sq m of event space for conferences, corporating meetings, banquets and weddings - and splendid family distractions. Rooms are smart and textured with clean minimalist lines and pastel tones. The grand ballroom can seat 1,600 theatre style and 904 for a conference. Videoconferencing facilities are available. The meeting rooms can hold from 15 to 84 people theatre-style and a combination of two rooms can hold 216. This aims to be one of the top Macau conference hotels. Mark it down.
Neighbouring The Ritz-Carlton, Macau (www.ritzcarlton.com/) offers more intimate corporate meetings with 900sq m of event space including a pilar-less grand ballroom for 400, while the 400-key The St Regis Macao (www.starwoodhotels.com/stregis - opened December 2015) and billed as a Macau luxury boutique hotel that has set new standards, offers a 600sq m ballroom to host up to 400 for luxury corporate meetings, gala events or flash CEO get-togethers.
Hong Kong's can-do corporate spaces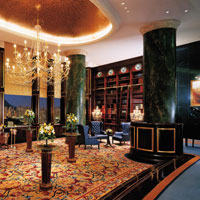 Island Shangri-La Library/ photo: hotel
On the doorstep of southern China and a stone's throw from major mainland destinations, vibrant Hong Kong conference hotels have a track record for technical expertise and world-class meeting facilities. Dealing with business travellers is a doddle. A convenient visa-free system allows several nationalities to pop in without formalities. As elsewhere around Asia, lead times have shrunk, with clients who used to book up to a year in advance now organising their meetings only a month or two ahead. This trend, along with the rapid development of neighbouring Macau, has made prices more flexible.
Groups of 20 at the Grand Hyatt Hong Kong (tel: [852] 2588-1234, www.hongkong.grand.hyatt.com) can meet in style in the opulent The Residence, with an open kitchen providing "creative" breakfasts and coffee breaks. Or choose semi-outdoor The Poolhouse, overlooking the swimming pool and gardens. At least 23 other function rooms cater for groups of all sizes. The full-day "Preferential Meeting" package starts from HK$980 per person, (half-day HK$780) including lunch and two coffee breaks.
Optional extras include head and shoulder massages during breaks, chef's showmanship dim-sum-making sessions or even professional tarot-card and palm reading. If your company has money to burn, there's always a power meeting on the hotel's mega-yacht Grand Cru. How's that for a classy corporate meeting Hong Kong style?
At the Renaissance Hong Kong Harbour View Hotel (tel: [852] 2802-8888, www.marriott.com) a meeting package priced at HK$780 per person includes morning and afternoon refreshments, lunch and meeting stationery. Frustratingly, WiFi comes with a fee.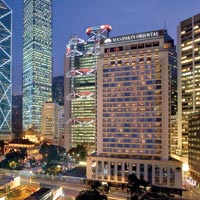 Mandarin Oriental Hong Kong/ photo: hotel
If the discussions get too heated at your team meeting at Island Shangri-La (tel: [852] 2877-3838, www.shangri-la.com/hongkong/islandshangrila), stretching exercises with a professional instructor may ease the tension during your break. The full-day meeting package runs from HK$1,050 per person, including two coffee breaks and lunch. Half-day starts at HK$880, sans lunch.
The Island Shangri-La has a deserved reputation as a fine business address with quick and attentive service. It should be on your Hong Kong conference hotels short list.
Centrally located above the Pacific Place mall and popular with business travellers, JW Marriott Hong Kong (tel: [852] 2810-8366, www.marriott.com) has 12,023sq ft of total meeting space, including 15 breakout rooms. Meetings packages are tailored on request. This is a central venue close to shopping, restaurants and cinemas should the keynote speech be too dull.
Neighbouring Conrad Hong Kong (tel: [852] 2521-3838,conradhotels3.hilton.com/en/hotels/hong-kong/) is another brisk Hong Kong small meetings hotel that is good with bigger conferences as well. This is a hotel with a special focus on pin-striped executives and is the closest to the MTR train station of the main Pacific Place trio.
The legendary, revamped Mandarin Oriental (tel: [852] 2522-0111, www.mandarinoriental.com/hongkong) overlooking Victoria Harbour is connected by air-conditioned walkway to top business addresses in the Central district. A full-day meeting package for up to 20 people starts at HK$1,750 and includes two coffee breaks as well as one lunch. Expect discounts on blocks of 10 rooms or more, high-speed WiFi and IT butlers. Yes, the butlers definitely did it.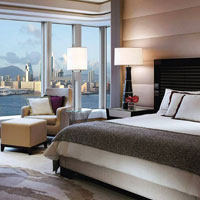 Four Seasons HK views/ photo: hotel
Across the road overlooking Victoria Harbour is the curving reflective glass Four Seasons Hong Kong (tel: [852] 3196-8888, www.fourseasons.com/hongkong), which serves up two ballrooms and seven meeting rooms with Wi-Fi for you to catch your favourite YouTube broadcast.
A package with meeting facilities might include a fitness workout upon arrival, an afternoon at the shopping mall, a welcome reception in the Peak Suite, an evening of horse racing at the Happy Valley racetrack, and a gala farewell dinner. You can shake hands and make impassioned speeches in between. If a corporate meetings planner were to compare the Mandarin Oriental vs Four Seasons Hong Kong, it's a close match-up with the Four Seasons having a small edge on space, harbour views, and parking. The Mandarin is right above the Central MTR station, however, while the Four Seasons is a short walk from a station exit.
Mah-jong tiles, calligraphic screens and dim sum set the scene during one of the "Insider Breaks" offered by iconic city and harbour-view property InterContinental Hong Kong (tel: [852] 2721-1211, www.hongkong-ic.intercontinental.com) in Tsim Sha Tsui, Kowloon. Healthy, girth-friendly meeting breaks comprising fruit and vegetable drinks and health snacks keep stress at bay. Tailored Insider Interactions allows you to rent a traditional Chinese junk or modern yacht.
Or discover inner harmony with a local feng shui master. All harbour-view meeting rooms have been renovated as has the lobby, which now sports a far more contemporary feel. Lots of excellent dining options from Japanese and Cantonese to French. A great venue with grand views but a tad far from the TST MTR station, connected by a long and labyrinthine underground walkway.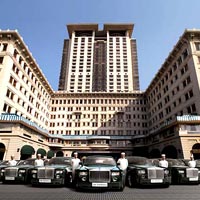 Historic Peninsula Hong Kong/ photo: hotel
Close by, the classic The Peninsula Hong Kong (tel: [852] 2920-2888, hongkong.peninsula.com) offers a range of conferencing venues from the majestic Salisbury Room with its golden drapes and sparkling chandeliers to the Garden Suite, with a private terrace overlooking the harbour. The China Clipper room is aviation-themed and can host 16 to 40 persons, while the more intimate Golden Pen room can accommodate 20 persons classroom style or in a U shape and 45 persons theatre-style. This historic hotel is right next to the TST Station exit and offers completely remodelled rooms that made a grand appearance mid 2012 with hi-tech features like interactive tablets for room controls, menus and city guides. Internet is complimentary.
With excellent meeting facilities and quality service, we are often asked to compare The Peninsula vs The Ritz-Carlton Hong Kong (tel: [852] 2263-2263, www.ritzcarlton.com). These two could have regular dustups but they are worthy, and stately, competitors. The younger Ritz soars over Kowloon West, 102 floors above the city in a gleaming steel-and-glass tower next to the ICC office tower.
The elegant Diamond Ballroom is a 7,279sq ft space with elaborate chandeliers. It can host 600 people for a reception and 700 theatre style. Go for one of the larger meeting rooms or opt for a smaller leather chair function space for a CEO meet. Options here are mod, hi-tech, and often with superb views in all directions over the city and harbour. The Airport Express station is close at hand but bear in mind West Kowloon is still a developing area.
For something offbeat and hip in the same complex, look at W Hong Kong (tel: [852] 3717-2222, www.starwoodhotels.com/whotels/). The hotel says it "puts the chi back in chic" and expect no less when it comes to conference venues and events. This 393-room hotel offers 10 meeting spaces with plasma screens, WiFi, high-speed Internet access and breathtaking views. Run a small company meeting or a larger show with a touch of class, or mischief, as the mood demands. Breakout later in the "Wish Workshop" and learn cooking or yoga.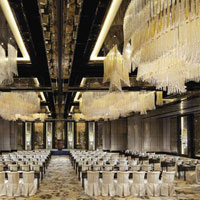 Ritz-Carlton Hong Kong/ photo: hotel
Hip, dark and sultry, The Mira (tel: [852] 2368-1111, www.themirahotel.com) is tucked away off Nathan Road in TST and pushes for a "wow" factor. Multi-function meeting space and a 10,000sq ft ballroom can manage everything from 800 persons to just the top brass for an annual budget cruncher. Trendy, different and with good innovative nosh too, in the midst of shopper neon.
In formerly unfashionable Mongkok, now a throbbing must-see district, the Cordis Hong Kong at Langham Place (www.cordishotels.com - formerly The Langham Place Mongkok and rebranded 1 September, 2015), is a characterful and fun luxe choice for leisure trippers and business travellers. The hotel has five meeting venues starting at 380sq ft, all bristling with technology. Meeting packages include welcome coffee or tea, coffee breaks and a western or Chinese lunch buffet. This is a funky meeting venue with a whimsical meld of art and business.
Older and with classic décor, Kowloon sibling The Langham Hong Kong (tel: [852] 2375-1133, hongkong.langhamhotels.com) serves up meeting packages with accomodation from HK$2,150. That includes complimentary upgrades for VIPs and free WiFi for all.
Offering panoramic views is the Hyatt Regency Hong Kong, Tsim Sha Tsui (tel: [852] 2311-1234, hongkong.tsimshatsui.hyatt.com). Renovated in late 2012, the hotel's five versatile salons dance with natural light and can accommodate parties ranging from 12 to 217 guests. If it's a big ticket event you're after, size up the high ceilings of 335sq m pillarless ballroom. The hotel is in the heart of Kowloon shopping and nightlife a short stroll from the underground train. The full-day "Executive Meeting Package" starts from HK$820 per person and includes a business lunch, and two themed coffee breaks.
Away from the city bustle, Hong Kong's "urban resort", the Hyatt Regency Hong Kong, Sha Tin (tel: [852] 3723-1234, www.hongkong.shatin.hyatt.com) has a "Residential Meeting Plan" (minimum of 25 people). Book a room (from HK$1,780 per night) and get a full day's use of a club meeting room, meals, themed coffee breaks, free internet and a choice of two activities: morning exercise, mini massages during coffee break, complimentary round of cocktails, or an HK$1,000 discount on a private BBQ dinner. Rates are subject to change.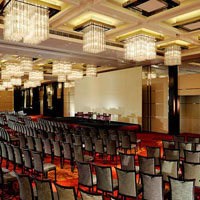 SkyCity Marriott HK/ photo: hotel
Also outside of town in the far west of Hong Kong in Pokfulam but still worth a peek is Le Méridien Cyberport (tel: [852] 2980-7788, www.starwoodhotels.com/lemeridien/). Located near Hong Kong University past Kennedy Town, the 170-room hotel has a total of 17 meeting spaces, including a Convention & Exhibition Centre that can accommodate up to 300 people theatre-style. Expect high-tech equipment, complimentary WiFi and thoughtful touches for the modern business traveller.
If you prefer to hang by the airport, try the Hong Kong SkyCity Marriott Hotel (tel: [852] 3969-1888, www.marriott.com/hotels/travel/hkgap-hong-kong-skycity-marriott-hotel/). With 12 meeting rooms totalling 13,885sq ft and a ballroom that can accommodate up to 650 people, this hotel can get the job done. The hotel offers a contemporary, colourful feel with a brisk pace and buzz. The meeting area is set apart from the residential area, cleanly separating the action from leisure. The airport is easily accessible as is the neighbouring AsiaWorld-Expo that hosts a growing number of exhibitions, conventions and concerts. This is a smart modern address for corporate meetings in Hongkong.
Regal Airport Hotel (www.regalhotel.com) is connected directly to Hong Kong International Airport. It's a large affair with 1,171 rooms, 31 function rooms, and one of the biggest pillar-less ballrooms in the city, six restaurants, a spa, and fitness facilities. In rooms expect flatscreen TVs, complimentary wired and Wireless Internet, three telephones, a minibar, safes to house a laptop, tea-and-coffee-making facilities, plus nice views. As well as an indoor pool, there's also an outdoor option where you'll hear the roar of the jets as they take off. Regal is family-friendly Hong Kong airport hotel – Disneyland is just a short drive by car, and the hotel has its own 'Kiddieland', which has a bicycle track and play area.
Japan meetings for all reasons
Tokyo is a pricey business destination, but there are good deals to be had with hotels more inclined to be creative and flexible in accommodating requests and budgets. Savvy hoteliers have adapted their strategies to get through the downturn. This is good news for meeting planners.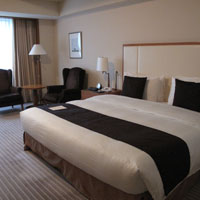 Imperial Tokyo/ photo: Verghese
Kimono-wearing classes and pre-meeting, mind-opening yoga sessions are but a sample of the special meetings offerings at the Mandarin Oriental, Tokyo (tel: [81-3] 3270-8800, www.mandarinoriental.com). The hotel offers a "Meetings by Mandarin Oriental, Tokyo" full-day package from Y23,000 per person. Expect a function host, personalised place cards, refreshments, one business lunch, one coffee break, and all kinds of supplies. Half-day packages start at Y20,000 per person and group accommodations start from Y35,000 per deluxe room.
The walls don't have ears in The Japanese Ceremony Room at the conveniently located The Peninsula Tokyo (tel: [81-3] 6270-2888,www.peninsula.com/Peninsula_Hotels/). This traditional meeting area features a washi paper ceiling and urushi striped wall behind the altar. With more than 1,200sq m of banquet and meeting space and meeting consultants to offer seamless service, several function rooms in the hotel are perfect for groups of about 30.
Stay in touch with complimentary WiFi and a portable landline phone functioning anywhere in the hotel. A full-day meeting package comes from Y25,000 (half day from Y15,000), for six to 30 delegates. A good Tokyo corporate meetings hotel.
Sleek and towering, the 290-room Conrad Tokyo (tel: [81-3] 6388-8000, conradhotels.hilton.com) in the Tokyo Shiodome area has six meeting rooms and two ballrooms hosting from 10 to 480. Meeting rooms feature the latest in audio-visual gadgetry (this is Japan after all, so practice on the Wii with the kids before venturing north). Check on their half-day and full-day meeting packages. Book 21 days or more in advance to secure 20 percent off the room rate.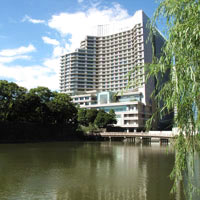 Palace Hotel Tokyo/ photo: Vijay Verghese
For large banquets and ballrooms, head to the revamped Imperial Hotel Tokyo (tel: [81-3] 6388-8000, www.imperialhotel.co.jp/e/tokyo). The Peacock Room, the largest of 26 separate banquet halls and function spaces, can fit up to 3,000 guests – perfect for exhibitions, galas, receptions and seminars. The Imperial is smack in the heart of Ginza with a super location for subway access. This is one of the oldest hotels in Japan (originally designed by Frank Lloyd Wright) and retains some of the earlier brick feel at its clubby Imperial Bar.
The centrally located Palace Hotel Tokyo (tel: [81-3] 3211-5211, www.palacehoteltokyo.com), which opened in May 2012, is worth noting among your list of Tokyo conference hotels. This refined addition to the skyline is within gazing distance of the Imperial Palace and can host up to 1,500 people in its main function room. Soaked in natural light, the remaining seven meeting spaces are smaller, and ideal for more intimate gatherings.
Roppongi muscle meet venue, the Grand Hyatt Tokyo (tel: [81-3] 4333-1234, tokyo.grand.hyatt.com), serves up 13 Meeting Rooms and a 1,000sq m Grand Ballroom.
River, beach and city events in Thailand
Comprehensive countrywide mobile phone networks, fast and efficient high-speed Internet and international teleconferencing complement outstanding services and facilities in the Thai kingdom. There are good domestic and international air links and top conference and MICE facilities. Bangkok alone houses the Queen Sirikit National Convention Centre (committed to 'green' MICE events, with ballroom, auditorium, outdoor space and a kids' area), the Bangkok International Trade & Exhibition Centre or BITEC (with 50,400sq m of MICE and convention space in Bang Na) and the large Impact Arena Exhibition Centre a little outside the city not too far from Don Mueang Airport in the north. The Impact Exhibition Center offers eight halls that can be flexibly repurposed for any event with 47,000sq m of MICE space at competitive prices.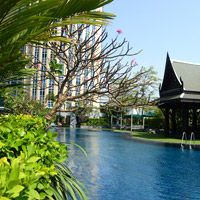 The Athenee Hotel, new look, from poolside to lobby/ photo: hotel
The Thailand Convention and Exhibition Bureau (TCEB) runs a very competent and informative site with details on Thailand MICE destinations including Bangkok, Pattaya, Chiang Mai and Phuket. A few years earlier, political turmoil sent conference business scuttling to rivals such as Singapore and the market remains soft so bargains are to be had with the added advantage of great Bangkok conference hotels and top-line service.
The gleaming The Athenee Hotel, A Luxury Collection Hotel, Bangkok (rebranded from Plaza Athénée Bangkok, A Royal Méridien Hotel on 6 October 2017, tel: [66-2] 650-8800 , www.theatheneehotel.com/) is a short skip from a BTS station and you'll find a quality spa, classy accommodation, and some of the largest conferencing facilities in town. New look rooms streamed in mid-2015. Public areas and the marbled lobby - with its signature floral arrangement and grand staircase - were next. Nowhere is the transformation more keenly apparent than on the fourth floor where an event space for about 60 (sit down dinner) opens onto the alfresco pool and its manicured surrounds and breezy sala. This is a swimming pool that actually catches the sun for a leisurely tan. While green astroturf rings the pool, there is actual grass in an adjoining topiary. But if you don't need 5,600sq m of Muscle MICE conference and exhibition space, pick a smaller function room with state-of-the-art equipment and get cracking with a quality small corporate meeting.
Apart from more conventional spaces such as its Lord Jim's meeting room and contemporary Embassy Room, the Mandarin Oriental, Bangkok (tel: [66-2] 659-9000, www.mandarinoriental.com/bangkok) also offers tailor-made private meetings on its Maeyanang Dinner Cruise teak boat.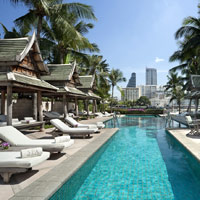 Peninsula Bangkok/ photo: Verghese
Just across the river, with telescopes mischievously trained on its archrival are the classy tower rooms of The Peninsula Bangkok (tel: [66-2] 861-2888, www.peninsula.com/Bangkok/) where the Sakuntala Ballroom and seven smaller function rooms await, all with high-speed Wi-Fi and grand, understated, settings. Apres-work enjoy the spa or do a river cruise. One advantage of this serene and very corporate dark-wood resort-hotel is that it is on the "other" side of the river and thus keeps your audience corralled a bit better than a next-to-bars location.
Farther along the river is the breezy, resort-style Anantara Bangkok Riverside Resort & Spa (tel: 66-76] 476-0022, bangkok-riverside.anantara.com) where you will never feel you're in a big city at all. Pootle down the river, a 10-minute boat ride from the Saphan Taksin SkyTrain ferry pier, to find the Chaophraya Ballroom that seats up to 800. There are other smaller breakout session rooms as well for groups of varying sizes.
The corporate Sheraton Grande Sukhumvit (tel: [66-2] 649-8888, www.sheratongrandesukhumvit.com) has eight dedicated function venues, including the 136sq m Sukhumvit Room that can accommodate 39 delegates and up. The "wePresent" wireless presentation adapter in The Cove room provides an easy connection from your laptop to the screen. Themed coffee breaks (Thai and healthy themes are popular) match your corporate identity or cater to a special occasion.
Across the road, similarly favoured by a location next to a BTS train stop and the underground metro station, The Westin Grande Sukhumvit, Bangkok (tel: [66-2] 207-8000, www.westingrandesukhumvit.com/) offers value stays in a refurbished product with fresh rooms and updated restaurants. The hotel has nine meeting spaces. Expect video conferencing, pre-conference space and audio-visual gear to keep you wired for weeks.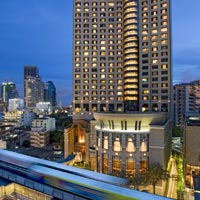 Sheraton Grande Sukhumvit/ photo: hotel
Also on Sukhumvit Road, the artery of commerce, the JW Marriott Hotel Bangkok (tel: [66-2] 656-7700, www.marriott.com) features new high-tech rooms and an IT concierge to cater for meetings, launches, events and incentives. The JW falls between two BTS SkyTrain stations. It offers smart service and generally high standards.
The corporate market has remained strong for business stalwart Anantara Siam Bangkok (formerly the Four Seasons Hotel Bangkok) (tel: [66-2] 126-8866, siam-bangkok.anantara.com/) with an 840-person ballroom perfect for MICE events, weddings, and banquets plus a range of breakout rooms accommodating anywhere from 40 to 200 people. This is a fine Bangkok conference hotels pick with a BTS SkyTrain location (Rajadamri), excellent service, and dedicated meetings coordinators to help plan any event. The hotel offers a contemporary experience in a very Thai-style setting that will please many.
Next door, the gleaming reflective-glass 227-room St Regis Bangkok (tel: [66-2] 207-7777, www.starwoodhotels.com/stregis/), is conveniently linked to the Rajadamri station. This luxury address offers eight meeting spaces with the largest at 5,540sq ft that can handle 350 theatre style.
A short stroll down the road, Grand Hyatt Erawan (tel: [66-2] 254-1234, bangkok.grand.hyatt.com) is a Bangkok conference hotel with excellent facilities and a splendid central location astride the Sukhumvit/Silom axis. The hotel offers 3,330sq m of conference space in 14 function areas. The ballroom can host up to 1,500, while six smaller rooms are able to host from 10 to 150 – ideal for corporate company meetings.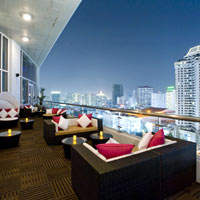 Centara Grand at CentralWorld/ photo: hotel
Or opt for "the residence", a series of event rooms set around a Loft Kitchen where coffee breaks are taken. And if nothing seems to be going your way, duck outside for a quick blessing at the sacred incense-wreathed Brahma statue.
Another option in the area is Sofitel Bangkok Sukhumvit (tel: [66-2] 126-9999, www.accorhotels.com/gb/hotel-5213-sofitel-bangkok-sukhumvit/). Expect customised packages from the Inspired Meetings Concierge, and a choice of 12 diverse venues, all equipped with Bose surround sound and LED screens.
Bangkok Sukhumvit's creative and funky younger sister is the Sofitel So (tel: [66-2] 624-0000, www.accorhotels.com/gb/hotel-6835-sofitel-so-bangkok/), offering a more contemporary vibe. This darkly lit 238-room hotel has decked out its meeting spaces with hi-tech LCD screens, HD projection screens and free WiFi throughout. If you need to get those creative juices flowing, ask for "The Box" – perfect for intimate brainstorming sessions. There are also four loft-style meeting rooms with open kitchens and a ballroom that takes after a Parisian opera house.
A few minutes away on South Sathorn Road is The Sukhothai Bangkok (tel: [66-2] 344-8888, www.sukhothai.com). This luxurious Thai heritage hotel offers a mix of green outdoor spaces, boardrooms and reception halls. If you're in town and the weather is nice, try the two-storey Garden Villa, which has a total of four meeting spaces and a courtyard for cocktail parties or coffee breaks. For small corporate meetings, head to the executive floors. You'll find five facilities able to host between 48 and 100 people. Excellent food and service but not near a SkyTrain station. Still, all in, for meetings with a Thai flavour, this is one of the top choices for a pin-striper chinwag.
The integrated hotel, convention venue and leisure complex Centara Grand at CentralWorld & Bangkok Convention Centre (tel: [66-2] 100-1234, www.centarahotelsresorts.com/cgcw/) in the heart of Bangkok's CBD has nine executive floors and meeting spaces for groups of any size. A full-day meeting package (including two coffee breaks and lunch) is available from Bt1,350 per person, while half-day packages run from Bt1,150.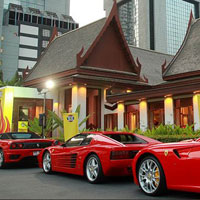 Stylish Sukhothai Bangkok/ photo: hotel
If staying overnight, note that groups receive one complimentary room for every 30 booked. The latest addition to the hotel, M23, (November 2012) includes four naturally-lit boardrooms ranging from 18 to 50-person capacity. There's an open kitchen, rooftop putting green, al fresco terrace and interactive touch screens for video conferencing. Sky-piercing architecture and vertiginous views await.
The Dusit Thani Bangkok (tel: [66-2] 200-9000, www.dusit.com/hotels/thailand/bangkok/) has long been a city icon favoured by royalty for major events. The Meeting Centre offers six boardrooms, well suited for small meetings in Bangkok, with the latest audio-visual equipment, LCD projectors, high-speed Internet, leather chairs and video conferencing.
On Surawongse Road, parallel to Silom is the mod and hip 282-room Le Meridien Bangkok (tel: [66-2] 232-8888, www.starwoodhotels.com/lemeridien/) with six function rooms and the Bamboo Chic Bar – perfect for cocktail receptions. This is a jaunty hotel well set to cater for small meetings with a degree of flair. Find 559sq m of conference space with high-end BOSE AV equipment, including touch-screen IP phones and 40-inch LCD screens. For groups of 10 or more, explore the "Meeting in Style" packages. From Bt4,500 per person, groups enjoy a Vista room with breakfast, free WiFi, full-day meeting, and one upgrade to a suite.
The wood and silk Conrad Bangkok (tel: [66-2] 690-999, conradhotels.hilton.com) is a smart address downtown with lots of Thai overtones on what is a very contemporary executive chassis. This is a chic address with style, functionality, and broad-spectrum appeal perfect for small meetings in Bangkok or larger corporate bashes. There are 22 meeting or banqueting rooms with WiFi internet access and a veritable arsenal of audiovisual equipment. Expect tele-prompters, "intelligent" light systems, surround sound and video conferencing facilities. A good address for corporate meetings and small conferences.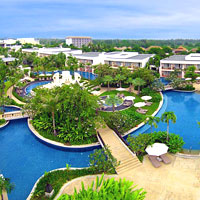 Sheraton Hua Hin/ photo: hotel
About 190km south of Bangkok, the resort town of Hua Hin offers good options for those wanting to avoid an onward flight from Bangkok. The 240-room Sheraton Hua Hin Resort and Spa (www.starwoodhotels.com/sheraton/property/overview), one of the new-wave all-inclusive international resorts, offers great value, mixing family-friendly facilities with good service in a luxury package. The low-rise architecture - straddling a series of pools - is bright and airy with lots of nooks and crannies to give the Sheraton the feel of a much smaller resort. This works to its advantage as a MICE player. The hotel serves up a comfortable 4,800sq m conference and meeting space for corporates and has sufficient grounds to manage resort weddings, events, and a range of functions including team building exercises. The grand ballroom is a commodious - and versatile - 820sq m.
Formerly known as Sofitel Centara Grand Resort & Villas Hua Hin, the iconic Centara Grand Beach Resort & Villas Hua Hin (tel: [66-32] 512-021, www.centarahotelsresorts.com) with its old-colonial style and distinctive topiary of sculpted animals and birds is an elegant place to get together. With six 18-hole golf courses nearby, this is an executive dream. Tailored rates are available. The Hua Hin Halls I and II will comfortably manage 20 to 40 in various settings.
Also take a look at the 187-room Anantara Hua Hin Resort & Spa (tel: [66-3] 252-0250, huahin.anantara.com), which offers a range of small meeting options to accommodate 30 to 90 persons.
A convenient 130km by road from Bangkok airport, Pattaya is rapidly shaking off its erstwhile reputation as a booze-and-babes bolthole. The city has in recent years transformed into a more family-orientated spot, and posh new hotels are coming up with plenty of decent business offerings. Girlie bars still abound, but there's also shopping, water sports, elephant rides, golf, base-jumping, high-end polo – and even a quality vineyard. This is now a gentrified family-friendly and certainly corporate-friendly venue so drop the pinstripe suit and don your bathers for a sizzling small meeting with attitude on the sultry Thai coast.
The chic Hotel Barracuda Pattaya, MGallery by Sofitel (formerly the dusitD2 baraquda, tel: [66-3] 876-9999, www.hotelbaraquda.com) is a designer hotel in the centre of town that sports bright meeting rooms for up to 50 people. The whole hotel is Wireless. The White Lounge on the second floor is modern, all white and minimalist with 120sq m of space. Also find a spa and an outdoor pool with sunning deck.
Centara Grand Mirage Pattaya/ photo: hotel
For something bigger, much bigger, and spanking new, check out the theme hotel Centara Grand Mirage Beach Resort Pattaya (tel: [66-3] 830-1234, www.centarahotelsresorts.com/cmbr/). This architectural marvel hosts kids and rattled executives with equal aplomb with a 1,000sq m grand ballroom for MICE and other grand events. On a smaller scale, customised function spaces are available. Work hard and play harder. Walk the beach, try the lazy river and explore the Lost World concept. Ideal for meeting planners who need to make arrangements for the family as well and kill two birds with one stone.
Beachside InterContinental Pattaya Resort (rebranded 1 April 2016 from Sheraton Pattaya Resort, tel: [66-3] 825-3000, www.ihg.com/intercontinental/) offers five meeting spaces, including the 400sq m Phratamnak Ballroom, which can accommodate up to 200 guests theatre-style. Or go for a small reception in the Papaya Room.
Perched atop the sprawling CentralFestival Pattaya Beach shopping complex, another worthwhile look-see is the 34-storey Hilton Pattaya Hotel (tel: [66-3] 825-9888 www.hilton.com/en/hotels/thailand/hilton-pattaya-hotel-BKKHPHI/). With 5,000sq ft of exhibition space and more than a dozen venues, there's something for every type of event. Prices from Bt1,500 per person for full-day packages. Expect welcome refreshments, two tea services, lunch at Edge Restaurant, typical meeting accessories, and lots of add-ons, such as team building activities from Bt1,200 per person.
Far from the madding crowds, a two-and-a-half-hour drive from Bangkok airport in Khao Yai province, is the new, exclusive SALA Resort Group boutique property sala khaoyai (tel: [66-44] 760-500, www.salaresorts.com/khaoyai). For a high-profile corporate retreat, reserve the seven-villa resort exclusively. Other distractions include golf courses, cave exploration, waterfall excursions and "adventure options" such as paintball and an extreme obstacle challenge. After dinner, there's karaoke or quiet rooftop reflection. Up to you. Great for team building and more in the lap of nature.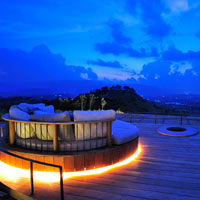 sala khaoyai, personal/ photo: hotel
Phuket is popular for corporate get-togethers, company seminars and team building retreats for all the same reasons that make it a holiday maker's paradise. There are easy flight connections, excellent conferencing facilities and more activities than you can shake a stick at. With good reason the island has earned plaudits as a top Asian meetings destination.
Banyan Tree Phuket (tel: [66-76] 372-400], www.banyantree.com/en/phuket/) offers plenty of thrills, from an "Amazing Race" around the integrated Laguna area to "Adventures in the Andaman", where team members armed with maps have to navigate their way around the island. More conventionally, the hotel's the "Meeting of Minds" package, including deluxe villa accommodation and breakfast for two. This is subject to at least 10 villas booked per night and at least two nights' stay, and includes one full-day meeting package, breakfast, one themed coffee break, and lunch.
Also in the Laguna neighbourhood, the Angsana Laguna Phuket (tel: [66-76] 324-101, www.angsana.com/en/phuket/), on the shores of Bang Tao Bay caters to large-scale events. We're talking 400-person poolside weddings and 358sq m ballroom. For small corporate meetings, you can book one of the nine meeting rooms for the day. Packages start from Bt1,600 and include lunch, two breaks, bottled water, standard presentation amenities and a floral arrangement. Half-day packages start from Bt1,000. This is a versatile accommodation hotel with a hotel-style rooms and villas.
Be a corporate Survivor at the JW Marriott Phuket Resort & Spa (tel: [66-76] 338-000], www.marriott.com), with a teambuilding programme based on the popular TV reality show. Teams navigate their way to different islands by speedboat and compete to complete various challenges. Other offerings include "Pirates of the Andaman" and "Mai Khao Song Theaw Adventures". The resort will happily tailor-make your corporate summit. This hotel is far up north beyond the airport and far from the madding crowd.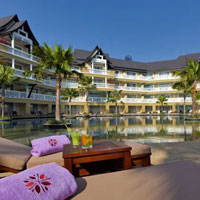 Angsana Phuket/ photo: hotel
Nearby, utilising the simple lines and clean strokes of Phuket Sino-Portuguese architecture, the stylish, cubist all-white SALA Phuket Resort and Spa (tel: [66-76] 338-888, www.salaphuket.com), set on Mai Khao beach on the island's northwest shoreline close to the JW and surrounded by the Sirinath National Park, boasts a full-service 24-person boardroom (rental from Bt8,000 per day, Bt5,000 half-day) and tranquil surrounds. You can also book full-day meeting packages from Bt2,000 per person that includes two tea breaks and a working lunch. Combine your small Phuket conference with teambuilding activities on Turkish sail ships on nearby Phang Nga Bay, river rafting, elephant trekking and more. A dedicated technician and guest relations officer keep things running smoothly.
Also up north along the west coast at Nai Yang is The Slate (formerly Indigo Pearl, www.theslatephuket.com/), a tin-mine theme resort with acres of space and attitude. Take for example, collaborative meetings and brainstorming sessions kicked off by a blessing from a Buddhist monk and meals prepared by an inhouse nutritionist. Hard to beat. Check their imaginative meeting packages to see the latest offers.
For something intimate and classy explore the stylish and contemporary Twinpalms (tel: [66-76] 316-500, twinpalms-phuket.com) at Surin Beach (a couple of hundred yards from the sea). Expect light-filled seminar space, AV equipment, WiFi, and motivated eager-to-please staff. This is not a large cookie-cutter Asian conference hotel. It is small, discreet, and fun. Full-day meeting packages start from Bt1,600 per person and include lunch, one coffee break, and basic presentation and tech amenities. Half-day from Bt1,400.
Just a bit further north, perched on one of Phuket's most pristine beaches, sits Mövenpick Resort & Spa Karon Beach Phuket (tel: [66-76] 396-139, www.moevenpick-hotels.com). Groups of up to 1,200 can enjoy the quiet location, golf courses and 12 meeting spaces, the largest being a ballroom that can house up to 800.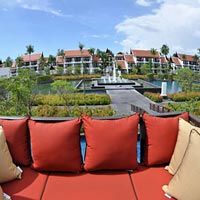 JW Marriott Khao Lak/ photo: hotel
Also on Karon beach awaits the Hilton Phuket Arcadia Resort & Spa (tel: [66-76] 396-4-3, www.hilton.com/en/hotels/thailand/hilton-phuket-arcadia-resort-and-spa-HKTHIHI/), with extensive MICE facilities for groups of 12 to 1,200. Especially popular are the range of outdoor venues and customised menus. The five outdoor pools don't hurt either.
Khao Lak (about 70 minutes' drive north from Phuket's airport) offers unspoilt nature and a peaceful environment featuring the largest and oldest rainforest in southern Thailand, a lake, beaches and islands, perfect for team building. There's elephant trekking, canoeing, snorkelling and, one hour away, white-water rafting.
The 320-room Pullman Khao Lak Katiliya Resort & Villas (www.pullmankhaolak.com/ - formerly the Le Meridien, which departed January 2014) offers a substantial ballroom holding up to 720 guests theatre style. It also has five swimming pools in which to drown or cool the corporate argle-bargle. With over 522sq m of function space there is a lot of choice at this spread out resort.
For those not easily distracted, two beachfront meeting rooms with floor-to-ceiling views of the Andaman Sea are available to meeting groups of up to 30 delegates at the JW Marriott Khao Lak Resort & Spa (tel: [66-76] 584-888, www.marriott.com). Or choose an open-air meeting, complete with lunch and brainstorming, at the 10cm-deep side of the main swimming pool! Leave your Manolo Blahniks at home. Also on the menu could be white-water rafting, elephant trekking, Khao Sok National Park tours, mountain biking and hiking.
An alternative island meet venue is Koh Samui with a huge number of options but a little harder to reach. Look at the large, family-friendly Centara Grand Beach Resort Samui (tel: [66-77] 230-500, www.centarahotelsresorts.com/csbr/), a colonial Gone With The Wind affair with green lawns, beach, and five meeting areas with the largest hosting 250 theatre style in a 240sq m hall.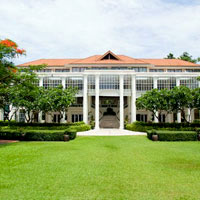 Centara Grand Samui/ photo: hotel
Other options for corporate meetings in Samui include the distant east-coast Samui Baan Taling Ngam Resort (tel: [66-77] 429-100, www.ichotelsgroup.com/intercontinental/) by InterContinental, the new all-villa Conrad Koh Samui (tel: [66-77] 915-888, conradhotels.hilton.com/en/hotels/thailand) that spills down a vertiginous cliff face with stunning sunsets and a meeting room for 20 to 130 persons, and the W Retreat Koh Samui (tel: [66-77] 915-999, www.starwoodhotels.com/whotels/), with one meeting space of 150sq m.
In north Thailand, popular Chiang Mai's Siripanna Villa Resort Chiang Mai (tel: [66-53] 371-999, www.siripanna.com) caters for small groups with personalised service. The Shangri-La Hotel Chiang Mai (tel: [66-53] 253-888, www.shangri-la.com/en/property/chiangmai/) is another newer entrant with larger facilities (3,500sq m of function space). Talk to a meeting planner or event manager. This is a well-equipped Chiang Mai conference hotel for small or big get-togethers.
The in-town 384-room Le Meridien Chiang Mai (tel: [66-53] 253-666, www.starwoodhotels.com/lemeridien/) is a modern, elegant, hotel construct featuring northern Lanna-style design touches in the interiors. It is well equipped to deal with meetings and conferences of all sizes and dispositions with 1,800sq m of space to play around with. Meeting rooms starting at 60sq m are on the third floor with a spacious 150sq m outdoor terrace. In the heart of the business district, offices and sights are all within easy reach of this hotel.
For something atmospheric and uniquely Thai, explore the cultural-replica Dhara Dhevi (formerly by Mandarin Oriental, www.dharadhevi.com/) that offers a magical wedding setting taking guests back in time. The ballroom can accommodate 430, but for a smaller company meeting look at the Jum Ngern rooms that seat 20 theatre-style and 12 around a u-shaped seminar table.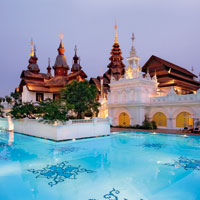 The Dhara Dhevi/ photo: hotel
Laid out over a spacious manicured site on the banks of the Kok River in Chiang Rai, the Thai-style Le Meridien Chiang Rai Resort (tel: [66-53] 603-333, www.lemeridien.com/chiangrai) is within striking distance of town yet set away in idyllic surrounds in a sea of rice paddy, ponds, and rolling hills. Rooms are wired for Broadband and there's 1,250sq m of function space with the boardroom starting at 27sq m for smaller corporate dos.
Vietnam conference hotels
Vietnam increasingly attracts meeting business with its historic attractions, charm and culture – not to mention inexpensive shopping, great art and food. Airport facilities and air links have improved vastly over the past few years.
Ho Chi Minh City, which has the added attraction of a newly completed exhibition centre and a host of five-star hotels with excellent facilities is a popular and very viable option for small meetings.
More unusual past requests to the Park Hyatt Saigon (tel: [84-8] 3824-1234, www.saigon.park.hyatt.com) include organising a special dinner for 30 delegates at the Performing Arts Academy of Ho Chi Minh City, and having special furniture made for a high-end fashion-brand launch. Regularly hosting regional and international top executives, the hotel also once set up a round-table meeting for only four people in its 550sq m ballroom.
Meeting packages for 20 start from D1,060,000 per person, but staff will happily comply with special request and even provide catering at the Saigon Opera House and other venues. Room rates start at D4,200,000, including breakfast, for groups of 20 and more. This is one of the top Vietnam conference hotels with a classical construct right next to the Opera House.
Elegant Park Hyatt Saigon/ photo: Verghese
The Caravelle Hotel, (tel: [84-8] 3823-4999], www.caravellehotel.com) runs a full-day "Deluxe Meeting" package from D910,000 per person, including a welcome tea or coffee, two coffee breaks with pastries and fresh fruit, lunch with unlimited soft drinks, an LCD projector and helpful meeting amenities. Half-day from D803,000. Optional shoulder massages come extra. Or you may choose a customised function on a private boat, at the Saigon Zoo and Botanical Garden or the Opera House. Great location next to the Opera House.
Anchoring the Kumho Asiana Plaza is the InterContinental Asiana Saigon (tel: [84-8] 3520-9955, www.ichotelsgroup.com), another good choice for MICE functions. This 305-room modern hotel offers 10 meeting and conference rooms on the second floor, including an 8,808sq ft ballroom that can accommodate up to 1,200 guests. For smaller, VIP affairs (up to 12 delegates), try the private Hong Ong room.
Located opposite September Park, New World Saigon Hotel (tel: [84-8] 3822-8888, www.saigon.newworldhotels.com) has three ballrooms capable of catering to 486 people. The brisk 533-room hotel can accommodate smaller groups in one of its two 52sq m meeting rooms.
Business is also picking up in Hanoi, with meeting planners attracted to the city's comfortable climate, sightseeing, safety, colonial architecture and street life. There are several Hanoi small meetings choices but a couple are standouts.
Vietnam grande dame Sofitel Legend Metropole Hanoi (tel: [84-4] 3826-6919], www.sofitel.com) is a prominent and tranquil fixture in the heart of the frenetic city, having famously hosted literary characters such as Somerset Maugham and Graham Greene and several heads of state.
Meeting groups come from all over the world. Full-day business packages with typical offerings are from US$55 per person (for groups of 30 or more). For smaller groups, room rental starts at US$750 full day and US$500 half day. This Sofitel is a popular Hanoi small meetings hotel choice.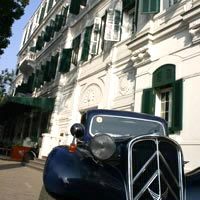 Sofitel Metropole, Hanoi/ photo: Vijay Verghese
Overlooking the 800-year-old Golden Lotus Pagoda on Hanoi's largest lake, the InterContinental Hanoi Westlake (tel: [84-4] 270-8888, www.intercontinental.com/hanoi) has a full-day meeting package from US$35 per person, with room rates from US$120. Rates are for single and double occupancy and include breakfast, welcome drinks and one free room for every 25 booked.
Right next door is the highly regarded and much sought after Sheraton Hanoi Hotel (tel: [84-4] 3719-9000, www.starwoodhotels.com/sheraton/) looking out over the lake. This is a well managed and crisply-run establishment that gets its fair share of small meetings and conferences headed to the city. The Song Hong Grand Ballroom is a pillar-less construct that can accommodate 550 people, but for more modest needs there are a number of function areas like Song Da with its high windows and lake views.
Heading south along the coast, Danang is fast becoming a popular leisure and meeting spot. Head to Furama Resort Danang (tel: [84-511] 3847-666, www.furamavietnam.com) for beachside villas and breezy service. Arrange large or small affairs with a choice of ballroom, ample conference space and a few smaller meeting rooms. The Son Tra room has a capacity of 20 to 30 for u-shaped style, and has two large windows overlooking the garden.
Also facing the sea is the Hyatt Regency Danang Resort and Spa (tel: [84-511] 398-1234, danang.regency.hyatt.com/hyatt/hotels-danang-regency/). Its comprehensive conference complex has 7,500sq m of MICE facilities, including the 500sq m Banquet Central Hall and The Regency Ballroom, which can accommodate up to 400. Seven smaller function rooms are intended for groups of between 40 and 80. This is a good place for mixing family with meets though the resort is on the plain side.
About a 30-minute drive from the airport, luxury InterContinental Danang Sun Peninsula Resort (opened mid-2012, www.danang.intercontinental.com/) overlooks a private bay from its perch on Son Tra Peninsula, also known as "Mythical Monkey Mountain". Unsurprisingly, playful monkeys are much in evidence in the design, in bronze and stone. This is a splendid spot for Vietnam resort weddings on the beach and planners are on hand to assist. Suits will also find a ballroom and function spaces for corporate meetings or bigger events. The steadily upgrading conference space at The Summit (high up the hill before the lobby) will include two ballrooms (one entirely new) for MICE, classy get-togethers, fashion events and more. This is one of the best Danang conference hotels and is a regular for State functions and international events.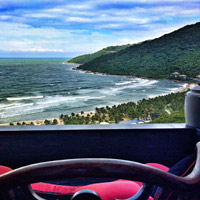 Bay view from InterCon Danang love perch/ photo: Vijay Verghese
Just south in Hoi An is the luxury retreat The Nam Hai (from GHM, tel: [84-510] 394-0000, www.thenamhai.com) that will do creative arrangements for two to one hundred. This is a swish villa hideaway on the beach, secluded enough but within reach of some of the country's more interesting sights. There is a spa on site and a nearby golf course for after-work distraction. This will not come cheap but you will not be disappointed.
A two-hour drive to the coast from Ho Chi Minh City at Ke Ga Bay is the Princess d'Annam Resort & Spa (tel: [84-62] 3682-222, www.princessannam.com) another spoiling high-end escape with 57 villas, a large spa complex and four swimming pools to work off all those dull speeches. For conferences and small meetings the resort can rustle up arrangements for 20 to 160. The Calathea ballroom can manage 160 people theatre-style. An interesting and calming away-from-it-all address yet within relatively easy access of Saigon and an international airport mark this down as one to watch.
Singapore corporate summits
Singapore hotels have seen a steady recovery in MICE business, chipping away at accounts previously headed for Bangkok and even Hong Kong.
The storied 663-room Grand Hyatt Singapore (tel: [65] 6738-1234, singapore.grand.hyatt.com) is an old pro when it comes to fashioning successful meets and its latest offering is The Gallery. This is a flowing conferencing area encompassing meeting salons, a lounge, a loft kitchen, and a studio. Freedom of movement means it is easy to "construct" venues without constriction to conjure up the desired ambience, from a high-end corporate meeting in Singapore to a buzzing social event. The Grand Hyatt is well located downtown on Scotts Road close to the Orchard intersection and the train entrance.
Grand Hyatt Singapore/ photo: hotel
Set on a vast property in the fast-growing Marina Bay commercial centre, The Ritz-Carlton, Millenia Singapore (tel: [65] 6337-8888, www.ritzcarlton.com/en/Properties/Singapore/) has 13 meeting rooms to accommodate anything from 20 to a mind-boggling 16,000 guests.
In the Tanglin area at one end of Orchard Road, The Regent Singapore (tel: [65] 6733-8888, www.regenthotels.com/singapore), with 1,565sq m of meeting space across 15 function rooms and a ballroom. Green meetings encourage recycling and reusing.
Towering, gleaming, and grand, The St Regis Singapore (tel: [65] 6506-6888, www.starwoodhotels.com/stregis/) is also at this quieter end of Orchard Road. Walk in to find crisp welcoming service and cool white marble underfoot with detailed stone inlay, classical artefacts, wall-to-wall art, and quirky plump Bottero statues serving as an innocent reminder that there is indeed a pool, a good fitness centre and a spoiling Remede Spa to get you in shape if need be. There are eight meeting spaces with LCD screens, avant-garde touch-screen panels, and sophisticated video conferencing facilities. The Diplomat and Senator rooms will comfortably host 24 seated around a u-shaped table.
Just around the corner is the very classy and quietly corporate Four Seasons Hotel Singapore (tel: [65] 6734-1110, www.fourseasons.com/singapore) that can rustle up a company meeting for 20 to 50 with aplomb. With 1,565sq m of function space, this is a business traveller favourite close to shopping but set away from the hustle in green surrounds.
With an imposing colonial exterior replete with soaring Doric columns that belie its sophisticated, modern interior, The Fullerton Hotel Singapore (tel: [65] 6733-8388, www.fullertonhotel.com) at the epicentre of business, the Boat Quay entertainment district, and various cultural and shopping attractions, has a 24-hour Financial Centre and a range of full and half-day meeting options.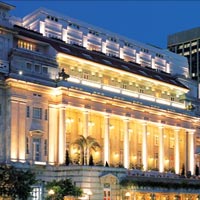 Fullerton lit up at night/ photo: hotel
The grand ballroom with its sweeping staircase can host up to 480 banquet style. The Straits Room offers 1928 decor and a more intimate space for up to 200 while a total of nine meetings rooms break it down in smaller doses.
A full day 9am-5pm meeting package including lunch will set each guest back around S$105 with free WiFi for up to 10 persons (per event) and complimentary parking for 20 percent of the attendees. Once the stately General Post Office, this is now a top Singapore meetings hotel with smooth service, décor to impress, and facilities to match.
Its designer chic sibling, The Fullerton Bay Hotel (tel; [65] 6333-8388, www.fullertonbayhotel.com) added an exotic offering in 2012 – shimmering 44sq m event pods that actually float on Marina Bay and can accommodate 15 to 40 people. Ideal for smaller groups, the Compass, Voyage and Port of Call pods can be customised for boardroom meetings, fashion events, showcases or weddings. It's not just the novelty value. Guests can expect high level of service and attention to detail at either Fullerton.
In the Marina area Pan Pacific Singapore (tel: [65] 6336-8111, www.panpacific.com/singapore) has skybridge access to three shopping malls and the Suntec City Convention Centre, which lends considerable muscle when it comes to Singapore conferences. Choose between 26 meeting venues and two ballrooms, including balcony suites overlooking the Marina Bay harbour. In late 2012 the hotel unveiled its new lobby and several revamped features.
Enjoy the Middle Eastern vibe, complete with shisha water pipes at local eateries, when staying at the PARKROYAL on Beach Road (tel: [65] 6505-5666, www.parkroyalhotels.com) on the fringe of Arab Street. Close to the CBD, this hotel is also near the Suntec International Convention & Exhibition Centre.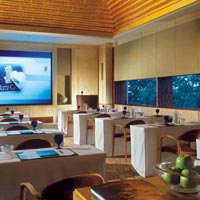 Ritz-Carlton Millenia Singapore/ photo: hotel
With the transformation of the neighbouring Furniture Mall into a contemporary MICE facility, expect two more ballrooms and a meeting room in 2013. Full-day meeting rates are less taxing from S$80.
Another ethnic experience awaits at the 534-room PARKROYAL on Kitchener Road (tel: [65] 6428-3000, www.parkroyalhotels.com) located in Singapore's Little India close to the MRT and with seven meeting venues (full-day meetings with two coffee and snack breaks, a "Goodie Bar" full of beverages and energy bars, complimentary parking, and free WiFi for two people from S$50). This should suit most pockets.
In the heart of Orchard Road's bustle, the refurbished Pan Pacific Orchard (tel: [65] 6737-0811, www.panpacific.com/en) offers five meeting rooms, a boardroom and outdoor pool area for groups from 10 and up.
With a total of 15,952sq ft of meeting space, including 13 function rooms and the 7,599sq ft Grand Ballroom, the new-look Singapore Marriott Hotel (tel: [65] 6735-5800, www.marriott.com/hotels/travel/sin) is a MICE hotel worth a closer look.
Geared for business with state-of-the-art meeting facilities, including two private boardrooms, the characterful Goodwood Park Hotel (tel: [65] 6737-7411, www.goodwoodparkhotel.com) runs seminar packages for groups of 20 and up. This is an atmospheric colonial confection with turrets, gables and a languorous air about it just off Orchard Road. Speed up or slow down and try its high tea.
For splendid Raj memorabilia and echoes of the past – albeit brilliantly whitewashed and yanked up to modern standards – the Raffles Hotel Singapore (tel: [65] 6337-1886, www.raffles.com) delights both gawping tourists and corporate connoisseurs. The hotel can rustle up all manner of meetings from small to large.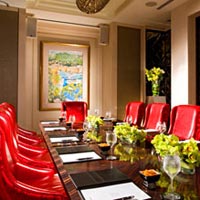 St Regis Singapore, corporate/ photo: hotel
The 388-seat Jubilee Hall is an interesting theatre playhouse construct while one of the Casuarina Suites will seat 36 around a u-shaped table or 60 banquet style. Check out stays too at the Festive Hotel (www.rwsentosa.com/language/en-US/Hotels/FestiveHotel) and the upscale Equarius Hotel (www.rwsentosa.com/language/en-US/Hotels/EquariusHotel).
On a secluded promontory on Sentosa Island and ideal for corporate meetings in Singapore, the starched colonial Capella Singapore (tel: [65] 6377-8888, www.capellasingapore.com) serves up three meeting rooms with sweeping sea views and lush vegetation. For mood and mystique, this could be your spot. It is a stunning address for classy small meetings in Asia when you get in the hunt. It is perfect for a corporate meeting in Singapore should you need a powerful wow-your-CEO factor.
The mammoth Resorts World Sentosa (tel: [65] 6577-8888, www.rwsentosa.com) complex of hotels – including a cheerful Hard Rock Hotel and some upscale choices – and entertainment, is stirring with casinos, a Universal Studios theme park and imaginative conferencing and incentives facilities. Expect noise and action.
At the Hard Rock Hotel (tel: [65] 6577-8899, www.rwsentosa.com/language/en-US/Hotels/HardRockHotel) you'll find a huge pillarless ballroom, the 3,300sq m Compass Ballroom, with seating for 6,500 guests. Expect rock concerts, conferences and exhibitions, as well as 30 function rooms. For flexible space, check out The Coliseum, which has great views of the Hard Rock pool.
Just across the waters in Bintan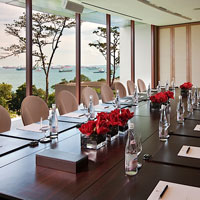 Capella, grand Sentosa escape/ photo: hotel
An hour from Singapore by ferry in Indonesia's Riau archipelago on Bintan Island is the 61-villa Banyan Tree Bintan (tel: [62-770] 693-100, www.banyantree.com/en/bintan/), with a "Group Retreat" package based on a minimum of five villas booked (from around S$450 per villa, week days). This includes one night's stay, breakfast, WiFi, and land transfers. Standard meeting packages from US$70 for full day, US$55 half day.
The Natural Daylight Meeting rooms have great South China Sea views. There's a myriad of value-added perks and activities, including one free villa upgrade and discounts on massages, golf, meals, teambuilding and marine activities. Hut and raft-building options are among the incentives on offer. This is a highly regarded Singapore conference hotel.
Curry favour with the boss in India
With a mind-boggling range of cultural and heritage sites, exclusive business hotels and modern convention facilities, India has one of the fastest growing economies in the world. Toss in a curry and it's reason enough for hotfooting it there.
For heritage and history check out Neemrana Hotels (tel: [91-11] 4666-1666, www.neemranahotels.com). These ancient fortresses, castles, and stately mansions are brimming with stories. An overnight stay is a must, so think long-term when you're building this year's corporate retreat itinerary. The sprawling heritage Neemrana Fort-Palace (tel: [91-11] 4666-1666, fort-palace.neemranahotels.com) set in spectacular, restored 15th-century stepped palaces cut into the hillside, is located on the Delhi-Jaipur highway. An hour's drive from call-centre hub Gurgaon and 100km from Delhi's international airport, the hotel offers tailored open-air meetings in winter in addition to its more standard offers. This is an atmospheric choice for a small corporate conference in India. Weekday conference facilities start from Rs2,533 per person, for groups of 30 to 45. Prices shoot up from there for larger groups and weekend reservations. Expect two coffee breaks with cookies, along with the usual meeting amenities.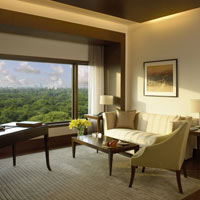 Oberoi New Delhi/ photo: hotel
The Taj Mahal Hotel New Delhi (tel: [91-11] 2302-6162, www.tajhotels.com) in the heart of India's green capital city is close to business and shopping districts, foreign missions and embassies. A range of five meeting rooms accommodate 20 people and up. For top-end incentives, polo can be arranged. Or convene your team in the terrace garden or on the poolside lawn. This is a more intimate and central location than the specialist conference property Taj Palace Hotel New Delhi (tel: [91-11] 2611-0202, www.tajhotels.com/Luxury/City-Hotels/Taj-Palace-Hotel-New-Delhi/) in the leafy diplomatic enclave.
Oberoi Hotels & Resorts runs corporate retreats, incentives and small to medium-sized meetings at its hotels in Agra, Jaipur, Udaipur and Shimla in India, and as far afield as Mauritius, Indonesia and Egypt. With a 4,150sq ft business centre sporting floor-to-ceiling windows and overlooking the pool, the award-winning The Oberoi, New Delhi (tel: [91-11] 2436-3030, www.oberoihotels.com/oberoi_delhi) takes business seriously. Well established in the premium range, The Oberoi New Delhi is now closed for a complete overhaul to return comprehensively upgraded and gussied up in 2018. Part of a very efficiently-run international chain, the seven-storey hotel overlooking Delhi's spiffy, 19-hole golf course brought with it oodles of pedigree along with a stupendous location. Built in 1965 the hotel was considered a Delhi classic, and you'd frequently spot celebrities and VIPs strolling through the lobby. For small meetings in India and corporate functions that need special attention, this could be an excellent choice in its coming incarnation.
A garden setting with more history and a priceless art collection, the classy old-world The Imperial New Delhi (tel: [91-11] 2334-1234, www.theimperialindia.com) has two stylish, wood-panelled meeting rooms perfect for conferences of 20 to 50 people. For fresh-air discussions, there's always The Imperial Lawns. This is a popular New Delhi hotel for business travellers, sited on Janpath just a short walk from the central Rajiv Chowk (Connaught Place).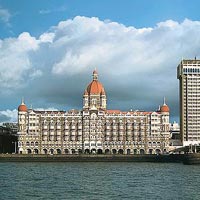 Taj Palace & Towers Mumbai/ photo: hotel
Established in 1903, Taj Hotels Resorts and Palaces is one of Asia's largest hotel groups with 93 hotels in 55 locations across India (and 16 others around the world). The Princes Room at the historic landmark The Taj Mahal Palace & Tower Mumbai (tel: [91-22] 6665-3366, www.tajhotels.com/Luxury/Grand-Palaces-And-Iconic-Hotels/The-Taj-Mahal-Palace-Mumbai/), one of four Taj hotels in the city, has hosted historic meetings of India's ruling princes, departing colonials and more. Today, the room with its Arabian Sea views and stained glass windows is one of a range of lavish meeting venues in the property, with 20,000sq ft of conference space divided into 11 rooms seating 30 to 500 participants. Appropriately, incentives include Bollywood Night and a Mumbai Roadside Yatra, celebrating local street food. Among India conference hotels, this is a hard act to beat.
In December 2012, the Shangri-La hotel arrived, posh and poised between touristy Colaba and hipster Bandra in the happening Lower Parel area of Mumbai. By late 2013 it had morphed into the Palladium Hotel and on 1 September, 2015 was officially annointed the St Regis Mumbai, joined at the hip with bustling Palladium Mall bristling with more brands than you can shake a stick at. The cavernous lobby - now the Great Hall - perched all the way up on the ninth floor, is a grand yet intimate affair where tall beige marble pillars keep the ceiling well out of the way of beehive hairdos. Regular Joes have recourse to the boardrooms and several grand banquet spaces, including the verdant terrace gardens. This address is steadily positioning itself as a Mumbai conference hotels choice, with 11 venues offering 18,300sq ft of space over two floors.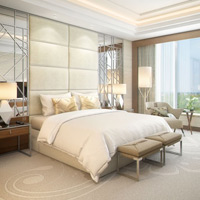 St Regis suite, cream/ photo: hotel
In between meetings, guests can pop into the spa, which offers a convenient half-hour massage. No oil, no change of clothes, no stress.
In Agra, just 600m from the majestic Mughal monument the Taj Mahal, The Oberoi Amarvilas (tel: [91-56] 2223-1515, www.oberoihotels.com/oberoi_amarvilas/) with its Mughal and Moorish architecture and manicured gardens provides a peaceful, if stunning, haven with a range of excellent meeting and conference facilities a three-hour drive from Delhi down a new highway. The faux-fort setting of The Oberoi Rajvilas (tel: [91-14] 1268-0101], www.oberoihotels.com/oberoi_rajvilas) in Jaipur is another retreat for smaller, high-level corporate retreats and incentives. Staff are happy to arrange theme dinners for 30 in the courtyard or at the poolside. Choose from Rajasthani folk dance to Indian classic music to complement the ambiance.
A candle-lit floating pavilion anchored in the middle of Rajasthan's Lake Pichola awaits at The Oberoi Udaivilas, Udaipur (tel: [91-29] 4243-3300, www.oberoihotels.com/oberoi_udaivilas). Spread over 30 acres on the banks of this Rajasthan lake, the hotel boasts six meeting rooms and an elegant boardroom.
Also on Lake Pichola, the romantic white marble The Taj Lake Palace Udaipur (tel: [91-29] 4242-8800, www.tajhotels.com/Luxury/Grand-Palaces-And-Iconic-Hotels/Taj-Lake-Palace-Udaipur/) might be a lovers' dream, but it's also open for business, with 35 to 75-person meeting rooms perfect for small gatherings. Take advantage of the exotic location and splash out on a theme event on the Mewar Terrace. These two are the pick of Rajasthan conference hotels in this area.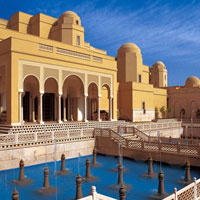 Oberoi Amarvilas, Agra/ photo: hotel
At a breathless 8,250ft above sea level, the Wildflower Hall, Shimla in the Himalayas (tel: [91-17] 7264-8585, www.oberoihotels.com/oberoi_wildflowerhall) offers inspiring views of snow-covered peaks. Combine meetings with trekking in the Himalayas, mountain biking, horse riding, billiards or golf, or indulge in a holistic wellness programme. This Shimla Oberoi resort has five meeting rooms leading onto open terraces with panoramic mountain views. In the rarefied oxygen-deprived world of the Himalayas at this altitude, executives will gasp at every word you utter. So will you.
Get high on adrenaline with an "Executive Retreat" (up to 20 people) at the Ananda (tel: [91-13] 7822-7500, www.anandaspa.com ) "destination spa" in the Himalayas. Perfect for high-level executive meetings is the boardroom with its 15ft-high ceiling and fireplace, and the mountain-view Adhyatma Dham Pavillion. Afterwards, rejuvenate your energy with ayurveda, yoga and a host of soothing therapies. Just up from Rishikesh the resort is about a half-day drive from New Delhi.
In the heart of India's "silicon valley", Hyatt Bangalore, formerly the ISTA Bangalore (tel: [91-80] 4936-1234, bangalore.hyatthotels.hyatt.com) is conveniently close to the CBD, with lake and city views. In addition to a main conference room, there's also a boardroom and smaller meeting venue.
Through ISTA, Hyatt also offers Hyderabad, Ahmedabad and Pune among others. In Bangalore also keep an eye out for the JW Marriott Hotel Bengaluru (opened September 2013, www.marriott.com), with dark woody bedrooms and versatile event space; The Ritz-Carlton Bangalore (opened end 2013, www.ritzcarlton.com) with high quality in-room trimmings and over 18,000sq ft of meeting space. The Ritz is full of small intimate spaces - with high-back seats and art - and none of that screaming 'grand' scale that makes it a daunting task to simply find the loo. Staff is attentive and friendly and service proceeds briskly despite the low-key environs.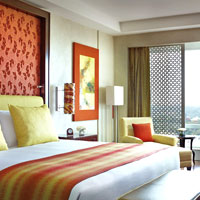 Ritz Bangalore for MICE/ photo: hotel
Importantly, staff is empowered to take decisions and this visibly speeds up processes. Pin-stripers can contact a "conference concierge" about MICE events or a small corporate meeting. This address serves up 18,000sq ft of function space so there's ample choice, yet it is all tucked away discretely. Mark this address down for small meetings, corparate galas, or a quiet weekend kip.
For a slice of Portugal in India, head to the all-suite The Zuri White Sands Goa Resort & Casino, Goa (tel: [91-83] 2669-7272, www.thezurihotels.com), about 40 minutes' drive from Goa's airport at Panjim. The hotel, part of the up-and-coming Zuri Hotels & Resorts group, positions itself as a business-meeting and conference venue, as well as a holiday destination.
Also along the coast are the Park Hyatt Goa (tel: [91-832] 272-1234, goa.park.hyatt.com) that does small meetings and lavish weddings to boot, and The Leela Goa (tel: [91-832] 662-1234, www.theleela.com/hotel-goa.html), which specialises in incentives and meetings of up to 400. A small get-together is a doddle.
Or head farther south to the rice paddy of Kerala to The Leela Kovalam Beach (tel: [91-471] 305-1234, www.theleela.com/hotel-kovalam.html) that occupies a scenic promontory overlooking an arcing sandy bay. All the rooms offer WiFi and you connect your laptop at the poolside too. Along with holiday credentials, this is a good business traveller option for small meetings in India.
Still in Kerala the Casino Hotels group, now CGH Earth (tel: [91-484] 301-1711, www.cghearth.com) flexes its green credentials at stunning old-world resorts in the Cochin area like Coconut Lagoon on Vembanad Lake (southern backwaters) and accessed only by boat, with artfully reconstructed 19th century mansions in the traditional mould.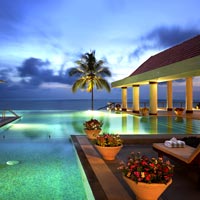 Leela Kovalam/ photo: hotel
Around the grounds, special Vechoor cows graze unmolested to trim the grass. A novel solution indeed. And it helps preserve this species too. Or wander into their Brunton Boatyard, a resurrected shipyard that now hosts the travelling cognoscenti and glitterati near Fort Cochin (now Kochi).
Meetings in the Philippines
In the heart of Manila's business district and just 9km from the international airport is an oasis of calm, The Peninsula Manila (tel: [63-2] 887-2888, www.peninsula.com/Manila/), with a basic meeting package from around P2,300 (half day from P1,880). There's a big ballroom, but 13 meeting rooms cater for smaller conferences. Situated in busy Makati, the Manila Peninsula is set just away from the traffic, facing green. Attentive service and classy environs. If you're searching for a classy Asian small meeting venue, explore Manila. Rates are attractive and there's always a sense of fun.
Avoid multilingual confusion by taking advantage of a simultaneous translation system, one of the state-of-the-art facilities offered at The Makati Shangri-La (tel: [63-2] 813-8888, www.shangri-la.com/en/property/manila/makatishangrila). From time to time, the hotel offers special Super Value Dates for groups of 10 and up booking within three months of their stay. This is a happening place, close to malls and nightlife with no scrimping on the overall "grand" effect.
For a comprehensive, revamped resort-style option, look at the Sofitel Philippine Plaza (tel: [63-2] 551-5555, www.sofitel.com/gb/hotel-6308-sofitel-philippine-plaza-manila/). From the buffet brunches at Spiral to the apple golfing, this is a reputable locale for a corporate retreat of any size. If you are expecting up to 2,000 guests, head straight to the Grand Plaza Ballroom and Harbor Garden. For smaller functions, let the Inspire Meetings Concierge guide you to one of the 12 other meeting spaces.
Peninsula Manila new room/ photo: hotel
On Roxas Boulevard by the waterfront, you'll come across the Hyatt Hotel and Casino Manila (tel: [63-2] 245-1234, manila.casino.hyatt.com/hyatt/hotels-manila-casino/), a contemporary business hotel with a ballroom that can seat 500, the 357sq m Le Salon for functions, and two modest meeting rooms for up to 20 guests. Full-day meetings start from P1,900 per guests and include two coffee breaks and lunch. Half-day packages from P1,600.
Another casino option closer to the airport is the animated ResortsWorld Manila (tel: [63-2] 908-8833, www.rwmanila.com). Home to three hotels – the all-suite super lux Maxims Hotel, the business-oriented Marriott Hotel Manila and the budget friendly Remington – ResortsWorld has a mix of conference and entertainment possibilities.
Aware of global warming and "earth-friendly" lifestyles, the popular, sprawling Shangri-La's Mactan Resort and Spa (tel: [63-32] 231-0288], www.shangri-la.com/en/property/cebu/mactanresort) in Cebu offers green meetings, encouraging delegates to save files onto flash drives instead of using paper, whiteboards and flip charts. Water is served in pitchers rather than plastic bottles and guests use one mug throughout the meeting, snacking on dried fruit rather than plastic-packaged mints.
Food is locally produced and there are separate containers for biodegradable and nonbiodegradable waste. Hey, don't toss your wife away yet. The "Whole Day Green Meeting" package (P2,500 per person; half day P2,000), includes organic snacks, lunch, and free-flowing coffee and tea. "Standard Meeting" packages (P3,000 full day; minimum 10 people) are also available. Groups can also choose from a range of teambuilding activities such as "Yoga Relax", "Fear Factor Mactan" or "Raft Building". This is a family-friendly hotel with a wonderful CHI spa.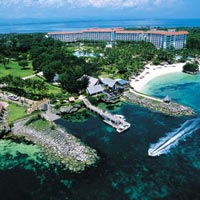 Shangri-La Mactan, Cebu/ photo: hotel
Kayaking on emerald lagoons, rainforest hiking and snorkelling in a spectacular natural setting are among the offerings at Palawan's three sister eco-friendly El Nido resorts (www.elnidoresorts.com), Lagen Island (tel: [63-2] 902-5980), the new luxury Pangulasian Island (tel: [63-2] 813-0000) and the family-friendly Miniloc Island (tel: [63-2] 902-5985). Specialising in incentives, team-building and high-powered meetings, the hotel group offers customised corporate packages including three meals a day and challenges designed to develop leadership and teamwork (max 70 people).
Most corporate meetings run from two to seven nights. At Lagen, typically, arrive and settle in on the first day with a bamboo raft trip in the scenic Big Lagoon while fish gawk at your spindly white legs (work on that tan, boy). Enjoy a theme dinner poolside. On the second day participate in a team-building island hop to Snake Island Cudugnon Cave and Cathedral Cave followed by dinner at the Lagen Clubhouse Restaurant. And on the third day? Well, time to pack up and head for the rustic airstrip.
Room rates at roughly P7,450 per person (triple-sharing) including activities, island hopping tours, airport transfer, and full board meals daily. Special dinner events attract a P2,500 surcharge per person. El Nido presents a very special incentives destination and is the perfect spot for an offbeat small meeting in Asia.
Indonesia, Jakarta, Bali MICE guide
Bali hotels have steadily pushed rates up though the market remains soft depending on the season. Guests have been able to take advantage of some competitive rates with extra added value spa and other bonuses thrown in. The rollercoaster US dollar has also made holding corporate events in Bali cheaper than some years ago and there is substantial demand for strategy meetings and corporate get-togethers. A look at small meetings in Bali and Jakarta.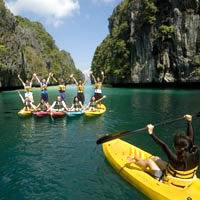 Sporty El Nido, Palawan/ photo: hotel
Apart from 595sq m of meeting space that can be divided into three rooms for smaller groups and six venues for groups of 10 and up, the secluded 77-hectare luxury AYANA Resort and Spa Bali (tel: [62-361] 702-222, www.ayanaresort.com) also has a range of cliff-top gardens and spaces for alfresco gatherings and meetings under the stars. After hours, dip into the world's largest Aquatonic Seawater Therapy Pool. A good option among Bali conference hotels.
In the Uluwatu area not far from here in the south of the island, is the magnificent Bulgari Resort Bali (tel: [62-361] 847-1000, www.bulgarihotels.com) that exudes non-stop chic-by-the-cliff with chill-out music, soft lights, and beautiful people by the limo-load. Set up an elegant seminar at the 16-seater boardroom with the latest AV gadgets or pick the function room with its open-air terrace and breezy views. After hours unwind at the splendid spa. Close by are the contemporary low-rise units of the eco-friendly Alila Villas Uluwatu (tel: [62-361] 848-2166, www.alilahotels.com/uluwatu) where executive retreats and corporate meetings can be set-up with ease. This is a very different kind of resort, harmonious with nature, easy on the eye, a tranquil escape for brainstorming.
Butler service is one of the extras offered by the opulent St Regis Bali Resort (tel: [62-361] 847-8111, www.starwoodhotels.com/stregis/), which easily hosts 20-person delegations in its Astor Ballroom. This is could become a favourite spot for board of director meetings and product launches. If you have the money and the moxie, opt for the swish villa accommodation by the beach.
Westin Nusa Dua/ photo: hotel
Farther along the coast is sprawling and ambitious The Mulia Bali (www.themulia.com) , a three-in-one almost 800-key mega getaway with equal appeal for suits as well as wet t-shirts. From early 2013, expect a generous grand ballroom for glitzy functions where making an impression is key, 15 conference and meeting rooms, and three wedding chapels. Marry, meet, and sign contracts of various kinds.
Set within Bali's Nusa Dua resort area, The Laguna Resort & Spa, Nusa Dua, Bali (tel: [62-361] 771-327, www.luxurycollection.com/bali) has a range of meeting facilities, including the Balai Nusa Executive Boardroom with natural daylight and palm-tree views, great for small executive meetings. The "Laguna Exclusive Meeting Package" (full-day from about US$78 per person; half-day from US$67) includes a traditional Balinese lunch, homemade pastries with morning coffee, and free WiFi. You can also go paperless with the "Sustainable Meeting Package", complete with healthy snacks, an organic lunch and fair trade coffee or tea.
The neighbouring Westin Resort Nusa Dua (tel: [62-361] 771-906, www.starwoodhotels.com/westin/) is a specialist Bali conference hotel with vast facilities and a lagoon pool well sited along the beach. Catering for corporate meetings, teambuilding events or incentives is not an issue here. There are a total of 20 meeting rooms, most welcoming of natural daylight and all with WiFi, as well as 2,700sq m of exhibition space should you be planning a monster meet.
Usefully, the Westin is also a very child-friendly Bali hotel so the family will be well taken care off. The resort was renovated in 2010 and adds 96 rooms in 2013. So who's the winner, Westin Nusa Dua vs Grand Hyatt Bali? Westin perhaps for mega meets but the Grand Hyatt has a definite edge on corporate meetings with smart and spacious rooms. The Westin is fighting back with a splendid beachfront area featuring breezy sun loungers, dining tables and chill-out music.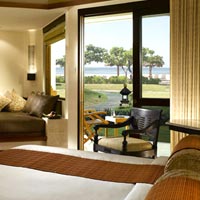 Grand Hyatt Bali/ photo: hotel
Popular Bali icon, the Grand Hyatt Bali (tel: [62-361] 771-234, bali.grand.hyatt.com) is on this manicured stretch as well. It has a new spring in its stride with the addition of a spa enclave and a grand ballroom that can seat 1,420. For smaller company meetings in Bali, this upgraded family friendly resort is a versatile venue that can set you up for intimate get-togethers for six to 12 and up. There are 25 function rooms with the usual audiovisual equipment and lighting arrays. Full-day meeting packages for 20 from US$70 per person, including lunch and two coffee breaks, with overnight accommodation from US$195, including breakfast.
The luxurious, thatch-roof The Oberoi, Bali (tel: [62-361] 730-361, www.oberoihotels.com/oberoi_bali) on Seminyak beach has one large meeting room seating up to 30 people that can be booked for full or half days. A full-day meeting package with the typical fixings runs from US$60 (half day, US$50).
The Legian (tel: [62-361] 730-622, lhm-hotels.com/legian-bali/en/), is a chic choice in the swank Seminyak area with crisp service and a fairly compact layout right on the beach that affords opportunities for both quick get-togethers and upscale chinwags.
The 203-room Sheraton Bali Kuta Resort (opened late 2012, www.sheratonbalikuta.com/) has upped the ante on the formerly beer and bellies Kuta t-shirt sunset strip. Next to the Beachwalk shopping centre with a podium pool that looks over at the sea (the beach is across the main road), fine Italian dining at Bene, and super fare at its streetside all-pink Feast restaurant, this is a hangout for everyone from families to conventioneers. This is a pleasant and convenient address for small corporate meetings or big splashy events with the family in tow. There are nine meeting spaces with the largest offering 700sq m of MICE space. Replacing the Sahid Jaya, and just up the road from Hard Rock, this weighty contender offers rooms with balconies, several with sea views.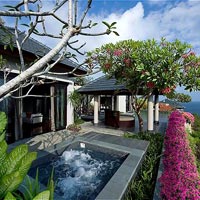 Banyan Tree Ungasen/ photo: hotel
With art and culture as main selling points, Ubud in the central highlands of Bali is popular for small- to medium-sized conferences running over three days or so. A river runs through it at The Royal Pita Maha (tel: [62-361] 980-022, www.royalpitamaha-bali.com), where you may meet in an open-air pavilion overlooking the picturesque Ayung River and surrounding forests. There are also more traditional meeting venues in the Royal Convention House. Royal Pita Maha describes itself as the only high-end resort in Ubud with a meeting capacity of between 40 and 200 people. Secluded location, nice villas and open green views across the valley. The spa is the icing on the cake.
Start your working day at the Maya Ubud Resort and Spa (tel: [62-361] 977-888, www.mayaubud.com) with a private yoga session overlooking a rice paddy. Swap the regular coffee break for a spa tea break, or build team spirit on a village bike ride followed by a picnic lunch. Post-meeting spa pampering keeps minds clear and bodies willing. Full-day meetings with lunch and coffee breaks are from US$70 per person (minimum 20 people). Half day starts at US$55. Bring your partner – the hotel has a special spouse programme that could include Balinese cooking classes, spa treatments or shopping tours.
More rice fields welcome guests at the Kamandalu Resort and Spa (tel: [62-361] 975-825, www.kamandaluresort.com), where a full-day's meeting package for a group of 20 comes from US$50 per person (half day, US$40). Close-to-nature incentives include trekking, cycling and harvesting paddies. The villa product is good and service is friendly, always with a smile. The resort looks over paddy fields and is a breezy spot for honeymooners too.
For something offbeat, Arma (tel: [62-361] 975-742, www.armaresort.com), a museum sponsored retreat (Agung Rai Museum of Art) is a charming getaway that can manage small meetings and larger gatherings in idyllic surrounds overlooking paddy fields, in a water garden or in an open-air Balinese theatre. The added plus is cultural dances and other throw-ins.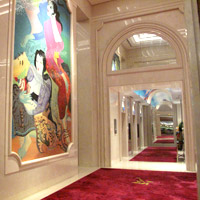 Cream marble and huge murals at Raffles, a selfie stop/ photo: Vijay Verghese
In Jakarta, if business calls, The Ritz-Carlton Jakarta, Mega Kuningan (tel: [62-21] 2551-8888, www.ritzcarlton.com) is a swish downtown address with impeccable service and excellent meeting facilities including a 1,600sq m ballroom, and 20 meeting rooms. Expect high-speed Internet and the ever-present technology butlers. Perhaps they can fix your iPhone too.
Sister property Ritz-Carlton Jakarta, Pacific Place (tel: [62-21] 2550-1888, www.ritzcarlton.com) is smack in the middle of the city's commercial district. Not only is it home to the largest suites in Jakarta, but it also has a whopping 3,800sq m ballroom that can accommodate up to 5,000 reception-style. You can also expect hideouts for smaller functions, with five meeting rooms, two executive boardrooms and four private dining rooms. Here, too, technology butlers are at your service.
The chic 173-room Raffles Jakarta (March 2015, www.raffles.com) is housed in the gleaming multipurpose Ciputra World 1 complex with its Lotte Shopping Avenue. The Dian Ballroom offers 2,500sq m of open unobstructed space for small corporate meetings, bigger conferences and grand Jakarta MICE events, weddings and gala banquets. All in, if you can pull your jaw back up and don your coolest shades, this is one of the top Jakarta conference hotels picks and a snappy business address with a total of 3,600sq m of event space in contemporary surrounds with the latest techno gadgetry.
Also competing for the grand-scale functions is Hotel Mulia Senayan (tel: [62-21] 574-7777, www.hotelmulia.com). This elegant, European option with draw-back curtains and classical decor has impressive MICE features as well, with a pillarless ballroom capable of hosting 4,000 guests and 17 other function rooms.
The 'youngest' kid so to speak at the heart of downtown is Hotel Indonesia Kempinski Jakarta (www.kempinski.com). Of course it's not the newest, but rather the latest incarnation of one of Jakarta's landmark addresses – having gone through Sheraton and InterCon already. The original Hotel Indonesia was officially opened in 1962 by the former President Soekarno. While the hotel attracts younger luxury hipsters and business travellers, you may likely be in town for a conference and this is something Hotel Indonesia handles with aplomb.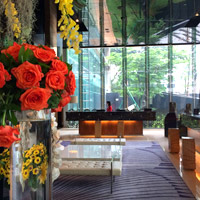 Hotel Indonesia Kempinski lobby/ photo: Vijay Verghese
There are two spacious ballrooms and 13 meeting rooms offering a range of venues for everything from small corporate meetings in Jakarta to MICE events (despite the smaller room count), weddings, and assorted galas.
The Grand Hyatt Jakarta (jakarta.grand.hyatt.com) is an old stalwart for meeting planners and is linked at the hip to Plaza Indonesia mall. A Grand Ballroom on Level 2 is on hand with adjacent meetings rooms for everything from muscle MICE events and large corporate conferences to small CEO meetings. But what sets this hotel apart as a top address for Jakarta corporate meetings is the The Residence ONFIVE, with four spacious meetings rooms in a residential format with large uncluttered sofa arrangements and wall-to-wall wooden cabinets with books and artefacts. Natural daylight streaming in is another plus. 
Mandarin Oriental, Jakarta (www.mandarinoriental.com) underwent a full renovation after a 2007 closure and reopened in 2009 with more, if understated, marbled panache. A separate 3rd floor 590sq m ballroom has independent access and can host 600 people theatre style. There are additionally four meeting rooms and three areas for events with the entire meetings space amounting to a substantial 1,000sq m.
Stepping into The Dharmawangsa Jakarta (www.the-dharmawangsa.com) in leafy south Jakarta you'll be forgiven for thinking you've stepped into a home rather than a hotel. Arrive through a classic pillared porte cochere then blink and adjust to the dim light as your body starts decompressing and the pulse slows down. The Dharmawangsa is uniquely Indonesian, proudly so, and it blends into the neighbourhood's low-rise mansions with an endearing reticence. Don't expect glitz and glamour, but rather subtle flourishes. It is excellent for small corporate meetings, grand dinners, weddings and leisurely hideaway weekend 'staycations' with the kids.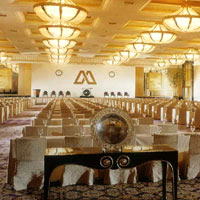 Mulia Jakarta/ photo: hotel
One of Indonesia's top meetings destinations is cultural centre Yogyakarta in Java, with increasing business from small groups from around Asia and farther afield. Dinner overlooking a UNESCO World Heritage Site temple can be one of the perks of booking your meeting at the Sheraton Mustika Yogyakarta Resort and Spa (tel: [62-274] 488-588, www.starwoodhotels.com/sheraton/), where meeting packages start from US$30 per person.
Room rates for groups of at least 20 see a roughly 50 percent discount from published rates, and half-day packages are available from US$25. Or choose a team-building programme at the archaeological site at Ratu Boko Palace.
For more ancient temples and a taste of Javanese culture, explore the neighbourhood by bicycle.
Small meetings in Malaysia
Kuala Lumpur remains value for money as last-minute bookings (with short lead times) keep hoteliers on their toes. Shop around. With a broad spread of cities and beaches, Malaysia conference hotels serve up some exciting choices at attractive prices. And corporate meetings in Malaysia offer even more choice as you hunt down heritage stays in quaint locales.
The downtown Westin Kuala Lumpur (tel: [60-3] 2731-8333, www.starwoodhotels.com/westin/) is one option. Here, delegates can take part in customised cooking, baking and cocktail-mixing workshops, or shake their booty at salsa dancing lessons. The "Westin 'Personal' Executive Package" is RM220 per person (full day; RM160, half day). You'll get one coffee break, three types of "chef's choice" snacks, lunch, 50 percent off equipment rental charges or breakout room rentals and a special rate on the Portable LCD Projector (RM600).
The smart and refurbished Sheraton Imperial Kuala Lumpur Hotel (tel: [60-3] 2717-9900, www.starwoodhotels.com/sheraton/) is a crisply efficient venue for small meetings in Kuala Lumpur. The hotel boasts 23,000sq ft of event space in 12 function areas with varying configurations. Expect live video conferencing, WiFi, and the latest in audiovisual equipment. There is good F&B and the poolside Italian restaurant Villa Danieli doubles as an event venue. This is certainly one of the top Kuala Lumpur conference hotels. Full-day meeting packages start from RM180 per person, complete with welcome bakery goods, a working lunch, two refreshment breaks with snacks, and the usual meeting goodies (half day from RM150).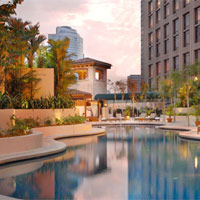 Sheraton Imperial KL/ photo: hotel
Small alfresco conferences are on the menu at Le Meridien Kuala Lumpur (tel: [60-3] 2263-7888, www.lemeridien.com/kualalumpur), with participants relaxing on mats in the nearby Lake Gardens. Coffee break snacks and lunch are packed into individual picnic baskets. Strategically located at the transport hub of Kuala Lumpur Sentral (at the main train station and airport link), the hotel also boasts 1,300sq m of meeting space, meeting rooms for smaller events.
Joined at the hip is the new-breed contemporary Hilton wild child with spring in its stride and flair in its functions, the Hilton Kuala Lumpur Hotel (tel: [60-3] 2264-2264, www.hilton.com). This hotel breaks the old Hilton mould and demonstrates that even formerly stolid American chains can generate razzmatazz. The hotel can manage from 15 to 550 persons and also throws in a breezy high-floor pool, a spa and 503 rooms.
Smart and chic 571-room The Traders Hotel, Kuala Lumpur (tel: [60-3] 2332-9888, www.shangri-la.com/en), just opposite the glinting much-photographed Petronas Twin Towers, is another breathlessly breakaway New Age product catering for upper-end business and leisure travellers. It has covered access to the Kuala Lumpur Convention Centre. What more do you need? Talk to an event specialist and they'll arrange something with zing.
For posh surrounds and an intimate feel, head to the Ritz-Carlton, Kuala Lumpur (tel: [60-3] 2142-8000, www.ritzcarlton.com/en). About a five minute walk to Bintang Walk's entertainment venues and restaurants, this urban retreat includes more than 30,000sq m spread across 25 meeting areas. Cesar rooms I and II are perfect for corporate meetings, able to accommodate 20 in u-shape seating.
Nearby, another hotel with good meeting spread is the 569-room JW Marriott Kuala Lumpur (tel: [60-3] 2715-9000, www.marriott.com). Positioned in the heart of the Golden Triangle, this Marriott is a natural for larger events. It has 32,927sq ft of total meeting space, with the Mayangsari Grand Ballroom accounting for a third of that. Good central location though there is traffic gridlock at peak times.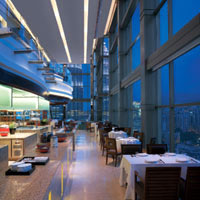 Grand Hyatt Kuala Lumpur/ photo: hotel
In the neighbourhood but closer to major conference venues, the Grand Hyatt Kuala Lumpur (tel: [60-3] 2182-1234, kualalumpur.grand.hyatt.com/hyatt/hotels-kualalumpur-grand) opened late 2012 to hotly contend for MICE functions. It has six large function rooms and four smaller venues spread across 35,530sq ft. That means big venues for big occasions.
If you're not going all out, ask for one of the Grand Residences, meant to fit 20 to 100 guests. A "Grand Meeting package" can be arranged by an event specialist with a full-day itinerary, coffee breaks and LCD screens. This contemporary offering from Hyatt is smack next to the Kuala Lumpur Convention Centre KLCC (www.klccconventioncentre.com). Mark it down in your KL corporate meeting hotels shortlist.
The Mandarin Oriental Hotel, Kuala Lumpur (tel: [60-3] 2380-8888, www.mandarinoriental.com) is tucked between the Petronas Twin Towers and Kuala Lumpur City Centre Park. This 602-room tower can pack 2,800 guests into Grand Ballroom, which the hotel claims is the largest in the city and is large enough to hotel a Boeing 747. If it's not a wedding you're after, don't worry, there are three floors of function space and something for everyone. Try one of the 12 function rooms, more suited for boardroom affairs. The largest is Summit, with a large foyer and wood panelling. For small meets, go with one of the six Pinang rooms (they hold 10 to 47 guests boardroom style). It is next to the Kuala Lumpur Convention Centre.
Formerly Hotel Nikko, the InterContinental Kuala Lumpur (tel: [60-3] 2161-1111, www.intercontinental-kl.com.my) is centrally located in the business hub, a short walk from the Petronas Twin Towers and Kuala Lumpur Convention Centre. Re-branded with a renovated lobby in 2011, this refreshed property offers two ballrooms for up to 1,300 and eight smaller function rooms, each accommodating between 30 and 70 people.
For groups from 15 to 1,800, The Shangri-La Hotel, Kuala Lumpur (tel: [60-3] 2032-2388, www.shangri-la.com/kualalumpur/shangrila) punches at the top of its class. Groups of 25 and up can expect added bonuses, such as a first airport transfer, complimentary coffee breaks or a 15 percent discount on in-house audiovisual equipment. Groups of 40 and up see even more perks.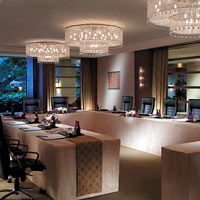 Shangri-La's Rasa Sayang/ photo: hotel
On the balmy island of Penang, Shangri-La's Rasa Sayang Resort & Spa (tel: [60-4] 888-8888, www.shangri-la.com/en/property/penang/) is located over sprawling hectares along Batu Ferringi Beach. The stately but thoroughly revamped resort features two connected wings with varying accommodation choices, a CHI spa, and flexible meeting venues. The Pelangi Ballroom can accommodate up to 700, while 14 other function rooms service smaller groups. For an air-conditioned outdoor venue, check out the marquee tent. Tucked between sea and jungle, this hub can accommodate up to 200 people for dinners or meetings. Full-day and half-day meeting packages priced from RM160 and RM145, respectively. For themed meets explore the colourful "Sandy Beach & Kites", "Survivor Island" out on a quiet isle or "Pasar Malam" modelled after a night market. Keep an eye on this top Penang conference hotel and mark it down for your future small company meetings in Asia.
Also on the Batu Ferringhi beach lies the quiet ParkRoyal Penang Resort (tel: [60-4] 881-1133, www.parkroyalhotels.com/en/hotels/malaysia/penang/parkroyal/). It serves up eight function rooms for gatherings of 10 to 100 persons and a ballroom that can cater up to 510 guests for a theatre style set-up. This is an older property with a laid back feel.
Time to loosen that tie? For an upbeat corporate retreat, drum over to the Hard Rock Hotel Penang (tel: [60-4] 881-1711, penang.hardrockhotels.net). From the music memorabilia to colourful decor, the facilities here will keep the team energised. Banquet halls can host up to 300, while smaller meeting spaces such as Abbey Road, Graceland and Paisley Park will get the ball rolling on corporate chats. Ask about the "Explorock" and "Crash!! Boom!! Bang!!" teambuilding exercises if you want to mix things up. Fun meetings to say the least.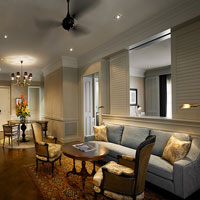 Starched E&O Penang/ photo: hotel
Elsewhere on the island, in bustling Georgetown, by the sea but not on the beach, is the colonial all-white Eastern & Oriental Hotel (tel: [60-4] 222-2000, www.eohotels.com) with large classically furnished suites, butlers and WiFi. Founded by the Sarkies brothers in 1885, this delightful slice of history comes accompanied by six function suites that can host from 20 to 150 persons while the grand ballroom can manage 400. And it is expanding its facilities and inventory. Penang continues to gain appeal as a good value MICE destination.
Sabah's Kota Kinabalu has direct air links, and short travel time, to major Asian capitals such as Hong Kong, Singapore, Seoul, Tokyo and cities in China. The area's attractions include golf, island tours, nature experiences and trips up Mount Kinabalu.
In the city centre close to shopping, dining and entertainment options, Le Meridien Kota Kinabalu (tel: [60-88] 322-222, www.lemeridien.com/kotakinabalu) is particularly popular among groups from China, Singapore and Taiwan. There are a number of function rooms with natural lighting, but for a breakout session with a twist, head off to nearby Gaya island. Meeting packages start from RM160 (groups of 20 and more). Half day from RM140. The well established and smartly managed Shangri-La's Tanjung Aru Resort & Spa (tel: [60-88] 327-888, www.shangri-la.com/en/property/kotakinabalu/tanjungaruresort) is at one corner of town, on the beach, with good meeting facilities. Cruise off to offshore islands from here. Full-day packages start from RM200, half day RM185.
Just outside town, you'll pass by the 27-hole golf course and 104-berth marina of the Sutera family: comprising Sutera Harbour Resort (tel: [60-88] 318-888, www.suteraharbour.com), The Magellan Sutera Resort and The Pacific Sutera Hotel. Here, business meets pleasure. The Magellan has the largest facilities, but the Pacific is the main stomping ground for MICE functions, with a more corporate feel. It has four outdoor venues, a mini-theatre, a large ballroom and 10 multi-purpose and meeting rooms suitable for smaller gatherings. For more adventurous retreats, ask about the Sutera Sanctuary Lodges on Manukan Island, in Kinabalu Park and amid the Poring Hot Springs Nature Reserve.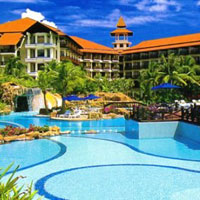 Sutera Harbour, Magellan KK/ photo: hotel
Way past the Jesselton Pier heading north is Nexus Resort and Spa Karambunai, (tel: [60-88] 480-888, www.nexusresort.com). The 485-room complex sits upon 3,335 acres of lush surrounds, including an 18-hole golf course. Its ballroom and eight meeting rooms cover 2,745sq m.
Farther east on a pristine strip of beach, you'll find the Shangri-La's Rasa Ria Resort (tel: [60-88] 792-888, www.shangri-la.com/kotakinabalu/rasariaresort). Like its sibling across town, Rasa Ria is an airy, meticulously groomed property with views and services to match. The resort is big for leisure, but also serves up big MICE facilities, including its 750sq m Grand Ballroom and eight other function rooms. After you visit the Orangutan Education Centre, catch a glimpse of Mount Kinabalu while you play a round of golf. Full-day meeting packages start from RM220 per person (minimum 10 people). Half-day packages from RM200.
Kuching's meetings business is traditionally slower than that of Kota Kinabalu, but with good value and the Sarawak Convention Bureau aggressively promoting Sarawak as a destination, interest is growing, particularly for medical conferences.
Headhunting takes on a whole new meaning at the new Four Points by Sheraton Kuching (tel: [60-82] 280-888, www.starwoodhotels.com/fourpoints/). Boasting a whole bunch of function rooms and ballrooms, the property offers competitive rates and flexible deals. If you've always wanted to kayak in a rainforest, party in a traditional Iban longhouse (chanting "warriors" will escort you there) or enjoy subterranean cocktails in a limestone cave, this hotel has the incentive for you. For real feel-good team building that makes a difference to people's lives, join a bigger project to assist local people to construct facilities such as clinics, school buildings and bridges.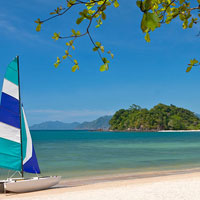 Andaman Langkawi beach/ photo: hotel
Corporate meetings in Langkawi offer broad range. Whether it's a board meeting in a rainforest or an executive meeting on the beach that you're after, The Andaman, Langkawi (tel: [60)-4] 959-1088, www.luxurycollection.com/andaman), with more than 1,100sq m of meeting space including six meeting rooms, will tailor a special package to suit every whim. Meet in a restaurant overlooking the Andaman Sea, on the beach after lunch or on a yacht before an evening barbecue at the Sheraton Langkawi Beach Resort (tel: [60-4] 952-8000, www.starwoodhotels.com/sheraton/), which offers a series of surprising teambuilding activities, such as the " Langkawi Amazing Race", the "Sea Pirate Challenge" or the "Resort Orientation Treasure Hunt." Expect full-day meeting packages from RM130 (half day, RM110). The hotel is set in tropical surroundings with its own small private beach cove.
The specialist Langkawi conference hotel on this patch however is The Westin Langkawi Resort & Spa (tel: 60-4] 960-8888, www.starwoodhotels.com/westin/). There are six meeting spaces at this beachside hotel (conveniently located not far from Kuah town) ranging all the way up to 4,822sq ft. Expect quality AV equipment, videoconferencing, and interesting function venues. This is one of the best Langkawi conference hotels and not just on account of its space and room muscle. Opened April 2016, neighbouring The St Regis Langkawi (www.starwoodhotels.com/stregis) adds fresh zest to the corporate meetings mix with a dollop of luxury and 1,082sq m of prime event space. The largest meeting space is 300sq m. Pick the Astor Ballroom for an elegant bash.
The Datai Langkawi (tel: [60-4] 959-2500, www.dataihotels.com), put on the map by GHM hotels and now run by Archipelago Hotels and Resorts, is a rainforest villa resort gem, set in the secluded northwest of the island (next to The Andaman) with a superb beach. The resort blends into nature with minimum intrusion. Find a spa, excellent restaurants, and conference and meeting facilities for up to 60 guests. This is a great spot for team building and corporate encounters, the all-pervasive forest doing its best to ensure your company hangs together. Rooms and villas offer Lavazza coffee machines, 37-inch flat-screen TVs, DVD players, BOSE sound systems and complimentary high-speed Internet access.
Brunei boardroom romp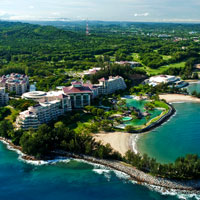 Empire Hotel, Brunei/ photo: hotel
At The Empire Hotel & Country Club (tel: 673-241-8888, www.theempirehotel.com) you'll find more gleaming marble and soaring Doric columns than in Ancient Rome. The state events venue for the Sultan of Brunei should be good enough for mere mortals. This is a lavish and spread-out resort with several swimming pools, spa, and numerous meeting options. For a group of 20 pin-stripers, the damages would be around B$60 per person, inclusive of welcome coffees, two beverage breaks, buffet lunch, meeting kits and basic visual aids. Half day from B$50 per person.
As a sampler, kick off with a welcome reception and a sundowner at the Marine Center. Pick from themes including "Nelayan", a fisherman's village, or opt for an outdoor barbeque. There are ten meetings rooms that look onto the 18-hole signature Jack Nicklaus Golf Course, itself a major distraction. Save time for a swing. Meeting packages include morning coffee break, buffet lunch, and standard audiovisual equipment. The afternoon is for beachwear and sporty teambuilding exercises. Try the "Amazing Race" to test your endurance over land and sea. No James Bond antics here. Think slippery banana boats, soaring para-sails, kayaks, beach football, and muscle-wearying tug of war. Wrap up with a formal Cantonese dinner at Li Gong.
Sea and CEOs in the Maldives
Coral-fringed islands, sun-drenched beaches and azure seas, anyone? Who wouldn't want to meet up in the Maldives? It's a long way to go, but why not? Well, yes, cost could crimp your style but then, for a fabulous blue-water small meeting in Asia, there are few better spots.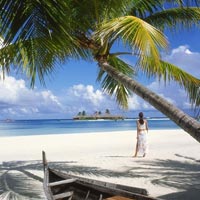 Four Seasons Kuda Huraa/ photo: hotel
For a top-level executive gathering on a private island, Four Seasons Resort Maldives at Kuda Huraa (tel: [960-6] 644-888, www.fourseasons.com/maldiveskh) has it all. Group activities range from fishing and snorkelling to dolphin cruises. In addition to the dedicated meeting room, gatherings can be held anywhere – from the resort terraces to the beach and tropical gardens. The resort offers full-day meeting packages for up to 14 in The Library, which has floor-to-ceiling windows overlooking the ocean. Packages start from US$120 per person for full-day meetings and US$85 for half day.
More corporate retreats beckon at sister property the Four Seasons Resort at Landaa Giraavaru (tel: [960-6] 600-888, www.fourseasons.com/maldiveslg), where big windows and high ceilings connect meeting participants in its three function spaces (perfect for 20 to 40-person groups) with the natural beauty outside. Restorative ayurvedic treatments, yoga and diving will help you wind down. Full-day packages from US$120 per person, half day from US$85.
The Conrad Maldives Rangali Island (tel: [960] 668-0629, conradhotels.hilton.com) sprawls over two islands in fact, both connected by a wooden walkway. The seaplanes deposit you right in the middle. Apart from boasting the world's first underwater restaurant where you can look at sharks and vice versa, the resort serves up stunning spa facilities and over-water villas. While not really a conference hotel at all, the resort has imaginatively rustled up venues for 10 to 20 persons at the small business centre, in the Presidential Suite and even on a deserted island. No promises. Call the hotel to check on possibilities. Could you arrange a meeting underwater? Well…
South Korea: small meetings in Seoul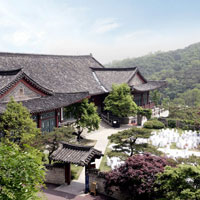 SamcheongGak for events/ photo: Seoul Tourism
Already a sought-after destination for the regional conferences market, Seoul regularly hosts major events like the Korea MICE Expo. This is a popular city, mixing the lure of shopping, sites, history and food with some excellent MICE locations for corporate meetings or larger events.
An interesting pick is the 1972 nostalgia construct, SamcheongGak that was built as a banquet spot north of the Han River. The place mimics a Korean royal home or palace with plenty of timbre, sloping shingle roofs and a green hilly setting.
Cultural items are often on the menu here. It was originally used as a place for Red Cross conferences between North Korea and South Korea. There is no rental fee for the space but a W70,000-W100,000 catering fee per head is charged.
The venue is about three kilometres from downtown hotels like Westin Chosun and Plaza. More information on atmospheric Seoul meetings (www.miceseoul.com). Also explore The Raum in the Gangnam area south of the Han River with meeting space for 50 persons at a fee of W550,000 for a full day. Or pop by the Seoul Marina Club.
Host to royalty, heads of state, celebrities and business leaders, the smart, restyled, relaunched The Shilla Seoul (tel: [82-2] 2233-3131, www.shilla.net) prides itself in state-of-the-art technology and business facilities. Pick the Grand Ballroom for larger events that need careful attention and set-up, or the Dynasty Halls that each hold about 250 banquet style. The hotel has a secluded location on a wooded hill and serves up great F&B too.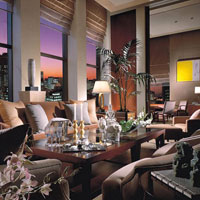 Westin Chosun/ photo: hotel
It was closed and re-emerged from a complete top-to-toe transformation in August 2013.
A floor-to-ceiling window view of Seoul's own historic Temple of Heaven inspires meeting delegates in one of the eight conference rooms in the downtown The Westin Chosun, Seoul (tel: [82-2] 771-0500, www.westin.com/seoul). Close to trendy shopping and other landmarks in Myeong-dong such as the Blue House, City Hall and Cheonggyecheon stream, the hotel's guest rooms and ballroom (which can be divided into two separate meeting rooms) holds 1,000 people for cocktails, while five other function rooms can host 20 to 80.
In the neighbourhood are the massive Japanese-style Lotte Hotel Seoul (www.lottehotelseoul.com/kr/) with oodles of meeting space and a huge room inventory, and brisk new-look The Plaza (tel: [82-2] 771-2200, www.hoteltheplaza.com) with a 924sq m Grand Ballroom in classical marble decor. Or pick a smaller function room like Ruby Hall (163sq m, 150 people theatre style) for an intimate Seoul corporate meeting venue. The smaller Pine & Bamboo Room will hold 20 people schoolroom style.
It's all systems ago at the 518-room The Grand InterContinental Seoul Parnas (tel: [82-2] 555-5656, www.grandicparnas.com), with 15 elegant meeting and function spaces named after flowers. This is a corporate, woody and somewhat dark venue with an old style clubby feel that will reassure many traditional suits.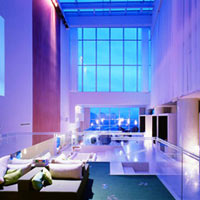 W Seoul Living Room/ photo: hotel
The subway is close at hand. Sister hotel Intercontinental Seoul COEX (tel: [82-2] 3452-2500, www.iccoex.com) is a more contemporary and colourful confection with 11 meeting and banquet halls, catering to anywhere from 20 to 1,200. Sophisticated soirees and VIP events can extend to the 30th floor Sky Terrace, which can accommodate up to 40 guests.
Diagonally across from the COEX Convention and Exhibition Center, the Park Hyatt Seoul (tel: [82-2] 016-1234, www.seoul.park.hyatt.com) is in a strategic location with a modest range of MICE facilities. It has six modern meeting rooms as well as a ballroom for up to up to 85 guests. Not your normal muscle meet venue, this is ideal for a small corporate meeting in Seoul. Mark it down for your CEO chinwag.
On the fringe of town, on a breezy hillside overlooking the Han River is the trendy W Seoul – Walkerhill (tel: [82-2] 465-2222, www.starwoodhotels.com/whotels/) packed with touchy-feely art, a spa, and mood rooms in bright colours. For small meetings, expect endless hi-tech, high-speed Internet, and plasma screens, all set up in five meeting areas. Do your meetings in style in Seoul.
Incheon business hotels take their lead from the modern and briskly run 524-room Grand Hyatt Incheon (incheon.grand.hyatt.com) right next to the airport, a short distance from Songdo. It started out as a Hyatt Regency and morphed into its current Muscle MICE incarnation on 1 September, 2014 with a total of 1,022 rooms and suites and residences. The hotel's West Tower has been given LEED certification and the modern lobby with glass frontage has a cream curved space design that lends a futuristic tone to the place.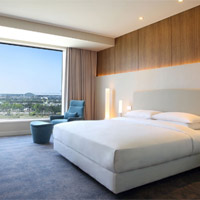 The Grand Hyatt is a good Incheon pick by the airport/ photo: hotel
This is an excellent address for Incheon conferences or corporate meetings with 30 function areas including an outdoor event venue. The largest space, in the new wing (the hotel has two blocks) is the Grand Ballroom with room for 800 banquet style or 1,200 cocktail style. WiFi is free and there are three swimming pools to unwind in including a pool for kids. The hotel is a child-friendly option too with a kids' playground to entertain minors.
Rooms in the new tower are clean and uncluttered with back-lighting on crisp white walls, grey carpets and woody accents. Look out through sloping windows, and walk on cool pale wood flooring. The hotel is a three-minute drive from the airport in a quiet as yet undeveloped district with some offices and a few eating spots.
Let's talk Taiwan
Taiwan's growing meetings market benefits from its advanced communication infrastructures, relatively affordable hotel rates and industrial excellence. Best of all, compared to other Asian capitals, there's little or no traffic. You can organise corporate dos that run on time especially if you are combining events and locations across town.
Function room rentals start from NT$800 (per person, based on group of 20) for a full day and NT$400 half day at the award-winning Regent Taipei (tel: [88-62] 2523-8000, www.regenttaipei.com). This favourite in Taipei can create tailored event packages for groups of four to 750, just say the word. This is a popular hotel with business travellers to the city, well located and offering a high level of personalised service. The feel is old world, grand, and measured. Don't rush it.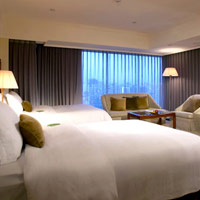 Regent Taipei/ photo: hotel
Joining the party nearby is the Okura Prestige Taipei (tel: [88-62] 2523-1111, www.okurataipei.com.tw), which arrived in late 2012 with a small size well suited for smaller corporate events. The plush ballroom, designed by a Hong Kong firm, is in an attractive Chinese style and there's parking for 200. Okura offers contemporary accommodation in pastel tones and interesting meetings spaces.
The Grand Hyatt Taipei (tel: [88-62] 2720-1234, taipei.grand.hyatt.com/hyatt/hotels-taipei-grand/), close to the Taipei World Trade Center and Exhibition Hall and Taipei 101 Finance Tower is a mammoth property with 11,000sq ft of function space. It serves up full-day packages from NT$2,090 per person. Renovations in 2013.
Also located in the central business district, Le Meridien Taipei (tel: [88-62] 6622-8000, www.starwoodhotels.com/lemeridien/) offers 10 meeting spaces, accommodating between five and 900. Set away from this area, the Shangri-La Far Eastern Plaza Hotel, Taipei (tel: [88-62] 2378-8888, www.shangri-la.com/taipei/fareasternplazashangrila/) lays claim to the tallest tower in the city. In addition to its soaring views, the hotel is also home to two ballrooms and nine function rooms wired with high-tech amenities, such as large plasma screens and real-time translation systems. Renovations in 2013.
Meeting madness in the Middle East
With excellent air links to most major cities, top Middle Eastern meetings destinations are perfected located to attract delegates from both Asia and Europe. With sky-defying towers and outrageous man-made islands, Dubai remains the region's conference hub, but neighbouring Abu Dhabi, capital of the United Arab Emirates, has in recent years poured a few billion dirhams into its own meetings and incentives market. Adding to its conference appeal is the Abu Dhabi National Exhibition Centre (ADNEC), with the UAE's largest indoor auditorium, accommodating almost 6,000 delegates. Following suit are booming Bahrain and Doha, with the sultanate of Oman not far behind.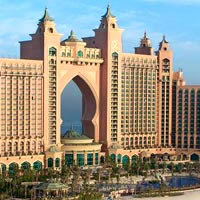 Atlantis Dubai/ photo: hotel
In Dubai, play with dolphins, feed some manta rays – it's all in a day's work at the mind-bogglingly opulent Atlantis The Palm Dubai (tel: [971-4] 426-2000, www.atlantisthepalm.com), with an astonishing 1,539 aquatic-themed rooms and suites overlooking the Arabian Gulf or Palm Jumeirah. Meeting packages are specially tailored for day delegates. Meet in one of the many conference rooms or in a natural setting outside. Full-day delegate packages start from Dhs225, half day from Dhs190. Groups of 20 and up may want to explore the Lost in Atlantis incentive teamwork exercises. The dolphins live in three lagoons in a lush tropical setting. Only in Dubai.
The ultra-luxury Emirates Palace (tel: [971-2] 690-9000, www.emiratespalace.com) at the far end of the city's corniche is set among 85 hectares of landscaped gardens. In addition to a gigantic ballroom and auditorium, it offers more than 40 meeting rooms for tailor-made meetings.
A breakout room on a luxury yacht? Nothing is impossible at the futuristic Yas Viceroy Abu Dhabi (tel: [971-2] 656-0000, www.viceroyhotelsandresorts.com), with its eye-popping design mimicking the throw of a local fishing net. Overlooking the Yas Marina Circuit (the scene of the inaugural Abu Dhabi Grand Prix), the hotel has 3,520sq m of conference facilities including six meeting rooms and four boardrooms.
With its rich cultural heritage and natural beauty, Oman has a number of outstanding incentive possibilities. Its Desert Nights Camp (tel: [96-8] 9281-8388, www.omanhotels.com/desertnightscamp) a couple of hours' drive from Muscat hosts group of up to 30 in Bedouin-style tents. Or go mountain climbing in the Hajar Mountains. The planned 6,000-seat Oman Convention and Exhibition Centre is expected to act as a magnet for the capital Muscat by 2016.
Yas Viceroy Abu Dhabi/ photo: hotel
Against a dramatic mountain backdrop, on an exquisite private beach and close to the fascinating Muttrah Souk, the luxurious 50-suite Al Bustan Palace, a Ritz-Carlton Hotel (tel: [968-24] 799-666, www.ritzcarlton.com) has 12 meeting rooms and a butler at your beck and call. Contact the hotel for specially tailored meetings and incentives. Standard full day meeting packages start from Dhs300, half day for Dhs250 And the boutique-style The Chedi Muscat (tel: [968-24] 524-400, www.ghmhotels.com/en/chedi-muscat-oman/) offers a designer chic getaway for that corporate seminar. Nothing like quality surrounds to conclude a meeting on a high note.
That's the long and short of small meetings in Asia, corporate seminars and long and waffling CEO sound bites. Take your pick of these top Asian conference hotels.
Send us your Feedback / Letter to the Editor