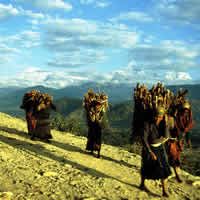 Above Pokhara/ photo: Vijay Verghese
IT's 5.30am, pitch black and snowing as we begin the longest day of our trek. The halogen beam from my headlamp catches a furry yak in the eye and he grunts, possibly asking what the hell we're doing up so early. A good question. Today we do Thorung La, a high pass and the toughest day of the Annapurna Circuit, and we need to make an early start or we'll still be walking when the sun goes down. This is the day everyone talks about, worries about and plans for in the days leading up to it. Will the altitude make me sick? Will I slip off the icy trail? Will my knees make it down the other side? The 1,200-metre climb to the top of the 5,450m pass and the 1,600m descent down the other side begs a lot of questions. Not only is it a tough climb and a knee-grinding descent, but the thin air at this altitude also makes it mentally grueling. We walk single file, our boots making potholes in the fresh snow, grimly aware that trekking in Nepal is no walk in the park.

Hotel Contact Information

See Slide Show
Halfway to the top we hook up with Ralph, a Tasmanian friend we met along the way. While the trail is less steep here, it is now less than a foot wide and skirts a long fall into steep, snow-covered terrain. This morning's snow combined with the trekkers ahead of us has polished the trail to a high gloss. My wife, Lisa, who hates walking on slippery gravel is surprisingly at ease on the ice. So at ease she fails to notice that I am slipping further behind her with every step.
Send us your Feedback / Letter to the Editor
Sweat pours down my back as I try to keep my eyes off the sheer plunge to my right. I shall not mock ice axes again...
I dig my walking poles in for each skittish jerk forward, my eyes searching the trail for bits of gravel for my boots to cling to. Sweat pours down my back as I try to keep my eyes off the plunge to my right. Ralph, who brought an ice axe - which I had earlier mocked - stands beside Lisa and watches me until I catch up with them. They are both kind and exchange comments about how slippery it was.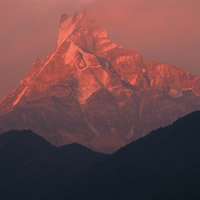 Machapuchare at dawn/ photo: Roderick
The Annapurna trek continues. Now the trail rises and falls over a series of false summits. We pass several trekkers suffering from altitude sickness and soon Lisa begins to feel the effects of the thin air, panting for breath with every step. But before it becomes a serious problem, we're at the summit, celebrating with chocolate and water in a small shack. The wind is howling, flapping the prayer flags as we photograph each other. Soon the cold chases us off the pass and down the other side. All that's left is six hours of walking until lunch and another week of trekking. Every day is an adventure on the Annapurna Circuit, possibly the world's most famous trek. It is the place where the Dutch word "trek" became synonymous with "hike". The circuit wraps around the Annapurna range, a collection of mountains, anchored by Annapurna 1, which is 8,091m high. The peak was climbed in June 1950 by Frenchman Maurice Herzog and represented the first ever 8,000-metre conquest. Trekkers doing the complete circuit go counter-clockwise to avoid altitude sickness. Another good reason to hike in this direction is that lodging and food seem to improve on the far side of the pass, and it's better to go from good to great than great to good.
Trekking the complete Annapurna circuit takes between 15 to 22 days, depending on fitness, adaptability to altitude and desire to linger along the way. While the trail has gained a reputation for being overrun with tourists, it had quietened with the rise of a Maoist insurgency in Nepal, post 9/11 travel jitters and the massacre of Nepal's royal family in 2000. While some people questioned the safety of trekking in Nepal, Maoists were not known to harm tourists though a fair bit of free-lance brigandage went on around the Annapurna Circuit. There were reported instances of trekkers being stopped, politely, by armed guerrillas and asked to pay "taxes" of around US$20 each. Trekkers were then issued official receipts in case they got hauled up again further along the way. Those who could afford it chartered a helicopter or small plane to fly from Pokhara to Jomsom and beyond. Yet, times have changed. Following a popular uprising, the Maoists joined hands with the government - defusing conflict - and the country's much vaunted constitutional monarchy went into full-blown retreat. The country's transition to a secular democracy (as opposed to a Hindu monarchy) continues to pose issues, debate, and protest. In April 2008 the communist Maoists swept into power, peacefully, following elections in Nepal. While that honeymoon ended by May 2009, it is likely that the US$20 "tax" will be a thing of the past as the country continues down its avowed path to become a "capitalist democracy", a Switzerland of the East, perhaps to be followed, as classical theorists will opine, by communism, as originally adumbrated by Marx.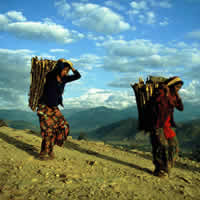 Women are tough/ photo: Verghese
Day 1 Pokhara - Besisahar - Ngadi
To begin your stunning Nepal trek, take a taxi from Pokhara to a village named Besisahar. This is where the road ends and it's your last chance to make an international call for quite a few days. You'll find a lush green area, cut with small streams and tiny rice fields. The small village of Ngadi is a good first night's stopping point. (4 hours)
Day 2 Ngadi - Chamje
Climb up the steep hill to the village of Bahundanda. A great lodge greets you at the top of the hill. The whitewashed brick village is one of the prettiest on the trail. Then the trail drops down to Syange, before it cruelly forces you to climb back up the slope to Chamje.
Day 3 Chamje - Bagarchap
Some tough climbing today, through fields of marijuana, pastures of goats. Tal is a great little town for a break and it's wide streets and Dry Gulch atmosphere give it a very spaghetti Western feel. The trail then climbs steeply, across a suspension bridge and up to Bagarchap. Bagarchap was all but destroyed by a landslide in 1995 that killed many of the town's people and trekkers. It is a pleasant place to overnight in. (6 hours)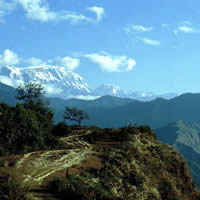 Views everywhere/ photo: Vijay Verghese
Day 4 Bagarchap - Bhratang
This is a tough day of hiking and some people will want to stop earlier. There is some very steep terrain where the trail is narrow and loose. Bhratang is an old village surrounded by apple orchards and barley. There are only two inns and it is a good place for a quiet night. (6 hours)
Day 5 Bhratang - Humde
This day was one of my favourites, featuring a walk in a peaceful forest of pine and cedar. The high point is the view of the valley before descending into a wide open plain, dotted with small corrals for horses. We decided to stay the night in Humde, about an hour-and-a-half short of Manang. Tired from four long days, we found a great deck for lunch and decided to laze in the sun reading and relaxing. (4 hours)
Day 6 Humde - Manang
A short day that passes through the village of Braga. Recurring signs throughout the trek advertised the Braga bakery, promising the world's best cinnamon buns and coffee. We marched up to the door only to find a "Closed until Thursday" sign. This forced us to figure out what day of the week it was. Tuesday. Waiting around two days for cinnamon buns was out of the question. An hour later, we arrived in Manang home to the most Bavarian bakeries this side of the Black Forest. (2 hours)
Waiting two days for cinnamon buns was out of the question. But an hour later we found a stash of Bavarian bakeries
Day 7 Manang Rest Day
Manang is at 3,600 metres and a two-day stay here is necessary in order for your body to acclimatize. During the trekking season lectures are held here each afternoon by the Himalayan Rescue Association. All you need to know to get safely over the pass is shared here. Acute Mountain Sickness (AMS) is the official name for the various forms of altitude sickness. Loss of appetite, headaches and sleeping poorly are all signs of mild AMS. Drinking at least three litres of water per day and going no higher until symptoms stop is the only treatment. It is possible to take a pill called Diamox to aid in acclimatization, but consult a doctor first.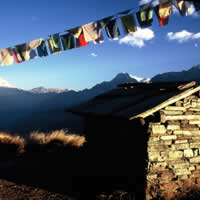 Prayer flags/ photo: Daffyd Roderick
Day 8 Manang -Yak Kharka
The hike up to Yak Kharka at 4,200 metres, is steep and brief. The air grows thinner and colder and soon there is little aside from grass for vegetation. The Gangapurna Lodge offers a warm place to bed down for the night. (3 hours)
Day 9 Yak Kharka - Thorung Phedi
Not a long day, but you really feel the gain of another 350m. The Base Camp Lodge at Thorung Phedi is built at the edge of a tall cliff and peers out across the valley below. There is a "High Camp" lodge that will save you an hour of climbing the next day, but it is cramped and uncomfortable. (3 hours)
Day 10 Thorung Phedi - Jharkot
This is the big day. The trail is closed in bad weather and with good reason. A slip can have horrible consequences. If the sun smiles on you, you're in for incredible views all around. It takes about four hours to reach the summit from Thorung Phedi, with many false summits on the way. The higher you go, the more barren the landscape is until at the top it is nothing but scree and rubble. Once you reach the prayer flags at the summit, the day really gets tough. The descent to Muktinath is a brutal 1.6km vertical plunge that lasts close to five hours. The mustard yellow and rust brown hills of the Mustang district offer visual distraction. Stop for lunch at Muktinath, but if you can force yourself to move after eating, the old city of Jharkot is only about an hour away and is another 200 metres lower. (10 hours)
Day 11 Jharkot - Marpha
We opted to skip the old town of Kagbeni for a direct route to Marpha, famed for its apple pie, apple brandy and beautiful architecture. It's best to leave early for the hike up the valley to Jomsom as the wind picks up in the afternoon and blows straight into your face. Jomsom is home to an airport where those in a rush can catch a flight to Pokhara. It's a sprawling, charmless army town and while it's a welcome rest from the wind and dust, it's better to move on to Marpha. I've made no recommendations about guesthouses up to this point as they seem to all be equal, but in Marpha I must make an exception. The Nehru Guesthouse had food and service of a quality above and beyond anything else on the circuit, or in Kathmandu for that matter. The manager is a wonderful woman who seems to know what you want before you do. (7 hours)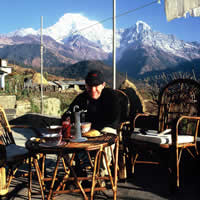 Author pauses for a cuppa
Day 12 Marpha - Kalopani
Our Nepal trek continues with a pleasant day of walking on good flat ground. The only mistake you can make is to take the local shortcut and end up having to wade through the river. Twice. It saves you about 20 minutes but you end up with frozen feet. Kalopani has amazing views of Dhaulagiri (8,167m), Tukuche Peak (6,920m), Nilgiri Central (6,940m), South (6,839m), Annapurna I (8,091m) and Baraha Shikhar (7,647m). (4 hours)
Day 13 Kalopani - Tatopani
This is a tough day, covering almost 24 kilometres and a stiff descent that will leave you in need of a hot bath. Good thing that Tatopani translates into "hot water". The hot springs here are amazing and lure many trekkers into taking an extra well-deserved rest day. The Dhaulagiri Lodge has great rooms and is located closest to the hot springs. (6 hours)
Day 14 Tatopani - Ghorepani
This is another tough day with the climb back up to Ghorepani taking close to six hours. It's steep and there isn't much in the way of places to stop for tea. But the reward is Poon Hill in Ghorepani. Many people do short treks coming from the opposite direction to see the view from the top of the hills. It's one of the best sunrise views on the circuit and is worth the pre-dawn hike to take in the entire Himalayan chain, especially Dhaulagiri and Manaslu.
Day 15 Ghorepani - Hille
This is another tough day of downhill and you're bound to run into an army of shiny fresh package trekkers coming the other day, wheezing their way up the hill to Ghorepani. According to porters, this descent has close to 1,000 steps and your knees will really feel it.
Day 16 Hille - Birethani - Pokhara
A short hike along the burbling river through rice terraces will take you to Birethani, the last checkpost on the Annapurna Circuit. From here it's a quick hike out to the scuzzy highway town of Beni where you can catch a cab to Pokhara to celebrate your journey.