FEW THINGS are as hugely evocative as the six-letter word "ISLAND". Think picture-postcard beaches, unspeakable romance, culinary delights, bargain shopping and heart-stopping bliss.
Langkawi, the tiny Malaysian island north of Penang, goes well beyond this pedestrian clutter.
The island of eagles – personified by the giant bird statue at Eagle (or Lang) Square – conjures enchanting visions of…well, absolutely nothing. One guide describes Langkawi as "a group of 104 tropical islands during the low tide and 99 islands during the high tide" so do choose your sandbar carefully when popping the Big Question. But then, "nothing" is a relative term. And it is in search of solitude that travellers flock to this island to get away from the madding crowd though the island is trying hard to compete with the big boys. Sometimes less is more.

Hotel Contact Information

See Slide Show
Former Malaysian prime minister Dr Mahathir Mohamed interned here just before he got married and took advantage of the slow pace and anonymity of the place to grow a raffish beard. As he quips with a gleam in his eyes, "So you see… there are things you can do in Langkawi." With a population tickling 65,000, things are predictably slow and unhurried though some things are changing, if slowly - the island's first cinema, the mega Langkawi Cineplex opened in April 2007 at Langkawi Parade Shopping Mall in town.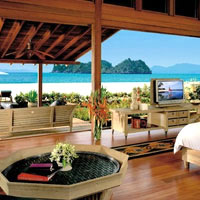 Four Seasons style/ photo: hotel
You can miss Kuah town if you blink. Legend has it that years back, in the days when even less happened in Langkawi, Princess Mahsuri was falsely accused by her wandering husband of infidelity. No one enquired what he had been up to on his travels and whether karaoke featured on the royal itinerary. The hapless maiden was done to death and it is said white blood flowed from her slashed veins, incontrovertibly proving her innocence. Before departing, the feisty princess placed the island under a seven generation curse that, fortunately, has just finished its term, releasing the island once again to pursue its joyous path of, well, doing absolutely nothing.
Send us your Feedback / Letter to the Editor
But fret not. Herein lies its charm. Langkawi is unspoilt, friendly, and genteel. This is no mystical Bali, throbbing Phuket, or curry-in-a-hurry Penang. It is a place to unwind and relax, preferably with a large good book or a slim good friend. It is a place for walks, waterfalls, rainforest walks, deep reflection, and mid-life crises with no one to interrupt your beachside rant. Men, if you brought the family along, be prepared for CONVERSATIONS. There's no getting away.
The best Langkawi beaches, while not the finest in Asia, are pretty decent with a few white sand stretches to rival any. The sunny and hot dry season runs from November to March with the monsoons trickling in May onwards. So here's our Langkawi fun guide with a Langkawi resorts review, a look at some fine hotel spas, desultory duty-free shopping, beaches and family activities. While honeymooners may flock here seeking serendipity, Langkawi is ultimately a very child-friendly destination with much for the brood and acres of stomping space.
Getting around Langkawi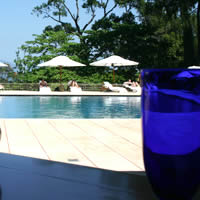 The Datai: rainforest escape
Before you plunge in you might want to look at a Langkawi map. The best way to get around is by rental car (around RM148 per day for a Perodua Myvi from a company like Kasina Car Rental, tel: [60-4] 644-1842, www.kasina.com.my). Petrol costs about the same as mineral water so don't feel shy. Taxis cost around RM25 per ride from Pantai Cenang (or the airport) to Kuah Town and fares to the more distant Tanjung Rhu and Datai will incur higher charges.
Single trips are variable and expensive. Along the north shore, Danna to Datai is about RM40 one way. Hiring a taxi by the hour is RM30-RM40 per hour (depending on your negotiating skills) with a minimum three hours. It makes sense then to rent. With just a few roads to choose from, all excellently signposted and maintained, it is unlikely you will get lost. The Malaysian ringgit to US dollar exchange rate is roughly US$1 = RM2.98.
The island takes about two hours to drive right around. The flattish southern half is where the airport and Kuah town are located while the north features a hilly spine clad in verdant rainforest and rubber plantations. Both the forests, and the plantations with their graceful white-bark trees set in evenly spaced rows, are endangered species – the former on account of creeping development and the latter due to the steady evaporation of the original Indian migrant workers brought in to tap the rubber. It is in the north that Langkawi comes alive and nature is at its most vibrant. It may well be that the island will emerge eventually as a colourful, varied and sustainable eco-tourism destination. It has all the makings.
Sightseeing and activities
The east coast is fringed by dense mangrove swamps and limestone hills and it is worth experiencing a river tour topped off by "feeding the eagles". Scores of red eagles swoop down to claim their prize and it is a sight to behold. Canopy trekking which involves abseiling or rappelling and generally hanging from high branches up in the forest canopy is catching on. And in Pulau Payar Marine Park 30km south of Langkawi, you can dive in gin-blue waters, snorkel and actually feed sharks – well, okay, baby sharks. Keep your toes buried well in the sand lest the feisty critters mistake them for small fish and grab a couple to go.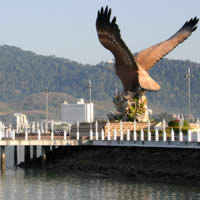 The eagle has landed
Up in the cool highlands of Mt Gunung Raya smack at the centre of Langkawi, hornbills can be occasionally sighted but, sadly, the green turtles that once made the beach of Pantai Cenang their home, are not spotted often these days.
Another day excursion is to Pulau Dayang Bunting, the Island of the Pregnant Maiden. It is a 15-minute boat trip from Langkawi. The highlight here is a cave haunted by a fearsome banshee (which has not deterred souvenir sellers), and Tasik Dayang Bunting, a freshwater lake that apparently bestows the gift of children to barren women who drink from it. Bring your husband along to ensure things are absolutely propah.
There are all the usual hysterical trappings of modern tourism – crocodile farms where alligators do things God never intended, bird shows, aquariums and so on – that have been dumped here and there in an attempt to tart up the place. Give them all a miss unless you are in the mood for something mind-numbingly twee or the children insist. Do pop by the invigorating Fast Track Speedzone go-kart track (tel: [60-4] 955-5827) where 35 Malaysian ringgit will get you 10 to 15 minutes or six to eight laps of a long looping circuit under a baking sun. Call it a high-speed tan. A larger outlay will see you bag a muscle kart with higher speeds and more laps.
The key beaches on the island are Pantai Cenang, the main strip near the airport where several of the larger hotels are located, Datai Bay, in the northwest, a splendid cove of exclusive white sand set in stunning rainforest, and Tanjung Rhu, a broad, sparkling white bay to the northeast. Up north as well is the tiny, rustic, hideaway cove of Pasir Tengkorak with a few small huts that can be rented from the government for RM15. The Malay-style squatting toilets are clean and will set you back a mere RM0.50 a visit. Stock up before visiting and bring along sleeping bags or bedding. Then, just for the fabulous views, hitch a ride up the 708m Mt Machinchang on the Langkawi Cable Car (tel: [60-4] 959-4225, www.panoramalangkawi.com) from Oriental Village close by the Berjaya resort.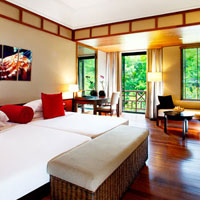 Swish Andaman room/ photo: hotel
According to the photo gallery on its website you can actually see the Grand Canyon and the snow-clad Rockies. That's some view. Or walk up to one of the three waterfalls –Telaga Tujuh (Seven Wells), Air Terjun Temurun, or Durian Falls.
Don't bother during the dry season as there won't be much water, falling or otherwise. Budding equestrians and children can trot off on horseback through forests and villages (Langkawi Island Horses (tel: [60-4] 959-4753, www.langkawihorses.com). Golfers can check in at the stunning Jurassic Park style The Golf Club Datai Bay (tel: [60-4] 959-2700, www.dataigolf.com) or Gunung Raya Golf Resort (tel: [60-4] 966-8148, www.golfgr.com.my), while sailors head for the Royal Langkawi Yacht Club tel: [60-4] 966-4078, www.langkawiyachtclub.com).
Shopping, dining, and Kuah Town
Shopping is another Langkawi pastime. The place is a designated duty-free island (only alcohol, cigarettes and electronics are taxed) so much of the bric-a-brac on offer is a lot far cheaper than on the mainland. People come here to buy cars and yachts too, duty-free. Go figure. Langkawi Fair, just south of Kuah is as good a starting point as any. The complex hosts Sunday Home Décor (and its Sunday Bistro) where you can pick up stuff for the home and some antiques. There is a factory outlet place here as well. Other shopping spots include Jetty Point (close to Langkawi Fair), Plaza Langkawi (near the City Bayview hotel), and Teow Soon Huat.
Kuah Town is a couple of rows of rebuilt shophouses with a decidedly sleepy feel. Here you'll come across remarkable names like Husky Trading (electronic games) and Flint Stones Handicrafts. Shops are open about 10am to 10pm and most are closed on Fridays (the Muslim weekend). The bright stalls of the Night Market that shuttle around the island depending on the day, offer another pleasant distraction.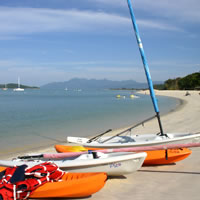 Pantai Cenang beach
Some incredible bargains are to be had especially for DVDs, T-shirts, and satays, depending on your taste. The Langkawi night market runs in Kuah town usually Saturdays.
It also moves to Pantai Cenang and Tanjung Rhu. Check the schedule before leaving your hotel. Extra-keen shoppers may pop by Pisang Handicraft and Art Village (tel: [60-4] 955-7730), or the more upmarket De'Zone (tel: 955-6684, dezone_langkawi@yahoo.com) not too far from the Sheraton Langkawi.
Dining options have taken off though you may have to motor about a bit to get anywhere. Kuah Town is worth a browse if you want good Chinese seafood in casual surrounds. Try the popular Restoran Hi Liang or Rootian Seafood next to the Water Garden Hawker Centre. For delicious and spicy roll-up-your-sleeves Malay-Indian curries and dosas get settled in at Dawood Nasi Kandar where two could have a hearty meal for a trifling RM10.
Several fine dining options are available now as well. Fast-expanding Telaga Harbour (tel: [60-4] 959-2202, www.telagaharbour.com) at Perdana Quay, Pantai Kok, is a mini Singapore Boat Quay lookalike with trendy eateries and bars. This is where The Danna Langkawi is located.
There are a few fashion boutiques sprinkled around as well to cater for tourists and the smart set moored along the boardwalk in gleaming yachts. Opposite the bay, Petronas Quay also offers snacks and alfresco dining. Elsewhere on the island, choices include the Unkaizan Japanese Restaurant (tel: 955-4118, www.unkaijapan.com) with nice open views in the far south at Pantai Tengah, The Lighthouse restaurant and beach bar (tel: 955-2586, www.thelighthouse-langkawi.com) in the same vicinity, the Captain's Deck at the Royal Langkawi Yacht Club (tel: 966-4078, www.langkawiyachtclub.com), and the quaint, old world, all-wood Chin Chin Bar (tel: 955-6787) at the Bon Ton Resort.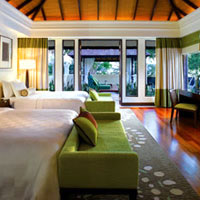 Westin Langkawi Villa/ photo: hotel
For Malaysian food there's Rasa (tel: 955-4940) at Pantai Cenang. And, after the feasting, comes the cleansing at one of the many small day spas around the island.
Langkawi Resorts and hotels, Kuah Town
Langkawi hotel choices are varied and range from humdrum to soaringly upmarket. Kuah Town is awash with mediocrity with the modern highrise City Bayview perhaps the best "city" choice. It is close to shopping and restaurants, has a decent pool and offers fine views. The faux Versailles turrets of the misplaced Bella Vista Langkawi (formerly known as Tiara Hotel) and the drab Hotel Langkasuka and Grand Continental are less than inspiring. At the lower end, things may get decidedly dodgy, so keep your eyes open if you insist on thrift. For a basic experience in clean surrounds try the two-star Eagle Bay Hotel overlooking parks and close to Eagle Square.
The top address in this area, well away from the town, is the lowrise Westin Langkawi Resort & Spa (formerly the Sheraton Perdana Resort) a sprawling affair over 140 landscaped acres with a lovely free-form pool between the two extended arms of the accommodation wings.
The Westin Langkawi fronts a long beach that tends to drain out into pebble and mud at low tide but the white sand strip broadens considerably – and scenically – as you walk along the seafront towards the spacious and chic private villa (for stays, private functions and weddings). You can get wed Malay style with candles, floral baths, massage, the works… Each of the 202 rooms is comfortable with eye-popping 42-inch plasma TVs, a writing desk, Broadband access, DVD player, and the signature Westin Heavenly Bed.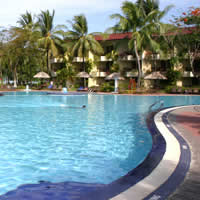 Holiday Villa pool
The inroom safe is too small for a laptop but can handle a camera or video easily. Plug sockets are three-pin square. Rejuvenating treatments are on offer at this Langkawi spa resort. There are also 20 one to five-bedroom pool villas, all featuring private infinity pools, outdoor bales for spa treatments, iPods, surround sound system, kitchenette and walk-in closets. There's even a butler to ensure you get round-the-clock service. The Westin Langkawi Resort & Spa is a good Langkawi conference hotel choice with a ballroom accommodating theatre-style receptions for up to 400. There are a host of other meetings facilities and venues. But if you're in the mood for some relaxation and pampering, then the Heavenly Spa by Westin might be more your style.
Try the "Rollersage" massage that combines Swedish massage techniques with heated semi-precious stone compresses. Or check out the "Kalari Marma Point Massage", which stimulates the body's 107 marma, or localised energy points. Expect plenty of water sports, tennis, four pools, outdoor whirlpool, and WestinWORKOUT gym. Westin does well on our Langkawi resorts review.
En route to Pantai Cenang from Kuah is the isolated, back-to-nature Kampung Tok Senik Resort, with its humungous rooms in large subdivided wooden Malay-style chalets. You'll find a TV, VCR player, aircon and more space than you'll know what to do with. Prepare for long walks and dim lights at night. There is a large swimming pool. Atmospheric. Spooky. Take your pick. Close by the airport and just around the corner from the Mahsuri International Exhibition Centre (MIEC) pretty much in the heart of nowhere, are a clutch of insipid resorts. This includes the One Hotel Helang. Give them a miss.
Pantai Cenang hotel guide
Cheery Four Points/ photo: hotel
It is along Pantai Cenang, the southwestern beach strip that most of the mid-range hotel pickings are to be found. Just north of the airport the new 214-room Four Points by Sheraton Langkawi Resort (4 November, 2011) serves up a Kids Club and a children's pool. This aims to be a child-friendly beach resort with the added plus of two meeting areas for those who must stay connected.
The 43sq m rooms are unfussy and bright with flashes of cushion colour, flat-screen LCD TV, a rain shower in the bathroom and high speed Internet (charged). All this without breaking the bank.
The Mediterranean-inspired 209-room Awana Porto Malai Langkawi is at the very southern tip facing a marina. This is a three-star resort, clean, with decent service. Deluxe Rooms feature a tiny separate toilet and small separate shower (on different sides of the bedroom) and a washbasin smack next to the bed. It's a curious arrangement. There is a hair-drier and a standing cupboard. An empty fridge is provided. This is strictly BYO so stock up on your own. No beach.
The 100-room Lanai Beach Resort around the corner at Pantai Tengah does front the sand. Unlike its neighbours, it is small and unpretentious. For simple lodgings, the place is okay.
The Holiday Villa Beach Resort & Spa Langkawi is a strictly "No Durian" place with 258 rooms and suites. Signs are everywhere cautioning guests against importing this pungent-smelling fruit. This is a typical mid-range holiday place with enough activities to keep kids happy, a large pool, a fitness centre, tennis and a recreation centre.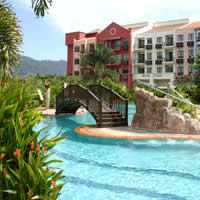 Colourful Langkawi Lagoon
There's also Amoaras Relaxation Spa, which features five treatment rooms, an aqua medic room, steam and sauna, and a host of Balinese treatments. Tacky but friendly.
The adjacent Federal Villa Beach Resort Langkawi is managed by the same group. Here things are quieter, much quieter, with signs like "dial for the manager" and "park at your own risk". Two-storey buildings with simple accommodation.
The Frangipani Langkawi Resort & Spa features small concrete chalet-style units (with rattan furniture and cupboard but no safe) set around 10 acres of land interspersed with coconut trees. There are around 50 rooms and 57 villas. The small pool fronts the beach and a doll's house massage hut on stilts that looks like it might fall down if an ample German wandered in, does 45-minute rubdowns for RM65.
Not far from here is the larger 217-room Aseania Resort Langkawi, a strawberry pink, colonnaded place that works hard to appear Mediterranean. It is not on the beach (though close enough to walk down) and offers instead a 154m pool claimed to be the longest in Malaysia. There's a rockery, waterfall, a wave pool, beach volleyball court and even a lazy river ride for the kids. European travellers blitzed by the pool seem happy enough.
The real discovery along this coast is the small and intimate Casa Del Mar that oozes ambience. As its name suggests, this is another chip off the old Spanish hacienda block. But where others strain, this place succeeds effortlessly. There are 24 rooms and four suites offering a sense of a "large home rather than a small hotel". All rooms have a sea view. You'll find a small safe, TV, a DVD and CD player (pick up free movies from the library). Post renovation new-look rooms (October 2011) offer flat screen TVs, iPod dock, and glass panelled terrace areas. Usefully, the lounge will have a separate shower area for checked out guests to use while waiting for a late flight.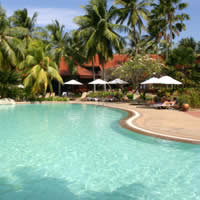 Pelangi Beach & Spa Resort
Inroom Broadband is free while the lobby is wireless equipped. Take your work with you if you must. Rooms have a cosy, bright and starched appearance with a small divan for reading, a ceiling fan and a small rug. The russet tones of the exterior come alive at night when the oil lamps are lit. And for more indulgence there's a wine bar and a small spa. Try a "Body Reviver", which includes a sandalwood body polish and milk bath.
Pregnant women might check out the "Mother To Be" package, which includes a massage and facial. All spa ingredients are organic. The hotel is a popular location for Langkawi beach weddings and honeymooners, and the facilities are designed more for couples than families.
Just up the coast is long time stalwart, the Meritus Pelangi Beach Resort & Spa, spread out over 35 generous acres. Accommodation is in 51 roomy dark-wood traditional Malay kampung-style single and double-storey chalets with gleaming timber floors and all modern conveniences. Red-tile roofs, bursts of crimson bougainvillea and an expansive deep blue pool, although slightly aged, lend a great deal of colour to the place. This is perhaps unsurprising as the word "pelangi" means rainbow in Malay. The resort is well equipped for conferences and corporate events and also offers the Teratai Spa by Aspara, which features a wide variety of Malaysian and other Asian treatments.
Kids aged four to twelve can join the KiKi Club for complimentary daily face painting, mini golf, arts and handicrafts and beach games. Expect a gym, steam and sauna, squash, aerobics room and table tennis. There are also plenty of water sports options, like water skiing, jet skis, banana boat,s catamarans, snorkelling, diving and more. The resort will be undergoing renovation throughout 2012, with the lobby, reception area and rooms all getting a facelift.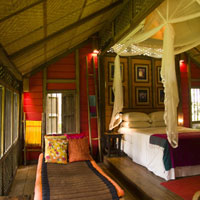 Bonton's White Frangipani/ photo: hotel
A short drive north from the airport, the charming Bon Ton Restaurant & Resort is built on the grounds of a 100-year-old coconut plantation. It is an authentic Langkawi boutique hotel choice with just eight vintage kampung-style villas (for two to three persons) fronting compact grass lawns and a Jacuzzi pool. This is rustic chic with all the creaking floorboards and squeaky doors you'll need to relive the past. A foodie gem is the Nam Restaurant, which serves a fusion of eastern and western cuisine. It is widely regarded as one of the best restaurants on the island.
There's no beach but Bon Ton is all heart. It runs the LASSie (Langkawi Animal Shelter and Sanctuary Foundation, www.langkawilassie.org.my). Guests or other donors may chip in to sterilize a tomcat (RM50) or look after a dog for a month (RM100). Who would want to escape for a snog when they could sterilize a cat? But seriously, it's a good cause. You'll also earn brownie points with the kids. Best of all, there's nothing Mediterranean about this place. Unbelievably, it is all Malay.
The neighbouring Temple Tree at Bon Ton is a real treat of 70 to 100-year-old heritage buildings, lovingly restored and filled with antique furniture, stunning floor tiles and old wooden floors. Temple Tree resort is made up of 12 rooms, 13 suites and eight villas, in five different styles: Chinese, Penang, Black and White, Colonial and Estate. All have high ceilings, lots of wooden panelling and modern amenities that blend seamlessly into their stunning surroundings. You won't be disappointed. Villas can be rented whole or as individual rooms. At Straits Club House find the resort reception, restaurant, bar, library and pool table. Wide verandahs are perfect for relaxing with a good book. Both resorts by Bon Ton attract Europeans in large numbers seeking that fast-disappearing soul of Asia. If you are not in need of vast creature comforts, either will make a splendid escape.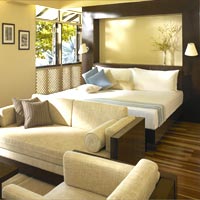 Rebak Island Resort room / photo: hotel
Villa Molek, in a quiet location in the southwest of the island, is a small, adults-only option with 12 villas. Each has a separate bedroom and living area, and terraces that overlook the pool and tropical gardens. As well as handcrafted teak furniture throughout, the villas come with air conditioning, plasma TVs, desks, a pantry and refrigerator. WiFi is available at the café. The place is a no-no for children under the age of 18, but a yes to honeymooners and couples looking to rekindle some romance. The resort is not on the beach but offers other distractions. WiFi is available at the Café.
About a smooth 15-minute boat journey from Port Langkasuka jetty lies Rebak Island Resort Langkawi, an upscale hotel managed by India's Taj group. Ferries run frequently. The island is a tranquil affair, all secluded beaches and limestone coves, and the resort's village-style timber houses are its only guest accommodation. Room options range from a 48sq m garden room with balcony to two-bedroom villas, clustered amidst landscaped garden, and all are kitted out with a modern, chic interpretation of Malaysian décor, gleaming parquet flooring, and luxury twists. August 2011 saw the completion of 12 more villas, bringing the room total to 94.
Superior sea view rooms get an eyeful of the Senari Strait while a couple of the deluxe sea view rooms sport outdoor showers. All rooms have been recently renovated with the addition of WiFi. There's just the one meeting room, which can take about 50 guests in a conference set-up. Since it's small on the conference side but big on recreational facilities and spa, this one would make a good family getaway. The Ulik Mayang Spa has a range of classic massages and remedies. The resort lies right next to the Rebak Island Marina (www.rebakmarina.com) with 189 wet and 70 dry berths.
Langkawi Resorts Towards Pantai Kok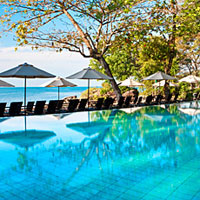 Sheraton Langkawi pool/ photo: hotel
Whipping on up the coast you'll pass the carcass of the Delima Resort, a barracks affair that expired soon after the first tourist boom, the dreary Perdana Hotel, Langkasuka Beach Resort and the surprisingly upbeat Langkawi Lagoon Resort. Langkawi Lagoon is unimpressive on the outside but is a different story once you enter the lobby, take in the manmade lagoon and cross over to the seaside. Here there's lawns, a small pool, nice breezy views, and the extension "Sea Village" offering Malay-style stilted accommodation over water, all with private balconies from which to enjoy the view.
There is a treatment retreat on site called Embun Spa, which charges about RM110 per hour for a massage. If you've been out in the sun a tad too long, try the "Dayang Sunburn Spa Treatment" for two hours of chill yoghurt body wraps, traditional Malay massage and a cooling lemon bath (RM235). The place does not score overly high for décor (which is mishmash) but it wins out with its low-key simplicity and inspirational touches. Not a bad spot for those in search of family-friendly Langkawi hotels.
Sheraton Langkawi Beach Resort is showing its years but has gone through a major facelift, emerging lighter, breezier and far more contemporary. There are 218 rooms and 20 suites, all featuring private balconies with daybeds, LCD TVs with free movies, signature Sheraton Sweet Sleeper beds, with Broadband Internet for RM50 per day. If you don't want to pay to get online, there's the 24-hour Link@Sheraton area in the lobby that provides Internet access as well as drinks and refreshments. The new lobby features full length windows offering a panoramic view of the sea.
This is a 38 acre garden compound that runs up and down the verdant hillside with heady snatches of ocean view here and there. Electric buggy rides are the norm to transfer from room to lobby or elsewhere.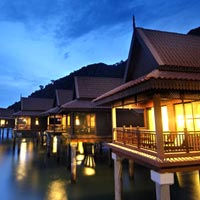 Berjaya Premier Chalet/ photo: hotel
The Sheraton Executive Suite is a split level arrangement with foldout bathroom windows allows you to soak in the tub while watching the 29-inch flat screen TV or keeping an eye on the kids in the bedroom. The small safe is not laptop size.
There is the Chavana Spa (by Mandara) for spoiling rubs and a small beach area. Expect four treatment villas, a Tranquility Centre, garden showers and outdoor Jacuzzi. Much of the seaside is rocky and, while scenic, swimming and wading is not your best bet. There's mud and pebbles underfoot as the tide drains. Langkawi spa resorts? Mark this in your diary.
Getting into Pantai Kok, the Mutiara Burau Bay has long been a good-value favourite. The 19-acre resort is unfussy and friendly. The 150 simple cabanas run along the sides of a central garden that leads onto a wonderful Robinson Crusoe cove fringed by tall palms. On the other side of the sweeping bay are the red-tile roofs of the Berjaya Langkawi Resort Water Suites.
Some of the 409 chalets are sprinkled across the forested hillside, but the draw here is the 47 stilt chalets and suites on the water, all with private balconies to take in the sea views. The Berjaya gets better as you walk down from the lobby and approach the beach. There is a busy swimming pool with rock formations, a bar, and plenty of kids splashing about. In the sidelines, Russian stewardesses try to acquire a tan.
WiFi is available in the lobby, meeting rooms and some public areas. There's also a cyber café with Broadband for those who left laptops at home. There's also an AYURA Spa, which offers 60-minute massages for around RM175. The place is busy and involves a fair bit of walking up and down the hillside.
Luxury digs in Datai Bay and the North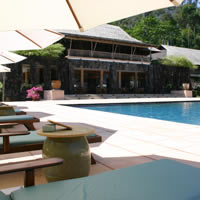 The Datai main pool
At the far northwest corner of the island, shrouded in rainforest with echoing birdcalls and overlooking a private bay is the original Langkawi gem, The Datai, Langkawi. The 52 villas are not as large as some of the newer properties coming up on the island and there are visible signs of age, but they are stunningly sited, utterly private and upscale.
There is "hotel" style accommodation as well in the main building, consisting of 54 deluxe rooms and 12 suites. Another 14 villas, ranging from 218 to 475sq m, debuted in December 2012. The Datai is a honeymooner's dream with all manner of snug nooks and crannies, private pools, ambling pathways, and a heck of a lot of stairs if you're heading from the lobby and main pool down to the beach. Don't worry – you can hitch a ride on a buggy.
Rooms have satellite TV, DVD player, hair dryer and a small safe that won't digest a laptop. Formerly managed by GHM hotels who brought this name to prominence and taken over on 28 July 2011 by Archipelago Hotels & Resorts, for sheer indulgence, The Datai is hard to beat.
Rainforest walks, mountain biking and The Spa will keep you entertained and satisfyingly exhausted. At night, when the uplights come on, igniting the forest canopy, the resort looks its picture-postcard best. The elegant main pool at the upper level is only for those 16 years and above. Read your book unmolested here. This is one of the top Langkawi spa resorts around by a long chalk. The lower level beach club pool is livelier and it fronts a gorgeous white sand cove, shared by the neighbouring property, The Andaman.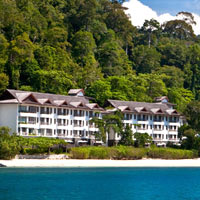 The Datai main pool
The Andaman (now part of the Starwood Luxury Collection) is a more vertical structure, though not a highrise by any means. There are 186 rooms and suites with dark wood motifs and local paintings throughout. Rooms feature 32" flat screen TVs, DVD player, and bathrooms with tub and separate rain showers. Complimentary WiFi is available throughout the premises.
Kids will be amply entertained with the Kids' Club daily activities and a game room stocked with plenty of books, boardgames and even a 12-foot billiard table. While offering high-end pampering to honeymooners and couples, this also doubles effortlessly as a Langkawi child-friendly resort with heart and fun stuff for Typhoon Tykes.
The sweeping high-ceiling lobby lets in light and sea breezes, and permits wonderful views of the bay. Far below, the blue mosaic pool flows through the forest. From here you appear to float above the green canopy. The Andaman, a Luxury Collection Resort, is contemporary chic with traditional flourishes. The new V Integrated Wellness spa (March 2011) brings fresh menus, techniques and potions in its healing arsenal.
New kid on the block along the north shore (en route from here to Tanjung Rhu), The Danna Langkawi (December 2010) has brought more opulence to the neighbourhood. The British-Malay influenced laundered white resort has 125 rooms and suites with timber floors and traditional songket patterned bamboo carpets. Expect 42-inch flat screen LCD TVs, iPod dock, DVD, blackout curtains, and private balconies with sweeping sea views. All are spacious, clean and modern. Meeting rooms have quite a grand feel, with carpeted floors, high ceilings and floor-to-ceiling windows. Relax in the reading room or games room while the little ones run amok in the Kid's Club (under supervision, of course).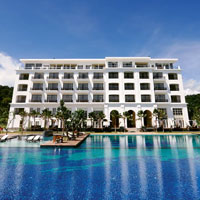 The Danna pool/ photo: hotel
Burn some calories in the Danna Fitness gym, participate in various water sports or get pampered at the Danna Spa. Or catch some rays by the three-tier infinity swimming pool. A sliver of sand runs along the bay. The Danna has plans to expand, with more villas and even a mini golf course coming in 2014. The staff is friendly and helpful. This is a medium-rise resort hotel with everything within walking range. No nuisance buggy rides here and lots of family fun for tired dads in need.
Tanjung Rhu Resorts and the Northeast
On the far northeast tip of the island is the secluded Tanjung Rhu Resort set on a broad spread of dazzling sand. When the sun's up you'll definitely need to pull out the shades. The resort has gone through considerable transformation to emerge smartly minimalist, with expanses of white, khaki and pastel canvases adorning the walls. The place is delightfully laid back, yet brisk. The main ensemble is circular with a small "lagoon" pool at its centre and lots of tropical foliage. The 136 rooms are smart, with wooden floors and large windows to prise open that extra view. Suites are delicious – woody and stylish with louvred shutters. All have private balconies, living areas with LCD TV and DVD/CD player, as well as bathrooms with separate showers and bathtubs. Stepping out and around the property brings you to an attractive beachfront swimming pool, seaside dining, and the resort's trump card, the JivaRhu spa where you might try anything from traditional Malay massage to hot stone therapy and exotic scrubs.
An eco-friendly resort, Tanjung Rhu offers a variety of water sports including hydrobiking, kayaking, catamaran G-Cats, windsurfing and sailing. For a minimal fee, you can catch shuttles for the 30-minute drive to Kuah. Or you can rent one of the resort's convertible Peugeots. Remember to bring your international driving license though.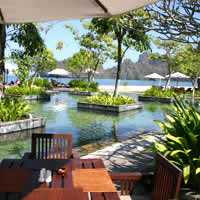 Charming Tanjung Rhu Resort
The resort, like many others, needs a lick of paint here and there and does not wholly encourage kids, as its prime target is sun-burnished couples and honeymooners. This is also a fine spot for Langkawi beach weddings with a fine and broad stretch of sand.
Last but not least, making a hushed entry along Tanjung Rhu with its signature blend of service and style is the Four Seasons Resort Langkawi. This is a watershed resort in more ways than one. First, it marks the entry of a significant top-drawer player in a traditionally quiet market. Second, this Four Seasons is not your average thatch-and-timber getaway.
This cross-dresser is Moorish in design with a vivid all-embracing leitmotif drawn from the Alhambra in Spain. Whether it pulls it off, time will tell. But one thing is certain. The detail and execution – from the latticed windows, framing archways and reflective pools to the mirrored walls, oil lamps, palm trees and stark mud-wash walls – is painstaking as well as amazing in both its audacity and scope. It is unlike anything you've seen before in Asia.
The resort occupies a vast stretch of oceanfront with excellent sand. It is a hike to get from one side to the other but everything is sanely on one level. There are two kinds of accommodation – the Melaleuca Pavilions, sort of stand-alone two-floor villas with large verandahs, and the Beach Villas.
The Melaleucas measure 68sq m (or 732sq ft, larger than an average Hong Kong flat), and the Beach Villas offer grounds and living space totalling a whopping 220sq m. You might need to get a visa just to visit the washroom. Bath areas are exceedingly large, plush, and superbly appointed, while living areas are open and drenched in light. Beach Villas all feature their own private spa room with treatment beds. Indulge. Or flick channels on the 42-inch plasma flat screen TV. You will also find iPod docks, DVD/CD player, sound system, and yukata robes in the bathroom.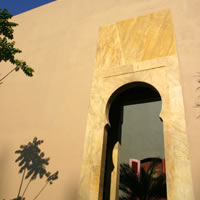 Yes, Four Seasons Langkawi
There is a dedicated spa on site as well if you wish to venture out, replete with five treatment pavilions, outdoor showers and a separate pavilion for yoga and meditation. All beach villas and the Royal Villa have a private in-room treatment area for oodles of guilty wellness menus without having to leave your room.
While several resorts in Langkawi are showing signs of wear and tear with the salty air, Four Seasons retains a welcoming gleam and jaunty stride as one of the top Langkawi spa resorts around. That's luxury for you.
And, from beach weddings and family fun to conferences, that's our Langkawi resorts review.