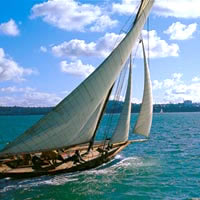 Sails/ photo: Tourism New Zealand
AUCKLANDERS are boat people, as newcomers to this increasingly cosmopolitan city (home to at least 181 ethnic groups from all corners of the globe) quickly catch on. Locals don't suggest "doing lunch some time". Instead, they refreshingly promise that they'll "have you out on my boat one day". Almost everyone, it seems, owns or has access to a boat. It is easy to see, therefore, why Auckland, New Zealand's biggest metropolis by far and home to 1.3 million of the country's four million people, styles itself as the "city of sails". While its famed harbour is dotted with boats on a good day, the vast Westhaven Marina, with berths for 800 craft, is gridlocked with vessels ranging from rusty aluminium runabouts to swish ocean-going yachts when the weather is bad.

Hotel Contact Information

See Slide Show
Auckland is the world's largest Polynesian city. Maoris, New Zealand's indigenous people, are Polynesian – but the city is also the adopted home of large numbers of immigrants from the small, independent South Pacific island nations dotting its backyard.
Another refreshing feature of the "land of the long white cloud" (the translation of its Maori name, Aotearoa) is its powerful women. Women are prominent in politics, business, government agencies and the judiciary. To their credit, the guys aren't fazed, often joking that they enjoy their freedom to play or watch rugby, a national passion. My guess is that a good many are out sailing.
Send us your Feedback / Letter to the Editor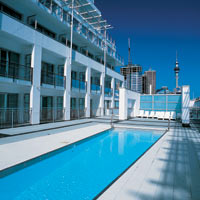 Hilton/ photo: Tourism New Zealand
Nationals of many countries may enter New Zealand visa-free for holidays or business trip of less than three months (visit www.immigration.govt.nz to check), and Air New Zealand (www.airnewzealand.com) is among the many airlines operating flights between Auckland and a range of Asian cities. Auckland is a year-round destination, but pack warm clothes and a raincoat if you visit in winter – it gets chilly and wet.
Oh, and don't forget: dump those apples. Fresh fruit and vegetables aren't allowed into New Zealand, and all foodstuffs must be declared for inspection. In addition to the Customs and Immigration counters, there is a thorough Agriculture and Quarantine checkpoint with x-rays. Heavy penalties can be imposed for ignoring the law. There are bins where you can dump fruit and other taboo items just before you reach the checkpoint. When it comes to changing money, rates in Auckland vary little, but banks (which have kiosks in the arrivals hall) are your best option. Avoid changing money at hotels. Well, on with our Auckland business hotel review and city guide.
Getting around Auckland
Auckland International Airport (tel: [64-9] 256-8899; www.auckland-airport.co.nz) is 21km southwest of the city. You'll find public transport just outside the international and domestic arrivals terminals (use the free shuttle buses or clearly marked walkway between terminals). Metered taxis to city and inner-suburban hotels are NZ$55 to $65 (US$1 = approximately NZ$1.42), door-to-door shuttles (shared minibuses) are NZ$22 per person and Airbus (tel: 0508 AIRBUS within New Zealand, www.airbus.co.nz) is NZ$15 per person with drop-offs and pick-ups at hotels.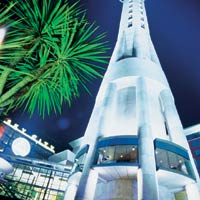 Sky Tower / photo: Tourism New Zealand
Around the city, cabs are easiest and inexpensive (NZ$8 to NZ$20 to most places of interest). Following taxi industry deregulation, numerous companies compete for business, with slight differences in metered fares (but generally not worth fussing about). Call or hail a cab, or go to one of the city's many taxi stands. Corporate Cabs (tel: 377-0773, www.corporatecabs.co.nz) is a reliable company that may be a little more expensive than competitors but has latest-model vehicles and drivers in spiffy uniforms. Public buses are handy and run by a multinational operator, Stagecoach (tel: 373-9118, www.stagecoach.co.nz), with a free "City Circuit" (stopping along the downtown main drag of Queen Street, and taking in inner-city environs). A convenient bus loop, the Link, runs clockwise and anti-clockwise (NZ$1.50), also stopping on Queen Street and encompassing key nearby suburbs such as Parnell, Ponsonby and Newmarket.
Auckland hotel guide
There is a good mix of Auckland business hotels, leisure options and bed & breakfast hideaways to choose from. The ultimate indulgence among Auckland hotels sits little more than five minutes by cab from the city in St Mary's Bay, a short walk from increasingly hip Ponsonby. Mollies, Auckland's most expensive property and a member of the Small Luxury Hotels of the World, consists of transformed gabled Victorian timber mansions, with large guestrooms combining country-house cosiness with state-of-the-art modernity (there's no extra charge for fast Broadband). Opera CDs and sheet music, as well as books about opera, fill the shelves and the corridors are alive with opera music. (Owners Frances Wilson and Stephen Fitzgerald are a former concert pianist and opera set designer respectively). The bar stocks many of New Zealand's best wines and the restaurant, with a strong following among local foodies, is "modern New Zealand" (similar to California, but with a spicy Asian touch) in style, using fresh local produce. Guests read in quiet corners or in a garden lush with greenery.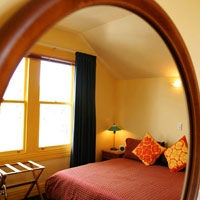 Great Ponsonby bedroom
Also in a refurbished and tastefully extended historic timber house is Great Ponsonby Bed and Breakfast, which also meets five-star standards, but with rates considerably more modest than Mollies'. Regular guests include business leaders and politicians wanting tranquil but stylish accommodation.
Top of the pile among big Auckland business hotels is the dazzlingly white Hilton, jutting 300 metres into the harbour on Princes Wharf and resembling a moored cruise liner. On the edge of a sail-studded harbour, the Hilton's perch is alongside the Viaduct Basin/America's Cup Village, an entertainment precinct opened in 2000 and the city's top after-hours destination, dripping with restaurants and bars. It is only five minutes' stroll from Queen Street and a premier shopping and office area. The Hilton's clean-lined rooms are big, with balconies opening onto harbour views. In-room safes are roomy and business services feature the latest gadgetry. Rates are higher than at some other Auckland five-stars because of its unequalled location. A drink at White, the casual bar-restaurant overlooking the water, is de rigueur. It offers one of the city's best panoramas, excellent cocktails and an innovative bistro-style eatery that does wonders with fresh New Zealand produce. Work off excess calories in the outdoor lap pool at the harbour's edge.
On Albert Street, the Stamford Plaza (a former Regent hotel) is part of a luxury Singapore-owned chain prominent in both Australia and New Zealand and one of the city's best addresses. Former US President Bill Clinton has stayed here. Light browns and whites dominate. Crisp damask linen, large desks and all expected business amenities are standard. Have a drink at the Polo Bar. Yanrepé, off the lobby lounge, is a stylish champagne bar serving French imports by the glass and a meeting place for Auckland's young, rich and beautiful.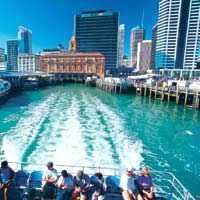 Ferry/ photo: Tourism New Zealand
Further up Albert Street is another business hotel, the Crowne Plaza, a steel and glass finger with accommodation starting on the 16th floor. Like other leading Auckland properties, it has club levels on upper floors with the usual breakfasts, cocktails and Internet access. The hotel sits above the Atrium on Elliott mall with its many upscale boutiques. Rooms are spacious with good views of the city, harbour and parkland. The Ascott Metropolis is also surrounded by upscale shopping, and close to the Vulcan Lane pocket of fashion boutiques, quirky bars and alfresco coffee shops. There are studios and one and two-bedroom apartments, all spacious and featuring natural timber and marble surfaces. Business services are on tap, and there's a better-than-most gymnasium and 22-metre indoor heated lap pool. Offering the usual hotel services, restaurants and bars, the Ascott is a good alternative to a hotel, particularly for a longer stay.
Grander places exist, but the four-star Mercure Auckland on the corner of Queen and Customs Streets is a personal favourite. High-quality rooms with harbour views are enhanced by the hotel's three giant pluses: location, location, location. Guests are both business and leisure travellers. You can't get more central than this. The minimalist but very comfortably rooftop Vertigo bar and restaurant feature splendid harbour vistas. Go for a sunset cocktail.
The Hyatt Regency has been taken over by Accor (January 2011) and rebranded as Pullman Auckland Hotel and Residences. The 267-room property received a NZ$7m facelift just two years ago so Accor will only make minor upgrades such as the addition of a Connectivity Lounge. Set in leafy surrounds near the University of Auckland, the hotel is set atop a hill. The walk to downtown takes just a few minutes, but if you don't fancy the hike back, it's just a short cab ride. The hotel's busy bars and restaurants attract both locals and visitors. Guest rooms are spacious (and come with an increasingly rare feature: windows that open). Views are of the harbour, city and campus. The conference and events facilities can cater to around 1,000 delegates and venues range from grand ballrooms to more intimate meeting space. Take time to unwind in the spa and health club, which has a 25m heated lap pool (with retractable roof), steam room, Jacuzzi, gym and six treatment rooms.
Crowne Plaza exterior
A former Sheraton, the Langham Auckland is considered a top Auckland business hotel after a recent multi-million-dollar upgrade. It backs onto Karangahape Road, a lively after-hours zone. Stroll downhill to the city centre, but you may not want to walk back. Pastel shades and white dominate light and airy rooms. Partingtons, the signature restaurant with succulent New Zealand beef, lamb and seafood, can be recommended for a holiday splurge if you're too lazy to leave the hotel – and is also ideal for a business huddle as tables are well spaced. Order from a long list of the best New Zealand wines from the adjoining The Winery wine bar.
The Carlton Auckland is an imposing five-star hotel which, apart from a strong convention trade, also attracts loyal leisure and business custom. Its imposing lobby is at the base of a soaring atrium. Rooms are well appointed and the Pacific Restaurant is lively for late-night dinner. The nearby Duxton, though smaller, is similar and bridges the five-star serviced apartment and boutique hotel categories. Most rooms face expanses of parkland. Full-length mirrors abound. Feeling domestic? All rooms have washers and dryers, ironing boards and kitchenettes. The restaurant has had good reviews and there is an intimate bar.
In the same league is the centrally located Heritage. In some public areas, ornately patterned ceilings have been restored and preserved and there are expanses of beautifully polished wooden floors. Rooms are contemporary in style, with art deco influences. In addition to bars and restaurants (rather quiet when we peeked in), the hotel has a health club, rooftop tennis court and two swimming pools (one outdoor on the roof with city and harbour views and the other a heated indoor lap pool).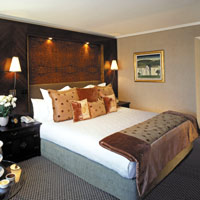 Langham Auckland hotel bedroom
Also in the city centre, SkyCity Hotel and SkyCity Grand Hotel are four and five-star properties respectively, adjoining Auckland's SkyCity casino. The former is plainer, with plenty of pastel yellows and blues and good views. Amenities include in-room safes. The latter has better-appointed bathrooms and stylish timber veneers. Sometimes, when conventions soak up most rooms at SkyCity, the SkyCity Grand can be the less expensive of the two despite its higher status. It's worth checking.
Auckland budget hotel options
An affordable gem for holiday or business visitors is Parnell Inn in the upmarket suburb of Parnell. This cheerily run motel (with TV, tea and coffee-making facilities and small but well appointed bathrooms) is a good bolthole and acceptable address if you want to cut costs. For backpackers, Auckland City Backpackers is – unlike some establishments in this market segment – spotless and immaculately maintained. Motel-style rooms are available if you want to splash out (on our visit these seemed particularly popular among "mature" backpackers, including a couple of blue-rinsed American women who raved about the place).
The dormitories with shared bathrooms are filled mainly by young travellers. (It's a central-city location, so if it doesn't appeal, amble along nearby Fort Street, the heart of Auckland's backpacker district, for many other options.) The "ACB" – as it's widely known – has a nightly sausage sizzle in its guests-only Balcony Bar, so those staying often eat for free in the evenings. Street-level Globe Bar is one of those party-party-party travellers' bars with promotions drawing crowds every night of the week. A free punch was promised when I visited – and it didn't hurt a bit. Other "ACB" features include fast Internet access, a travel agency and an employment service.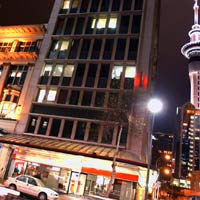 Central Backpackers/Tourism New Zealand
Shopping in Auckland
Auckland shopping centres around Queen Street downtown, with malls, department stores and other retail outlets. The latest fashions, including creations by New Zealand's growing band of respected designers, are found just off Queen Street along Vulcan Lane as well as on the narrow streets and lanes beyond. Karangahape Road, at the top of Queen Street (the end farthest from the harbour), has an alternative edge with funky boutiques. The suburb of Ponsonby has a similar edginess without being as grungy.
Stylish Parnell, just beyond downtown, is the prime area for New Zealand wool products, with many emporia based in distinctive timber shops or converted wooden houses. The area, oozing old money, is esteemed but regarded as less cutting-edge than Ponsonby. Take a stroll along Parnell Road. Besides being a ritzy Auckland brand shopping destination, it also has many top-drawer restaurants and bars. Or do as the locals do and hop aboard the Link bus to Newmarket, where the Broadway retail strip is increasingly popular among visitors. You can find just about anything in Newmarket. Along Broadway are chain stores, specialist shops, fashion boutiques, supermarkets, restaurants and bookstores. (New Zealanders are well read – the country publishes more books per capita than anywhere else in the English-speaking world.)
What to see in Auckland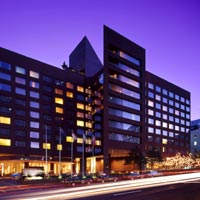 Stanford Plaza hotel at night
Auckland sightseeing and must-do attractions include Auckland Museum (tel: 309-0443, www.aucklandmuseum.com) with free entry (the norm at New Zealand museums and galleries). A NZ$5 donation is suggested. An impressive stone edifice dominating grassy Auckland Domain, Auckland Museum also serves as a war memorial, with galleries describing New Zealanders' role in various conflicts. It also exhibits the country's most comprehensive collection of Maori treasures and Pacific artefacts.
Auckland Art Gallery (tel: 307-7700, www.aucklandartgallery.govt.nz, free entry except for special exhibitions) houses a broad mix of colonial-era, Maori and modern works.
If you're travelling with kids, put Kelly Tarlton's Antarctic Encounter and Underwater World (tel: 528-0603, www.kellytarltons.co.nz) near the top of your list. For NZ$26 (adults) or NZ$20 (kids aged 15 and under), you can experience the vast aquarium and cleverly replicated "Antarctica". There's also a range of family packages. Sky Tower (tel: 0800 SKYCITY within New Zealand, www.skycityauckland.co.nz, open daily) is the tallest tower in the southern hemisphere and located above the Skycity casino complex. The high-speed lifts take you 328m above street level, from where views stretch 80 kilometres. (Entry from NZ$18 for adults, $8 for children between 5 and 14 and free for under-fives.)
More relaxingly, a Fullers Cruises 35-minute ferry ride takes you to Waiheke Island (tel: 376-9111, www.fullers.co.nz, NZ$26 return). Arts-and-crafts villages, galleries, restaurants and some of New Zealand's best small wineries (offering vineyard tours and cellar sales) beckon. Tour options are available as you leave the ferry, as are rentals of pushbikes and cars. If you have a free half-day, head west to Piha beach. This 3km strip of coast is best known as a surfers' destination, but dolphins and fur seals are often spotted and there are several good hiking trails nearby.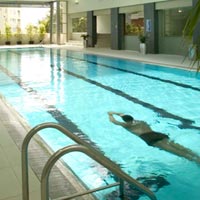 Pullman Auckland swimming pool
Auckland is also a starting point for sightseeing trips to the scenic Bay of Islands to its north. For immersion in Maori culture and sulphurous hot springs, visit Rotorua. For mid-winter skiing there's the North Island's Mt Ruapehu (about four and a half hours' drive to Turoa from Auckland). Up-and-coming destinations include Great Barrier Island in the Hauraki Gulf, a bit too far for a day trip (more remote than Waiheke island and about two hours by ferry from Auckland) but fortunately with several quality places to stay.
Back in the city, try the Harbour Bridge Experience (tel: 361-2000, www.ajhackett.com and www.aucklandbridgeclimb.co.nz), run by AJ Hackett, for thrills. AJ Hackett also operates bungy jumping around the country. The route up Auckland Harbour Bridge is actually no more than a steep walk along pathways with rails to which climbers are safely attached by harness. This "soft" adventure costs NZ$65, but add NZ$85 if you want to bungy-jump from the bridge (you stop just above the water and are then hoisted back up). Opened in 1959, Auckland Harbour spans more than a kilometre across Waitemata Harbour (one of Auckland's two harbours; the other is Manukau Harbour) and links the city to the North Shore. Climbs began five years ago.
Auckland nightlife and dining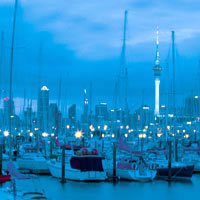 Westhaven/ photo: Tourism New Zealand
After-hours, for Auckland bars and pubs bustle head to Viaduct Basin. The Loaded Hog (tel: 361-6491, www.loadedhog.co.nz) has a laid-back pub ambience (grab an outside table overlooking the yacht-filled basin on a sunny day). Its micro-brewery churns out tasty beers and a beefy Hog Burger is memorable at NZ$15.50. A few steps away is Minus 5 (tel: 377-6702), where bar staff are allowed inside for only half an hour at a time because of labour regulations relating to sub-zero conditions. (After short stints, they swap roles with colleagues in the merchandise shop.) The NZ$20 entry fee includes your first drink (usually a vodka or vodka-based cocktail) from a glass made of ice. Seats are moulded ice, too, but covered with animal skins – as is the bar top. Fortunately, the entry fee also includes the rental of heavy sheepskin clothing, including gloves. Guests may stay only 30 minutes, after which they have to leave and pay another entry fee to return. Next door is a personal favourite, the same management's Lenin (tel: 377-1140, www.lenin.co.nz) where bar stools resemble Cossack hats, Soviet memorabilia dominates and bar tenders mix a mean martini.
Shakespeare Hotel and Brewery (tel: 373-5396, www.shakespearehotel.co.nz) is an old downtown pub (encompassing good-value boutique hotel lodgings in a recently renovated upstairs section) but the main reason for visiting is to sample splendid ales brewed in big copper tanks behind the bar. Locals who have perhaps visited too often call this place "The Shakes". Try excellent New Zealand green-lipped mussels, a local delicacy, in beer broth (NZ$16.50). Mussels "with Belgian fries" are standard fare at Auckland's mushrooming Belgian beer cafés, which include Vulcan Lane's Occidental (tel: 300-6226, www.occidentalbar.co.nz) and, in an old building that use to house Ponsonby's post office, The Ponsonby (tel: 376-6092, www.theponsonby.co.nz). At both places, steaming pots of mussels start at NZ$17 and a draft Stella Artois is NZ$6.50.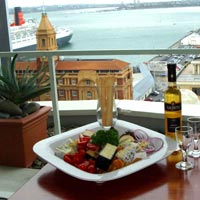 Mercure Auckland view
More reserved environs (reservations essential) are a feature of two of Auckland's top eateries. On Parnell Road, top Auckland dining choice Antoine's (tel: 379-8756, www.antoinesrestaurant.co.nz), offers pan-European cuisine. Award-winning dishes include ox tongue simmered in Madeira with green peppercorns (NZ$39). Down at Herne Bay (10 minutes by cab from downtown) is Vinnies (tel: 367-5597, no website) with truly outstanding lamb rump marinated in lemon and oregano (NZ$32) among its many worthwhile offerings. Both restaurants are white tablecloth territory.
Less formal is Monsoon Poon (tel: 379-9311, www.monsoonpoon.co.nz) with Malaysian-dominated pan-Asian fare. Dishes are very reasonably priced at around NZ$16. I added a great-value accompaniment, "Dr Lim's fried rice", for a mere NZ$5. Even more relaxed is Ponsonby Road's Turkish Café (tel: 360-0468) where NZ$20 gets you a water pipe and apple tobacco to accompany Turkish coffee, beer and dips. You can get live jazz (and sometimes blues) in Ponsonby at the Alhambra (tel: 376- 2430), a lively bar-restaurant (those green-lipped mussels again, this time with lemon and garlic at a modest NZ$13.50). A former cinema has been reinvented as a small shopping mall, with the Alhambra occupying the upper level. For a thriving "trad jazz" scene, there's the upstairs London Bar of the Civic Tavern (tel: 373-3684), downtown on the corner of Queen and Wellesley Streets where well-known pianist Phil Broadhurst presides and major figures on the New Zealand jazz scene often perform.
Wood-fired pizza is the theme at always-packed One Red Dog (tel: 360-1068) on Ponsonby Road. I wasn't disappointed with my cranberry chicken and brie pizza. Pubs come no trendier than Iguacu (tel: 358-4804, www.iguacu.co.nz) on the Parnell Road strip where several bars throb with a fashionable young crowd. Beer-battered catch-of-the-day fish and chips cost an affordable NZ$19.50 and a cluster of well-prepared beef, lamb and venison creations in the pub's in-vogue eatery range from NZ$25 to NZ$31. Khuja Lounge (tel: 377-3711) is on Queen Street near the top of Karangahape Road (just say K Road, as locals do). It specialises in soul, hip-hop and lounge music played by DJs. The Moroccan décor features invitingly deep, soft couches.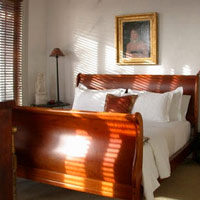 Mollies bedroom
K Road teems with coffee shops, boutiques and African hair-braiding emporia. Further down the street (turn right at the top if coming from Queen Street) is a collection of dance clubs (some can get pretty rough), "adult" shops, massage parlours and strip clubs. A far less seedy strip club, away from this environment, is downtown along Customs Street. Staff proved attractive and attentive at Showgirls (tel: 358-0245, www.showgirls.co.nz), charging a NZ$20 entry fee but pleasantly free of bar rip-offs. It certainly did not remind me of a certain Chicago bar that advertised "warm beer, lousy food and ugly women".
An interesting website listing current music gigs in town is Mukuna (www.mukuna.co.nz). You'll find dates, music genres, locations and maps.
Still standing at 3am? Meet the "white lady" loitering downtown, as she has done for several decades. She's built like a bus and smells of chips. Come to think of it, she is a converted bus – a white-painted one. The White Lady is an Auckland icon. You'll find her peddling her wares (burgers, hot dogs, meat pies and French fries) on Shortland Street just off Queen Street. She appears after dark but is gone by dawn. A hot dog proved great value: I tasted it until lunchtime. The White Lady doesn't win awards – but nor do most of her customers, a mix of post-party backpackers and other visitors as well as suits who lingered too long over after-work drinks. But the mood is jolly and unthreatening. And, as one aficionado confided, "At least it's filling."