SPA REVIEW
India spas from sea to sky
Arabic coffee wraps, caviar creams, or "bone shaking" massages – they're all here. Our guide to the best Indian spa resorts from Kerala (with its ancient ayurvedic arts) to the lofty Himalayas.
updated by Jakki Phillips
SEE ALSO Andaman Islands | Bangalore Guide | Chennai | New Delhi Business Hotels | Goa Resorts | Gulmarg | Himachal | Thai Spas | Kerala Resorts | Ladakh Guide | Mumbai Business Hotels | Pondicherry guide | Rajasthan Palace Hotels | Zanskar treks | Australia Spas | Bali Spas | Malaysia Spas | Taipei Spas | Bhutan Guide | Nepal Treks | Resort weddings | Yangon fun guide
JUMP TO North India | Rajasthan | Hyderabad | Goa spa resorts | Bangalore | Kerala spas | Hotel Contacts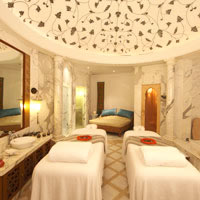 Imperial Spa Delhi/ photo: hotel
SPAS AND WESTERN-STYLE health resorts are a relatively recent phenomenon in India. In the good old days, if you wanted steam, all you had to do was step out into India's baking summers and that cellulite would run for cover. It was cheap and effective. There was also a centuries-old tradition of ayurveda, practised at Hindu ashrams (monastic retreats), offering holistic, life-enhancing treatments including yoga techniques. Today you can get tossed around like a village wrestler, watch folk musicians perform live by your bathtub, or chant in a secluded meditation pyramid. No, these aren't cheesy dreams; they are just some of the "relaxing" Indian spa resort treatments on offer. In recent years the medicated oils, herbal compresses and buttermilk baths of traditional ayurveda have being joined by hip lotions and potions. They may sound more like breakfast treats but Arabic coffee wraps, coconut cocoons, and caviar creams are filling therapist baskets while plain old sweet almond oil gathers dust on the shelf. Not to mention the hot lava shells, lime and pink ginger scrubs, pearl dust and monkey massages. Okay, we made the last one up.
All this pampering can be enjoyed high in the Himalayas, on wooden houseboats in Kerala or in posh Rajasthan tents in sandy deserts. Look to the south of India and you'll find plenty of holistic health resorts dotted along the coast. So what are you waiting for? Wrestle your therapist into the bath and sign up for some healthy pummelling and aromatic rubdowns.

Slide Show

E-mail Page

Print

Hotel Contacts
A fashionable spot in which to unwind and literally get high is Ananda – In The Himalayas. This wellness sanctuary situated in a restored royal palace in the Himalayan foothills offers a blend of therapeutic treatments based on traditional ayurveda, yoga and meditation. The spa also offers the latest European and Thai treatments to purify the body and soothe the senses. Choose from 79 body and beauty treatments performed in 24 therapy rooms.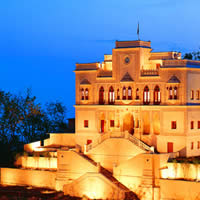 Ananda in the Himalayas/ photo: hotel
Try the ayurvedic abhyanga, a four-handed massage delivered by two therapists, which will help balance energy and eliminate impurities. There are also yoga venues, and a hydrotherapy area. After a hard day on the massage table, try a cooking class, nature walk or shoot some pool on the 100-year-old billiard table once used by the erstwhile maharajah. Alternatively, sweat out your toxins in the gym or head outside where you'll find a temperature-controlled lap pool and six-hole golf course.
Perched in the hills above the holy city of Rishikesh on the Ganges, Ananda is a short day's drive (260km) from Delhi. If your wallet is up to it, charter a helicopter, or fly to Dehra Dun and do the one-hour scenic drive up. Ananda can also arrange an overnight stay in partner hotel The Imperial, New Delhi.
Send us your Feedback / Letter to the Editor
Expect a dramatic journey to Moksha Himalaya Spa Resort. After a 90-minute scenic car journey from Chandigarh, you will hop in a cable car and glide over the Shivalik Valley until you reach this property. Hidden among the pine trees in the foothills of India's majestic mountain range, this remote resort is located at a height of 5,200ft, offering knockout views in all directions.
The spa embraces the philosophy of "release and rebirth" and therapies are designed to focus on seven energy centres. Signature rituals blend ayurvedic and Thai therapies while massages incorporate Asian and European techniques. There are 12 treatment rooms, a nail bar and hair salon. Hydro facilities include a herbal steam bath, Vichy rain shower and Turkish hammams. The views from the outdoor heated infinity lap pool are incredible, particularly at sunset. Also find a sauna, six yoga and meditation pavilions, two outdoor Jacuzzis and a fitness centre.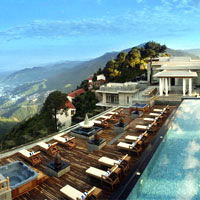 Moksha Himalaya Spa Resort/ photo: hotel
Various bespoke packages are available themed around pampering, well-being or discovery. Called "Moksha Experiences", each includes personal reviews, fitness assessments, spa treatments and daily activities such as yoga, meditation and Indian cooking classes. Accommodation and meals are included. Stay in one of 62 suites located in colonial-inspired buildings, all with panoramic valley and mountain views.
Dotting the north and west of the country with excellent facilities are a string of Oberoi Hotels with fancy spas, much favoured by corporate jetsetters. Up in the rarefied environs of the Himalayas, near the one-time summer capital of British India, Shimla, is Oberoi's Wildflower Hall. Here, pine-scented mountain air and nature take charge of your senses. While your muscles are rubbed, allow your ears also to tingle to the therapeutic sound of singing bowls in the "Journey to Tibet" treatment. Or have your body smothered in Indian spices during a "Himalayan Romance" treatment, which also includes a relaxing bath with views of the awe-inspiring mountains themselves. We'd prefer to have someone lick it all off.
Still in the north, Ranjit's SVAASA Heritage Boutique Spa Haveli, Amritsar, is a mouthful. This is a family-run place in a red-brick colonial home with enough old world paraphernalia to keep the most fastidious historian in cheer. It underwent an expansion in both building and name, and now includes luxury suites as well as a presidential offering. A three-night, two-day holistic escape package here costs from Rs18, 999 and includes a spa therapy, a wellness consultation, private yoga and a half-day sightseeing tour of the Golden Temple.
In busy New Delhi, smack in the heart of town in a garden setting, Shangri-La's – Eros Hotel, New Delhi offers extensive spa facilities with an arsenal of holistic wellness menus including steam rooms, private treatment rooms, aromatherapy, Jacuzzis and ayurvedic massage. Or just visit the beauty salon for some Indian-style pampering. At 16,000sq ft and counting, the Imperial Spa at the Imperial New Delhi is one of India's largest. You'll find a majestic mix of Moroccan architecture, Moghul motifs, arched white corridors and soothing scents of cedar, white musk and tonka bean. The spa offers a spectrum of soothing services, from the traditional Ayurveda massage and mediation to wraps, scrubs and personally tailored treatments.
The Lodhi, New Delhi/ photo: hotel
Club Olympus at the Hyatt Regency Delhi oozes contemporary credentials, with soothing shades of beige meeting splashy modern art. Along with fitness facilities and the bathing complex are a modest range of beauty and massage therapies including the Indian Sun and Fire rubdown, which will detoxify, energise and fire-up sluggish metabolisms. Indulge in all this relaxing between sessions at the poolside bar.
The Lodhi, New Delhi (formerly Aman New Delhi) is a chic urban retreat, less hotel than home. It rebranded on 1 February, 2013, and elegantly fuses rich Indian traditions (like architecture) with luxurious sophistications of the present (think pool suites). Expect dark timber panels, stone tiles, authentic handmade rugs and ornate jaali (latticework) screens. The tranquil Lodhi Spa has an extensive selection of face and body treatments and facilities include hammam steam baths and a bamboo relaxation garden.
As well as a 50m swimming pool, there are three tennis courts, three squash courts, a Pilates studio and gym. If you're a yoga fan, ask for an early morning lesson in the nearby historic Lodhi Gardens dotted with ancient tombs. Located in the heart of the city, just next to The Delhi Golf Club, The Lodhi New Delhi is a sophisticated option for India spa seekers with deep pockets.
Close by, at The Oberoi New Delhi, therapists will work off your stress with a range of 60-minute treatments employing aromatic, Balinese, and Thai techniques. There's even a "Tech Trouble" treatment for business travellers suffering neck and thumb strain from iPad fever. Or come out smelling like your favourite dessert courtesy of a lime and pink ginger body exfoliation or fig and pomegranate manicure. This is an excellent business and leisure address, highly regarded for service and style. A good choice if New Delhi spa hotels is what you're after.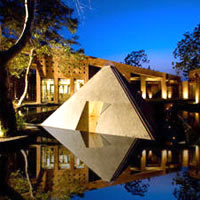 Westin Sohna/ photo: hotel
At the smokily boutique and central The Park New Delhi, the Aura day spa aims to soothe away those business executive worries. The hotel is unimposing from the outside but don't let this discourage you. Once inside designer flourishes kick in and serene earth tones and rich woods are perked up with bold splashes of colour and mysterious beaded curtains. The incense fumes may not agree with everyone though. Try the ambitious "Aura's Soul Balancing Face Massage" – a treatment "to rebalance the bio-energy of the body" by activating points on the face, head and feet. And if you like this, there's more… Aura has sister operations in Chennai, Kolkata, Visakhapatnam and Hyderabad.
Overlooking the site of a tenth-century reservoir, but still tantalisingly close to the hustle and bustle of South Delhi's commercial district, is The Claridges Surajkund. Elegant and stately, this is a top choice with business and leisure travellers who relish a peaceful urban retreat. Let therapists at The Claridges Spa come to your rescue after all that shopping. Choose from over 30 ancient, modern Indian, and Asian rituals performed in 10 private spa suites. Go galactic as you gaze at the starry ceiling in the steam room or seek some arctic refreshment at the ice fountain. Also visit the yoga and meditation studio, gym, and beauty salon. Hungry? Snack on some healthy spa cuisine or quench your thirst at the juice bar.
At The Westin Sohna Resort & Spa you can work out in your room, jog around the neighbourhood with a hotel running map in hand or chant your stresses away in the spa's meditation pyramid. The hotel has a suburban countryside location, a 45-minute drive from Gurgaon and 60km from Indira Gandhi International Airport, New Delhi. Its 97 rooms are modern and welcoming, offering green views and modern amenities such as DVD players and rain showers. Stay in a Westin Workout room and you can turn AC/DC up to maximum volume as you run, cycle or weight train in your own private gym area. Mingle with other sporty guests in the fitness centre, the freeform pool or at the tennis court.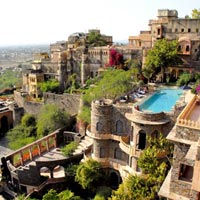 Neemrana fort/ photo: hotel
The Westin group's signature Heavenly Spa has six smart treatment alcoves, each with its own outdoor shower and bathtub. One is dedicated to ayurveda and another to Thai massage. The eclectic, global spa menu includes Chinese acupressure foot massage, Balinese rubs, Javanese mask and Hawaiian Lomi Lomi treatment. Check out the serene meditation pyramid, located in the centre of the spa and surrounded by water. Or practise your tree pose in the open-air yoga room. For face, hand, and hair care, there's a beauty salon. On with our India spas guide as we leave the capital region and head towards the desert sands.
There's nothing like a good massage after galumphing around on a camel, and Neemrana Fort-Palace offers both options in some seriously majestic surroundings. The ancient 25-acre property (a two-hour drive from Delhi) is hewn into the Rajasthan hillside, and its Sansha Spa focuses primarily on holistic ayurvedic treatments. Other courses of therapy combine techniques from across Asia, and use mineral extracts from the deeply plundered Dead Sea. Bask by the open-air pool with views over Neemrana village and fields, or take advantage of free yoga and meditation classes. This is a truly dramatic setting for a wellness escape, set in rugged countryside reeking of history.
If you're heading on to Agra, the home of the Taj Mahal, pamper yourself at The Oberoi Amarvilas (an Oberoi hotel) where every suite has a view of this Mughal monument to love. Get in early before the summer sun heats up the stone floors leaving you skipping like a cat on a hot tin roof. The spa menu includes an intriguing treatment that uses hot lava shells with sea kelp, algae and salt water to induce a state of deep relaxation. The "Noor-e-Taj Romance" is a right royal three-hour experience that includes a steam bath, pomegranate and orange wrap, massage and cleansing bath.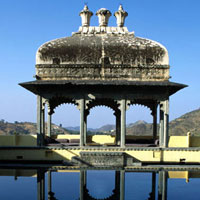 Dramatic Devi Garh/ photo: hotel
Also close to the Taj Mahal is ITC Mughal, a resort hotel and spa spread over 35 acres, a whopping 99,000sq ft of which is dedicated to Kaya Kalp -The Royal Spa. Sunny courtyards, gushing fountains and rich decor reflect the grandeur of the Mughal dynasty in a contemporary setting. Find an eight-room spa where you can enjoy a "Taj Mahal Romance" couple's treatment. Shine like a crazy diamond after a gemstone massage then lie back and enjoy a facial using finely crushed pearls.
Alternatively, try the "Royal Mughal Hamam" treatment, which involves sweating your cares away in a private hammam then lying on a heated plinth to be scrubbed with argan oil and mung beans. Next you'll be coated with cheese and popped under the grill for five minutes, oh no, our mistake, that's a burrito.
The experience is actually topped off with a nourishing scalp massage. If you don't fancy chilling out in the relaxation room after your treatment, head to the tranquil orchard walkway, the bird trail or the butterfly park instead.
On to Jaipur capital city of the state of Rajasthan, where sister property The Oberoi Rajvilas awaits with soothing milk and rose baths, thermal mud and even massage lessons for couples. After a day of storming through Jaipur's fabulous sightseeing, don't miss out on the "Spirit of Ayurveda" treatment that includes a hot herbal pouch massage, shirodhara (where a stream of sesame oil is poured over your third eye), and a floral bath.
Further calls to extravagance can be found at the The Jai Mahal Palace (by Taj), a landscaped wonder. The tented spa complex offers services from the Rajasthani 'ubtan' to the lavish seeming 'Royal Aromatic Massage', combining western and Indian therapies. It also stands on tradition, with a footbath ritual at the beginning of each treatment – so not for the ticklish.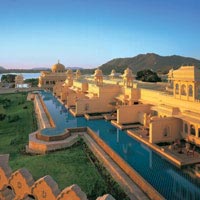 Oberoi Udaivilas/ photo: hotel
Experience the allure of a real oasis at Amanbagh by Amanresorts, an upscale yet understated refresher among Alwar's dusty Aravalli Hills, not far from Jaipur. The sprawling heritage resort features a 33m pool and a large, architecturally pleasing spa pavilion. Therapists here brandish natural products from the Aman Spa range and use them in healing therapies, facials, massages, scrubs and traditional henna art after a comforting consult. Its wellness programme also includes Qigong, Reiki, free daily yoga classes and nature walks. Mark it down in your Indian spa resorts diary.
Bring your wellness dictionary along to Madhubhan Resort and Spa in Vallabh Vidyanagar, on the outskirts of Anand, in Gujarat. Once you're certain the "Ozone Treatment" and "Pressotherapy" is for your body, not a meteorological probe, get your kit off and snuggle up under those fluffy white towels. More self-explanatory is the rice and oatmeal body polish and the Arabic coffee exfoliation. Breakfast anyone? Globetrot without leaving your spa room courtesy of massages from Bali, Thailand, Sweden and France. Traditionalists can stick to nourishing ayurvedic and herbal therapies. For French manicures, funky nail art or henna tattoos, head to the beauty salon, which also offers hairdressing and makeovers. The resort also has a large swimming pool, a yoga deck, a kids' zone, volleyball, badminton and tennis.
In Rajasthan, the Oberoi Group has two other resorts – in the Ranthambore tiger reserve and in the haunting lake city of Udaipur. In Ranthambhore, tangle with tigers at The Oberoi Vanyavilas before soothing your nerves with a stint at the spa. Perched over a lake, the pavilion-style building features steam rooms, showers, baths and therapy suites. Therapists are on hand to administer beauty and spa treatments, such as the rose and peony mask, rosemary and pineapple face scrub and marigold bath. Fortunately these are flavours not known to feature prominently on many tiger menus. Also try the three-hour Safari Sanctuary treatment, which takes place in the jungle so you can relax to the sound of birds and monkeys rather than the usual pan pipes.
In the spa suites at The Oberoi Udaivilas, rejuvenation and relaxation is on a royal scale. There are spectacular views of Picchola Lake and the City Palace outside, while inside, the awesomely-named "Royal Treasures" will assail you with a crystal rose salt scrub, moisturising vetiver body wrap, and a massage capped by a milk and rose bath. The construct of this splendid retreat mimics the Rajasthani palaces of yore complete with cupolas and water gardens. Take a boat out to the lake to truly enjoy the spectacle of this resort mirrored in the evening or dawn waters.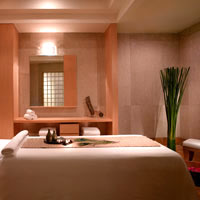 Club Oasis, Grand Hyatt Mumbai/ photo: hotel
Hidden in the folds of the Aravalli range, the restored 18th Century historic palace of Devi Garh near Udaipur is an elegant retreat with modern interiors. In October 2010 the hotel spa was relaunched in partnership with French beauty brand L'Occitane – the first of its kind in India. The spa treatments blend pampering from East and West using a combination of flowers and fruits from Rajasthan mixed with L'Occitane's own Mediterranean-inspired products. Fans of L'Occitane's signature treatments will also be able to enjoy the popular "Immortelle Secret of Youth Facial" and "Aromachologie Relaxing Massage". At the stunning Taj Lake Palace, Udaipur, look forward to the "mewar khas" pre-bathing ritual along with a host of treatments, body scrubs, facials, wraps and massage. Cruise the mirror-smooth waters of the historic lake on a Jiva Spa Boat, the epitome of royal indulgence.
The Leela Palace Kempinski Udaipur is on a suitably grand scale with palatial features and an ESPA set in garden courtyards with views of the lake. Look for the Aroma Steam Rooms with their amethyst crystal decor and anthracite glass tiles. Move on then to a Spa Tent or opt for a Palace Suite with its own swimming pool set within a walled garden. Expect ayurvedic treatments galore as well as pampering facials.
On the west coast, in the financial heartland of Mumbai, take time out at the sprawling artwork-festooned, yet brisk, Grand Hyatt Mumbai and its Club Oasis Fitness Centre and Spa complete with treatments rooms, Jacuzzis, steam rooms and outdoor pools. Look forward to 1,022sq m of swing-out space with an arsenal of equipment at the fitness centre including an Italian Techno-gym, volleyball court, tennis court and a children's pool. The JW Marriott Mumbai too offers its state-of-the-art and utterly spoiling Quan Spa. At The Leela Kempinski Mumbai enjoy gardens, a swimming pool, gym and spa with European, Oriental and ayurvedic therapies, plus ESPA treatments. The Oberoi, Mumbai has an impressive 24-hour spa and high-tech fitness centre with sea views while at The Taj Mahal Palace, Mumbai, guests can be pampered in four treatment rooms at the signature Jiva Spa. Expect spa cuisine and holistic remedies from "Pehlwan Malish" (a warrior's massage), to aromatherapy, yoga, scrubs and beauty treatments. The "Sukha" (bliss), with scrub, wrap and massage, runs for three-and-a-half hours. No scrimping on attention here. All these are good choices for a Mumbai spa hotel.
If you're looking to make a slightly smaller dent in your wallet then consider popping into a day spa such as The Four Fountains Spa. Fresh and funky, it prides itself on providing quality treatments at affordable prices with an Indian spice body polish priced from Rs1,299 (one hour) and an ayurvedic massage (one hour) from Rs1,999.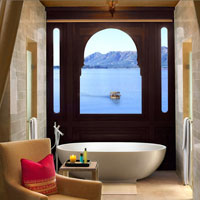 Leela Palace Kempinski Udaipur/ photo: hotel
It has outlets across India including in Mumbai, Pune, Goa, Mandi and Bhopal. Therapies are classified by the health benefit they deliver: de-stressing, detoxification, immunity and beauty. If you're shopping (or Bollywood-star spotting) in the trendy Mumbai suburb of Bandra, pop into the nearby Pali Naka outlet for a popular ayurvedic oil bath. The decor is strikingly contemporary with white walls splashed with serene blue textures and Buddha statuettes staring out from cosy alcoves.
Head southeast to the Leonia Holistic Destination in Hyderabad and give your body and mind a full makeover in the Leo Juventa Centre for Integrated Medicine. This medical spa is spread over five floors and offers an encyclopaedia of treatments and packages from pampering and detox to cosmetic laser therapy and sports rehabilitation. Doctors and health experts have created specialised programmes and treatments for weight management, body shaping, anti-ageing, stress, and diabetes. There are also hoary Indian therapies and a long list of massages, scrubs, wraps and baths, plus a beauty and hair salon for facials. Colon hydrotherapy is available for the daring while fitness fanatics can play tennis, badminton, squash and volleyball at the resort (and this is indeed a resort, despite the dull name, make no mistake).
The only downside to the resort's well-featured Lil Champs kids' club is that you may never see your children again. The facilities – from Xbox 360s, Nintendo Wiis and PS3s – are fun and inventive and cater for all ages. There's also a kids' spa with child-friendly treatments, a mini salon offering "hip hairdos", fun yoga and a long list of energetic activities.
The upscale and trendy Ista hotel chain is part of the IHHR Hospitality group, along with Ananda in the Himalayas, and has properties across India including Bangalore, Hyderabad, Amritsar and Pune. Modern and imaginative, these vibrant young hotels cater seamlessly for business and leisure travellers. Ista Hyderabad is a top option for those wanting to swap their corporate pinstripes for fluffy white robes and squishy slippers. If you're short of time try the "Ista Touch" espresso 30-minute neck, shoulders and back rub. If you think you're man enough, try the "Rugged for Men" package, which includes the rather painful-sounding "Rock Facial". There's also a swimming pool and gym with personal trainers. There are spas too at Ista Amritsar and the trendy Ista Bangalore.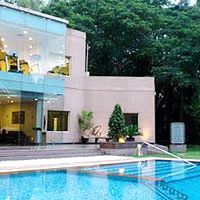 InterContinental The LaLit Goa/ photo: hotel
The Taj Group of Hotels is a polished presence not only in key Indian business cities, but in the spa and health arena especially in Goa and Kerala. Many of its spa resorts now fall under the Vivanta by Taj banner, a stylish and upscale brand launched in September 2010. All have Jiva Spas offering the same impressive menu of treatments with a few regional surprises.
In Goa, don't miss out on the Vivanta by Taj - Fort Aguada, Goa. Built on the ramparts of a 16th Century Portuguese fortress, the resort is part of a sprawling 73-acre complex overlooking the Arabian Sea. Situated right on the beach, the resort offers guests a unique opportunity to relax in elegantly appointed villas and cottages, serenaded by lapping waves.
The spa complements its Goan-Portugese design with a tropical feel, and Indian therapies are a specialty. Each treatment suite has its own soak pool, while yoga rooms and ayurveda physicians are on hand for all your physical, and metaphysical needs. There's also a health bar and standalone beauty salon.
There are two other hotels to choose from in Goa. The Taj Exotica is a Mediterranean-style resort perched on the southwest coast of Goa, overlooking the Arabian Sea. It is situated on 56 acres of landscaped lawns, complete with tropical plants and graceful palms. The Vivanta by Taj - Holiday Village, Goa, is a complex of terracotta-roof Portuguese-Goan cottages, set amidst acres of palm-fringed landscaped gardens just 45-minutes from the airport.
All three have Jiva Spas offering traditional Indian therapies and ancient spiritual remedies, ayurveda wellness, scrubs and wraps. Bathe like a queen with "mangal snan" – an auspicious royal treatment involving up to nine anointments using spices and herbs followed by bathing rituals with saffron and jasmine. This is one of the only treatments in the world that includes live musicians serenading you as you soak. You can also join yoga and meditation classes or head to the gym. There's also an organic spa menu.
At the Baroque-Portugese InterContinental The LaLiT Goa Resort golfing and spa-ing can go hand in hand, with 40 green acres to traverse before a well deserved pummel. The Rejuve Spa features 10 treatment rooms, a gym, yoga studio, beauty salon and wet area with sauna, steam room, Jacuzzi, chill pool and hydrotherapy tub. Go for a Javanese or Balinese treatment one day, opt for something ayurvedic the next. Don't forget to try out the pulsating showers.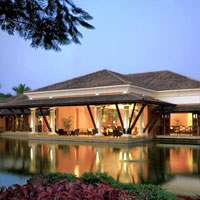 Park Hyatt Goa/ photo: hotel
There's also a nine-hole, par-three golf course at The Leela Kempinski Goa, which is located on the banks of the River Sal. Set on 75 luxurious acres along prime Arabian Sea beachfront, all rooms face water and range from the pavilions to 93sq m lagoon suites and four sumptuous 133sq m royal villas. The spa specialises in ayurvedic treatments but also offers a buffet of yoga, Western spa therapies and massages, sauna and steam areas and a gym. The Club at The Leela is a private enclave (with separate check-in) of 15 villas, some with private pools and outdoor showers.
The Park Hyatt Goa Resort and Spa (formerly Hyatt Regency Goa Resort and Spa) is a 251-room resort designed to mirror Goa's diverse cultural heritage. The resort offers a laid-back Mediterranean atmosphere, imitating a Goan village with its series of pousadas. Rooms are contemporary with verandahs or balconies and bathrooms feature sunken baths and rain showers. Some rooms have their own private patch of garden. The resort's Sereno Spa offers ayurvedic and international fare and has its therapy pavilions arrayed around an inner courtyard. And for kids there's Camp Hyatt and one of the largest swimming pools in the country.
Independent operators like the Ayurvedic Natural Health Centre in Goa may not offer five-star frills but they do have musclebound, die-hard ayurvedic practitioners versed in the five classic panchkarma treatments. These include vamana (emetics), virecana (laxatives), basti (a medicated enema), nasya (nasal cleansing), and rakta mokshana (blood letting). That's right, blood letting. If your knees are knocking violently at all this and you are not convinced, head to the Centre's New Age aura imaging centre, which will take before-and-after snapshots of your chakra colours to make the point that ayurveda can and will boost your energy levels. And don't miss out on the yoga, or the potentially even more punishing "Diet Management" programme. There are also several beach resorts operated by the group along the coast of Goa. That's the pick of the best Goa spa resorts.
Bangalore, India's Garden City and Silicon Valley is blessed with a temperate climate, great cuisine and some good spas to boot. These days, traffic is the only downside. The Golden Palms Hotel & Spa is located on the outskirts of the city in several acres of lush garden. Accommodation features include a hypoallergenic pillow, safety deposit boxes, minibar, and rooms with wheelchair access. The spa features the usual smorgasbord of wraps, scrubs and massages, plus there's an extensive gym (with a ladies-only area), aerobic studio, Turkish hammams, steam rooms and a Jacuzzi. Also downtown, Spa.ce is an independent option that opened fairly recently near the Le Meridien, and has a good set of day packages. Interiors here are stylish but homey, the menu is long and there's a lovely courtyard space for those that like a little sunshine with their spa.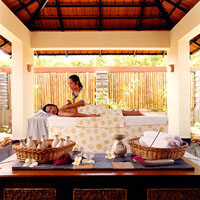 Angsana Bangalore/ photo: hotel
Highly acclaimed, the Angsana Bangalore (managed by Singapore-based Banyan Tree) is located outside town and offers a variety of holistic, therapeutic and customised spa programmes. There are six massage pavilions, shielded from the elements by bamboo screens, and adjoining alfresco showers. The Roman pools (for hydrotherapy) are encased in one-way glass windows that afford a splendid view of the landscaped gardens and green lawns. We presume it's one-way. Angsana Spa treatments come with a hefty price tag, but there are attractive spa and ayurvedic packages that include room tariff, vegetarian meals and a couple of massages and spa treatments.
Soukya Holistic Health and Ayurveda Treatment Centre is a residential integrative medical centre with a focus on holistic healing. It offers ayurveda, homeopathy, naturopathy and a wide range of therapies such as yoga, acupuncture, and acupressure. There are also specific programmes devised for cardiac hypertension, diabetes, arthritis, asthma and tackling addictions such as smoking. Stay in a traditional Indian-style cottage. Use your private garden for yoga or sunbathing with your Idiot's Guide to Ayurveda. A 2.2km jogging trail encircles the property, which includes an outdoor swimming pool, volleyball and badminton courts and an intriguing reflexology walk. The 30-acre resort is located on an organic farm in the countryside east of Bangalore, less than half an hour from the airport.
Emerge Spa offers rejuvenating and curative treatments from Bali, Europe and India, and can be found in the Windflower Resorts in Mysore and Coorg. The Mysore resort has 39 rooms and is located at the foot of the sacred Chamundi Hill. Although conveniently located only 2.5km from the city, the 10-acre grounds offer the peace and quiet needed for some full-blown lazing. A waterfall gushes into the swimming pool, plus there's a gym and private yoga lessons.
Misty slopes, eucalyptus forests and sweet aromas welcome you to the Coorg resort, located in the middle of a coffee plantation, two hours by car from Mysore. For a top-to-toe wellness experience try the "Coorg Spa Pampering" package (minimum three days), which includes accommodation, meals, two daily spa treatments, yoga, health and wellness consultations, body composition analysis and lifestyle counselling.
Across on the east coast, fringing the Bay of Bengal, is Vivanta by Taj - Fisherman's Cove, Chennai (formerly Madras), which also has the group's signature Jiva Spa. Rooms have views of the sea and there are cottages as well. Try a spice scrub to improve circulation or grapple with your therapist during a "Warrior Massage", once popular with Indian wrestlers.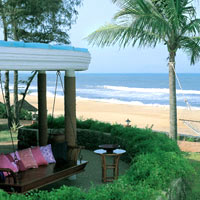 Taj Vivanta Fisherman's Cove/ photo: hotel
The Park in Chennai also has the hotel group's signature Aura spa. Located on the ninth floor, you can gaze out over the city skyline as your cheeks are smeared with wrinkle-busting saffron and almond cream. Remember you don't have wings as you emerge from your coconut cocoon with added turmeric sprinklings. You may need a couple of cucumber slices for your eyes in the rather dazzling relaxation area, which is bejewelled with imitation sapphires, emeralds, rubies and diamonds. The hotel itself offers a central location and likeable designer twists.
However it is in the deep south, in Kerala, the state called "God's Own Country", that treatments and ayurveda really come into their own. Here's our pick of some top Kerala spa resorts. The Taj group runs some interesting properties here but one to check is Vivanta by Taj – Kumarakom, straddling the backwaters. This is an elegant and spacious retreat well located for tours.
The Vivanta by Taj - Malabar on Willingdon Island, Cochin, also has a Jiva Spa. Get primped and primed while gazing into the blue of its infinity pool, which merges into a sea view often peppered with frolicking dolphins. The two-century-old Malabar House Fort Cochin, with its 17 quaint rooms and suites featuring antique furniture and propah four-poster beds, also serves up lip-smacking Mediterranean and South Indian dishes. The house speciality at the ayurvedic spa is kalari, which uses medicinal oils in a form of massage developed from kalarippayat, one of the oldest martial art forms in Asia. It improves circulation and can alleviate headaches, back pain and arthritis.
At Kumarakom Lake Resort you can stay in a houseboat and be treated by a family of renowned ayurvedic practitioners. Converted from a traditional house, the Ayurmana Spa has been home to the Chathamangalathu Mana family for around 200 years. Talk through your health concerns then let them treat you with cooked milk and herbs, medicated oils and buttermilk, or choose a spa package for weight reduction, arthritis or detox. Massages come in all shapes and sizes from athletic to lymphatic, and lickable facials include papaya, banana or orange. Tucked away in the backwaters of Kerala, this stylish heritage retreat blends contemporary comforts with traditional charm.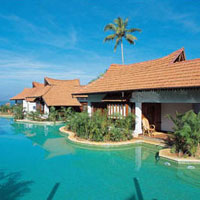 Kumarakom Lake Resort/ photo: hotel
The 59 rooms, villas and suites are quaint reconstructions of sixteenth-century homes and are built with authentic materials from derelict ancestral buildings. But why stay within four walls when you could be floating on Vembanad Lake in a houseboat? These wooden vessels may look a bit rickety (they're held together by ropes not nails) but once instead you'll be spoilt with plush furnishings and modern amenities including much-needed air-con. Houseboat guests can use all resort facilities and receive ayurvedic packages at discounted rates. Ship ahoy! Unsurprisingly, this is among the top India spas around.
Not only is The Zuri Kumarakom, Kerala Resort and Spa located on the banks of the picturesque Vembanad Lake, near Kottayam, it's also surrounded by steamy mangrove forests, lush paddy fields, coconut groves and lily-topped waterways. The Maya Spa is heaven sent. Try the "Cloud 9" massage while floating on a water bed or have cool buttermilk poured on your forehead during "Nirvana". Turn unsightly elephant hide baby soft with one of the tempting body wraps – green coffee, water lily or tropical fruit, or try the caviar and pearl anti-ageing facial followed by an oxygenating mask.
The Kayaloram Heritage Lake Resort on Vembanad Lake, near Alleppey has just four wooden bungalows with tile floors and coir rugs. These are traditional tharavad houses, revived and set to a new purpose. The place is all dark teakwood. The therapies include gentle massages and panchkarma, with its vigorous enemas. Get prepared. In Thekkady, take a break from elephant spotting and lake cruises to enjoy some spa treatments at Aranya Nivas – a picturesque lodge. There is a small pool as well. The hotel offers numerous tour options in and around the scenic Thekkady area. You can replace lost toxins in the Beer Parlour.
The Marari Beach, run by the fast-expanding responsible tourism hotel chain CGH Earth at Mararikulam, Kerala, is spread over 55 expansive acres of seafront sand and garden. The 52 cottages are positioned to afford maximum privacy and space. There's an ayurvedic centre and yoga classes are held in the shade of a coconut grove. At the private and upscale Coconut Lagoon (you can only access it by boat), run by the same group at Kumarakom, there's a sense of style and tradition in the construction of the Heritage Bungalows and Heritage Mansions set in verdant lawns criss-crossed by canals and waterways. The resort has fine spa facilities and treatments and is an excellent jump-off point for backwater cruises. This is a resort that has very much set the pace.
Tharavad house Coconut Lagoon/ photo: hotel
Whether you're looking for an afternoon massage to recharge your batteries or a two-week therapeutic retreat – you will find it all at Kairali Ayurvedic Health Resort, set among 50 acres of lush greenery in Palakkad, Kerala. The more adventurous can learn about ancient charms and ritualistic ceremonies or have butter poured in their eyes to help strengthen optic nerves. Ghee whizz! Those wishing to play it safe can choose from an extensive menu of massages and facials as well as more specialised slimming and body firming treatments. There's also a yoga centre, swimming pool, jogging track, billiards room, Internet cafe and badminton and tennis courts. Kairali has sister properties in Karnataka also offering ayurvedic treatments and packages. Do your sun salutations on the sand at Om Beach Resort in Gokarna or chill by the waterside at the Estuary View Resort, in Karwar.
There are more ayurvedic delights at The Leela Kempinski Kovalam Beach in Kerala, this time of a more godly nature. The Divya Spa – meaning divine light – contrasts the old and the new, offering traditional medicines and panchakarma therapies alongside a modish massage centre. The spa programmes aim to help guests de-stress, detox or refresh, and run from one to three days.
With more than 20 years of experience, Somatheeram Ayurvedic Health Resort is an ideal choice for those wanting top quality treatments in a tropical, beachfront environment. Kerala's former ayurveda minister runs the spa, which offers at least 30 different treatments performed by 13 doctors and 70 therapists. Over 200 different ayurvedic herbs grow beneath the towering palms and mango trees and guests can visit the nearby production centre where all oils and medicines are handmade by Somatheeram staff. You'll find Somatheeram near Kovalam, on Kerala's Malabar Coast, 21km from Trivandrum International Airport. The resort's terraced layout offers splendid views of the coast and narrow footpaths weave through trees and past sculptures, down to the white sandy beach. Stay in a Seaview Cottage or one of the restored 300-year-old Kerala Houses. There are daily yoga and meditation sessions and early risers can watch local fishermen hauling in their nets. There are India spas galore but this one is a rustic standout.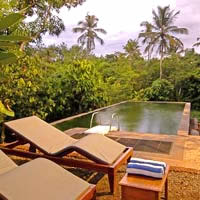 Malabar House Cochin/ photo: hotel
Further up the hills in the green tea estates and jungles surrounding Periyar Lake and its elephants is Casino's Spice Village. It's back to basics here but in comfort. As the hotel likes to point out, "Airconditioning? Unnecessary," and "Piped music is no substitute for birdsong." You get the drift. There are 52 cottages set in eight generous acres of hillside. A lack of TV should not be a reason to get fidgety especially with facilities such as a tennis and badminton court, swimming pool and billiards table. Or simply book an ayurvedic treatment, get bendy with a spot of yoga or zone out with some guided meditation.
And at Tiruvananthapuram (formerly Trivandrum), if you can pronounce it, the Surya Samudra Kovalam offers traditional tharavad houses with 25 guestrooms and a modern infinity pool. Whether you're lobster pink with sunburn or baggy-eyed from jet lag – the Spa Niraamaya will have a treatment for you. The ayurvedic pada-abhyangam has a therapist walking up and down your back. Then there's the "bone shaking" massage...gulp!
If you're willing to invest some time in a good wellness escape, try one of the many India spa resorts on offer. Well there it is. Shake a leg. Or rattle some bone.
Send us your Feedback / Letter to the Editor
FAST FACTS

/ Hotel Contact List

Exchange rate: US$1=Rs51. It may be easier to package a trip through an agency. Some useful information and packages can be explored at these websites:

The informative Tourism Ministry site at www.incredibleindia.org; more on ayurveda options from www.ayurveda-health-spa-india.com; and the gist of Kerala at www.keralatourism.com.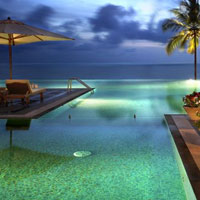 Leela Kempinski Kovalam/ photo: hotel
India spa resorts and hotels
The Oberoi Group. 7 Sham Nath Marg, Delhi 110054. Tel: [91-11] 2389-0606, (e-mail: reservations@oberoigroup.com or www.oberoihotels.com).
The Oberoi Amarvilas, Agra. Delhi head office reservations, tel: [91-11] 2389-0606, (e-mail: reservations@oberoigroup.com or www.oberoihotels.com/oberoi_amarvilas/).
The Oberoi Mumbai. Tel: [91-22] 6632-5757, fax: 6632-4142, (e-mail: reservations@oberoigroup.com
or www.oberoihotels.com/oberoi_mumbai/).
The Oberoi Rajvilas, Jaipur. Delhi head office reservations, tel: [91-11] 2389-0606, (e-mail: reservations@oberoigroup.com or www.oberoihotels.com/oberoi_rajvilas/).
The Oberoi Udaivilas, Udaipur. Delhi head office reservations, tel: [91-11] 2389-0606, (e-mail: reservations@oberoigroup.com or www.oberoihotels.com/oberoi_udaivilas/).
The Oberoi Vanyavilas, Ranthambore. Delhi head office reservations, tel: [91-11] 2389-0606, (e-mail: reservations@oberoigroup.com or www.oberoihotels.com/oberoi_vanyavilas/).
Wild Flower Hall, Shimla. Delhi head office reservations, tel: [91-11] 2389-0606, (e-mail: reservations@oberoigroup.com or www.oberoihotels.com/oberoi_wildflowerhall/).
The Taj Group. Mumbai (Bombay) head office reservations, tel: [91-22] 6665-1000. fax: 2284-6680, (e-mail: trn.mumbai@tajhotels.com or www.tajhotels.com).
Jai Mahal Palace, Jaipur. Tel: [91-141] 222-3636, fax: 222-0707, (e-mail: jaimahal.jaipur@tajhotels.com or www.tajhotels.com/Leisure/Jai Mahal Palace,JAIPUR).
Taj Exotica, Goa. Tel: [91-832] 668-3333, fax: 277-1515, (e-mail: exotica.goa@tajhotels.com or www.tajhotels.com/Leisure/Taj Exotica,GOA).
Taj Lake Palace, Udaipur. Tel: [91-294] 242-8800, fax: 242-8700, (e-mail: lakepalace.udaipur@tajhotels.com or www.tajhotels.com/palace/Taj Lake Palace,Udaipur).
Taj Mahal Palace, Mumbai. Tel: [91-22] 6665-3366, fax: 6665-0323), (e-mail: tmhresv.bom@tajhotels.com or www.tajhotels.com/Palace/The Taj Mahal Palace,MUMBAI).
Vivanta by Taj - Fisherman's Cove, Chennai. Tel: [91-44] 6741-3333, fax: 6741-3330, (e-mail: vivanta.fishcove@tajhotels.com or www.vivantabytaj.com/fishermans-cove-chennai/).
Vivanta by Taj - Fort Aguada, Goa. Tel: [91-832] 664-5858, fax: 664-5868, (e-mail: vivanta.fortaguada@tajhotels.com or www.vivantabytaj.com/Fort-Aguada-Goa/).
Vivanta by Taj - Holiday Village, Goa. Tel: [91-832] 664-5858, fax: 664-5502, (e-mail: vivanta.holidayvillage@tajhotels.com or http://www.vivantabytaj.com/Holiday-Village-Goa/Overview.html).
Vivanta by Taj - Kumarakom, Kerala. Tel: [91-481] 252-5711, fax: 252-4371, (e-mail: vivanta.kumarakom@tajhotels.com or www.vivantabytaj.com/Kumarakom-Kerala/).
Vivanta by Taj - Malabar, Cochin. Tel: [91-484] 664-3000, fax: 664-3182, (e-mail: vivanta.malabar@tajhotels.com or www.vivantabytaj.com/Malabar-Cochin/).
Spa resorts in India
Amanbagh, Udaipur. Tel: [94] 777-743-500, fax: [94] 112-372-193, (e-mail: reservations@amanresorts.com or www.amanresorts.com).
Ananda in the Himalayas. New Delhi office, tel: [91-11] 2656-8888, fax: 2656-9999, (e-mail: sales@anandaspa.com or www.anandaspa.com).
Angsana Bangalore. Tel: [91-80] 2846-8892, fax: 2846-8897, (e-mail: bangalore@angsana.com or www.angsana.com).
Aranya Nivas, Thekkady, Kerala. Tel: [91-48] 6922-2023, fax: 6922-2282, (e-mail: aranyanivasthekkady@ktdc.com or www.ktdc.com).
Ayurvedic Natural Health Centre Pvt Ltd, Saligao, Bardez, Goa. Tel: [91-832] 240-9275, fax: 240-9127, (e-mail: info@healthandayurveda.com or www.healthandayurveda.com).
Coconut Lagoon, Kumarakom, Kerala. CGH Earth, Cochin, tel: [91-484] 301-1711, fax: 266-8001, (e-mail: info@cghearth.com or www.cghearth.com).
Devi Garh, Udaipur, Rajasthan. Tel: [91-29] 5328-9211, fax: 5328-9357, (e-mail: devigarh@deviresorts.in or www.deviresorts.in).
Estuary View Resort. New Delhi head office, tel: [91-11] 2680-2106, (e-mail: kairaliresort@vsnl.com or www.kairali.com).
Golden Palms Hotel & Spa, Bangalore. Tel: [91-80] 2371-2222, fax: 2371-0022, (e-mail: stay@goldenpalmshotel.com or www.goldenpalmshotel.com).
Grand Hyatt Mumbai. Tel: [91-22] 6676-1234, fax: 6676-1235, (e-mail: mumbai.grand@hyatt.com or mumbai.grand.hyatt.com).
Hyatt Regency Delhi. Tel: [91-11] 2679-1234, fax: 2679-1122, (e-mail: delhi.regency@hyatt.com or delhi.regency.hyatt.com).
InterContinental The LaLiT Goa Resort. Tel: [91-832] 266-7777, fax: 266-7711, (www.interconti.com).
Ista Bangalore. Tel: [91-80] 2555-8888, fax: 2554-9999, (e-mail: sales@istabangalore.com or www.istahotels.com).
Ista Hyderabad. Tel: [91-40] 4450-8888, fax: 4450-9999, (e-mail: sales@istahyderabad.com or www.istahotels.com).
ITC Mughal, Agra, Uttar Pradesh. Tel: [91-562] 402-1700, fax: 233-1730, (www.itcwelcomgroup.in).
JW Marriott Mumbai. Tel: [91-22] 6693-3000, fax: 6693-3100, (marriott.com).
Kairali Ayurvedic Health Resort. New Delhi head office reservations, tel: [91-11] 2680-2106, (e-mail: kairaliresort@vsnl.com or www.kairali.com).
Kayaloram Heritage Lake Resort, Alleppey, Kerala. Tel: [91-484] 235-2744, fax: 235-2755, (e-mail: reservation@mirresorts.in or www.kayaloram.com).
Kumarakom Lake Resort, Kottayam, Kerala. Tel: [91-481] 252-4900, fax: 252-4987, (e-mail: klresort@vsnl.com or www.kumarakomlakeresort.in).
Leonia Holistic Destination, Hyderabad. Tel: [91-40] 6640-0000, fax: 6640-4040, (e-mail: stay@leonia.in or www.leonia.in).
Madhubhan Resort and Spa. Vallabh Vidyanaga, Gujarat. Tel: [91-26] 9223-9268, (e-mail: reservations@madhubhan.com or www.madhubhanresortandspa.com).
Malabar House, Cochin, Kerala. Tel: [91-484] 221-6666, fax: 221-7777, (e-mail: reservations@malabarhouse.com or www.malabarhouse.com).
Marari Beach, Mararikulam, Kerala. CGH Earth Group, Cochin, tel: [91-484] 301-1711, fax: 266-8001, (info@cghearth.com or www.cghearth.com).
Moksha Himalaya Spa Resort. Himachal Pradesh. Tel: [91-17] 9223-2301, fax: 9223-4622, (http://www.mokshaspa.com/).
Neemrana Fort Palace. Tel: [91-11] 4666-1666, fax: 4666-1600, (e-mail: sales@neemranahotels.com or www.neemranahotels.com).
Om Beach Resort. New Delhi head office reservations, tel: [91-11] 2680-2106, (e-mail: kairaliresort@vsnl.com or www.kairali.com).
Park Hyatt Goa Resort and Spa, Arrossim Beach, Goa. Tel [91-832] 272-1234, fax: 272-1235, (e-mail: parkhyattgoa@hyatt.com or goa.park.hyatt.com).
Ranjit's SVAASA Heritage Boutique Spa Haveli, Amritsar, Punjab. Tel: [91-183] 256-6618, fax: 500-3728, (e-mail: spa@svaasa.com or www.svaasa.com).
Shangri-La's – Eros Hotel, New Delhi. Tel: [91-11] 4119-1919, fax: 4119-1988, (e-mail: slnd@shangri-la.com or www.shangri-la.com/newdelhi).
Somatheeram Ayurvedic Health Resort, Trivandrum, Kerala. Tel: [91-471] 226-6501, fax: 226-6505, (e-mail: info@somatheeram.org or www.somatheeram.org).
Soukya Holistic Health and Ayurveda Treatment Centre, Bangalore. Tel: [91-80] 2801-7000, fax: 2801-7009, (info@soukya.com or www.soukya.com).
Spa.ce, Bangalore. Tel: [91-80] 4132-7526, (www.spacethespa.com).
Spice Village, Periyar, Kerala. CGH Earth, Cochin. Tel: [91-484] 301-1711, fax: 266-8001, (e-mail: info@cghearth.com or www.cghearth.com).
Surya Samudra Beach Garden, Trivandrum, Kerala. Tel: [91-471] 226-7333, fax: 226-7124, (e-mail: reservations@suryasamudra.com or www.suryasamudra.com).
The Claridges, Surajkund, Delhi. Tel: [91-12] 9419-0000, fax: 9419-0001, (e-mail: resv.surajkund@claridges.com or claridges.com).
The Four Fountains Spa. (www.thefourfountainsspa.in).
The Imperial. Tel: [91-11] 2334-1234, / 4150-1234, fax: 2334-2255, (e-mail: luxury@theimperialindia.com or www.theimperialindia.com).
The Leela Kempinski Goa. Tel: [91-832] 662-1234, fax: 287-1352, (e-mail: reservations.goa@theleela.com or www.theleela.com).
The Leela Kempinski Kovalam Beach Resort, Kerala. Tel: [91-471] 305-1234, fax: 248-1522, (e-mail: reservations.kovalam@theleela.com or www.theleela.com).
The Leela Kempinski Mumbai. Tel: [91-22] 6691-1234, fax: 6691-1212, (e-mail: reservations.mumbai@theleela.com or www.theleela.com).
The Leela Palace Kempinski Udaipur. Tel: [91-294] 670-1234, fax: 670-1212, (e-mail: reservations.udaipur@theleela.com or www.theleela.com).
The Lodhi. Tel: [91-11] 4363-3333, fax: 4363-3335. (e-mail: info@thelodhi.com or www.thelodhi.com).
The Park Hotels. Mumbai (Bombay) head office reservations. Tel: [91-22] 6636- 4427, fax: 6636-4429, (e-mail: sales.mum@theparkhotels.com or www.theparkhotels.com).
The Park in Chennai. Tel: [91-44] 4267-6000, fax: 4214-4100, (e-mail: resv.che@theparkhotels.com or www.theparkhotels.com).
The Park New Delhi. Tel: [91-11] 2374-3000, fax: 2374-4000, (e-mail: resv.del@theparkhotels.com or www.theparkhotels.com).
The Westin Sohna Resort & Spa, Haryana. Tel: [91-124] 450-8888, fax: 450-8800, (www.starwoodhotels.com/westin/).
The Windflower Spa and Resorts (Mysore and Coorg). Tel: [91-80] 4114-2408, (e-mail: reservations@thewindflower.com or www.thewindflower.com).
The Zuri Kumarakom, Kerala Resort & Spa, Kottayam, Kerala. Tel: [91-481] 252-7272, fax: 252-7282, (www.thezurihotels.com).
Airlines and Railways
Air India. www.airindia.com
IndiGo. book.goindigo.in/skylights/
Jet Airways. www.jetairways.com
Kingfisher. www.flykingfisher.com
SpiceJet. www.spicejet.com
Online Rail Reservation. www.irctc.co.in
Indian Railways. www.indianrail.gov.in