ADVENTURE
Ladakh: escapes into thin air
Over 12,000ft up with yaks, yetis and bumped passengers, a Ladakh guide for the intrepid.
updated by Jakki Phillips
SEE ALSO Andaman Islands | Bangalore guide | Chennai | New Delhi business hotels | Goa resorts | Gulmarg | Himachal | India spas | Kerala resorts | Mumbai business hotels | Rajasthan palace hotels | Zanskar treks | Bhutan guide | Brunei guide | Nepal treks | Kathmandu
LADAKH WILL TAKE YOUR BREATH AWAY. At 12,000ft, the capital, Leh, is already higher than most Alpine mountaineers will have ventured. Mount Blanc is a trifling 15,771ft while in Ladakh roads soar to 18,340ft (Khardung-La pass) where you can have the highest kiss, toilet-trip, sneeze, cough, conversation or nervous breakdown of your entire life.
Up here in the rarefied air of India's "Little Tibet", oxygen – and airline seats – are at a premium. Walk slowly and book early.
I was pleased then to see my travel agent's itinerary. It was simple. Stay in bed for two days (to acclimatise) and then fly back to Delhi. This seemed like a good plan. Delhi has a lot more oxygen than Ladakh. Our return flight was waitlisted but the airline assured us we would be confirmed by the time our lungs had recovered sufficiently for us to make the journey from our hotel back to Leh airport.

Slide Show

E-mail Page

Print

Hotel Contacts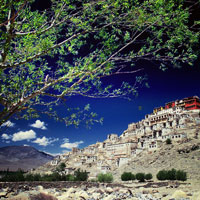 Thikse Monastery/ photo: Vijay Verghese
Ladakh, when we arrived, was breathtaking, the mountain desert stretching from pinnacle to pinnacle, painted in stunning streaks of purple, brown and grey with slivers of startling, shaggy green along the mighty Indus. The blue of the Ladakhi sky is surreal, pure, the sort of colour that's exceedingly hard to capture on a camera. This may be due to the excessive ultra violet light at this height.
Or it might be due to the fact that any clicking of cameras at the airport will result in an international incident unless, like me, you carry an Indian passport in which case it would just be a lack-lustre domestic butt-kicking.
Send us your Feedback / Letter to the Editor
Photography is not permitted at the airport or on the one-hour flight from Delhi to Leh. This is for security reasons. Someone might discover those peaks marked in such detail on every school atlas, actually do exist. All batteries are scrutinised thoroughly as well. I wanted the security guard to examine my growing bald patch and confirm if it had indeed spread but he was not interested.
I am all for security. In an age where satellites can accurately count yak pubic hair, who needs amateur cameras? That said, it's a snip to fly to Leh from New Delhi on Air India (www.airindia.com), Go-Air (www.goair.in), Indigo (goindigo.in), and Jet Airways (www.jetairways.com). There are flights from Srinagar, the capital of Kashmir as well.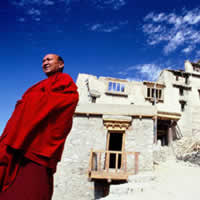 Monk outside Leh Palace/ photo: Vijay Verghese
To acclimatise, wash your socks and watch them dry. Or simply ask your mother-in-law to dry her fingers in that plug socket on the wall while you throw the switch. This is a serious issue. Start up too fast and you'll have a weeklong hangover – or worse. First day, stay in bed and read. Drink lots of liquid. Second afternoon, venture into Leh town for a short stroll. Drink more liquid (not alcohol). By the third day you'll be able to visit the toilet without staggering and blacking out. By the fourth day you'll be fine. Lightening trips are out. Take your time and spread out the journey. There's much to explore. Summer daytime temperatures can warm up to the mid thirties (centigrade) though the shade is cool. Nights can drop to 10 degrees, especially after rainfall – or snow in the higher mountains. Rain is uncommon though and the air is exceptionally dry.
Leh, where three empires once met, is a one-horse (or one yak) town with a distinct frontier taste. There's dust, bleary eyed backpackers, honking jeeps, trinket sellers, hawk-eyed Kashmiri salesmen, grizzled sun-blackened Ladakhis spinning prayer wheels, local women in woollen gonchas (gowns) and peraks (the traditional headpiece with a dowry-load of turquoise) and frequent power cuts. That's when the diesel generators kick in and the smoke gets really intense, especially in the numerous hole-in-the-wall Internet cafes dotting the market. Web connections have improved vastly in recent years, but don't be surprised by patchy or slow service – at about Rs2 a minute, you can afford to be patient.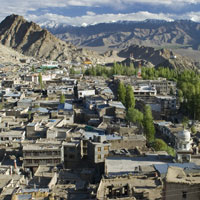 View of Leh town from hill/ photo: Inmagine
You can talk to the outside world through the Internet and STD (State Trunk Dial) booths though mobile phones will not work. The exchange rate is roughly US$1 = Rs66. The market hosts a State Bank of India branch with an ATM and moneychangers.
Credit cards are not big in Ladakh and it is wise to bring rupees with you from Delhi, in small denominations. If you are at a loss for what to do, stop by the Leh Tourist Office (tel: [91-1982] 253-462) in the main bazaar.
Twenty years ago Leh was just two intersecting streets and a polo ground. Now it has a bit of Kathmandu kitsch about it.
I'm not entirely sure this is a good thing but the economy is booming and foreign "pollution" is kept to a minimum with the snows closing the passes six months of winter when the place goes into hibernation and people wish they were eating hot kebabs in Delhi rather than heating pipes to get some running water for a cold bath.
Plastic bags are banned throughout the region to preserve the fragile ecosystem. Any litter must be properly disposed of. Still, the Buddhist influence is ubiquitous like a calming stomach tonic and some gomphas (monasteries) are simply stunning. Leh Palace, a small replica of the Potala Palace in Lhasa, is a brief climb up from the city with exhilarating views.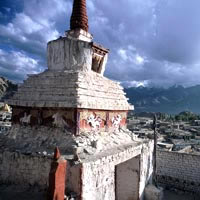 Chorten above Leh/ photo: Vijay Verghese
Once acclimatised, hire a car from the taxi union (tel: [91-1982] 252-723/ 253-039) that offers fixed-price car-with-driver hires for all destinations. Opt for the comfy TATA Sumo. The bouncy Gypsy is just alright but the small Maruti vans will be testing on potholed roads. Try a quick trip along the river to Thikse monastery, one of the loveliest (about US$15, half hour one way), a half-day tour east to the frescoes of Alchi monastery (passing the majestic Zanskar and Indus River confluence, US$40, two hours one way), or a fast drive up to Khardung-La, the highest motorable road in the world just 39km from Leh. Khardung-La leads on to the virgin Nubra Valley where grey double humped Bactrian camels roam free searching the classifieds for harmonica-playing Marlboro ponies. The wild horse herds, antelopes and yaks are harder to spot these days but are usually found at higher altitudes in remote inner Himalayan valleys.
Thikse is one of the best-preserved and most colourful monasteries, built in the traditional piled-up pyramid above the town. Catch your breath and climb up to the top to view the large Maitreya (future) Buddha. Ladakh is a land of wonderfully mechanised religion and this is evident along the approach. Colourful prayer flags and spinning prayer wheels (driven by hand, wind and water) scatter their inscribed hymns, blessings, and entreaties skywards (or downriver) ensuring communication with the Gods is always open. Travellers will also encounter mani walls, mounds constructed with flat, smooth mani stones with the inscription "Om mani padme hum" (Oh thou jewel in the lotus). When approaching Mani walls and prayer wheels, keep them to your right. These sacred walls are usually preceded by small shrines called chortens. The Thikse festival is in late September.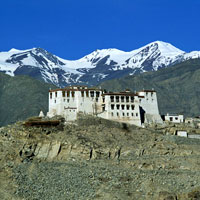 Ladakh monastery/ photo: Inmagine
A further 45-minute drive south from Thikse will bring you to Hemis (about US$30 roundtrip from Leh), one of the oldest and most revered monasteries. It is not the prettiest by any stretch but has earned acclaim largely on account of the fact that its annual festivals and colourful dance dramas (cham dances) run in summer, coinciding with the tourist season. Most other festivals run in winter. There is also a super festival every 12 years when a giant tangkha (Buddha image embroidered on silk) is brought out for public viewing. On the same road, closer to Leh, are Shey (with its palace where all royal children are born) and Stok, where part of the royal palace has been converted into the Stok Palace Museum. Shey was the former capital of Ladakh. Also available in Stok Palace are a couple of hotel rooms with balconies overlooking the sweep of the Indus. Expect rooms in red or lapis lazuli blue with Ladakhi motifs, rugs and woodcarvings.
Of course there is a plus side to living in a museum. Check out tankhas (Tibetan paintings on vast cloth scrolls) armour and more. Book through a travel agent.
Heading east from Leh takes you along the roof of the world under a Big Sky to Alchi and Lamayuru. The somewhat inaccessible Lamayuru is a rewarding site though it is a good two hour drive from Leh. Alchi, which dates back to the 11th Century, is a collection of small temples with elaborate frescoes. The village is clean and pretty with some nice guesthouses and restaurants. Try the Potala Guesthouse or the more up market Alchi Resort. The drive is stunning, along a high plateau, through deep gorges and mountain desert, past serrated ridges with red and purple striations, along the deep furrow of the chocolate Indus. There is a Magnetic Hills site along the way where tradition has it cars stall on account of the "force". En route, drop by Likir monastery and, just outside Leh, the colourful and well preserved Spituk gompha. In the midst of this beautiful desolation lies Nimu, a small verdant oasis with whispering barley fields and proud white chortens where children sell sweet miniature apricots.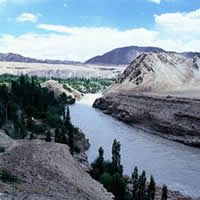 The mighty Indus River/ photo: Vijay Verghese
Nimu is also the hopping-off point for the 22km white-water run down the freezing Indus. The half-day trip starts at Phey, just outside Leh. Several agents sell this package. The river starts off deceptively slow and then speeds up in the narrows as the meltwater builds up. The rapids are classified as Category 3 but are gentle enough for the family. Some days are rougher than others. It can get hot – and wet – so carry a change (in the van) and dress lightly. Quick-dry rubber footwear of some sort is advisable especially if you are prone to tumbles. Barefoot and freezing I concentrated on the rough-hewn grandeur around us while my teenage son concentrated on his chapped lips. Later at the hotel we continued to bond, he with his MP3 music player and me, horizontal, with my bed. Don't underestimate the height, ever.
Farther away and much higher lie the beautiful salt lakes of Pangong (13,930ft above sea level) and Tsomoriri (14,000ft above sea level and 240km from Leh) Both will require an overnight stay and "restricted area" innerline permit. Khardung-La requires a permit as well. This can be acquired through a travel agency (foreigners and Indians) or directly from the Permit Office, main bazaar (Indians only) in Leh.
It takes less than a day and is priced at Rs100 for Indians (Rs400 for foreigners). Make multiple photocopies of your passport and permit before you go. There are several security checkpoints on the way that may ask for them.
White water rafting on the Indus/ photo: Vijay Verghese
The tourist season runs from May to October but really peaks in July and August. Hotel rooms, like airline seats, are in short supply. Three good choices in the A Class range (there are no star ratings here, Class A is the equivalent of a 3-star hotel) are the secluded and friendly Shambha-La, on the fringe of town in a poplar grove, Kanglhachen and Lharimo (both close to the market), and the cheerful Hotel Bijoo with a cosy new wing. Ask for the manager Ashik (cell: +91-9419178297) at Bijoo. He can organise treks, tours, anything.
Class A hotel rooms in general tend to be decent with twin beds, small cable TVs, intercom phones, attached bathrooms with hot water at scheduled times, candles and matches (although electricity has improved, and hotels normally have backup generators), travel desks, ISD/STD (state and international dialing) facilities and sometimes an Internet room. Hotel design is traditional two-storey Ladakhi with white hand-plastered walls and blood-red doors through which from time to time emerge bleary-eyed travellers, seemingly blotto, to upchuck, squint or pass out. The charming Shambha-La is the quietest of the lot with eager smiling staff and a comfortable sunny lawn with hammocks and cushioned chairs. It is run by the jovial and energetic Pinto Narboo and his charming wife. Food and service are good, always with a smile. Set away from the main road it is free of automobile fumes and dust.
Lie back in the garden, listen to the chimes, unwind and watch the poplars shed their silvery cotton fluff. Check e-mails with their WiFi or Broadband network, or read a book from their library while you wait for the laundry service to return your clothes. The Lharimo (or Lah-Ri-Mo as it is also spelled) is a very good spot, closer to town, bright and clean.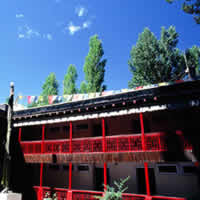 The secluded and pretty Shambhala Hotel/ photo: Vijay Verghese
It is popular with couples, backpackers and trekking groups. The top-end Kanglhachen runs a more than decent kitchen and is well located right above the main market area. It boasts no less than four travel agencies on its complex for all your adventure needs.
If you want something truly luxurious and don't mind spending an arm and a leg, try the newly built Grand Dragon Ladakh Hotel. The only four-star hotel in Ladakh, it features a well designed complex with outdoor gardens, swanky modern interiors with contemporary furnishings, LCD screen TVs, WiFi Internet access, showers, and views. The south side faces the snowcapped Stok mountains while to the north, rooms overlook Leh Palace in the direction of Khardung La Pass. They even have deluxe 'Royal' suites available, which include a master bedroom, a sitting room and two attached bathrooms. The hotel is proud of its eco-friendly design, with hot water and central heating supplied by solar panels, and double glazed windows to decrease electricity needs – useful if you recall electricity in Leh is quite volatile. Open year round, they offer white water rafting during the summer and, if you're brave enough, ice hockey in the winter. Prices are steep, but the quality of service and comfort they provide merits giving it some thought.
Tucked away in green fields, the Padma Guest House & Hotel with its organic vegetable and flower garden and unobstructed views of snow-clad peaks is an excellent budget alternative. The guesthouse is cheaper at around Rs400 (with common toilets) and a crisp and clean hotel wing starts at Rs2,175. The newer rooms are more than adequate with decent toilets. The Padma also has a meditation room and, wait for it, free WiFi and Broadband access for guests. Another attraction is the solar heated running hot water. Try and bag corner room 107.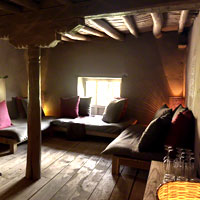 Rustic chic Shakti Ladakh/ photo: hotel
From Shakti Ladakh a set of six village houses, one dating back 200 years (though the plumbing has been modified in recent years), open from May to late September when the weather is accommodating and the daytime crisp with clear skies and bright sunshine. Expect invigorating walks, hikes, rafting and close-up encounters with nature at 11,000ft.
Return to a simple whitewashed courtyard setting with darkly regal rooms featuring rough-hewn timber floors, crazy-angle wooden tree columns holding up the creaking roof beams, heating samovar for chilly nights, and dark fabric sofas with fuchsia cushions.
It is a wonderfully stark yet rich setting with none of that modern chi-chi humbug. This is pure Ladakh. Mark it down in your diary. The cottages are in various locations about 20 minutes from each other a little south of Leh on the Thiksey road. Children are welcome but only if they are over seven years old.
The Mongolian yurt tents of Ladakh Sarai at Saboo Village seven kilometres from Leh have, alas, gone. At the other end of the price scale, a good hunting ground for guesthouses is along the quiet, Changspa Road above the market leading to Omasila and beyond.
The Silver Cloud Guest House near Sankar Village is basic and bright. Everywhere meals and hot water run at designated times, so note it down. Tea, however, is abundant. Decorum is strictly observed and all main meals are usually preceded by soup.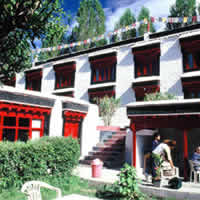 Lharimo Hotel close to town/ photo: Vijay Verghese
If you are up to it, try the local gur-gur chai, a yak butter-and-tea concoction that will have you racing for the toilet in no time. Attempt this only after you have acclimatised or the outcome may leave you gasping for more than one reason. If you are feeling poorly, many hotels have doctors on call for their guests. Watch some cable TV while you recover. If you are lucky enough to have a phone, call up some room service. There are limited numbers of phones and TVs in many hotels. Spic-n-Span is three-storey grey stone with wrap-around balconies, elaborate wooden railings, marble floors and rugs in the 33 rooms. Very Kashmiri. The toilets have SHOWER CURTAINS, a genuine Leh luxury. Its central gas heating enables it to run through the coldest winters.
For Bollywood fans, Omasila is a good bet. The view is fantastic, but that's not the only sightseeing to be done, as Omasila is famed for its celebrity guests. Other options include the somewhat slap-dash Hotel Singge Palace, the comfortable Mandala and the Lasermo Hotel (with e-mail, phones and safe deposit lockers) and the K-Sar.
The Hotel Lumbini is okay but its rooms are facing the road and the garden is protected when it should really have been the other way around.
A kilometre away from town, the Cho Palace offers some quiet rest and relaxation. Also, Lharisa Resorts offers an eco-friendly complex with private terraces and gardens for each room.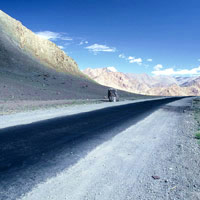 Arrow-straight roads/ photo: Vijay Verghese
A Class hotels charge in the region of Rs2,500 (US$54) inclusive of meals and generous pourings of tea (but mineral water is extra). Most offer accommodation under a range of plans. Choose from the Continental Plan (CP) – bed and breakfast, American Plan (AP) – breakfast and dinner, Modified American Plan (MAP) – breakfast, lunch and dinner, or the plain old European Plan (EP) – room only.
Leh town also offers pizza, on the roof, (Little Italy), pasta and Indian food (La-Terrasse, tel: 253-746, and La Pizzeria), Tibetan dumplings (or momos, at High Life, tel: 251-013), and Internet cafes (Rs2 per minute). Tibetan food can also be sampled at Tibetan Kitchen, Summer Harvest (tel: 252-226) and Amdo Restaurant (tel: 253-114). For those missing simple Western food, the German Bakery offers fresh homemade baked goods and sandwiches. High Life has the best ambience and décor complete with a Ladakhi rock band that does Hindi film songs and a passable Hotel California. It also offers alfresco seating and a decent toilet.
Both Little Italy and La-Terrasse occupy open terraces looking onto Leh Palace and the hills. La-Terrasse is touch smarter with an indoor area as well but both share a grotty dungeon toilet in the deepest basement right next to a clapboard cubicle for a Kerala ayurvedic massage.
Painted paper umbrellas and ornate fans create a cosy yet funky vibe at Chopsticks Noodle Bar (mobile: [91] 94191-78652) on Fort Road, which serves everything from momos and satay to spicy Szechuan noodles. For a hearty breakfast pop into Gesmo (also on Fort Road) and try a yak cheese omelette or some gooey banana pancakes.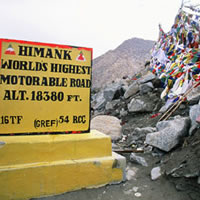 Khardung-La, the highest road anywhere/ photo: Vijay Verghese
Some other options include World Garden Café and Morrison Café, which sit along Changspa Road. Just across the road are some terrific bakeries where you can get a HUGE apricot crumble for just a few rupees. Whatever you want to do, just say, "Julley" (pronounced joo-lay), the versatile Ladakhi greeting that means everything from "Hello," and "Goodbye", to "Shucks! My mother-in-law has no oxygen and no hot water, but she's still breathing."
Holiday over, my teenage son and I headed to the airport. In a wonderful display of hospitality, the airline had not yet confirmed our seats, hoping we might enjoy Ladakh a bit longer. We did. For three more days. I finally threatened to photograph every square inch of the airport. Something worked. And on the seventh day we rested, in Delhi. Julley.
Send us your Feedback / Letter to the Editor
FAST FACTS

/ Hotel Contact List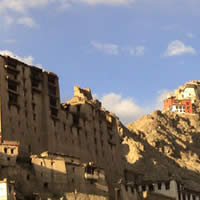 Leh Palace at dusk/ photo: Vijay Verghese
Prices and contact details for Ladakh hotels are notoriously hard to pin down and they change often. Websites and e-mail may often not work at all. Hotels are closed during the winter months and resume operation in summer with the advent of the tourist season.
The exchange rate is around US$1= Rs66. Bring small denomination Indian rupees with you if possible. Credit cards are not customarily used in Ladakh, although some better hotels do accept them. There are a few moneychangers in the market and some bigger banks. It is customary to tip people who help you: tour guides, waiters, porters, and drivers.
Check out the very useful site www.reachladakh.com and in Leh buy a copy of Reach Ladakh, an indispensable tool for wandering the valleys of Zanskar, Ladakh and Nubra. A colourful and interesting site is at www.leh-ladakh.com. Another useful resource that promotes a harmonious eco-friendly tourism approach, is Ladakh Ecological Footprint at www.ecologicalfootprint.in. The company also arranges trekking, mountaineering, rafting, kayaking, wild life photography, mountain biking and a Ladakh Volunteer Farm Project. Contact Stanzin (stanzin@ecologicalfootprint.in) for more information.
Leh A Class Hotels in Ladakh
Any hotel prices quoted in this story are approximate and will change depending on season. Most top-end (A Class, the equivalent of three stars) hotels will charge around US$55-$65 up for a double occupancy with high end hotels priced at close to US$100.
Cho Palace Hotel. Tel: [91-1982] 251-659, 251-691, fax: 252-743, mobile: [91] 94191-78132, 94191-79565, (e-mail: chopalace@sancharnet.in, chopalace@gmail.com, or www.reachladakh.com/chopalace.html).
Grand Dragon Ladakh Hotel. Tel: [91-1982] 257-786, 255-866, fax: 255-266, mobile: [91] 99069-86782, 96229-97222, (e-mail: hotel@thegranddragonladakh.com or www.thegranddragonladakh.com).
Hotel Bijoo. Tel: [91-1982] 252-131, mobile: [91] 94191-78297, fax: 252-346, (e-mail: ashikleh@gmail.com).
Hotel Holiday Ladakh. Tel: [91-1982] 257-403, 251-600, mobile: [91] 94191-78929, fax: 255-146, (e-mail: hotelholidayladakh@yahoo.com or www.holidayladakh.net).
Hotel Lumbini. Tel/Fax: [91-1982] 252-528.
Hotel Shambha-La. Tel: [91-1982] 251-100, 253-500, or New Delhi Tel: [91-11] 4603-5500, fax: [91-1982] 252-607, (e-mail: ladakh@hotelshambhala.com or mohit@welcomheritagehotels.com or www.hotelshambhala.com).
Hotel Singge Palace. Tel: [91-1982] 253-344, 251-182, mobile: [91] 94191-78743, fax: 253-000, customer support: [91-124] 404-4555, (e-mail: singgepalace@gmail.com or info@singgepalace.com or www.singgepalace.com).
Kanglhachen. Tel: [91-1982] 252-144, 252-523, fax: 252-051, (e-mail: klcleh@sancharnet.in).
K-Sar. Tel: [91-1982] 252-348, fax: 252-735.
Lharisa Resort. Tel: [91-1982] 252-000, fax: 252-001, mobile: [91] 94191-77425, (e-mail: info@ladakh-lharisa.com or larisaresorts@yahoo.co.in or www.ladakh-lharisa.com).
Lasermo Hotel. Tel: [91-1982] 252-313, fax: 250-778, (e-mail: hotellasermo@gmail.com or www.hotellasermo.com).
Lharimo. Tel: [91-1982] 252-177, 252-101, fax: 253-345, (www.reachladakh.com/lharimo).
Omasila. Tel: [91-1982] 252-119, 252-178, fax: 250-207, (e-mail: info@hotelomasila.com or hotelomasila.com/home.oma).
Shakti Ladakh. Tel: [91-124] 456-3899, (e-mail: info@shaktihimalaya.com or www.shaktihimalaya.com/destinations/shakti-ladakh/).
Spic-n-Span. Tel: [91-1982] 252-765, 251-225, fax: 254-765, (e-mail: spicnspan@vsnl.net or www.reachladakh.com/spicnspan.html).
Leh Guesthouses
Eagle. Tel: [91-1982] 253-074, fax: 252-107.
Oriental Guesthouse Tel: [91-1982] 253-153, fax: 250-516 (email: ladakhoriental@yahoo.co.in or www.orientalguesthouse.com).
Padma Guest House & Hotel. Tel: [91-1982] 252-360, 252-514, fax: 255-876, mobile: [91] 94191-78171, (e-mail: padma22@sancharnet.in or padmaladakh@gmail.com or www.padmaladakh.net).
Silver Cloud Guest House. Tel: [91-1982] 253-128, 252-572, fax: 252-414, mobile: [91] 94191-79411, (e-mail: silvercloudstd@rediffmail.com or www.reachladakh.com/silver_cloud.html ).
Stok and Saboo Village
Hotel Skittsal. Tel: [91-1982] 242-051, 242-049, fax: 252-414, (e-mail: hotel@skittsal.com or www.skittsal.com/home.htm). Close to Stok Palace and Museum.
Travel Agents Leh
Explore Himalayas. Tel: [91-1982] 252-727, mobile: [91] 94191-78416, fax: 253-354, (e-mail: explore4@sancharnet.in or explorehimalayas@vsnl.com or www.indiamart.com/explorehimalayas).
Indus Himalayan Explorers. Tel: [91-1982] 225-656, 252-788, 253-154, mobile: [91] 94191-77668, (e-mail: indushimalayanexplorers@yahoo.com or wnaygan@hotmail.com or www.expeditionsladakh.com).
Ladakh Ecological Footprint. Contact Stanzin, mobile: [91] 99069-77846, (e-mail: stanzin@ecologicalfootprint.in or www.ecologicalfootprint.in).
Little Tibet Expeditions. Tel/fax: [91-1982] 252-951, mobile: [91] 99069-87786, 96229-77949, (e-mail: abbass_man@hotmail.com or littletibetladakh.freeservers.com). Associated with the Old Ladakh Guest House (e-mail: old_ladakh@rediffmail.com).
Peregrine International (Geological Tours). Tel: [91-1982] 251-076, (e-mail: peregrin@vsnl.net or peregrin7@sancharnet.in). Ask for Mr C P Dorjey.
Rimo Expeditions. Tel: [91-124] 2806027/8/9, 4051640, fax: [91-124] 2806030, (e-mail: info@rimoexpeditions.com or www.rimoexpeditions.com).
Snow Leopard Trails. New Delhi Tel: [91-11] 2803-4544, fax: 2803-4543, Leh tel: [91-1982] 252-188, (e-mail: leopard@nda.vsnl.net.in or www.ladakh-tour.com).
Travel Agents New Delhi
Eco Adventures Pvt Ltd. Tel: [91-11] 2611-5504/5/6, fax: 2410-5158, (e-mail: info@magical-india.com or www.magical-india.com). Delhi-based adventure specialists.
Ibex Expeditions Private Limited. New Delhi Tel: [91-11] 2646-0244, 2646-0246, fax: 2646-0245, (e-mail: ibex@ibexexpeditions.com or www.ibexexpeditions.com). Eco adventure tour specialists headed by the indefatigable explorer, climber and conservationist Mandip Singh Soin and his wife Anita.
Sea & Sky Travel (India) Pvt. Ltd. Tel: [91-11] 2668-1027, 2668-6452, fax: 2668-6248, (e-mail: shbashir@del2.vsnl.net.in or sst@bol.net.in or www.seaandskytravel.com).