FUN STUFF
Airline duty free shopping
From whisky to skin whitening cream, diamonds to eau de toilette, we pore over Asian inflight shop offerings to pick from classic and contemporary, at the best prices.
SEE ALSO Hong Kong shopping | Kuala Lumpur shopping | Bangkok shopping | Singapore shopping | Digital Cameras and Video Reviews | Shanghai shopping | Biggest travel gripes | Child friendly resorts | What hotel guests steal | Asian cruises | Asian dives | Asian resort weddings
JUMP TO Jewellery, watches aplenty | Whisky and wine | Cosmetics | Perfume and cologne | Gizmos and gadgets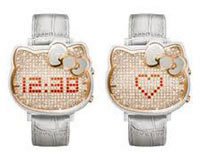 Chouette Hello Kitty watch
THE FIRST time I ever laid eyes on a Roomba was en route to Seattle, when I reached into the seatback pocket and cracked open the inflight shopping magazine. A robot to do my chores? If only my allowance could fund it. Half a decade later, the gadgets and gizmos still surprise me. We're talking MacGyver-worthy multi-tool adapters, iPhone-controlled toy helicopters and handheld colour scanners. Whether you're looking for a hi-tech present, want to restock your liquor cabinet, or simply forgot your toothbrush, a good inflight shopping magazine will help pass an hour when the movie selection inevitably falls short. A survey of airline duty-free shopping from 10 to 15 carriers uncovers some interesting trends, surprisingly competitive prices and splurge-worthy finds.
All that glitters – jewellery, watches aplenty
Turn to the accessories department of any inflight shopping magazine and watch it rain watches, pendants and kitschy rings. The Hong Kong Airlines SkyShop, for example, offers a 30-page spread. We're talking everything from a Hello Kitty Swarovski crystal pendant (US$175) and a Toscow Imperial Jade necklace and earrings set (US$106) to 20-strand Gold Silk necklace (US$249).
Send us your Feedback / Letter to the Editor
Of course, watches demand the most attention. Pick a bright violet Chouette Hello Kitty digital watch (US$231) or a more classic, white and stainless steel French Connection (US$99). Men choose from a variety of timekeepers as well, including a sporty Swiss Military Chronograph (US$270), a titanium Skagen Denmark (US$179) and an elegant, calf-leather Arbutus (US$240).
Likewise, Thai Airways International has an impressive assortment, including exclusive handmade, floral Tippy Tippy pieces from Thai artist, ML Chiratorn Chirapravati. A blue pastel Magnolia Pendant runs at US$95. You'll also find more Misaki pearl and necklace sets (from US$139), elegant Thomas Sabo silver and pearl earrings (US$99), Toscow Imperial Jade necklace and earrings sets (US$105), Gold Silk necklace (US$249) and even Swarovski Crystalline USB Keys (US$65) and Ballpoint Pens (US$65) for glitzy gals.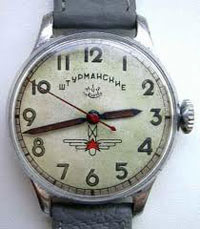 Sturmanskie: first watch in space
There's no dearth of watches, either. For ladies, spot that delicate pearl number from Misaki (US$229), and a wintery mother-of-pearl ceramic watch from Skagen (US$379). No time to unwind? You may want to take a peek at the Lifetrons "Pure Health" bracelet, which supposedly alleviates muscle aches and comes encrusted with 30 Swarovski crystals (US$90).
Expect some classy men's watches, such as the sleek Ceramic Collection Black Chronograph from Emporio Armani (US$629) and a modernistic O-Ring watch from Philippe Starck that looks like something out of Matrix (US$250). For aspiring pilots, the colourful Jacques Farel Kids Boys airplane watch is sure to please (US$59). Other notable accessories include a Boss reversible belt (US$169) and Longchamp purses (US$110).
Of course, we can't mention accessories without pointing out the entire section devoted to Hello Kitty in Eva Air's Sky Shop magazine. It's got everything: a 3D Airplane Jigsaw Puzzle (US$17), a pearl watch (US$116), perfume (US$41), cosmetic pouches (US$29), aprons (US$37), luggage tags (US$23) and Swarovski crystalline pens (US$46).
Luckily, not all the products come dressed in pink. Keep flipping for a Mont Blanc belt (US$226), Porsche Design Carbon Fibre Pen (US$120), an Armani Black Ceramic Collection watch (US$456) and an interesting Rotary Hand Winder watch that shows the turning gears (US$268).
Ladies have lots of options, with a sparkling silver DKNY watch (US$212), a pretty Pashma paisley print cashmere scarf (US$135), a Longchamp with horse-print pattern (US$133), and enviable Gucci sunglasses (US$171). Jewellery hasn't been overlooked, with an obligatory Georg Jensen heart-shaped pendant (US$207) and Toscow pearl necklace (US$329).
For more Hello Kitty, head straight to Cathay Pacific. The inflight shopping includes more of those Swarovski pens (US$50) as well as a crystal pendant (US$174). Accessories go upscale from there, with a Toscow "South Sea Exotic: Vera" Tahitian Pearl necklace from US$308 and a graceful "Dancing Snake Pendant" from Vivienne Tam for TSL Jewellery (US$166). A Misaki pearl necklace and earring combo costs around US$170, while a Sun Jewellery Jade Pendant runs around US$99. Do check out the Chanel Vintage Jewellery, offering up 200 authentic, hand-picked pieces from US$513 (available through home delivery).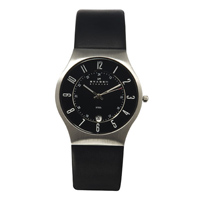 Skagen: wristy performer aloft
Compared with our selection in this airline duty-free shopping survey, the women's watch selection on Cathay is quite good. Choose from a snow white Armani watch with mother-of-pearl dial (US$571), a black silicone Michael Kors piece (US$295), a "Fierce" leopard print watch from Guess (US$233), a modern white H-shaped watch from Tommy Hilfiger (US$99), or an interesting stainless steel mesh variety from the ubiquitous Skagen Denmark (US$268).
The Skagen is light and wrist friendly for those who do not need to strap a grandfather clock on their hands. The men's titanium watch from Skagen runs around US$217, and other options include a funky red Nooka Inc watch, where hours are represented as dots (US$140), a Weather Master explorer's piece with everything from a thermometer to a barometer (US$149), a vintage looking "Persuasion Business Timer" number from Frederique Constant (US$784), or a classic Arbutus watch (US$420). For added convenience, Cathays' Discover the Shop has been digitally integrated into the inflight entertainment system.
The jewellery in the Japan Airlines JAL Shop is nothing to drool over, but the magazine has by far the widest array of bags, shoes, clothes and ties. Look at the animal print silk shawls from Roberto Cavalli (US$216), Italian-made ties from Tiffany & Co (US$108), playful patterned iPad cases from Lazy Susan (US$52), swish leather carry-ons (US$443), Salvatore Ferragamo belts from US$216, and a even a special 10-pocket travel blazer (US$540).
The watch department is small, but has decent choices. Ladies can keep an eye out for a chic G-Timeless design from Gucci (US$735), while men choose between Citizen watches with world clock time zones for 26 cities, starting from US$518.
Browsing the KrisShop inflight magazine from Singapore Airlines, you'll find mostly upmarket offerings from the likes of Mont Blanc (wallets from US$249), Ray-Ban (sunglasses from US$219), Furla (clutch from US$210), and Escada (ladies watch, US$559). In the way of men's watches, look for the tech-savvy Weather Master digital sports watch (US$210), a classic Hugo Boss crocodile leather piece (US$185) and the "tough as nails" Police Flare watch (US$258) made of gunmetal and steel.
Jewellery includes the omnipresent Swarovski Hello Kitty Crystal Pendant (US$161) as well as a sterling silver Pandora travel charm set (US$81), a Toscow "South Sea Exotic: Zara" pearl necklace (US$404), and attractive teardrop crystal "Carolee Royal Wedding Earrings", inspired by those worn by Kate Middleton in her 2011 wedding to Prince William (US$62). In the market for health accessories? Exclusive to Singapore Airlines, Alpha offers Titanium Germanium and Nano-Magnetic Bracelets intended to modulate metabolism and restore energy, from US$145. If you're worried about availability of must-have products, you can pre-order from Singapore Airlines online, and often enjoy promotions such as a "spend S$300 & get S$30 off".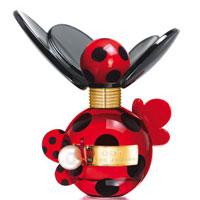 DOT by Marc Jacobs
Though its jewellery selection is disappointing, Qantas has perhaps the most interesting watch selection, with a minimalist ultra-slim titanium watch from Skagen Denmark (US$166), a contemporary Rosendahl Picto Watch – part of an exhibition at the Museum of Modern Art in New York – for US$166, and an eye-catching bright red leather watch from Lambretta (US$67).
Likewise, Emirates has some overlap – Lambretta watch (US$50) – but pieces tend to be more timeless and the prices more reasonable. Our favourites watch? Look for the limited edition Credit Suisse Ingot (US$95), a polished Mont Blanc Star XL (US$980), the Chrono Gents Watch from Poseidon (US$261) the Octea by Swarovski (US$829) and a handsome Sturmanskie Yuri Gagarin Commemorative Watch, to celebrate the first man (and watch) in space (US$124).
Jet Airways has one or two noteworthy options, like the Ted Baker London "Riberta" Cosmetic Bag (US$35) and the Misaki Allegria Pendant (US$100), but overall, it's slim pickings.
Also from India, budget airline IndiGo takes a different approach. Instead of comprehensive options, it highlights just one of two items in each category. For accessories, there are two gold jewellery options from Estelle (from US$17) plus some IndiGo memorabilia like an aircraft stuffed toy (US$12) or an "Eat Spice, Drink Beer, Fly IndiGo" T-shirt (US$11).
Although at a higher price point, Korean Air also stocks Skagen Denmark watches (from US$192) and a Longchamp Le Pliage Bag (US$132). Look here for BVLGARI ties (US$220) and the widest assortment of pens, including ink from Mont Blanc (US$326), Pierre Cardin (US$75), and the best deals on Swarovski Crystalline ball-point pens (US$36).
If you're looking for jewellery, you may be disappointed. Almost everything that sparkles in Korean Air's Sky Shop is in the shape of a dog (Agatha Scottie Earrings, US$60), flower (Stylus by Golden Dew Amethyst Pendant, US$57), heart (Georg Jensen 2013 Artist Heart Pendant, US$209), or bow (Stonehenge Ribbon Earrings, US$94). Watches are limited, aside from four good-looking Armani options, starting from US$284.
Whisky and wine plus a few tea leaves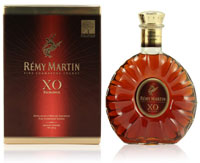 Remy Martin XO
Buying duty-free Johnnie Walker or Chivas in-flight is an art. But there's more. Liquor offerings go one of two ways: 10 pages of premium cognac, scotch, and whisky, or absolutely nada, a la Emirates and Thai Airways. Still, most Asian airlines have a pretty impressive bottle service with some local flavours thrown in for good measure. From Japan Airlines, find all the usual suspects – Johnnie Walker Blue Label (200ml, US$49), Chivas Royal Salute (700ml, US$99), Remy Martin XO Excellence (350ml, US$81) – plus a 700ml bottle of Yamazaki, a 12-year single malt whisky made in Japan (US$49). Also on order are a couple of Honkaku sweet potato shochu from Kagoshima (720ml, US$32). On select flights, First Class passengers can splurge on an exclusive Mori Izo shochu that has matured for three years in a mountain cave (600ml, US$129).
Another clear leader in the liquor category is Singapore Airlines, with a host of top shelf drinks including Johnnie Walker Black Label (1 litre, US$32), Johnnie Walker Blue Label (750ml, US$169), Remy Martin XO Excellence (700ml, US$150), Chivas Regal 18 Years (750ml, US$71), and Krug Vintage 2000 (US$249). For a little souvenir, try the Singapore Sling Premix Pack (US$29) or the SIA exclusive Alexander "I Love Singapore" Grappa, which isn't exactly Singaporean, but comes in an irresistible hand-blown Venetian glass bottle (200ml, US$81).
If it's deals you're after, Cathay Pacific is the way to go. Well, sort of. Steals are aplenty when compared with Hong Kong retail prices; however, the prices are in line with – or steeper than – other airline offerings. On Cathay, you can snag a 750ml bottle of Chivas Regal 18 Years for US$70 (US$84 city retail price) or a 700ml bottle of Remy Martin XO Excellence for US$162 (US$213 downtown city retail). It might not have the best prices in the skies, but it does have the largest assortment of wines, which you can order by the bottle or half case (from US$126).
Eva Air also has an impressive selection of brown liquors – Johnnie Walker Blue Label (750ml, US$176), Kavalan Solist Sherry Cask (700ml, US$102), Hennessy XO (700ml, US$178), and Chivas Royal Salute (700ml, US$162). Also look for a wide array of champagnes and wines, including Dom Perignon (750ml, US$175), 2009 Pauillac de Lynch Bages (half case, US$301), and Stag's Leap Wine cellar Estate Cabernet Sauvignon (half case, US$945). Though it's not alcoholic, Eva has unique tea offerings not seen in other airline duty free shopping magazines. Take a look at the Daebete Oolong Tea set (US$85), the Taiwan Centennial Blessing Tea Gift Set (US$269) and the National Palace Museum X JIA Inc String Tea Set (US$281).
The only airline to carry cigarette cartons is Jet Airways, with Benson & Hedges (200ct, US$19) and Marlboro Red (200ct, US$19). Also find a 1L bottle of Johnnie Walker Red Label for US$20 and one litre of Chivas Regal (aged 12 years) for US$37.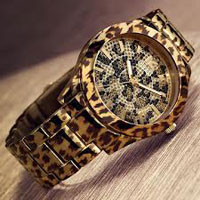 GUESS leopard watch
For everything else, fly Korean Air. Its 30-page spread has something for everyone and the largest selections of ice wines and Asian specialties, including a US$138 bottle of Guajiao, a US$193 bottle of Moutai and a US$94 bottle of Shui Jing Fang. Even better? You can also find some of the cheapest Scotch, cognac and whiskies: Chivas Regal 18 Years (750ml, US$68), Johnnie Walker Blue Label (750ml, US$162) and Remy Martin XO Excellence (700ml, US$160). Good luck with your platinum card. Big wallets and strong arms a must.
Cosmetics craze – lotions, lipsticks and more
With endless variety and reasonable prices, sky high shopping for beauty products is a treat. From anti-ageing lotions to traditional herbal remedies, Asian airlines have all your insecurities covered.
Turn to Hong Kong Airlines for some of the top brands, with sections devoted to Lancôme (Eye-Illuminating Youth Activator serum, US$67), Estee Lauder (Perfectionist wrinkle lifting serum, US$121), SK-II (10-piece face masks, US$107), Clinique (Even Better Dark Spot Corrector, US$70), L'Occitane (hand cream collection, US$54), and La Prairie (Skin Caviar Luxe Cream, US$481).
In the way of cosmetics, you'll find Aura by Swarovski lip trios to make your lips shine (US$65), Yves Saint Laurent magic concealer wand (US$39), Bobbi Brown Day-to-Night eye shadow palette (US$65) and a "Complexion Tips and Tricks Kit" from Benefit (US$40).
Thai Airways devotes the majority of its magazine to beauty and cosmetics, focusing on practical makeup palettes dressing up everything from eye shadow trios to full-face coverage. These practical compacts include a handy Chanel Travel Makeup Palette (US$45), a sleek Ingenious Colour Palette with detachable compacts from Lancôme (US$61), and All-in-One Colour kit from Clinique (US$46).
Those who love shimmery evening eyes will flock to Bobbi Brown's "Eye Wardrobe" (US$96), while those sporting a summer glow can freshen up with a swipe of the Rose Gold Shimmer Brick (US$51). Expect top shelf brands in the way of lotions, balms and serums, like the Midnight Recovery Concentrate from Kiehl's (US$65), L'Occitane hand cream collection (US$54), SK-II Cellumination Essence (US$148) and potent La Mer "The Concentrate" (US$387). However, at US$104, the Clinique Even Better Dark Spot Corrector is a little pricey compared with Hong Kong Airlines.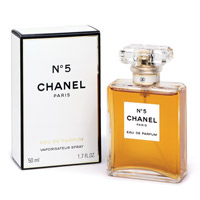 Chanel No.5, a popular in-flight duty-free item
Unless you're easily overwhelmed, open up the weighty Sky Shop from Korean Air. Here you'll find nearly 100 pages of beauty and cosmetic products, featuring a variety of brands for all budgets like SK-II, Kiehl's, Dior, Lancôme, Estee Lauder, Clinique, Sulwhasoo and Bobbi Brown, La Mer and L'Oreal.
On-the-go beauty addicts will appreciate the Anna Sui Mini Rouge Trio that comes with a lip-gloss keychain and mirror (US$40), the Lancôme Le Petite Collection of five lip glosses (US$38), or the Dior Cannage Couture Collection (US$81).
Cathay Pacific has an exciting spread as well, with ample offerings from the major players, plus more face time for La Mer (The Concentrate, relatively expensive at US$392), Giorgio Armani (UV Master Primer, US$52), Chantecaille (Bio Lifting Set, US$268), and Talika (Set of 10 Eye Therapy Patches, US$109). Best-selling products in this section include SK-II Facial Treatment Essence (US$167).
Though not quite as comprehensive as some of the other major airlines, SIA supplies the key players at prices consistent with competitors, plus a few goodies unique to KrisShop, such as the Dior Snow White Reveal Creme (US$66). For colour correction, Clinique Dark Spot Corrector (US$102) is quite a bit more expensive than other carriers, so go with the SK-II Whitening Spots Specialist for US$136. Singapore Airlines is among the few airlines to carry SK-II Men's products, including the Facial Treatment Essence (US$112) and Age Revitalize Moisturizer (US$85). Insider tip: the SK-II pack of 10 treatment packs are the cheapest here, at only US$97, compared with US$103 on Korean Air and US$107 on Hong Kong Airlines.
Emirates includes more brand variety – Givenchy, Guerlain, Revlon – but has slim pickings when it comes to beauty products. New in 2013 are flashy red lipstick shades from Dior Addict Extreme Trio (US$100), an Eye Definition Set by Clinique (US$55), and Divine Cream from L'Occitane (US$95).
Qantas doesn't have much in the way of cosmetics, but it does sell several creams from Sasy N Savy (Skin Facial Travel Pack, US$26), a Revlon Lip Cube collection of nine shades (US$67) and a 10-pack of OPI nail polishes (US$47). The selection is a bit thin on Jet Airways as well, but the carrier does have several unique and lust-worthy products, like Perricone MD "No Foundation" foundation (US$51) and an Eylure Heated Eyelash Curler (US$20).
Leaner still, IndiGo keeps it simple with a small selection of Deborah brand products. Snag a set of four rosy-hued nail polishes (US$18), a three-lipstick combo (US$29) or a mascara and eyeliner trio (US$22) for a fresh face upon arrival.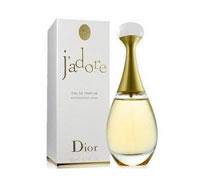 J'adore perfume by Dior is a hot seller
If you're after Kiehl's Midnight Recovery Concentrate, take a look at Japan Airlines, where it sells for up to US$14 less than other airlines. You'll also see more from brands such as Dior and Shu Uemura, with a limited edition bottle of cleansing oil (US$65) and Tokyo Lights eye shadow palette (US$50).
Overall, Korean Air tends to have the least expensive products, with a 30ml bottle of La Mer The Concentrate at US$329 (US$60 savings compared with Thai Airways), and a 50ml jar of La Prairie Skin Caviar Luxe Eye Lift Cream for US$283 (nearly US$100 less than HK Airways).
Scents for cents – perfume and cologne
There's nothing to perk up shopaholics like the smell of a sale. While it's unlikely you'll land rock bottom bargains regularly mid-flight, you will be pleasantly surprised at the extensive perfume brands and palatable price tags.
Emirates has a strong perfume collection, with newer fragrances including Moschino Pink Bouquet (100ml, US$70), Fame by Lady Gaga (100ml, US$76), Fan di Fendi Extreme (100ml, US$109), Dolce & Gabbana The One (50ml, US$79), and La Vie Est Belle by Lancôme (75ml, US$116). Men may want a spritz of L'Hombre Libre from Yves Saint Laurent (100ml, US$94) or Encounter by Calvin Klein (100ml, US$83). Miniature sets include a few winners, such as the Armani Men Boxed Scents (US$55) and the Big Pony Woman Coffret from Ralph Lauren (US$55).
You'll have to navigate between beauty products to get a sense of Cathay Pacific's perfume arsenal. With some patience, you'll find all of your favourite fragrances at some of the best prices, including J'adore Dior at a very respectable US$80 (50ml), La Vie Est Belle by Lancôme for just US$106 (50ml), and an earthy fragrance for men called Hermes called Terre d'Hermes (50ml, US$81). For younger ladies, Dot by Marc Jacobs (30ml, US$65) and Lady Gaga Fame (50ml, US$59) keep things upbeat. These are pretty good airline duty-free shopping prices for perfumes.
If you're looking for variety, Singapore Airlines won't disappoint at all. In addition to the recurring faces, you'll also find Ralph Lauren Polo Black for men (75ml, US$58), Gucci Gorgeous Gardenia (50ml, US$73), Dolce & Gabbana The One (50ml, US$65), Thierry Mugler Angel Stars in the Sky (30ml, US$79), Anna Sui Secret Wish (50ml, US$55), Marc Jacobs Daisy (75ml, US$71), and Juicy Couture (50ml, US$75). As a point of comparison, a 50ml bottle of Lady Gaga Fame costs just a tad more at US$60.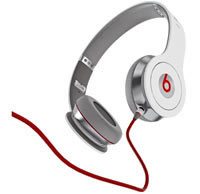 Headphones: Beats by Dr Dre
Korean Air stocks a wide selection too, with several fragrances you won't find on other airlines. For something a little different, look for BVLGARI Jasmin Noir (50ml, US$65), Valentino Valentina Acqua Floreale (50ml, US$62), Nina Ricci (50ml, US$46), Prada (50ml, US$50), Lolita Lempicka (50ml, US$55), Jeanne Lanvin Couture (50ml, US$52), and Dolce & Gabbana Light Blue (50ml, US$60). Men can spray on a bit of Armani Acqua di Gio (50ml, US$51) or keep it simple with aftershave lotions from Burberry (US$35), Aramis (US$38) and Salvatore Ferragamo (US$35). Prices overall seem to be a little inflated, however, with a 50ml bottle of J'Adore Dior coming to US$93.
Despite international acceptance as the benchmark brand, Chanel fragrances are only present aboard Thai Airways. You'll have to head here if you're looking for Coco Mademoiselle (50ml, US$94), Chance (50ml, US$76), Bleu de Chanel (50ml, US$61), Allure homme Sport (50ml, US$61) or the classic Chanel No 5 (50ml, US$76). Other unique offerings include Burberry Body (60ml, US$85), Lancôme's Treson Midnight Rose (50ml, US$65), Salvatore Ferragamo Signorina (50ml, US$86), CKFree Blue (50ml, US$54), and Dior Homme Sport (50ml, US$63). But a 50ml bottle of J'adore Dior on Thai Airways costs a pricey US$95.
Jet Airways raises its game considerably when it comes to scents and is well stocked with about a dozen popular fragrances, such as Tom Ford Black Orchid (50ml, US$85), Sport by Dolce & Gabbana (40ml, US$59), Paco Rabanne Lady Million (50ml, US$67) and a miniature Givenchy boxed set (US$53).
Find a couple of mainstays aboard Qantas, with a relatively expensive J'adore Dior (50ml, US$93) and Lady Gaga Fame (50ml, US$62), plus several playful mini variety packs, such as the Calvin Klein collection (US$57) or the Chloe assortment (US$62).
Eva Air features pretty meagre offerings in this department, but has the cheapest 50ml version of La Vie Est Belle by Lancôme at US$98 (US$8 less than Cathay). That's a winner. Japan Airlines, too, has just three or four fragrances, including a romantic 50ml bottle of La Petite Robe Noire by Guerlain (US$70), as well as J'adore Dior for US$84 (50ml) and BVLGARI Man for US$45 (30ml).
Likewise, the handful of options aboard Hong Kong Airlines is pretty mainstream, with a few refreshing smells from Hermes Un Jardin Sur (50ml, US$89) and Love Chloe (50ml, US$77). Sticking to its featured brands, IndiGo sells a set of five 7ml scents from Jaguar for US$49.
Gizmos and gadgets galore
Talk about things you don't really need, but definitely want. Inflight shopping has some of the latest and greatest gadgets that are sure to tempt even the most frugal traveller. Switzerland-based Lifetrons and US-based Braun seem to run the show, but a little variety sneaks in here and there.
If you're aboard Hong Kong Airlines, you can snag anything from a Lifetrons Laser Pointer Stylus (US$38) to Bang & Olufsen headphones (US$148), but our favourite has to be the Lifetrons "World's First Business Note Writer". Using a smart pen, this super slim gadget uses WiFi to transmit your handwritten notes to your digital devices (US$170).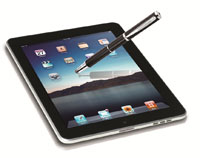 Lifetron stylus
Also from Lifetrons, find the Drumbass IIIE Metallic Speaker, Stereo Combo Pack. Claiming to last for nine hours, these portable music makers are compatible with all your favourite Apple products (US$99). If you're constantly over packing, you may want to invest in a Digital Colour Display Luggage Scale, which could save you from airline fees (US$30). Also worth a try is the Microsoft Arc Touch Mouse, which flattens for easy packing and can be used on any surface within a 30ft range (US$63).
You'll find all the recurring Lifetron Business Note Writer (US$175) and Laser Stylus (US$38) on Thai Airways, as well as a few products aimed at women, such as pen-sized Bikini Styler from Braun (US$28) or the battery-powered Satin Brush, which claims to tame hair static (US$49). There's also the nifty Handy Scan gadget from Akita, a wand which allows users to scan hi-res colour images on the go (US$125).
On Singapore Airlines, ladies will eye the La-Tweez Professional Illuminating Tweezers, which employs an LED light and magnifying mirror for more precise plucking (US$23) and the portable Caseti Fragrance Dispenser (US$37). Then there's the Ondago Electric toothbrush (US$20) and the Flitegear Universal Travel Adapter (US$44) for last-minute packers.
Or course, you'll also find stocks Lifetrons goodies at just barely higher prices – Laser Stylus (US$39), Business Note Writer (US$178).
Going a slightly different route with an inventory of AV devices, Korean Air stocks a 16.1mp Canon Digital Camera (US$241), an LCD-screen Sony Handycam Camcorder with 70x zoom (US$310), and Beats by Dr Dre Studio Black headphones (US$350). You'll also find a fifth generation iPod touch (US$363), a 16GB iPad mini (US$382) and an adorable Iriver Blank Sound Donut Bluetooth Speaker that's suitable for music and conference calls (US$64). With prices in line with other carriers and the most variety, Korean Air has a definite when it comes to high-end equipment.
Likewise, Qantas is among the best for tech gurus. Find competitive prices on Bang & Olufsen Earset 31 headphones (US$222) as well as some steals on Lifetrons products, such as the Drumbass IIIE Metallic Speakers for US$90 and the Business Note Writer (US$170). The Akita Handy Scan is also well priced at US$124. Aside from the repeat products, you'll also find a handful of practical devices, such as the Akita iPhone Solar charge, a wireless case that claims to provide up to 5.3 extra hours of talk time and 315 hours of standby (US$93). Adventure junkies may want to invest in an iFly Shock Proof iPad Case (US$36) or a pair of snazzy Bushnell Waterproof Binoculars (US$88).
Squarely aimed at business travellers are the Logitech Ultrathin Keyboard Cover (US$102), the Logitech Zone Touch Mouse T400 (US$50), the High Performance Ultimate Charger Dual-USB Deluxe Edition (US$188), and the Apotop DW09 Wi-Reader/Router, which allows you to wirelessly connect multiple devices for instant sharing (US$74).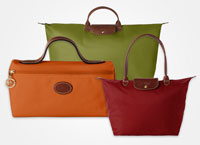 Longchamp duty-free hangbags
Instead of focusing on offices, Eva Air zeroes in on home improvement with both practical and playful devices. Blitz the bugs and dust at home with a choice of several vacuum cleaners, including the versatile and stylish Dyson Digital Slim (US$571). Other notable products available for home delivery include a futuristic Dyson Hot + Cool Air Conditioner (US$605), a Yantouch BlackDiamond3 Stereo that tunes into the beat and changes colours accordingly (US$101), a LazyBoy (US$920), and even an AiBot Roomba-esque floor cleaner (US$372). For those on the move, there's also a Beurer Digital Luggage Scale (US$33) and a portable Air-O-Swiss Humidifier (US$104).
Jet Airways serves up the Lifetrons Digital Luggage Scale (US$30), Worldwide Travel Adapter (US$28) and MiLi Power Angel battery add-on (US$31).
Japan Airlines is surprisingly light on tech stuff, devoting more space to clothing and accessories. Emirates has a small selection, featuring a reasonably priced Akita Handy Scan (US$125), Bang & Olufsen A8 Adjustable Earphones (US$170) and Lifetrons Drumbass speakers (US$109). Tech-challenged travellers will appreciate some more basic devices, such as the SKROSS World Travel Adapter (US$46) and the 12 LED Bright Multi Booklight Flashlight with Dimmer (US$20).
IndiGo has a few health and safety options, such as the Swiss Military KM-4N Torch Keychain (US$6), a pocket-size digital pedometer (US$19) and the Swiss Military World Alarm Travel Clock Cum Organiser Torch, a clever contraption that converts world time in 18 cities, works in five languages, measures temperature and fires off a bright LED beam into dark alleyways (US$22).
And then there's the purely bizarre. The Oregon Scientific Platinum Beauty Roller – a long wand that apparently "rhythmically massages" the face to smooth facial lines and enhance contours – seems a popular device. Pick up this magic wand on Hong Kong Airlines and Cathay Pacific for US$235, or the similar Beauty Bar on EVA for US$209. In the same vein, find the Electronic Nerve Stimulator from Omron that supposedly relieves nerve pain and stiff muscles.
Whether you're shopping out of boredom or obsession, airline duty free magazines have everything from beauty remedies and regional liquors to eye-popping imports from the future. Though you likely won't find prices comparable to Amazon, E-Bay or even some brick-and-mortar outlets, inflight shopping will come to the rescue when you overlook a birthday, forget your phone charger, or need a robot to do your laundry.
Send us your Feedback / Letter to the Editor