TRAVEL NEWS + DEALS
Bangkok perks to Vietnam beach escapes and Indian tigers
A winter clutch of offerings for discerning travellers from China to Bali with some stylish, if vertiginous, dinners suspended 50m up.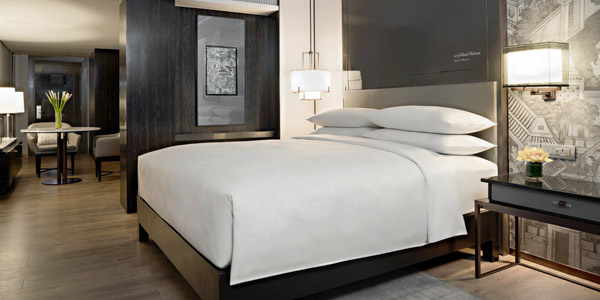 Bangkok stalwart gets a new look
Thailand-bound travellers heading to the JW Marriott Bangkok on Sukhumvit are in for a pleasant surprise if they are fortunate enough to check into one of the newly renovated rooms. Three floors at this stately executive travel favourite have been completed offering a smart contemporary feel with pale-wood floors and glimpses of the royal Ayutthya period. Expect wall murals, choice artefacts, grey pastel tones, dark-stained wood features, completely reworked white marble bathrooms (with rain shower and separate bathtub), three-pin multiplug electric sockets and USB ports, and large flatscreen TVs ranging from 48 inches to 52 inches.For those familiar with the old product, it's quite a transformation. And the aircon ducts have been stripped and refitted, so breathe in. www.marriott.com/


U Hotels & Resorts (above left, www.uhotelsresorts.com) is slashing prices by up to 30% for the 2018 'Ur Spring' promotion. Minimum two nights stay for visits until end April 2018 and an additional 20% off food and beverage. The group has hotels in spots like Bangkok, Kanchanaburi, Pattaya, Phuket and Bali. A little bit of Singapore in Shanghai at the new Amara Signature Shanghai (amarahotels.com) that just opened on Changshuo Road bringing its sense of flair and food to the area with 343 rooms, large flat-screen televisions and free WiFi. Club floors offer pillow menus and butlers. Winter rates from Rmb750.

| | |
| --- | --- |
| | |
JUMP TO All | Australia | Bhutan | Brunei | Cambodia | China | Hong Kong | India | Indonesia | Japan | South Korea | Laos | Macau | Malaysia | Maldives | Myanmar | Nepal | New Zealand | Papua New Guinea | Philippines | Seychelles | Singapore | South Africa | Sri Lanka | Taiwan | Thailand | Turkey | United Arab Emirates | Vietnam | Others | All

Watch the twin towers in style


Fancy 440sq m of rumpus room in Kuala Lumpur? Well the Mandarin Oriental's newly redone Presidential Suite could be just the ticket. The three-bedroom penthouse serves up grand views.
Amanusa leaves hotel fold
One of the more understated Aman Resorts hotels in Bali, Amanusa, facing the golf course, is due to retire from the luxury hotel fold 28 February 2018. Aman will return with a separate property along this popular strip.
Sky dining in Bangkok


Dinner in the Sky comes to Bangkok in collaboration with the Sheraton Grande Sukhumvit with a four-course meal served 50m above the ground. Vertiginous and cool. Just get to a loo first. This for 12 at a time, strapped into German safety harnesses.
VietJet ups its
Thai routes


VietJet launches three more Thailand flights - Dalat-Bangkok, Saigon-Phuket, and Saigon-Chiang Mai.
ROOM PACKAGES
Phu Quoc: one year celebration

Till 25 November 2018 in sunny Phu Quoc Island off the southern coast of Vietnam, a 'First Anniversary' special from the JW Marriott Phu Quoc Emerald Bay. Expect rates discounted 25% with complimentary breakfasts and WiFi as well as free meals for kids under 12. The catch in getting to this 237-room Bill Bensley design getaway? Well, you have to book your stay before 25 March 2018. A tip. Try out the spa treatments at Chanterelle - Spa by JW. www.marriott.com

When the president calls in HK

Till 31 March 2018 early booking required for a 'Heavenly Deal' from Mongkok-based Cordis Hong Kong with a full raft of bells and whistles. This escape comes with stays in the Presidential Suite or the Chairman Suite with Club access, breakfast, and a one-hour Chuan Harmony Massage for two. Those eligible might be able to ppick up double mileage points from British Airways too. The deal had to be booked before end Jan but check if it was extended. www.cordishotels.com

Now it's 'glamping' in Bali

Till 31 October 2018 (with blackout periods alas) a close-to-the-beach 'glamping' spectacular from Menjangan Dynasty Resort in northwest Bali. This involves booking directly 30 days in advance to secure breakfasts, afternoon tea, brief spa samplers and more at a rate of US$161 up per night (including for extensions). The resort puts up guests in luxe tented rooms starting from around 40sq m (with day beds and sun loungers) going up to more costly two-bedroom Cliff Tent Villas stretching space to 82sq m with a small infinity pool. Expect flatscreen TVs, complimentary WiFi and hairdryers. mdr.pphotels.com/

Celebrate with a roar in India

Combine tiger roars and indulgent palaces in India with Sujan, the luxury back-to-nature specialists, with a stay at the splendid Sher Bagh Ranthambhore combined with SUJAN Rajmahal Palace Jaipur. Stay four nights and get a fifth night free until 31 May 2018. The package includes dinner for two at Sher Bagh and a potential upgrade to a suite in Jaipur subject to space availibility. sujanluxury.com

Care for Darjeeling tea for two?

At the picturesque Glenburn Tea Estate and Boutique Hotel, nestled in the cool hills of West Bengal bordering Sikkim, India, bag a five night 'Romantic' package for two priced at just over Rs200,000, including a car pick-up from the rather frantic and small Bagdogra airport (for a three-hour drive up) with a picninc stop en route to the resort, embroidered pillow covers with your initials (three months' notice), village walks, cooking class, green tea oil massage, champagne and a Darjeeling day trip. The place dates back to 1859 when a Scottish tea company set up shop there. www.glenburnteaestate.com

Kids get off scott free in the Maldives

At the Holiday Inn Resort Kandooma Maldives, plan modestly in advance and book direct to get 30 percent off on villa rates at US$240 up plus free stays and meals for kids. All this for a booking (prepaid) seven days in advance. Complimentary WiFi of course and the added lure of the Kandoo Club for children at this family-friendly getaway. The resort can be accessed by speedboat from Male the capital and the airport. www.maldives.holidayinnresorts.com/

Hong Kong shopper spree

Till 31 March 2018 at the JW Marriott Hong Kong, a luxe shopper mad 'Stay and Shop Package with Harvey Nichols' featuring suite or executive room stays starting at HK$3,200 per night (HK$4,900 for a suite). Guests will get a Harvey Nichols VIP pass offering a 10 percent discount on purchases below HK$10,000 and 15 percent off if you cross that magic number. The JW is located at the elegant Pacific Place mall at Admiralty, one stop from Central Business District. www.marriott.com

How to stay longer in Seminyak

At the luxe L Hotel Seminyak, Bali, a 'Stay 4 Pay 3' deal with breakfast for two, a one-way airport pick-up, one hour Balinese signature massage, WiFi, Seminyak shuttle service and round-the-clock butlers. Seminyak is the hip and happening strip on the west coast of Bali about 70km from Mt Gunung Agung. This is the area for fine dining and nightclubs. thelhotels.com/

Grab some more on Samui

On the lazy, sometimes idyllic, island of Samui, a new wellness escape with organic homegrown botanical blends and aromas. Newlook rustic chic Mantra Samui Resort has contemporary lines with breezy views and a 'Mantra for Mantra' deal at its Jai Spa. Till 31 March 2018 starting at Bt19,680 (roughly US$600) bag three nights for two with private meditation classes, yoga, two wellness treatments each day for a couple, breakfast and healthy meals. Grab some more on Samui. mantrasamui.com/

How not to be cowed by Bali

At the sprawling mega-escape InterContinental Bali Resort, an eco-friendly touch with a twist. Long a green advocate, the resort has brought this philosophy to the broad swathe of sand fronting the hotel with the beach now regularly raked at day-break by Balinese cows pulling their specially designed ploughs. They are part of a family of nine bovine assistants. Get in with nature the old fashioned way. More reliable than planes, we say. bali.intercontinental.com/

Beijing: smog-free indoor camping

At the iconic Sunrise Kempinski Hotel Beijing, overlooking a scenic lake 40 minutes from town camping with a difference. At Rmb3,491 bag a one stay in a Deluxe Lake View Suite with breakfast for two adults and one child plus indoor camping gear including a tent with a star shadow lamp to make things real. Enjoy sleeping bags, storybook for children, and a kids' club ticket per night. Reservations must be made one day in advance. It's one way to beat the pollution. www.kempinski.com

Lead a balanced life in Singapore

At the venerable Doric-column Fullerton Hotel Singapore and Fullerton Bay a 'Wellness Journey' starting with healthy savoury bites ranging from gluten-free tea sets and salad buffets to Chinese treats and leading on to spa treatments and a wellness experience followed by yoga, a splash in a 25m pool and exploring the hotel's heritage district on a Segway or an e-scooter if you doubt your sense of balance in a two-wheel gyroscope device. All goes to prove Fullerton is not just a suits' getaway.  www.fullertonhotels.com

Holiday on the rails in Hong Kong

The stately Lanson Place Hotel Hong Kong in Causeway Bay at a remote edge of the shopper carnival has teamed up with Hong Kong Tramways to offer a 'TramOramic Hong Kong' stay with a one hour sightseeing tour on one of the city's historic groaning trundling wood-and-steel monsters that amble on rails through the better part of Hong Kong island's harbourfront and through diverse cultural districts. Get to stay in stylish rooms and bag a free pass for two days on the tram network. hongkong.lansonplace.com/

Bali turns on imperial style for meets

Planning an exclusive meeting or CEO chinwag for about 40 guests or less? Look no further than the private Imperial Villa at the InterContinental Bali Resort where a specially calibrated 'New Executive Meeting Package' is on offer with AV equipment, support staff and even a private swimming pool should you need to cool down after a particularly hot session. You'll need a minimum 15 guests with a stay of three nights in a revamped Singaraja room. The wallet will be dented a modest US$14,000 and you get a dinner, a cocktail and a Balinese welcome. bali.intercontinental.com/

Buy out this Bali rice fields retreat

Why not really splash out for your birthday or special occasion and rent out a whole resort? Not some giant cinderblock, but a boutique 20 suite and villa retreat nestling in verdant paddy fields in Ubud, Bali. Yes, you can buy out The Chedi Club Tanah Gajah for just US$7,500 per night with resort credit up to 10 percent of the rooms' value. You'll need to book a minimum two nights (three nights during the high season) to have this delightful rustic playground all to yourself. www.ghmhotels.com

Who's for Hua Hin?

From Hua Hin Marriott Resort & Spa, an ongoing 'Sublime Spa Experiences' deal for city slickers in search of some sun and spa distraction. The deal starts from Bt6,800 a night in a Superior with a one-hour massage (or pick aromatherapy) for two at the soothing, well equipped Quan Spa. You get the whole works each day. As an additional carrot, there's a 20 percent discount on all rubdowns and treatments plus the civility of complimentary breakfasts. www.marriott.com

Saying 'I do" in Sanya

At the Shanhaitian Resort Sanya, a new escape from Marriott's Autograph Collection for dreamy-eyed lovers in need of a destination wedding escape. Priced at Rmb29,999, the 'Unlimited Love at Autograph' offers romancers an exchange of vows at the alfresco poolside venue. The T-shaped area offers the added lure of big sunsets and space for lavish functions with that breezy ocean backdrop. There's two-nights' accommodation at an Autograph Suite, 60 minute spa treatment, candlelit dinner with wine and engraved bathrobes. www.marriott.com

HK: get your head in the right place

At the Langham Hong Kong a 'Chuan Retreat' starting at HK$5,000 with a raft of wellness pampering. Park in a one bedroom suite, and pick up a Chuan Signature Balancing or Chuan Harmony body massage for two in the all new 604sq m Chuan Body + Soul. The wellness treatment is valued at HK$1,960. Guests stretching their feet at this Kowloon property close to shopping and transport also gain access to the The Langham Club lounge with its nibbles and refreshments. Internet is complimentary, of course. www.langhamhotels.com

Once in a baby moon in Phuket

At the swish villa resort Banyan Tree Phuket, a Babymoon package for couples expecting - not just planning - a child. Presumably with a baby bump to show, pick up a two-night escape from Bt44,500 and up in a Pool Villa with breakfast for a couple. The deal offers in-villa barbeques, goodie-bags, and special discounts. Think chocolates for her and a cigar or cognac for him. But that's not all. Couples also bag a Bt2,000 gift voucher for the shopping boutique. www.banyantree.com

Big Phuket karst country splash

At the secluded and chic villa hideaway Trisara, Phuket, dig deep into your wallet for a US$3,350 deal per night for six, parked in a plush Two Bedroom Villa for three nights. This is part of the hotel's 'Private Land-And-Sea Chartered Experience' involving a helicopter flight over Phang Nga Bay and its karst limestone outcrops, private yacht cruise with a stop at a deserted beach for a quick "I do", in-villa barbeques, and a recount of it all in digital format. Edit the footage yourself. trisara.com/

Why seven is for lovers in the Maldives

At the Six Senses Laamu Maldives a 'Discover Laamu' package for four or seven nights with snorkelling, island experiences and cooking classes to savour the Maldivian way of life. The seven-night deal also tosses in a private 'cinema under the stars' movie screening, dolphin cruise and picnic lunch on a deserted island. And if this doesn't float your boat, there's a special cocktail too on a private sandbank. You can't get more secluded than that. No, your boss won't find you. Rates from US$642 and US$1,097 depending on nights, for two persons. www.sixsenses.com

Smoked duck and Vespas in Saigon

From the luxe Reverie Saigon a 'Cruising Saigon' deal with an evening sunset speedboat cruise, a picnic served by a Reverie butler - think smoked duck sandwiches, cherry compote and lip-smacking Vietnamese banh mi. Also try 'Saigon after Dark' with a glorious scamper through the city's food stalls, including Chinatown, on a Vespa. Don't worry, you won't be driving. The deals start at US$1,152 for a minimum three-night stay. Also bag breakfasts and roundtrip airport transfers in a gleaming Mercedes-Benz S-class or a muscle BMW7 series. www.thereveriesaigon.com/

What's the alm in Chiang Mai?

At the chic Sireeampan Boutique Resort & Spa, Chiang Mai, a 'Family Holiday' deal at Bt58,720 for four. This bags you a Thai dinner, a two night stay, spa treatment, a Chiang Mai tour and a crack at local cooking if spice is your things. The resort is 15 minutes from the airport. A bit of everything for everybody. If you feel this 45 percent off deal is far too decent, you could opt to hand out alms each morning to meditative monks and make 'merit'. Or check out the 'Girlfriends' Getaway' package at Bt39,900 for two. sireeampan.com/

How to stay cool in Danang

The sprawling, breezy, sea-fronting Furama Danang would like you to 'Be Cool on a Danang Beach' with a two-night stay starting at VND10,097,000. This frightening array of zeroes translates roughly to a not-too-pinching US$450 for a couple. It includes daily breakfast for two, a complimentary bus transfer to and from the airport, complimentary shuttles daily to Hoi An, the old silk town, tai-chi class in the morning, and even a 1,150,000 Vietnamese dong credit for F&B. There may be a peak period surcharge so do check and, of course, the WiFi is free. Now dive into the 'pho' noodle soup, or catch some rays on China Beach. www.furamavietnam.com/

Santa arrives by boat in the rain, dear

With the 'Festive Special' up in the green hills of Ubud, Bali, the Four Seasons Sayan offers discerning travellers 30 percent off on regular rates for Suites and Villas. It's ho ho ho all the way this Christmas. The hotel specialises in wellness menus and will also serve up a whirl of distractions like 'Family AntiGravity Yoga' and New Year's meditation in rice fields at Dharma Shanti Bale. Also expect a 'star-gazing dinner at the rooftop Lotus Pond'. The hotel has catered for minor things too - with kids entertained by Santa's river arrival and magic shows. www.fourseasons.com/sayan/

Presidential style in Hong Kong

For the ultimate getaway why not explore the 'Ultimate Suite Dream' at the Four Seasons Hotel Hong Kong, which offers an all-in smorgasbord of upscale pampering in its Presidential Suite. If your wallet is supple enough to strrrretch, for HK$139,000 per night (plus 10 percent service charge and a minimum two-night stay) you get to dawdle in decadent roomy luxury with grand views, unlimited spa treatments, airport roundtrip transfers, 24-hour butler, and a decent amount of complimentary quality nosh with drinks. Dip into three-Michelin-star Lung King Heen for delicate dim-sums or two star Caprice for French. press.fourseasons.com/hongkong/

All in good taste at Seminyak

If you're headed to Bali and are in the mood for some fun and exploration, nothing better than the 'Art & Taste' deal at The Legian Bali, a quintessential hipster hangout with tasteful surrounds, a sun-drenched seaside pool and, for sign-ups, a special dinner as well as a visit to the breezy Ubud-based John Hardy workshop and showroom with its craftsmen and designer showpieces. The Ubud tour runs around eight hours, a generous slice of the rice-field landscape included. A three-night deal in a Studio Suite may start at around US$1,490 depending on season and offer. lhm-hotels.com/legian-bali/

Vitamin D and team building in Phuket

Up north along the west coast of Phuket at Nai Yang is The Slate (formerly Indigo Pearl, www.theslatephuket.com/), a tin-mine theme resort with acres of space and attitude. Take for example, collaborative meetings and brainstorming sessions kicked off by a blessing from a Buddhist monk, yoga, and brain-food meals prepared by an inhouse nutritionist. Hard to beat. Check their imaginative meeting packages to see the latest offers. With the MICE Wellness deal at US$200 per night for a minimum three nights with 10 rooms booked, expect airport transfers, three healthy meals a day, yoga, meditation, workouts, Thai boxing, archery, and jogs, and even Thai cooking.

Why its so rewarding to meet in KL

At the award winning and centrally located Grand Hyatt Kuala Lumpur, the more rooms you book for company meetings, the more rewards you bag. Meeting planners can look to earn double Hyatt Gold Passport rewards and more. For 10 to 20 rooms per night, earn two rewards, and for 21 to 50 rooms, pick three rewards. Options include 10 percent off meetings, one free room for every 30 confirmed, a one hour treatment at the spa, a dinner voucher for four, or a VIP Club Room upgrade. Take your pick. kualalumpur.grand.hyatt.com

Chiang Mai photo opp with luxe trim

Up in the relative cool of Northern Thailand, the akyra MANOR Chiang Mai serves up an unusually inviting photo-tour with a pinch of sightseeing. The 'Behind the Lens' deal involves three days and two nights in a 60sq m Deluxe Suite at Bt27,307 for a couple, with breakfast, a temple-and-markets tour with professional photographer Kevin Landwer-Johan, and set dinner. www.theakyra.com

Sri Lanka in style - with turtles

At the Vivanta by Taj, Bentota, Sri Lanka, a 'Pay 3 Stay 4' deal. Expect early check-in, late checkout, and complimentary treats. This is a summer promotion so check it all out quickly. In this picturesque region explore the Kosgoda Turtle Conservation Project, drive out to see historic Galle Fort or enjoy a romantic private seafront dinner at the hotel itself. vivanta.tajhotels.com

Tokyo, but only for the discerning

From the swish Palace Hotel Tokyo overlooking the Imperial Palace moat and cherry trees, a 'Discerning Tokyo' experience with a two-night stay from Y230,000 in a Club Grand Deluxe. Also pick up an eight-course signature lunch from an award winning chef, a Y10,000 credit for the bar, and a three-hour cultural tour tailored to match each guest's needs. It's called the 'Astute Aesthetes' tour. This highly regarded luxe hotel for business travellers and weekend trippers is a 10-minute stroll from Tokyo Station. en.palacehoteltokyo.com/

How to hug a teddy bear in HK

At the Cosmopolitan Hong Kong, a 'Fantastic 「4」 Family – 25% OFF' deal with a 25 percent discount on the best available rate, teddy bears for kids, snack boxes, and special amenities for children including baby care products and a storybook library for mobiles. Pick a roomy Family Room that accommodates four and get free breakfast for the entire brood and complimentary babysitting service for two hours (subject to availability).

Boracay spa discounts for partygoers

The District Boracay, a stylish and contemporary retreat on the party island promises not only the best rates on direct bookings but also a 40 persent off on spa treatments for earlybirds. This hip hideaway has frequent offers running through the year so keep an eye on them and check in from time to time whenever party fever strikes. www.thedistrictboracay.com/

Bali getaway for hyperactive couples

At Banyan Tree Ungasan, Bali, a luxe getaway for the hyperactive - think surfing Bali style at Uluwatu, one of the sports' surf-junkie havens, a volcano ascent to over 1,700m with stunning surise views if the Island of the Gods is in a kind view and the weather permits, spa treatments, and local cooking experiences. Quite a heady - and active - mix for the right sort of adrenaline seekers in a very secluded luxury villa estate with cliff-top sunset views and sweeping panoramas. www.banyantree.com/en

Why you'll be all smiles in Bali

Teaming up with ARC Dental Clinic, the Villa Kubu Boutique Hotel & Spa, Seminyak, Bali, has geared up to deliver guests a genuine Hollywood smile with a full set of gleaming pearlies. Grab nine nights in a spoiling luxury villa with 20 porcelain crowns - or veneer restorations - that you can flash at leisure from Singapore to Tokyo. Yes, you can pick a two or seven-night package if you wish but why interrupt those flashing white teeth? A three-day and two-night deal starts at US$780 for a Deluxe one-bedroom pool villa, with airport and clinic transfers, plust 'dental consultation, digital panoramic X-ray, professional cleaning, bleaching and whitening (for one person)'. www.villakubu.com/

Shanghai deal with all toppings

At the swish Ritz-Carlton Pudong a three-night 'This is Shanghai' package' for intrepid city explorers with a few bucks to spare. At US$5,880 for a three-night double occupancy this will pinch your wallet a bit but not unduly, and it does include some exceptional extras like a two-day city tour including to the storied and characterful Zhujiajiao water village. You get a personal chauffeur, a photographer, a posh Chinese meal, a rooftop tai-chi lesson and a private yacht party. What more could you ask for? www.ritzcarlton.com

Minor details a major plus in Thailand

With the delightfully spirited Anchalika Kijkanakorn at the helm of the AKARYN Hotel Group, it is perhaps unsurprising that Aleenta (the group's flag bearer) is focused a great deal on the comfort and wellbeing of families with kids. Check out its 'Family First' deals at Aleenta Phuket and Aleenta Hua Hin. Bag a seven-night retreat at Hua Hin from Bt69,611 (Phuket is at Bt84,000) for two grown ups and two kids, with breakfast, complimentary meals for children under six, a kids' concierge, any amount of babysitting, high chairs, baby cots... you get the picture. Ms Kijkanakorn means business when it comes to kids. She should know. She has her own to deal with. www.aleenta.com/

Macau kids go wild - in your room

Helping build your kids' adventuresome spirit is 'The Ritz Kids Night Safari' at the luxe marble-slathered Ritz-Carlton Macau. While parents indulge in an ESPA escape or a smidgen of romance unencumbered by ankle-biters, children can indulge in a world of fantasy designed by oceanographer Jean-Michel Cousteau. Typhoon tykes will set up camp, indoors of course, in a Ritz suite equipped with a roomy tent. No grit and grime here. Expect soft duvets and fluffy pillows. And they'll pick up a certificate later. There's chocolates and afternoon tea too for two adults and two kids. The adults get club access too. Priced at MOP4,398 up for two adults and two children. www.ritzcarlton.com/
Indian tiger lodge for roaring meetings

CEOs in the mood for some tiger stalking instead of chasing tails at the office, should get the Vivanta by Taj - Sawai Madhopur Lodge in their sights. Built by the Jaipur royal family in 1930 for their use during hunting trips to Ranthambhore, the lodge is an art deco delight with 36 rooms and acres of green for all manner of functions and meets. Special rates are on offer for small conferences with the added lure of a talk by a naturalist, a visit to the tiger reserve, and a maharajah tent if you so wish. You get picked up from the railway station, an overnight rattle from New Delhi. www.vivantabytaj.com/sawai-madhopur

Win the heart of Wanchai in 21 days

In bustling Wanchai in the heart of Hong Kong, a '21 Day Advance Purchase Privilege' for daily stays at the Eaton House Serviced Apartment. Book through the official website to get 25 percent off plus a HK$100 Starbucks credit for a quick wake-up cup of Joe. Personal butlers are on hand too. The Wanchai Gap location is in a busy local neighbourhood a short walk from the MTR. Best of all, you can hike up the hill for green walks and city views. www.eatonhouse.com

A grand way to tour Incheon

At the rebranded Grand Hyatt Incheon, an 'Explore Package' throwing open the secrets of this South Korean town. Get a welcome drink, a stay and a tour with a 3pm late checkout. There's a free shuttle bus to the airport terminal so there's no hurry to depart. Pick from a temple tour, or a city tour. The temple tour may include the Incheon Metropolitan City Museum while the city tour throws in visits to traditional houses in Wolmi Park. Priced at W274,000 per person, this is a good little deal for a post-Seoul romp. incheon.grand.hyatt.com
NOTE:
Telephone and fax numbers, e-mails, website addresses, rates and other details may change or get dated. Please check with your dealer/agent/service-provider or directly with the parties concerned. SmartTravel Asia accepts no responsibility for any inadvertent inaccuracies in this article. Links to websites are provided for the viewer's convenience. SmartTravel Asia accepts no responsibility for content on linked websites or any viruses or malicious programs that may reside therein. Linked website content is neither vetted nor endorsed by SmartTravelAsia. Please read our
Terms & Conditions
.