TRAVEL NEWS + DEALS
Kids eye Samui, India air charters, and luxe HK threads...
While staycations become the flavour of the month, families make a beeline for Samui, Hong Kong's Wanchai gets a luxe addition and Bangkok sees more brands.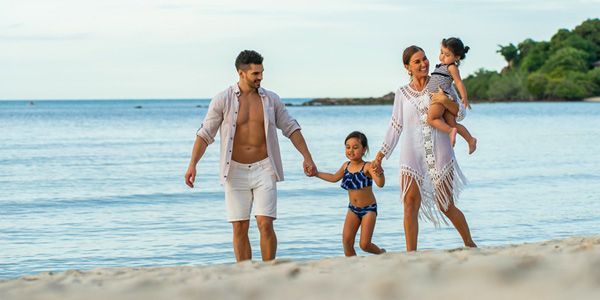 Why families are heading to Samui
Why keep the kids cooped up at home when you can turn them loose on a beach, right? Well, if you happen to be in Thailand right now, take advantage of a 105sq m Family Suite stay with a "Family Escape" or "Family Fun and Wellbeing" package at Melia Koh Samui (www.melia.com) to enjoy an elephant-swinging romp with the kids. Think private balcony overlooking a 1,600sq m lagoon pool, meandering canal, and games including Jenga, Othello and Rubik. The deal includes workshop for typhoon tykes to try their hand at 'batik' in a quaint two-storey kid's club escape called "Kidsdom", in a teak merchant vessel adjacent to the mini waterpark. Shell out just Bt4,800 (US$154) per room per night for a minimum of two nights with daily ice-cream for the kids, a 20 percent discount on F&B and 50 percent off on pummelling and exotic rubdowns at the spa. Domestic travel can be fun.




Slated for 2023 are the elegant minimalist lines of the Aman Nai Lert Bangkok (www.aman.com/, above right), a luxury residence along with Aman's newline urban retreat, in the heart of the City of Angels. Perhaps by then the traffic on this irksome street will be sorted. But hurrah, there is a BTS SkyTrain station not far away. A 52-suite Aman will take shape under the watchful eye of architect Jean-Michel Gathy. You'll need to hurry to get booked at The Hari Hong Kong (www.thehari.com, above left) that arrives at a canter on 12 December 2020 to naughtily ruffle the sombre hotel scene with an upscale Wanchai retreat coming on the heels of The Hari London. Located on Lockhart Road in the hustle and bustle of one of the Island's oldest districts - known for its entertainment, food, and bars - The Hari with 210 keys (including three rooftop suites) is for "for discerning travellers who want to do more than scratch the surface of the city," says flamboyant founder Dr Aron Harilela.



Say 'My oh my' at Maia Quy Nhon




At the sparky new Maia Resort Quy Nhon (quynhon.maiaresorts.com/, 29 August 2020) with its spread of stylish garden villas with pools, travellers will find fresh pampering on offer, welcome news for depressing Covid times. A product from the Fusion Group, this retreat serves up 32 villas beachside, in a garden setting or private pool villas during the soft opening period wsith a special discount of 30% off on all villa categories. Set ony the sea in Central Vietnam, Quy Nhon's historic roots stretch back to the Champa period and later the Ming dynasty Admiral Zeng He made regular stops here on his great voyages. Expect rustic countryside with mountains, beaches, islands and marshes.

| | |
| --- | --- |
| | |



At the swish Emirati-style residence, Al Bait, Sharjah, UAE (above left, www.ghmhotels.com) a tempting offer on every second night spent at this understated earth-tone retreat. Al Bait offers 75 percent off on every second room night booked (minimum two night stay of course) with daily breakfast. Or head to Pita Maha Ubud (www.pitamaha-bali.com/), Bali, where the group has a range of properties including the grand spa retreat Royal Pita Maha, ready to welcome guests as soon as travel returns. All Pita Maha resorts are full service and well positioned for access to Ubud's culture, art and food scene.

| | |
| --- | --- |
| | |



BLADE India (flyblade.in/, above left), that launched in 2019 has expanded its horizons anew with the start of its 'BLADE Anywhere' programme that offers tailor-made charters that can dovetail with its short haul services if required to offer seamless passage, 'anywhere'. The parent BLADE is based in USA where it has carved a niche for short hops. The company advertises flights by helicopter, seaplane or jet. Well, it's one way to fly high above the madding crowd in India. In Vietnam, the exciting Coupe De Hue ( above right) a gruelling two-day two-stage cycling adventure winding through cloud-grazing hills, was bumped from the September 2020 calendar due to Covid interruptions but key sponsor Laguna Lang Co plans to have this stunning event back in 2021. The company plans to turn Central Vietnam into an adventure hub. Stay tuned and keep those wheels greased.

| | |
| --- | --- |
| | |
NOTE:
Telephone and fax numbers, e-mails, website addresses, rates and other details may change or get dated. Please check with your dealer/agent/service-provider or directly with the parties concerned. SmartTravel Asia accepts no responsibility for any inadvertent inaccuracies in this article. Links to websites are provided for the viewer's convenience. SmartTravel Asia accepts no responsibility for content on linked websites or any viruses or malicious programs that may reside therein. Linked website content is neither vetted nor endorsed by SmartTravelAsia. Please read our
Terms & Conditions
.