TRAVEL NEWS + DEALS
From floating movies to desert chic and a Vietnam retreat ...
As summer scorches, spa and family packages sprout from Hong Kong to Bali, Sri Lanka and Maldives. A look at staycations, cultural escapes, and wellness retreats.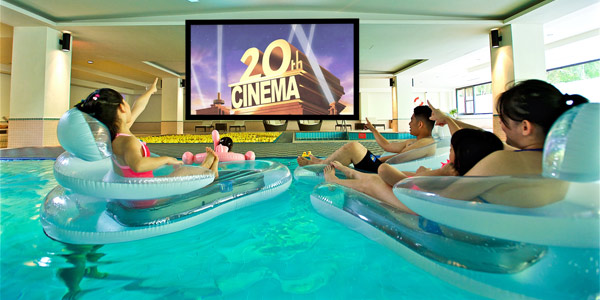 How to gorge yourself in Hualien
At the Silks Place Taroko (www.silksplace-taroko.com.tw) a luxe getaway in Taroko National Park close to Hualien, book yourselves into a 'Floating Cinema', 'Little Warriors Camp', or 'Bubble Party'. Arrange a floating cinema experience for toddlers and kids who may have already enjoyed their fill of the outdoors. This runs 3pm-4pm Friday-Sunday. The Little Warriors deal runs Mondays to Thursdays in the afternoon with archery lessons – all packages at NT$450 per child aged from six to twelve. The Bubbles Party does just as it says, teaching kids to blow giant bubbles. For grownups check out a 'Yacht Experience' at NT$3,900 per person, a Taroko Gorge tour at NT$1,600 per person or a Kayak Adventure at roughly the same price. Yachts and kayaks can glide past the awe-inspiring Qingshui Cliff with spectacular scenery in all directions. This resort is managed by the Regent Hotels Group.


At the Fusion Resort Phu Quoc (left, fusionresorts.com) a first anniversary ofer with 35 percent off the best available rates. Bag a Pool Garden Villa with breakfast, daily spa treatment, pick up and drop ff at the airport, shuttles into town for shopping plus yoga, tai chi, kayaking and more. The offer is valid from 1 June to 30 September 2018. Those headed to Dubai should check out the intriguing lines of the Al Bait Sharjah (right, www.ghmhotels.com/en/al-bait-sharjah/), sister property of the award-winning Chedi Muscat by GHM hotels, which opens September 2018. This is a 53-key development, part of a grand restoration known as the 'Heart of Sharjah' celebrating Arabic heritage and local architectural lines. Watch for the Ice-Cream Shop selling deliciously flexible Turkish ice-cream, enjoy a resorted Arab souk, design features redolent of an emirati home, four-poster beds in hushed minimal beige earthy surrounds going up to 103sq m in suites, and a spa with His and Her facilities. This is a business and leisure hotel and the conference centre will be a boon for those in search of a classy corporate meetings venue.



Now 'StayCations' come to HK

At The Murray, Hong Kong, a Niccolo Hotel, (www.niccolohotels.com/hotels) a 'Summer StayCation' deal till 31 August 2018 with considerable swag - an HK$2,000 dining credit as well as a further HK$2,000 credit for wellness treatments plus breakfast for a couple and two children under 12, Peak Tram roundtrip tickets for a foursome and welcome cake. All this in Central within minutes of prime offices, Hong Kong Park, shopping, and sights. Fork out HK$5,200 for a Grand Room or HK$7,900 for a Signature Suite with wraparound views. Find an extra bed, complimentary of course, in the room or a sofa bed for a really good stretch. The Murray is a splendidly converted government office building with signature design touches and an elegant vibe that opened in early 2018.


| | |
| --- | --- |
| | |

At the shockingly verdant Chedi Club Tanah Gajah Ubud (left, www.ghmhotels.com) set in lush rice fields amidst birdsong and occasional strains of gamelan, a 50m tethered balloon experience for aerial views of the countryside and, on a good day, the neighbouring volcano. At US$150 a flight (early morning or evening) or $200 (moonrise) with refreshments and dinner for the night experience, the five-minute lifts will throw open a spectacular panorama for two adults and two kids under 12. The maximum combined weight is 230kg so think before you sink your teeth into that steak. At the wonderfully rustic Amayen Sanctuary Chiang Mai (above right, amayen.com/) a four-day three-night 'Deluxe Wellness Retreat' deal with complimentary airport transfers. At Bt12,000 per person, bag three yoga sessions, six audio guided meditation sessions, three Thai massage rubdowns and all meals (with vegan stuff for purists). Find verdant countryside with rice fields and strawberry farms as well as natural hot springs. All this just 42km from the airport. Guests need to be at least 16 years of age.



Always lots of room in Sri Lanka


In Dikwella, in steaming southern Sri Lanka, the seven-bedroom Meda Gera villa (www.medagedara.com/), is an oasis of luxury for family getaways, small company reunions or classy events. Surf and beach bars are close at hand and the must-see laid back Galle is an hour away with its historic fort and other sights. A three-hour drive from Colombo, find complimentary WiFi, cooking classes, cricket, sandcastles, 'hermit crab racing', swimming pools, manicured greens, and other distractions for kids and family alike. A private chef will rustle up flaming Sri Lankan curries to your taste and, yes, he can kill the chillies.


| | |
| --- | --- |
| | |

For avid shoppers, Shilla Duty Free's 'Beauty&You' (left, www.beautyandyou.com) comes to Hong Kong International Airport with a vast beauty retail experience focused on 'tailored fits' to work for individual needs. There is an arsenal of brands to pick from so breeze in early and rummage about for everything from Bobbi Brown to Sulwhasoo.flights as well. Meanwhile in the skies VietJet (www.vietjetair.com) sets up an HCMC to New Delhi route, perhaps not with its signature bikini-clad stewardesses (well, ok these are just PR stunts and not always on offer). Thai VietJet launched Bangkok-Krabi in April, 2018. Hong Kong Airlines (www.hongkongairlines.com) has launched its HK-San Francisco A350 service expanding options in North America for those flying from Hong Kong. HK Airlines also launched a daily HK-Manila run 1 June 2018. The flight leaves Hong Kong 9.10pm and the return flight is 6.55am for a crisp and early 8.55am arrival in HK.

| | |
| --- | --- |
| | |
NOTE:
Telephone and fax numbers, e-mails, website addresses, rates and other details may change or get dated. Please check with your dealer/agent/service-provider or directly with the parties concerned. SmartTravel Asia accepts no responsibility for any inadvertent inaccuracies in this article. Links to websites are provided for the viewer's convenience. SmartTravel Asia accepts no responsibility for content on linked websites or any viruses or malicious programs that may reside therein. Linked website content is neither vetted nor endorsed by SmartTravelAsia. Please read our
Terms & Conditions
.