TRAVEL NEWS + DEALS
Luxe villa breaks from Bali to Maldives ...
As summer scorches, spa and family packages sprout from Bali to Maldives, Sri Lanka and Goa. A look at staycations, cultural escapes, and massage.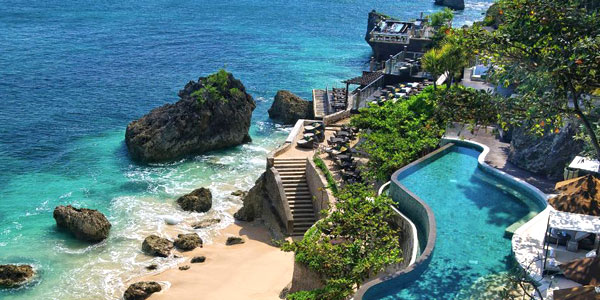 Culture and Big Bali sunsets
At the Ayana Resort & Spa Bali (www.ayana.com/bali/) a three-night immersive Balinese 'Cultural Staycation' starting at US$273 per room/night. The cultural experience may include items like brushing up on your Balinese cuisine skills at cooking school, a Royal Buffer Dinner at Kampoeng Bali, and a guided Market Tour. This starting rate is on offer at Rimba, part of the manicured cliff-face complex with a young and hip vibe. At Ayana (the main resort) the rate goes up to US$352 per night while at The Villas, a secluded reserve at one end of the complex, expect to shell out from US$813 per night. The Ayana is known for its extensive wellness menu and focus on hydrotherapy. And evenings its Rock Bar attracks selfie queens and romantics in search of those picture-postcard Big Sunsets.


At the Taj-managed Vivanta Rebak Island, Langkawi (vivanta.tajhotels.com) look forward to 390 acres of verdant rainforest, beaches and vegetation. A 'Private Island Discovery' starts at RM2,330 for a double occupancy inclusive of breakfast, dinner, and city tour. The deal is on till 30 September, 2018. Meanwhile in the Indian Ocean, a six-night 'Total Body Renewal' retreat by COMO Shambhala running 6-12 September 2018 with fitnesss guru Amy Buck who is accompanied by a nutritionist. All this is intended to give participants a 'lean, strong and youthful physique.' Don't dream the blurb. Just do it. The venue is the elegant and idyllic COMO Maalifushi (www.comohotels.com/maalifushi), which serves up turquoise waters, jogging trails, cycle routes and nutritious menus. All this at US$10,613 (double occupancy) for six nights, airport transfers, 60-minute massage, and a welcome and farewell dinner.



Always lots of room in Sri Lanka


In Dikwella, in steaming southern Sri Lanka, the seven-bedroom Meda Gera villa (www.medagedara.com/), is an oasis of luxury for family getaways, small company reunions or classy events. Surf and beach bars are close at hand and the must-see laid back Galle is an hour away with its historic fort and other sights. A three-hour drive from Colombo, find complimentary WiFi, cooking classes, cricket, sandcastles, 'hermit crab racing', swimming pools, manicured greens, and other distractions for kids and family alike. A private chef will rustle up flaming Sri Lankan curries to your taste and, yes, he can kill the chillies.


| | |
| --- | --- |
| | |

Till 30th September at the Taj Fort Aguada Resort & Spa (left, taj.tajhotels.com) a special deal of 15 percent off on the newly renovated Hermitage Villas (bed and breakfast) kitted out in Portuguese style and with soothing garden views. Interiors are in rich deep blues and whites with cool wood floors underfoot. Yes, there's large flat-screen TVs too for a Bollywood browse. At the secluded and casually chic SALA Phuket Resort & Spa (right, www.salahospitality.com/phuket/) on Mai Khao Beach up in the northwest of the isalnd, a special 'Family Getaway' with daily breakfast (including for kids), free meals for kids, special in-villa amenities for children, complimentary babysitting service for two hours and a four-hour plan-your-own 'family adventure' with a resort driver and transport. Catch? The children need to be under 12 and you need to book a minimum five nights.



Hanoi luxe escapes with a cruise




From the La Siesta group that runs boutique hideaways around Vietnam, a 'Luxury Retreat' deal at the Hanoi La Siesta Hotel till 30 September 2018 at US$509 per person + taxes (US$1,170 for a couple), with two nights at the Hanoi La Siesta, and two nights at Halong Bay with an Orchid Cruise, airport transfers, spa experiences, breakfast, puppet show, and roundtrip Halong Bay transfers. It takes around two hours to get to Halong Bay for the Orchid Cruise. The hotel offers traditional Vietnamese hospitality in the old quarter of Hanoi teeming with small shops, stores, cafes, coffee shops and silk by the mile. www.hanoilasiestahotel.com/


| | |
| --- | --- |
| | |

Till 30 October 2018 The Okura Prestige Bangkok (above left, www.okurabangkok.com) has teamed up with The Nai Harn Phuket (formerly the Royal Yacht Club, www.thenaiharn.com/) to present a 'Best of the Beach and the City' deal with three nights in Phuket followed by two nights in Bangkok. A 25% discount off the best available rate is on offer for direct bookings through the hotel websites. The Conrad Guangzhou (right, conradhotels3.hilton.com) opens with 309 rooms and suites in a contemporary tower block with views over the Pearl River. The property is housed in a multi-use complex with offices, shops and restaurants.


| | |
| --- | --- |
| | |

Qantas (above left, www.qantas.com) set some new records with the launch 24 March 2018 of its B787 Dreamliner flight from Perth to London, a 17-hour non-stop covering 14,500km and offering a serious swag bag of frequent flyer points. From 1 September 2018 Qantas offers its comfortable Dreamliner on Melbourne-SFO flights as well. In Asia, VietJet (www.vietjetair.com) sets up an HCMC to New Delhi route, perhaps not with its signature bikini-clad stewardesses (well, ok these are just PR stunts), and Thai VietJet launched Bangkok-Krabi 5 April, 2018. Meanwhile Hong Kong Airlines (www.hongkongairlines.com) has launched its HK-San Francisco A350 service expanding options in North America for those flying from Hong Kong. HK Airlines is also launching a daily HK-Manila run 1 June 2018. The flight leaves Hong Kong 9.10pm and the return flight is 6.55am for a crisp and early 8.55am arrival in HK.

| | |
| --- | --- |
| | |
NOTE:
Telephone and fax numbers, e-mails, website addresses, rates and other details may change or get dated. Please check with your dealer/agent/service-provider or directly with the parties concerned. SmartTravel Asia accepts no responsibility for any inadvertent inaccuracies in this article. Links to websites are provided for the viewer's convenience. SmartTravel Asia accepts no responsibility for content on linked websites or any viruses or malicious programs that may reside therein. Linked website content is neither vetted nor endorsed by SmartTravelAsia. Please read our
Terms & Conditions
.