TRAVEL NEWS + DEALS
Thai e-bikes to Formula-E in HK and Burma solar yachts
The season shapes up into an eco-friendly romp from solar to pedal power with some Vietnam surprises too.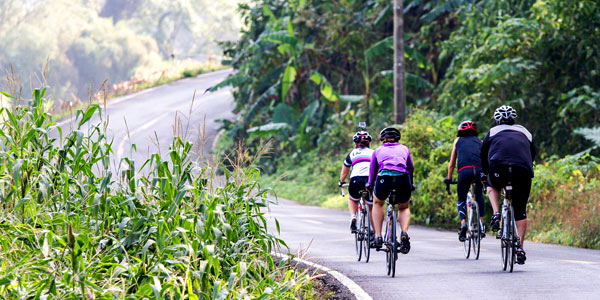 Spiced-up e-bikes for Thai tour
For pedal-power freaks, from Spice Roads Cycling (www.spiceroads.com) an e-biking experience in Thailand during November 2019. Pick from the Bangkok-Phuket tour or the Chiang Mai-Bangkok option. For the scenic Chiang Mai to Bangkok run plan on a distance of 925km over 10 days of pedalling (aided by some power) with two days of climbs and drops in the northern hilly section followed by a fairly flat run thereon. The idea will appeal to the less-sweat inclined. Its a fairly sedate pace and your selfies will look great. It's a cycle after all. Both runs are priced at US$2,200 plus just over US$500 for e-bike rental if you are not bringing your own bicycle. Meals and accommodation are included along with a guide and a back-up bus for weary dropouts.


From Thailand's Dusit International, a Philippines gem (above left) in the form of The Beach Club at Lubi Plantation Island (www.dusit.com/thebeachclublubiplantation/). The club is sited in a picturesque island off Davao within the 36-acre Lubi Plantation, a planned leisure township that reshaped a former coconut plantation. The island boasts good snorkelling and diving areas. The development includes two hotels – dusitD2 Davao and Dusit Thani Residence Davao. Opening February 2019, dusitD2 offers 120 rooms. At the elegant Thai-style The Sukhothai Bangkok (above right, www.sukhothai.com/bangkok) a new Club Wing, the first part of a rolling restoration to upgrade this 27-year-old retreat. The original design author of this regal masterpiece, Edward Tuttle, was brought in to rethink and refit 33 new rooms and suites. In contemporary pastel, the new Club Rooms have lost none of their gracious charm.



Now live like a Mandarin at 300kph




From the classic Mandarin Oriental Hong Kong (www.mandarinoriental.com/hong-kong) a Formula-E room deal for the 10 March 2019 E-Prix. The harbour-facing address is offering a Harbour View Room at HK$4,600 with a 10 percent discount on E-Prix Grandstand tickets, breakfast for two and a tankard of beer at the Captain's Bar. Eleven teams compete on the 1.86km urban circuit that is created along the Hong Kong harbourfront with a great festive vibe and packed with curious spectators and racing buffs. The Mandarin Oriental HK is a landmark in the heart of Central district well sited for shopping, transport and apres-racing entertainment.


| | |
| --- | --- |
| | |

February 2019 sees the reopening of a freshly laundered Imperial Capital landmark, Azerai La Residence, Hue (www.azerai.com/). The riverside building (above left) with a grand 200m frontage has been around since 1930 and returns with a fresh lick of paint and design complements courtesy Adrian Zecha - the brainchild behind Aman Resorts and the founder of AZERAI - with 122 rooms redolent of history. Look forward to the original 1930's colonial-curves masterpiece in new light. Burma Boating (www.burmaboating.com/), above right, has launched its new S55, a solar-powered yacht for sunny cruises, literally, around the Mergui Archipelago. The 16.7m yacht is at the forefront of energy-saving yacht technology in Asia and will help open up Myanmar's less explored south. Sun-dappled eco-friendly tours come at US$3,200 per day and four to five-day options are available for up to six persons from November to May with Saturday departures. And yes there is a backup engine in case the sun is coy.



| | |
| --- | --- |
| | |

Thanks to luxury cruise company Lion Asia, 1,200 tons of designer steel is now slicing its way through the azure waters of Halong Bay, North Vietnam, and its distinctive karst outcrops, courtesy President Cruises. The 46-cabin overnighter (above left) carries more than its share of luxe trim including a spa, a piano bar for boozy crooning, and two sun decks. The darkwood cabins are surprisingly roomy. From tour company Walk Japan (above right, walkjapan.com/sanin-quest), the all new San'in Quest Tour is a nine-day guided tramp - Y428,000 per person, running 22-30 April 2019 and 3-11 November- that gives travellers a taste of history, rural landscape and Shinto religion in the far west of Honshu.


| | |
| --- | --- |
| | |
NOTE:
Telephone and fax numbers, e-mails, website addresses, rates and other details may change or get dated. Please check with your dealer/agent/service-provider or directly with the parties concerned. SmartTravel Asia accepts no responsibility for any inadvertent inaccuracies in this article. Links to websites are provided for the viewer's convenience. SmartTravel Asia accepts no responsibility for content on linked websites or any viruses or malicious programs that may reside therein. Linked website content is neither vetted nor endorsed by SmartTravelAsia. Please read our
Terms & Conditions
.