TRAVEL NEWS + DEALS
Mekong cruise back in time and drool news for high-flyers
Cruise slowly back in time to Angkor and its lost civilisation in the jungle, party endlessly in Bali, get fit in Shenzhen, or take flight in a luxury private jet.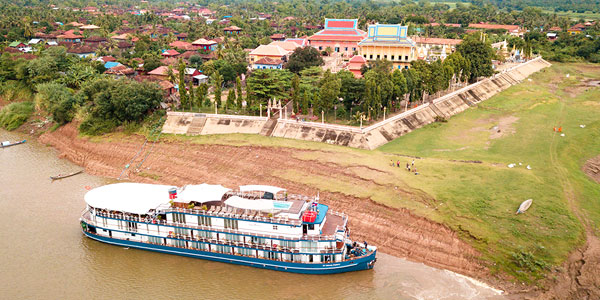 Slow boat to a lost civilisation
An exciting offering on the sleepy Mekong River from Heritage Line (heritage-line.com) until 25 April 2020 with select seven-night cruises at an enticing 20 per cent off. Book by 15 February for a memorable cruise back in time up this majestic river artery from Ho Chi Minh City (Vietnam) to Siem Reap (Angkor, Cambodia) to view historic stone temples lost in the jungle (well until a screaming tour group comes along). Do the journey slowly and in style on the Jayavarman or Jahan with gourmet food and specially tailored itineraries. As the original 'roads', rivers have a habit of surprising and entertaining with the passage of real life - unchanged for decades - within touching distance. Promo deals from US$ 1,908 per person




It's the closest thing to getting some serious wind in your hair at 30,000ft. Aman (www.aman.com/expeditions above left) rolls out a private jet for those wishing to part with their cash in a hurry. Surrender your wallet and have the group curate a customised luxury whirl anywhere from Bhutan's fabled peaks and monasteries to Indonesia's storied spice islands. But why stop there? The sky's the limit for any Aman destination, or beyond. Anantara Seminyak, Bali Resort (above right, www.anantara.com/seminyak-bali) launches a range of gussied up areas for the Festive Season including its stylish and breezy MoonLite Balcony to catch vast sunsets and serve up starlight cocktails. Also enjoy the new-look spa, fitness centre and swimming pools.



Big sunsets for honeymooners




At the Sheraton Bali Kuta Resort (www.marriott.com/sheraton-bali) an 'Ultimate Honeymoon Getaway' for a freewheeling couple in search of mega-sunsets, bubble baths and attractive discounts on the spa. The deal is available with a minimum two-night stay and comes with a bottle of wine, a bubble bath, breakfast in bed (or a floating breakfast), airport transfers and late check-out. The rates for this spot of island idyll hedonism start at US$236 per night for a deluxe room. The hotel faces the busy sun-drenched Kuta Beach from across the road. Its small elevated pool offers staggering sunsets but you can of course get a better view by simply waltzing off on the sand.

| | |
| --- | --- |
| | |



Romantics listen up. Mandarin Oriental Bangkok (www.mandarinoriental.com/bangkok above left) has been gussied up as never before. It's elegant River Wing started accepting guests from 11 November, 2019 (the storied Old Wing has already undergone a serious freshening up). The entire ensemble will be humming seamlessly by January 2020 when the River Wing renovation is complete. Early birds can avail of a 'Be the First to Stay' deal at Bt25,350 per night with butler service, buffet breakfast for two at The Verandah, and a daily credit of Bt2,000 for spa services or a restaurant binge (check out the new Japanese Kinu by Takagi). Valid for reservations before 31 March 2020. Four Seasons Hotel Shenzhen (above right, www.fourseasons.com/shenzhen/) plans to get travellers in the zone with a meditative blend of fitness options. Surfing in Shenzhen? Right. As the hotel says, "Make every breath count." Strut your stuff indoors or sun yourself on the terrace, try your hand at Chinese calligraphy, or simply head to the spa.


| | |
| --- | --- |
| | |



Raffles Grand Hotel d'Angkor (www.raffles.com/siem-reap/ above left) returns after a six month workover. Most of the 119 rooms have been gussied up with "careful restoration and refurbishments" to introduce this vintage confection to the 21st century without unduly ruffling its elegant heritage appeal, says General Manager Oliver Dudler. Think bright spotlights and USB ports for your hi-tech paraphernalia and plenty of new Italian tiles in the bathrooms (also kitted out with rain showers). The Grand opened in 1931 with just 63 keys. The lively Just Sleep Taipei Ximending (above right, www.justsleep.com.tw/ximending) has returned after a massive NT$100m makeover. Sited at the bustling intersection of Zhonghua Road and Hankou Street, the brand was part of the development of this hip quarter a decade back and was also the first of its line from Silks Hotel Group. Rooms are bright with dollops of cheery colour and practical touches. Park in a Superior room (with an innovative twin design) at a special rate of NT$2,900 (valid until 20 Dec 2019) and choose one exclusive offer. Breakfast is included in the reopening package.


| | |
| --- | --- |
| | |
NOTE:
Telephone and fax numbers, e-mails, website addresses, rates and other details may change or get dated. Please check with your dealer/agent/service-provider or directly with the parties concerned. SmartTravel Asia accepts no responsibility for any inadvertent inaccuracies in this article. Links to websites are provided for the viewer's convenience. SmartTravel Asia accepts no responsibility for content on linked websites or any viruses or malicious programs that may reside therein. Linked website content is neither vetted nor endorsed by SmartTravelAsia. Please read our
Terms & Conditions
.