TIME was when swindled tourists would camp outside Hong Kong camera stores waving placards and demanding justice – while bored shop attendants picked their teeth – much to the amusement of passersby and newspaper reporters. Nowadays, with the city on the move and jackhammers everywhere, there's no space for shopper vigilantes and, fortunately, less need. There's no denying that the Hong Kong shopping experience is arguably one of the best and most varied in Asia. Yes, pottering about Tsim Sha Tsui's fabled "Golden Mile" along Nathan Road, can still be fraught with peril – chiefly bait-and-switch, where the shopper puts money down for one model and is handed another. And your arm can still be twisted, literally, by the handbag sellers of infamous Ladies Market, Mong Kok. Reason enough to head straight into the enticing arms of Hong Kong online shopping deals but then where's the fun in that?

See Slide Show
Largely, however, things are on the up and bargains can be had in this most extravagant of cities – if you know where to look (the Hong Kong dollar is pegged at US$1 = HK$7.8). If you encounter any problems, simply call the Consumer Council hotline (tel: [852] 2929-2222, e-mail: cc@consumer.org.hk or www.consumer.org.hk). They take issue with strong-arm dealers and blacklist the worst offenders. Of course, with several outlets offering Internet shopping options you could just as easily opt for an afternoon of online browsing and bypass the touts and surly camera dealers. But where's the fun in that? Grab a good map, print out this guide, study the directions to the best shopping malls, street markets and factory outlets, don sturdy walking shoes, put up your dukes, and you're ready to roll. More on where to stay in our Hong Kong business hotels review that includes family digs and budget options.
Causeway Bay shopping tips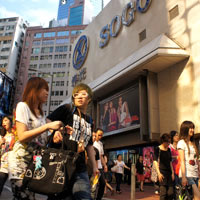 Bustling Sogo/ photo: Vijay Verghese
Causeway Bay is eternally popular with local shoppers and tourists. This is where some of the biggest Hong Kong shopping malls are located. Walk along the wide zebra crossing outside Sogo, the Japanese department store (tel: 2833-8338, www.sogo.com.hk) to find big names, small boutiques and bargain stalls, all in a tight cluster. Of course, it will still take you a whole day to walk through this shopping carnival. At the Level 9 "Event Hall", special promotions and big sales are the fare with rotating sales on leather jackets, handbags, cosmetics, apparel and sports goods. Next to Sogo on Hennessy Road, the Sony Style HK flagship store on the 16th floor of East Point Centre (tel: 2882-0101, www.sonystyle.com.hk) offers the latest state-of-the-art Sony products. (There's another 6,000sq ft Sony Style in Mongkok's Wai Fung Commercial Building, between Nathan Road and Sai Yeung Choi Street, easily accessed from the Mongkok MTR station Exit D1 or D3.)
Send us your Feedback / Letter to the Editor
Pop into the renovated wtc more (www.wtcmore.com), next to the Excelsior Hotel, for mid-range fashions. This is the rebranded World Trade Centre. On the fourth floor you'll find a large Muji (www.muji.com.hk), well stocked with clothes and also snacks and fast-heat TV dinners. On the fifth floor, right above (though you'll have to use the confusing elevators), is UniQlo (www.uniqlo.com/hk), with more attractively priced clothing, jeans, suits, blouses, and t-shirts.
Also explore Acca Kappa for quality, if expensive, hand-made shaving items for men (wooden hairbrushes too), Lazy Susan for watches and knick-knacks, Jill Scott for handbags and shoes, About a Girl for cutesy bric-a-brac with a fair amount of pink in the mix, Acupuncture for sports shoes, Sugarman for funky kids' clothes and t-shirts, and on Level One, Maud Frizon for brightly patterned cloth slip-on flats for women from HK$590 up. There is a Ztampz outlet too at wtcmore.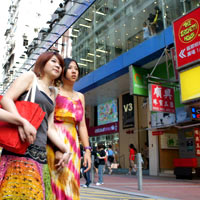 Causeway Bay/ photo: Vijay Verghese
For beauty care products there's Jurlique, Vichy, H2O, Lush, and FANCL. Burnt out from shopping? Treat yourself to a host of Michelin recommended eateries, like Kiriyaki (Japanese), Myung Ga (Korean), or the more eclectic "rice paper" (Vietnamese fusion). In the side lanes around here you'll find Bossini (www.bossini.com), G2000, loads of shoes and jeans, and an outlet of eternal teen favourite, MAPLE (hotline: 6133-4022, Shop numbers 504 and 491 Lockhart Road) with accessories, t-shirts and dresses starting at HK$20-$50. MAPLE has over 25 outlets across the city and is easy to spot wherever you happen to be. Hong Kong online shopping is available at several of the links provided in this article.
Next to Sogo on Great George Street, the Island Beverley (tel: 2890-6823) and Causeway Place (www.causewayplace.hk) shopping arcades are handy for trendy clothes and accessories. Street-level offerings at Island Beverley include Izzue, Bauhaus, Crocs and the Body Shop. Walk up the escalator and roam the maze-like corridors to find a whole host of Japanese and European clothing, accessories and shoe stores. You can get a pretty fashionable top or trousers for under HK$300 (US$38). Looking for something alternative? Check out Unus Ually (tel: 3427-3677, shop 133), which will create plastic figurines of yours truly.
Looking for a physical remembrance of your trip? Get a tattoo or body piercing. Kitschy Tamago (tel: 3480-8016, shop 252) offers everything from miniature mahjong sets to magic candles to novelty phones in the shape of hamburgers. Puzzle lovers should pop by Puzzle King (tel: 2366-7016, Shop 226), where the walls are packed from wall to wall, ceiling to floor with every puzzle size, type and shape possible.
Across the road, Causeway Place offers much the same, with rows of boutique fashion stores for ladies and some watch shops thrown in to keep men sane. Some fun picks include SkinJam! (tel: 2890-2330, Shop 250), where you can customise your gadgets with personalised photos, and Stone Age (tel: 2881-5951, shop 155), which boasts hundreds of different Zippo styles.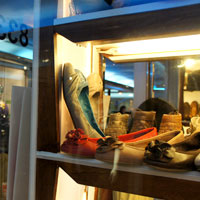 Island Beverley shop/ photo: Vijay Verghese
Also, explore trendy Hong Kong mall La Foret (www.laforet.hk) behind Sogo for more fashionable items. Much like its neighbours, it also has lots of Japanese and local fashion boutiques catering to the youth. Stop by Time Silver Asia (3422-3630, shop 114) for crystal and silver jewellery crafted by local designers. If that's not enough sparkle, pop on over to Sweet Poison, which offers a variety of dangerously high platform shoes bejewelled with enough crystals to light up a ballroom. La Foret also offers several lingerie stores to pick something up for the wife, like Aishou and Easy Shop. But be warned, larger women might not be able to find sizes that fit, as these displays are geared more towards smaller physiques. Parents should try Cinnamon (tel: 2577-3828, shop 249) for its Korean-designed children's haute couture. To top off your spree, Lids has an extensive collection of hats, or stop by Candy Magic (tel: 2749-5700, shop 150) for some wig and fake eyelash fun.
From here, Fashion Walk, Style House (Park Lane Hotel Shopping Arcade), Windsor House (tel: 2895-6796) and Hang Lung Centre (tel: 2890-5962) are good hunting grounds. Style House has the likes of agnes b, K-2 (tel: 2808-1407, www.kitterick.com), Ztampz (www.ztampz.com), IKEA, HMV and more.
Hang Lung Centre is a little thin on shops but you can still potter about and explore Sasa (a rip-roaringly successful discount chain for all things perfume and beauty related, with good testers too), Broadway and Sole Town (www.soletown.com.hk) on the first floor, where you can find stylish, upmarket women's wear and top shoe brands like Nine West, Enzo Angiolini, Lucky Brand Jeans, Steven by Steve Hadden, and Carolina Espinosa.
Drop by Francfranc (tel: 3427-3366, www.francfranc.com) on the second floor for some funky Japanese home accessories and stationery. Across Yee Wo street, you can find youthful brand 2% (No. 4 Cannon Street, Causeway Bay, www.2percenthk.com), where those yearly sales take up to 50 percent off. They have outlets in Tsim Sha Tsui and West Kowloon too. You'll get used to the weekend crowds. That's shopping Hongkong style for you.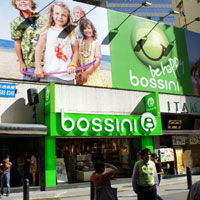 Bossini near WTC/ photo: Vijay Verghese
Close to the Excelsior Hotel, Fashion Walk encompasses Paterson Street, Kingston Road, Cleveland Street and parts of Gloucester Road, and caters to not only the young hipster crowd but also upmarket shoppers. Wander along to 51-57 Paterson Street to find the I.T shopping buffet (www.ithk.com). I.T is a Hongkong trendsetter and has over 60 outlets around the city. Its brands include Comme de Garcons, Helmut Lang, Tsumori Chisato, Miu Miu, Paul Smith, Zucca and more. You'll find I.T (and i.t) all over the place. Why the upper and lower casing? The lower-case i.t has more brands for the younger set, like As Know As de base (tel: 2890-9636), b+ab, 5cm (tel: 2880-9336), Vivayou, Tsumori Chisato (tel: 2881-1348), Abahouse Devinette (tel: 2808-4698) and more. Check out big and little casings, as the youthful i.t brands tend to be a tad cheaper. This company is not to be confused with Far IT that handles retail outlets for mid to top-end brands like D&G, and Versace jeans. Aluminium Urban Living (tel: 2577-4766, www.hk-aluminium.com) is a funky furniture design store at the Paterson Street and Great George Street intersection. For a foray into the digital world check out Artex Digital Equipment Co. (opposite Causeway Bay Station Exit E). For those with a bigger budget, never fear. You will find a whole host of familiar names, including Diesel, Miss Sixty, Guess and DKNY for trendy casual wear, or Max Mara, Burberry, Marc by Marc Jacobs and Patrizia Pepe.
Causeway Bay's big and teeming meeting ground is Times Square (tel: 2118-8900, www.timessquare.com.hk). The place is a rendezvous spot for everyone from teenagers, to suits, to gawping tourists. It's tall, sleek and well stocked. Hang out below the giant video screen to watch the annual New Year countdown. As with New York's Times Square (the inspiration for this festive tradition) the revelry is jolly, unrestrained and over-the-top. Small wonder then it's called the Apple Countdown. At the Times Square mall you'll find upmarket flavours at Lane Crawford (tel: 2118-3638, www.lanecrawford.com) with its dizzying array of posh brands like Hugo Boss, Burberry and Alberta Ferretti. When it comes to 70-percent-off crazy sales here it can still cost around HK$500-900 for a pair of ladies shoes. Other popular stores in Times Square include the Spanish fashion chain Zara and City Super supermarket.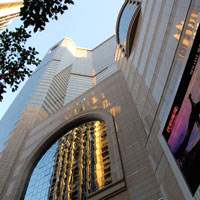 Imposing Times Square/ photo: Vijay Verghese
Fancy some crazy Japanese inventions? Check out the Times Square's JC Shop Premium (tel: 3102-2783, wwjcw.jcshop.com.hk, shop 903A). It has a collection of offbeat stuff like an "Automatic Mahjong Table" (HK$13,888), an "Electronic Poker Table" (HK$9,888), and a "Portable Baby Monitor" with a 2.5-inch screen (HK$2,680). There's plenty more to keep you and your wallet entertained.
Times Square also offers a good selection of jewellery. Trendies can head to J's (tel: 2115-9035), Just Gold Just Diamond (tel: 2506-2622, www.justgold.cc), Emphasis Jewellery (www.emphasis.com) and fun Greek watch shop Folli Follie (Shop 507, tel: 2506-1165).
If you're a shoe buff called Imelda but without the unlimited war chest, there are lots of cut-price alternatives in Times Square. Check out Joy & Peace (tel: 2506-2744), Zara, agnès b, Anna Sui, Camper or the extremely comfy offerings at Aerosoles (www.aerosoles.com). It is also worth exploring the area behind Times Square, particularly Sharp Street (where the Holiday Inn Express is located) and Yiu Wah Street. You won't be disappointed if you are looking for local designer fare and imported clothing, accessories and shoes. Try Olivia Couture (tel: 2838-6636, www.oliviacouture.com) for gorgeous evening dresses and Qi Pao. This broad area is the epicentre of Hong Kong shopping and is hugely crowded most days especially at lunchtime.
Also on Sharp Street is local designer SPY Henry Lau (11 Sharp Street East, tel: 2893-7799). He also has locations at 21 Staunton St, Central (SPY Soho), Fashion Walk in Wauseway Bay (SPY House), and SPY Theatre at the Granville Circuit in Tsim Sha Tsui. Once you've finished working out your wallet, go to the upper floors for some scrumptious meals.
At the corner of Sharp and Percival Streets is the Lee Theatre Plaza, featuring a huge Muji shop on the third and fourth floor, a three-storey Esprit with an Esprit Hair Salon on the second floor, and a handy offering of furniture shops and restaurants. Not far is the crowded alley of Jardine's Bazaar where you'll find all manner of bric-a-brac, cheap clothing and women's wear accessories.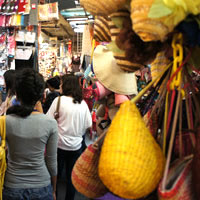 Jardine's Bazaar/ photo: Vijay Verghese
Hole in your tights? Jardine's Bazaar has your size. This is a street market is a great place to find necklaces and earrings for just HK$20 a pop. Or if denim is more your style, jeans can be had for around HK$150-$300. In the actual stores lining this street, there are some bargain shoe stores as well. Just remember the prices are low for a reason, so don't expect the best quality.
And that's not all. If you have a pooch or feline in tow, pop by the Dog One Life (tel: 3105-5550) at 338 Lockhart Road where every imaginable pampering and product is on display for your pet. Raining cats and dogs? Get a shampoo and blow-dry while you relax at the cafe, and a taxi home.
At 52-56 King's Road North Point, Mountain Service International Ltd (tel: 2541-8876) specialises in outdoor and travel gear, the shop sources new and high-end items from around the world. Products range from fleece and Gore-Tex garments and thermal underwear to headlamps and anti-shock poles for hiking. For a range of golfing gear and golf shops in Hong Kong selling everything from clubs, clothes and shoes to accessories in the Causeway Bay area, wander into Sino Plaza (255 Gloucester Road) near the Excelsior Hotel. On the upper ground floor is an extensive English and Chinese Metro Books, tel: 2893-9880.
Continuing down on Gloucester Road are Hong Kong golf stores like Power Golf (tel: 2574-6868, 279 Gloucester). Golf Town (tel: 2577-0979, www.golftown.com.hk) is now located on the ground floor of Leighton Centre in Causeway Bay. It has a good range of golf equipment, clubs, balls and accessories. Golf Town also has an outlet in Hankow Centre in Tsim Sha Tsui.
New Zealand Focus (Radio City, 505 Hennessy Road, tel: 2151-0652, www.nzfocus.com.hk) sells food products, drinks and natural health and skincare products from New Zealand. Open 11am-10pm daily. The charming The Gems has moved from Sun Hung Kai Centre in Wanchai to Causeway Bay (1 Lee Garden Road, tel: 2890-3068, www.thegems.com.hk). The shop stocks a range of colourful and tasteful Tibetan woollen and cotton clothes for men and women.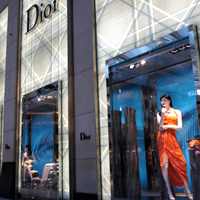 Dior at Landmark/ photo: Vijay Verghese
There are also some crystal accessories and embroidered Tibetan woollen boots. The sizes are often odd but there's always something that fits and the prices are very reasonable. A Chinese-style blouse might start at HK$150 up and a woollen jacket could be upwards of HK$500.
Step just a few blocks away from the crowded epicentre of Causeway Bay and be pleasantly rewarded with Hysan Avenue's well-manicured streetscapes. The huge Mercedes dealership, Cartier and Hermes shops may give you a hint. Hysan does not cater toward the masses. Sure, the area's Lee Garden has all of the expected designer brands - BVLGARI, Chloe, Dior, Chanel, Miu Miu, Valentino - but if you steer clear of the malls, you will find a couple of funky boutiques. Down Hoi Ping Road, step into the mellow Two Percent . Opened in 2012, this fashionable shop is home to (relatively) reasonably priced frocks, vibrant dresses, and flirty tops. An adorable polka-dot dress will set you back about HK$1,400, but there are ample sales racks in the back.

Need to refuel? You'll find a number of high-end restaurants in the malls, but instead, head to the East End Brewery for an ice cold beer (try our favorite, the Brooklyn IPA) and a quick bite. They have decent burgers and a great outdoor deck, weather permitting. And, of course, don't hesitate to throw your peanuts on the ground.

If you have a hubby in tow, you'll have to stop into the Cigar Emporium across the street. A typical cohiba will run roughly HK$300, but the photo of the owner posing with Fidel is priceless. You'll also enjoy the Che Guevara-themed humidors and vintage tasting room. For those with a sweet tooth, don't miss Zoey Cafe . Farther down Hoi Ping Road, this little french-inspired patisserie is tres adorable. From the decorative champagne bottles to the elaborate lattes, you'll want to nibble on everything in the pastry window. Try the Hazelnut sponge cake. Wandering toward Yung Ping Road, and you'll stumble upon Homeless , one of Hong Kong's most famous home decor stores, crammed with accessories that will make your head swirl. Taking up the first three floors of 17 Yun Ping Road, Homeless combines Industrial, rustic, modern and playful influences to surprise and delight. It's hard to pass by the cheeseburger bean bag, Pac-Man oven mitt or the cuckoo clocks without cracking a smile.
Head to the glistening Hysan Place (opened August 2012) just up Yun Ping Road. With the front entrance located across from Sogo on Hennessy Road, this 17-storey mall is home to dozens of Japanese and Korean designers, hundreds of makeup counters, a three-storey bookstore and a handful of bakeries, ice-cream shops and four floors of restaurants. Of course, the shopping centre still comes complete with a few of the must-have designers including DKNY, French Connection, 7 for All of Mankind and Vivienne Tam, but with a variety of new, international brands such as NINE, Double Standard Clothing and Language, this mall is a refreshing addition to the jam-packed Hong Kong shopping mall scene. Hysan Place already has a few bragging rights: look forward to an Apple store, the city's first ever Hollister and three levels to Eslite (8/F-10/F, 3419 6788), a Taiwanese bookstore that will be open 24 hours a day, Thursday to Saturday. The first floor is simple, with wall-to-wall brand-name beauty products such as Clinique, L'Occitane, Origins and MAC.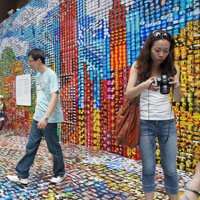 Times Square fun/ photo: Vijay Verghese
Up the escalator, you'll find a gigantic GAP. On the fourth and fifth floors, wander through an array of lively Asian designers. Stop in at Daily Dolly (www.pinkmartini.com.hk, Shop 420-21, 4/F, 2644-1498) to admire the fuschia tutu and t-shirt combinations. This bold and playful brand designs unique graphic tees, handbags and accessories that seem to effortlessly mix and match. Another favourite is Deicy (www.deicy.com, Shop 402-403, 4/F, 3543-1226). A popular Japanese brand, Deicy moulds feminine styles with a bit of a modern edge. Nearby, Snidel (snidel.com, shop 409, 4F) is a popular Japanese brand for young women, fashionable children and sassy moms. Designer Asami Kusugami describes the style as "street formal".

For a quick gulp of fresh air, sneak out to the Sky Garden on the fourth level, which is perfect for a stroll and a photo op by the waterfalls. After your foray in the sunshine, head to the sixth floor where you'll find the Garden of Eden . This level, devoted to lingerie, bathing suits, beauty products, a nail salon and, yes, even a Haagen Dazs, will leave you feeling pampered. Check out the casual, flirty underwear at 6ixty 8ight , or head to Bubies for more risque knick-knacks. Stop in at Too Cool for School , a hot Korean makeup brand fresh out of Seoul. From the thick lip pencils shaped like - you guessed it, crayola crayons - to the funky eye colors, you will feel at the top of your class. Kitchen11 , the food court, is on the 11th floor.
Where to browse in Central, Admiralty, SOHO, Wanchai, Tai Koo Shing
The upwardly mobile will rush to Central where, along with tossing their husbands' lifetime pensions into a shopping black hole, they can see and be seen. Start by the harbour at the IFC malls where everything from Zara to a new Apple Store await (more in the computers section).
The mother lode of top-drawer brands in Hong Kong is the trio of Landmark, neighbouring Prince's Building and the stylish Chater House (tel: 2500-0555, www.CentralHK.com) where you can have your unhurried fill of Armani, Prada, Dior, Fendi, Louis Vuitton, Max & Co, Ralph Lauren, Chanel, Celine, Ermenegildo Zegna, Escada, Gucci and so on. Several of these outlets have been dramatically reinvented, the latest being the Gucci flagship store next to the Landmark Mandarin Oriental on Queen's Road Central. Louis Vuitton has pride of place at the corner of Landmark fronting Pedder Street. Chater House boasts several Armani options including flower arrangements and some fabulously expensive home furnishings. The Landmark is a Hong Kong mall woryth noting down in your diary as a shopping venue and a convenient meeting point in Central.
Apart from the shopping, the Landmark is a popular meeting point. Check out Abebi, (tel: 2530-2560) for upscale children's haute couture. Smokers should stop by Davidoff (tel: 2525-5428), which offers a wide range of smoking paraphernalia like cigars, lighters, humidors and more. Hungry? Visit ThreeSixty (3/F and 4/F, www.threesixtyhk.com) for organic foods and wines, "earth-friendly" household products and other healthy and environmentally friendly options. ThreeSixty also offers an extensive range of take-home and ready-to-eat food meals. Their Food Hall is worth a visit, but watch out for the suit-wearing lunchtime squash.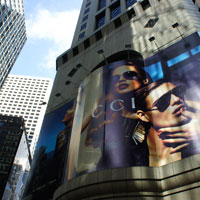 Gucci poster, Central/ photo: Vijay Verghese
Next door, The Central Building boasts several upmarket jewellery and watch stores like Audemars Piguet, Folli Follie, Swarovski and Tag Heuer. Shoe hunting is also a snip, with Nine West, Moiselle, Staccato and the super comfortable GEOX brand all in the same complex. Try the Clarin's Skin Spa (tel: 2810-9938), which provide massages and facials to cleanse your skin and sooth your muscles after a long day's shopping.
Around the corner at 10 Queen's Road Central is the giddy Bape Store (tel: 2868-9448, www.bape.com), brainchild of Japanese fashion icon Nigo, complete with the big gorilla logo at the entrance. Walk in to a minimalist white store with a glass floor and conveyor belt underfoot carting bright walking and sports shoes priced at upwards of HK$1,000. Go ape here with jeans at HK$2,000 and up, and t-shirts at upwards of HK$400. That's a lot of cash for a splash of style jet-fresh from Japan.
A men's bag will set you back a hulking HK$1,300 up while a regular lady's t-shirt is a wallet-popping HK$600. Or try on the jeans for size at HK$2,470 up. Close by, the retro Design Link (11 Duddell Street Central, tel: 2868-0991) is worth a look-see.
Also on Queen's Road Central is Marks and Spencer flagship store (tel: 2921-8059) – a huge complex of food, men's, and women's fashion, including a comprehensive lingerie section. Come here for a fix of shortbread or bulk buy English breakfast tea bags. You'll also find staple Indian curries, wines, and chocolates. Close by in Entertainment Building at street level is the large MCM flagship store.
Across Pedder Street, facing Landmark, is the gracefully ageing Pedder Building . Step out of the MTR and ready yourself for an assault of cologne trailing down the street and into the subterranean, cement corridors of Exit D1. If you couldn't tell from the long line of grinning girls vying to snap photos with boxer-clad models when the store launched in August 2012, Abercrombie & Fitch has manhandled this iconic building. As you enter the dark, chandelier-lit ground floor with high ceilings and grand staircases, it's hard not to feel like the humorous ab-themed frescoes – jeans and flannel are a bit out of place. Typically known for its stock of sophisticated, niche boutiques, Pedder Building may see a new crowd with this mainstream installment. Though the side door is easy to miss, an elevator will shuttle you up to Pedder building's other offerings. On the third floor, you'll spot the Simon lee Gallery and Annette Company (www.annettejewel.com, 2696-2702). The latter is a dainty shop, outfitted with lustrous pearls and ocean-inspired jewellery. On the fifth floor is a gentlemen's club tucked in the back. Stop into the Armoury (www.thearmoury.com, 2804-6991) for custom tailoring and all the accompanying dapper trappings.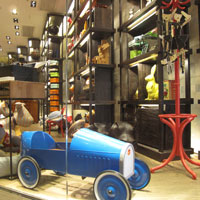 Lane Crawford Pacific Place/ photo: Verghese
Follow the tailored suits over to Duddell Street, a small alleyway next to Ice House. Anchored by a charming old stairwell and a Starbucks, this small pedestrian street is home to one of the city's most important stores. Formerly the resident of the white-stone Pedder Building, Shanghai Tang (tel: 2525-7333, www.shanghaitang.com) has since moved to its landmark store to Shanghai Tang Mansion at 1 Duddell Street. Other than three new levels, a big bronze emblem on the doorstep, latticed windows, and a few live canaries in golden cages, Shanghai Tang still offers the same brilliantly hued silks for all occasions. Launched in 1994, Shanghai Tang is a Hong Kong landmark and it's hard to walk in without picking something up. From gowns and figure-hugging cheongsams to jackets and pajamas, it's the perfect place to grab an eye-catching gift or stock your own closet. In the back room on the second floor, you'll find yards upon yards of fabrics ready for imperial tailoring. Mind the wallet, though, a relatively simple, silk tailored dress will run around HK$10,000. Shanghai Tang also has outlets at Pacific Place, Elements shopping mall, 1881 Heritage and InterContinental Hotel in Tsim Sha Tsui, and at the airport terminals.
Though Shanghai Tang is the highlight, Duddell Street is also home to the Hong Kong Diamond Exchange building, a few art galleries, and a handful of up-scale, plush modern home décor galleries in the Ruton Jee Centre that effortlessly attract women brandishing Louis Vuitton bags.
Blanc de Chine (tel: 2104-7934, shop 218-221, The Landmark) moved across the road from Pedder Building and offers a more refined, tempered translation of Chinese high fashions. Most of the shops are designer and factory outlets, sporting some trendy attire and fashion accessories. New Exhibition Top Cashmere (tel: 2526-8479, 206A) offers a pricy array. Also relocated from Pedder Building, Hanlin Gallery (tel: 2522-4479, 56-58 Hollywood Rd) offers some Asian zing with its oriental art collection. Browse exotic Japanese and eastern artefacts. For families with young children and newly-weds, Bumps to Babes (tel: 2522-7112, 5/F, www.bumpstobabes.com) includes every essential, from cots, prams and baby clothes, to maternity wear, children's books and educational aids. Bumps also has a large outlet at Horizon Plaza (tel: 2552-5000, 21/F).
Fronting the chic, new Landmark Mandarin Oriental Hotel on Queen's Road Central, a breezy Central addition is the 60,000sq ft Harvey Nichols (www.harveynichols.com), spread over five floors. It offers a huge range of luxury brands, competing with the famous Joyce Boutique (tel. 2810-1120) across the road. Joyce also has a branch in Pacific Place. Apart from mid-size Hong Kong shopping malls, several stores in Central offer Hong Kong online shopping options. Try your luck.
Nearby, Western bolt-hole for cheap, fast-fashion, H&M, at 68 Queen's Road Central (tel: 2110-9546, www.hm.com) created a stir when it opened in 2007, with patrons camping out overnight to be the first to get in and grab the freebies on offer. It remains a favourite with the budget conscious. Across the road at 24 Pottinger Street, ladies will find Kenki (tel: 2523-9993, www.kenki.cc), a colourful and cheery shop offering oriental apparel with a modern twist. A shawl costs from HK$94 while the popular t-blouse will set you back HK$200.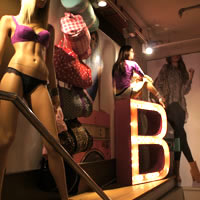 Cotton On, Central/ photo: Vijay Verghese
Other locations include the Miramar Shopping mall in Tsim Sha Tsui and the Parklane Hotel in Causeway Bay. Just around the corner at 2-10 D'Aguilar Street leading up to the feisty Lan Kwai Fong nightlife zone is the hugely popular Cotton On (tel: 2537-4267, www.cottonon.com/hk) with two floors crammed with slippers, t-shirts, skimpy dresses and beachwear at seemingly unbeatable prices. It is packed, and understandably. Clothes start at HK$99 or less. The chain also has stores in Sheung Shui, Maritime Square, Mongkok, Tsuen Wan and Granville Road.
Walk down Stanley Street, and you'll come across Aberdeen Street and a few others like it that climb up in steps from Central to the fashionable Mid-Levels residential area. Party costumes and wigs abound. Check out the old lady selling famous "century-old" eggs at HK$10 for four. It must be pointed out this is an acquired taste. On Hollywood Road you'll find antiques and art galleries galore. For something a little easier on your wallet, try out adjacent Upper Lascar Road, also known (misguidedly) as Cat Road, for cheaper antiques. Walking up to Lan Kwai Fong you'll pass a small but packed shop selling snakeskin handbags and shoes for ladies. Run by the affable Ana Kwok, Ana (tel: 2770-8326, www.Ana-Bella.com) is a heady mix of camp and chic with stylish clutch bags starting at around HK$4,000.
G.O.D (Goods of Desire, tel: 2805-1876, www.god.com.hk) is the spot for original Hong Kong-themed fashion and interior products, a heady blend of the trendy, the retro and the kitsch. Other outlets in Causeway Bay, the Peak, and TST's Silvercord mall. In the SOHO area look out for Homeless (29 Gough Street Central, tel: 2581-1880, www.homelessconcept.com) that has a wicked assortment of knick-knacks for all tastes. Lots of fun shopping options from solar-powered night lights and iPod accessories to funky home décor items. Homeless has several outlets around town. And ecols (8-10 Gough Street, tel: 3106-4918, www.ecols.com) displays elegant homeware using recycled materials.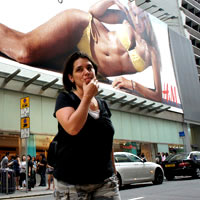 H&M in Central/ photo: Vijay Verghese
Beatnik (basement 31 Staunton Street, tel: 2881-7153), specialises in second-hand American '70s t-shirts and informal wear, priced anywhere from HK$80 to HK$1,000 depending on pattern, quality and stock. Check out the vintage leather jackets.
If you're ploughing through a full-blown mid-life crisis or just need respite from the relentless wallet bashing in Central, wander up 9 Old Bailey Street to The New Age Shop above Hollywood Road (tel: 2810-8694, www.newageshop.com.hk). It houses an interesting assortment of books (nirvana, auras, philosophy, anything really…), CDs, crystals and visiting psychics. Pop by to get au fait with terms like hypnotherapy, palmistry and cranio-sacral therapy.
The Book Attic (tel: 2259-3103, www.bookattic.info, Cockloft No.2 Elgin Street, Central) moved from Wanchai to the Mid-Levels early 2011 with its wonderful selection of secondhand books. Its passionate, ever cheerful, owner is always willing to chat at length to any wandering soul.
Stop off at pop bites for a humungous slice of cake before you trek onwards up this steep street. Olympia Graeco-Egyptian Coffee at the top sells some of the best make-at-home coffee in Hongkong. The shop owner mixes his own special blend (Java Mocha for just HK$60 per pound, tel: 2522-4653) and both man and shop are Hong Kong institutions, selling bags of beans, medium ground and fine ground since 1955.
For secondhand English language books and music (and more New Age stuff) try Flow Organic Bookshop (tel: 2964-9483, www.flowagain.com) along Shelley Street and the Mid-levels escalator.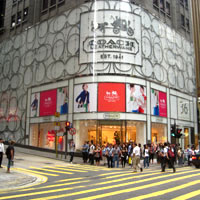 COACH, Central/ photo: Tenzing Y Thondup
In Sheung Wan, the Protrek shop at 156-157 Connaught Road Central (tel: 2850-7900, www.protrek.com.hk) has a range of outdoor equipment, including hiking poles. The store is one of a number of outlets around the city – others include the one at 46 Hennessy Road, Wan Chai (tel: 2529-6988) and another in Kowloon at 522 Nathan Road, Yau Ma Tei (tel: 2332-8699).
Also in Sheung Wan is the megastore Wing-On (tel: 2852-1888, www.wingonet.com) at 211 Des Voeux Road, which sells a wide range of house ware, apparel, shoes, accessories, and everything in between. This is a good place to shop for bone china porcelain. There are other branches on Nathan Road, TST East and Taikoo Shing.
Apart from their fine restaurants and bars, nearby Elgin, Staunton and Gough Streets in the SoHo (South of Hollywood Road) area offer a variety of shopping options ranging from designer clothing to household products. For local designer fashions, check out Ranee K (16 Gough Street, tel: 2108-4068, www.raneek.com). Lianca Central (27 Staunton Street, tel: 2139-2989, www.liancacentral.com) does designer-style leather handbags at affordable prices. Tree at 22 Elgin Street offers nice and simple home furnishings and accessories, all made from reclaimed wood or eco-friendly sources (www.tree.com.hk). This shop is a little on the small side, so if you want a bigger variety, try out the Horizon Plaza location at Ap Lei Chau in the south of Hong Kong island.
Amongst the packed bars of Lan Kwai Fong some good shopping material has squeezed in. Crocs (tel: 2810-0469, www.crocs.com.hk) has a store here, along with a Calvin Klein Underwear outlet, an Aerosoles and a smattering of upmarket boutiques. For more footwear, check out eYe Junya Watanabe Comme Des Garcons (22 Wyndham Street) or neighbouring F.I.L. (18 Wyndham Street, tel: 2525-7550), two Japanese shoe boutiques catering to a hip young crowd.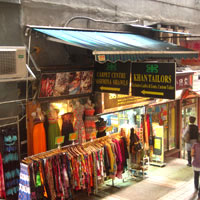 Central alleys/ photo: Tenzing Y Thondup
Some multi-brand options in the neighbourhood include Shine (50 Wellington Street, tel: 3426-9080) and Sistyr Moon (19 Wyndham St, tel: 2111-1172), the latter with branches in Lee Garden and Windsor House in Causeway Bay, and in Harbour City in TST.
Trek farther along Wellington Street to source even more kooky shops selling unique, some handmade, creations that will have you wondering whether you are in capitalist Hong Kong or the bespoke backstreets of Florence.
Also in Central, for avid golfers, there's the small Central Golf on the ground floor of the Bank of America Tower on Harcourt Road, Central, which offers a range of apparel and clubs. A larger establishment with practice bays in the basement has given way to Wing On Cruises.
In the Admiralty area is one of the most popular Hong Kong shopping malls, Pacific Place (www.pacificplace.com.hk). It is accessible, busy and well stocked with more designer labels than you could shake a stick at. This is a safe and sober starting point if you're looking for the latest digital cameras and photo supplies. For the latest cameras, SLRs, video cameras, fun gadgets, TVs and mobile phones check out Universal Audio and Video Centre (they have a branch in IFC Two as well). Super luxury phone brand Vertu can also be found here, but be ready to drop a bucket on their crystal and diamond-studded gizmos.
For designer brand shopping Hongkong's Pacific Place mall is a convenient spot that includes top designer brands like Dior, Agnès b, Vivienne Tam, Max & Co, Celine, Chanel, Bally, I.T, La Perla, Loewe, Louis Vuitton, Salvatore Ferragamo, Gucci, Hermès, and a few mid-market brands like Zara, Mango and French Connection FCUK. By October 2011 more high-end muscle was evident with the addition of a large Harvey Nichols (blog.harveynichols.com.hk), which replaced the popular Seibu store. Saunter into Harvey Nichols for everything from Swarovski crystals to Follie Follie (www.follifollie.com) and an assortment of cosmetics and perfumes.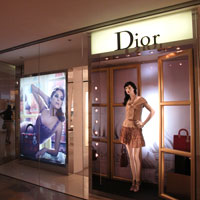 Pacific Place Dior/ photo: Vijay Verghese
There is a large Lane Crawford store with an expensive and extensive furniture gallery. Military buffs and those looking for quality replica miniature hand-painted toy soldiers need only pop into King & Country (www.kingandcountry.com) at Pacific Place for a peek back in time. Great renderings, and expensive. And at the small but bright Vilebrequin (Unit 115, tel: 2918-0263, www.vilebrequin.com) near the AMC cinema theatre, splendidly hallucinogenic men's bathers await at HK$2,000 a pop or more.
Pacific Place mall fashionistas can also expect Ermenegildo Zegna, AIX Armani Exchange, D&G Dolce & Gabbana, Daks, D'urban, Joyce, Just Cavalli, Prada, Anteprima, Kookaï, Miu Miu, and Shanghai Tang. Jewellery and watch company options include BVLGARI, Cartier, Chopard, Frey Wille, Piaget and Jaeger-LeCoultre. Looking for a Hong Kong bookstore? Try the excellent Kelly & Walsh. Music at Hong Kong Records, and sound systems, if you have the money and moxie, at Bang & Olufsen.
Well designed educational toys can be had at Wise Kids (tel: 2868-0133), but the store is not very roomy so if you like what you see, check out its larger branch (two floors) at the Cyberport mall. For high end designer brands and a classy Hong Kong shopping experience, Pacific Place with its elegant surrounds and quality restaurants, is hard to beat.
Right above the Admiralty MTR station and adjacent to the popular Pacific Place mall lies Queensway Plaza, which transformed from low-key to open-plan chic mid-2012. Instead of the earlier dingy MTR tube corridors lined with shops, find a contemporary space with the walls knocked out and plenty of eye candy, much of it from LAB Concept (labconcepthk.com). There is a better and smarter array of women's fashion as well as shoes and cosmetics. For cosmetics, close to the Pacific Place walkway entrance, spot Estee Lauder, the popular MAC, SK-II and more. There's Kiehl's for hand creams and lotions. Farther on are The Body Shop, bliss, and Apvita. Well-stocked Shoespace sells a range of brands with flats and slip-ons starting at around HK$1,300. American Apparel has bright shorts, trousers, t-shirts and tops from HK$490 up.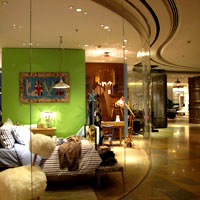 Lane Crawford, Pacific Place/ photo: Verghese
Also find the rumpled rustic Scotch & Soda with its Timberland-style checked shirts, Joyce, Jurlique. and old-timer Nails From HeART (tel: 2865-2680, shop C12,www.nailsfromheart.com). The hugely aromatic Mrs Fields cookies is now in a small shop closer to the walkway leading to Bank of America, on the Central side of Queensway shopping mall.
For something different, check out Eu Yan Sang (C-13) for Chinese herbal remedies and Ki Chan Tea Company (tel: 2861-1668, shop C-8, www.kichantea.com) for a wide range of Chinese tea products. Ki Chan also has an outlet at 174 Johnston Road, Wanchai.
Lane Crawford runs a chic new spacious outlet on the third floor of the gleaming IFC Two (tel: 2295-3308, www.ifc.com.hk), which also features a range of luxury brands such as Lanvin, Prada, Georg Jensen and Bulgari. Tech-buffs should breeze through Oregon Scientific (right above City'super, tel: 2295-3198, hk.oregonscientific.com) where all manner of drool-worthy items are on offer including weather clocks that also plot the phases of the moon. Other locations include Times Square and Festival Walk.
A Philippe Starck designer clock will set you back just around HK$750 and a finger-pulse checker and calorie counter around HK$230. There are several jewellery stores on the IFC's second floor and a selection of trendy stores such as Zara, Agnès B, Mango and Patrizia Pepe on the first floor. This is where Agnès b La Loggia (Shop 3089, IFC Mall, tel: 2805-0678, www.agnesb.com) has set up a mammoth 15,000sq ft flagship store. Agnès b has a global travel store at Hong Kong International Airport as well.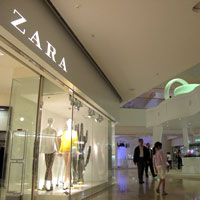 The popular Zara/ photo: Vijay Verghese
Try Teuscher chocolate from Switzerland (tel: 2462-6432) at Shop 2006 (don't miss their famous Milk Champagne Truffles). Specialty jewellery shops include Jan Logan (Shop 2089A, tel: 2918-4212), Qeelin (Shop 2059, tel: 2389-8863), ARTE (Shop 2004A, tel: 2295-3980, www.arte.com.hk), Carat* (Shop 1062, tel: 2234-7372) and Thomas Sabo (Shop 1002B, tel: 2295-3585). Also prominently featured are a whole host of beauty care shops, including FANCL, Clinique, Clarins, Estee Lauder, Shiseido, Bobbi Brown and more. Once you're done, pop by the PALACE cinema to catch the newest flick, or stimulate your mind at the Dymocks and Bookazine bookstores.
In Wanchai at the Convention Centre (near the Renaissance Harbour View Hotel) is the evergreen Hong Kong Trade Development Council Design Gallery (tel: 2584-4146, www.hkdesigngallery.com) with an intriguing collection of odds and ends from picture frames and fashion accessories to soft furnishings and laptop speakers. The gallery's mission is to promote creativity and innovation and all products are locally designed.
Close by is the China Resources building which houses the multi-floor Chinese Arts & Crafts (tel: 2839-1888, www.crcretail.com) a longtime Hongkong staple. The place showcases clothes, furnishings, jewellery, jade carvings and artefacts. The group has stores at Star House (Tsim Sha Tsui) as well as in Pacific Place (Admiralty), and on Queen's Road Central. It is a useful spot to shop for Qi Pao Chinese dresses (also Qui Pao) but a bit higher priced than at street shops in Wanchai.
Furniture and home interior buffs should wander along Queen's Road East for a range of fashionable, high and mid-range options. Check out the sleek Asian-inspired Ovo (G/F 16 Queen's Road East, tel: 2526-7226, also with branches Ovo Studio at 60 Johnston Road, Ovo Logue at 66 Johnston Road and Ovo Garden at 22 Queen's Road East, www.ovo.com.hk), Aluminium (Shop F, G/F and lower basement, 58-64 Queen's Rd East, tel: 2577-4066, www.hk-aluminium.com, with branches in Central, Causeway Bay and Horizon Plaza), and the eclectic Flea + Cents (1/F, 36-40 Queen's Rd East, tel: 2528-0808, www.fleancents.com) for second-hand western design curios at somewhat inflated prices.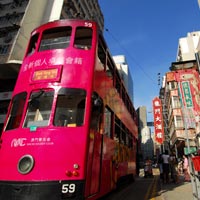 Wanchai tram/ photo: Vijay Verghese
You will also find some unique accessories and collectibles like Gold Playing Cards for HK$125 or a measuring tape with fashion icons on it for HK$185. There's a good run of rattan furniture shops along here too. On Johnston Road pop into Westwood for factory outlet stuff and there's a Maple nearby too. If you're searching for a good wool shop to finally knit those woollen sweaters for the kids, try the well stocked Cheer Wool Company Limited (G/F, 48-62 Hennessy Road, tel: 2893-6296, www.cheerwool.com).
And just across the street is medimart (G/F No. 2 Johnston Road, tel: 2866-8608, www.medimart.com.hk) with a wide array of rehabilitation equipment and medical supplies. You'll find walkers, wheelchairs, bed pans, and aluminium walking sticks that double as foldout stools. There is another medimart at 1065 King's Road, Unit D, G/F Eastern Centre and one in Cause Way Bay at 11-17A Tung Lo Wan Road.
Wanchai is also home to a wide range of sports shoes, tennis shoes and funky casual wear for all occasions. For those interested in buying shoes in Hong Kong, or trendy sports shoes, from Reebok, Puma, Nike and Adidas to outlandish brands and designs, or good sturdy classics like Clarks, scout along Johnston Road and the side streets spiking away towards Queen's Road East. For mountaineering gear, snow apparel, backpacks, hiking shoes, sleeping bags and climbing gear, try Mammut (261 Queens Road East, tel: 2783-0788, www.mammut.com.hk). They have a shop at 9/F, 610 Hollywood Plaza, Nathan Road, Mongkok and another at 74 Hollywood Road in Central.
The basement of Emperor Group Centre, 288 Hennessy Road, houses an entertaining, and cheap, Jusco $10 Plaza (renamed Jusco Living Plaza with starting rates of HK$12 from October 2011), and a brilliant secondhand record shop – that's right, real LPs at Time Traveller, though the name is displayed only in Chinese, 2pm-8pm, Basement 07. It's a small shop but offers a terrific selection of oldies and classical vinyl. At the back of the same building on Wanchai Road is a popular Hong Kong factory outlet, this time from Triumph (Shop 11, G/F, tel: 3101-1112), where underwear is 70 percent off or more.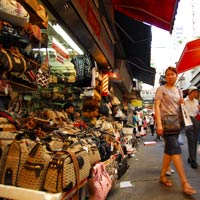 Wanchai Market/ photo: Vijay Verghese
Another place for a great music selection is CD and DVD shop Rock Gallery at Tai Yau Plaza (181 Johnston Road, tel: 2893-7791). Expect everything from Moody Blues, Cream, Taj Mahal and Traffic toYanni. Also in Tai Yau Plaza are bauhaus (replacing longtime staple bossini), undercover (for underwear), some coffee shops for a breathing pause, and a long-queue Crystal Jade dumpling and noodles restaurant.
Or for interesting hand-crafted wooden chessboards (about HK$900), mahjong sets or Chinese checkers, try the small Yue Sing Company (GF, 7 Fleming Road, tel: 2792-9777). They have a branch in Yau Ma Tei as well over in Kowloon. A charming, tiny, and whimsical place with a mind-boggling collection of antique second-hand assortments is Simple Living (252 Lockhart Road, tel: 3118-0687), The mezzanine floor walk-up entrance is very easy to miss. It is next to the Lockhard Road Market. Wander in to browse ancient model cars, cameras, electric fans, and even manual cash registers.
At the east of Hong Kong Island, at Tai Koo Shing (on the MTR train line), are the Cityplaza One and Two malls with a wide range of goods from department store offerings to fashion brands and furniture. Look out for the huge multi-floor APiTA department store that also offers some Japanese outlets. Other Cityplaza stores of note include Marks & Spencer with its array of clothes and a small food section, H&M, Muji, Uniqlo, a relocated Toys R Us, and the old HK workhorse Wing On department store. Alternatively ice-skate or take in a movie. Kids can enjoy thrills and spills at Jumpin Gym. A Jusco mall is across the road.
Shopping on the Peak and in Stanley
While enjoying some spectacular postcard views of Hong Kong, drop some change at The Peak Galleria and The Peak Tower (www.thepeak.com.hk). In addition to the myriad souvenir shops in the Peak Galleria, there's HK$299 leather boots at Red Plus (Shop 26), a Dymocks bookshop, a Hard Rock Shop, and New Peak Shoes with an arsenal of well-stitched leather including Clarks, Florsheim, CAT, GEOX, Hush Puppies and more. Century-old Hong Kong cosmetics brand Two Girls also has a shop here, as does jewellery shop Silversmith and boutique store HKID Gallery, featuring original products from local craftsmen and artists.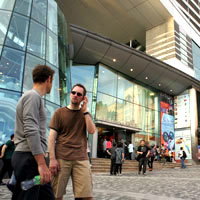 Peak Tower/ photo: Vijay Verghese
Expect to find decently priced stuffed pandas, affordable casual clothes from Baleno (with an Astro Boy outlet), GOD (Goods of Desire) show flat and shop, and the Laurence Lai Gallery for old Hong Kong photos including some Kai Tak Airport building-grazing landings. The Peak Tower hosts a range of restaurants including the beer-batter fried shrimp specialist Bubba Gump, and outlets like Swarovski, Fiona Prince, BMX, adidas, Tang Dynasty Costume (selling traditional Chinese apparel and accessories), Giordano (including a Junior section), and crocs (the signature waterproof plastic shoes with eccentric holes).
There is a Madame Tussauds (Shop P101, tel: 2849-6966) waxworks in the basement. The Peak Market section on Level P1 sells back-alley souvenirs and knick-knacks at higher-than-back-alley prices. Also check out ME.N.U (tel: 2849-8955), the biggest shop at the Tower, it is split into five zones offering electronics, home ware, health products, sportswear and a kids zone. Children will also enjoy Hello Gift Land (tel: 2849-6893), which boasts that its collection of toys will stimulate creativity. On the second floor of the Peak Tower find the South Korean skin-care and cosmetics brand Tony Moly (opened mid 2012) that does face masks for HK$15-$28 and an assortment of creams and scented lip balm.
Farther south, head out for a stunning drive by taxi or bus (Numbers 6, 6A, 6X and 260 from Central) to Stanley. A former fishing village and now a full-fledged shopping and tourist area with bric-a-brac stalls, fancy restaurants and a beach, Stanley is a nice half-day outing. For factory outlet and reject stock, try Sun and Moon, which has several locations throughout the market. A t-shirt will set you back around HK$70, while jeans go for roughly HK$150-$300. Browse carefully and you'll find fun bits and bobs.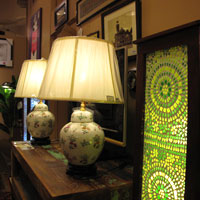 Shambala fun stuff/ photo: Vijay Verghese
Printed ladies' handbags with Vogue magazine covers on them go for HK$250, but you can bargain the price down. Chairman Mao playing cards are HK$38 a pack, and you can even find Obama revolutionary Che Guevara style t-shirts here.
Start rummaging. In the thrum of the t-shirt and handbag stalls look for electronic oddities at EXCLUSIVE (Shop B&C, Yau Wing House, No. 34-36 Stanley Main Street, tel: 2813-2730). It stocks Chinese-made massagers, mini radio-controlled helicopters, video cameras, spy pen cameras and laser show devices. Pick up a small whirly for the outdoors for HK$300 (though the asking price could be double that). Or for a laugh, pick up a wall-climbing vacuum suction remote-controlled car for HK$200. Bargain hard.
Also on Hong Kong's south side, in Ap Lei Chau, is Horizon Plaza (tel: 2554-9089) with several floors of antique and furniture warehouses like the delightful Shambala (2/F, tel: 2555-2997, www.shambala.com.hk), a cool magic Alladin's Cave hangout for an afternoon's mystery tour. The owner Andrew Robbins has poured his heart into the sprawling display and his eclectic passions are much in evidence, from the Turkish patchwork carpets, to the Tibetan chests, to the quirky art deco work desks from India and every bit of bric-a-brac you may have once spied in your grandma's attic. Stop for some home-brewed coffee and music.
For more Hong Kong factory outlet stores, simply wander around the building. On the first floor is furniture warehouse Tequila Kola (1/F, tel: 2877-3295, www.tequilakola.com).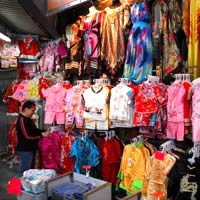 Stanley stall/ photo: Vijay Verghese
Rimba Rhyme (5/F, tel: 8330-8100) does large contemporary style beds and sofas while TREE (28/F, tel: 2870-1582, www.tree.com.hk) serves up loads of wood furniture, dining tables, bookshelves and beds.
Although the focus is primarily on furniture at Horizon Plaza, there are several large fashion factory outlets for well known brands, such as the Armani Outlet (22/F) where a set of high heels will pinch just HK$2,600 or so from your wallet, Ralph Lauren (22/F) with a Polo t-shirt at HK$525, Moiselle (22/F), Last Call (22/F) for sportswear and kids' stuff, and the Pompei Warehouse (22/F) for a range of sub-retail brands like Bally, Dolce & Gabbana, Marc Jacobs and TOD's. Also find Max Mara (27/F), Juice Couture (27/F), Diesel (27/F), i.t (5/F) with party dresses and sequined outfits from HK$2,000 up and amazing discounts of 70 or 80 percent off, Lane Crawford (25/F), and the Bluebell Fashion Warehouse (19/F). Horizon Plaza is a great spot for some of the best factory outlet bargains in Hong Kong.
Toys and baby accessories can be found at the excellent and well-stocked Bumps to Babes (21/F, tel: 2552-5000), INDIGO Kids (18/F), and Toys Club (19/F). That's the hopping shopping Hongkong roundup for the island. You'll need to take a taxi here. About HK$70 from Central. If you're trying to scrimp, however, you can still get here by public transport. Take buses 90 or 91 from Central or 92 from Causeway Bay to Ap Lei Chau Estate, from where there are complimentary shuttles running every ten minutes to Horizon Plaza.
Hong Kong mall guide to shopping in Tsim Sha Tsui and Kowloon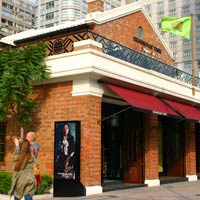 Shanghai Tang, Heritage/ photo: Ernest Lui
Tsimshatsui is well known for brand shopping, especially around the vicinity of five-star hotels like The Peninsula, The Langham, and the Marco Polo Hongkong Hotel. Should you be Internet inclined, log on to the Peninsula Boutique (www.peninsulaboutique.com) and browse their selection of gifts and goodies including chocolates, teas and gourmet coffee. Specially wrapped packages can be delivered to any point in Hong Kong.
The latest feather in the Tsim Sha Tsui cap is the stunning 1881 Heritage (tel: 2926-8000, www.1881heritage.com) development at 2 Canton Road, on the site of the former Marine Police Headquarters. This colonial confection includes a grand central square with fountain and stretches from the road to the top of a hillock. A Shanghai Tang store (G/F House 1, 2A Canton Road, tel: 2368-2932, www.shanghaitang.com) occupies pride of place in a historic brick building near the entrance, facing the Rolex and Tudor watches showroom at 16-18, G/F, 1881 Heritage, 2A Canton Road (tel: 2723-3088). This area is a three-minute walk from the Star Ferry. Also find IWC Schaffhausen watches, Cartier, Vacheron Constantin and other luxury watch brands. Jewelry shops include Tiffany & Co, Frey Wille, Paspaley (specialising Australian South Sea pearls) and Van Cleef & Arpels. Elegant curved staircases rise up two levels to a white colonnaded building atop the rise. With the uplights on at dusk, it is a striking tableau.
Newcomers K11 below Hyatt Regency on Mody Road, and i SQUARE, are within easy reach of hotels like Holiday Inn Golden Mile, Panorama, Peninsula, Sheraton and, with a brisk walk, Kowloon Shangri-La. Occupying the lower floors of the Hyatt tower, K11 (www.k11concepts.com) is a lively newcomer that takes a spunky stab at melding art and fashion with an array of sculptures, modern art, video screens, and aerial, suspended works. Encounter a large bronze horse, a crazy bookshelf, cubist birds hovering under a high ceiling, and flower-pod chairs in metal.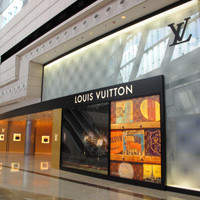 Elements, LV store/ photo: Vijay Verghese
Small wonder K11 describes itself as an "art mall". For fashion brands and accessories there's D-mop, Juicy Girl (for the younger set), Laura Ashley, Longchamp handbags, Miss Sixty, mi-tu, Y-3, Cour Carré, Biba and Triumph. Some interesting TST watch shops in this mall include Omega, Girard-Perregaux, Glashutte Original, and Chow Tai Fook. There is a broad range of cosmetics from L'Occitane to Yamano and Paul & Joe Beaute. Leather options continue, this time at shoe shops like Clarks, Hush Puppies, Jill Scott, Kipling, Mirabell, Staccato and Jipi Japa. The mall also houses a small section for art exhibitions.
i SQUARE (tel: 3665-3333, 63 Nathan Road www.isquare.hk, MTR exits H and R) a block up Nathan Road is a vast and gleaming multi-storey affair with a UA Cinema (including IMAX) and numerous food outlets (including several Japanese restaurants) should your feet tire. Pho 24 boasts a sleek interior design with affordable Vietnamese cuisine for shoppers on the go – a main course dish will set your wallet back just around HK$40. Fashion brands are a mix without too many top-drawer names.
The mall aims at affordable wear and casual smarts. Expect to find everything from Crocodile, Ice Fire, tcn:y, Lacoste and MANGO to PINKBOX, Seiko, The L.S. Collection, City Chain and Missha. Music buffs can check out BOSE and Radar Audio Company. Given Hong Kong's tropical climate, even in the cooler months a thin long-sleeve often suffices. Cashmere is one answer. Zume (tel: 2312-1831, 2/F) offers trendy new styles of cashmere fashion for young hipsters and oldies alike, at a decent price. Log-on by City Super offers an eclectic array of quirky oddities for all lifestyles. Marks and Spencer has just opened a new branch here as well.
Some of the biggest Hong Kong shopping malls are in Kowloon. Farther along at 100 Nathan Road is the new The ONE mall (www.the-one.hk), adjacent to the Mira Hotel and opposite the Miramar Shopping Centre. The One boasts many beauty and youth boutiques, including the flagship store of Japanese fashion brand Beams. There's also a Harvey Nichols Beauty Bazaar, and a Homeless household store on the eighth floor. Need a break? Catch a movie at the Broadway Cinemas or stroll to Kowloon Park, en route along Nathan Road taking in street-level stores like Clarks, Geox, ecco and Mirabell for shoes, Lacoste for cheap t-shirts and the ubiquitous Chow Tai Fook for jewellery and diamonds.
The ONE mall, TST/ photo: Ivy Tsang
The Miramar Shopping Centre (tel: 2730-5300, www.miramarshoppingcentre.com) was smartly renovated in 2010 and presents a sleeker, modern persona aimed at the young, hip and restless. It offers the traditional mall fare, including fashion stores like A/X Armani Exchange, Anna Sui, Calvin Klein Underwear, D-mop, DKNY, i.t, b+ab, Vivienne Westwood, and more. Also find agnes b, sport b, UNIQLO, Muji, and 6ixty 8ight (with its bright pink set-up offering bras and swimwear. After burning off some calories and a hole in your credit account, stop by at one of the restaurants like Yunyan Sichuan on the fourth floor, or The Great Indian Kebab Factory on the second floor. Or do a Japanese ramen on the run. Across the road and linked to Hotel Mira is the gleaming Mira Mall (opened April 2012) that boasts a clutch of high end designer fashion brands including COACH handbags, Tommy Hilfiger, and TWIST (which, with 12,000sq ft, is one of its largest offerings) for a range of goodies. Explore Mira Mall for women's and children's outfits and accessories.
Designed to reflect the five Chinese elements of fire, water, wood, earth and metal, the 825,000sq ft Elements shopping mall, above Kowloon Station in TST, offers an eclectic, designer brand mix of Zara, A/X, Louis Vuitton, Cartier, Coach, DAKS, DKNY, H&M, Nautica, Tiffany & Co and a Callaway Golf outlet with clubs, drivers and more. Enoteca has also migrated here from iSQUARE and offers a wide range of fine wines. There are also smaller designer stores like Cocktail where a t-shirt will set you back HK$695. Tired of shopping? Head to the lively "Fire Zone" at Elements to take in movies, an ice skating rink and music concerts. Get your bearings first. The mall is vast. Information boards could be better placed and better marked. The maps display shop numbers though none of the shops actually carries any number at its entrance. This is a large and sleek Hong Kong mall but with a somewhat confusing layout.
Harbour City (tel: 2118-8666, www.harbourcity.com.hk) is a huge shopping mall that encompasses Ocean Terminal, Ocean Centre and Gateway Arcade, with a grand total of over 700 shops selling everything from apparel and beauty items to jewelry and watches to audio visual and electrical appliances and everything in between. It boasts conglomerates like Lane Crawford, City'super (tel: 2375-8222, www.citysuper.com.hk), LCX (tel: 3102-3668, www.lcx.com.hk) and Faces (tel: 2118-5622) – a giant store that brings nearly all the notable skincare and cosmetic brands in one place. City'super offers food-court style dining but at fancier prices. Nip in for a rest and a bite. For cards and wrapping paper, check out Papyrus.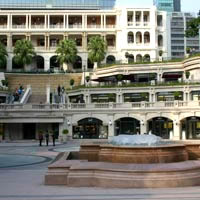 1881 Heritage, TST/ photo: Ernest Lui
Next door is the colourful and playful Pylones (3229 Gateway Arcade, Harbour City, tel: 3188-5928) with hand-painted umbrellas, crazy serving spoons and forks, and bright nail brushes. Alessi (tel: 2175-0800), the adjoining shop, has its usual mix of quirky steel wine bottle cork screws. There are also quite a few children's wear and toy stores in Harbour City. Places include Nicholas & Bears (www.nicholas-bears.com), Oshkosh B'Gosh, Chickeeduck, Kingkow (www.kingkow.com.hk), Toys "R" Us (www.toysrus.com.hk) and more. Don't forget to check out the neighbouring Star City (3 Salisbury Rd) mall next door.
At 5 Canton Road you'll find the flagship Louis Vuitton superstore (tel: 2736-0007, open 10.30am to 9.30pm) with everything from its signature monogrammed bags to shoes, glasses and fashion accessories. There is a more intimate LV shop at The Peninsula hotel as well. Dotting the road are similarly spectacularly priced Gucci, Marc Jacobs, COACH, Dole & Gabbana, Hermes, Salvatore Ferragamo, Chanel and Louis Vuitton. Across Canton Road at Silvercord (www.silvercord.hk) you'll find an extravaganza (www.extravaganza.com.hk) outlet and an I.T Outlet store. Other young fashion outlets include H&M, Nike and Izzue.
One Peking Road nearby has a slew of upscale outlets like Cartier, Dior, Fendi and Ermenegildo Zegna. Across the road, on the ground and first floors of the Sun Arcade, you'll find a big DFS Galleria (www.dfsgalleria.com), offering designer brands from around the world. In the basement there are fashion outlets like D-mop, Twist, a.y.k, Kitterick, Collect Point, b + ab, DaDa and many others.
Mid-2011 the New World shopping centre in Tsim Sha Tsui was being redeveloped. The Sogo between the New World shopping centre and the Space Museum (all are easily accessible and connected by the underground Tsim Sha Tsui MTR and East Tsim Sha Tsui station walkway) remains open.
The huge Elements mall/ photo: Verghese
Is everything expensive in Tsim Sha Tsui? Far from it. Avoid the rip-off electrical and camera outlets of Nathan Road and walk on to Granville Road. If you're coming here by underground train (MTR), take the B2 exit at Cameron Road. Granville Road is where you'll find a huge assortment of garments that won't hurt your wallet. Blouses and shirts start from HK$30-$40 though you can come across tousled items for less than $20 in must-sell-today cardboard boxes. This is bargain Hong Kong shopping at its best.
Explore the export fashion shops like Sample Nook, Westwood, UNO factory outlet and more. There's also an outlet from Australian casual fashion house, Cotton On (two ladies tops cost HK$150, two mens tops cost HK$99). Check out Lung Shing Dispensary (tel: 2367-9274) for a variety of low-cost skincare and hair-care products. Similar shops include SaSa and Bonjour, and upstairs outlets such as Queenbee, Tectonic, Trippy and Japan Retail (JR). This is a good hunting ground for underwear and sports shoes.
The four-storey gi shopping arcade at 34-36 Granville Road ("gi" stands for granville identity) is open from 12pm to 12am (tel: 3188-5273). You'll find skincare and cosmetic products on the ground floor, accessories on the first, clothes and shoes on the second and household products on the third. Visit Shiru (www.shiru-cosmetics.com) on the ground floor for high-quality Japanese cosmetics at very reasonable prices. Also stop by newly opened Another Living (3484-2184, shop G01-02), which offers an affordable range of Thai-designed leather and house ware. Goods are priced at a reasonable HK$150-$500, with a large leather tote priced at just HK$479. The second floor is also a good place to stop by for some spicy bedroom fun with a smattering of sex shops as well. At Shop 101, Tern Commercial Building (39-41 Granville Road, tel: 2367-0893), is the outlet for Hidehiko Yamane, a trendy Osaka fashion house, formerly displaying on Gloucester Road, Wanchai. Funky stuff galore. Check out embroidered charcoal and dark-blue denim jeans for men and women (starting at about HK$1,500) and printed t-shirts (from HK$380). The shops on the second floor are open till around 11pm.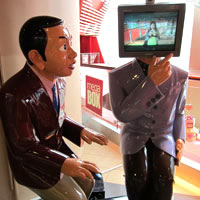 Quirky display at Megabox/ photo: Ivy Tsang
Turn into Granville Circuit at 52A Granville Road for Rise Shopping Arcade. This place is similar to Island Beverley in Causeway Bay with lots of local designer shops and imported fashions. Keep in mind that most shops don't open until early evening, so perhaps wait till after sunset before you start your spree. Check out Gaite or W for some handmade bags.You'll find Japanese fashions at Low B Club (owned by the popular Hong Kong Canto-pop duo the Twins). Also check out Des.sert for funky clothing and costumes. At We Are Gang (1F, 49 Granville Rd, www.wearegang.com) expect funky youthful duds from local Hong Kong designers. At 81 Chatham Road and again at 19-23 Austin Avenue, around the corner, you'll find outlets for funky and pricey t-shirt and embroidered jeans label EVISU.
Some of the more elaborate jeans will be upwards of HK$2,000. There's a 1001 store selling Red Monkey creations in Central as well at 43 Wellington Street, G/F Sun Lee Building. Inside the Park Hotel on Chatham Road South, there is a newly opened DNA Galleria (2312-7136, www.dnagalleria.com). Its all-black interior contains merchandise specifically geared towards a young crowd. On Cameron Road you'll find a new outlet for the Chinese Li-Ning (tel: 2721-8900, 2-4A Cameron Road, TST) that specialises in sportswear and accessories. Pick up tennis raquets and smart sports duds for that next workout weekend. Other shops include local Joy & Peace fashion boutique, Hiroshima (Japanese leather handbags), Elegant Tang Dynasty (Hong Kong souvenirs), and a host of Chinese medicine stores like Tung Fong Hung, Beijing Tong Ren Tang and Eu Yau Sang. Watch shops on neighbouring Carnarvon Road include Swatch, Tissot and Oriental Watch (with a range of high-end brands). Also find a small TAKA jewellery outlet.
For fast and fancy tailoring, drop by famous Sam's Tailor (tel: 2367-9423, www.samstailor.com) in Burlington Arcade, off Nathan Road. The unassuming Sam's has stitched outfits for Bill Clinton, Michael Jackson, Luciano Pavarotti, Serena Williams and Archbishop Desmond Tutu, among others. Manu Melwani will offer you a beer or a Coke while you fuss over your fitting (24-hour suits start at around HK$2,500). Tsim Sha Tsui is also good for elegant leather shoes and sports shoes.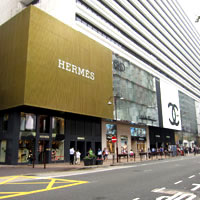 Hermes on Canton Road/ photo: Ivy Tsang
Tsimshatsui East offers further low-end browsing possibilities at places like Peninsula Centre (clothes, handbags, Japanese restaurants and even a horologist – Berne Horology, tel: 2576-8668 – where you can haggle over clock and watch repair). Cheap Hong Kong shopping and quick bites continue at Energy Plaza and Inter-Continmental Plaza/Toyo Mall nearby. Tsim Sha Tsui has several camera and photo supplies shops but care should be taken, especially at camera shops on Nathan Road, Kowloon, where "bait and switch" tactics have been employed in the past. Never put money down as a deposit or advance for any electronic item until you have seen and established that it is the one you want. Shopping Hong Kong for bargains is great but keep your eyes open and your wits sharp.
Megabox (tel: 2989-3000, 38 Wang Chiu Road, Kowloon Bay) really is a bright red box – and huge. It's tedious getting there but when you do arrive (take the regular, free shuttle bus from Kowloon Bay MTR Exit A) the sheer size of stores here will leave you spoilt for choice. Swedish giant IKEA has two floors and Jusco occupies two floors as well. Other big names include GigaSports and PROTREK for sports gear, Best Electrical gadget store, Giormani furniture store, and more. If you are beginning to lose track of time and space, distract yourself with the excellent UA cinema and IMAX theatre. And if that isn't enough, there's an international sized ice-skating rink and one of the largest Hong Kong book stores – Popular Book Store (www.popularworld.com).
Plenty of parking and vast kid's, eating and general fashion sections will keep everyone happy for at least a week. Even kids can unwind after a long day by stopping at Play House (2151-9761, www.playhouse.com.hk), an indoor playground where your child can kick back for HK$40-HK65. Try some of the Hong Kong online shopping options at smaller establishments.
For shopping nuts there is the opportunity to visit two out-of-the-way shopping malls in one trip. Telford Plaza (www.telford-plaza.com) is located next door to Kowloon Bay MTR station. Take a whirl round here before taking the shuttle bus to Mega Box. Just add a hotel in the middle and you need never leave.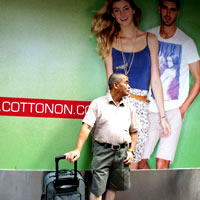 The old and the new/ photo: Vijay Verghese
This mall features plenty of mid-range brands catering for a broad variety of tastes. Find bauhaus, Calvin Klein (underwear), G2000, GEOX and Clarks (if you're in the need for a Hong Kong shoe store), Nike and Adidas for sports shoes, Giordano, and a cinema theatre. Electronics shops include Broadway, Fortress World, Computer Gallery and Chung Yuen Electrical. There is a Marks and Spencer on the ground floor, and new additions include a Zara fashion store, Uniqlo and Initial. Also recently opened is Piago, a Japanese department store run by UNY. Telford has lots of eateries should you need a break. Not far from here by train is the apm mall (tel: 2267-0500, www.apm-millenniumcity.com) in another highrise. Step out at the Kwun Tong MTR station. Expect more of the same at this busy shopping mecca. You'll spot agnès b, Sport b, Levi's, D-mop, Quiksilver, Fred Perry, G2000, Chocoolate, Anna Sui, and Birkenstock for trendy outdoors shoes. For some nice jewellery, try out Accessorize (tel: 3148-9368), selling funky modern jewelry, accessories and handbags for a trendy young crowd. Department stores Muji and LOG-ON can also be found here.
Hong Kong bargain shopping in Mongkok
There is more than a bit of the Wild West in Mongkok but this is the place for rock-bottom deals on anything from fashion to mobile phones and electrical appliances. This is another hot spot for digital cameras and videos. Take the MTR E2 exit and walk into Yau Shing Commercial Centre on your left. There are ten floors selling cameras, digital videos, DVD players and other appliances. On the 16th floor you have Global Audio (tel: 2399-7486/ 2789-1665), 13/F Radio Unison (tel: 2393-6381), 9/F Cam2 (tel: 2787-0173), 8/F Super King (tel: 2391-5331), and 7/F International (tel: 2191-5801). Prices vary but do bargain stoutly. Some products here do not have warranties so do check this aspect as well.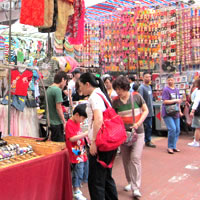 Sai Yeung Choi stalls/ photo: Ivy Tsang
If you're in a rush, pop into a Broadway (tel: 3188-0288, www.ibroadway.com.hk) or Fortress (tel: 2781-1730, www.fortress.com.hk) in Sai Yeung Choi Street South and you'll certainly find your gadget. Or try Wing Shing Photo Supplies Co. (tel: 2396-6886). Toy shopping is a snip at the CTMA Centre (1N Sai Yeung Choi Street), and don't forget to stop by Gala Place and Trendy Zone.
If you're in a rush, pop into a Broadway (tel: 3188-0288, www.ibroadway.com.hk) or Fortress (tel: 2781-1730, www.fortress.com.hk) in Sai Yeung Choi Street and you'll certainly find your gadget. Or try Wing Shing Photo Supplies Co. (tel: 2396-6886).
Walk along Nelson Street, and the first street parallel to Sai Yeung Choi is the Ladies Market where you'll find bargain clothes, bags, toys, VCDs, fake Rolex watches and so on. The next parallel street is Fa Yuen Street with a range of stalls and shops. Sections of this area, which specialise in sports shoes and sportswear, will soon be redeveloped and a great many stalls will disappear, at least while the jackhammers are around. At the MTR Argyle Street D2 exit, you'll find Argyle Centre, which sells cheap fashion items – a t-shirt will set you back at just HK$30 (US$4). Also in the vicinity is Thai department store NaRaYa's first branch in Hong Kong. Another street which sells similar items plus some export or import fashion is Fa Yuen Street North (MTR B3 exit). Check out Me & George Import Shop (there are two, both next door to each other and a smaller version in Central, 9 Li Yuen Street West. Their second hand or factory-second prices start at HK$5 – no kidding, but you'll have to rummage.
On Argyle Street is the Commercial Podium Sincere House (tel: 2390-4379). In local Cantonese it is referred to as "Sin Tat". Here you'll find all manner of mobile phones and accessories. Some shops do trade-ins and warranties are not always available.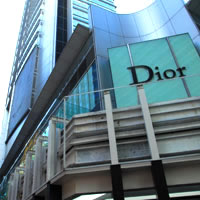 Dior, TST/ photo: Vijay Verghese
Langham Place (tel: 3520-2800, www.langhamplace.com.hk) on 8 Argyle Street is a large hi-tech arty Hong Kong mall hosting over 100 trendy boutique stores, such as the likes of Seibu, FCUK, H&M, Muji and a cinema. The mall also features the 83m "xpresscalator", a speedy way to get from the fourth to the eight floors. Also find Thai cosmectic shop Giffarine & Pattrena, Guerlian, and Fifty Five DSL (a Diesel spin-off). Make sure to check out the Spiral (8-12/F), a bazaar that offers a selection of original local brand stores and some dining options. Mong Kok, or Mongkok as it is commonly written, is a warren of shoe shops amidst the electronics extravaganza. If you are buying sports shoes in Hong Kong, this is the perhaps the best place to head to for a deal. You'll find Adidas, Reebok, Puma, Nike and more. Check around to make sure the brand is legit.
To find more sportswear, check out the new King Wah Centre at 628 Nathan Road. Unlike many of its counterparts, this mall caters mostly to men. Stop by Coverstar (shop 137), which sells trendy and affordable male sportswear and Shop 106 offering hair care products.
Kowloon Tong & Festival Walk shopping malls
Another vast Hong Kong shopping mall is Festival Walk (tel: 2844-2222, www.festivalwalk.com). Take the C exit at Kowloon Tong Station. This is a great spot for the family with ice-skating at Glacier (HK$50 for most sessions, except morning sessions on Mondays to Thursdays, which are HK$45), junk nibbles and more.
Though books are not cheap in Hongkong, drop by Page One (tel: 2778-2808) and enjoy their café. A coffee starts at around $30, but beware their surly no returns policy (receipt and packaging notwithstanding). Major stores include Marks & Spencer, Log-On, Francfranc, Toys "R" Us, Glacier, Coach, I.T, H&M, and more.
Nice suits are available at G2000 (tel: 2265-7023, www.G2000.com.hk), Cour Carré (tel: 2265-7968), Club Monaco (tel: 2118-3512), Moiselle (tel: 2265-8282, www.moiselle.com.hk) and Brooks Brothers (tel: 2778-0200). A perennial favourite is Giordano Ladies (tel: 2928-2208, www.Giordanoladies.com).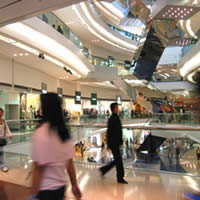 Space at Festival Walk/ photo: Charlain Lim
Casual wear can be found at AIGLE (tel: 2265-8098), Ashworth (tel: 2265-7373), Bauhaus (tel: 2265-8066), Columbia Sportswear Company (tel: 2265-8680) and Nautica (tel: 2265-7123).
For some edible treats, stop by See's Candies (tel: 2265-8199) or Godiva (tel: 2265-7729) for some tasty and wallet-lightening chocolate goodies.
Hong Kong Computer Shops and Computer Games
Thye Big Daddy of them all opened its first mega Apple Store (tel: 3972-1500; open 9am to 9pm; www.apple.com/hk/en/retail) in Hong Kong at IFC, Central, late September, 2011. This is a 15,000sq ft playground for the rich and restless spanning two floors with harbour views.
Thus far the most popular establishments were Wanchai Computer Centre (MTR A4 exit), 298 Computer Zone at 298 Hennessy Road, Wanchai, Windsor House in Causeway Bay (MTR E exit, floors 10-12), Mongkok Computer Centre, and Golden Computer Arcade and Shopping Centre in Sham Shui Po (MTR D2 exit). A Mongkok megastore is Digital Pavilion (Shop 25, Basement 2, Langham Place) where you'll find high-end video mobile phones, speakers, LCD displays and assorted hi-tech gadgetry for home entertainment.
Apple Computer retail shops have had mixed fortunes in Hongkong but there are some good vendors at Windsor House like the briskly run Designer Group Company Apple Centre where staff speak decent English. They also had an outlet in the IFC mall that moved in July 2011 to Pacific Place (Shop 120 Level 1 Pacific Place, tel: 2295-4488, www.dg-lifestyle.com). If you're around Wanchai, a friendly option for software is Advance Software (Shop 226 2F, Wanchai Computer Centre) run by the personable Maggie Tse (tel: 2591-5201). On Wanchai Road you'll find the Oriental 188 Shopping Centre, another first-floor rabbit warren of computer games, gaming devices, hand-held devices, secondhand CD and DVD shops (where you can also sell your old music), miniature toy soldiers and transformers, toys, action figures, mobile games, SONY PlayStation stuff and XBox 360 Live accessories.
Last Minute stuff and Duty-Free Shopping at Hong Kong Airport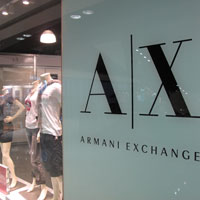 A/X at Citigate/ photo: Vijay Verghese
Last-minute shopping is always possible at the Airport Express Hong Kong or Kowloon Stations (www.mtr.com.hk). Above Hong Kong station you have the IFC mall (tel: 2295-3308, www.ifc.com.hk), which carries Fancl House, Origins, L'Occitane, CK Jeans, Mango, O.Z.O.C, Links of London, Swarovski, Papyrus. Visit Dickson Warehouse (tel: 2109-3700, www.dicksoncyber.com) in Tung Chung for renowned brands at clearance prices.
Should you find yourself on Lantau Island before your departure, another option is Citygate Outlets (tel: 2109-2933, www.citygateoutlets.com.hk) in Tung Chung. The five-level mall, attached by a walkway to the Novotel Citygate Hong Kong, is only 10 minutes from the airport by taxi or S1, S52P and S64 airport buses. You can also get here by taking the Tung Chung line to Tung Chung station, exit C. Open from 10am to 10pm, the mall includes a host of discount shops and factory outlets selling Vivienne Tam, Laura Ashley, Esprit, Giordano, and Guess. Also spot an Armani Exchange outlet, Levi's, Quiksilver, Adidas, Nike, New Balance, Timberland, Columbia, Aji Ichiban, Fortress, and SaSa. Assorted factory outlets here offer discounts of between 30 and 70 percent. Also find an I.T outlet, a Polo Ralph Lauren factory store, Lancel, Bally, and Kate Spade. For comfortable shoes, try the Aerosoles, Clarks and local Dr. Kong outlets, or go to City Chain, Folli Follie, Ice Watch and Swatch for discounted watches and jewellery. The spacious Club 21 store stocks a range of casual and dressy items at reasonable prices. A t-shirt at Giordano may set you back just HK$99, a Guess shirt HK$419 with denim jeans at HK$395. An Armani Exchange t-shirt is around HK$190 and a party dress about HK$390 up. The seasonal A/X deals are good. Watch a movie, get a massage at the spa or go outside to take in Asia's largest outdoor kinetic fountain.
And if you're long on conscience and short on time, there's always duty free shopping at Hong Kong International Airport's refurbished SkyMart in the departure area and the new SkyPlaza located in Terminal 2 (www.hongkongairport.com). Both offer acres of space and browsing before your flight. This is the place for duty-free shopping at Hong Kong airport. The SkyMart has a "Downtown Pricing Guarantee" that the price you pay for a product will be the same as for an identical product downtown. The SkyPlaza includes shops like Adidas, Calvin Klein Jeans, Chanel, Mango, Swatch, Coach, Hermes, Ermenegildo Zegna, BVLGARI, in base, Baleno and Giordano.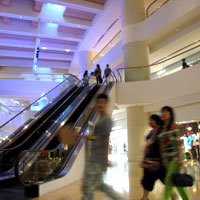 Pacific Place mall/ photo: Vijay Verghese
The casual wear and younger brands like in base, G2000, Lacoste,Levi's and Giordano Ladies, are in T2. The newer terminal also hosts Enzo, City Chain (watches), L'Occitane, Chanel, Frey Wille, and a Disney shop. Himalaya Cashmere just behind check-in sells Mongolian cashmere shawls and scarves starting at HK$880 (often with huge additional discounts). Duty-free prices are highly competitive with Singapore and Dubai though some electronic items can be a tad high-priced at times. Pick up a one litre bottle of Johhnie Walker Blue Label for around HK$1,700 (US$218), Black Label at HK$270 (US$34.60), with a 12-year-old Chivas one litre priced at the same level. A duty-free Chanel Allure 50ml eau de toilette will set you back HK$535 (US$68.50), a 50ml eau de toilette Dior j'adore perfume HK$625, and a Bulgari perfume, the new BVLGARI Jasmin Noir 50ml eau de parfum HK$715. A Dunhill silk tie will cost HK$1,150 (the discounted rate could be as low as HK$550) while a Dunhill tie will set you back HK$1,350 (US$173). Hello Kitty fans will love KI*LA*RA, while pet owners can ooh and aah at Ceu's puppy-themed fashion accessories for humans and canines alike. Take your pick – shopping in Hong Kong has it all.