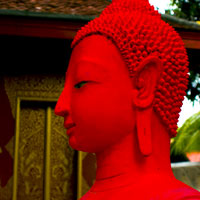 Beautiful Buddha at Wat Sensoikharm
THERE IS a reason why Luang Prabang remains the town that time forgot. It's bloody hard to get to. Snuggled deep in the treacherously undulating northwest of Laos it was, until fairly recently, served by just two alarming modes of travel. The first was Lao Airlines (www.laoairlines.com) – a carrier often blacklisted by the US Embassy, the UN, and other companies that prefer their employees whole. The second was a punishing ten-hour bus journey from the capital Vientiane, at the mercy of bandits and a million sharp turns. Yet the lure of gilded spires, saffron robes and cobblestones was strong, and still the travel pilgrims prevailed.
Things are different now. In 1998 a fancy modern airport was constructed two kilometres from town, and subsequently Bangkok Airways (www.bangkokair.com), Thai Airways (www.thaiairways.com) and Vietnam Airlines (www.vietnamairlines.com) opened up the route with direct flights into Luang Prabang. Now the runway has been extended to accommodate larger jets from even farther afield. Lao Airlines still flies regularly and many like myself – pursuing this elusive Luang Prabang guide – still brave it without a hitch. The roads are still winding but they are mostly well kept, and banditry is less common. This may be because of the armed, alarming plain-clothes blokes you might find on board buses, but hey, that's all part of the adventure. It is possible to book a VIP bus from Vientiane for around US$14. All buses run from Vientiane through Vang Vieng and range from the eight-hour air-conditioned VIP bus for US$14 (or US$11 if you are starting your trip in Vang Vieng) to a cheaper local option, which is a good three hours longer. Both come loaded with exuberant karaoke entertainment and include a stop-off for lunch.

Hotel Contact Information

See Slide Show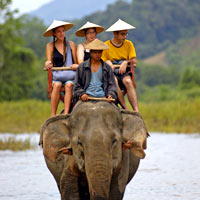 One way to get around/ photo: Tiger Trails
Luang Prabang is also served by the river during the wetter seasons. Boats may be chartered from Vientiane's Ban Done river port but can be cramped, and may take up to a few days. Boats north are more common and popular with travellers especially the famous trip to the Thai border crossing in Huai Xi. Travellers have the option of an expensive luxury cruise, a crowded backpacker slow boat, or the brain-rattling and dodgy speedboat. Boats tend to be more expensive than the flight, and they do not run when water levels are low. Be sure to check ahead.
Send us your Feedback / Letter to the Editor
A visitor's first sight of the old town is always a doozy. Glorious French-Indochinese architecture joins traditional tribal houses in a gaggle of small districts, each centred around a wat (temple). This medieval urban plan spurred UNESCO to tag the town as a World Heritage site in 1995, and it keeps a sharp eye on development in the area. Many of the villas and shop houses have been carefully converted, meaning plenty of places to eat, stay, and shop.
Your arrival by bus will be greeted by a pleasant array of options. Large, shared tuk-tuks taxi scores of people around town, dropping each off after the other – lengthy but cheap at around US$1. These can be rented exclusively for more, and from the airport may cost up to US$6. Alternatively, hop on the back of a moto (motorcycle). As a couple you'll find your driver game to take you both – with your luggage – in a spirited bid to earn a bit more money and join that potential Asia-wide Fear Factor contest for Maximum Bodies on a Bike (at my last count: five.) There's also the moto sidecar option which is good fun on smooth roads, but a bit rough on cobbles.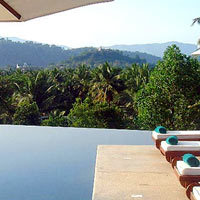 La Residence Phou Vao/ photo: hotel
Once in town, bicycles are a great way to explore, especially around sunset when the temperature drops. A standard basket-fronted bike can set you back as little as US$1 a day (7pm-9pm), while a mountain bike may cost US$2-$3. Motorbike rental in Luang Prabang is prohibited for visitors, though there are some companies who will rent to you, ferry you out of the city centre, and let you explore farther afield from around $10 per day.
Temples, shopping, massage and spas
The wonderful thing about Luang Prabang is its scale: there's plenty to see, but a few morning strolls can take most of it in. The earlier the better in fact, since most folk roll out of bed at 6am to offer alms to the resident monks (in a ceremony known as takbat). Luang Prabang has no shortage of either monasteries or wats (over thirty at the last count) and for many visitors this is the source of its charm. Wat Xiang Thong (admission about US$1) is the grandest. Located near the tip of the northern peninsular, it was built for the royal family in the 16th century and is a prime example of the area's temple architecture. Look out for the large tree of life mosaic on the rear wall. The conical Phou Si wat at the top of the town's central mound provides a great lookout for sunset, while the longboats stored at Wat Saen give you a sampler of the town's boat festival in the autumn.
For a peek into Laos's religious history check out the detailed stucco reliefs at Wat Mai or the creature-strewn façade at the Bamboo Forest Monastery, Wat Pa Phai. Many find that the Royal Palace Museum is a good source of knowledge; whether religious, royal, or revolutionary. Though the royal family was unceremoniously kicked out in 1975, the new government preserved both the buildings and their contents, leaving murals, statues and other regal paraphernalia. Don't miss the Pha Bang, the Lao's most sacred religious object, and be sure to ask about its adventures through Asia.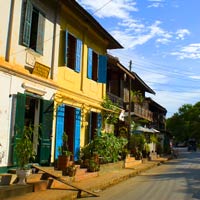 Luang Prabang street
All that sightseeing can definitely take its toll, and this is a good time to check out the price list at your nearest massage parlour or Luang Prabang spa. There are plenty of these around, but the most sophisticated is probably the Spa Garden (tel: [856-71] 212-325, www.spagardenlpb.com or spagardenlpb@hotmail.com) – set in a pretty garden oasis, and ready to pamper visitors with fluffy robes, slippers and herbal teas. Massages range from US$4 per hour up to the princely sum of $18 (for an aromatherapy massage), while facials and scrubs are yours from $15, and uber-indulgent three-hour packages certainly don't break the bank. A smaller sister spa can also be found on the main strip. Another established massage spot is the Kamu Spa (tel: 212-092) on Xiang Thong, fronted by a pretty Asian restaurant. The Kamus are a local ethnic minority, and a traditional Kamu massage combines oil, sometimes quite painfully with strong palm strokes, though the spa does other gentler treatments.
One of Luang Prabang's best kept secrets is the great massage at the Lao Red Cross on Wisunarat Road for only a few dollars.
As the sun goes down the night market starts to emerge, flooding parts of Xiang Thong Rd with silk swatches, cushion covers, lanterns and what not. Pick up a funky pair of slippers for US$2, or a bed throw for around $15, and feel free to haggle. However remember that Laotians get embarrassed by obvious anger or over excitement, so keep it light.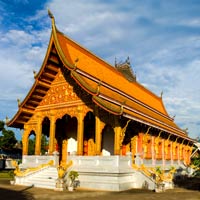 Wat catches the morning sun
For a different kind of retail therapy, Okpoptok Textiles (www.ockpoptok.com) is a beautiful two level shop house filled with locally woven goodies, from clothing to wall hangings. The shop displays info about traditional techniques, motifs and costumes, and can arrange informal interactive demos for those interested. However its quality products are a far cry from night market prices and a good wall hanging here could set you back more than US$100.
Another business worth checking out if you're looking for quality, socially conscious buys is Kopnoi (tel: 260-348, kopnoi.com). Kopnoi supports local artisans and sells made-in-Laos attire and handmade jewellery. Its export-centre-shop-gallery is worth a visit and is close to L'Etranger. It also has a smaller boutique in front of the Luang Prabang primary school.
Other Luang Prabang shopping must-sees include the morning market on the banks of the Mekong and, for crafty travellers, excursions to villages specialising in papermaking and weaving.
Finally, for something entirely different the Three Elephants Café/Tamnak Lao Restaurant opposite Villa Santi offers daily cooking courses (tel: 173-154 or tamnaklp@yahoo.com.au) for up to eight people. Led by two local chefs and an Aussie resident, guests get to haggle at a local food market, cook and eat two full meals and then walk off with a cute homemade cookbook. Just watch out for the shifty resident dog.
Luang Prabang guide to dining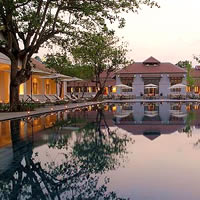 Amantaka/ photo: hotel
Restaurants have vastly increased in sophistication (or at least variety), and visitors can now find themselves enjoying curries, burgers and gourmet French cuisine alongside the delicious local fare (like steamed Mekong fish with young ginger, red pork curries, and bamboo salads).
The most obvious place to start would be Xiang Thong, the main strip, where cafes spill tables out onto the sidewalk. Up nearer the quieter end of this street lies Café Des Arts (tel: [856-71] 252-162), set apart by its watercolour wall art (by the owner's brother and for sale, naturally), and tasty make-your-own salads.
A more upscale art and food experience can be found at the Samsara Restaurant and Gallery (tel: 254-678), a refined and comfy spot with an open-air roof terrace, a thoughtful menu and a stellar wine list.
The Blue Lagoon Restaurant (www.blue-lagoon-cafe.com) is a Luang Prabang favourite with a dedicated following. Located opposite The National Museum, the lagoon serves up a mix of traditional Lao and Swiss dishes. It has indoor and outdoor seating and the bar stays open all day. If you're in the mood for something refreshing try one of its fruit shakes.
The Restaurant Luang Prabang Bakery Guesthouse is a popular choice near the market with passable fish 'n' chips, pizzas and Lao mains on the menu (though give the wine a miss), and the trendy but bare Daofa Bistro will satisfy anyone craving a good crepe, or a happy hour cocktail (7pm-9pm).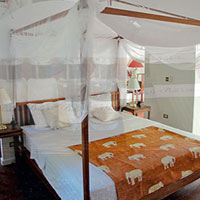 Belle Rive/ photo: hotel
Farther south on Xiang Thong lies the wonderful JoMa Bakery Café (tel: 252-292, www.joma.biz) – an old villa that blasts coffee-tinged air-conditioning and proffers a tempting array of decidedly un-Laotian snacks for a few dollars each. A haven for the heat-weary, and better yet, all organic. Try their delicious iced cocoa or a safe, filtered water-washed Greek salad. JoMa also shares its premises with Mulberries (info@mulberries.org) upstairs, a free trade silk gift shop. This gracious combination is only really matched in the town by the lovely L'etranger on Ban Aphay (booksinlaos@yahoo.com), which sells 60-plus kinds of teas, shakes and smoothies, stocks a mini library with books that can be rented by tourists (for residents it's free) and screens art house films most nights.
Tamarind (tel: 770-484, www.tamarindlaos.com), doubles up as a lovely, original gift shop – combining Lao snacks and tasting platters with recipes, tableware, herbs and seeds – all for sale. It also offers cooking classes in a lovely spot a bit outside town. Best visit at lunch though, for it closes at 6pm.
Down at the southern part of the Mekong things get local, with small dark shop houses offering shaded meals along the river. Laotians sit here and chat at fruit juice stands, and whole fruits are sold on the pavement. Further along things start to spruce up, with quaint guesthouses, small gift shops and massage parlours. Enjoy views of the lazy brown Mekong at somewhere like Lao Vegetarian – good for tasty tofu or a fruit shake – or Bouasavanh Restaurant (tel: 212-869) with its good local fare. Or try 'cocktails et jazz' at the sleek, antique Couleur Café (tel: 254-694) tucked just down a side street. Alternatively L'Elephant Restaurant Francais (tel: 252-482) across from Wat Nong is one of the town's more renowned fine dining establishments. The delectable menu du chasseur here can set you back as much as US$18 (a small fortune) but at least you can pop it on the credit card.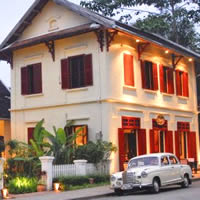 3 Nagas/ photo: hotel
Another option from the people who are responsible for L'Elephant is the Coconut Garden (www.elephant-restau.com), which offers a selection of mostly traditional Lao dishes. The seating is almost entirely alfresco with tables next to the street and in the courtyard at the back. Be sure to save some room for its signature cakes.
Finally try a wander along the serene Nam Khan river for a bite at the lovely Apsara Restaurant, or stop by the little Sala Café (tel: 254-738) for herbal teas, martinis and ice creams in comfy wicker armchairs.
And a spot of nightlife
This is not a place for night owls. Aside from a few establishments the town tends to wind down at 11pm, with bars and restaurants closing around the same time and streets emptying fast. This means that many simply stay on drinking where they ate, though there are a few pockets of activity to seek out. On Xiang Thong these seem to be Le Tam Tam Garden (tel: [856-71] 253-300), enlivened by fairy lights, two pool tables and a karaoke bar, and the bare but sports-inclined Nao's Place (tel: 253-497), packed on game nights due to the big screen TV. At the bend in the Nam Khan river near Wat Aphay is the Hive Bar www.hivebarlaos.com) – a moody chillout space that advertises tapas and homemade peanut butter. Adjacent is the Lao Lao Garden. Lao Lao is the country's popular rice-based tipple and the garden offers deals on a variety of fresh juices with the brew, alongside burgers and barbeque. They also do veggie burgers here for the herbivorous.
If you are feeling a little more intrepid then talk to your tuk tuk driver about a visit out to Dao Fa Nightclub or Duang Champa on the outskirts of town. These two spots are where the Lao youth go to party; the former a smaller affair with its DJ shouting above hip hop and Lao pop tracks, and the latter larger, with an industrial Asian kitsch thing going on. But be warned, this is an after hours night out in the sense that you get to stay up until midnight – at which point the lights bang on, and the dance floor promptly clears.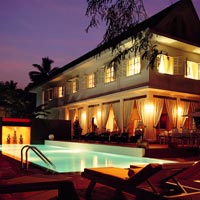 Maison Souvannaphoum/ photo: Angsana
Luang Prabang boutique hotels, inns, guesthouses
Cooler winter months are popular visit time, but braving the spring – the hottest season – will certainly beat the crowds and preserve the sleepy atmosphere. Still, reserving accommodation is rarely necessary – there's so much of it about. On with our selection of Luang Prabang hotels, boutique hotels, budget places and guest houses.
Starting at the top, one could reside like royalty at the undeniably grand Maison Souvannaphoum Hotel, once a princely home. Tastefully appointed and managed by the Singapore-based Angsana, the gleaming white estate can be found opposite the town fountain, and features only 24 rooms in total, most of which boast their own balconies. The renovated rooms are suitably lavish, modern, and guests can get wrapped, buffed and massaged outside in one of three spa pavilions. The pool is a tad boring for such a glamorous affair – however a few happy hour cocktails in the Elephant Blanc Café should ease any such concerns pretty quickly.
The lovely 3 Nagas at the northern end of town has large studio rooms with a trendy Southeast Asian flavour, and introduces its guests to the traditional shoes-off policy. The minibar is relatively pricey but if you head outside to the patio café you can savour a shredded cooked buffalo salad with roasted sesame seeds and betel leaf for next to nothing. The separate Lao fine dining restaurant across the road also promises upmarket, thoughtful meals for a similar price.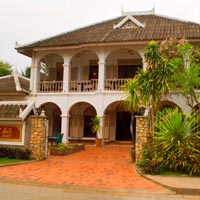 Charming Villa Santi
Nearby, the charming Villa Santi is the epitome of colonial Luang Prabang boutique hotel chic, and like the Maison, was once home to royalty. The rooms feature ample, tasteful doses of rosewood furniture and Lao silk furnishings. In-room enjoy a mini-bar, writing desk, a safe and, in the toilet, a genuine bathtub for a long hot soak. The 52-room Villa Santi Resort & Spa can also be found a few kilometres outside the town. This is a pleasant French colonial-style villa recreation, six kilometres from the hotel. It was built in 2001 with 48 rooms and a couple of suites. Several rooms have balconies with nice mountain views and all offer mini-bar, writing desk, satellite TV and a comfortable bathroom. Both places are among the best Luang Prabang hotels.
Still in the north, Amantaka, from Amanresorts has added its luxurious, if understated, footprint, just ten minutes from Luang Prabang International Airport. The private complex of 24 suites is a leisurely stroll from Luang Prabang town and 38 magnificent temples. Ranging from 70sq m to 120sq m, the French colonial inspired suites enjoy high ceilings and classical décor. Expect old-world treats such as writing desk, dining area, drinks cabinet, dressing area, and spoiling bathroom with twin vanities and a deep, deep bathtub. Relax under mango trees in a private outdoor space. Pool suites include an eight-metre pool, stylish in black. Lao-French influence extends to the restaurant while the boutique art gallery focuses on the indigenous artwork and handicrafts of local communities. Expect WiFi, tennis and yoga to keep you busy if the temples and local culture don't. This is premium luxury without fuss.
The Belle Rive Boutique Hotel is a good option for travellers seeking accommodation with flair. Located on the riverbank near Wat Nong and Wat Sensai, the Belle Rive is made up of three historic houses, including the old mayor's house, which includes eight rooms and five suites. All rooms have free WiFi, as well as air-conditioning, safes and a minibar. Laundry service is available and all bathrooms are equipped with rainshowers. Each room enjoys a full river view. The most charming feature of the hotel is an outdoor terrace where meals can be enjoyed overlooking the river. Mark this down on your Luang Prabang boutique hotels list.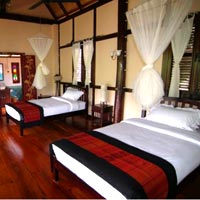 Lao Spirit Resort
Another boutique option is the Satri House on Photisarath Road. Also a former residence of a prince, The Satri House was expanded in 2008 to include six additional buildings faithful to the original colonial style. The hotel, in the heart of the city, is tranquil and understated with flashes of colonial luxury. Not that it overlooks any modern amenities: rooms include coffee facilities, safes, hairdryers and WiFi. Guests also enjoy an outdoor pool.
While UNESCO considers The Ancient Luang Prabang to be a rebellious blot on the landscape, this modern four-storey structure is nevertheless bang in the middle of everything, and quite fun for a stay. Previously (and ironically) the New Luang Prabang Hotel, it has a scatty but upmarket feel, with sculptural dark wood furniture perked up by local textiles, and baths and showers open to each room. Check out the terrace upstairs for breakfast above the melee.
On the much sleepier Nam Khan River stands The Apsara, an old converted shop house formerly known as the Duang Champa. Most rooms have views of the river – or at least the trees that fringe it – and are upmarket but interestingly designed with funky exposed concrete floors, batik accents, modern Asian art, and four poster beds – along with high ceilings and original details. There are no computers here but BYO for Wireless Internet. The restaurant is stylish, though laid back, with baguettes and soups for a few dollars and creative fusion dishes in the evening. On the opposite bank is its companion hotel, The Apsara Rive Droite.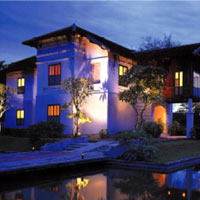 The Grand Luang Prabang/ photo: hotel
This consists of only nine large rooms, each with a river view verandah, a deep bathtub and a king-size bed, plus hairdryer, minibar, air-conditioning and a safe. The hotel also has its own boat, The Apsara Queen, for quick trips downtown.
Those looking for another riverside option may enjoy The Mekong Riverview Hotel. The hotel, located right on the banks of the Mekong, offers balcony river views from all of its 35 rooms. The Riverview's rooms serve up flat-screen cable TV, air-conditioning and a stocked refrigerator, plus old-fashioned Lao charm in the form of handicrafts and traditional design elements. Airport transfers, access to hotel bicycles and golf carts, WiFi and even daily cake are all included with the stay.
The Luang Say Residence (opened February 2011) is built in a colonial style but offers contemporary frills. Suites don't skimp on mod-cons and guests have access to one of the town's better pools. The breakfast has its aficionados too. The location outside of the town centre can be inconvenient for some guests.
For those that like to lose themselves in a really good hotel there's The Grand Luang Prabang, a sprawling five-star property about four kilometres out of town. It has an Art Deco elegance to it, though a few corners need a little retouching. Rooms are large, airy and elegant with all the modern amenities, and the hotel thoughtfully lays on a regular shuttle bus to town (and even a shuttle boat during the high season).
For history and heritage there's Villa Maly, housed in a former royal residence. The property offers 33 rooms with timber floors, homey lamps and four-poster beds. Rooms embrace a central garden and pool area. Expect WiFi and air-conditioning throughout, along with safes, minibars, coffee stations, hairdryers and flat screen televisions.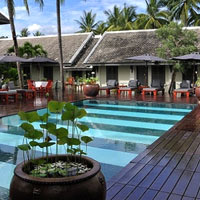 Heritage at Villa Maly/ photo: hotel
The adventurous can rent a bicycle and explore with pedal-power. Villa Maly is located in a traditional residential area to the south of the town centre.
Travel connoisseurs should take a look at Hotel de la Paix (opened October 2010) the newest offering from the burgeoning Asian design hotel group of the same name. The group manages 3 Nagas too. Built in a refurbished French garrison and former prison, this all-suite luxury property is another example of a hotel that combines a refined colonial aesthetic with top-notch amenities. The hotel offers 23 well appointed luxury suites surrounded by lush gardens and a pool. It also houses an on-site cooking school and spa.
Hotel de la Paix is just a five-minute drive from town and 25 minutes from the airport, though time will stand still when you are coasting in the hotel's vintage Mercedes. From a former prison, this is delightful incarceration indeed.
The Lao Spirit Resort is a good thirty minutes into the bush, and is a pleasant upscale eco resort with traditional, terraced bungalows and polished interiors. Run in coordination with the Tiger Trails adventure tour group, this Luang Prabang resort sports fun outdoor showers and an open restaurant – close enough to hear the mahout's karaoke wafting over the river from the elephant camp.
With minimum electrical appliances this is a great way to comfortably commune with nature, though one wonders why some of the local nature needs to be kept in cages.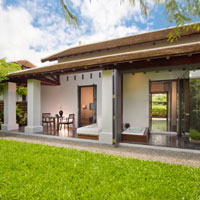 Hotel de la Paix villa/ photo: hotel
The Luang Prabang boutique hotel Kiridara (opened June 2011) is perched on a hillside southeast of the historic district. The property consists of 24 rooms and travellers can expect balconies with lofty views. There is an on-site spa as well as an infinity pool and Jacuzzi with views of the surrounding hills. Look forward to in-room WiFi along with all of the modern conveniences: safes, minibars, hairdryers and coffee-making facilities. Rooms don't skimp on entertainment options with DVD players, iPod docks and satellite TV.
Much further into the urban network yet still beyond the fringes of the old town of Luang Prabang lies La Residence Phou Vao, a very posh sanctuary type resort. The 34 bedrooms and suites are a riot of rosewood and cotton with lofty views, and along with cocktail bar and infinity swimming pool, it boasts conference rooms and a garden spa. It's also good for its shuttles into town. Out around this area there are a number of more affordable options, including Le Parasol Blanc Hotel, which is modestly comfortable and books nightly traditional dance shows during the high season. Going down a tad there's the Manoluck – friendly and comfortable, but perhaps more suited to a whistle-stop business stay than a holiday.
For affordable but prettier accommodation you could try the stretch around Wat Sop, where a smattering of lovely quiet, clean villa guesthouses can be found for reasonable nightly rates.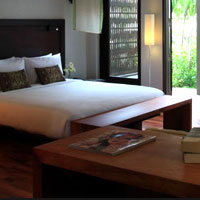 Kiridara boutique style/ photo: hotel
Here the Sokxai Guesthouse has a small family feel to it, but with its gorgeous dark wood interiors, free breakfast on the verandah and views of Wat Sop across the road it's a charmer. Take a top floor room to escape sounds from the reception TV. Senesouk, though alas not sporting cable, still does nice air-conditioned doubles for around US$15.
Finally, should you really be saving your pennies and scrounging around for Luang Prabang budget hotels, it is still absolutely possible to find a clean, pleasant room with a fan and an en suite bathroom for about US$5. Try the streets linking lower Xiang Thong with the Mekong, or a few streets leading off it in the opposite direction, just past the Maison Souvannaphoum Hotel.
Sightseeing and Luang Prabang adventure tours
You'll not be short of options when it comes to tour providers. As well as the many lining Xiang Thong, even the tuk tuk drivers will have printed rates for trips. Look at half-day tours to the lovely limestone Kuang Si and Tad Se waterfalls – good for a splash and a picnic – and the caves at Pak Ou, which offer a good excuse for a boat trip. Chock full of old Buddha statues the caves are a sombre sight.
Other adventures can of course be taken farther afield. Explore hidden rivers in kayaks, ride elephants through the forest, or trek through the hills and lay your hat at village home-stays along the way.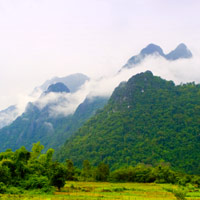 Hills on the road to Luang Prabang
Prices can vary from US$20-$30 for one day, and US$30-$50 for two depending on how many people you can drum up to join you. Try Tiger Trails (www.laos-adventures.com), a well regarded outfit that offers varied itineraries, often based around its elephant camp.
For something a bit more unique, ask about the two-day mahout course which will teach you to look after and guide your own elephant. Make sure you're good at cleaning up with a shovel. Alternatively the Grace Travel Service offers a variety of adventure tours to the less travelled east area of the town, which may give you a better taste of the wilderness.
Tigers and bears are sadly no longer found in the hills near Luang Prabang, having escaped to more peaceful, less populated northern climes over a decade ago. Tiger sighting trips up north are still allegedly possible, but involve days of trekking. And that's your Luang Prabang guide from A to Z with just about everything from temples and tours to trendy stays at colourful Luang Prabang boutique hotels.