LOW COST CARRIERS
Small is still beautiful in Asia
Small Asian airlines with big plans are opening up the travel map. We survey boutique airlines, regional players, and Asian low cost carriers with pocket-friendly airfares.
SEE ALSO First Class Seat Survey | Business Class Seat Survey | Economy Class Seat Survey | Airbus vs Boeing | Frequent Flier Programs | Business Class Seats Review
JUMP TO Budget Airlines Malaysia | Thailand | Singapore | India low cost flights | Bhutan | Philippines | Hong Kong, China, Tibet | Korea, Japan | Vietnam, Burma | Indonesia | Australia and Pacific | Pakistan, Bangladesh, Afghanistan, West Asia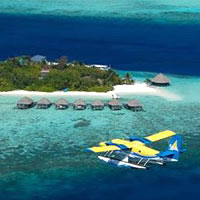 Trans Maldivian, yellow on blue
WHO SAYS BIG IS BEAUTIFUL? An average Asian travelling to New York just has to contemplate the French fries the size of surfboards, shoes large enough to sail the Atlantic and prophylactics bigger than laundry bags, to throw up his hands in dismay. Michael Jordan's footwear alone could accommodate the entire population of Burundi though you might need a LOT more space if you changed US$1 into Vietnamese dong.
Nope, Asians are small. That's why BIG airlines have SMALL seats and small servings and small toilets so that we are not offended by any exaggerated sense of scale. There's only one thing better than this. SMALL airlines that offer BIG discounts. See our readers' picks of the best Asian budget airlines in our Best in Travel Poll.
Send us your Feedback / Letter to the Editor
Thirty years ago you could cross the Pacific at three US cents per mile eating palate-puckering stodge and assisting old biddies who claimed to be stewardesses. But across Asian skies you'd fork out over US$0.26 per mile. Big, and bigger went bust, along with Anna Nicole Smith. The advent of no-frills low cost budget airlines has forced changes that go well beyond customer satisfaction and fewer pilliwinks in consumer pockets.
Singapore's busy Changi Airport ran a dedicated Budget Terminal until 25 September, 2012, when it was closed to make way for Terminal 4 (with LCCs like Mandala Airlines, Firefly, Berjaya Air, Cebu Pacific, SEAIR and Tiger, accommodated in Terminal 2). While this shuttering of "dedicated" service for the financially challenged was entirely dictated by the drive for airport expansion, in a sense it also marked the beginning of an acceptance that budget travellers could do with access to quality facilities too. After all, the same weary CEO travelling with five bawling kids at cut-rate fares will reappear later in a swank Cerruti suit flying business class, demanding privileged pampering. The LCC Terminal – KLIA (Kuala Lumpur International Airport) continues to provide a separate facility for smaller airlines with shuttles connecting it to the main KLIA terminal, airport hotels and points in the city.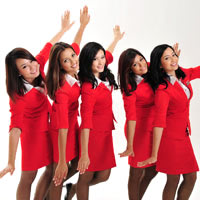 What we love most about AirAsia
It is not all best rate deals however. Asia's proliferating small airlines are going national, regional, and international. They offer decent service, well maintained aircraft and surprisingly snappy on-time records. We'll look at some fast-growing regional carriers too.
Malaysia low cost airlines
The most spunky contender on the Asian stage by far has been the Malaysia-born AirAsia (www.airasia.com) under the helm of irrepressible CEO Tony Fernandes. This pioneering and award-winning Asian low cost airline set the low-fare ball rolling and has meant business since. Witness its cost-shedding strategic alliance with former rival Jetstar announced on 5 January, 2010, and a bold move into India's terrifyingly competitive low-cost skies as AirAsia India in a team up with the TATA conglomerate announced on 19 February, 2013. The 1 February, 2008 launch of services between Kuala Lumpur and Singapore at rates as astonishingly low as S$13.99 marked a huge breakthrough on a monopoly route known for usuriously high fares.
A former music industry professional who picked most of his young start-up staff from the same business, Fernandes is enjoying watching the big boys face the music as he dashes off an arpeggio of routes criss-crossing Asia. His B737 fleet is, like the proverbial teenager, two going on 66 (aircraft). The B737-300s are being replaced by Airbus A320-200s. And, in June 2011, the airline placed a staggeringly large order for 200 A320neo jets.
Pick from a dizzying array of destinations serviced from Kuala Lumpur (the Low Cost Carrier Terminal, LCCT), to Bangkok (Don Muang Airport), Jakarta, Bandung, Bali, Clark (Diosdado Macapagal International Airport) in the Philippines, Phnom Penh, Siem Reap, Hanoi, Brunei, Seoul, Taipei, Sydney, Adelaide, Melbourne, Perth, Hong Kong, Chengdu, Shenzhen, Macau, Guilin, Hangzhou, Bangalore, Chennai, Colombo, and Jeddah.
In February 2013 Fernandes announced a bold move into India's suicidal low-cost skies as AirAsia India with conglomerate TATA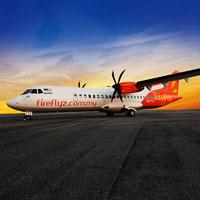 FireFly: feeder routes
Long haul? No problem. Say hello to the "X" factor and AirAsia X. With a small Virgin stake it planned to be the budget long haul airline of choice. However, the airline's European foray had unravelled by early 2012 as high fuel costs, lower passenger demand and the Eurozone airline carbon tax announcement sawed off potential profit and the airline cancelled services to London, Mumbai, New Delhi, and Paris by 31 March, 2012. Instead, the airline is focusing on China and Australia. Expect more low fare action on the 'Roo route.
The similarities with Virgin, in style, philosophy and image, are remarkable and perhaps intentional. AirAsia has played an agile David to the established national carriers' creaking Goliath with aplomb. And it has rolled out spin-offs like AirAsiaGo (www.airasiago.com) for all-you-need holidays and the cheerful budget Tune Hotels (www.tunehotels.com) whose reach now extends from KL and Bangkok to Okinawa and London. For people on the move, is a mobile phone site (mobile.airasia.com) with information and bookings accessible through handhelds.
In August 2011 came the announcement of a cross stake in Malaysia Airlines (www.malaysiaairlines.com) through the AirAsia owning company, which brought to an end years of bitter rivalry. Now both are working in concert, wielding a big stick at the SIA-Tiger-Scoot combine, with MAS low cost airline FireFly (firefly.com.my) transforming, much like the ugly duckling, into a full service regional airline "swan".
Based in Penang, FireFly launched in April 2007 with 50-seat Fokkers but now boasts a growing number of ATR 72-500s and B737-400s. As a full service regional airline it is to provide a feeder service for parent Malaysia Airlines. With hubs in Penang and Subang, Firefly offers flights to various locations in Malaysia, Singapore, Thailand (Phuket and Koh Samui) and Sumatra (Medan) in Indonesia. Need more elbow room? Ask for their "Empty Seat Option" and pay a fee for this privilege. Firefly offers mobile booking (firefly.com.my) as well. The airline operates from the Kula Lumpur city airport at Subang (far closer to town than KLIA) and offers all passengers a complimentary 20kg baggage allowance.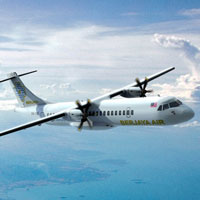 Berjaya ATRs open up Redang
Budget airline no more, Firefly is punching above its class, taking a swing or two at the boutique and purposeful resort-feeder Berjaya Air (www.berjaya-air.com). Asian small airline Berjaya Air has been around for a while operating from Kuala Lumpur's Subang airport. It operates domestic routes from Kuala Lumpur to exotic islands like Langkawi, Penang, Tioman and Redang, as well as regional flights to Singapore, and Hua Hin in Thailand.
Its 48-seater Dash-7 is a specialty short take-off and landing aircraft and the twin-prop ATR72-500 aircraft seat 72 passengers. Berjaya Air's free baggage allowance is 10kg on the Dash-7 and 15kg-20kg on the ATRs. The airline's popular Singapore-Redang run has shortened an 11-hour excursion overland to just 90 minutes. There is a Singapore-Tioman service as well.
Malindo Air (www.malindoair.com) – "not just low cost" – strives to offer a quality product as a joint venture between Malaysia and Indonesia's Lion Air. It is currently flying from Kuala Lumpur to Kota Kinabalu, Kuching, Dhaka, Bali, Jakarta, Penang and Sibu and harbours plans for rapid expansion to New Delhi, Hong Kong and several other Indian and Chinese cities. There are also direct international flights, if limited, from Penang and Jakarta.
Thailand and Indochina operations
After a deal with Tiger fell apart, THAI Airways International is focusing on THAI Smile Air (www.thaismileair.com) that launched with a Bangkok-Macau flight 7 July, 2012. Originally envisaged as a low cost carrier (LCC), the airline has emerged, more by accident than design, as a full service product with some feeder services under the THAI mantle. Based at Bangkok's Suvarnabhumi Airport and extending several domestic services, THAI Smile is spreading its wings to ASEAN, Chinese, and Indian points flying 174-seater A320 aircraft. The new airline is replacing the parent carrier in some smaller upcountry destinations.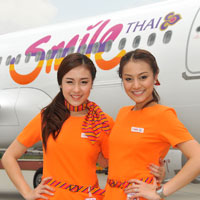 THAI Smile: July 2012 launch
"Premium" service includes free seat selection, a 15kg-20kg bag allowance, quick check-in and the hugely attractive potential to collect THAI's Royal orchid frequent flyer points. In the cabin expect a 3-3 seat configuration with 18-inch width and a 120-degree recline. By early April 2013 THAI Smile Air had launched a five-flights-weekly service from Bangkok to Mandalay (Myanmar). The airline also operates Phuket-Mumbai and Phuket-Delhi routes, opening up south Thailand to the Indian market. From Bangkok the points served include Ahmedabad, Colombo, Macau, Changsha and Chonqing. A debate continues within the company regarding future direction, mission and stakeholders.
No-frills Nok Air (www.nokair.com) mainly serves domestic destinations like Phuket, Hat Yai, Krabi, Surat Thani, Chiang Mai, Chiang Rai, Trat, and Udon Thai. The airline also serves several small Thai islands like Koh Lanta, Koh Mook, and Ko Tao. It is a good option for travelling to remote parts of the country. On 31 May, 2007, Nok Air launched an ambitious Bangkok-Bangalore flight, claiming the moniker of the world's first "shopper's airline".
Partnering with The Mall Group who run Bangkok shopping mecca's like Siam Paragon and Emporium, Nok Air offered its passengers from Bangalore discounts of up to 50 percent on hot brands in Bangkok. The Bangalore daily run on a B737-400 was canned on 23 November, 2007 as the shopping binge failed to materialise and the airline focused its attentions inwards. Nok Air's international destinations within the region include Vientiane and Yangon.
As well being a charter service, Siam General Aviation Co or SGA Airlines, which became Nok Mini (www.nokmini.com) end 2009, operates low-density feeder and commuter routes in north Thailand. Flights from Bangkok connect Nan, Mae Sot, Phrae, Loei, and Nakhon Phanom. Chiang Mai links up with Udon Thani and Mae Hong Son with the original SGA 12-seat Cessnas upgraded to SAAB 340s.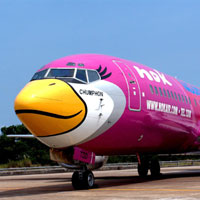 Nok Air's distinctive beak nose
Orient Thai Airlines (www.flyorientthai.com) took off in 1990, with CEO Udom Tantiprasongchai setting up Cambodia International Airlines (CIA). Were these the people who misled Bush into invading Iraq? Despite the racy acronym, the cocktail of Khmer Rouge and the Vietnamese military proved unattractive for business travel and the airline, sensibly, pulled out to focus its efforts on the lucrative Bangkok-Hong Kong route and Asian air charters.
The airline operates a scheduled service to Hong Kong (from Bangkok's Suvarnabhumi) and to Guangzhou (from Don Muang). It mainly does domestic flights within Thailand, to Chiang Mai, Chiang Rai, Hat Yai and Phuket from Bangkok. Expect a mixed fleet of B737s, McDonnell Douglas MD80 aircraft, and ageing B767s and B747s. On 3 December 2003, Orient Thai launched the budget low-cost One-Two-GO. The airline operated to destinations like Hong Kong and Incheon (Seoul). Following a 16 September 2007 MD82 crash in Phuket and dampened sales – exacerbated by a European Union ban due to safety fears – this low cost airline ended service in July 2010.
Other would-be and just-about-there Thailand contenders once included Air Andaman (closed in 2004), Phuket Air (www.phuketairlines.com) that had a stormy history and got mothballed (but continues to dry lease B-747, B-757, B737-200 and MD90-30 aircraft), and PB Air, which shut down in early 2010. Budget Thai Sky Airlines launched January 2004 and flew briefly from Bangkok to Hong Kong and Kuala Lumpur but ceased operations in 2006.
Bangkok Airways has the ability to fashion heritage city itineraries linking spots like Yangon, Phnom Penh and Siem Reap
Colourful Thai carrier PC Air (www.pcairline.com) took to the skies for the first time in December 2011 as a tour charter and generated a lot of buzz with its highly publicised transgendered cabin crew, an A310, and a focus on routes to Hong Kong and South Korea. In October 2012 the airline was asked to suspend operations by the Thailand civil aviation department after passengers were stranded in South Korea when the airline proved unable to pay its fuel bills. Ironically, the airline's website continues to run awkwardly phrased holiday blurbs like: "Incheon is now to be vacated by you!"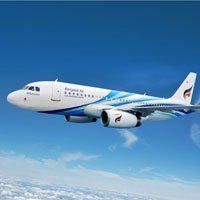 Bangkok Airways A319
The briskly run, fast-expanding, full-service Bangkok Airways (www.bangkokair.com) operates its own quirky airports in Koh Samui, Sukhothai and Trat and prefers to call itself a "boutique" airline. The quaint thatch-roof affairs have been overtaken by a modicum of modernity. This means larger thatch roof lounges. Arrival is effortless and soothing with a welcome of sea breezes rather than air-conditioning. Bangkok Airways began as Sahakol Air in 1968, an air-taxi company during the Vietnam War.
It has added considerable muscle in Indochina with the launch of a heritage circuit covering key holiday destinations in Cambodia and Laos though its broader network covers places as far afield as Malé (Maldives), Mumbai, and Dhaka. Other international destinations like Hong Kong, Singapore and Kuala Lumpur are serviced from Koh Samui. And Bangkok-Mandalay flights (four weekly) commended on 15 September, 2013.
The airline is a class act, popular with travellers. In an era of no-frills, Bangkok Airways is looking at the small extras that make a big difference. It punches well above its class in the big full service airline league though its Bangkok-Samui monopoly is often criticised for high fares.
Also find a Blue Ribbon business class, quality airport lounges, and a frequent flyer programme, FlyerBonus. A major feather in its jaunty cap is the Maldives nonstop from Bangkok. Another is the ability to fashion heritage city itineraries linking spots like Yangon, Phnom Penh and Siem Reap, perfect for latter day Indiana Joneses.
Bangkok Airways flies narrow-body twin-jet 162-seater A320s, and A319s, as well as the propeller powered ATR72-500 that takes you back to the original explorer days with just 70 seats, almost all with a view, as you fly over jungle and sea. Most aircraft exteriors are emblazoned in tropical-hued artistic creations to get you in the holiday spirit and trolley cars, as at Samui, will do the rest.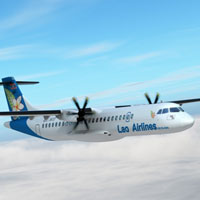 Lao Airlines ATR
Sparky minnows in the Indochina region include Lao Airlines (www.laoairlines.com), which offers a peppering of points from Phnom Penh and Siem Reap to Sihanoukville, Vientiane, Luang Prabang, Ho Chi Minh City, Hanoi, Chiang Mai, Bangkok, Kunming, and Singapore (some of this through borrowed networks and alliances). It lost an ATR during a typhoon in a fatal crash into the Mekong River October 2013 but had, till then, a fairly unblemished record.
Cambodia Angkor AIR (cambodiaangkorair.com) flies to Hanoi, Ho Chi Minh City (Saigon), Bangkok and Shanghai, using 184-seat A321s and 67-seat ATR-72s; and Skywings Asia Airlines (www.skywingsair.com) launched in 2010 and currently operates two fly-by-wire A320-231 aircraft linking the home base of Siem Reap with Hanoi and Incheon (Seoul). A great many small airlines have taken to the skies in Cambodia but many are out of service and Royal Air Cambodge the erstwhile Cambodian national carrier went bust in 2001.
LCC flights from Singapore? Yes
SIA's excellent regional feeder SilkAir (www.silkair.com) serves up a vast network from Chengdu and Wuhan to Koh Samui, Balikpapan, Makassar, Lombok, Solo, Darwin, Kathmandu, Kochi, Bangalore and Hyderabad, utilising a fleet of A320-200 and A319-100 aircraft in a two-class configuration with the added bonus of airport lounges for premium passengers and KrisFlyer points on SIA. SilkAir is a full service airline. Nevertheless it had some revenues nibbled by the first Singapore budget airline ValuAir, which launched in 2004 with flights to Bangkok and Hong Kong.
Supposedly no-frills, it offered passengers a 20kg baggage allowance and in-flight meals on its A320s plus something revolutionary - singing stewardesses casually clad in sneakers and khaki slacks. That's right. On landing, stewardesses burst into song, on the cabin microphone. Perhaps the singing was excellent - or not good enough - but the airline merged with Qantas-owned Jetstar Asia in mid July 2005 as low cost airline consolidations began.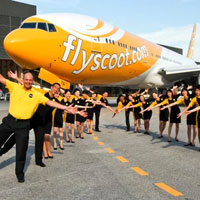 Scoot is unabashedly no-frills
Not to be outdone, Singapore Airlines has punched back with its latest low-cost airline, Scoot (flyscoot.com) that took to the skies mid 2012 between Singapore and Sydney throwing down the gauntlet to the more established low cost carriers. Scoot B777-200s fly regional and longhaul routes from Singapore to Gold Coast and Sydney (Australia), Tianjin, Nanjing, Qingdao and Shenyang (China), Bangkok, Taipei, Seoul and Tokyo. It has been a fast rollout. Hong Kong (mid November 2013), Perth (five times weekly from Singapore from 19 December, 2013), India and the Middle East complete Scoot's perfect skies picture.
Hong Kong gets five weekly flights from Singapore, red-eyes departing Singapore 1.30am and leaving Hong Kong 6.50am. With two classes available in the cabin, the attentions of a quality mentor in SIA, and a base at Changi's Terminal 2, this Asian budget airline certainly has a competitive advantage. Fares hover around 40 percent cheaper than full service carriers, and Scoot's CEO Campbell Wilson says his airline is "unabashedly no-frills". What about the seats? For economy class seats expect a 31-inch standard pitch (this measures leg room based on the total space, seat anchor to seat anchor row by row), a 33-35" "Super" category and a 34-35" "Stretch" category. This compares very favourably with SIA B777-200 economy seats that weigh in with a 32-inch pitch and Cathay Pacific's B747-400s with the same measurement. Business class seats have a pitch of 38 inches.
The economy class cabin bag allowance is a single item of not more than seven kilograms with an extra three for a laptop. Business class offers two pieces with a combined weight of not more than 15kg. Booking through the Scoot website passengers can obtain a 15kg check-in baggage allowance for S$18 (the same facility at check-in time is S$45). On select flights business class passengers have access to streaming video feed to watch on their own personal tablets or laptops. This service costs S$15 in economy. Alternatively, passengers may rent a tablet for S$20. All prices are dearer if contracted whilst in flight. So plan early.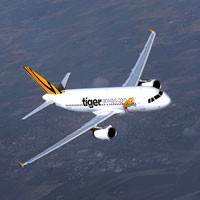 Tiger Airways: fast expansion
Singapore Airline's partly owned low-cost carrier, Tiger Airways (www.tigerairways.com), was an exercise that at its 2004 launch sparked heated debate – not over viability, but its name. One irate gentleman told the press at the time, "The tiger is very ferocious… It [the name] should be more caring and friendly". Hmm, well…perhaps Telly Tubby Airways then. There was another potential snag. Tiger Airways (www.tigerairways.co.uk) was already operating vintage biplane flights over the UK's West Midlands. Undeterred, Tigerair (as it is also called) flies to several cities including Perth, Dhaka, Phnom Penh, Guangzhou, Lijiang, Hong Kong, Macau, Bangalore, Chennai, Kochi and Thiruvananthapuram (formerly Trivandrum, in Kerala, India), Bandung, Bali, Lombok, Kuala Lumpur, Penang, Langkawi, Yangon, Cebu, Manila, Clark, Kalibo (for Boracay), Taipei, Bangkok, Krabi, Phuket, Hanoi and Ho Chi Minh City. That's quite a spread. The air fare is roughly S$21 for Singapore-Langkawi, S$88 to Hong Kong and S$99 to Perth.
Scoot fares are around 40 percent cheaper than normal rates and CEO Campbell Wilson says his charge is "unabashedly no-frills"
Tiger Airways partnered with regional airline giant Thai Airways International in early August 2010 to unveil Thai Tiger Airways, which was then expected to commence operations in 2011. That adventure failed. Rubbing salt into the wound, in mid 2011 Tiger Airways was grounded in Australia due to "safety" reasons in an almost unprecedented move by the Civil Aviation Safety Authority (CASA). But the airline was quick to take remedial action and, after a truly wild ride, has clawed its way back, aiming to win the recognition it deserves. In its grab bag is a privilege programme called Stripes, which enables members to book the best ticket deals first and pick up other freebies. The airline also offers bookings for hotels (including budget stays) and car rentals. Tiger's roaring fleet includes A320s and a few A319s. A fresh logo reflects the airline's new "warmer" and more caring identity and the ability now for passengers to make mobile bookings, change online bookings, and arrange meals and snacks via the internet.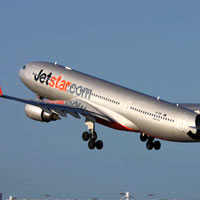 Jetstar Asia A330
Low cost airline Jetstar Asia (www.jetstarasia.com) is a spunky partnership between Qantas and other Singapore-based groups. From its Singapore hub it, unsurprisingly, serves up a smorgasbord of Australian destinations like Adelaide, Sydney, Darwin, Brisbane, Hobart, Perth, Cairns, Gold Coast and Melbourne. New Zealand points include Auckland, Wellington and Christchurch. A big draw for business travellers and leisure trippers alike is the daily Singapore-Hongkong run that retails one-way for about S$114 (HK$718). The flights tend to be on time and offer an edge for a fast commute between the two cities.
Add to this Phnom Penh and Siem Reap (Cambodia), Guangzhou, Hangzhou, and Beijing (China), Jakarta, Bali, Medan and Surabaya (Indonesia), and an assortment of flavours including Taipei, Tokyo, Osaka, Fukuoka, Sapporo, KL, Penang, Yangon, Danang, Hanoi, Saigon, Bangkok and Phuket, and you have the outline of a very successful Asian low cost airline giant.
In February 2008, Jetstar launched revolutionary low-fare flights Singapore to Kuala Lumpur and on 5 January, 2010, AirAsia and Jetstar Asia announced plans for a strategic alliance to harness operations as well as procurement – in one fell swoop adding huge muscle in the low fare sweepstakes. Jetstar Asia operates a fleet of long-haul Boeing B787-8s (21 seats in business and 314 in economy class), Airbus A320-200 aircraft, A321s, and A330-200s on which there is allocated seating and no boarding scrum for the best views. Select your seat online. In Singapore, if you do not wish to make payments online, just pop into one of the over 300 7-Eleven convenience stores dotted around the city and pay at the counter. Or pay at a SingPost counter. It's as easy as that.
Indian regional and budget airlines
India's hapless air travellers, long plagued by mysterious delays, cancellations and flights that were "pre-poned" (as opposed to postponed), because overbooked flights took off as soon as seats were full, have more choice. Or they had, until 7 January, 2013, when Kingfisher Airlines (www.flykingfisher.com) run by the flamboyant Vijay Mallya with "handpicked" staff and Airbus A320-200s seating 174 in a single class with a wider 30-inch seat pitch, had its licence indefinitely revoked by the Directorate General of Civil Aviation (DGCA), due to outstanding debts.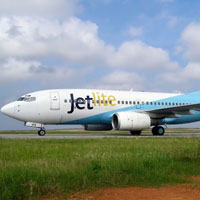 Jetlite: low cost India routes
In September 2008 Kingfisher had launched a Bengaluru (Bangalore) to London Heathrow service. By 2012 the destination map had grown to include Edinburgh, Glasgow, Paris and Dusseldorf. In Asia, points include Bangkok, Singapore and Hong Kong. Yet, by early 2012 almost two thirds of the airline's fleet of 64 aircraft was grounded due to pilot walkouts over unpaid wages and looming bankruptcy as the airline sought a bailout.
Kingfisher also acquired financially ailing Air Deccan - rebranded Kingfisher Red – but this Bangalore-based no-frills operation had hit a serious cash crunch by 2011 and service was suspended with aircraft reconfigured for the full service Kingfisher operation. This ended the dreams of original Air Deccan launch steward, Captain GR Gopinath who once said, "Every Indian can fly and should fly."
Jet Airways (www.jetairways.com) has meanwhile stormed the domestic and international scene, with a loyal following a popular frequent flyer programme, Jet Privilege that offers reciprocal arrangements with Lufthansa, Cathay Pacific, Thai International and Austrian Airlines as well as FFP point tie-ups with retail brands. Jet is not a small or regional airline anymore and should not be confused with Jetstar.
Continuing the consolidation of Indian skies, Jet bought former rival Air Sahara that had launched with two B737s on 3 December, 1993, and carried the tagline, "Emotionally Yours". So what if the ladies at the check-in desk wept every time they greeted you? This was Bollywood Country. Sahara was rebranded JetLite, which in turn was rolled into JetKonnect (www.jetkonnect.com) on 25 March, 2012. JetKonnect is an all-economy low-cost no-frills brand from Jet Airways that flies to over 55 cities in India with B737-800 and ATR72-500 aircraft linking up places like Delhi, Mumbai, Kolkata, Guwahati, Ahmedabad, Pune, Kochi, Hyderabad, Chennai, Bengaluru and Thiruvananthapuram. Its top-end Premiere programme serves up mileage, seat pitch, meals and lounge service identical to the full service Jet Airways product.
Indian carriers permit 20kg on international flights with a generous carrot of 30kg for the Dubai bring-it-all-back-home run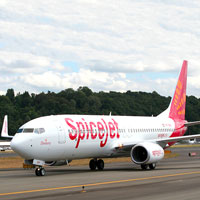 Spicejet in runway queue
A popular Indian budget airline contender is fast growing SpiceJet (www.spicejet.com), which operates services to Indian domestic points as diverse as Agartala, Allahabad, Amritsar, Bengaluru, Bhopal, Chandigarh, Chennai, Delhi, Dharamsala, Goa, Guwahati, Kochi, Kolkata, Mumbai, Pondicherry, Port Blair (Andaman Islands), Srinagar, Thiruvananthapuram (Trivandrum), and Udaipur (with its fabulous lake palaces in Rajasthan). By late 2013 its international routes included Kathmandu, Kabul, Colombo, Bangkok, Guangzhou, Dubai, Riyadh, Muscat, and Male (Maldives).
The airline operates 212-seat B737-900s (in a single aisle 3-3 seat configuration), similarly configured Boeing 737-800s, and Bombardier Q400s (with a 2-2 seat configuration). Online check-in is easy. Cabin baggage is limited to seven kilograms and a free check-in baggage allowance of 20kg should see several happy faces around. It is worth noting that on flights from Jammu and Srinagar (Kashmir) no cabin baggage is allowed. On flights to and from Dubai there is a checked bag allowance of 30kg for one adult with child. Larger checked-in items like musical instruments, cycles or televisions are charged a fee.
Another Indian low cost airline biggie that is also spreading international feelers is IndiGo (www.goindigo.in). Headquartered in Gurgaon, just south of New Delhi, it launched in August 2006. Its fleet of six A320s opened the account flying domestic routes between Delhi, Mumbai, Jaipur and Kolkata. By late 2013 it boasted a fleet of 48 well maintained A320-200s, serving just under 30 domestic locations and international points like Bangkok, Singapore, Kathmandu, Dubai and Muscat, almost mirroring the SpiceJet routemap, with 434 daily flights. Among the best connected international points is Dubai with direct flights from several Indian cities.
The airline permits 15kg of checked baggage on domestic services and 20kg on international routes with 30kg for Dubai and Muscat flights (for one adult and child). As is the norm, a 7kg hand baggage allowance applies subject to space in overhead bins (infants get an extra seven kilo allowance). Passengers may also leave their hand baggage by the side of the aircraft (for stowing) before boarding and pick it up the same way later.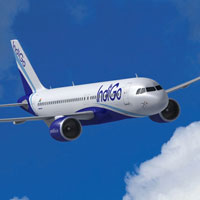 IndiGo A320: big expansion plans
IndiGo has expanded rapidly and its growth shows no signs of slacking. This was highlighted when the Indian budget airline ordered a staggering 180 A320neos in January 2011 – one of the largest purchases in aviation history – to be delivered between 2016 and 2025. It is already the second largest airline in India after Jet Airways, and its attentiveness to passenger convenience – excellent on-time performance, online check-in, mobile bookings, lounge access for a small fee – has won it a loyal following and confirmed its position as one of the best low cost airlines in Asia. Consider it a value airline with a range of service rather than a cut-rate operator though it does offer great deals from time to time.
Other small players whizz through India's crowded airspace. And these aren't your-daddy-was-a-sailor unknowns. Air-India has its low-cost budget airline Air India Express (home.airindia.in) with its main base of operations out of Kochi in Kerala, South India. Air India Express 186-seater B737-800s fly Middle East and Southeast Asian routes connecting cities like Delhi, Mumbai, Kochi and Trivandrum with Singapore, Dubai, Sharjah, Muscat and Abu Dhabi. The free baggage allowance on this LCC from the Gulf and SE Asia is 20kg for adults and 10kg for an infant.
With Air India and Indian Airlines merged into Air India Ltd on 27 February, 2011, the Indian Airlines low-cost Alliance Air was rechristened Air India Regional (www.airindia.com). The airline covers over 25 Indian destinations with over 350 services including several to the remote northeast of the country (Assam, Manipur, Mizoram, Nagaland) as well as to the emerald Lakshadweep islands (Agatti) in the Indian Ocean.
Mumbai-based GoAir (www.goair.in) from the Wadia group rounds up the top LCC country players. It has been around since late 2005 and now serves domestic points like Leh (Ladakh), Chandigarh, Pune, Bagdogra, Kochi, Patna, Port Blair, New Delhi, Jaipur, Srinagar. With 15 aircraft at its disposal (180-seat A320s), GoAir says it helps passengers "fly smart" and this is not an idle boast with its focus on punctuality and affordability.
Bhutan: threading those tall mountains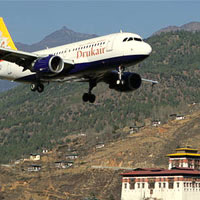 Drukair A319 approaching Paro
Up in the Himalayan mountains, Drukair (www.drukair.com.bt) weaves its tiny planes adroitly through the twisting valleys to touch down whisper-smooth at Bhutan's Paro airport ensuring your martini is neither shaken nor stirred. This minnow from Bhutan has two huge advantages over its competitors. Firstly, it has no substantial competitors flying to Paro through narrow valleys at an elevation of 7,300ft. And second, the scenery through the windows of the newer Airbus A319s is eye-poppingly arresting.
Starting with two destinations in 1983, it took on some BAe 146-100s to begin extending operations from November 1988. The aircraft was light, responsive, and manoeuvrable. This correspondent enjoyed some of the smoothest landings at high altitude with Drukair's senior pilots at the helm of this aircraft. The newer A319 fleet has permitted expansion to farther destinations and the route network by late 2013 included Delhi, Kolkata, Bagdogra, Gaya, Guwahati, Mumbai, Bangkok, Dhaka, Kathmandu and Singapore. Hong Kong is ever in its sights but remains elusive. The free baggage allowance on international flights is the customary 30kg on business class and 20kg on economy.
Bhutan Airlines (operated by Tashi Air, bhutanairway.com) is the first private venture in Bhutan and, with some scrambling about and perhaps help from the spirit world, launched its inaugural Paro-Bangkok route on 10 October, 2013. The airline's sole A320 aircraft is based in Bangkok. Bhutan Airlines will seek to expand operations slowly to Dhaka, Singapore, and perhaps even Hong Kong and Dubai.
Seaplane hopping in the Maldives
How small is small? Perhaps taking the prize is spirited Maldivian (maldivian.aero), which does the Maldives archipelago reasonably thoroughly with 16-seat Dornier 228s (now retired), three 50-seat Dash8-300s, two 37-seat Dash8-200s, and one A320 (in a two-class configuration). Its routes stretch from from Malé the capital to Gan Island, Hanimaadhoo and Kadhdhoo (in the Maldives), Thiruvananthapuram and Chennai in South India, Dhaka, and Colombo. The airline has linked up to Chongqing (China) too.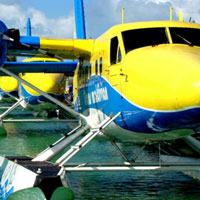 Trans Maldivian seaplane
Even smaller? The pioneering Maldives seaplane operator Trans Maldivian Airways (www.tma.com.mv) whose bright yellow Twin Otters can be spotted skimming the azure seas, launched in 1989 with a purely helicopter fleet as Hummingbird Island Helicopters. Its Twin Otters fly you right to the island resorts, splashing down on far flung jetties, obviating the need for further boat transfers and the like to luxury resorts like Conrad on Ari Atoll, The Beach House in the north, and a couple of Anantaras.
MEGA Maldives Airlines (megamaldivesair.com) does select international routes with some scheduled services and charters (with a focus on China and South Korea) using B767-300ER (extended range plane with business, premium economy and economy class) and B757-200ERW aircraft.
Great deals on Philippines flights
Manila-based Cebu Pacific (www.cebupacificair.com) was one of the original low-cost trendsetters, flying DC-9s. Cebu Pacific now flies Airbus A319s, A320s and A330s as well as ATR 72-500s to local spots like Davao, Cebu and Clark (Subic) as well as farther afield to Ho Chi Minh City (Saigon), Bangkok, Macau, Guangzhou, Hong Kong, Taipei, Shanghai, Incheon (Seoul), Busan, Osaka, Kuala Lumpur, Singapore, Kota Kinabalu, Brunei, and Jakarta.
Fly from Hong Kong to Boracay (Kalibo) via Manila at fares around HK$741 one way with occasional bursts of riotous karaoke singing by jolly stewardesses and crew. Yes, someone will still be flying the plane. By late 2013, the airline was serving destinations farther afield in China (Beijing) and the Middle East (Dubai). The airline's online seat selector offers options at varying rates for standard seats, standard plus (with a tad more legroom and 32 inch seat pitch), and premium.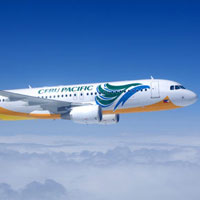 Cebu Pacific is a popular budget choice
Another low-fare contender to watch is Air Asia Philippines (www.airasia.com), which acquired a 49 percent share of Zest Air (which had already incorporated Asian Spirit) in March 2013. The no-frills promises basic but bright in-flight services, where passengers have the option to pre-order in-flight meals and shell out a little extra for "hot" seats. The airline has a young fleet of Airbus 320s and a network including Kalibo (Boracay, Philippines), Davao (Philippines), Kota Kinabalu (Malaysia), and Kuala Lumpur. The Virgin red uniforms and lots attitude are an integral part of the mix.
Also look at Southeast Asian Airlines, or SEAir (www.flyseair.com) whose new airline code is XO – "because we love you," it says. It runs a useful network linking various islands and points including Iloilo, Laoag, Boracay (Kalibo), Cebu, Clark, Davao, Pierto Princesa and Tacloban. And from Clark (Subic), SEAir works with distribution partners to offer tickets for Hong Kong, Singapore, Bangkok and Kota Kinabalu too. Flights are largely on Airbus 319s and A320s (the Dornier 328s have been scrapped). SEAir is not a budget airline. This is a small Asian airline that serves up most frills within its capabilities as a limited reach island skipper.
Hong Kong Express was spun out anew in October 2013 as a dedicated low cost carrier to compete with Jetstar Hong Kong
Cheeky Pacific Air, which used to weigh guests along with their baggage, before its small prop-planes huffed across the Pacific from Manila to Boracay, was an early pioneer that was sadly forced to hang up its boots.
Hong Kong, China, and even Tibet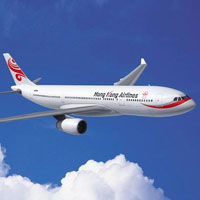 Hongkong Airlines A330
In Hong Kong, CR Airways launched in 2003 to provide an alternative for small city getaways. It soon mushroomed into Hongkong Airlines (www.hkairlines.com) with a very different mandate as a full service carrier with inflight entertainment, frequent flyer programme, airport lounges and onboard duty-free shopping . On 7 March, 2012, the airline dramatically launched an all-business service Hong Kong to London's Gatwick but the service fizzled out by September 2012. By late 2013 its network touched Male (Maldives), Sanya, Haikou (Hainan, China), Bali, Bangkok, Hanoi, Okinawa and a host of China cities in direct competition with Dragonair.
The airline permits three items of 23kg each as free check-in to business class passengers and two items totalling 23kg combined to economy travellers. That's a big lure for China-bound shoppers. The cabin baggage is restricted to one seven kilo carry-on with dimensions falling within the universal 56x36x23cm. Hongkong Airlines operates a young fleet of A330-200, A330-300, A320, and B737-800 aircraft.
Hong Kong Express (www.hkexpress.com), under Hainan Airlines, launched in 2004 and had mixed fortunes as a value fare provider, before being absorbed into the full service sister company Hongkong Airlines. It was spun out anew in October 2013 as the first Hong Kong low cost carrier with a fleet of A320s. It goes head to head with Jetstar Hong Kong. The airline's expansion is being watched with interest as Hongkong Airline's dual brand strategy takes off. With growing demand for cut-rate fares it may well be the junior low cost partner that ends up laughing all the way to the bank while the premium player suffers. This in turn leads to issues about how much leeway will be offered to the Hong Kong Express budget operation.
Hong Kong is not an easy market for low cost carriers with high landing, parking, apron and fuel costs. Flamboyant Hongkong-based Oasis was in the UK-HK longhaul business traveller market but, on 9 April, 2008, it filed for liquidation and flights ground to a halt, rather less flamboyantly. Also in the region, VIVA Macau ran out of funds and was grounded late March 2010 after rolling out a number of low cost services from Macau to the Pearl River Delta region and beyond.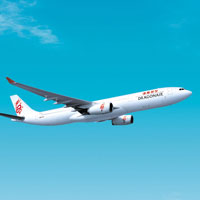 Dragonair A330: big China reach
The highly pedigreed Jetstar Hong Kong (www.jetstar.com), a collaboration between Qantas, China Eastern, and Shun Tak, was announced on 26 March, 2012 with a planned late 2013 launch (bitterly contested by Cathay Pacific, which maintains the carrier will "undermine the Hong Kong economy" and play to foreign interests). Hacking his way through a thicket of regulatory approvals, Qantas chief Allan Joyce hit back with the wry observation that the airline is envisaged as more local then either Cathay Pacific or Hongkong Airlines, with a substantial share of management and shareholders drawn from the local community. Jetstar Hong Kong will manage a fleet of 18 A320s by 2015, serving points in Greater China, South Korea, Japan and Southeast Asia.
All this poses a direct threat to the well regarded Dragonair (www.dragonair.com) – the hard working HK-based Cathay Pacific feeder airline and regional player that dominates China and also offers points like Kota Kinabalu, Phuket, Chiang Mai, Cebu, Phnom Penh, Okinawa, Yangon and Bengaluru. The airline operates a fleet of A321, A320, and A330 aircraft. Dragonair offers passengers the additional bonus of Asia Miles or CX Marco Polo points, well-managed lounges at several airports, attentive multi-lingual cabin crew and a huge array of inflight duty-free shopping. With extensive exposure in China it is somewhat hamstrung by China flight delays (with the military controlling and blocking air space) that can have a knock-on effect on flights farther back in the day.
Shanghai-based Spring Airlines (www.china-sss.com) first grabbed the headlines by offering tickets for only one yuan but it was back on the Hong Kong newspaper cover pages by September 2010 offering cheap flights to Shanghai. The budget carrier was undercutting big boys like Dragonair, Hong Kong Airlines, and China Eastern (www.flychinaeastern.com). Spring launched with return fares for as low as Rmb398 (HK$457). These wallet-friendly prices were less than a third of the lowest fare at the time. By late 2013 the one-way HK-Shanghai airfare was HK$876 (US$112). Its SpringPass card offers points that can be redeemed for various items including flights. SpringPlus meanwhile offers participants better front row seats, better in-flight meals, extra baggage (25kg) and flexible tickets.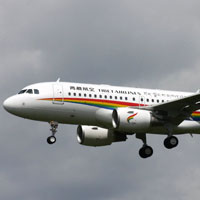 Tibet Airlines: ambitious
While the Spring Airlines daily return flight may be little threat to the heavyweights who operate 30 flights a day to Shanghai, it certainly ruffled a few feathers. But with Hong Kong landing slots in incredibly short supply it looks like the Shanghai-based carrier will have little opportunity to seriously compete. Still, it has launched flights between Shanghai to Ibaraki (40kms from Tokyo) and plans to increase its fleet of 20 A320s to 100 by 2015.
Start-up Tibet Airlines (www.tibetairlines.com.cn) launched its groundbreaking Lhasa-Beijing flight mid 2011 with spokes to Chengdu, Chongqing, Tianjin, and Shanghai. It is eyeing the region for further international points in India and Southeast Asia to promote Buddhist tourism. The airline is starting with three 128-seat A319 aircraft that airline general manager Liu Yanping describes as best suited to the high altitudes. Within five years the airline anticipates a fleet of 20 aircraft.
South Korea and Japan LCC options
Peach (www.flypeach.com) arrived late 2011 as Japan's first true domestic low cost carrier. Flying between Osaka and Sapporo and Osaka and Fukuoka, it later added offshore routes like Seoul, Busan, Taipei and Hong Kong. An Osaka-Hong Kong could cost in the region of HK$1,940 (US$248) with the one-way return priced at an even more attractive HK$888 (US$113). Promotional fares run as low as ¥250 (US$3.20) for a one way ticket. As its website points out, the price for two tickets, ¥500, is the same as the price of a peach. Get it? The slightly pricier Happy Peach Plus fares allow free seat selection, free check-in and last-minute bookings.
Keep an eye on July 2012 start-up Jetstar Japan (www.jetstar.com), a collaboration between Qantas, Japan Airlines, and Mitsubishi. It got off the ground ahead of time with A320s linking Sapporo, Okinawa and Fukuoka with points in China as well. A Kagoshima-Tokyo flight in late 2013 was priced at Y5,490. The format is similar to the other Jetstar models.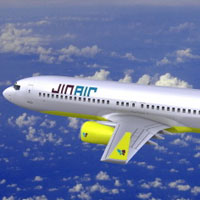 Jin Air B737-800: cheap and cheerful
The ANA-AirAsia deal for AirAsia Japan came apart end June 2013 with both airlines politely parting ways and ANA retaining full control of AirAsia Japan (which retained the same name until 31 October, 2013) before re-emerging November 2013, rechristened as Vanilla Air (www.vanilla-air.com). This new Japanese budget airline flies from Narita (Tokyo) to Taipei, Okinawa, and Sapporo and Seoul were due early 2014.
South Korea's Jeju Air (en.jejuair.net) flies turboprop aircraft from Seoul's Gimpo Airport to Busan's Gimhae and Jeju Island (also Cheju Island). The airline also does Incheon-Hong Kong, Hong Kong-Busan, Incheon-Nagoya, Osaka and Tokyo (Narita). The airline operates newish B737-800 aircraft that seat 190 passengers.
As Peach rightly points out, the price for two budget tickets, ¥500 (US$6.40), is the same as the price of a peach in Japan
A younger and sparky addition to South Korea's budget skies is Korean Air's low-cost airline Jin Air (www.jinair.com). By late 2013 Jin Air was flying from Seoul's Incheon Airport to Jeju, Hong Kong, Macau, Bangkok, Chiang Mai, Cebu, Clark (Philippines), Vientiane, Okinawa, Sapporo, Nagasaki and Guam. You can also catch Jin Air flights from Jeju International Airport to Shanghai.
Using B787-800s, Jin's five-hour Seoul-Guam hop is at maximum stretch for a twin engine plane, and one of its most popular routes. Along with reasonable ticket prices, the airline maintains a youthful, informal atmosphere with cabin crew clad in blue jeans and t-shirts. Coming in for an interview? Wear those blue jeans. Well, responding to stodgy customer feedback, there could be a change in the uniform.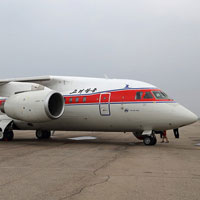 Air Koryo is inaccessible online
Boredom is not a problem, thanks to occasional flash mob dances in-flight and the "PS Vita" hand-held entertainment systems, which can be reserved in advance for US$5. Unlike other budget carriers, the airline serves in-flight meals on all overseas routes at no extra charge. The flight attendants save costs by doubling up as cabin cleaners on some routes, so try not to litter if you want to see those welcoming smiles.
Across the border in North Korea, the state-owned national carrier Air Koryo operates flights from Pyongyang to Beijing, Bangkok, Berlin, Macau, and Toronto, using about 30 Russian-made Tupolev aircraft.
Old planes, poor service and an online booking service that launched late 2012 but continues to pose huge problems for potential passengers (and remains offline or unlisted much of the time), has not endeared the airline to travellers. Bravely, the airline is on Facebook too (with profile pictures including, incredibly, some of jihadis marching). Its Twitter page has disappeared. Ah well...
A bit of Vietnam and Burma
Vietnam-based Pacific Airlines operating out of Tan Son Nhat International Airport in Saigon launched in 1991 and was absorbed into the Jetstar family as Jetstar Pacific (www.jetstar.com) with its fleet of Boeing B737-400s. The airline once offered 10 to 50 percent discounts for students, people on social welfare, the elderly, and those buying tickets seven to 30 days in advance. Jetstar Pacific flies to Danang, Hanoi, Hue, Brisbane, Darwin, Melbourne, Perth, Sydney, Phnom Penh, Beijing, Hong Kong, Jakarta, Bali, KL, Penang, Singapore, Taipei, Phuket, Bangkok and Auckland. Do Saigon to Bangkok one way for about US$100. Or fly in a bit more style on SkyTeam member and national carrier Vietnam Airlines (www.vietnamairlines.com) that operates a growing fleet of A320 and A321 aircraft as well as B777s to places as far afield as Melbourne, Amsterdam, London and Beijing. On the order books are state-of-the-art B787 Dreamliners (2015) and new generation A350-900s (from 2014).
VietJet service in the PanAm mould
A spicy choice in Vietnam is VietJet Air (www.vietjetair.com), which presents itself in a lively manner with red-t-shirted stewardesses in tartan shorts and hats who seem more like a romantic postcard throwback circa 1950, than modern automatons. The airline flies 180-seat A320s linking Ho Chi Minh and Hanoi with points both within Vietnam as well as within the region like Bangkok. New routes include Hanoi-Hue and Ho Chi Minh to Quy Nhon. This is a low cost airline with a difference. Not for it the staid buttoned-down Vietnamese formality. Its irrepressible mix of in-flight antics includes occasional celebrities and chefs, and even impromptu bikini shows, which have run foul of official guidelines.
Myanmar Airways International (www.maiair.com) started out in 1950 as the Union of Burma Airways. By the late 1990s as MAI it had one spry but hard-worked B737, and an occasional MD-82, with very pleasant crew shuttling between Yangon, Bangkok, Kuala Lumpur and Singapore. The airline was assisted by Singapore-based Regionair. By 2013 the airline had graduated to seven A320-231 aircraft with a two-class configuration and expatriate cockpit crew to shore up passenger morale. From Yangon the airline services destinations like Gaya (India), Guangzhou, Kuala Lumpur, Singapore and Bangkok, with planned routes to Dubai, New Delhi, Hong Kong, Seoul and Tokyo. This is a full service national carrier.
Indonesia budget airlines unlock remote islands
In vastly spread out Indonesia it is likely you'll be bumping along in a tiny plane to get to remote islands from Flores to Celebes. However, lacking sufficient capital and staying power several airlines have gone bust or been taken over. Adam Air took off in 2003 and eventually amassed 22 aircraft in its fleet but after a series of horrific crashes and airport incidents had its license revoked by the Indonesian air transportation agency in early 2008.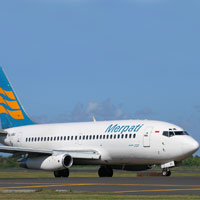 Merpati flies B737s largely in Indonesia
Batavia Air went bust recently prompting AirAsia to explore a buyout but the Malaysian carrier later demurred and pulled back. Privately-owned Bouraq ran from 1970 until 2005 when financial problems resulted in its closure. Full service airline Mandala dropped out in early 2011 but won a reprieve with an infusion from Tiger and private Indonesian investors to return as Mandala Tigerair (cto-mandalaair.com) in a pure LCC mould. It is competing with the likes of Indonesia AirAsia (www.airasia.com/id/en/home.page) that was formerly PT AWAIR, and Jetstar Indonesia (www.jetstar.com).
Indonesian Lion Air (www.lionair.co.id) offers Jakarta-Singapore runs at a staggeringly low US$35 JKT-SIN and US$58 return sector from Singapore, well below the SIA rate. Launched in 2000, the airline offers a massive 35-city Indonesian network and flies to Malaysia (Kuching and Kuala Lumpur) too employing the latest B737-900ERs. It also has B737-300s and ageing MD90s. In August 2013 a Lion Air jet overshot the runway in Bali and ended up in the sea. It was investigated for safety issues. Nevertheless, the airline has ordered 234 Airbus A320s with plans to aggressively expand.
Merpati Nusantara Airlines (www.merpati.co.id) or just simply Merpati is another major largely domestic player with several Indonesian destinations as well as services to East Timor and Malaysia. It flies B737-300, B737-400 and B737-500 aircraft as well as a mix of modern A320s and De Havilland Twin Otters. Merpati has a maintenance and training facility in Surabaya.
Last but not least, TransNusa (www.transnusa.co.id) is a fledgling player among Indonesia's small airlines, with a fleet of Fokker 50 jets and BAe 146-200s. The airline has gained penetration domestically servicing routes to places like Denpasar (Bali), Mataram (Lombok) and Makasar.
Australia and Pacific escapes, Samoa, Fiji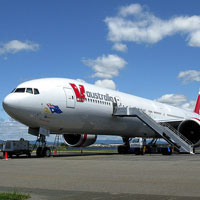 V Australia specialises in long hauls
Virgin Blue now simply Virgin Australia (www.virginaustralia.com) is already well settled in Oz and has consolidated under the newer over-arching Virgin Australia brand, sister carrier Pacific Blue in New Zealand and long-haul V Australia. Virgin Australia offers a radical departure from normal airline lounges with its snazzy spaces that offer hi-tech cubbyholes and premium food and wine. In Sydney look for the Premium Entry and Premium Valet (for business class and premium economy passengers).
Virgin's V Australia (www.virginaustralia.com) connecting the east coast of Australia to the US West Coast with daily nonstops Sydney-LA, three times a week Brisbane to Los Angeles, and twice a week Melbourne to Los Angeles, is a game-changer. V Australia flies B777-300ERs (with economy, premium economy class and business) on this groundbreaking transpacific route.
At the other side of the spectrum, the small luxury airline Ozjet once offered corporate highfliers a "business class only" service, with eight daily flights between Sydney and Melbourne. It wound up operations by May 2009. Strategic Airlines operating as Air Australia was the new Australian budget airline for a while. It covered Melbourne, Brisbane and Perth as well as farther flung Bali, Phuket and Honolulu. By early 2012 however the airline had run out of funds and cancelled operations. For low cost reprieve check out Tigerair Australia (www.tigerair.com) with a slew of domestic services out of Melbourne and a Perth-Singapore run to plug into international routes.
Polynesian Blue now Virgin Samoa (www.virginaustralia.com) is a joint venture by Virgin Australia and the government of Samoa. The airline offers direct flights from Samoa (Apia) to Auckland, Adelaide, Brisbane, Cairns, Canberra, Perth, Sydney, Gold Coast and Hobart.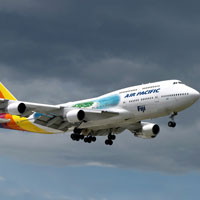 Air Pacific B747s fly Fiji-Hong Kong
Fiji's Air Pacific is on a steroid binge acquiring B747-400s to fly into places like Hong Kong, which it launched in January 2012
Fiji's Air Pacific (www.airpacific.com) has meanwhile gone on a steroid binge acquiring B747-400s that fly into places like Hong Kong (from 19 January, 2012, replacing the B767s), and augmenting a fleet of B737s, Twin Otters and ATR 42-500s. The airline has also taken on new Airbus A330-200s and its routes include points in Australia, New Zealand, USA (code sharing with American Airlines), Hawaii, Samoa, Tonga and Vanuatu.
Pakistan, Bangladesh, Afghanistan, West Asia
GMG Airlines (www.gmgairlines.com) from Bangladesh started in 1997 and offered routes from Dhaka and Cox's Bazaar to Kolkata (India), Chittagong, and Sylhet. The airline used 250-seater B767-300 aircraft as well as Dash-8s for small runways until it pulled down the shutters on 30 March, 2012.
Established in 2004, Airblue (www.airblue.com) operates a fleet of Airbus A320 and A321 aircraft and offers scheduled services to many cities within Pakistan. It maintained a decent safety record post launch until the crash of flight ED202 on 28 July, 2010, in poor weather near Islamabad. Airblue offers services to a few international destinations including UAE (Dubai, Sharjah, Jeddah), and UK (Birmingham).
In addition to Ariana Afghan Airlines (www.flyariana.com) and its fleet of B727s, B737-400s and A310-300s operating from Kabul and elsewhere within Afghanistan to Istanbul, Dubai, Moscow and New Delhi, smaller Safi Airways (www.safiairways.aero) flies Airbus A320-200 aircraft and B767-200ERs from Kabul to Herat, Dubai, Islamabad and New Delhi.
Iran has a slew of airlines serving domestic and regional destinations led by the national carrier Iran Air (www.iranair.com) and domestic and international carrier Mahan Air (www.mahan.aero) but all are hampered by sanctions and other technical limitations that have consigned them to squeezing (and cannibalising) old Boeings, leased Airbuses, and creaking Russian aircraft, often plagued by safety issues.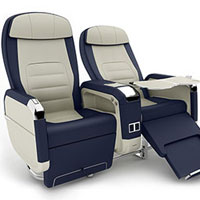 Flydubai business seats
Neighbouring Turkey is home to Turkish Airlines (www.turkishairlines.com), now an aspiring biggie with lavish television commercials featuring British football clubs and the sung pledge that it is "globally yours" has a fairly modern fleet of over 200 aircraft spanning everything from A340-300s and A320-200s to A319s, Boeing 777-300ERs, B737-800s and B737-900ERs.
Founded by the government of the United Arab Emirates in 2008, Flydubai (www.flydubai.com) has quickly expanded to almost 50 destinations, now with the addition of a roomy business class that could keep you apart from the labour traffic pouring into the Emirates. In coming years, this Middle Eastern low-cost carrier plans to add more modern aircraft to its fleet of Boeing 737s. So far, routes from Bahrain and Dubai, include Georgia, Kabul, Baku, Djibouti, Addis Ababa, Ahmedabad, Hyderabad, Lucknow, Amman, Bishkek, Alexandria, Baghdad, Basra, Beirut, Kathmandu and Karachi. Keep this one on your radar.
Send us your Feedback / Letter to the Editor