CRAZY SALES
Singapore shopping madness
An A-to-Z Singapore shopping guide from Orchard Road designer brands and malls to back-alley deals in Little India or duty-free shopping at the airport. You'll need some extra bags. BIG bags.
updated by Kate Springer with photography by Vijay Verghese
SEE ALSO Singapore fun guide | Singapore business hotels | Singapore nightlife | Bangkok shopping | Hong Kong shopping | Kuala Lumpur shopping | Digital Cameras and Video Reviews
JUMP TO Orchard Singapore malls | Marina and Raffles City | Suntec City | Millenia Walk | Electronics and computer | Bugis Junction and Arab Street | Little India, Chinatown shops, Ann Siang Hill and Club Street | Holland Village and Dempsey Road antiques | Tanglin Road | Resorts World Sentosa | Local malls | Airport duty-free
RIGHTLY, or perhaps a tad unkindly, Singapore has been described by some as one big shopping mall. But to shopping aficionados, such a generalisation only means that this modern city can lay a safe claim to being one of Asia's most sophisticated yet diverse shopping destinations. While it's a year-round shopping paradise, the best time to visit is during its annual eight-week Great Singapore Sale (www.greatsingaporesale.com.sg), when all kinds of discounts and deals pop up island-wide from late May through July.
To kick-start your all-out Singapore shopping spree, there's perhaps no better place than the much vaunted – and flaunted – Orchard Road, where you can peruse a bevy of Singapore shopping malls, conveniently stacked one after the other, all the jolly way from Wheelock Place (near the Orchard MRT station) to Plaza Singapura (Dhoby Ghaut station). MRT, of course, stands for the Mass Rapid Transit trains that run both underground and above ground throughout most of Singapore. But walking is probably the best method to explore Orchard Road. If you can stand the heat and afternoon downpours just to bag that bargain, consider yourself a true Singapore shopping loon. Find the best digs for your trip in our Singapore business hotels review and family hotels roundup.
Send us your Feedback / Letter to the Editor
Orchard Singapore attitude and malls
Originally named after the many pepper and nutmeg plantations dotting the road in the 1840s, Orchard Road underwent a S$40 million revamp in 2009 that unveiled widened pedestrian walkways and better lighting. The bustling shopping belt starts off from the busy junction where Wheelock Place (501 Orchard Road, tel: [65] 6738-8660, www.wheelockproperties.com.sg) stands with an unmistakable glass cone built within its architecture.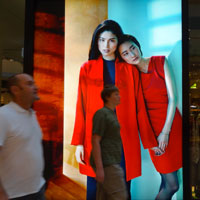 Raffles City glam/ photo: Verghese
Tenants in Wheelock Place include Apple computer and iPod reseller, EpiCentre @ Wheelock Place (02-20, tel: 6238-9378, www.epicentreasia.com), the Nike shop (02-02/03, tel: 6738-1965, www.nike.com.sg), chockfull of the latest sports gear, and Marks & Spencer (01-01, tel: 6733-8122), the well-known British department store with fashion, foodstuff, toiletries and decent underwear for men and women.
Straddled atop the Orchard MRT station is the huge and futuristic ION Orchard (2 Orchard Turn, tel: [65] 6238-8228, www.ionorchard.com), touted as "Singapore's first multi-sensory experiential shopping and lifestyle mall". So that's music, colour, perfumed stores, increasingly heavy bags, and a serious sense of space – this gargantuan mall houses more than 300 stores across 66,000sq m of drool-worthy shopping. Aside from visiting the stand-alone stores of Aldo, Bimba & Lola, Boss Selection, Charles & Keith, Clarks, IWC Schaffhausen, Marc Jacobs, Miu Miu, Vivienne Westwood, and 7 For All Mankind, shoppers can call on the duplex flagship stores of Cartier, Dior, Dolce & Gabbana, Giorgio Armani, Louis Vuitton, Prada, Topshop/Topman, Uniqlo and Zara.
A short detour into Scotts Road will bring you to Far East Plaza (14 Scotts Road, tel: 6734-2325), which in recent years has spruced up its image serving a younger clientele with a variety of small shop units hawking designer t-shirts, dresses and accessories – in particular Level One, which is a designated zone for street fashion. While the wares here are not always dirt-cheap, limited-edition Japanese tees, for example, are still affordable at just below S$50 (the approximate exchange rate is US$1 = 1.25 Singapore dollars). Now commence your Singapore shopping bargain hunt.
Directly opposite the Far East Plaza is DFS Galleria Scottswalk (25 Scotts Road, tel: 6229-8100, www.dfsgalleria.com/en/singapore). Show ytour passport for duty-free savings on international luxury brands like Burberry, Clinique, Dunhill, Prada and Tiffany & Co. Be prepared to embrace an assortment of fashion, cosmetics and liquors, as well as a selection of local specialties, like Tiger Balm medicated ointment, Chinese tea and Singapore Sling in takeaway bottles. Next to the Grand Hyatt is the reborn Scotts Square (www.scottssquareretail.com) with everything from Hermes, Michael Kors, Paul & Shark and Pierre Balmain to Vivienne Tam, Marina Rinaldi and Paul & Joe. There are watches too. It's not a huge selection but you'll spot some big and interesting fashion brands here.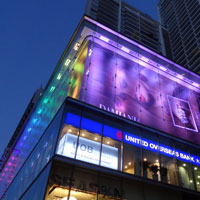 Scotts Square/ photo: Verghese
Making your way back to Orchard Road, check out Tangs (310 Orchard Road, tel: 6737-5500, www.tangs.com.sg), a Singapore shopping institution, founded by C K Tang in 1932, in what remains the heart of the city. To mark its 80th birthday in 2013, Tangs launched a major facelift to convert 29,000sq ft of space into boutique beauty real estate, with a beauty salon on the 7th floor and a basement converted into an interactive cooking experience. Expect international fashion brands, shoes, accessories, beauty products, electronics and homeware, as well as exclusive merchandise. Check out Tang + Co on Levels 3 and 4, with women's and men's collections, and PlayLab (Level 4) with casual wear and funky accessories, bearing labels like bods. bodyknits, FCUK, Levi's and Mooks.
Just a quick underpass away is Wisma Atria (435 Orchard Road, tel: 6235-2103, www.wismaonline.com). Its tenant mix includes longtime family favourite GAP (B1-20, tel: 6732-0438), trendy ALDO footwear and accessories (01-34 to 36, tel: 6836-2271) and W E (Workshop Element, 03-17, tel: 6733-3849), which specialises in local designs from the likes of Wonder Wander, Burgundy, AWOL and Mu.
Japanese department store Isetan (tel: 6733-7777, www.isetan.com.sg) is the flagship tenant here with other interesting additions including quirky Singapore shop Red Army Watches (03-02, tel: 6732-6043, www.redarmywatches.com) – think revolutionary themed Russian timepieces with names like Vastok Europe, Zeppelin, Poljot International, and you're halfway there. Add Dickson Watch & Jewellery (02-40, tel: 6737-6451), specialists in unusual timepieces that offer complimentary repair services, and you have a one-stop shop for the latest in wrist wear.
Though the fresh and fashion-forward line from All Dressed Up (Level 2, 6235-7123, www.alldressedup.com) likely won't weigh down your arms, this boutique shop from Singapore style pioneer, Tan-Leo, is also worth a look.
While you may not spot this in every Singapore shopping guide, over at Pacific Plaza (tel: 6733-5655) on 9 Scotts Road, our insider tip is head for Quintessential (02-01, tel: 6738-4811, www.quintessential.com.sg), a multi-brand accessory shop with trendy and classic finds. Look for the colourful vintage-inspired clutches from Babe, a Hong Kong-based brand. All of the bags are hand-crafted, and have been snagged by the likes of Kate Winslet and Gisele Bundchen.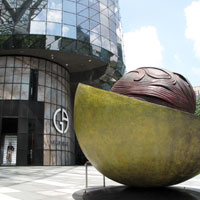 Go nuts at Ion, Orchard/ photo: Verghese
Lucky Plaza (304 Orchard Road, tel: 6235-3294, www.luckyplaza.com.sg), once a prominent Orchard Road landmark, has lost much of its shine due to the mushrooming of swankier competition around it. It is notorious for touts persistently peddling copy-watches and is a favourite haunt of Singapore's foreign domestic workers on Sundays. Stop off here for cheap Singapore shopping bargains.
If haggling gives you a headache, you can adjourn to the fixed price tag comfort of Paragon (290 Orchard Road, tel: 6738-5535, www.paragon.com.sg), where you'll find everything under one roof for the fashionista in you – from Prada, Gucci, Burberry, Ermenegildo Zegna, Miu Miu, Salvatore Ferragamo, Banana Republic and G-Star, to department stores such as Metro (tel: 6835-3322, www.metro.com.sg) – founded in Singapore in 1957 as a textile store in a two-storey shophouse. Paragon offers high-end Singapore shopping with style, space and, of course, that ubiquitous Singaporean specialty – really cold air-conditioning. For a whiff of luxury, check out the lotions and fragrances from Escentials (3-02, tel: 6737-2478, www.escentials.com.sg) with best-selling scents from Acqua di Parma, Annick Goutal, Creed and Serge Lutens.
The Heeren (260 Orchard Road, tel: 6738-4388, e-mail: mallenquiries@heeren.com.sg or www.heeren.com.sg) re-emerges mid 2013 with a jaunty new stride. Though no longer a haven for music junkies (HMV has uprooted to 313@Somerset), it is still the place to go for the young and restless. Stocked to the brim with boutiques hawking stylish street togs, vintage wear and cult fashion brands, it is where you can score some cool, quirky finds. Hit Ed Hardy – a Hollywood celebrity favourite – for some serious rock-and-roll inspired pieces or head over to Mu, where fashion is strictly avant-garde.
Make a stop at Limited Edt Vault, famous for its wide selection of limited edition sneakers. For a quick, refreshing break, there's the new Ben & Jerry's street walk café. Don't expect to shop basics here – everything from watches to t-shirts reek attitude. Both Hereen and Paragon offer some of the best designer brands and outlets for your Singapore shop list.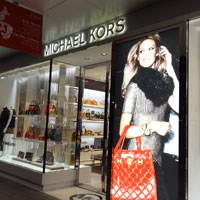 Michael Kors at Scotts/ photo: Verghese
Ngee Ann City (391 Orchard Road, tel: 6506-0462, www.ngeeanncity.com.sg), with its imposing façade and grandiose interiors, is a worthy stopover for a couple of hours (or a day, if you can spare the time) on your Singapore shopping itinerary.
The Japanese department store Takashimaya (tel: 6506-0458, www.takashimaya-sin.com) has international labels like DKNY, Kenzo, Bally, Bulgari (or BVLGARI), Hermes, Salvatore Ferragamo, Cartier, Gucci, Escada Sport and Jim Thompson stretched over a whopping six floors from Basement 2 to Level 5. In its food hall, you can also sample Japanese snacks and sweets, and gourmet food items from Harrods and Fauchon.
In the other parts of the expansive Ngee Ann City, you'll find popular designer boutiques signposted by Alfred Dunhill, Chanel, Louis Vuitton, Hugo Boss, Guess and Club Monaco. But don't forget to drop by Japanese Books Kinokuniya (03-09, 6737-5021, www.kinokuniya.com.sg), the largest bookstore in Southeast Asia, and Best Denki (05-01, tel: 6835-2855, http://bestdenki.com.sg/), where you can take your pick from a wide range of electrical appliances.
Next to Ngee Ann City is the Mandarin Orchard Singapore (formerly Meritus Mandarin Hotel). The newlook shopping arcade, Mandarin Gallery (tel: 6831-6363, email: concierge@mandaringallery.com.sg or www.mandaringallery.com.sg) is home to more than 100 shops on four floors. The stylish window displays of Elephant & Coral, Nancy and The Denim Store will tempt window shoppers to steal more than a quick peek.
Celebrated local designer Ashley Isham has set up shop here with his two labels, Ashley Isham and ai.By Ashley Isham. There is also a good, varied selection of luxury items: Vertu mobile phones, Bell & Ross watches, organic beauty products at Bud Cosmetics and exquisite flaky pastries at Antoinette.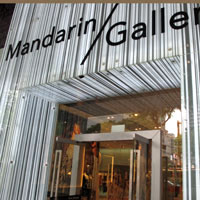 Mandarin Gallery/ photo: Verghese
The Centrepoint (176 Orchard Road, tel: 6737-9000, www.thecentrepoint.com.sg) is another popular shopping centre thanks to its legendary tenant, Robinsons (tel: 6733-0888, www.robinsons.com.sg) – another homegrown Singapore department store with an illustrious history as a trusted retailer. Taking up six floors, Robinsons welcomes shoppers with its Beauty Hall and big names like Clinique and Estée Lauder.
Women can check out ensembles from Ted Baker, Trucco, Jessica, Aryn K, and United Colors of Benetton, while men can indulge in Matinique and Bertoni. If you're shopping for your home, there is Margaret Muir's collection of embroidered bed linen, and brands like Calvin Klein Home, and Dorma.
Nearby Orchard Central (181 Orchard Road, tel: 6238-1051, www.orchardcentral.com.sg) is a 14-storey shopping mall boasting Nike, Levi's and The Hour Glass. Neighbouring 313@Somerset (tel: 6496-9313, www.313somerset.com.sg) brings on a slightly different browsing experience as it houses multi-level boutiques, a rarity in Singapore malls. The four-storey Forever 21 store is an instant attraction for shopaholics. Conveniently connected to the Somerset MRT station, the shopping centre spans eight floors and contains a balanced mix of international (Zara, Mango, Cotton On) and local (Charles & Keith, Dyel) brands.
Towards the other end of Orchard Road lies Plaza Singapura (68 Orchard Road, tel: 6332-9298, www.plazasingapura.com), built in 1974 and later extensively renovated into a one-stop urban shopping mall. It features department stores like Daiso (05-0, tel: 6884-9210, www.daiso-sangyo.co.jp), as well as another branch of Marks & Spencer (02-16, tel: 6835-9552).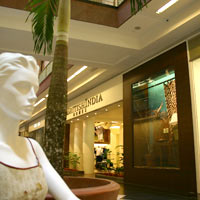 Millenia Walk near Suntec/ photo: Verghese
British value retail chain H&M (tel: 6235-1459, www.hm.com/sg/) opened September 2011 on 1 Grange Road and plays to packed audiences - mainly young kids and college students. SMU is next door. Students of all walks will want to wander through the nearby Select Books (51 Armenian Street, tel: 6337-9319, www.selectbooks.com.sg), an independent bookstore specialising in Southeast Asian titles.
Marina and Raffles City
Moving out of the Orchard Singapore enclave, another shopping area fast gaining prominence is the Marina Bay area, which has a cluster of malls deserving of mention.
Raffles City Complex, designed by world-renowned architect I M Pei, is perched atop City Hall MRT station, and a great starting point for exploration. Raffles City Shopping Centre (252 North Bridge Road, tel: 6318-0238, www.rafflescity.com.sg), part of the complex that also houses an office block and two hotels, has another branch of Robinsons department store and numerous fashion and specialty shops such as Swatch (01-41, tel: 6334-5951), agnès b (01-26, tel: 6334-4910), Calvin Klein Underwear (02-36, tel: 6532-6469) and Dockers (01-14, tel: 6333-4517). Dockers is a great spot for those casual street-hip khakis and more for the man on the move. Find a spacious Shanghai Tang. Raffles City is a hugely convenient spot for a range of designer brands and offbeat shopping too. On the ground floor find COACH, Tumi travel bags, Nine west Levi's Timberland, British India, Tommy Hilfiger, Brooks Brothers, Furla, MAC, Aldo, Accessorize (for bling trinkets) and Swarovski plus a clutch of fancy watch stores including Omega, Rolex, Philippe Charriol and IWC Shaffhausen.
The Metropolitan Museum of Art Store (01-37C, tel: 6336-1870) allows you to peek into the vast art collection that the museum (fondly known as The Met) has on display in its homebase of New York. Reproduced works of art (created under the supervision of art historians and master craftsmen) can be bought at a fraction of the price of comparable originals – for example, a couple of hundred Singapore dollars for an Indochinese sculpture or exquisite necklace. Hand-painted porcelain plates and intricately printed neckties can go for less than S$100, or you can choose prints of famous paintings, notepads and bookmarks that will hardly dent your wallet.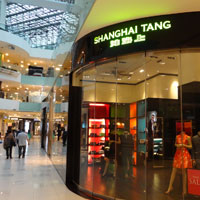 Shanghai Tang, Raffles City/ photo: Verghese
Take the CityLink underground passageway (1 Raffles Link, tel: 6339-9913, www.citylinkmall.com) to an interesting mall below ground that connects you to Marina Square and Suntec City Mall. Along the way, check out the contemporary women's footwear at Charles & Keith (B1-32/34 31, tel: 6338-0913, www.charleskeith.com), Chicago-style snacks from Garrett Popcorn Shops (B1-26A, tel: 6238-9918) and flirty lotions and makeup from the playful Etude House (B1-57, tel: 6884-6301).
Conveniently connected to CityLink is Marina Square (6 Raffles Boulevard, tel: 6339-8787, www.marinasquare.com.sg), comprising four levels of retail with more than 300 outlets including; GEOX (02-128, tel: 6333-9819), which touts comfy Italian shoes that "breathe"; The Planet Traveller (03-113, tel: 6337-0291, www.theplanettraveller.com), Asia's largest lifestyle travel store with a floor space of 5,000sq ft catering to all your travel needs; Fourskin (03-349, tel: 6333-1878), a local label offering trendy tees for around S$20; and Bershka (02-304, tel: 6339-0837), a stylish and sophisticated label for young men and women.
Also in Marina Square, if in search of a reliable camera shop, check out Cathay Photo (02-215, tel: 6339-6188). Staff are polite and will walk you through the innards of the latest gadgets. Camera prices in Singapore are competitive. Cathay Photo also has a shop in the cheaper Peninsula Plaza. Pick up lenses, camera bags and tripods.
The Marina Bay Sands Resort shopping mall, named The Shoppes at Marina Bay Sands (www.marinabaysands.com), houses more than 300 retail and dining outlets in over 800,000sq ft of space. Don't be put off by the frou frou name – this place comprises a mix of local and foreign brands, high-end tenants include the likes of Chanel (L1-59, tel: 6634-7350), Yves Saint Laurent (B1-116, tel: 6688-7338), Cartier (1-39A, tel: 6688-7388) and Tiffany & Co (B1-132, 6688-7728).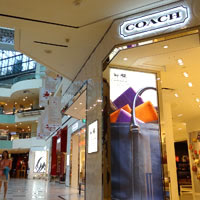 Raffles City COACH/ photo: Verghese
One of the new Singapore shopping malls, this construct will also carry several overseas labels that have chosen to make their first foray into Singapore: like iRoo from Taiwan (B2-101, tel: 6688-7046) and Moiselle from Hong Kong (B2-26, tel: 6688-7768). With visitors trickling in slowly, the most popular attraction has been the indoor canal running down the middle of the mall. For S$10, you can take a slow ride on a twee Chinese-style sampan rowboat down the length of the mall and back. So take a break from shopping and instead of heading to a café, head to the canal for a more novel alternative to cake and coffee. At very least it is a child-friendly feature that can distract the tots while you splash out.
Suntec City Mall and one large fountain
Accessible from Marina Square via an overhead bridge is Suntec City Mall (3 Temasek Boulevard, tel: 6825-2667, www.sunteccity.com.sg), a sprawling shopping mall divided into four themed zones (Galleria, Tropics, Entertainment Centre and Fountain Terrace) and features the Fountain of Wealth, acknowledged by The Guinness Book of Records as the largest fountain in the world. Legend has it that you should wet your hands in it, return to Singapore, and get instant wealth – although with all this shopping, your wallet might not agree. The Galleria, Entertainment Centre and fountain emerge from renovation end 2013.
Check out the G2000 flagship store (01-141 3, tel: 6334-1035, www.g2000.com.sg). You'll find specialty shops offering casual wear, home furnishings and leisure products speckled throughout the Tropics zone. The mall also features the whimsical LaLu boutique (01-105, www.lalu.com.sg), as well as a large and decent Singapore camera store at Suntec, Harvey Norman (02-069, tel: 6332-3212, www.harveynorman.com.sg). The shop has a large range of camera and videos on display and have several outlets throughout Singapore including at Raffles City (and in Malaysia).
Tick tock, tip-top watches at Millenia Walk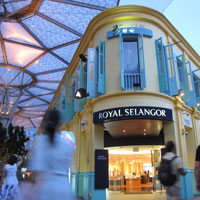 Royal Selangor, Clark Quay/ photo: Verghese
An often-overlooked Singapore shopping gem is Millenia Walk (9 Raffles Boulevard, tel: 6883-1122, www.milleniawalk.com), within walking distance from both Marina Square and Suntec City and conveniently linked to hotels like the Ritz-Carlton, Mandarin Oriental and Pan Pacific. Designed by Pritzker Award winning architect Philip Johnson, the cheery mall houses more than 190 interesting fashion spots and speciality shops.
Looking for a timepiece? You'll be spoilt for choice at Singapore watch shops like The Hour Glass (01-27, tel: 6339-4870, www.hourglass.com.sg, which has outlets just on Orchard Road), and Cortina Watch Espace (01-62, tel: 6339-1728, www.cortinawatch.com). Don't forget previously mentioned Red Army Watches in Orchard Road's Wisma Atria.
Millenia Walk's fashion outlets to recharge your wardrobe include bespoke menswear from Aston Blake (01-83, tel: 6337-3504, www.astonblake.com), handmade jewels and throwback dresses at Deja Vu Vintage (01-70, tel: 6338-8013, dejavuvintage.com), and brightly hued, flowing frocks at Trixilini (01-57, tel: 6338-7060, www.trixiliniboutique.blogspot.com), while beauty, spa and cosmetic stores includeAesop (01-43, tel: 6336-4747, www.aesop.com.sg) and Senteurs de Provence (01-77, tel: 6334-4163, www.senteurs.com.sg).
If you're into designer furniture and home accessories, check out Commune (02-51, tel: 6338-3823, www.thecommunelife.com) for splurge worthy sofas and throw pillows. Then crank up your wallet again for state-of-the-art home entertainment systems at BOSE MilleniaWalk (01-35, tel: 6339-0966, global.bose.com). For more affordable furniture and electronics, roam the sprawling Harvey Norman store (02-57, tel: 6311-9988, www.harveynorman.com.sg). After thinning your wallet, be sure to fatten yourself up with a sweet or savoury macaroon at the friendly and feminine Francisca Dessert Parlour (02-35, tel: 6333-4847, www.francisca.com.sg).
Electronics and computer shopping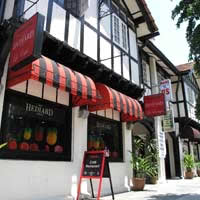 Tudor Court, Tanglin/ photo: Verghese
Near City Hall station is Funan The IT Mall (109 North Bridge Road, tel: 6336-8327, www.funan.com.sg), which, as its name suggests, is geek heaven. Notebook PCs, ranging from Lenovo and Acer to HP and Fujitsu, are on display at various shops here, as well as other computer hardware, software and accessories scattered on different floors of the building.
Across North Bridge Road from Funan is The Adelphi (1 Coleman Street, tel: 6339-9179), where most of the respected hi-fi brands are on sale to satisfy the cravings of even the most ardent audiophile. Also nearby is Cathay Photo Store located in Peninsula Plaza (111 North Bridge Road, 01-11, tel: 6337-4274, www.cathayphoto.com.sg), if you wish to stock up on camera lenses or try out the latest digital camera or video-cam.
Bugis Junction and Arab Street
Another place to get cheap computers, electronics and audio-visual equipment is Sim Lim Square (1 Rochor Canal Road, tel: 6338-3859, www.simlimsquare.com.sg), a more crowded, less organised version of Funan, but with more room for deals and price negotiations. Sim Lim Square is near the Bugis MRT station, which is also where you can alight to visit Parco Bugis Junction (Bugis Junction, 200 Victoria Street, tel: 6557-6557, www.bugisjunction-mall.com.sg), where you'll find department store BHG (02-00, tel: 6223-2222, www.bhgsingapore.com.sg), incorporating the popular Muji store, famous for its minimalist no-brand fashion, stationery and household items.
Apart from various little shops selling everything from fashion to electronic items, Parco Bugis Junction also boasts boutiques such as Little Match Girl (02-05, tel: 6336-3396, www.littlematchgirl.com.sg) and m)phosis (01-02, tel: 6339-8553). Other stores include The Body Shop (01-28, tel: 6338-0096), a smaller outlet of Books Kinokuniya (03-09, tel: 6339-1790, www.kinokuniya.com.sg) and Sony (01-58, tel: 6837-0646, www.sony.com.sg).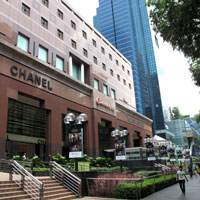 Takashimaya/ photo: Vijay Verghese
Across Victoria Street, opposite Parco Bugis Junction, is hard-to-miss Bugis+ (201 Victoria Street, tel: 6631-9931, www.bugis-plus.com.sg). Formerly known as Iluma, the landmark shopping mall re-launched in 2012 after an extensive makeover. Designed by award-winning Singapore architecture firm Woha, it features a distinctive façade – 10-storeys of studded lights that resemble oversized gemstones. More than 194,000sq ft of entertainment, food outlets and shops for the young, hip and trendy – like soft and sophisticated stuff from Lacquar (03-02, tel: 6509-3119), Japanese trends at Lowrys Farm (02-02, tel: 6884-5019), colourful street looks from Pull&Bear (01-19, tel: 6884-4347) as well as smaller boutiques like Berries Studio (03-01, 6509-9686).
Beside Bugis+, you'll find Bugis Street, with its sheltered walkways and shopping zones housing over 600 stalls of trendy streetwear and eclectic knickknacks. Any breezy, fun Singapore shopping expedition should mark Bugis Street as a must-do.
For more bazaar-style shopping, take a stroll over to the Arab Street area that oozes Malay cultural vibes. Check out hand-woven baskets and other cane, straw and rattan products, as well as antiques, retro artefacts, batik shirts, table linens and sarongs. For textiles ranging from chiffon to silk, stop for a look at Basharahil Bros. (101 Arab Street, tel: 6296-0432) and Poppy Fabric (111 Arab Street, tel: 6296-6352). As Arab Street is near the Sultan Mosque, you'll also find Singapore shop houses selling the holy Quran, prayer mats and songkok (headgear worn by Muslim males) – not to mention coffee shops and restaurants serving Malay, Turkish and Middle Eastern cuisine.
Hip boutiques are beginning to line the nearby Haji Lane and adjacent streets crisscrossing this "kampong glam" district. Visit carpet retailer, Anil Brothers (28 Haji Lane, tel: 6298-3395), one-of-a-kind high-street fashions from The Blogshop (35 Haji Lane, tel: 6396-6170, blog.supclothing.com), and casual gear from SUP (34 Haji Lane, tel: 6297-9384, blog.supclothing.com). Also look for bright and playful home decor at Pluck (31 Haji Lane, tel: 6396-4048, www.pluck.com.sg), gentlemen's garments, leather shoes and accessories at KIN (Know It Nothing, www.knowitnothing.com) and vintage clothing and other delightful kitsch from White Room (37 Haji Lane, tel: 6297-1280, www.atwhiteroom.com). Grandfather's Collections (42 Bussorah Street, tel: 6299-4530) houses antiques and retro finds, while Salad (25 Haji Lane, tel: 6299-5805, www.the-salad-store.blogspot.com) serves up black-and-white home décor and fashion accessories rule the day.
Little India, Chinatown, Ann Siang Hill, Club Street
Other ethnic shopping enclaves in Singapore include Little India and Chinatown – both are tourist attractions in their own right, steeped in ethnic colours and flavours.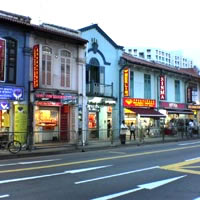 Little India: gold and spice
Little India is about 20 minutes' walk along Selegie Road from Dhoby Ghaut MRT station, (or go straight to Little India MRT station). Here, you can choose from Indian gold jewellery (intricate bridal ornaments to more affordable bangles and ankle bracelets), brassware, silverware and, of course, yards and yards of glittering saris in multiple hues.
If your friends back home enjoy cooking Indian curries, ready-made packets of spice are wonderful take-home gifts. Should the assault to the senses start to numb, you can always escape into Mustafa Centre (145 Syed Alwi Road, tel: 6295-5855, www.mustafa.com.sg), a modern 24-hour department store that offers everything from electronics, clothing and toiletries to foodstuff at very reasonable prices. Small packages of delicious Ceylon tea from Mustafa's shelves make affordable gifts of under S$10.
In the shadow of the financial district's high-rise towers, Singapore's Chinatown is accessible by either Chinatown or Outram Park MRT stations. If you plan a stint of shopping in Singapore, set aside a half hour or hour at least for this district. Chinatown Point (133 New Bridge Road, tel: 6535-2846) is situated just above Chinatown station. Inside, the section that is generally of most interest to travellers is The Singapore Handicraft Centre, where different shops offer a mélange of crafts such as bronze works, paintings, antiques, pottery, porcelain wares, wood carvings, embroidery and more.
Just across the junction from Chinatown Point is Yue Hwa department store (70 Eu Tong Sen Street, tel: 6538-4222, www.yuehwa.com.sg), which offers authentic Chinese products including tea, herbs, medicines, foodstuffs, silks, cheongsams, handicrafts, household items and antiques.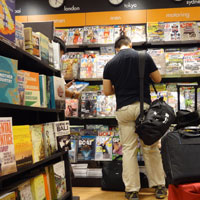 Changi Airport bookstore/ photo: Verghese
OG People's Park (100 Upper Cross Street, tel: 6535-8888, www.og.com.sg) is a household name in Singapore, with a long history in Singapore's retail scene. Like any department store, it sells fashion, accessories, beauty and cosmetic products, toys, and so on.
While in Chinatown, you can also venture into the maze of shophouses all along Eu Tong Sen Street, New Bridge Road and South Bridge Road. Don't forget to wander into side streets (like Smith Street, Trengganu Street, Temple Street and Pagoda Street) and any interesting alleyways – you never know what you might find, whether a quaint medicine stall hawking snakeskin, an authentic teashop or a smoky store selling tidbits and barbecued pork.
Ann Siang Hill and Club Street may be yuppie hotspots at night, but scour the shops there in the day for some interesting finds. At Style: Nordic (39 Ann Siang Road, tel: 6423-9114, www.stylenordic.com), browse the coolest fashion and furniture from Finland, Denmark and Sweden.
Holland Village and Dempsey Road antiques
Explore Holland Village (accessible by buses 7, 77 or 106 from Orchard Boulevard, or a 20-minute jaunt on foot from Buona Vista MRT station, www.holland-village-singapore.com) for handicrafts and more shopping without the bright lights and ice-cold temperatures. With its mix of cafés, pubs and eateries, Holland Village is also dubbed Singapore's "bohemian enclave" and the perfect spot for people-watching. This is also where you can find a variety of shops selling well-made souvenirs and handicrafts – from Bali-inspired crafts to Chinese silks.
Located in Holland Road Shopping Centre, Lim's (211 Holland Avenue, 02-01, tel: 6467-1300) brims with interesting Asian-themed furniture and creative décor ideas (like porcelain vases, lacquerware and silk pillow covers) sourced from China, India and Southeast Asian countries such as Vietnam, Indonesia and Thailand. Just off Holland Road, two bus stops away from the Singapore Botanic Gardens, the Dempsey Road area (now part of Tanglin Village) is home to art galleries, antique shops and furniture and carpet dealers.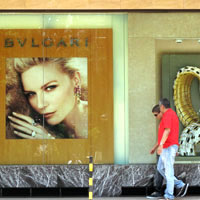 BVLGARI at Hilton/ photo: Verghese
Nestled within the former British army barracks (which later became the Singapore Armed Forces' Central Manpower Base), Linda Gallery (Block 15, Dempsey Cluster, tel: 6476-7000, www.lindagallery.com) is a specialist in contemporary Chinese art and Indonesian paintings, but on occasion also showcases Singapore art. Woody Antique House (Block 7, Dempsey Road 01-08, tel: 6476-7000) is another interesting place to peruse and discover Burmese teakware and Chinese antiques.
And back to Tanglin Road
Closer to town, just before the Orchard Road shopping bustle, Tanglin Shopping Centre (19 Tanglin Road, tel: 6737-0849, www.tanglinsc.com) is another good place to hunt for Asian antiques and curios – from Persian carpets to Japanese pearls. Antiques of the Orient (02-40, tel: 6734-9351, www.aoto.com.sg) offers antiquarian maps, prints and books, as well as original photographs and postcards and, while you're at it, enjoy the quaint buildings of Tudor Court. Head back into the hustle of Orchard Singapore or delve into the quieter side of Tanglin.
Tanglin Mall (163 Tanglin Road, tel: 6736-4922, www.tanglinmall.com.sg) is a centrally located shop stop for families with kids as well as expat singles on the run. The basement food court serves excellent Indian vegetarian as well as Korean and Yantra does excellent Indian kebabs in posh and pricey surrounds. But why limit your choices. There's lots more. Sample British India (02-04), Salam Carpets (03-17),Birkenstock Boutique (02-15), Kidz Story (01-09), Royal Sporting House (01-21), as well as Home-Fix the DIY Store (an excellent basement spot for bits and bobs for the home). The hugely popular That CD Shop with a huge array of quick compilations and esoteric stuff from Latin American to Cuban to Jazz has moved out with climbing rents alas but can be found at Pacific Plaza on Scotts Road, Great World City, or B2-47/48, Canal Level, at glitzy The Shoppes at Marina Bay Sands.
If you can't get enough of Singapore's original and creative art scene, pop over to MAAD (tel: 6534-7209, www.maad.sg), short for Market of Artists And Designers, which is a one-of-a-kind crafts market at Red Dot Design Museum (28 Maxwell Road; nearest MRT station: Tanjong Pagar, tel: 6327-8027, www.museum.red-dot.sg) that provides a platform for budding artists and designers to transform their innovative ideas into reality. MAAD bazaar is held every first weekend of the, filled with designer t-shirts (starting from roughly S$30), hand-crafted earrings (from S$15) and necklaces (from S$30), pinhole cameras (around S$250), as well as dresses, toys, bags, iPod skins, and all kinds of eclectic items.
Bigger retail shopping and Resorts World Sentosa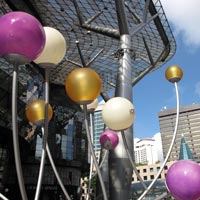 Ion Orchard Road/ photo: Vijay Verghese
Now, for a complete shift in mood: VivoCity (1 Harbourfront Walk, tel: 6377-6860, www.vivocity.com.sg) is a sometime rising star on Singapore's competitive retail front. Easily accessible from Harbourfront station, this is Singapore's largest retail, entertainment and lifestyle destination, well-positioned to tap tourist traffic heading for a spot of gambling or theme-park fun at Sentosa Island's Integrated Resort.
Designed in the signature style of internationally acclaimed Japanese architect Toyo Ito, it houses quirky and creative stationery from Australian brand, Smiggle (02-17, tel: 6376-8134,www.smiggle.com.au), beauty stores Crabtree & Evelyn (01-09, tel: 6270-6887,www.crabtree-evelyn.com/stores/country/singapore) and SaSa (02-176/177, tel: 6376-9713), another branch of electronic chainstore Best Denki (02-07, tel: 6276-6636), and fashion boltholes Pull&Bear (01-28A, tel: 6276-2260), A|X Armani Exchange (01-202, tel: 6304-1448), and Denizen (01-177, tel: 6376-9048). For serious shopaholics headed to Sentosa, VivoCity could make an interesting stop.
In the same area, located close to Sentosa Island in the expansive and fast-developing HarbourFront Precinct is the three-storey HarbourFront Centre (1 Maritime Square, tel: 6570-5508, www.harbourfrontcentre.com.sg). Expect a broad retail mix and food outlets from Vietnamese to Cantonese. Cotton Armour (02-88/89, tel: 6271-0407) features one-of-a-kind clothing with elaborate stitching and embroidery, while LaLu (01-51/52, tel: 6271-0838) serves up Eighties throwback fashions. There is a Mothercare (03-07, tel: 6513-3243) too for tiny tot tidbits.
A glamorous addition to the Singapore shopping arsenal is the Resorts World (www.rwsentosa.com) on Sentosa Island, the newish hotel-and-entertainment hub that launched in January 2010. The buzzing shopping esplanade connects Crocksford Tower and Hotel Michael, both upscale establishments, and reflects top-drawer tastes as well as fun fashions that will appeal to families and younger couples. At Resorts World Sentosa the Luxury Fashion shopping stretch includes several choice brands, including BVLGARI, Bally, Chanel Watches, COACH, Chopard, Rolex, Tumi (for bags and suitcases with an edge), Victoria's Secret, Polo, and Jimmy Choo. Take a break from those casino winnings for a dip into designer brand shopping without remorse.
Local Singapore shopping malls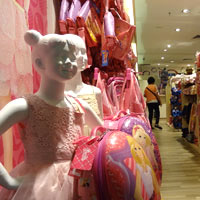 Changi Airport shops/ photo: Verghese
It's worthwhile to note that while Orchard Road, Marina Bay and Harbourfront remain the main shopping clusters in Singapore, suburban malls have also cropped up in housing estates like Tiong Bahru (Tiong Bahru Plaza, 302 Tiong Bahru Road, tel: 6276-4686, www.tiongbahruplaza.com.sg), Bishan (Junction 8, 9 Bishan Place, tel: 6354-2955, www.junction8.com.sg), Woodlands (Causeway Point, 1 Woodlands Square, tel: 6894-2237, www.causewaypoint.com.sg) and Boon Lay (Jurong Point, 1 Jurong West Central 2, tel: 6792-5662, www.jurongpoint.com.sg) – all of which are easily accessible via MRT.
Most of these malls do not have much character, as they serve the basic needs of residents rather than catering to tourists, but they do have supermarkets (mainly Cold Storage and NTUC Fairprice), and the usual clothing stores like Giordano, Baleno, Hang Ten and Bossini, where jeans can start from S$20 and polo shirts start from S$10, as well as pharmacies and beauty stores like Guardian Pharmacy, Watson's and The Body Shop. Often they also have healthcare equipment vendors like OSIM and OTO.
Literature lovers will relish in the nearby Books Actually (9 Yong Siak Street, 6222-9195, www.booksactually.com). This all-in-one bookshop retails classics by the likes of Truman Capote, hand-stitched notebooks and retro film cameras and typewriters.
Just across the Singapore River is a vintage home goods shop called The Godown (44 Zion Road, tel: 6333-8966, thegodownstore.com), where interior designer Audrey Lee specialises in revitalising and up-cycling used goods. Inspired by Asia's dockside warehouses, this industrial free-range space is full of eclectic accessories and hand-selected furniture.
Travellers curious enough to venture into the heartland should head towards the Eastern neighbourhood of Tampines (which is also a stop on the MRT line), where there is yet more choice – Tampines Mall (4 Tampines Central 5, tel: 6788-8370, www.tampinesmall.com.sg) and Century Square (2 Tampines Central 5, tel: 6789-6261, www.centurysquare.com.sg).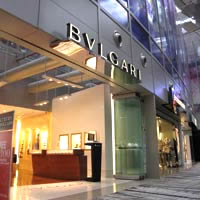 Terminal 3 Bulgari duty-free/ photo: Verghese
But the most recent addition is Tampines 1 (10 Tampines Central 1, tel: 6572-5522, www.tampines1.com.sg), which aims to bring a dash of "metropolitan lifestyle" to the area, with fashion brands such as Springfield (01-03, tel: 6781-6087), Promod (01-01, tel: 6782-8510) and Uniqlo (02-28, tel: 6587-0093, www.uniqlo.com/sg).
Singapore Airport duty-free
With so many retail choices in downtown Singapore, most visitors won't postpone their shopping experience until just before their departure. But Changi Airport Shopping City (www.changiairport.com.sg), winning the vote for some of the world's best duty-free shopping, should keep last-minute duty free shoppers more than happy. You'll find heaps of fashionable brands peppered throughout the airport. Look for MAC, Vertu, Hermes, Longchamp, Marc by Marc Jacobs, Ferragamo, and Bottega Veneta in Terminal 1; Bobbi Brown, Armani, Shanghai Tang, Origins, Swarovski, Tod's, and Kiehl's in Terminal 2; and Montblanc, Tiffany & Co, Bally, Burberry and Prada in Terminal 3. Apart from numerous newsstands and the usual Singapore airport duty-free outlets selling fragrances, cosmetics, cigarettes and liquor, departing passengers can check out world cuisine provided by 80 food and beverage outlets.Terminals 1 and 2 have been through upgrades with.
Terminal 1 relaunched mid 2013 with a breezy new look and a centrepiece "Social Tree" with LCD screens and private kiosks for travellers to take a photo of themselves (or even video) to post on the tree, to their friends or on Facebook. The purple and blue pulsating lights keep the kids happy and blushing faces indicate the successful posting of yet another bashful smile. Not sure if you can delete the pics once up. Also in Terminal 1 find Victoria's Secret, Salvatore Ferragamo, BVLGARI, Longchamp, Omega, Gucci, Burberry, and lots of chocolate shops.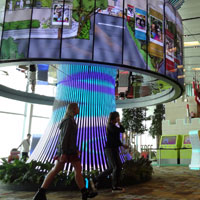 Terminal 1 Social Tree/ photo: Verghese
Singapore duty free shopping prices at all three terminals are competitive with most places in Asia. The slippery greenback means rates are fluctuating constantly. Pick up a 75ml Dior j'adore eau de toilette for around S$130, Chanel No 5 parfum 7.5ml at S#146, an Hermes silk tie for S$280, a BVLGARI silk tie for S$300, a duty-free Dunhill tie for S$196 and more. Alcohol duty-free prices at Changi Airport are reasonable with a 1.18 litre Chivas at S$52 and a 1.125 litre bottle of 12-year-old Johnnie Walker Black Label for S$46. A stylish Johnnie Walker Blue Label one litrte bottle has a duty-free price of S$241. Don't forget to bring along that extra bag – or simply buy one at Changi Airport. Then fill it up right to the top. And that's your A to Z of retail in our Singapore shopping guide.
Send us your Feedback / Letter to the Editor