JOURNEYS
Toast of the Coast
The best Vietnam beach resorts from Danang and Hoi An to Nha Trang and Phan Thiet in our free-wheeling Vietnam resort review for romantics or families. Beaches, spas, golf, and child-friendly distractions.
SEE ALSO Bali resorts review | Hanoi Business Hotels and City Guide | Saigon Business Hotels | Brunei Guide | Phuket Resorts Review | Palawan Resorts | Bali Resorts Review | Sanya Guide | Maldives Resorts | Krabi resorts | Pattaya guide | Yilan fun guide

The Nam Hai, Hoi An
JUMP TO Ha Long Bay | Hue Resorts | Hideaways in Lang Co |Danang | Hoi An | Nha Trang, Ninh Van | Mui Ne and Phan Thiet, Ninh Hai | Phan Thiet area tours | Ke Ga Bay | Long Hai | Phu Quoc Island | Hotel Contacts
AS development dollars pour in and muscle highways streak through the verdant rice fields, Vietnam these days can be summed up in a single word – SPEED. There's not much of it. Highways in Vietnam are showpieces for belching trucks idling in long snaking lines, their unusual horns the only sign of contrapuntal remonstrance. Stray buffalos, wayward chickens and ducks sunning themselves on the asphalt all do their bit to slow things down.
Ubiquitous speed limit signs are set at 40kph when approaching a town, 50kph within the urban zone, and then mischievously at 80kph, even on switchback roads climbing up into vertiginous hills. I pushed my eyeballs back into their sockets as we began our dizzying ascent from Lang Co, crossing the hump from Hue to Danang. Fact is, speed kills, and the hard-working men in uniform are painfully aware of this. Every once in a while an improvised speed limit – say 30kph – scrawled on a strip of cardboard will appear propped against a tree to trip unwary motorists. Fail to spot it and camouflaged constabulary around the corner will pounce on you with glee demanding "tea money", and thus are lives saved and wealth redistributed.

Slide Show

E-mail Page

Print

Hotel Contacts
It took a while then to get to Danang's fabled China Beach, which comes with the usual Baywatch accessories – professional lifeguards on certain stretches but not, alas, women with bodies like ripening corn. Next morning I slipped onto the beach unnoticed at dawn, painfully aware of my neck, which looks like, well… a neck.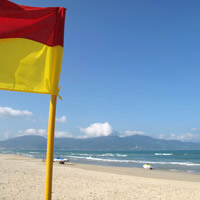 Everyone knows China Beach/ photo: Vijay Verghese
Men with heads attached to tree-trunks fell to the ground to do fifty push-ups if any damsel so much as glanced in their general direction. I pressed my camera shutter vigorously, demonstrating I am no slouch when it comes to testosterone.
By 7am the local population had departed en masse leaving a few solitary bathers and some frolicking salty sea dogs. Danang's idyllic stretch of sand runs uninterrupted along a long, long coast, with a gentle drop-off and some decent surf. With the morning mist hanging over the water and low hills providing a backdrop to the curve of the bay, it is an alluring postcard setting. It was perhaps a moment like this that enthralled Australian prime minister Harold Holt who waded out to sea and was never seen again. And while people around the world continue to misplace car keys, mobile phones, and even prime ministers, Vietnam chugs on serenely, at 30kph.
Vietnam beaches run north-south along the Pacific Ocean from Hue, Danang and the old port city of Hoi An to Nha Trang (which has gained a reputation as a dive centre though it is more of a beach town). The coast runs on past Quy Nhon and down to Phan Thiet and Mui Ne, the playground of Saigon's nouveau riche and frantically holidaying expatriate community. Just south of Phan Thiet is the emerging area of Ke Ga. From here head on to Long Hai and the three-star offerings of Vung Tau. On Phu Quoc island, in the Gulf of Thailand there's more white sand beach and a smattering of hotels. Take a look at our Vietnam Map before diving further into our review of the best Vietnam resorts.
Send us your Feedback / Letter to the Editor
Ha Long Bay villa resorts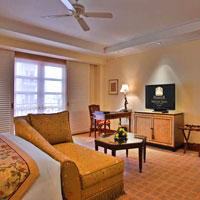 Best Western Hue/ photo: hotel
Up north in scenic Ha Long Bay, the 247-room four-star Tuan Chau Island Holiday Villa Halong Bay is set on a private island. Villa accommodation is stylish and lavish running down the hillside to the seaside. The island has been developed an all-in entertainment getaway with dolphin and crocodile shows, theme parks, golf, and more hotel rooms. There are water and laser shows to keep families occupied, and the more energetic can pursue a broad range of water sports and beach activity – or a hard-hitting game of tennis.
Pick a Deluxe Pine Hill Villa or go up to an Executive Seaside Villa Beachfront, all with mini-bar, WiFi and satellite TV. The ballroom can hold 350 persons. At a pinch this dramatic coast can be squeezed in as a day trip from Hanoi but it is best enjoyed over a couple of days with a Halong Bay cruise through the limestone outcroppings that lend the area its unique 20-megapixel charm.
Another of the many options in this area is the Royal Lotus Hotel Halong, a hotel rather than resort-style set-up with space for meetings and conferences, an indoor pool, varied cuisine including Japanese, and contemporary rooms with bright colours and wooden floors. Also a city-style highrise is the Saigon Halong Hotel.
Hue hotels and resorts guide
Flying to Hue or Danang on Vietnam Airlines is the easiest option. The carrier uses Airbus A-321 and A320 aircraft with a single-aisle 3-3 seat configuration on the short hop from Hanoi. If you're on one of these aircraft, pick middle seats B and E for about two to four inches of extra seat width.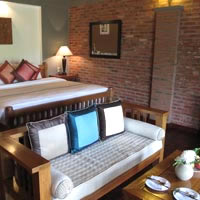 Pilgrimage Village Hue brick room/ photo: Vijay Verghese
Another option to Da Nang is SilkAir (from Singapore). Hue airport is small and unhurried (and closed till 20 November, 2013 for an upgrade). An alternative entry point is via Danang Airport. Grab a taxi and head off. The exchange rate is roughly US$1=21,000 dong.
Once the flourishing capital of the Nguyen Dynasty and later severely pummelled during the 1968 Tet Offensive, Hue has lost much of its imperial accoutrement but retains a certain historical cachet. The area is littered with small private pagodas and village homes in the classical Oriental style mixing Chinese architectural forms with Vietnamese styles. It is a low-rise community with the occasional high-rise hotel or office block. The Perfume River (Huong River) runs a lazy course through the town, passing by the Citadel and its Forbidden City.
Hue hotel and resort options are laid-back and unpretentious in keeping with the style of this ancient town. A distinct departure, and pleasurably so, is the Best Western Premier Indochine Palace (formerly Celadon Palace Hotel), a white high-rise mimicking a fashionable Paris block with an Indochine "Noble House" theme carried through the interiors. This modern dedication to the last Nguyen emperor, Queen Nam Phuong, offers spacious rooms and suites, starting from 35sqm, in peach blush pastel with huge inviting plump beds, 42-inch flat-screen TVs, free WiFi throughout, a work desk, and signature toiletries.
The safe can house a laptop and a wooden latticework sliding door separates the bedroom from the open-plan bathing area and washbasin. The grand lobby with its de rigueur staircase is in gold hues with ornate chandeliers and beige marble.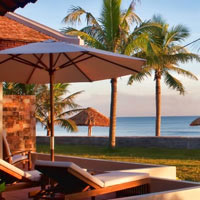 Ana Mandara Hue beach/ photo: hotel
A large attractive open-air pool rolls out at the back lined by Roman columns and palm trees. Le Spa offers wellness distractions with steam, sauna, massage and manicure. Shopping galleries beckon big spenders, while the roomy 400-person ballroom aims squarely at the MICE market comfortably positioning Indochine Palace as one of the best central Vietnam conference hotels and a top choice for corporate meetings in Hue.
The test of the pudding of course is in the eating. Yet, despite all this muscle and razzamatazz, the hotel manages to pull it off with understatement and class. Not surprisingly, the designers of the Park Hyatt Saigon were at work here and the room product displays startling similarities.
A newer arrival is Ana Mandara Hue with cottages set in three hectares of green fronting the beach where a large blue freeform pool catches the rays. The 400m beach offers good powder underfoot. This resort serves up 78 rooms from deluxe to beach and pool villas. The 275sq m Pool Villas offer a 48sq m pool and a luxurious 106sq m of indoor living space with two bedrooms.
This is smart lux getaway with the added bonus of good restaurants and 1,320sq m of conference space should you be in search of an offbeat small corporate meetings venue in Vietnam. Also find a spa and a gym.
The 194-room Imperial Hotel Hue is another high-rise that prides itself on sweeping views from the Panorama Bar and lounge on the 16th floor. Expect Cinemascope river and city views from the lounge or head out to the alfresco wrought-iron chairs vertiginously perched at the edge of the roof. This area doubles as a meetings and events space.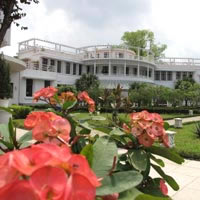 La Residence Hue by the Perfume River/ photo: Vijay Verghese
The hotel itself is traditional in style with a pagoda entrance and hugely ornate lobby crowned by an eye-popping gilt dragon-motif lift lobby that will push your gold tolerance to the limit. The rooms are pleasant enough with wood parquet flooring, a boxy TV, carved dark-wood chairs and free WiFi and Broadband. Expect a laptop-size safe, a carved wooden cupboard and a bathroom with separate bathtub and shower cubicle. There is an outdoor pool on the third floor with some fitness equipment for workouts.
Nearby is the four-star pink-hued low-rise 180-room Hotel Saigon Morin. This place was built by the French in 1901 and serves up free WiFi, city and river views, fitness facilities, a beauty salon and a colonial feel. Rooms are simple and classical with wooden floors, ornate runners and bed covers, and box TVs. Opt for more stretch room in the 50sq m Premium City Deluxe or 60sq m Colonial Suite.
Pilgrimage Village, Hue, is a soothing respite with a bucolic theme and thatch-roof brick bungalows set in refreshingly green manicured gardens. It is not on the river, or on a hill with a commanding view, but it offers a quiet escape with the aid of a nice swimming pool and the secluded Vedana Spa. Expect grass underfoot and birdsong.
The 72 Deluxe Villas serve up balconies, cheery furnishings, box TVs, a notebook-size safe, minibar, a clock, cosy lampshades, silk bathrobes and a larger bath with tub. The style is rustic but mod. The Honeymoon Bungalow is a bigger standalone affair with spacious balcony, twin beds or king-size bed, brass ceiling fan, and a box TV in 55sq m of stretch space. Higher room categories include one-way airport and train station transfers, late check-out, free shoe shine service and complimentary cocktails. WiFi throughout the resort is free and at the Candle Bar there's access to free Internet on a hotel computer. At the top end there are 130sq m villas with private pools. Guests can enjoy complimentary yoga and tai chi among other activities. This is a nice self-contained retreat and a comfortable staging point but lacks a compelling location.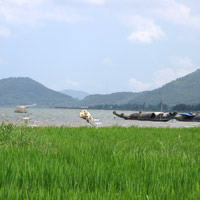 Rice fields between Hue and Danang/ photo: Vijay Verghese
The 122-room art deco and crisply modern La Résidence Hôtel & Spa is a deluxe boutique hotel franchise associated with French chain Accor. It was a former residence of the French governor of Central Vietnam and it graces the banks of the Perfume River with commanding views of the water and the imperial citadel on the opposite shore. The low-rise buildings are in starched white with compact bright green gardens and a river-edge pool in sky blue. It is a tranquil escape with a library and business centre, plus free WiFi throughout. Pale yellow walls and corridors lead to the rooming wings.
The Superior River View has ceramic tiles underfoot mixed with wooden parquet flooring and a balcony (not terribly private) with views of the Perfume River. Rooms are smart with flat-screen TV, small safe that will hold jewellery and a camera but not much more, free WiFi (no plug-in Internet), work desk, clock, coffee-making facilities, classical furniture and the omnipresent yellow walls. It is an elegant ensemble nonetheless and a breezy riverside retreat. Mark this down on your top Hue resorts list.
The road trip from Hue to Danang takes you down a scenic two-and-a-half-hour stretch of road past verdant paddy fields, lagoons, and rolling hills (but allow a half hour extra at least for jams and cattle chaos).
Just 25 minutes from Hue airport and overlooking a large expanse of water is the Vedana Lagoon Resort & Spa (from the Pilgrimage family). Launched early 2011, this is a stylish retreat with everything from overwater bungalows to the top-range two-bedroom Pool Family House with kitchenette, sauna, pool, timber-floor sundeck, and breezy views over the lagoon.
Vedana Lagoon Pool Family/ photo: hotel
Expect satellite TV, DVD, coffee and tea facilities and outdoor showers. Need a houseboat? Vedana has two. Or unwind with a range of massages and scrubs at the Vedana Wellness centre. The resort's 27 villas are spread around 27 hectares of landscaped hillside on the road from Hue to Lang Co and Hoi An.
Scenic hideaways in Lang Co
Stop off midway at Lang Co for some noodle and tea and perhaps get your toes into the sand at the twee and happily rundown Thanh Tam Seaside Resort. Restaurants and toilets are basic. From here you can take the twisting road up through the hills or opt for the faster tunnel. See our Vietnam Map.
Located on the central coast of Vietnam, roughly 60 minutes from Danang International Airport, lies Banyan Tree Group's first property in Vietnam. While rice paddy fields and mountains spread out on all sides, the Banyan Tree Laguna Lang Co (opened late 2012) overlooks a three-kilometre stretch of sand. The resort offers the brand's staple spa facilities, an 18-hole golf course (designed by Nick Faldo), several beachfront eateries, 32 sprawling lagoon pool villas and 17 beach pool villas.
Earth-toned guest rooms, royal purple accents, antique pottery, wooden rafters and lotus motifs pay homage to traditional Vietnamese aesthetics without sacrificing modern amenities, such as an LCD TV, free WiFi, and audio system.
Expect the usual high quality Banyan Tree finish and attention to thoughtful details. The Banyan Tree Spa Lang Co is pretty much a must see for city-slickers in need of a massage, herbal wrap or full body treatment like the 150-minute "Royal Banyan" with warm herbal pouch applications, a hint of sesame oil, lemongrass-cucumber body scrub and herbal bath.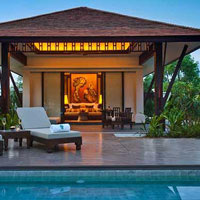 Banyan Tree Lang Co villa/ photo: hotel
Both Banyan Tree and sister escape Angsana have beaches but the Lang Co sand is not quite in the same league as Danang or Mui Ne.
In the same 280-hectare Laguna Lang Co development, find 229-room Angsana Lang Co (also opened 2012). Cradled between the Truong Son Mountain Range and Canh Duong beach, this is a family friendly spot with a little of everything. There's a 300m swimming pool flowing through the grounds, 392sq m of meeting space, a sports centre, marine lab, and the Angsana Kids Club, where little ones between two and 12 years old can enjoy games, crafts and movies with complimentary supervision.
The 53sq m Deluxe Rooms come with mountain, lagoon, or East Sea views, as well as decorative Vietnamese touches like calligraphy, lanterns and bamboo. The palette is earthy with deep orange accents, latticed cream dividers, and a brown chaise longue. Planning to stay awhile? Check out the Two-Bedroom Lofts, which have more than 179sq m of stretch space, private plunge pools, outdoor pavilions, wrap-around windows, L-shaped sofas, and separate dining areas. All rooms are equipped with spacious bathrooms, LCD TV, DVD player, and free WiFi. This is a child-friendly Vietnam resort for your shortlist.
Best Vietnam resorts in the Danang area
The epicentre of Vietnam beach getaways is along the fast-developing Danang-Hoi An corridor where names like Le Meridien, Hyatt Regency and Raffles appear on billboards promising vast sybaritic escapes. Private villas are sprouting everywhere and a bypass road has made access to the airport quicker.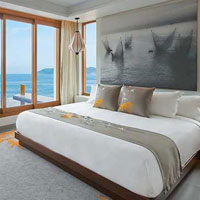 Swish Angsana Lang Co/ photo: hotel
Hyatt Regency Danang Resort and Spa (opened October 2011) boasts 200 rooms, each featuring balconies, separate rain showers and complimentary WiFi. The 27 Ocean Villas have a spacious three-bedroom setup, replete with floor-to-ceiling windows, private pool, full kitchen, three separate bathrooms and Regency Club access. Additionally, there are 182 one, two and three-bedroom condominium "residences" attached to the property. Expect plenty of dining options, spa, fitness centre, tennis and badminton courts, and two nearby golf courses. Camp Hyatt offers plenty of fun activities daily for kids making this a very child-friendly resort. Pinstripers might take note of the different event and meeting spaces on offer.
About a 30-minute drive from the airport, luxury InterContinental Danang Sun Peninsula Resort (opened mid-2012) overlooks a private bay from its perch on Son Tra Peninsula, also known as "Mythical Monkey Mountain". Mixing contemporary with Vietnamese classical —paper lantern silhouettes, standalone tubs, timber floors and heavy dark-wood furniture with plenty of wooden lattice work — the Bill Bensley-designed retreat is one of the more indulgent properties in the Vietnam beach resorts scene.
Decorated in stark black-and-white, the 197 rooms and suites start from 70sq m and work their way up to an Olympian 300sq m. In Resort Classic Rooms, expect bay views, a balcony, spacious bathroom, rain shower, flat-screen TV, Bose sound system, iPod dock, WiFi, and Illy espresso machine. The 80sq m Premium Rooms come with added benefits, including a separate dining space, wine fridge, and daybed. Rooms run up the sloping hillside facing the arcing bay with its broad sandy beach and sun loungers.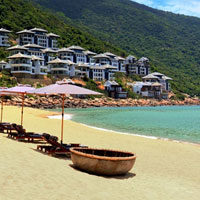 InterCon Danang views/ photo: hotel
Try French haute cuisine at La Maison 1888 or take a suspended swinging boat to one of the 10 spa treatment villas at the Harnn Heritage Spa. For those carting kids, check out the Planet Trekkers club for children between four and 12. And if you're in the mood to venture into downtown Danang, a complimentary shuttle bus will scoot you over in minutes.
This is a good spot for a Vietnam resort wedding on the beach and planners are on hand to assist. Suits will also find a ballroom and function spaces for corporate meetings or bigger events. This InterCon is a strong contender in our Vietnam resorts review.
The Crowne Plaza Danang (earlier Silver Shores International Resort) beckons high rollers. It's a modern resort construct, spread out over 200,000sq m, with two extended sloping ship-bridge arms enfolding the free-form pools that front the wide expanse of beach.
There are 535 Deluxe Rooms and Suites with the usual mod-cons with the 160sq m Ocean Suites providing top-line accommodation with LCD TVs, rain showers, living room, sofas, free WiFi and sea-view balconies.
Bear in mind that this is a big, busy resort, and not a hideaway. Also expect a spa, dance club and 278sq m banquet area for MICE events and conventions. The tots might enjoy the outdoor recreation and sports courts, as well as the large water park and a dedicated kiddy pool.
The 187-room Pullman Danang Beach Resort (formerly Lifestyle Resort) serves up hotel-style rooms with LCD TVs (and cable), balconies and separate showers and bathtubs, as well as cottages.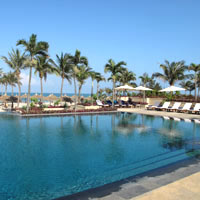 Furama Danang's sunny pool/ photo: Vijay Verghese
Green lawns extend along the beach. Also find a fun Children's Club for all ages from toddler to 12-year-old and babysitting services. The Lotus Ballroom can hold up to 650 theatre-style in case you require a smart and breezy Danang conference hotel that is not overly large and impersonal.
The elegant Furama Resort Da Nang has helped keep China Beach firmly on the travel map and, open since 1997, displays nary a wrinkle. China Beach is called Bac My An in Vietnamese to avoid offending local potentates.
The Furama was the first to open this area to well-heeled travellers and shows little sign of wear. A modern five-star resort with most imaginable amenities including high speed Internet and a business centre, the Furama is a comfortable and dependable choice. It is also sited on one of the best Vietnam beaches.
This resort is set in manicured grounds with two pools, plenty of green and a broad ocean frontage leading through casuarina groves and volleyball courts to the beach chairs and umbrellas along the tide line. Trained lifeguards (6am-6pm) and shallow waters make this a good spot for a family dip. There are acres and acres of beach and you can always find a quiet spot for navel gazing. Let me know what the belly-button fluff portends. Play tennis, billiards, badminton, drive some golf balls or just go fly a kite. Really.
If that's not enough, there's archery, yoga, tai-chi and a children's play area. This is a pretty child-friendly resort that works well for the family as well as for the corporate meeting crowd. The adjoining International Convention Palace (with the 774sq m Da Nang Ballroom that holds 700 persons theatre style) makes this a useful choice among Vietnam conference hotels.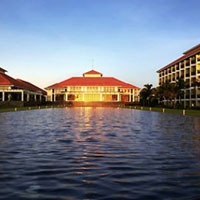 Pullman Danang/ photo: hotel
WiFi is free throughout the resort. Opt for a split-level Ocean Deluxe to find a split-level room with gleaming timber floors and balcony, a sofa, bright cushions, a clock, notebook-size safe and rain-shower (no tub). Prop up on the pillows to see the sea from your bed. The decor is contemporary, functional and neat. It won't set you on fire but the rooms are more than comfortable. There is a dive centre and spa. The resort runs regular shuttles to the Cham Museum, Marble Mountains and Hoi An. The Furama is 12km and about 15 minutes from the airport.
Another laid back and simpler option is the Sandy Beach Non Nuoc Resort Da Nang, managed by Centara. There's tennis, sauna, steam bath and Jacuzzi, a business centre and free WiFi. Rooms are basic and a bit cosy, starting at 23sq m, but have refreshing garden or ocean views and all the modern contrivances for gawping city slickers. Da Nang is a bit of a one-horse town and there's not a whole lot to do apart from lazing on the beach. There are sights – like the Marble Mountains – but you'll need to hire a taxi and drive out to find them.
Watch out for the high end Japanese-run Pulchra Resort Danang, adding to the older Cebu property. Unlike Cebu's upscale Aman-style thatch-roof luxury, the Danang enterprise is a rather differentconcoction, blending green elements with local Cham culture and design. The result is quietly startling in terms of what might be considered conventional beach resort style. Spacious villas set in garden compounds with small plunge pools (there are pool villas too) are in burgundy with white trim that may best be described as saddlebag-chic. Interiors are roomy, with ceiling fans in case you dislike air-conditioning.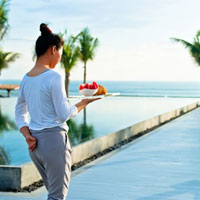 Fusion Maia pool/ photo: hotel
No humungous televisions here. It is all back to nature, albeit with Bose sound and decadent luxury trimmings. There are 31 villas in all, set well apart to ensure maximum privacy. The smallest is 286sq m. Later pop by the Udra Spa for some much-needed massage and workouts.
A mod option is the Fusion Maia Resort, with lowrise white colonial buildings set in immaculate green surrounds right on the beach. Think clean lines, minimalism and a hip understated vibe.
Red tile roofs glint in the sun and a seafront pool beckons sunbathers. Expect lots of white with wine-red furniture, bright cushions and wooden lattice-work in villas. Like Pulchra, Fusion will give your wallet a reasonable workout.
Ocean Villas Danang serves up another smart condo-style option set in a manicured and verdant estate along the seafront. Owned by the VinaCapital group there is clearly no lack of amenities at this spot. Think California-in-Vietnam and hop right in. The low-set tile-roof villas are modern, huge (running at four to five-bedrooms), with large glass windows and well-appointed interiors.
Expect wood-beam flooring in bedrooms, cool stone floors in living areas, kitchenettes, carpets and stuff that will make you feel right at home. It's all tastefully done. Not Vietnamese, but contemporary and comfy without any hysterical in-your-face stuff that comes with many newer offerings. A timber patio frames the seafront pool set above the stretch of sand. If you're stiull not satisfied, go for a seven-room hideaway – and be sure to carry a map.
Hoi An resorts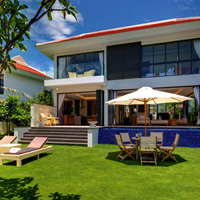 Ocean Villas style/ photo: hotel
Some of the more charming Vietnam resorts are found in Hoi An. The drive to Hoi An passes rice fields and Marble Mountains where endless rows of giant marble temple lions await your fancy. Nice, but a bit large for carry-on. Hoi An is quaint with more than a hint of commerce. Silk shops and restaurants line its pedestrian lanes. Prices are a bargain but, if you like, you can bargain some more. Have your taxi wait in the car park and walk in, or hop onto a cycle rickshaw. This preserved heritage zone is a compact area with brightly-hued two-storey shophouses with tile roofs. The streets meander from nowhere to nowhere which adds to the charm.
At the western corner is the covered Japanese Bridge which was built in the 16th Century. There are tickets at modest prices for entry into some of the historic buildings and assembly halls. The local speciality is cao lau, a rice noodle. Much of the area has been restored and a fresh vitality is evident in the area as tourist dollars rev up artists and street musicians. There are several quaint restaurants – some serving international fare – and coffee shops.

It is on a prime stretch of China Beach near historic Hoi An that The Nam Hai (from the Singapore-based GHM group) is sited, 30km south of Danang. The Nam Hai is no ordinary beachfront getaway. This is a benchmark setting for sybarites in search of real class. Sprawled elegantly across 35 hectares, this Vietnam luxury resort and spa offers 60 elegant Villas and 40 Pool Villas each within walled courtyards with landscaped gardens and unobstructed views across the South China Sea on to the misty Cham Islands.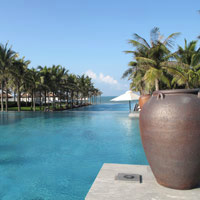 Swish Nam Hai's tiered pools/ photo: Vijay Verghese
Three huge swimming pools cascade down the central tiered concourse from the lobby to the beach, flanked by soothing green gardens, the shimmering blue of the water and the sea beyond a stark contrast against the muted greys and blacks of the resort.
The Nam Hai is understated, almost disconcertingly so at night, as you pick your way along the meandering tiled paths following hidden foot lamps. This is a place for romance and reflection, not Disneyland jukebox and fairy lights like the ageing hotels along the strip that display altogether too much make-up and cleavage, straining with multi-hued lights to mutate into risible karaoke-bar confections. No such effort here.
The place is laid back and self assured. Service is friendly and attentive. Ask for food on or off the menu. The waiters are neither nonplussed nor unruly. At the restaurant, try spring roll, risotto, or tandoori prawn. Dine Indian, Vietnamese, Italian or International. There are chefs from Australia, Switzerland, New Zealand, India and Vietnam. Do too many chefs spoil the broth? Not at all. They get the job done, in palate-zinging style.
The villas offer split-level accommodation with timber flooring, white linen, inviting plump beds on raised plinths and plantation-house window slats blocking or permitting light from all sides. The grey tile floor leads to an open-plan bath area. Indeed the sunken bathtub is right behind the bed and next to the Japanese-style work desk with sunken footrests so you sit floor level flush with the bathtub. This may not be to everyone's liking and the split-level access from the bed to the toilet at night could trip some but there is much to distract those discerning of taste.
Take the Krups coffee maker for example, the high ceilings with fans, the iPod with dock, flat-screen TV, Bose sound system, gauze mosquito nets that drape the beds in a dreamy Arabian Nights haze, the outdoor shower, indoor rainshower, the hand-held rod shower and pressed-silk glass doors for toilet privacy.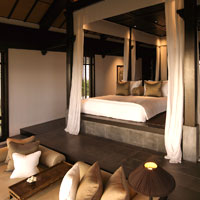 Plush Nam Hai villa/ photo: hotel
The 250sq m Pool Villa interiors are again set on three levels – the bathing area, the bed, and the living area with deep divans looking out at the views. You would never guess it but the sunken bathtub is lined with dark gold beaten egg shell as are the twin vanities. It is an eye-catching finish that successfully combines a sense of tradition with a contemporary twist. To unwind – or wind up – choose from the Spa Pavilion with eight treatment villas, tennis, badminton, basketball, and gym. There is even a villa with kids' activities to keep tiny tykes entertained. And the Montgomerie Links Vietnam (www.montgomerielinks.com) offers the luxury of a quality golf course nearby.
(The Nam Hai features in our exclusive by-invitation Top Asian Hotels Collection, featuring the best Asian hotels, resorts and spas in a printable A4 page with stunning visuals.)
The Hoi An Riverside Resort & Spa is exactly as its name suggests. It is spectacularly sited on a bend in the Do River with unsullied horizons and lush green paddy fields on the other side. It has 63 rooms divided, by décor and the odd quirk, into Japanese, Vietnamese and other styles. The Nippon rooms have low seating (though the Japanese have grown a fair bit in the last century) while the Vietnamese rooms feature wooden parquet flooring and tasteful furniture. There is an in-room safe.
All rooms come with balconies, some with excellent river views. The resort offers boat trips and a daily shuttle to the beach, one kilometre away. Deluxe rooms have CD players and flat-screen TV. There's a nice riverside pool too with an irregular pattern blue-tile finish. The owners of the Hoi An Riverside Resort run the popular Khai Silk stores and the celebrated Brother's Café in Hanoi. They have an atmospheric restaurant by the same name in Hoi An too. The Brother's Café Hoi An (tel: [84-51] 391-4150, www.brothercafehoian.com) is housed in a colonial style building right on the river. Massage service is available. This is a nice Vietnam boutique resort with local flavour.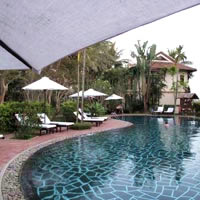 Hoi An Riverside pool/ photo: Vijay Verghese
Another Vietnam resort option further downriver, closer to the beach, is the 121-room Hoi An Beach Resort. It is not entirely true to say the place is on the beach, but it is close enough. Cross the road and head up the dunes. This place is more "resorty" and spread out. It is neat and modern with a large and brightly-tiled infinity pool but it lacks the greenery and cosy charm of the Hoi An Riverside Resort. The villa rooms are spacious and comfortable.
Just across the road (there is just one, quiet street here) is the Victoria Hoi An Beach Resort & Spa, a small complex designed in the traditional shophouse style with lowrise rooms and bungalows. Climb up the steps to enter the resort through a Chinese gateway festooned with silk lanterns. There are 109 rooms in all and the signature accommodations to plump for are the beachfront bungalows (or Victoria Deluxe Beach Front rooms as they are called). Again, there are the obligatory Japanese, French and Vietnamese-style rooms with pastel hues and varying décor including four-poster beds, timber floors, desks, almirahs, box TVs, notebook-size safes, and other amenities.
The resort loves red and has splashed it liberally on several walls to good effect. The restaurant bar is a good example. The vegetation is sparse but well cared for. At night the pool area is lit up in red and green hues, a bit Love Boat, but the guests seem to enjoy it.
The 212-room Swiss-Belhotel Golden Sand Resort & Spa Hoi An is comfy, posh, and big. If you need a Vietnam resort that is larger and more structured, this could be it. The lowrise development is on a prime stretch of Cua Dai Beach not far from the heart of Hoi An and around a 50-minute drive from Danang Airport. Well appointed rooms offer international comforts like TV, individually controlled air-conditioning and complimentary coffee and tea-making facilities. Deluxe rooms are a generous 45sq m and Beach Front Suites go up to 90sq m.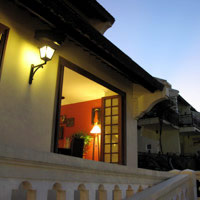 Colonial colour at Victoria Hoi An/ photo: Vijay Verghese
Expect roomy interiors, light-wood parquet flooring, dark-wood cupboards and cabinets, a large box TV, lounging sofa, armchair, and work desk. In addition to a broad range of cuisines on offer, the Golden Sand Resort has extensive sports and recreation distractions – including a vast array of swimming pools along the seashore – to keep the most eager fitness enthusiast occupied. Try the 150m seafront pool, outdoor whirlpools, tennis, cycling, beach volleyball or just laze on the beach. The spa offers single and two double treatment rooms. Those keen on staying in touch can avail of WiFi. The resort hosts ample meetings facilities and the Grand Banquet Hall can handle up to 350 persons.
Also on Cua Dai Beach is the Palm Garden Beach Resort set in five hectares of garden with semi-detached bungalows set around a central free-form pool. There is a kiddie pool and slides along with a children's play areas. This is a convivial child-friendly Vietnam resort with family friendly features and space for rough and tumble. The resort is neat with a low-rise format, the bungalows spread out so accommodation is not check by jowl.
There are 188 rooms in all, starting at 32sq m and going up to the 96sq m Palm Garden Suites with red ceramic tile floors, queen beds, small work tables, flat-screen TV, small garden patio with rocking chairs, a semi-alfresco bathtub near the entrance, and an electronic safe. Friendly and neat but unspectacular.
Overlooking the Thu Bon River, the 93-room Anantara Hoi An Resort (opened April, 2013 after modest remodelling of the excellent Life Heritage Resort ) is a luxury boutique addition to the scene. The low-rise French colonial-style buildings house a range of rooms that are simple and unassuming but well lit, with cream walls, earth-tone furnishings and bright orange cushions for distraction. Rooms are split-level with a sitting area below and a queen bed or twin arrangement above.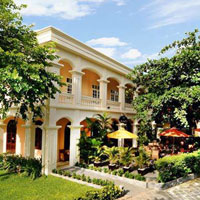 Anantara Hoi An, colonial/ photo: hotel
In 36sq m Deluxe Rooms, expect an L-shaped lounge sofa, workstation, 32in LCD TV, free WiFi, and a porch with two daybeds. The upper verandah balustrades catch the sunlight and make for excellent viewing platforms if you wish to peruse river life chugging by.
Head down to the Heritage Bar for an alfresco glass of wine beneath bright orange sun umbrellas and a photographic tour of Hoi An history; or make a beeline for The Spa for a "Vietnamese Four Hands Massage".
The resort does not offer a beach on site, but white sands are just a short bicycle or boat ride away. For a taste of Vietnamese culture, guests can attend language, cooking and lantern-making classes or simply explore the historic streets of Hoi An.
Le Belhamy Hoi An is spread over 10 hectares on Ha My Beach. Expect mixed design with lots of orange ceramic tiles, villas with red-tile roofs, and a small garden stretch along the sea front with a breezy pool. There are both two-storey accommodations as well as private villas with wooden floors and bright yellow walls to ensure you stay in the mood. And yes, there's the ever-present and jolly orange ceramic flooring here and there. A spa is on site too.
At the 145-room Alma Courtyard Hoi An, (opened mid-2014), enjoy terraced pools and manicured gardens and five different room types to satisfy that inner interior designer child - ranging from heart and spirit to energy and soul. Timber and ceramic-tile floor rooms are neat and simple but stylish with a lot of attention to detail. Expect clean lines, lots of natural light and dark-wood trim to hold everything in place.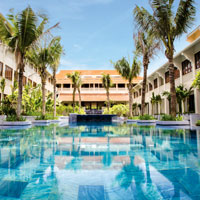 Alma Courtyard Hoi An/ photo: hotel
Rooms range from 35sq m to 45sq m and some have balconies. Learn about chi and yourself in the process at this stylish Vietnam spa resort. That's the way to travel to this ancient silk town that has been tastefully restored.
Feeling sparky? Ask for an introduction to 'kundalini' yoga. It's not all wellness though. Food features items from Vietnam, Japan, and Europe and, yes, there's a bar.
Vietnam resorts around Nha Trang, Ninh Van Bay
Nha Trang is a short flight south of Danang on a Vietnam Airlines A320. The airport is tight with carry-on baggage so be careful with your art purchases and hand-carry items. Foreigners are usually left alone, airport staff venting their ire instead on hapless Vietnamese travellers. The town actually looks like a seaside resort with a long breezy marine drive dotted with palm trees. There are public beach areas with nice thatch-palm umbrellas and endless views.
En route to Nha Trang is the spread out Diamond Bay Resort & Spa, a collection of bungalows and low-rise blocks with hotel-style rooms and free Wi-Fi. The semi-detached bungalows are neat but not upscale.
The Miss Universe contestants have passed through and, capitalising on this, the bungalows are each named after a world beauty. I got to meet Miss Mauritius who turned out to be something of a plain Jane.
There are two to four bungalows per unit with a shared porch. Inside 61sq m rooms find red ceramic tile floors, a TV, a notebook-size safe, a sunken bathtub and shower set below a skylight.
The 37sq m hotel rooms are contemporary with multi-pin electric sockets, a work desk, bathtub with shower, safe, and a balcony looking onto trees and hills.
It's neat but underwhelming, especially as there is no great reason to stop here. The resort lacks a natural beach though it offers a blazing artificial white sand stretch with kayaks and a huge sunny pool. Its main claim to fame is the 18-hole golf course, the first in this area. There is a driving range too.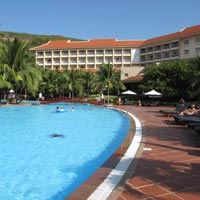 The sprawling Vinpearl Resort/ photo: Vijay Verghese
Nha Trang is a bit like the Pattaya of yore, minus the sleaze, the drug-laced transvestite nipples, the sanitation problems, the crime, the bars, the neon and badgering trinket vendors. Diving is popular, if unexceptional, in Nha Trang and, spa treatment. There is some amount of commerce in town though much of this bustle is around the big shipyards near Cam Ranh Bay.
One of the biggest and flashiest hotels on the Vietnam beach scene is the 485-room Vinpearl Resort & Spa megaresort. Cable-cars dangling from high wires cross to the private island with its amusement park and rides while the resort runs fast boat ferries at regular intervals from a dedicated pier. It takes 10 minutes to cross. This humongous all-in-one playground boasts a 600-guest Grand Ballroom, bars, nightclub, vast swimming pools, spa, marina, tennis and diving. The resort complex is on a grand scale. The place may not appeal to all tastes but as an all-inclusive, private, Club-Med-meets-Universal-Studios sort of escape, it will find its fans.
From the Vinpearl jetty on the island, a trolley bus carts you up a low hill and down the other side to the resort itself, set in two wings – the Deluxe Building and the Executive Building (with larger rooms and more classic upscale facilities). Both five-storey wings look onto the 5,700sq m free-form swimming pool. On the far side is a bar and cafe area with chairs on a timber deck below which is an arcing beach within a small bay.
The Deluxe Room is spacious enough with wooden floors, a sitting area with sofa and two chairs, a writing desk, WiFi and Broadband, and a white-linen bed with cream runner. In the bathroom is a tub, a separate shower cubicle and a separate spare toilet. Expect coffee and tea-making facilities and a HUGE safe. There is the Vincharm Spa on site to take care of any muscle distress, a kids' club for smaller guests, luxury shopping, and water sports and beach games from archery and billiards to cycling, diving, aerobics, gym, snorkelling and parasailing. This is a popular MICE venue and Vietnam conference hotel given its secluded location and range of facilities but it is also a family-friendly resort with lots of fun activities for children.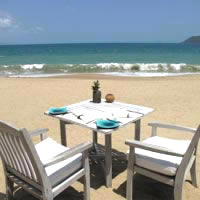 Evason Ana Mandara seafront dining/ photo: Vijay Verghese
Heightening senses as well as buoying prices is the wonderful Evason Ana Mandara & Six Senses Spa. As would be expected, this beautiful garden property features a Six Senses Spa set in its own private enclave at one end of the property. There are treatment rooms for couples with sunken Jacuzzis. Choose a package or go a la carte. If you're not warm enough by the beach, head for the sauna and herbal steam, then ponder the spelling and pronunciation of words like kinesiology. The spa is airy and bright with pleasing garden features.
One of the best Nha Trang resorts by a mile, Evason occupies a prime stretch of beach. Unlike its competitors, it is set on the beach side of the road with a tall hedgerow "curtain" to shield guests from prying eyes. Ana Mandara runs long rather than deep, along the promenade drive – with a hilly backdrop – making it a brief skip from villa to beach. The cottages are roomy, the largest being the 65sq m Beachfront Ana Mandara Suite with private walled garden and four-poster bed.
Expect a flat-screen TV, DVD player, gauzy mosquito net, wooden furniture, almirah, work desk with two multi-pin electrical sockets, a bathtub with a window looking onto garden and free WiFi. Villa bathrooms have been extended to include sunken bathtubs with rain showers and twin vanities featuring beaten silver metal wash bowls.
The complex has two swimming pools (one deep enough for diving lessons), tennis courts and a super romantic dining spot on a wooden jetty, right above the sea. Sort out your "I dos" here under a full moon.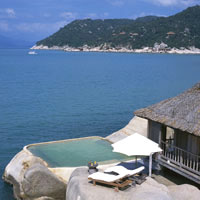 Six Senses Hideaway/ photo: hotel
Its top-drawer sibling Six Senses Ninh Van Bay is on a neighbouring island, a 15-minute boat ride from a jetty up the coast. This resort features just 58 pool villas looking onto an arcing bay and pristine sand. This is rustic chic at its best with good use of natural wood to create villa designs in harmony with nature.
Expect lots of hand-tooled wood displaying various shades and grain, thatch roofs, timber floors, bamboo four posters and white netting, extensive latticework screens to keep out excessive sun but let in the sea breezes, wooden bathtubs, open-view verandahs, driftwood tables and sensuously sculpted swimming pools perched on promontories. This is a honeymoon idyll with service, style and a great spa. Mark this down. It is indeed one of the best Vietnam luxury resorts. And it will humble your wallet with a US$600-plus price tag.
New kid on the block is the 279-room InterContinental Nha Trang (15 March 2014), a contemporary construct with plenty of natural light splashing across cool stone interiors and grey cubist rock-cut sculptures and tables. Rooms are spacious, airy and bright with lively blue bed runners offsetting cool flat-tone pastel interiors. Find a patterned carpet and silver-grey cushions atop a plump white bed facing a humungous flat-screen television. Breezy balconies serve up uninterrupted - and very welcome - views of Nha Trang Bay.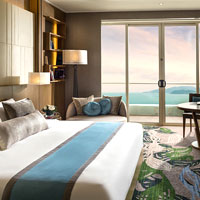 InterCon Nha Trang, lux/ photo: hotel
Expect an iron and ironing board, fast internet access, a DVD player, a work desk (with adapter plugs) and a soaking tub to end, or start, the day. For small corporate meetings and the like there are seven function rooms with 11,895sq m of event space. As with other hotels on the Nha Trang strip, you need to cross the main road to access the sand.
Opened mid-March 2010, the 280-room Sheraton Nha Trang Hotel & Spa is a modern high-rise construct with some attractive features not least of all the stunning sixth floor infinity pool that sails off into the blue horizon with its sunken loungers catching the best of the midday sun. This is a breezy and panoramic setting for tanning or reading a good book. You'll be blown away.
Literally. Hold on for dear life if the wind is up. A kids' club caters for typhoon tykes leaving adults unencumbered to enjoy Shine Spa and its nine treatment rooms guilt-free.
For meeting planners and business travellers there is 1,600sq m of function space while the Sheraton Club floors offer access to the Club Lounge. The 33sq m Club Ocean View Rooms with pale mustard-yellow walls are minimalist, spacious, bright and welcoming in an understated way. A cheeky glass partition looks onto the bathtub while at the other end of the room light spills in from a triangular balcony where spectacular views can be had. There is a long working desk with multi-pin sockets, a 37-inch flat-screen television, and a laptop-size safe.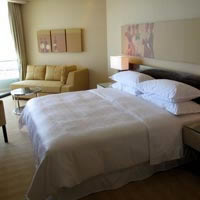 Sheraton Nha Trang: big views/ photo: Vijay Verghese
Expect an iron and ironing board too in the sliding-door cabinet. Unlike at most resorts on the block, WiFi or Broadband here will set you back US$12 per day but as partial compensation, the high-ceiling beige marble lobby offers Link@Sheraton work stations with complimentary Internet access.
And to get that grey matter working, the Connexions bar (leading to the beach street) serves up martinis by the litre. This is a contemporary address, not out of the ordinary, but it succeeds at making a bright statement without unduly contorting its hotel chassis to do the hula. This high-rise works.
The five-star Sunrise Beach Nha Trang Beach Hotel & Spa on the tree-lined esplanade overlooking Nha Trang Bay has 120 guestrooms and suites. Close to the beach and in the heart of the city, the resort is conveniently located a 40-minute drive from Cam Ranh Airport. Done up in faux-colonial style, the hotel is surprisingly pleasant with service to match. There is an annexe as well.
Deluxe Rooms offer carpet underfoot for a change, a balcony with massive sea views and a Jacuzzi for some configurations, hair dryer, boxy TV alas, a compact bathing area with just a glass shower cubicle, classical silk lampshades, a small desk with mirror and free Wi-Fi and Broadband. This is perhaps a Nha Trang specialty but the in-room safe is of micro proportions.
No getting large electronic equipment into this box. Wraparound views from the 10th floor Sky Lounge are terrific and you can sit in deep chairs by the breezy balcony perusing the circular pool below – ringed by Roman columns for some reason. There is a beauty salon and spa and the hotel can rustle up meetings for up to 150 guests. An interesting choice if you prefer a functional modern beach hotel to a villa.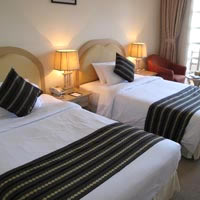 Sunrise Resort Nha Trang/ photo: Vijay Verghese
The four-star Hotel Novotel Nha Trang takes a stab at contemporary chic but doesn't entirely succeed. It is housed in a compact high-rise along the marine drive, set away from the beach like the rest. It is neat nevertheless and the rooms are smart with purple cushions and sea-facing balconies with flat-screen TVs and complimentary Internet. There are iMac stations in the lobby should you have forgotten your laptop.
For those on a tighter budget, the 201-room Yasaka Saigon Nhatrang Resort Hotel & Spa is a stone's throw away, also on the marine drive. Here hotel-style rooms with overly ornate interiors run at around US$75 a night with huge discounts off season. If it's raining, bargain, bargain, bargain. Another good value and fairly cheap Nha Trang hotel is the Nha Trang Lodge Hotel with standard and superior rooms in twin or queen configurations. Plain but clean and uncluttered and with floral bedspreads and large box TV sets to make you feel at home. For some food action try the stylish Sailing Club Nha Trang (Tel: [84-58] 352-4628, www.sailingclubvietnam.com) that transforms from restaurant to beach bar to nightclub depending on the time of day.
A 60-minute drive north from Nha Trang on the beach at Ninh Phuoc Village are the lowrise tile roofs and brick-wall rooms of the Wild Beach resort & Spa all set into the hillside. The style is rustic, if not blotto wet and wild, and there is ample stretch space over 70 acres of garden. The resort is sited on a long strip of white sand. This is an informal hangout with beach volleyball, biking, snorkelling, jogging and kayaking.
On Ninh Van Bay's scenic coast with its rocky outcroppings, a deliciously stylish and disarmingly rustic-chic retreat from An Lam Villas Ninh Van Bay. A range of cottages work their way down the slope to the beach and a timbered patio deck hosting a pool with breezy sea views. A thatch-roof Lagoon Villa serves up a living room and lounge opening onto a lagoon deck with plunge pool. Expect WiFi, mini-bar, in-room safe, hairdryer, aircon in the bedroom, and open views. There are 35 villas in all with smaller units facing the hill and three larger An Lam Lagoon Villas with rich wood finish, large glass window frontage and neat interiors. No dearth of activities here. Start with scuba diving and snorkelling and move on to to the resort spa for a range of wellness workouts. A well regarded stylish and contemporary escape, a tad pricey from about US$255 up depending on unit size.
An Lam Villas Ninh Van pool/ photo: hotel
The four-hour drive from Nha Trang to Phan Thiet is on an excellent two-lane highway with little traffic, hard shoulders and smooth black-top all the way. The countryside erupts in unbelievable shades of green during the rains.
The road passes paddy fields, quaint farmhouses, cows, dogs, chickens, geese and the ubiquitous policemen who specialise in setting sudden speed traps for unwary motorists. This makes progress unpredictable, if adventurous. At many places there is not a road sign to be seen for miles yet "tea money" is being earned by the bushel by hard-working men in uniform.
About a half hour south of Cam Ranh, the hills recede, yielding views of vast golden fields and patchwork green. This really is a lovely drive. You won't be behind the wheel as foreigners aren't really encouraged to wander the roads so sit back and take it all in. Make sure the driving is during daylight hours as nightfall significantly increases your chances of meeting chickens (and a procession of beasts, humans and vehicles) that suddenly decide to cross the road. The Nha Trang area has some of the better beaches of Vietnam though the sand is sometimes a touch more coarse than at Phan Thiet and Mui Ne.
Mui Ne beach stays, Phan Thiet, Ninh Hai
For some of the best Vietnam resorts head to Mui Ne and Phan Thiet. The Phan Thiet (pronounced "fun-theet") area includes the popular Mui Ne and Ham Tien beach strip along some fine stretches of white-sand beach that compare favourably with the best in Phuket and the Philippines. The air is laid-back and unhurried to the extreme. And the food, as everywhere in Vietnam, is cheap and teeth-grindingly good. This is where the fabled round wicker-basket boats originate. How fishermen manage to get to sea - and back - in these contraptions with a single paddle, God alone knows. Equally strange are the soaring sand dunes that threaten to overwhelm hutments, barely constrained by ubiquitous retaining walls.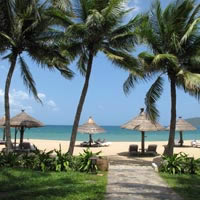 Evason Ana Mandara Beach Nha Trang/ photo: Vijay Verghese
The main street has a fair selection of large and clean thatch-roof restaurants. There are Internet cafes, spas, massage parlours, and tour agencies. Nightlife is not particularly bawdy, the roadside bars more relaxed and welcoming of families than elsewhere in Asia. The offerings are spread out and not cheek-by-jowl so drive around, or pedal, till you find the right spot for a chow down. And for golf there's the Sea Links Golf & Country Club (weekday US$74 green fee for visitors, US$91 weekends, www.sealinkscity.com).
At one end of this Muine strip, not far from the dunes, is the four-star Pandanus Resort, with low-rise blocks and red-brick bungalows scattered about well manicured gardens. Expect complimentary wine and cheese at reception, live music, and free Wi-Fi throughout. This hotel covers 10 hectares and is set on a private 300m stretch of beach. Walk out from the lobby lotus ponds to a bungalow offering twin and king-size beds, neat tile floors, large sunning patio, decent hairdryer, work desk, a notebook-size safe, clean bathroom with shower curtain (no tub) and plenty of light. There are hotel-style rooms housed in four low-rise buildings. The bungalows set closer to the beach.
Superior Rooms have all the amenities that you'd expect including satellite TV, mini-bar, aircon, IDD phone, and hairdryer. There is a large free-form pool, floodlit tennis court, a business centre, spa, gift shop, as well as a myriad activities to keep all ages busy. Bicycles are free for guests to explore the surrounding area. Babysitters will cost US$5 per hour of an evening but from 8am to 10pm the tots can be handled free at the kids' club.
Nearby is the 40-room Malibu Resort, again a mix of red-tile-roof bungalows and gardens. Find a freeform pool, motorbikes for rent, free bicycles, and water sports. Wi-Fi is complimentary. The units here are on a smaller scale but clean and well finished. Prices will be in the US$50 range.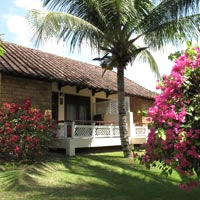 Saigon Mui Ne bungalow/ photo: Vijay Verghese
Little Mui Ne Cottages offers even more dinky yellow-plaster thatch-roof bungalows set in gardens with tall coconut trees, two-floor room units, and WiFi in the rustic wooden raised lobby where you'll also find a couple of laptops free for hotel guest use. Log on. Friendly and uncomplicated, choose from 12 bungalows and 24 rooms.
Correspondent Kate Springer suggests a well maintained, intimate choice is the 14-room Grace Boutique Resort. On the outskirts of town, this family-run property prides itself in great service and warm atmosphere. You'll likely get to know the owners' children and two dogs during your stay — a nice personal touch. Rooms are tidy and decorated in sunset hues and hand-made furniture produced locally. Expect friendly faces, free WiFi, and private balcony with bay views.
A few blocks closer to town, Springer recommends Shades Resort Mui Ne. This is a low-key, good-value hotel, with spacious rooms and attentive staff. The colour combinations — stark white paint and striking turquoise pool — mirror the clear blue skies, rolling waves and good cheer found here. Choose from seven large apartments and four studio rooms, all with comfy beds, beige decor, tile floors, free WiFi, flat-screen TVs, pool and ocean-views, and either rain shower or three-seater Jacuzzi tub. Some have breezy terraces, while others have direct access to the pool and bar, where friendly bartenders pour half-off drinks at happy hour.
Breakfast is included, and includes continental fare, made-to-order eggs and a must-try banana crepe. Laundry is included too, so don't hesitate to change out of your bathing suit. Downside? The resort does not have a beach in low season, as the tide rises too high. Even so, it's easy enough to wander down the street to one of the many sandy spreads. Just beware of kite surfers.
The large and manicured 87-room Saigon Mui Ne Resort has much to recommend it. The extensive lawns are welcoming, signage is crisp, there's a nice infinity pool and accommodation ranges from rooms to bungalows. This is officially a four-star resort (like many of the others in Phan Thiet) but the product is good. Rooms have tile floors, smart blue-tile toilets with mirrors at wacky angles and a shower cubicle (no tub), a hair-drier, small TV, a laptop-size safe, balcony, ample wardrobes, a work desk and two-pin square plug sockets. In-room WiFi is free and there is a business centre with a computer should you require it. There is lots of garden and the nice cottages, bordered by flashes of bougainvillea, are well spaced out. This resort's stretch of beach is fine and soft underfoot.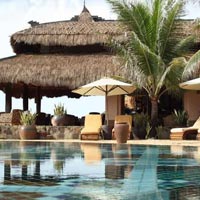 Sailing Club Mui Ne/ photo: hotel
Look out for the stylish bungalows and landscaped gardens of the 30-room Mia Mui Ne (formerly the Sailing Club Mui Ne). Interiors are cosy and well thought out. Expect cable TV, aircon (with fans), phones that work, a free-form pool, a beach bar, and fusion food. Bungalows offer spacious balconies with sun loungers and rough-hewn balustrades that meld with the land. Long mosquito nets drape the beds with their soft pillows and silk cushions. Pick a spoiling Deluxe Beachfront Bungalow.
Those in search of good Vietnam spas for authentic pampering can make for the Xanh Spa that offers a range of wellness treatments and massages using natural oils. Water sports options are varied and catching on with the hip set is kite-surfing and of course diving. Play chess, or a read a book. A business centre is available.
The Blue Ocean Resort features rooms and bungalows and one of the largest infinity pools in the area. The grounds are pleasant and grassy. Standard rooms offer a balcony, work desk, small notebook-size safe, and a bathroom with shower. Wi-Fi and Internet is free throughout the resort. Some bungalows have plunge pools. Neat and friendly.
Not far from here are the stilted wooden bungalows of the Coco Beach Resort. The 34-room resort starts rather abruptly with just an Alamo-style wall facing the main road and not much signage, but once past the defences, the ambience is appealing and friendly. There are bush-lined walkways, a modest pool, gardens with crab grass, plenty of flowers and gleaming freshly-varnished cottages next to a terrific stretch of soft creamy white sand lined by the resort's hallmark yellow-cone umbrellas. The sand beats China Beach and Nha Trang hands down, but the gradient is steeper. This is a lovely Vietnam beach.
There's a restaurant by the sea. This is one of the older resorts here and is run by the hands-on owners — Jutta and Daniel Arnaud — who set the ball rolling in 1995. The small wooden rooms and furniture are upgraded regularly.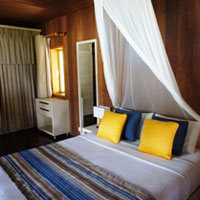 Coco Beach bungalow/ photo: hotel
Bungalows offer mosquito net drapes, a dolls-house raised verandah, and bathrooms with small shower cubicles. Lighting at night can be a bit dark so get your bearings during the day. There is no distraction of a TV and, to protect your small kids, the owners will arrange safety nets around the raised verandah. Internet is available at the resort office and WiFi is now beamed to rooms. Coco Beach is a quaint, unpretentious and charmingly rustic resort. It is one of the more accessible and homey Vietnam child-friendly resorts on the strip.
There is much happening along Mui Ne nowadays with resorts springing up everywhere. Every home with a chair and a coconut tree has billboards at the entrance proudly advertising a resort and spa. Most of the offerings are nice though it can get terribly basic as the price drops below the US$30 range.
At the upper end, look out for the serene Cham Villas that run along a narrow plot from the road to the sea. The gardens are lush, the foliage reassuringly dense, with four-poster-bed bungalows lining the tiled walk leading past an outdoor thatch-roof massage pavilion and a striking green-tile pool to the crashing surf. Statues of Hindu and Buddhist deities litter the lawns. Champa was, in fact, a Buddhist and highly Indianised kingdom. On a more contemporary note, there's a billiards table for a beer-swilling afternoon. There are just 18 villas and WiFi is free.
The 89-room Anantara Mui Ne Resort & Spa (formerly the L'AnMien Beach Resort that opened late 2009) is a stylish grey-tile construct on a grander scale than its peers. Walk up the steps to a contemporary lobby. Hotel room wings adjoin the lobby while two-level and single-level bungalows are set in the gardens leading to the free-form pool, beach bar and beach. The villa walls are in yellow mud-finish plaster. Inside find gleaming timber floors, large work desks and flat-screen TVs.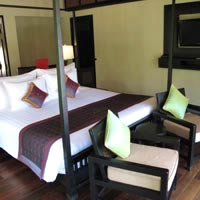 Anantara Mui Ne/ photo: Vijay Verghese
Furniture and cabinets are in stained black wood. There is a HUGE flat safe. The Two Bedroom Residence Pool Villa offers a master bedroom with a four-poster king arrangement along with a garden courtyard, plunge pool, and standalone tub in a semi-alfresco black-tile bathroom. Unfortunately privacy is an issue and in certain areas you are overlooked by first-floor rooms. Well, it's a beach. Don't be shy.
Expect free WiFi, a spa, a gym and classy dining with a grand piano to boot. This is a tasteful high-end retreat that sets the benchmark as a top Mui Ne resort.
The Sea Lion Beach Resort & Spa offers two large separate resort options (I and II, so there is no mistake). The similarly named Seahorse Resort & Spa offers pleasant grounds with 40 mustard villas. The bungalows serve up ceramic floor tiles, flat-screen TV, a desk, and small safe. Neat and clean. The gardens are attractive with ponds and water features. The resort also offers 59 low-rise hotel rooms, a gym, tennis court, free cycles, a spa, and complimentary Internet and WiFi in-room.
The Oriental Pearl (Hoang Ngoc) Resort is another large, spread out affair with several swimming pools, a kids' pool, a business centre with PCs, free WiFi in public areas, and a narrowish beach when the tide rolls in. The gardens are mature. There are simple rooms and cottages as well as two 60sq m grey-stone bungalows near the beach with classical Chinese furnishings and timber floors. These are quite nice. Walk over a small bridge, past the lotus pond to your villa on the sea, literally.
Victoria Phan Thiet bungalow/ photo: Vijay Verghese
Expect a large flat-screen TV, eye-catching driftwood furniture, ornate carved Chinese chairs, ceiling fan, hairdryer, slippers, a small safe and a BIG bath with skylight and Jacuzzi. Oddities are littered around the lawns, from eccentric laughing-Buddha statues to horse carts.
A mixed bag of resorts includes Swiss Village Resort (Japanese-style pagoda design — no kidding — with orange tile roof in a garden setting), the four-star Bamboo Village Beach Resort & Spa (which, as the name suggests, is all bamboo with around 37 rooms with TV, IDD phones and a pool), and the offbeat blue-dome Palmira Beach Resort & Spa (in a coconut grove with simple villas, a pool and rather exuberant splashes of colour).
Look at the friendly Bon Bien Resort (by Four Oceans) favoured by Europeans with its free WiFi, the Terracotta Resort & Spa with garden bungalows, the simple and compact Dynasty Resort with a nice oceanfront pool and free WiFi, and the friendly Joe's Garden Resort (formerly Paradise Huts — Chez Nina) with its restaurant, spa and seaside cottages (the main wooden house dates back to 1867).
Wrapping up the general selection is the tiny 27-room Full Moon Beach for simple stays in a better class at around US$70 a night, and the curiously named but comfortable and well-equipped Allezboo Beach Resort & Spa with beachside villas and low-rise hotel rooms. The resort has an airy lobby, manicured gardens, a relaxing spa, and decent nosh. Don't expect too much from service, but the rooms are spacious and comfortable and one of the area's best beaches is just beyond the free-form pool.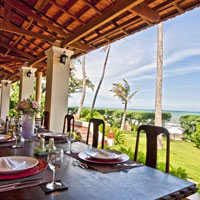 Ocean-view dining at Takalau Resort/ photo: hotel
Farther along the strip is the Victoria Phan Thiet Beach Resort & Spa, a charming property, spilling down a gentle hillside. It is very much a Phuket or Bali-style resort with cottages and two swimming pools. The one fly in the ointment is the rocky beach which is less-than-inviting at low tide.
There are connecting family duplexes here for those large family gatherings and the food is a notch above what you might expect elsewhere in the area. The sea view bungalows are the pick of the lodgings. Also find babysitting services, volleyball, horseback riding, table tennis, a fitness centre, billiard table, bicycles, and Petanque for the incurably French.
Close by Victoria is the unassuming and friendly Takalau Resort with its large free-form pool, gardens with bursts of pink bougainvillea and coconut trees, and accommodation ranging from 47sq m Deluxe rooms (some with sea views) to spacious four-bedroom Residences with sunning decks and private plunge pools. A 77sq m Grand Suite serves up cool ceramic tiles underfoot, a king-size bed on a raised plinth, a separate living area with sofas, a flat-screen television, free-standing bathtub and twin vanities for him and her. Red tile roofs and gardens lend the place a homey feel that goes down well with guests.
One of the best places to chill out if you have a family in tow, is the four-bedroom Villa Myosotis with its generous pool and sun deck set in verdant sea-facing surrounds. WiFi is free and the master bedroom features silk duvets, gleaming timber floors and a painted ceiling with blue sky and peach blossoms.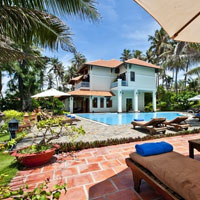 Takalau Resort's Villa Myosotis / photo: hotel
All this space for about US$450 or less. On a lazy afternoon, visit the Tea Leaf spa for a nice rubdown or something more exotic. This is a resort with charm and rustic appeal.
Ending the strip is the 84-room Phu Hai Resort, a large and bold melange of twee European statues, fountains, waterfalls, artificial rocks, pink stucco walls, and all manner of fantasy settings including a giant Angkor face looking out from one of the walls in the bar.
The pool area is fun for children but all-in the resort is a rather muddled affair. At night things sober down and with the lights on things are rather more beckoning. Rooms are well fitted, if plain. WiFi is free. It's a child-friendly resort if action is what you're after.
Next door and not to be outdone is the sprawling Romana Resort & Spa with Roman statuary, free WiFi, spa and well fitted bungalows. The resort runs down a hillside to a huge pool area. All rooms have ocean views, and villas have private pools. This place prides itself as a quality Vietnam spa resort. Expect a Russian invasion in season.
Set some distance away from the Mui Ne beach strip, the DuParc Phan Thiet Ocean Dunes & Golf Resort (formerly Hotel Novotel Phan Thiet Ocean Dunes & Golf Resort) is your average Joe-Blow concrete Asian resort with a ship-bridge building, a beachside setting, massage, sauna and a riot of water sports.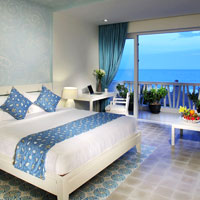 Cliff Resort space/ photo: hotel
But its ace up the sleeve is a golf course — on site — as well as quality service. Rooms, some with wooden parquet flooring, have colourful cushions and sea-view balconies. The hotel has its following but the food reviews are mixed.
Other choices in this area include the smart white cubist lines of the Villa Del Sol Beach Villas & Spa with a large rectangular pool set just above the shore line facing a huge swathe of white sand (interiors are more ornate with silk and dark wood), The Cliff Resort & Residences with a stylish contemporary feel and clean theme décor (Azul for blues, Verde for greens and Terra for warmer red tones with balconies, pool, spa and kitchenettes), and the appealing Muine Bay Resort with a range of accommodation choices and activities and facilities from tennis, mini golf and a children's playground to a large pool with huge pool bar, spa, and multi-cuisine restaurants.
From Amanresorts, an essay in stylish understatement with expansive views of lakes, national parks and the sea from timbered sun decks and 31 roomy pavilions (as well as five Aman Villas), at Amanoi in the southern Ninh Hai District just north of Phan Thiet.
A low-slung futuristic Beach Club with scenic windows casts its slender curves above a swimming pool facing the pale sand beach and blue waters while higher up the craggy limestone hillside, an Aman Spa awaits with lotus ponds, treatments rooms for couples and acres of contemplative garden space. This is a mini-destination in itself.
The 31 Pavilions, several with private swimming pools are all in a similar design, welcoming of light and with open views in all directions. Expect the de rigueur Aman-style open plan bedroom-living mix with a timbered sun deck.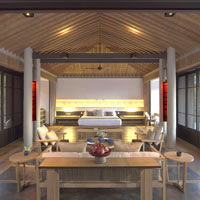 Amanoi Pavilion, roomy/ photo: Amanresorts
Beds are vast and bathrooms spoiling with soaking tubs and the usual lux paraphernalia to pamper travel weary limbs. In-room find a perky espresso machine for your morning cup of Joe, a flat-screen TV to plug in to the world - but is that really necessary? - WiFi, and a writing desk.
Pen a civilized postcard or stab your iPhone on WhatsApp. This is a quiet, minimalist hideaway with clean straight lines and an uninterrupted field of vision that brings real luxury to this less trodden coast.
Phan Thiet area tours
But before you leave, visit the dunes. That's right. Huge, red and ochre sand dunes straight out of the Sahara. Here, 20 minutes from Phan Thiet, you can boogie-board down the sands chased by urchins, or head further by four-wheel-drive to the heart of dune country. It's quite amazing. En route, stop by the fishing village with its bright red and blue boats and savour the sights if not the smells. The culturally inclined can visit the Cham ruins nearby. Pick up a four-hour tour to the dunes and White Lake with coffee break and lunch. Slightly farther is the giant sleeping Sakiyamuni Buddha.
The drive from Phan Thiet to Ho Chi Minh City (Saigon) is a reasonably untaxing three hours but evening traffic and the unyielding press of heavy trucks can add an extra sixty minutes. Stop at one of the wall-to-wall roadside stalls selling dragon fruit — the local speciality.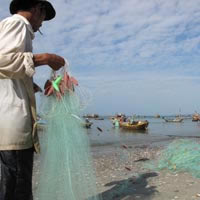 Fishing boats, Mui Ne, near Phan Thiet/ photo: Vijay Verghese
Trains and sleeper buses are reasonably priced (US$10 and US$6, respectively) and both take roughly five hours. Most hotels can arrange tickets with at least a day's notice.
Ke Ga Bay hideaway
About 150km from Ho Chi Minh City in Bin Thuan province is Ke Ga Bay, a 40-minute drive south of Phan Thiet. The road winds along a blustery coast pounded by breakers. It is a rough, rocky coastline with scrub grass and soaring humps of sand with occasional stretches of beach hosting small local resorts seemingly in the middle of nowhere.
If you need a reason to visit Ke Ga, it is the Princess d'Annam Resort & Spa. In the shadow of a lighthouse (built by the French in 1899) with a fishing village at the far end of the bay, the resort is sited on a broad, undisturbed swathe of sand that slopes gently into the sea. Given the mayhem en route it is surprising to see the waters becalmed and learn that this is actually a very safe swimming area. The shallow incline affords easy wading which perhaps makes it easier for families with kids in tow. This is however an upscale sanctuary for the well-heeled and much in love, starched white with straight clean lines, none of that irksome tropical resort fuss, and dollops of splendid understatement.
A ginger garden lends its aromatic scents to the breeze. Lush eye-soothing foliage and brilliant blue pools offer a dramatic counterpoint to the dazzling white low-rise villa structures. The piece de resistance is surely the unadorned deep-blue rectangular swimming pool that runs along the shoreline, ringed by flaming magenta bougainvillea. In front is the beach, and at its back is the colonnaded lobby and a timber-deck restaurant.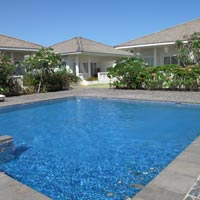 Quietly elegant Princess d'Annam/ photo: Vijay Verghese
This is a modern construct that blends well into the surrounds with 48 colonial-style villas, four swimming pools and a spacious 1,800sq m spa with 10 treatment rooms. Service is brisk, welcoming and attentive. Vincent Koh, the interior designer of the Park Hyatt Saigon, has fused French colonial with Oriental chic laying down a style that is easy on the eye yet distinct.
The Mandarin Villas offer 75sq m of stretch room with the usual mod-cons like flat-screen TV and Internet. Expect light pastel hues, big divans, cane chairs, large working desk, cream tile flooring and free WiFi throughout the resort. The hotel can loan guests a laptop if required. The lounge has an Internet station as well. The bathing area is well lit and spacious with a sunken tub and separate shower area. There's a laptop-size safe and a decent hairdryer.
The 100sq m Princess Villas offer a plunge pool, four-poster beds, open bathing area with alfresco bathtub, a separate rainshower cubicle, twin vanities and lots of light. There's the flat-screen TV, multi-pin electrical sockets near the work desk, a DVD player, and gleaming timber floors. The top-line Empress Villas (there are just three) serve up a more-than-generous 185sq m in a two-storey configuration with a private pool, a huge bed in the upstairs master bedroom on a raised wooden plinth, rich wood parquet, long glass work desk, lots of windows to let in light, a divan, large flat-screen TV with DVD player and funky sound system.
The bedroom leads onto a sun-drenched verandah with ocean views and sun loungers. The bathroom is huge with twin vanities and separate rainshower. The living room downstairs features an eight-seater dining table, plenty of seating and a spare bedroom. The entire ensemble is enclosed by a boundary wall so there's privacy galore.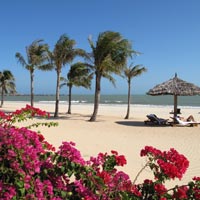 Ke Ga beach, Princess d'Annam/ photo: Vijay Verghese
Despite the detailed top-drawer finish and not a leaf out of place, Princess d'Annam is a surprisingly child-friendly Vietnam resort. It's posh yet homey, far from the madding crowd, and the ballroom will handle 162 guests theatre-style should you have a corporate meeting in mind.
Long Hai, Con Dao, Vung Tau
A little farther south, before the three-star melee of Vung Tau is the Anoasis Beach Resort in Long Hai. Its cottages and villas occupy 13 hectares on a lush green hillside with a private beach. Accommodation ranges from 45sq m Pavilion Rooms and 50sq m Cottage Bungalows to slightly larger Family Bungalows and more spacious 120sq m Ocean View Villas (with two bedrooms, lounge, living area, terrace and Jacuzzi).
Find a range of decor and furniture from bamboo-frame beds to wrought iron chairs and deep, comfy sofas. The rooms offer cool tile underfoot and free Wi-Fi. There's a swimming pool, tennis and billiards as well.
On a nice stretch of beach on the Ba Ria coast road in Vung Tau is the Ho Tram Beach Resort & Spa. This is a Vietnamese-style low-rise construct where all rooms have a balcony looking onto garden or sea, air-conditioning along with ceiling fans, electronic safe, satellite TV, hair dryer and free Internet access.
Seaview Bungalows fronting the beach offer a king or twin-bed arrangement, a walled garden with outdoor shower, a bathtub, and a four-poster bed with gauzy mosquito net drapes. The Aurora Spa is on hand for treatments and massage. Expect the usual raft of activities from kayaking and fishing to billiards and kite-flying. A neat and clean escape.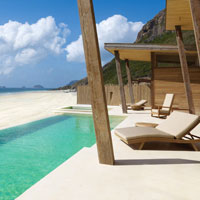 Six Senses Con Dao/ photo: hotel
In the sun-dappled Con Dao archipelago a 45-minute hop by air from Saigon (broadly, offshore from Phan Thiet and Mui Ne in Vung Tau province), you'll find the Six Senses Con Dao, a luxurious retreat with timber boardwalks and clean zen lines that opened December, 2010. This is modern, low-rise construct, creatively imitative of a fishing village, and mightily welcoming of breeze and light. Expect 50 villas with private pools, running up to four bedrooms if elbowroom is your thing. Set on a bay amid mangroves with low hills providing a backdrop, the resort fronts a kilometre of powder sand. Also expect the usual spoiling distractions of a Six Senses Spa, a front-row seat to the annual turtle nesting, and all-day access to the Children's Club.
The first stage of the Ho Tram strip resort complex is Grand Ho Tram Beach (originally planned as an MGM and opened late July 2013). This 541-room mega resort in Vietnam's first casino hotel development and features everything from a nightclub to shopping esplanades, plus nine restaurants, three outdoor pools, a swim-up bar, beach cabanas, and a long stretch of coastline. But that's not all. Expect another 549 hotel rooms with the second stage.
Inside the plum and ruby-hued Grand King rooms, look for 46-inch TV, touch-screen phones, free WiFi, plush beds, floor-to-ceiling windows and romantic balconies. The marble bathrooms are spacious and opulent, with stand alone bathtubs, plush toiletries and separate rain showers.
MICE goers may want to take note of 2,200sqm of convention space, including a 1,250sq m pillarless, soundproof Grand Ballroom that can seat up to 1,500 guests as well as five smaller meeting spaces. This is a substantial addition to the Vietnam beach resorts mix, that's a good fit for families and corporate events.
Phu Quoc Island resorts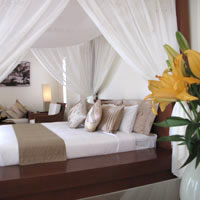 Four poster at Princess d'Annam/ photo: Vijay Verghese
In the Gulf of Thailand, off Vietnam's south coast sits the island of Phu Quoc. White sand beaches, diving, and an abundance of green make the island an inviting proposition, as well as the fact that it hasn't yet been overrun by a mass of huge resorts. Be quick though — the island is set for heavy development. Vietnam Airlines has direct flights to Phu Quoc from Ho Chi Minh City and the southern port town of Rach Gia. The flight from Ho Chi Minh City takes about an hour, and it's about 30 minutes from Rach Gia. There's also a three-hour-long ferry ride from Rach Gia. Accommodation ranges from back-to-basics bungalows on the beach to a couple of resort-style options. The airport is close to the main town of Duong Dong.
La Veranda Resort (by Accor hotels' MGallery) is on the luxury side of the scale compared with other accommodation on the island. Set on the southern end of Duong Dong beach, the resort offers 70 rooms and villas with private balconies. Rooms come with air-conditioning, satellite TV, DVD player, free WiFi, mini-bar, and private bathroom. The resort has a tiled pool amid tropical gardens and a spa offering a range of treatments. The colonial-style main building has a bar and restaurant overlooking the sea.
Saigon-Phu Quoc Resort & Spa is a large resort about 10-minute drive from the airport set on its own private section of Duong Dong beach. All 100 rooms and bungalows have balconies with a garden or sea view. In-room amenities include satellite TV, DVD player, aircon, and WiFi. There's a pool, tennis court, driving range and plenty of other activities on offer from snorkelling to kayaking as well as three restaurants. A high-speed boat is available for transport to and from Rach Gia — the trip takes about two hours — and airport transfers are complimentary.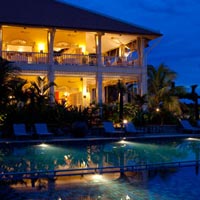 Colonial La Veranda Phu Quoc/ photo: hotel
The simpler and less expensive Kim Hoa offers 72 rooms including the main low-rise pink-blush building as well as a few bungalows. All rooms have aircon, TV, minibar, and private bathroom with a hot shower. There is a swimming pool, and a small restaurant serving Vietnamese and western fare. Get started as low as US$25.
Along Duong Dong beach is the three-star Tropicana Resort, another very simple offering with 51 rooms, including 27 hotel rooms and 24 bungalows. Larger beachside bungalows come with private patio, aircon, minibar, hot shower and private bathroom. There's a restaurant on the beach serving Vietnamese and western fare, and a tour desk to arrange activities that range from sightseeing to fishing and snorkelling.
Cassia Cottage on Ba Keo beach, has large rooms spread throughout one main house, two beach houses and 12 garden cottages. The main house has four sea front rooms with private bathrooms, and there are two rooms (with bathrooms) in each of the beach houses and cottages. Guests can rent out entire beach houses or cottages for extra privacy. There are no TVs here, but there is Internet if you need it. Really though, a computer may be the last thing on your mind when you have a pool, palm trees, beach, hammocks, sun-loungers, and a seaside restaurant serving (among other things) "Cassia Cream" cocktails and Fanny ice cream from Saigon. The inn says it serves fresh local food without MSG or "secret flavours".
At the basic Mango Bay it is back to nature. Here bathrooms are alfresco and water is solar heated. Set on a 1km stretch of Ong Lang beach with a backdrop of native forest, the resort has 40 rooms and bungalows. There are no air-conditioning or telephones, but bungalows come with sea views, big sunsets, rammed-earth walls, thatch roofs, four-poster beds with mosquito nets and overhead fans. The restaurant is open-air on the beach and offers a seafood-based menu.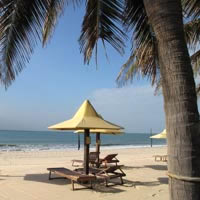 Beach umbrellas at Coco Beach/ photo: Vijay Verghese
Long Beach Resort from Berjaya is rustic chic with strip-wood room décor and cottages that scream atmosphere with brick walls, stone columns and lotus ponds. Small wonder the 72-room resort styles its room categories as "ancient". Charming and different with a pool by the sea. The Chen Sea Resort & Spa Phu Quoc is another international offering, this time as part of the Centara boutique collection. Timber-floor cottages, some with pools, are set in a grassy estate. Style-hounds should opt for the Jacuzzi Villas or the Pool Villas – restored traditional timber houses transported from Hoi An.
That's the bumf, beach to beach in our review of the best Vietnam beach resorts. If you've got time, wait till a local lovely catches your eye. Then fall to the ground and do fifty push-ups. Or hop on your bike and do wheelies to impress. Remember the speed limit is 40kmh.
Send us your Feedback / Letter to the Editor
FAST FACTS

/ Hotel Contact List

Hotel rates may be subject to a five percent service charge and 10 percent VAT. The exchange rate is roughly US$1=D21,000 and US dollar notes are freely used. Carry small denominations. High season rates during Christmas and New Year will climb a fair bit. Prices listed here are published "rack" rates or best available Internet rates. Do check. The rainy season runs from May/June until late October. See our Vietnam Map.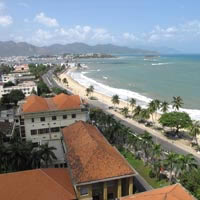 Nha Trang coastline/ photo: Vijay Verghese
Telephone numbers were upgraded in 2008 with the prefix "3" attached to all numbers under seven digits. This sometimes causes a mix-up so check your telephone numbers carefully.
Ha Long Bay resorts
Saigon Halong Hotel. Tel: [84-33] 384-5845, fax: 384-5849, (e-mail: sahahotel@hn.vnn.vn or www.saigonhalonghotel.com).
Royal Lotus Hotel Halong. Tel: [84-33] 626-9999, fax: 625-3990, (e-mail: info@royallotushotelhalong.com or www.royallotushotelhalong.com).
Tuan Chau Island Holiday Villa Halong Bay. Tel: [84-33] 384-2999, fax: 384-2333, (e-mail: info@tuanchauresort.com.vn or www.tuanchauholidayvilla-halong.com).
Hue resorts and hotels
Ana Mandara Hue. Tel: [84-54] 398-3333, fax: 397-1111, (e-mail: sales@anamandarahue-resort.com or anamandarahue-resort.com/).
Best Western Premier Indochine Palace. Tel: [84-54] 393-6666, fax: 393-6555, (e-mail: sales@bwp-indochinepalace.com or www.bwp-indochinepalace.com).
Hotel Saigon Morin. Tel: [84-54] 382-3526, fax: 382-5155, (e-mail: info@morinhotel.com.vn or www.morinhotel.com.vn).
Imperial Hotel Hue. Tel: [84-54] 388-2222, fax: 388-2244, (e-mail: info@imperial-hotel.com.vn or www.imperial-hotel.com.vn).
La Résidence Hôtel & Spa. Tel: [84-54] 383-7475, fax: 383-7476, (e-mail: resa@la-residence-hue.com or www.la-residence-hue.com).
Pilgrimage Village. Tel: [84-54] 388-5461, fax: 388-7057, (e-mail: info@pilgrimagevillage.com or www.pilgrimagevillage.com).
Vedana Lagoon Resort & Spa. Tel: [84-54] 381-9397, fax: 381-9398, (e-mail: info@vedanalagoon.com or www.vedanalagoon.com).
Lang Co hideaways
Angsana Lang Co. Tel: [84-54] 369-5800, fax: 369-5900, (e-mail: langco@angsana.com or www.angsana.com/en/lang_co/).
Banyan Tree Lang Co. Tel: [84-54] 3695-888, fax: 3695-999, (e-mail: langco@banyantree.com or www.banyantree.com/en/lang_co/).
Thanh Tam Seaside Resort. Tel: [84-54] 387-4456, fax: 387-3762, (e-mail: info@thanhtamresort.com.vn or thanhtamresort.com.vn).
Danang resorts
Crowne Plaza Danang (formerly Silver Shores International Resort). Tel: [84-511] 391-8888, fax: 391-8349, (e-mail: resn@cpdanang.com or www.ichotelsgroup.com/crowneplaza/).
Furama Resort Danang. Tel: [84-511] 384-7888, fax: 384-7666, (e-mail: reservation@furamavietnam.com or www.furamavietnam.com).
Fusion Maia Resort. Tel: [84-511] 3967 999, fax: 3967-888, (e-mail: fusionista-dn@fusion-resorts.com or www.fusionmaiadanang.com).
Hyatt Regency Danang Resort and Spa. Tel: [84-511] 398-1234, fax: 398-1235, (e-mail: danang.regency@hyatt.com or danang.regency.hyatt.com).
InterContinental Danang Sun Peninsula Resort. Tel: [84-511] 393-8888, fax: 939-8887, (e-mail: reservations@icdanang.com or danang.intercontinental.com).
The Ocean Villas, Danang. Tel: [84-511] 3967-094, fax: 3997-095, (e-mail: reservations@theoceanvillas.com.vn or theoceanvillas.com.vn).
Pulchra Resort Danang. Tel: [84-511] 392-0823, fax: 391-3215, (e-mail: info.danang@pulchraresorts.com or www.pulchraresorts.com/vietnam/).
Pullman Danang Beach Resort. Tel: [84-511] 3958888, fax: 3951898 (e-mail: info@pullman-danang.com or www.pullmanhotels.com).
Sandy Beach Non Nuoc Resort Da Nang. Tel: [84-511] 396-1777, fax: 396-1222, (e-mail: cdv@chr.co.th or www.centarahotelsresorts.com/cdv/).
Hoi An resorts
Alma Courtyard Hoi An. Tel: [84-510] 366-6888, (e-mail: info@almacourtyardhoian.com or www.almacourtyardhoian.com).
Anantara Hoi An Resort. Tel: [84-510] 391-4555, fax; 391-4515, (e-mail: hoian@anantara.com or hoi-an.anantara.com).
Hoi An Beach Resort. Tel: [84-510] 392-7011, fax: 392-7019, (e-mail: reservation@hoianbeachresort.com.vn or www.hoianbeachresort.com.vn).
Hoi An Riverside Resort & Spa. Tel: [84-510] 386-4800, fax: 386-4900, (e-mail: info@hoianriverresort.com.vn or www.hoianriverresort.com).
Le Belhamy Hoi An. Tel: [84-510] 394-1888, fax: 394-0190, (e-mail: info@belhamy.com or www.belhamy.com).
Le Domaine de Tam Hai. Tel: [84-510] 354-5105, fax: 354-5103, (e-mail: contact@domainedetamhai.com or www.domainedetamhai.com).
The Nam Hai. Tel: [84-510] 394-0000, fax: 394-0999, (e-mail: namhai@ghmhotels.com or www.ghmhotels.com).
Palm Garden Beach Resort & Spa. Tel: [84-510] 392-7927, fax: 392-7928, (e-mail: info@pgr.com.vn or www.palmgardenresort.com.vn).
Swiss-Belhotel Golden Sand Resort & Spa. Tel: [84-510] 392-7555, fax: 392-7560, (e-mail: reservation@swiss-belhotelgoldensandresort.com or www.goldensandresort-spa.com.vn).
Victoria Hoi An Beach Resort & Spa. Tel: [84-510] 392-7040, fax: 392-7041, (e-mail: resa.hoian@victoriahotels.asia or www.victoriahotels.asia).
Nha Trang resorts and hotels, Ninh Van Bay
An Lam Villas Ninh Van Bay. Tel: [84-58] 362-4008, fax: 362-4964, (e-mail: rsvn.nvb@anlam.com or www.anlam.com/anlam/).
Evason Ana Mandara & Six Senses Spa. Tel: [84-58] 352-2222, fax: 352-5828, (e-mail: reservations-nhatrang@evasonresorts.com or www.sixsenses.com/resorts/ana-mandara/).
Diamond Bay Resort & Spa. Tel: [84-58] 371-1711, fax: 371-1666, (e-mail: info@diamondbayresort.vn or www.diamondbayresort.vn).
InterContinental Nha Trang. Tel: [84-58] 388-7777, (e-mail: stay@icnhatrang.com or www.ihg.com/intercontinental/).
Nha Trang Lodge Hotel. Tel: [84-58] 352-1500, fax: 352-1800, (e-mail: nt-lodge@dng.vnn.vn or www.nhatranglodge.com).
Novotel Nha Trang. Tel. [84-58] 625-6900, 625-6901, (e-mail: rsvn@novotel-nhatrang.com or www.accorhotels.com).
Six Senses Ninh Van Bay. Tel: [84-58] 372-8222, fax: 352-4704, (e-mail: reservations-ninhvan@sixsenses.com or www.sixsenses.com/Six-Senses-Hideaway-Ninh-Van-Bay).
Sheraton Nha Trang Hotel & Spa. Tel: [84-58] 388-0000, fax: 388-2222, (e-mail: reservations.nhatrang@sheraton.com or www.starwoodhotels.com/sheraton/).
Sunrise Nha Trang Beach Hotel & Spa. Tel: [84-58] 382-0999, fax: 382-2866, (e-mail: info@sunrisenhatrang.com.vn or www.sunrisenhatrang.com.vn).
Wild Beach Resort & Spa. Tel: [84-58] 362-2694, fax: 362-2691, (e-mail: info@wildbeachresort.com or www.wildbeachresort.com).
Yasaka Saigon Nhatrang Resort Hotel & Spa. Tel: [84-58] 382-0090, fax: 382-0000, (e-mail: sg-nthotel@dng.vnn.vn or www.yasanhatrang.com).
Vinpearl Resort & Spa. Tel: [84-58] 359-8188, fax: 359-8152, (e-mail: info@vinpearlresort-nhatrang.com or vinpearl.com).
Quy Nhon resorts
Life Wellness Resort Quy Nhon. Tel: [84-56] 384-0132, fax: 384-0138, (e-mail: quynhon@life-resorts.com or www.life-resorts.com).
Phan Thiet, Mui Ne, Ninh Hai District resorts and villas
Allezboo Beach Resort & Spa. Tel: [84-62] 374-3777, 374-1999, (e-mail: info@allezboo.com or www.allezboo.com).
Amanoi. Tel: [84-68] 377-0777, fax: 377-0888, (e-mail: amanoi@amanresorts.com or www.amanresorts.com/amanoi/home.aspx).
Anantara Mui Ne Resort & Spa (formerly L'AnMien Beach Resort). Tel: [84-62] 374-1888, fax: 374-1555, (e-mail: muine@anantara.com or mui-ne.anantara.com/).
Bamboo Village Beach Resort & Spa. Tel: [84-62] 384-7007, fax: 384-7095, (e-mail: info@bamboovillageresortvn.com or www.bamboovillageresortvn.com).
Phone: Blue Ocean Resort. Tel: [84-62] 384-7322, fax: 384-7351, (e-mail: sales@blueoceanresort.com.vn or www.blueoceanresort.com.vn).
Bon Bien Resort (Four Oceans). Tel: [84-62] 374-1081, fax: 384-7104, (e-mail: info@bonbienresort.com or www.bonbienresort.com).
Cham Villas. Tel: [84-62] 374-1234, fax: 374-1147, (e-mail: reservations@chamvillas.com or www.chamvillas.com).
Coco Beach Resort. Tel: [84-62] 384-7111, fax: 384-7115, (e-mail: paradise@cocobeach.net or www.cocobeach.net).
DuParc Phan Thiet Ocean Dunes & Golf Resort (formerly Hotel Novotel Phan Thiet Ocean Dunes & Golf Resort). Tel: [84-62] 382-2393, fax: 382-5682, (e-mail: info@phanthietresorts.com or www.phanthietresorts.com).
Dynasty Mui Ne Resort. Tel: [84-62] 384-7816, fax: 384-7966, (e-mail: sales@dynastyresorts.com or www.dynastyresorts.com).
Full Moon Beach. Tel: [84-62] 384-7008, fax: 384-7160, (e-mail: operation@fullmoonbeach.com.vn or www.fullmoonbeach.com.vn).
Grace Boutique Resort. Tel: [84-62] 374-3357, fax: 374-3577, (e-mail: sales@graceboutiqueresort.com or http://www.graceboutiqueresort.com).
Little Mui Ne Cottages. Tel: [84-62] 384-7550, fax: 384-7514, (e-mail: littlemuine@hcm.vnn.vn or www.littlemuine.com).
Malibu Resort. Tel: [84-62] 384-9669, fax: 384-9475, (e-mail: sales@malibu-resort.com or www.malibu-resort.com).
Mia Mui Ne (formerly Sailing Club Mui Ne). Tel: [84-62] 384-7440, fax: 384-7441, (e-mail: info@miamuine.com or www.miamuine.com).
Muine Bay Resort. Tel: [84-62] 222-0222, fax: 222-0272, (e-mail: info@muinebayresort.com or www.muinebayresort.com).
Oriental Pearl Resort. Tel: [84-62] 384-7858, fax: 384-7549, (e-mail: info@hoangngoc-resort.com or www.hoangngoc-resort.com).
Palmira Beach Resort & Spa. Tel: [84-62] 384-7004, fax: 384-7006, (e-mail: cocogarden@palmiraresort.com or www.palmiraresort.com).
Pandanus Resort. Tel: [84-62] 384-9849, fax: 384-9850, (e-mail: pandanus@pandanusresort.com or www.pandanusresort.com).
Joe's Garden Resort (formerly Paradise Huts – Chez Nina). Tel: [84-62] 384-717, (e-mail: book@joescafegardenresort.com or www.joescafegardenresort.com).
Phu Hai Resort. Tel: [84-62] 381-2799, fax: 381-2797, (e-mail: info@phuhairesort.com or www.phuhairesort.com).
Romana Resort & Spa. Tel: [84-62] 374-1289, fax: 374-1281, (e-mail: dos@romanaresort.com.vn or www.romanaresort.com.vn).
Saigon Mui Ne Resort. Tel: [84-62] 384-7303, fax: 384-7307, (e-mail: saigonmuineresort@hcm.vnn.vn or www.saigonmuineresort.com).
Seahorse Resort & Spa. Tel: [84-62] 384-7507, fax: 384-7774, (e-mail: info@seahorseresortvn.com or www.seahorseresortvn.com).
Sea Lion Beach Resort & Spa. Tel: [84-62] 374-3391, fax: 374-3394, (e-mail: info@sealionresort-muine.com or www.sealionresort-muine.com).
Shades Resort Mui Ne. Tel: [84-62], 374-3236, fax: 374-3237, (e-mail: shadesmuinevietnam@gmail.com or www.shadesmuine.com).
Swiss Village Resort & Spa. Tel: [84-62] 384-7480, fax: 384-7491, (e-mail: info@svr-vn.com or www.SVR-VN.com).
Takalau Resort. Tel: [84-62] 384-7778, (takalauresort.com).
Terracotta Resort & Spa. Tel: [84-62] 384-7610, fax: 384-7611, (e-mail: info@terracottaresort.com or www.terracottaresort.com).
The Cliff Resort & Residences. Tel: [84-62] 371-9111, fax: 371-9333, (e-mail: info@thecliffresort.com.vn or www.thecliffresort.com.vn).
Victoria Phan Thiet Beach Resort & Spa. Tel: [84-62] 381-3000, fax: 381-3007, (e-mail: resa.phanthiet@victoriahotels.asia or www.victoriahotels.asia/).
Villa Del Sol Beach Villas & Spa. Tel: [84-62] 384-6555, fax: 384-6777, (e-mail: res@villadelsol.com.vn or www.villadelsol.com.vn).
Ke Ga Bay
Princess d'Annam Resort & Spa. Tel: [84- 62] 368-2222, fax: 368-2333, (e-mail: info@princessannam.com or www.princessannam.com).
Long Hai resorts
Anoasis Beach Resort. Tel: [84-64] 386-8227, fax: 386-8229, (e-mail: info@anoasiaresort.com.vn or www.anoasisresort.com.vn).
Vung Tau, Con Dao
Grand Ho Tram Beach. Tel: [84-64] 378-8888, fax: [84-8] 3825-1698.
Ho Tram Beach Resort & Spa. Tel: [84-64] 378-1525, fax: 3781-433, (e-mail: info@hotramresort.com or www.hotramresort.com).
Six Senses Con Dao. Tel [84-64] 383-1222, (e-mail: reservations-condao@sixsenses.com or www.sixsenses.com).
Phu Quoc resorts and beach hotels
Cassia Cottage Hotel and Inn. Tel: [84-77] 384-8395, fax: [84-4] 388-4396, (e-mail: reservations@cassiacottage.com or www.cassiacottage.com).
Chen Sea Resort & Spa (Centara boutique collection). Tel: [84-77] 399-5895, fax: 399-5896, (e-mail: cpv@chr.co.th or www.centarahotelsresorts.com/cpv/).
Kim Hoa Resort. Tel: [84-77] 384-8969, fax: 384-8261, (e-mail: reservation@kimhoaresort.com or www.kimhoaresort.com).
La Veranda Resort. Tel: [84-77] 398-2988, fax: 398-2998, (e-mail: contact@laverandaresort.com or www.laverandaresort.com).
Long Beach Resort. Tel: [84-8] 3824-6755, (e-mail: sales@longbeach-phuquoc.com or www.longbeach-phuquoc.com).
Mango Bay. Tel: [84-77] 398-1693, (e-mail: reservations@mangobayphuquoc.com or www.mangobayphuquoc.com).
Saigon-Phu Quoc Resort & Spa. Tel: [84-77] 384-6999, fax: 384-7163, (e-mail: sgphuquocresort@hcm.vnn.vn or www.sgphuquocresort.com.vn).
Tropicana Resort. Tel: [84-77] 384-7127, fax: 384-7128, (e-mail: info@tropicanabeachresort.com or www.tropicanabeachresort.com).