FAMILY FUN
Child friendly resorts in Asia
A guide to Asian child-friendly resorts and family holidays where your toddlers won't come a-cropper crossing a four-lane highway to get to the beach. Everything from face painting to baby toe massage.
updated by Andres Mora and Tenzing Y Thondup
SEE ALSO Thai spas | Bali spas | Hong Kong shopping | Phuket resorts review | Abu Dhabi | Rajasthan Palace Hotels | India spas review | Palawan resorts | Sanya resorts | Asian resort weddings | What hotel guests steal | Asian casino hotels | Hua Hin Guide | New York guide | Sri Lanka Resorts | Colombo | Fastest roller coasters
JUMP TO Thailand | Bali | Malaysia | Tokyo | Philippines | China | Hong Kong | Singapore | Vietnam | Maldives | Macau | Dubai | India | Sri Lanka | Cambodia | Brunei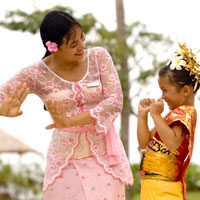 Balinese dance, Conrad Bali/ photo: hotel
ALL PARENTS of tiny tots have a deep craving. Sleep. The sort of deep theta sleep you read about in psychology manuals. A who-the-hell-cares-if-the-house-is-on-fire sort of sleep that energetic singles would never comprehend. Young parents crave a few days (or months, more likely) of rest and relaxation – preferably near a sandy white beach or within ambling distance of a cool, blue pool.
But for mum and dad to kick back, junior needs to be entertained too. The interesting thing about the growing crop of Asian family-friendly resorts is that adult pampering and kiddie fun are no longer mutually exclusive. Leave footprints in the sand with your significant other while the typhoon tykes knock themselves out cold in an inflated Crazy Castle.
This guide to child friendly resorts in Asia is by no means definitive, but it is broadly indicative of child-friendly distractions available, not always at a wallet-bludgeoning price. Free cots or extra beds for small kids are a given at most of these places, and kids' clubs are ubiquitous.
But these days, tots in tow can expect all sorts of extra diversions – pampering in a spa with treatment menus designed especially for the young ones, conquering the flying trapeze, swimming with elephants to snoozing in boat-shaped beds, and special kids' ambassadors to pander to every whim. It's playtime.
Send us your Feedback / Letter to the Editor
So where to find these resorts for kids and tiresome children? With plenty of sunshine and beaches, warm seas and traditionally family-oriented locals, Southeast Asian destinations are hugely popular and packed with resorts that welcome kids. Including your screaming toddler.
Child-friendly hotels in Thailand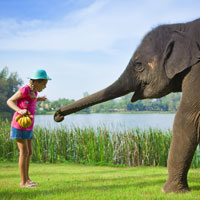 Angsana Phuket elephant/ photo: hotel
Phuket, Thailand has, of course, more resorts than you can shake several large beach umbrellas at – and there are a myriad of options for families with kids.
The super-child-friendly Angsana Laguna Phuket (www.angsana.com/en/phuket/) is part of the integrated Laguna Phuket resort complex, which has a reputation for its family-oriented atmosphere. In addition to family friendly rooms, Angsana takes the usual children's facilities a step further with the Tree House Kid's Club.
There are activities in and around the resort including indigenous crafts, cooking classes, and exploring. Resident baby elephants Lucky and Lilly take strolls on the beach with thrilling photo and banana feeding opportunities. Elephants aside, swimming and building sandcastles on the beach never lose their appeal.
Teenagers are not forgotten with Camp Laguna providing indoor and outdoor fun with children aged nine to 14 from Laguna Phuket's complex of resorts. At the Playstation & Internet Zone find all the latest computer games while the Quest adventure programme has an outdoor focus for teens keen on a more physical challenge. Think rock climbing, scuba diving, sailing, water polo, Frisbee, beach volleyball and parachute games. There are also Family Challenge Programmes for parents and their kids. This is the place to face all fears and climb up a 15m wall. Go for gold.
Finally, keeping adults and their wallets happy, one child dines free at lunch and dinner with every adult. Remember to ask for the children's menu.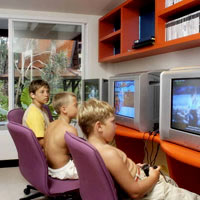 Dusit Thani Phuket playroom/ photo: hotel
Children lucky enough to celebrate their birthday at the Dusit Thani Laguna Phuket (www.dusit.com), another of the five hotels making up the Laguna development, are treated to a complimentary birthday party. Children under four eat and drink for free when ordering from the kiddy menu and, when not scoffing miniature meals, little ones are kept happily occupied at the Kids' Club.
Older children can head to Camp Laguna. Babysitting costs from Bt150 per child per hour. Neighbouring Best Western Allamanda Laguna Phuket (www.allamandaphuket.com) was a popular bunk-bed choice for families. Allamanda's kids' club flexes all its functionality by late 2012.
If your tot is ready to graduate from the climbing frame to something a tad more challenging, the JW Marriott Phuket Resort & Spa's (www.jwmarriottphuketresort.com) circus training programme, run by a US circus entertainment and performance company, may appeal.
Children are divided into three age groups (four to five years, six to seven years and eight to 12 years) for the three-hour sessions, to learn acts such as the swinging trapeze, juggling, pyramid building, tumbling and clowning. Safety equipment is included, of course. Young artistes can show off their new skills at a grand finale circus show on Friday nights.
With the onsite MAZE programme, families can have fun learning batik painting, Thai dancing, tai chi, yoga and much more. The Thai Ginja Cooking Course brings together children, parents and JW's chef to create some child-friendly Thai cuisine. And once all that has worn the little ones out, you can all indulge in a relaxing spa treatment. There are choices for adults, kids and teenagers at the spa.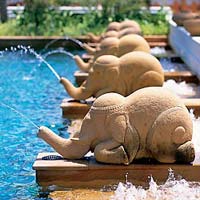 JW Marriott Phuket pool
This child-friendly resort is integrated with the Marriott's Phuket Beach Club (www.marriott.com). Self-contained villas with separate children's bedrooms and bathrooms and their own flat-screen TV. While the kids frolic in the Children's Pavilion, teens have their own space with a large movie screen, PlayStation, table tennis, pool table and computer section (complete with "safe" Internet access) at their disposal. The resort's large main swimming pool has a separate section for families, including a shallow bubble pool and a water slide.
Both are located next to a protected sea turtle nesting area, around which the Marriott's Kids Club offers some unique educational programmes. The Kids Club (for kids aged four and over) is open from 9am until 5pm, and again from 6pm until 8pm. English-speaking babysitters are available for Bt200 per hour for one child. Babysitting fees are of course variable from resort to resort.
Just like home, or better are the dedicated family and kids' suites at the Holiday Inn Phuket (www.phuket.holiday-inn.com) in Patong. Adults have their private space in the family suite, while children bunker up in their own fun, pirate-themed room. The Kids' Suites come in eye-catching colours, with boat-shaped beds and play stations, TV sets, games and toys. Superior Rooms with connecting doors are fitted with two queen-sized beds, sleeping two adults and two children. Babysitting is Bt200 per hour for one child, and Bt300 for two (English is spoken).
The Holiday Inn doesn't charge for children under 12, and breakfast is free for kids under six years. A breakfast surcharge of Bt200 is added for kids aged six to 12, and Bt400 for kids over 12. There's a Kids' Club for children aged five to 12, with four zones covering TV, Playstation, arts and crafts and games. Outside are two children's swimming pools, a toddler pool with water spouts and kids' activities such as water guns, sliders and a cave. Teenagers will happily withdraw to the "parent-free" Club 12 Plus, with Internet, Xbox, and even a karaoke and DVD corner.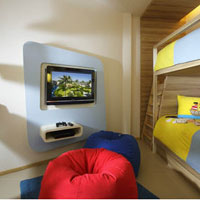 Holiday Inn Mai Khao bunk beds/ photo: hotel
The newer Holiday Inn Resort Phuket Mai Khao Beach (www.holidayinnresortphuketmaikhaobeach.com) farther north is a smart family-friendly option with gardens and a fabulous stretch of beach. Its TeenZone runs from 8am till 11pm with console gaming, table tennis and more, while the Kids Club has supervised educational activities for children aged five to 12. Tots four and under require adult supervision, which can be arranged via babysitting services.
The bright and breezy Destination Surin Resort and Spa (www.phuket.com, formerly the Courtyard Phuket at Surin Beach) isn't on the beach but benefits from its quieter location, slightly set back from the road. Kids World is the big attraction here for those aged four and older. Nice layout for families and an informal style to ensure maximum relaxation with bright splashes of colour. The resort changed management early April 2012.
Le Meridien Phuket Beach Resort (www.starwoodhotels.com/lemeridien/) has a menu of fun activities and sports at the Penguin Kids Club open 9am to 7pm daily for children from four to 12 years (children three years and under require adult supervision). The facilities are free although there is a fee for some activities. Babysitting is available at Bt300 per child for two hours and advance booking is necessary (English is spoken).
Families staying at The Mövenpick Resort & Spa Karon Beach Phuket (www.moevenpick-hotels.com) will appreciate the kids' Play Zone retreat. It's one of the largest play areas for children in Phuket, with three separate rooms for different age groups and an outdoor playground. The Play Zone is for kids aged from four to 12 years, and is open daily from 9am to 7pm. A half day costs Bt600 (with a meal included), and a full day is Bt900. The Game Lounge offers free 24-hour access to a full-size snooker table, table tennis, and pool tables.
Budding biologists, golfers and artists will all find something to do at the adjacent Hilton Phuket Arcadia Resort & Spa (www.phuketarcadia.hilton.com), where nature walks, a putting range and finger painting are among the attractions on offer. For the rest, there are no less than three swimming pools, a games room and outdoor play area, as well as bicycle tours and Thai dancing classes. Children aged up to 12 years stay free with their parents at this family friendly resort.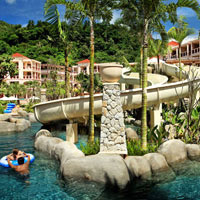 Centara Grand Phuket/ photo: hotel
Kids aged up to 10 years eat free from the children's menu and those shorter than 1.2m get free breakfast. The Kidz Paradise Club caters for kids from five to 12 years (those four and younger must be accompanied by a parent or guardian) and offers, among other things, free swimming classes.
At the Radisson Plaza Resort Phuket Panwa Beach (www.radisson.com/hotels/thaphkpw) find a cool sea-fronting pool, the Sapparot Club (for children aged four to twelve) with pool and waterslide, babysitting services, kayaking for burning excess calories and adrenaline, and a spa for the older set. No real beach though and the location is much farther south.
The Westin Siray Bay Resort & Spa (www.starwoodhotels.com/westin/) serves up a Kids' Club, offering arts and crafts, Thai dance and language lessons, and outdoor activities including beach soccer, volleyball, and treasure hunts. This family-friendly resort is set close to Phuket Town along an arcing bay. Sister property, the ultra lux villa getaway The Naka Island Phuket (http://www.nakaislandphuket.com/) set a 10-minute speedboat ride off the northeast of Phuket Island is more for newlyweds and honeymooners but is reasonably well equipped for families with play areas, fitness, beaches, water sports, a kids' pool, and bicycles and trails for a sun-drenched workout.
Surrounded by nature, the Centara Grand West Sands Resort & Villas Phuket (www.centarahotelsresorts.com/CGWP/) is an eco-friendly spectacle that acts as a good base for guided jungle trekking, canoeing, and general adventuring around the Andaman Sea. The Centara Grand prides itself on its family friendly environment, offering two-bedroom Deluxe Family Suites with adjoining doors, in addition to several other accommodation options. The Centara doesn't disappoint in the entertainment department, with its very own Splash Jungle Water Park, where intrepid guests can tackle more than 10 waterslides, including a Super Bowl Slide, sprawling Lazy River for the faint of heart, or the thrilling Boomerango, which needs no explanation. This is a Phuket child-friendly resort for your diary.
Sheraton Hua Hin Starclub
Club Andaman Beach Resort (www.clubandaman.com) provide plenty of fun for the kids in pleasant and extensive green environs in the Patong playground better known for neon and sleaze. Club Andaman also provides an admirable list of activities ranging from batik painting to bird feeding. Its resident kids club runs from 8am till 6pm and is available for youngsters aged two and above. Babysitting services can be arranged after 6pm at a nominal cost.
Le Meridien Khao Lak Beach & Spa Resort (www.starwoodhotels.com/lemeridien/) has a Penguin Club for children from three to 12 years. Khao Lak is an hour-and-a-half drive north from Phuket. Babysitting is only available in guest rooms or at the club, and the cost is Bt300 per hour for one child. Activities include "Beach Olympics", treasure hunts, Thai dancing and nature walks. Parties are held to celebrate festivals such as Halloween.
The Juniors Club at the JW Marriott Khao Lak Resort & Spa (www.marriott.com) is worth a look-see. It features indoor and outdoor play areas, movies, a library and a computer room for young adults. This is a younger property with lots of leg-stretch space that arrived on the scene late 2009.
Along the idyllic Krabi coast, a two hour drive around the bay heading east from Phuket, it's an elephant's life at the Sheraton Krabi Beach Resort (www.sheraton.com/krabi), where much-loved pachyderm RaRa appears on the beach everyday to swim with the children. Mask-making, origami and batik painting at the Sairung Kids Club for four to 12-year-olds might not quite match up after this. Yes, there are connecting rooms, complimentary extra cots and beds for under-12s, toys and potties, and babysitting (English spoken; Bt300 per hour).
The Amari Vogue Krabi (www.amari.com/vogue/) is a pleasant retreat for oldies and youngsters alike, offering lavish spa treatments, Thai cooking classes, swimming pools by the acre, Jacuzzis, kayaking and diving fun. Children can have a splash and catch some rays in the children's pool. Cots and babysitting services are available.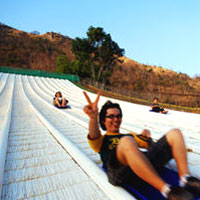 LIFE Park Khao Yai/ photo: hotel
Launched in 2010, the Centara Grand Mirage Beach Resort, Pattaya (www.centarahotelsresorts.com/cmbr/) has a vast menu of excitement and adventure for both the young and the young at heart. A "Lost World" theme pervades the resort, including a grand waterpark with all sorts of adrenalin-pumping pools, waterslides and aquatic activities. Camp Safari offers numerous activities (with prizes) to children aged four to nine, while the older crowd aged 10 to 17 can lounge in the E-Zone and try out the PlayStation, Nintendo Wii and computer games.
The Hard Rock Hotel Pattaya (pattaya.hardrockhotels.net) offers an array of activities for the little rock stars while you finally get that much needed rest. Under the care and supervision of the "Li'l Rock Animators", children aged three to 12 can enjoy arts and crafts, PlayStation 2, Nintendo Wii, DVDs, and the kid's pool nearby. The full day rate is Bt600 inclusive of lunch and a snack, while the half day rate is Bt450 inclusive of a one-time snack. Or pay Bt85 for an hour of service.
The Greenery Resort, Khao Yai (www.greeneryresort.com) offers both sides of the coin for a family holiday experience. Nestled in the lush greenery of Khao Yi reserve, this getaway is a welcome breath of fresh air to visitors. Near the resort is LIFE Park, Thailand's newest and largest adventure park. The park offers heart-stopping distractions for all ages, with special activities grouped into categories like "Kids Adventures", "Families Fun for All" and "Amazing Thrills". Breath of fresh air? Or plain breathless? Take your pick. Also on hand are bumper boats, go-karts, "Inflatable Land", bowling, slides, archery, laser tag, and "Zorbing" – stand inside a giant inflatable ball and roll down a hill. Guaranteed adrenaline rush.
High-end wallet-pummelling Six Senses Resorts & Spas says it treats child guests like "junior VIPs". Both the Evason Phuket & Bon Island (www.sixsenses.com/Evason-Phuket/) and Thai Royal family holiday favourite in Hua Hin, Six Senses Hideaway Hua Hin (www.sixsenses.com/SixSensesHuaHin/), have Just Kids! for children from four to 12 years. Babysitters (available for around Bt150 per hour) are required for tykes under four.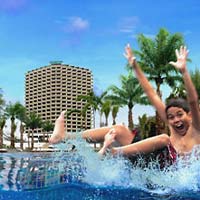 Destination Cha Am Resort/ photo: hotel
Kids (and parents, who finally get to spend the night unsupervised) can look forward to nightly themed sleepovers, where they (the children, of course) pitch tents, set up sleeping bags and get to roast marshmallows over the camp fire. There is also a fair amount of emphasis on education; kids can have Thai language lessons or learn about Thai culture.
Originally built in 1923 and splendidly renovated and expanded numerous times since, the Centara Grand Beach Resort and Villas Hua Hin (www.centarahotelsresorts.com/chbr/), a former Sofitel, offers modern luxury and a colonial ambience with four swimming pools, a good spa, children's club, tennis courts and other facilities. Set in 14 acres of beachfront space, the family-friendly Anantara Hua Hin Resort & Spa (huahin.anantara.com) serves up a smorgasbord of classic seaside water sports escapes peppered with child-friendly features.
The Hyatt Regency Hua Hin (www.huahin.regency.hyatt.com) features Camp Hyatt, running half day (for Bt650) or full day (Bt950) cultural and educational programmes, including lunch and refreshments. There's also a playroom for children aged three to 12 (parents must accompany under-threes). Reserve an English-speaking babysitter a day in advance (from Bt150 per hour). You can order baby food at the hotel restaurants and the youngest members of the family will be comfortable in the booster seats and high chairs on offer.
The Hua Hin Marriott Resort & Spa (www.marriott.com) is a popular family draw with a children's pool, kids' club, free meals for the younger set and attractive packages, while the younger Destination Cha am Resort and Spa (formerly the Courtyard Hua Hin at Cha am Beach by Marriott) has extensive activities to keep ankle-biters occupied. Distractions include a movie theatre, teen Internet zone and dress-up playroom. The massive swimming pool has a netball area and one of the slowest water slides anywhere. Cha-Am is a short drive from Hua Hin. Bear in mind there are over seven championship golf courses in the general area.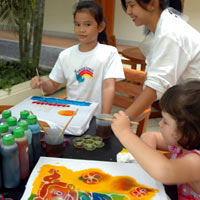 Camp Hyatt, Hua Hin/ photo: hotel
The nearby 560-room Holiday Inn Resort Regent Beach Cha-Am (www.holidayinnregentbeach.com) is no slouch when it comes to facilities with two pools, tennis, squash, volleyball and a kid's club. While in need of a good spring-cleaning, it offers a wide variety of room choices to fit most budgets. There is a children's playground and pets can park at the on-site pet resort that offers 11 aircon rooms. Woof.
Also in the vicinity, the 240-room Sheraton Hua Hin Resort & Spa (www.starwoodhotels.com/sheraton/) offers good value rooms mixing family-friendly facilities with crisp service in a high-end package. The low-rise architecture is bright and airy with seven restaurants and bars, a spa, fitness centre and busy kids' area – StarClub, which serves up batik, doll-painting, rocket and balloon-making, PlayStation games, toys and cartoons. The resort likes to call this "edutainment" to fill minds with magic not mush.
At first glance, bustling Bangkok may seem to be the last place to take a child, but the Anantara Bangkok Riverside Resort & Spa (bangkok-riverside.anantara.com), a former Marriott, on the river outside the city is a cool oasis and a splendid Thailand city resort choice for families. There is a kids' club and under-12s stay for free if they room with their parents. Babysitters speak Thai and English (one child, around Bt250 per hour; two children, Bt350).
Millennium Hilton Bangkok (www.hilton.com) serves up a children's menu as well as video rentals especially for young movie buffs. Cribs and high chairs are on tap, as well as a babysitting service. A pleasant location by the river away from the city hustle.
For families wanting something much smaller and more intimate, Rocky's Boutique Resort (www.rockyresort.com) in Koh Samui, with around 30 bungalows and villas, has several family rooms, two swimming pools and secluded beaches with very few passers-by.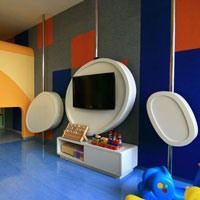 Anantara Bangkok Riverside/ photo: hotel
The child-loving staff will help keep a watchful eye on tiny tots, and the resort will happily arrange babysitting. The island is also home to an Aquarium and Tiger Zoo, a Butterfly Garden, Elephant Treks, and Island Safari's. Several resorts on Samui cater for families, mainly along Chaweng Beach.
Around this island look out for golf lovers' Santiburi Beach Resort Samui (www.santiburi-hotel.de) with a kids' club and extensive list of activities; Paradise Beach Resort (www.samuiparadisebeach.com) on the quiet north shore; the spread out and child-friendly Coral Bay Resort (www.coralbay.net) on Ya Noi Bay with its simple but charming wooden bungalows, rattan furniture, thatch roofs, and bamboo four-poster beds; the sprawling and popular Gone With The Wind colonial Centara Grand Beach Resort Samui (www.centarahotelsresorts.com/csbr/); the well-equipped Amari Palm Reef Resort (www.amari.com/palmreef/); and the secluded Renaissance Koh Samui Resort & Spa (www.marriott.com).
The Conrad Koh Samui (conradhotels.hilton.com), with its five-star treatment and customary Turtles Kids Club, offers another compelling reason for your family to visit this laid back island. The Banyan Tree Samui (www.banyantree.com) and the InterContinental's Samui Baan Taling Ngam Resort (www.ichotelsgroup.com/intercontinental/) are also family friendly mini-destinations, with babysitting services and plenty of activities for kids. The Four Seasons Resort Koh Samui (www.fourseasons.com/kohsamui/) offers kids aged two to 12 a multitude of activities from 8am to 5pm at the Kids For All Seasons programme. Some options include Traditional Thai umbrella painting, crab hunting and beach games, movie/cartoon session and cooking classes for aspiring young chefs.
If picturesque mountains and sprawling landscapes are your thing, head north to enjoy premier service up in the former Lanna Kingdom at the Mandarin Oriental Dhara Dhevi, Chiang Mai (www.mandarinoriental.com/chiangmai/). Encircled by scenic views, the Mandarin Oriental offers bountiful activities for all ages.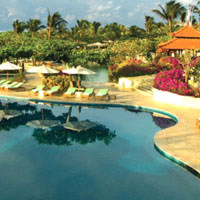 Grand Hyatt Bali pools/ photo: hotel
Parents can indulge in Ayurvedic therapies while younger guests can spend their time at the Lanna Kids Club, which offers specifically tailored adventure and cultural itineraries to complement the club's routine yoga and group games.
Babysitting services are available for guests at Bt400 per hour. After 9pm an additional Bt200 is required for the staffs' transportation costs. The Mandarin Oriental also provides complimentary baby gear such as diapers, baby cots, milk bottles and bottle warmers, but make sure to call in advance to arrange such services.
No-hassle family holidays in Bali
Bali's warm climate, balmy seas, and gentle child-loving locals make it a great family destination, with even luxury hotels tapping into the market. Don't worry about lugging heavy bags of baby products to the beachfront Conrad Bali Resort & Spa (conradhotels.hilton.com) – the resort will provide baby robes, baby oil, powder, nappies and soap, as well as a baby bath and potty. Two of the in-house restaurants have kids' menus (and so does room service).
The Kura Kura Club (for children from age three) starts the day's activities at the Kids' Pavilion with its turtle ponds and indoor and outdoor play areas. Attractions include island legends storytelling and splashing around in the lagoon pool. Who could go wrong with sprawling hectares of gardens and a beach?
If your boy is a future Federer, there's tennis coaching for a minimal fee. For children who MUST head indoors, the Games Zone has computer and video games, a pool table and more. There's also a toddler area for under-threes. Oh, and if your poor darling is worn out from all the activity, they can head to the spa and select a revitalising treatment from the Spa Kids' Menu. A full day Kura Kura Club package is Rp120,000, and a half day is Rp70,000 per child. Each day has a different theme, including Tasty Tuesday, Wednesday's Under the Sea and Sunday's Un-Birthday Party.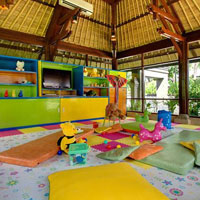 Ayana kids club/ photo: hotel
Also in Bali, Indonesia, the Nusa Dua Beach Hotel & Spa (www.nusaduahotel.com) caters for families with special 60sq m Family Rooms sleeping two adults and two children. Connecting rooms are also available (but aren't discounted).
Alongside a children's menu, all items on restaurant menus are offered in smaller portions, with a 50 percent discount. The babysitting service is Rp30,000 per hour (sitters speak English and Bahasa Indonesia).
Gecko Kids Club welcomes children aged three to 12 and there's a great-for-kids beach garden and lagoon pool, as well as a children's pool and outdoor playground. In addition, the Players Games Room sports indoor sporting fun for the over-12s with table tennis, billiards, darts and various board games, as well as PlayStation Three and air hockey.
At AYANA Resort Bali (www.ayanaresort.com) the Kids Program makes space for cultural fun in full or half days. Children aged two and up will have a new activity programme each day (half day US$12, full day US$23, unit activity US$6). There's also a separate children's swimming pool with two water slides tucked into the greenery near the Kids club pavilion. The revamp of the Kids Club facilities includes additions such as Wii, X-box, flat-screen TV, foosball table, mini billiards table, trampoline and more.
The facility has also upgraded the activities list, with the Rai programme for children aged two to four, and the Raka programme for those five years and up. With distractions like ceramics, Balinese dress-up, traditional games, tree planting and even an outdoor petting zoo to choose from, parents can get away for a little pampering, content in the knowledge their kids are having a blast.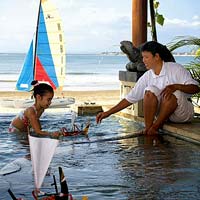 Four Seasons Bali at Jimbaran
Guests under 12 eat for free when accompanied by paying adults at the Grand Hyatt Bali (www.bali.grand.hyatt.com). Other kids' facilities here include the Camp Nusa club for children from three to 13, a toddler pool and water sport for all ages. A full day (from 8am until 5pm) is around Rp70,000, including lunch. Organised activities include fish feeding and Balinese arts and crafts. Baby cots come free and some rooms have extra day beds available. Babysitters speak English and Bahasa Indonesia (Rp15,000 per hour, per child). This is a fabulous child-friendly Bali resort with lots to do for the entire family. Start with the five outdoor pools. If you still have energy, dump the tots and head for the Kriya Spa.
Despite their high-end appeal, all Four Seasons Hotels & Resorts (www.fourseasons.com) have a good child-friendly policy, providing cots, strollers, high chairs, play pens, bottle warmers, soothers, bibs and other baby necessities on request. In addition, guestrooms can be "child-proofed" with protective covers over electrical outlets, and wooden step stools are available so that little hands can reach the sink.
Child-sized bathrobes and tiny tables and chairs complete the picture. Four Seasons' Kids For All Seasons programme is aimed at children aged five to 12, introducing them to local folklore, history and cooking, as well as marine and animal life. Some hotels offer teen-savvy advice from a Four Seasons Teen Concierge.
Family walks through the gardens with 1,500 hand-carved stone sculptures, beach exploration and playing in the surf are a must-do at the 35-acre Four Seasons Resort Bali at Jimbaran Bay (www.fourseasons.com/jimbaranbay). Children under 12 can share their parents' room at no extra charge. The Jimba Club welcomes kids from two to 12 years, and is open from 7am to 7pm – babysitting here is complimentary. Budding Nigellas and Jamie Olivers can join the resort's pastry chef for cookie and ice-cream-making lessons in the kitchen during the holiday season.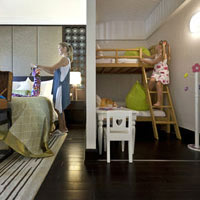 Pan Pacific Bali bunk beds/ photo: hotel
Club Med (www.clubmed.com) villages everywhere have a well-earned reputation for their activity-driven family holidays. The Bali Club has been through dramatic renovation. Guests can choose all-inclusive holiday packages (rooms, all meals and drinks, a wide range of sports, nightly entertainment and travel insurance included).
Never a dull moment for adults, and the little people are kept busy at The Petit Club Med (for two to three-year-olds), Mini Club Med (four to ten-year-olds; workshops range from circus acts to rollerblading) and the Juniors' Club Med (11 to 17-year-olds; activities include kayaking, tennis, or archery).
Adding weight and zest to the child-friendly resort category is Club Med's free-of-charge Baby Welcome service for babies (up to 23 months) at the Club Med villages at Bali, Bintan Island, Cherating Beach, Lindeman Island, Phuket, and Kabira.
Conveniences include priority check-in and ground floor rooms, bottle warmers in restaurants and the main bar, baby cots, tubs, potties, baby chairs in restaurants and baby strollers. The service must be pre-booked.
The Westin Resort Nusa Dua (www.starwoodhotels.com/westin/) is yet another fun option for family friendly Bali resorts. Its Westin Kids Club is perfect for toddlers and teens, with a 12m water slide, pool, outdoor playground, face painting, and movie nights among the many things on offer. And for bookworms, the Westin Kids Club offers an indoor playroom with plenty of educational activities.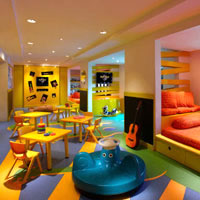 Hard Rock Bali kids' room/ photo: hotel
For sporty types, Pan Pacific Nirwana Bali Resort (www.panpacific.com) is an all-in choice. For mum and dad, Nirwana Bali resort offers a world-class golf course designed by none other than Aussie legend Greg Norman. And for young aspiring athletes, Pan Pacific provides tennis programmes at its PureTennis centre, which is run by professional instructors for beginners and advanced players alike. If this all seems a little arduous, then simply ask the friendly staff to organise a trip to the Bali Safari and Marine Park, where your young ones can mingle with the resident animals.
Located on the ever-hopping Kuta Beach, Hard Rock Hotel Bali (bali.hardrockhotels.net) provides thumping family entertainment. Its Lil' Rock Kids Club offers treasure hunts and lessons in local musical traditions and more. There are food options aplenty, with a pool café serving child-friendly meals in addition to several other family dining venues – not least the infamous Hard Rock Café Bali, where your typhoon tykes can learn about the finer points of '80s music.
With its wide choice of fine dining, indulgent spa services and lagoon pools, The St. Regis Bali Resort (www.starwoodhotels.com/stregis/) caters for high end travellers seeking a relaxing vacation. The St Regis Bali helps families unwind, providing on call English-speaking babysitters for around US$5 per hour per child. The the SPG Kids Pass allows Starwood Preferred Guests, to pay a fixed daily rate granting their children, aged 12 and below, access to buffets, child menus, beverages and other convenient dining options.
Travelling with tots in Malaysia
Malaysia – and in particular the islands of Langkawi and Penang, and the coast of Sabah – have a number of child-friendly hotel options.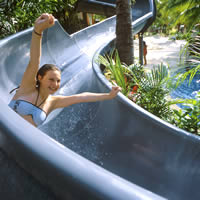 Splash out at Parkroyal Penang/ photo: hotel
In laidback Langkawi there's little to do but kick back and relax on the beach and around the pool. For scavenger hunts on the beach, mini golf, swimming lessons, fishing and boat-making head to the Meritus Pelangi Beach & Spa Resort, Langkawi (www.meritus-hotels.com), where KiKi Klub members between four and 12 are entertained for free from 9am to 9pm. (Toddlers under four are welcome with a parent's supervision.) Kids love the club's mascot, a five-foot fluffy bird with bright yellow beak.
There's the usual playground and children's pool, as well as baby chairs, drawing sheets and toys at restaurants, and you can even request a baby car seat. KiKi's Animal Farm tops the list of must-see on the kids' list. Babysitting services are available (English, Bahasa Malaysia and Mandarin are spoken; around RM8 for one hour; RM20 after 11pm).
The Moorish Four Seasons Resort Langkawi (www.fourseasons.com/langkawi/) recommends its lower-level pavilions (villas) for families: not only are they safer, but they also come with gardens, perfect for playing and running. A limited number also have connecting rooms available. Kids get child-sized bathrobes, juice before bedtime, and a special menu doubling as a mask for kids to colour. Children's toilet seats and high chairs (in the restaurants) are welcome extras.
As with most resorts, cots and extra beds for under-12s are free – but babysitting doesn't come cheap at around US$24 per hour per baby. Sitters speak English, Chinese, Malay and Tamil.
Bringing up a young yogi? Among the activities offered at the free Kids For All Seasons club (children aged four to 12) here is children's yoga, where animal poses help children "meditate on the beauty of nature". Games, music and storytelling are incorporated. Morning walks with a naturalist are no less spiritual. For the sporty, there are tennis lessons and more.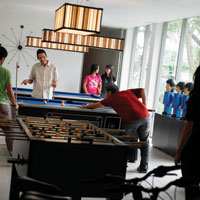 Hard Rock Penang/ photo: hotel
The Golden Sands Resort by Shangri-La (www.shangri-la.com), on the island of Penang, welcomes kids and adults alike. The resort boasts a 10,300sq ft Adventure Zone, where RM21 will buy two hours of time in "the zone" – for once, it is the adults that are free of charge if they want to join the children at play.
This air-conditioned indoor facility has drop slides, a game area, and themed rooms for birthday parties. Nestled in the Adventure Zone is the Kids Club, offering a range of fun-filled activities for children aged four to 12, including golf putting, Nintendo Wii competitions, snake shows, t-shirt painting, and arts and crafts, to name a few. These activities can be undertaken daily from 10am to 12pm and 2pm to 5pm.
Also, located in the main pool area is a children's pool and waterslide, open from 7am to 7pm. Hillview Family Rooms offer a double bed, single bed and a sofa bed. Guests may request baby baths, prams and potties. Babysitters speak Bahasa Malaysia, English, Chinese and Tamil (around RM7 per hour; RM20 after 11pm).
The Parkroyal Penang (www.parkroyalhotels.com) has extensive facilities for kids, not least its signature Koko-Nut Kids Club that distracts tiny tykes with all manner of activities from colouring and leaf painting to pool games, movies, mask and t-shirt painting, stick puppets and more. The club caters for children from four to 12 years of age. Babysitting in-room runs at around RM10 per hour. Staff speak English, Bahasa Malaysia, Hokkien, and Mandarin (Putonghua). The Parkroyal Penang is a good child-friendly hotel choice. It has been popular with families for years – through various incarnations and name changes.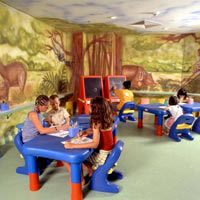 Creative Tanjung Aru Kids Club/ photo: hotel
If with older kids and electric guitars in tow, wander by the Hard Rock Hotel Penang (penang.hardrockhotels.net) where the action never ceases. This remodelled hotel is on the north shore along Batu Ferringhi beach, the main beach strip on the island. Here you'll find one of the largest freeform pools anywhere at 2,400sq m – complete with sand islands and slides – the Lil' Rock Kids Club.
The Teens Club will take care of the 13 to 18-year-olds with a collection of pool tables, electronic games, foosball and enough razzmatazz to keep parents free for the better part of the day. So bring along a good book or get set for an adult CONVERSATION (remember that?). The kids have a busy schedule running all day including cyber fun, cooking, arts and crafts, and movies.
The Shangri-La Rasa Ria (www.shangri-la.com) in Kota Kinabalu, Sabah has had rave reviews from families – and no wonder considering its setting on a long sweep of beach and the South China Sea, and surrounded by lush forests. Kids are thrilled to meet their closest animal cousin, the orangutan, at the rehabilitation nature reserve set within the resort's grounds. (Be prepared to be pestered into foster-caring for an animal – it's for a good cause: fees go to care and food for the foster animal at the reserve.)
There's a Kids Club offering the usual entertainment, banana boat rides for thrills, kids' pool and horse riding. Ground-floor rooms are particularly good for families – kids can run straight into the resort's extensive gardens.
Sister resort the Shangri-La Tanjung Aru Resort and Spa (www.shangri-la.com), closer to the city centre in Kota Kinabalu but also on the beach, is not to be left behind. Among the largest in Malaysia, the resort's Water Play Area & Pool is a liquid wonderland. Kids and adults alike will love the water slides, balloon launchers, swimming pools and a Jacuzzi.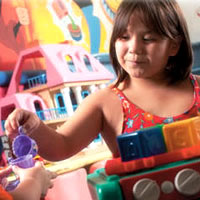 Nexus Nexie Club/ photo: hotel
Indoors, hand-painted walls in the Cool Zone highlight features of Sabah, from the jungle to the sea. Every day between 10am and 6pm the staff offers different activities, including biscuit baking, movie hours, scavenger hunts and Friday theme parties. There's a toddler section with padded walls and soft toys, a creativity area for painting, crafting and other skills, a computer and TV room – and a welcome coffee area for parents to relax.
When tiring of the beach or playground, with swings, seesaws, slides, a sand pit and toy cars and bikes, tots can feed the fish during regular sessions at the resort's three koi-filled ponds. Or head to two large swimming pools with a safe corner for smaller children, or the wading pool. All restaurants have children's menus. Babysitters are around RM30 for one hour. Just shout for potties, cots and other baby equipment. How's that for a family friendly escape?
And if that's not enough, take a trip to the sprawling Nexus Resort & Spa Karambunai (www.nexusresort.com). Surrounded by vast acres of natural beauty, this child friendly Sabah resort has plenty to offer for youngsters of all ages and tastes. Looking to keep the kids busy? Look no further than the resident Nexie Club, which is open from 9am to 9pm and offers an array of activities for children between four and 11 years old, including origami and art lessons, storytelling activities and other fun games and artistic endeavours.
For teens, the nearby Lagoon Park is an oasis of fun, offering kayaking, jet skiing, sport fishing and much more. Also on hand is the 75-acre nature park which surrounds the resort, catering for hiking enthusiasts or families simply looking to get in touch with Mother Earth. To top it off, babysitting services are guaranteed.
Hotels for kids in Sanya and Haitang Bay, China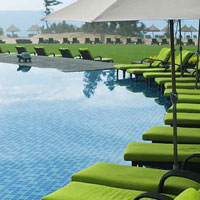 Doubletree Sanya pool/ photo: hotel
A 25-minute drive from Yalong Bay in the fast developing Haitang Bay area is the spacious DoubleTree Resort by Hilton Hotel Sanya Haitang Bay (doubletree.hilton.com). It is firmly geared towards families with a number of child-friendly options along with vast conferencing space for pin-striper dads intent on CEO networking. The hotel-style development fronts landscaped gardens with large water features – including a 2,400sq m swimming pool – and a broad swathe of good sand. Expect a spa, kids' pools, lagoons to explore, a fitness centre and, in-room, high speed internet and large 42-inch flat-screen TVs for work or play.
The Sheraton Sanya Resort (www.starwoodhotels.com/sheraton/) at the traditional Hainan playground of Yalong Bay features a breezy and elegant teakwood lobby, very Balinese, with more swimming pools than you can wiggle your toes in and some attractive water features set along an excellent beach. This is a fun hotel for kids with ample distractions. Parents can enjoy exotic spa treatments while children go wild at a dedicated Kids Club. Also pick from beach volleyball, biking, banana-boating, kayaking and assorted watersports.
The Sanya Marriott Resort & Spa (www.marriott.com) offers 456 rooms with balconies offering open views of Yalong Bay and the sea. The hotel has been designed to respect and showcase local traditions. This it does admirably. Dotted among the extensive gardens you'll spot striking stone statues of fishermen and villagers. Hotel staff is attentive, and responsive. Smiles are ubiquitous. The Sanya Marriott has extensive gardens to get some grass underfoot – ideal for tots and youngsters – when you are not leaving footprints in the delightful beach. Hop onto a water scooter, paddle out in a kayak, windsurf, play volleyball, or cool down in one of the large freeform swimming pools. Kids can enjoy face painting, calligraphy, origami, or even kick-boxing. There is a kids' club for juniors – with treasure hunts, kite-flying, air hockey and PlayStation.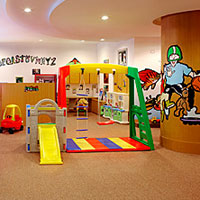 Sheraton Sanya Resort/ photo: hotel
The Ritz-Carlton Sanya (www.ritzcarlton.com) opened mid 2008 bringing a new and elegant stride to the Yalong Bay strip. Expect views of the sea, rolling hills or mangroves from a large balcony. The villas are the highlight. The smallest one-bedroom villas start at 130sq m (three-bedroom villas go up to 350sq m) with decent sized living rooms and cool bedrooms. Step out into the patio to find your own private plunge pool. The Ritz-Kids Club is packed with facilities for the younger set.
Children can look forward to a waterslide, a children's pool, a well-equipped play area and even a learn-while-you-travel vegetable garden. If that's too organic or hot, there's an air-conditioned theme club indoors too.
There are babysitters on call for Rmb75 per hour. Book a day in advance for them and for a reservation for the Kids Club. The club will arrange activities appropriate for the children (over three years). Families can also exhaust themselves exploring four swimming pools, two tennis courts, playing volleyball and beach soccer.
There's class here but also a child-friendly environment welcoming of families. And for grown-ups there's high end designer brand shopping.
The Mandarin Oriental Sanya (www.mandarinoriental.com/sanya/), set farther away from the Yalong Bay strip, in Dadonghai closer to Sanya town, is another high-end retreat and very understated in its expression. The 297-room low-rise Mandarin Oriental is stretched out in elegant grey stone over 12 slim hectares of quiet beachfront covering around 1.2km. That's a lot of useful exercise for the kids. Make 'em sweat.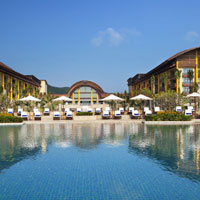 St Regis Sanya pool/ photo: hotel
Try boating, fishing, or calorie-burning water sports. Despite its luxury positioning, the Mandarin is a surprisingly child-friendly resort. Young married bankers with typhoon tykes in tow can breathe easy. The hotel has a MoMo Kids' Club with complimentary ice cream, a broad range of fun activities, water slides, and even a movie night for kids. Restaurants all feature children's menus.
Not far away, the InterContinental Sanya Resort (www.ichotelsgroup.com/intercontinental/) is a decent choice for families. It is an eco-friendly retreat with fun aplenty both in and out of the resort. Expect indoor and outdoor pools, live entertainment, water park and a dedicated Day Care & Children's Activities Centre providing two streams of entertainment for kids aged four to seven and eight to 12. Those willing to venture out will find an immaculate beach only minutes away. The variety of food is quite expansive, with nine restaurants and lounges providing everything from succulent Chinese seafood to light Mediterranean fare.
At the higher end for those willing to give their wallets a modest pummelling in Yalong Bay are the plush new St Regis Sanya (www.starwoodhotels.com/stregis/) with a children's club, an excellent beach, several outdoor pools, a large outdoor play area with all manner of equipment, tennis and cycling; and the spanking new and more modestly priced MGM Grand Sanya (www.mgmgrandsanya.com), which serves up a kids' pool with splash slides and a family pool, and water sports with water scooters and more arrayed on a generous stretch of beach. The MGM is a good family hotel choice with a lot of entertainment and music to keep all ages occupied. Or simply grab a bicycle and pedal off to explore the surrounds.
While upscale, as with most hotels around Yalong Bay, the focus is on families, and kids have plenty of activities to keep themselves entertained. One standout resort along this strip is an older entrant, the Horizon Resort & Spa (www.horizon.com.cn/en/index.php), which has vast gardens and 130,000sq m of stretch space that includes a super split-level seafront swimming pool construct with Jacuzzis and an intricate and exciting network of cave-style rock-lined splash slides.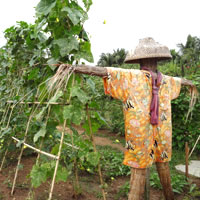 Mangrove Tree farm/ photo: Verghese
The kids will love this. Neighbour Mangrove Tree (www.mangrovetreeresort.com/index.php) offers kids an unusual addition - an organic vegetable patch called Jackstraw's Farm on the resort with resident rabbits and geese and the obligatory scarecrows fluttering in the breeze. Need a touch of nature? The Balinese-inspired Mangrove Tree could be your spot.
Huizhou and Hangzhou
Only two hours from Hong Kong in Huizhou is the InterContinental Huizhou Resort (www.ichotelsgroup.com/intercontinental/) that is proving a huge hit with families due to its fun, well thought out and quite frankly enormous kids' club.
Watch your offspring hop, skip and jump across over 400sq m of play area including a mini-garden, basketball court and climbing net. All ages are catered for from tiny tots to towering teens and nannies are available. With the kids entertained, you'll feel less guilty about all those hours spent on the 18-hole golf course or being pampered in the spa.
If you fancy a family outing why not explore the lakes and ancient pagodas of Huizhou's West Lake or discover the origins of signature kung fu moves on Luofu Mountain. InterContinental Huizhou Resort is set in a lush green valley with 360-degree panoramic views. It offers 200 guestrooms and 20 private villas, which include personal butler service, private plunge pools and individual pavilions.
Along the sprawling waterfront of Hangzhou (an hour by train from Shanghai) and set amidst meticulously crafted gardens, lagoons and earthy pagodas, The Four Seasons Hotel Hangzhou at West Lake (www.fourseasons.com/hangzhou/) is a feast for the eyes.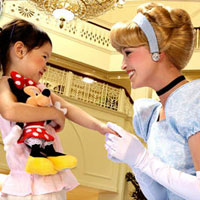 HK Disneyland Hotel/ photo: hotel
While you and your partner dine on local delicacies or indulge in a traditional Emperor's Bath Ritual, your children will be eagerly entertained by the Kids for All Seasons programme, providing activities for five to 12-year-olds from 9am to 5pm, or at the Young Adult Centre, which offers more mature pastimes for teens aged 13 to 17. Babysitters conversant in English and Chinese are also on hand, though prices are steep at RMB150 per hour.
The Hyatt Regency Hangzhou (hangzhou.regency.hyatt.com) also looks over West Lake. This is a well featured meetings hotels for business travellers but serves up family-friendly fare as well.
Fairytale getaways in Hong Kong
East meets West Hong Kong cooks up an exciting adventure-packed experience for visiting families. And what better way to start than a visit Hong Kong's very own Disneyland (park.hongkongdisneyland.com)? With two vibrant and fun hotels, Hong Kong Disneyland is the epitome of family vacations. Both the classic Disneyland Hotel and the Disney Hollywood Hotel, with their own blend of tinsel town-cum-Disney feel, offer spacious and brightly decorated rooms, with themed amenities to match. As for child-friendly entertainment… are you kidding? On your very doorstep are five themed Disney worlds, where children can meet their favourite Disney characters, or challenge their fear of heights and darkness at the very same time on the infamous Space Mountain. Food options are aplenty – dine in the Enchanted Garden Restaurant, where Disney characters make their introductions at your table. All this only 23 minutes away from Hong Kong's International Airport.
If Mickey isn't your thing, try the Hong Kong Gold Coast Hotel (www.sino-hotels.com), a five-star resort that pulls out all the stops for families. Dolphin watching, banana boating and beach activities, as well as the Amazing Kidz Fun Land and Playground offer plenty of indoor and outdoor pastimes for your children. Unfortunately, no babysitting services are available. After a tiring day, families can retire to the Café Lagoon where child friendly buffets are served all day. And on weekends there's that massive buffet with free champagne (parents listen up).
Tokyo? What, are you nuts?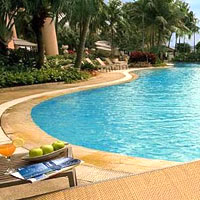 Resorty HK Gold Coast Hotel/ photo: hotel
Tokyo isn't generally viewed as a baby-friendly holiday destination despite the polite coos, but at the Four Seasons Hotel Tokyo (www.fourseasons.com/tokyo) kids are VIPs; expect milk and cookies upon check-in, a welcome gift, and children's menus in all restaurants. Complimentary baby shampoo, powder, lotion, teething rings, diapers, bibs and even teddy bears, thermometers, nail clippers, baby bathtubs, strollers, bottles and bottle warmers are available on request. Parents are offered suggestions for child-friendly outings from the concierge, and English-speaking babysitters are available. Children under 18 can share their parent's room free of charge.
Hotel New Otani (www.newotani.co.jp/en/tokyo/) is another convenient choice if you are asearching for Tokyo child-friendly hotels. Take in the bright lights sans kids, while your children stay in Pigeon Kids Parks with a friendly English-speaking babysitter. Just remember costs for babysitting can be exceedingly high, starting at Y6,300 for the first two hours and Y1,470 for every half hour thereafter. If you don't want to break the bank, simply stay in and play some Marco Polo with your tots at Otani's huge outdoor swimming pool. And with a large selection of restaurants and cuisines on offer, there are no shortages of family dining options. The Gun-Ship is a particularly good choice for kids, which, as you might have guessed, is a boat-themed restaurant that serves young swashbucklers hearty meals from 11.30am till 9pm. The historic Imperial Hotel (www.imperialhotel.co.jp/e/tokyo) also caters, if more modestly, for families, with its spacious rooms and endless selection of restaurants.
Tokyo is also home to the Tokyo Disney Resort in Maihama, a doubly good choice for kids of all ages with both the Disneyland and Disneysea themed parks to choose from. The onsite Tokyo Disneyland Hotel (www.disneyhotels.jp/tdh/) features themed accommodations like the Peter Pan room and Cinderella room that is sure to tickle your tyke's fancy. After frolicking around in rollercoasters and loop-the-loops, relax in one of four different gardens and squares that are all decorated with familiar Disney characters like the Sorcerer's Apprentice and Alice in Wonderland.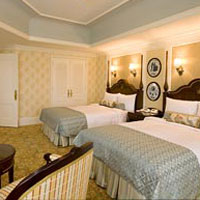 Tokyo Disneyland Hotel/ photo: hotel
Hotel guests can also expect added bonuses like early park entrance, complimentary passes to the monorail and shuttle services that service the two theme parks and exclusive multi-day passports that allow guests access to both Disneyland and Disneysea throughout their stay. Similar benefits are offered at the Disney Ambassador Hotel (www.disneyhotels.jp/dah/), and Tokyo DisneySea Hotel MiraCosta (www.disneyhotels.jp/dhm/), both of which are also located in the resort.
Head up north to snowy Hokkaido for fun that the whole family can sink their teeth into. The Rutsu Resort (en.rusutsu.co.jp) provides an array of options including cosy cottages that are ideal for up to six persons. And now onto the high octane activities. Horseback riding and dog sledding are especially suitable for young kids and great ways to experience the surrounding beauty of Hokkaido's high frontiers. In winter, skiing and snowboarding are on your very doorstep. It's worth noting that some of the more advanced courses are only conducted in Japanese, unless requested by four or more participants, so make sure to look into your options carefully. To ward of looming frostbite, families can retreat to several indoor activities within the Rutsu Resort, including aroma therapy treatment, handcraft lessons and Hokkaido ice-cream making. And if your children still have a craving for adrenaline pumping action, then send them running to the indoor heated swimming pool, equipped with an immence100m aqua coaster.
Kid-friendly holidays in the Philippines
The Shangri-La's Mactan Island Resort & Spa (www.shangri-la.com) in Cebu, the Philippines, describes its three-level Adventure Zone indoor playground for children aged four and above as "designed to challenge agility, balance and nerves in an environment that couples the excitement of an adventure playground with the safety of a nursery" (from Php300 per child for two hours).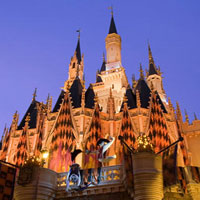 Tokyo Disneyland/ photo: Disneyland
There's also an E-Zone, with video arcades and table soccer, as well as a Toddler's Zone (with fewer drop slides and more cushions) for children of three and younger. Kiddies can soak up the fun at the children's pool (open from 6am to 9pm), located in the main pool area. The resort offers spacious Deluxe Family Rooms, with two queen-size beds. Babysitters speak fluent English and the cost is Php300 per hour. Guests can enquire about family activities like fish feeding and underwater safaris.
Plantation Bay Resort and Spa (www.plantationbay.com) has a Children's Center with all the usual games, plus a nurse available 24 hours a day, seven days a week. The fun cranks up a notch for teenagers and big kids with archery, mini golf, climbing, karaoke, and a firing range – when you get sick of the four pools and the giant lagoon pedal-boats.
Maribago Bluewater Beach Resort (maribagobluewater.com.ph) is another family-friendly Cebu resort, with more shoot-em-up games for those who like to play cowboy, or anyone who likes to make noise. At the Dolpo Kids Club, children are greeted with a "Beach Bag of Goodies", including a soft toy, colouring book, and a sports bottle that can be refilled with complimentary beverages during meal times. Among the daily activities are fish and shark feeding, hula-hooping, sea shell hunts, and native dance lessons. The VIP treatment doesn't end here. Cookies, milk, and bedtime stories are provided to end the day on a relaxing note.
The secluded Miniloc Island Resort (www.elnidoresorts.com/elnido/), located in Palawan's Northern enclave of El Nido, offers a blissful retreat for families adventurous enough to seek out Eden. Requiring a 75 minute flight from Manila to El Nido, and a 45 minute boat excursion to Miniloc Island Resort, visitors are rewarded with a view of limestone cliffs and translucent waters. With spectacular scenery and marine life on offer, Miniloc Island Resort is a family resort in the lap of Mother Nature. The activities menu includes extensive diving opportunities, snorkelling, kayaking, and guided eco tours to Cathedral Cave, Snake Island and more. For the little ones, Miniloc provides babysitters and a fully set up Kid's Activity Centre where kids can even learn how to make coconut hats.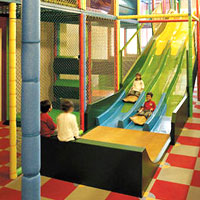 Shangri-La Mactan, Cebu/ photo: hotel
Nearby is El Nido's sister retreat, the Lagen Island Resort (www.elnidoresorts.com/elnido/). This peaceful retreat offers a more laidback experience for families looking to soak up the sun and peruse local wildlife in the surrounding forests. Like Miniloc Island, Lagen offers a variety of water sports for teens, plus a Kid's Activity Centre for younger kids.
In Manila, Casino Resorts World Manila (www.rwmanila.com) has three hotels: Maxims Hotel, Marriott Hotel and the Remington, just opposite Manila's international airport. No matter where you stay, Resorts World's towering GameZoo will offer ample distraction for the young 'uns, with its whopping 54 gaming stations, mini bowling alley, 4D rollercoaster and much more. And for the oldies, Resorts World offers more than 300 tables of Baccarat, Blackjack, Sic Bo and several other guaranteed money grabbers.
Conveniently located in the midst of bustling Manila, near shopping hubs like the Mall of Asia, and family attractions like Manila Zoo and Ocean Park, the five-star Sofitel Philippine Plaza (www.sofitel.com), blends a good location with comfortable luxury. With over 690 rooms and suites overlooking the incandescent Manila Bay, this resort offers activities for the whole family, including a lagoon swimming pool, mini golf and a playground and indoor kids club to keep the young ones busy.
Shangri-La's Boracay Resort & Spa (www.shangri-la.com/boracay/) on the wondrous island of Boracay with its fabled White Sand Beach offers a well equipped Adventure Zone for kids as well as an Entertainment Center with video games, billiards, tabble tennis and karaoke. This of course if you're done with the great outdoors and azure seas.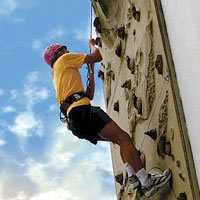 Shangri-La at Sentosa/ photo: hotel
Simple traditional styles defineBest Western Boracay Tropics Resort Hotel (boracaytropics.com), a family friendly resort with 50 guestrooms and cabanas, many with private balconies. Equipped with a staff-monitored playroom, outdoor pool and beaches right at its doorstep, this resort packs a punch, as do the cocktails at its Tropicafe, where kids can choose appetizing meals from a cosmopolitan menu. On the quieter side is the Boracay Hills (www.boracayhills.com), a family friendly Boracay getway.
Family stays in Singapore
Nearby is the 454-room Shangri-La's Rasa Sentosa Resort (www.shangri-la.com), set on Siloso Beach, a very relaxed family choice with a fun ambience and a Rasa Spa. A refurbishment has resulted in five less rooms but oodles more fun, especially for the kids. As well as new water slides at the children's pool, there's also a poolside ice-cream bar that is fabulously equipped with a popcorn machine and a soda fountain that wouldn't look out of place in a Willy Wonka's chocolate factory. There's also a flying trapeze on the beach for adventure-seekers over four (S$10 per swing). Splash into the large freeform pool or part the bubbles at two outdoor Jacuzzis. If the beach seems just too far away (it's a five-second stroll) then plonk your lazy bottom on one of the sun loungers placed on sand by the pool.
Mothers listen up. This is a very child-friendly Singapore hotel with its very own kids' club called The Cool Zone (open 9.30am until 9pm). Spread over two floors, it includes a craft zone, games zone and a large activity area called the Toots Club. The Cool Zone is free for hotel guests aged between five and 12 years and if they stay all day, they get a free lunch. Toddlers have their own playroom (parents must accompany them). Single guestrooms can comfortably house two adults and two children, but connecting rooms are available too. For parents' nights out, there are English-speaking babysitters available at a charge.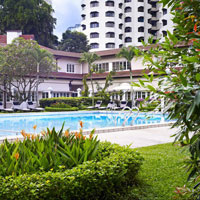 Goodwood Park pool/ photo: hotel
A shake-em-up arrival to this formerly sleepy island in January 2010, was Resorts World (www.rwsentosa.com), which hosts five hotels and a Spa Villa. Set amidst the casinos and musical baubles of Sentosa Island is the Hard Rock Hotel Singapore (www.hardrockhotelsingapore.com) that provides its signature blend of music and mod, easily the most cheerful and friendly of the lot. It is set in a horseshoe shape ringing an imitation-beach sanded pool area and a "coliseum".
Hard Rock is clearly aiming to set the benchmark when it comes to Singapore family-friendly hotels. The biggest attraction is right next door – the bustling Universal theme park. Don't forget Festive Hotel, which offers a more relaxed holiday escape. It offers novelty packs for kids and tailored bathrobes. Last but not least is Equarius Hotel, aimed at families and nature boffins.
The concierge at the Four Seasons Hotel Singapore (www.fourseasons.com/singapore) has games, books and DVDs to lend to kids, and hotel restaurants provide a children's menu, colouring books, crayons and magic boards for drawing. Children under 18 can share their parent's room at no extra charge. The housekeeping department will provide complimentary baby items – anything from bottles, bottle warmers and nappies to blankets and crib liners.
The Goodwood Park Hotel (www.goodwoodparkhotel.com) is colonial, grand, yet understated, an unabashedly luxurious hotel in an oasis of green just off the shopping drag of Orchard Road. Yet it manages to pull off a double act as a child-friendly Singapore hotel with aplomb, serving up a refreshing courtyard pool, poolside rooms, and attentive service. Not far from here, the larger 750-room Shangri-La Hotel Singapore (www.shangri-la.com) is set in 15 acres of garden, with tennis courts, and a children's pool.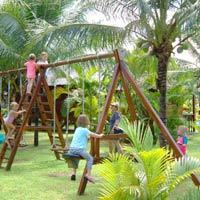 Coco Beach Resort playground/ photo: hotel
With some of the hottest Broadway musicals on show and a multi-level playtopia for kids (informally known as Jumperzilla), the Marina Bay Sands Singapore (www.marinabaysands.com) is all about razzle-dazzle. Whether you're educating your kids on the laws of physics at the onsite Art Science Museum, or introducing them to the pitch-defying voice of Freddy Mercury at the musical "One Night of Queen", there's enough in this multiplex extravaganza to keep everyone entertained.
Vietnam family resorts
Vietnam's inviting beaches and friendly locals are increasingly luring foreign families to its shores. The Coco Beach Resort (www.cocobeach.net ) quite rightly describes its wide beach with soft sand as its "biggest playground for kids", but there's also a constructed version with swings, seesaw, slide and climbing ladder, and a wading pool for tiny tots. A kids playground, table tennis, and football are also nearby. The resort is in Mui Ne (near Phan Thiet) a couple of hours drive from Saigon (Ho Chi Minh City).
All of Coco Beach's rooms are bungalows or two-bedroom villas on stilts. Protection nets are available to keep the balconies safe. Nice touch. In the villas, each bedroom has its own bathroom, and there's a living room and big terrace with sofa and armchairs to wallow in. Staff will gladly wash and sterilise baby bottles and heat up baby food. Family meals are easy at the Paradise Beach Club restaurant, where kids can play on the beach once they've eaten (there's a kiddies' menu) while parents linger, watching them from the table. Babysitters speak only Vietnamese (around US$2 per hour). The refurbished rooms are unpretentious and charmingly rustic. If that's to your taste, you'll love this unfussy beach set-up.
Offering a variety of options, Anantara Mui Ne (mui-ne.anantara.com), is an unforgettable family getaway situated on the virgin beaches of South Vietnam.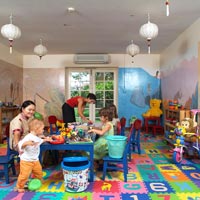 Victoria Hotel Hoi An
Still in Vietnam, the Victoria Hoi An Beach Resort & Spa (www.victoriahotels-asia.com) and Victoria Phan Thiet Beach Resort & Spa (www.victoriahotels-asia.com) both offer baby cots and extra beds for children, as well as connecting rooms (even at the bungalows). Here's your child's chance to feed an elephant. It's one of the scheduled children's activities, along with sand castle building, kite-making and for older kids, parachuting and a banana boat. Apart from the usual toys, drawing and other activities, the Victoria Hoi An's child care centre also has a library – and a quiet room for sleeping if all that playing gets too much. Victoria Phan Thiet's Kids Club is free and the club coordinator speaks English and some French. Babysitting is available.
Palm Garden Resort Hoi An (www.palmgardenresort.com.vn), is a modern getaway which offers spectacular beaches, UNESCO world treasures, and family friendly fun, with its private, lifeguard surveyed beach, hosting water sports, beach volleyball, soccer competitions, and much more. There are several, appetizing suite's for big families seeking their own private paradise with three secluded junior suites and one palm garden suite all on offer. For those fooling enough to leave the confines of this resort, and all of its opulent spa services, five star dining, entertainment (you get the point), the hotel plans several tour packages to nearby UNESCO heritage sites, Hoi An Ancient city and My Son, and several other stellar historical sites.
At Sunrise Beach Hotel Nha Trang (www.sunrisenhatrang.com.vn), Vietnam, spacious guestrooms can accommodate free extra beds for a child. The special kids' pool is only 50cm deep, and for safety there's a barrier set up between the adult and children's pools. The hotel's Sunrise Kids Club is a modest playroom with toys for children up to 12.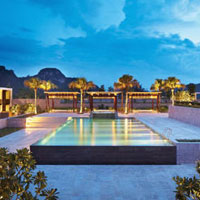 Hyatt Regency Danang pool/ photo: hotel
There's a babysitting service (from US$5 per hour) from a pool of minders (speaking basic English) employed by the hotel's housekeeping department. Next door in Nha Trang is the spanking new condo-style highrise of the Sheraton Nha Trang Hotel & Spa (www.starwoodhotels.com/sheraton/). There's everything to keep typhoon tikes in smiling tow. Expect a "Mini Exercise" programme that includes yoga, tai chi, and baby foot massage, as well as movies and games at the Sheraton Adventure Club. Hop across the main road to an endless beach lapped by blue waters. Another plus. Rooms at the Sheraton tend to offer Cinemascope views across the bay.
The Hyatt Regency Danang (danang.regency.hyatt.com) is set on the central coast of Vietnam often referred to as China Beach. This Danang resort serves up family friendly holidays, with its impressive Kids@Hyatt Regency Danang – offering rock climbing lessons, water sports and a Kids Spa – in addition to on-call babysitting services.
The Furama Resort Danang (www.furamavietnam.com) provides a whole host of family activities with four UNESCO World Heritage Sites nearby. With its Junior Kids Club and Senior Kids Club, this well featured and friendly retreat includes the usual array of water sports and outdoor activities for children, in addition to free babysitting from 9.30am to 6.30pm.
Maldives beach romps with minors
If it's the azure waters of the Maldives you're longing to plunge into, rest assured that five-star style doesn't necessarily exclude your offspring. MAJAA at the Conrad Maldives Rangali Island (www.conradmaldives.com) will keep the kids happy from 8.30am until 6pm, and again from 7pm to 10pm. The entertainment ranges from a pirate island adventure to dancing at a glow-in-the-dark party. To meet the needs of those children who need to relax after a busy day at play there is the Kids' Spa.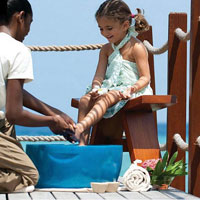 Four Seasons Maldives kid spa/ photo: hotel
Sibling The Waldorf Astoria Maldives (www.waldorfastoriamaldives.com) provides its own unique blend of child friendly entertainment, allowing young guests to reach for the stars, courtesy of the resort;s Bungee Trampoline which can be availed of from 4pm to 6pm. The Waldorf Astoria Kids' Club will also keep your children happily occupied, with a games room, kids' pool and much more on hand. Also look out for the Hilton Maldives Iru Fushi Resort & Spa (www.hilton.com), which offers a kids' club with treasure hunts, a juniors' menu, babysitters and more at its Koamas venue.
Sheraton Maldives Full Moon Resort & Spa (www.sheraton.com/maldivesfullmoon) combines fun and relaxation with its new Sheraton Adventure Club for kids, offering exciting activities introducing local Maldivian traditions. Children aged four to 12 years can revel in the fun-filled days of arts & crafts, nature lessons, and several beach games.
One&Only Reethi Rah (www.oneandonlyresorts.com) is another idyllic spot that caters to families. Its complimentary KidsOnly programme has a dedicated clubhouse (including a pool and dining area) for kids from four to 11 years, and is open from 9am until 9pm. Activities may include dance or cooking lessons, evening shows, and a variety of sports. Children under four are welcome, but need to be accompanied by a parent or guardian. Babysitters are available for a fee and advance booking is required. The resort also offers nature-based, sport and adventure activities for teens from 12 to 17 years. For babies, there are complimentary cots available on request.
At the swish Anantara Dhigu Maldives (dhigu-maldives.anantara.com) find a loaded KIDZ Club welcoming those aged three to eleven for activities and fun on powder white sand. Babysitters need to be booked 24 hours in advance and the babysitting rates are US$15 an hour until 10pm and US$20 an hour till midnight.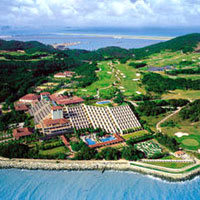 Green acres at Westin Macau/ photo: hotel
Part of the Banyan Tree group and not far from the main airport, the Angsana Ihuru (www.angsana.com) offers chic lime-green bedrooms and design flourishes. This is a small, family friendly Maldives resort, easily accessible, and with wade-in child-friendly snorkelling. This tiny island takes less than five minutes for a stroll right around it and boasts a sugar-white beach with one of the best house reefs in the Maldives. Snorkelling is right on your doorstep and with excellent visibility to gawp at groupers, parrot fish, surgeon fish and an occasional moray eel.
The Four Seasons Resort Maldives at Kuda Huraa (www.fourseasons.com/maldiveskh/) provides especially good attention for its guests aged four to 12. It's Kudo Mas ("small fish") Club offers a slew of fun adventures ranging from island exploration and gardening to lessons in postures and breathing exercises for little yogis. Family bonding much on the cards with complimentary fish feeding activities, snorkelling, catamaran sailing and coral reef building.
At Jumeirah Vittaveli (www.jumeirah.com) and Centara Grand Island Resort & Spa Maldives (www.centarahotelsresorts.com/cirm/), parents can drop their children off at the resident kids clubs (all equipped with the usual fun and games) or with English speaking babysitters. In Jumeriah Vittaveli, babysitting costs US$15 per hour while its Kids Club offers supervised activities from 8am to 9pm. Meanwhile, the Centara Grand provides supervised play at its own club from 8.30am till 6pm, and complimentary babysitting from 9am to 6pm for kids aged nine to 14. For younger children, babysitting costs US$15 per hour (plus GST and service charge)
The Shangri- La's Villingili Resort and Spa Maldives (www.shangri-la.com) offers a creative twist with several dynamic adventure-based games, including a treasure hunt around the island, an informative jungle discovery trek, and even an underwater adventure.
Macau madness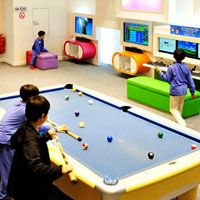 Pool table at Venetian Macao/ photo: hotel
Macau, a hop and a skip from Hong Kong, is undergoing a wild renaissance as a cultural destination and family getaway. It's not all casinos. Infant in tow? The Grand Lapa (formerly Mandarin Oriental, www.mandarinoriental.com/grandlapa) serves up a "Baby Pit Stop" – a tailor-made cabinet with free basic baby care items such as nappies, wipes, a baby bath, baby lotion, shampoo and powder and soft toys. Milk bottles, electric bottle warmers and sterilizers and bottle brushes, baby carriers and push chairs are also available on loan. For little ones aged three to six, the "Pit Stop" contains storybooks, crayons and drawing books, mini pillows and slippers and even special children's toilet seats.
Flying trapezes seem to be all the rage – you'll find one here too, as well as rock-climbing, an adventure playground with an inflatable pirate ship and even a computer games corner with high-speed Internet access "for education and safe web surfing". The Kids Co centre for children aged three to twelve is open 9am to 8.30pm daily. Connecting rooms are available, and baby-sitters speak Cantonese, Mandarin or English (HK$80 per hour, 8am to 12am; HK$150 per hour, plus HK$25 taxi fee, after midnight).
Kids receive smiles and balloons around every corner at the Westin Resort, Macau (www.starwoodhotels.com/westin/), on slightly more secluded Coloane Island. The Westin Kids Club offers half and full-day programmes for children aged three to 12, kids are welcomed with a gift bag and toy, and drink refills come free at the Café (a full day from 10am to 6pm costs around HK$390, individual activities cost HK$60). Activities include a bouncy castle, face painting, treasure hunts and beach games. There are high chairs and cots on request, and the swimming pool, with adjacent tots' wading pool, is the main attraction in summer. Interconnecting rooms and rollaway beds are available; so are babysitters and childminders. Close by, affordable and very laid back is the old-world Pousada de Coloane Beach Hotel (www.hotelpcoloane.com.mo). Things are homey, slow, and sleepy at this family-run establishment.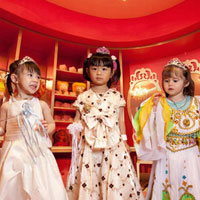 Kids' City Macau, Grand Hyatt/ photo: hotel
At The Venetian Macao-Resort-Hotel (www.venetianmacao.com) in the burgeoning Cotai casino strip, kids can keep themselves entertained at the pool or on the 18-hole mini golf course. There are some scheduled activities for children aged three and over that include "circus fun" (learning how to juggle), hitting the pinata, water polo and treasure hunts (here is a fee for each activity).
For kids and adults alike, talented "Streetmosphere" performers get up to all kinds of tricks throughout the day. To top it all off, the 9,000sq ft children's playground (called the "Qube") offers ample space for children between the ages of four and 17 to thoroughly enjoy themselves.
Features include a climbing apparatus with a slide, rainbow slides, and net zig-zag climbers for the energetic. The older children can enjoy surfing the Web, playing video games, or shooting some pool. The Qube also has two themed party rooms for kids celebrating their birthdays or other special occasions. A babysitting service is available for MOP80 per hour (MOP160 between 11pm and 8am) – possibly essential for those parents who want to dabble in the casino culture just for a minute or two.
Also on Cotai, in the brand new City of Dreams development, is the swinging Hard Rock Hotel Macau (www.hardrockhotelmacau.com). At the conjoined Grand Hyatt Macau (macau.grand.hyatt.com) you'll find Kids' City, sprawled over a generous 10,000sq ft, enough space to swing an elephant by the tail and certainly quintuplets or more. The facility is customised for kids between two and 12 years with four separate play zones – Create, Dream, Excite, Explore. This is a shared children's engagement area for these two hotels.
Dubai desert fun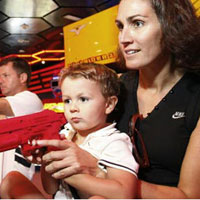 Atlantis Dubai/ photo: hotel
Dubai is another destination that can be fun for the whole family. As well as its obvious attractions (try a desert safari), Dubai's mammoth resorts with generous facilities are sure to keep the clan happy. At swanky One&Only Royal Mirage (royalmirage.oneandonlyresorts.com), you can send the brats off to KidsOnly, where they can ride camels or learn to belly dance. KidsOnly is free for children aged from four to 11, and is open 10am to 12.30pm, 2.30pm to 5pm and 6pm to 10pm. There's also entertainment for teens – they can choose from waterskiing, sailing, tennis or basketball, or they may pop down the road for snowboarding at Ski Dubai (www.skidxb.com) and go-kart racing at Dubai Autodrome (www.dubaiautodrome.com).
The Atlantis, Dubai (www.atlantisthepalm.com) offers its younger guests from ages four to 12 a myriad of recreational experiences in its Kids Club. The Kids Club is tailored towards both indoor and outdoor activities, and different energy levels. For the hyperactive, the Play Zone offers two climbing walls and a shipwreck play area with fun slides. The Command Centre is equipped with a PlayStation 3, Xbox 360, Nintendo Wii, and 15 iMacs for Internet surfing and playing a "wide range of entertaining and age-appropriate games". Kids can enjoy the view of the Ambassador Lagoon through the large windows in the Underwater Theatre. The Creation Zone holds activities like painting, origami, and pottery. The Qix Club at the Address Dubai Marina (www.theaddress.com/en/hotel/dubai-marina) also has fun activities and programmes for families that are worth exploring.
The Ritz-Carlton, Dubai (www.ritzcarlton.com) offers its junior guests special welcome gifts when they arrive, along with a souvenir when they depart. They also provide a POLO (Protect Our Little Ones) safety kit for every room with a child, which includes nightlights, baby amenities, plasters, safety plugs for sockets and a list of emergency telephone numbers. At Ritz Kids club, children may get cooking classes, take ballet lessons, attempt the obstacle course, or, simply, collect shells on the beach. Ritz Kids is for children aged from four to eight.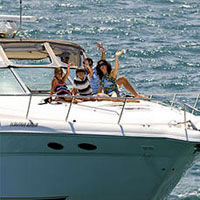 Yas Island boat/ photo: hotel
For kids with higher aspirations, look no further than Burj Al Arab (www.burj-al-arab.com). Don't let the opulence discourage you from taking the toddlers. Sinbad's Kid's Club, on the eighteenth floor of the hotel, caters for children aged from one to 12 years, and offers board games, soft toys, computers, and the Disney channel on a plasma screen TV. A short walk or a complimentary buggy ride away is the Wild Wadi Waterpark, where the kids can be turned loose to enjoy a fun-filled day under the sun. Children also get free access to Sinbad's Kid's Club at Jumeirah Beach Hotel (www.jumeirahbeachhotel.com) next door, which offers a range of outdoor activities.
Also in the UAE are the Hilton's Ras Al Khaimah (www.hilton.com) and the Hilton Abu Dhabi Hotel (www.hilton.com), both hosting several children's activities and offering babysitting services. A playground, children's menu, and family packages are available at the Ras Al Khaimah.
Yas Island is Abu Dhabi's answer to... well, everything. Start your day with the family at Yas Kartzone, where the whole family, providing your kids are aged eight and up, can engage in some healthy competitive family racing for around Dhs120 per person. After that, visit Ferrari World Abu Dhabi – the car equivalent of Disney world – where adrenaline-laced rides, stores and dining options await. The calming Yas Gateway Park is just around the corner. Here, the family can take in the Middle Eastern sun, or lie in the shade under one of the many towering trees. And to end the day, take refuge in one of the many five-star hotels that pepper the island. Yas Viceroy Abu Dhabi (www.viceroyhotelsandresorts.com/abudhabi/) and Crowne Plaza Abu Dhabi – Yas Island (www.ichotelsgroup.com/crowneplaza/) are some of the options available.
India for intrepid parents only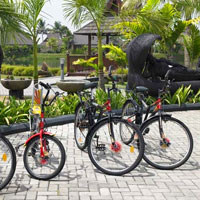 Child friendly Zuri Kumarakom/ photo: hotel
India is possibly not the first destination that comes to mind when you're pondering where to take the kids, but if you're willing to splash a large amount of cash, the family can get a taste of culture while staying in the lap of luxury. Tiny tots staying at Oberoi Rajvilas (www.oberoihotels.com/oberoi_rajvilas/) in Jaipur may not quite be at the age to appreciate its stylish elegance, but there are child-friendly activities available. Camel cart rides and treasure hunts are held in the expansive hotel grounds. A Rajasthani puppet performance provides a bit of theatre as well as a history lesson in a child-friendly format. And older children can go on a horse safari through the countryside.
At The Zuri Kumarakom Kerala Resort & Spa (www.thezurihotels.com/kumarakom), water babies are happy campers – there are plenty of water sports available from water-skiing, to banana-boat riding or just paddling in the pool. There is also a Children's Corner with toys, books and games. Babysitters are available if parents need to rid themselves of the kids for a few moments of quiet. Of course, the sightseeing here is well suited to family fun with stunning backwater and sunset cruises, a bird sanctuary, and local villages to explore by bicycle.
For more beach family holiday options in the south, refer to our Goa Resorts Review and guide. Check out The Leela Kempinski Goa (www.theleela.com) and the Taj Exotica (www.tajhotels.com).
Or why not try the Park Hyatt Goa Resort and Spa (goa.park.hyatt.com)? With its popular Sereno Spa, nearby beachscapes and the much adored Camp Hyatt (a well oiled programme perfect for rugrats), a visit to the Park Hyatt Goa could be the difference between frazzle and fun. The focus here is on the youngsters, who can look forward to the many activities organized by Camp Hyatt, including pottery and arts and crafts classes, singing, dancing and beach sports for the five-to-twelve age band, and even a "VIB" (Very Important Babies) corner where mothers can nurse tots in a tranquil spot.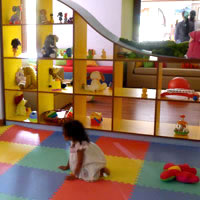 Park Hyatt Goa/ photo: Tenzing Y Thondup
And to top it off, Camp Hyatt guests can feast on snacks throughout the day courtesy of the Hyatt children's menu. English-speaking babysitters can be arranged for Rs300 per hour with an additional Rs300 needed for babysitting 11.30pm onwards. All babysitting must be arranged 24 hours in advance.
The Grand Hyatt Goa (goa.grand.hyatt.com/hyatt/hotels/) is another solid Goa family resorts choice. Situated in North Goa along Bambolim Bay, guests have easy access to the state's most prized asset: the sea. While the resort does lie on the waterfront, the beach is rather small. Still, the unobstructed view of the river mouth more than makes up for it. India's west coast is ideal for family diving, snorkelling, windsurfing and other water sports. Friendly multilingual staff can help arrange activities, or day trips to nearby escapes like Arvalem Waterfalls. Elsewhere, the well-run Camp Hyatt is open everyday from 9am to 6pm with offerings like arts and crafts, story time, kite flying, scavenger hunts, pottery and more. Housed in a dedicated Activities Centre, Camp Hyatt costs Rs500 upon registration, and Rs200 for each subsequent day for kids aged three to 12. For an additional fee, a whole slew of fun activities can be arranged, from balloon sculpting and henna tattooing to archery, dance classes and more. But make sure to leave some time to explore the resort. The multi-tiered swimming pool is a treat, and there's even an untouched original 17th century Catholic chapel on the grounds.
For a slightly different Goa experience, try the Alila Diwa Goa (www.alilahotels.com/diwagoa). This relatively new resort overlooks paddy fields rather than the beach, and has an intimate vibe. Stay in a Family Terrace room or splash out on a spacious Family Suite. Dip your toes into the picturesque infinity pool and snooze on submerged daybeds, or grab some rays by the poolside instead. Kids can do the same by the dedicated kids' pool, with similar but adorably tiny daybeds. If you still want the beach experience, the Majorda Beach is a 20-minute walk away. The Alila has complimentary beach shuttles from 7am to 7pm, and you can even grab a few bikes at no additional cost.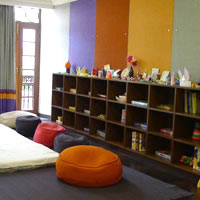 Grand Hyatt Goa/ photo: Tenzing Y Thondup
Back at the resort, children aged 12 and under can utilise the Kid's Club, with a range of supervised activities to choose from. The newer Diwa Wing section also has a treehouse and playground. Teens should check out the dedicated Teen Zone, which is open till 10pm and offers computers, pool table, Wii station and more. There's also a plush private amphitheatre with daily kid movie screenings at 3pm and more adult fare at 7pm. Babysitting services can be easily arranged for tots under three.
Sri Lanka - something different
Known for its hospitality, majestic tropical landscapes and colourful history, Sri Lanka is a diamond in the rough. Conveniently placed near some of Sri Lanka's most treasured historical sites – known as the Cultural Triangle – Amaya Lake Dambullah (www.amayaresorts.com/srilanka/) offers spa treatments amidst a backdrop of unspoilt nature. Families can venture into the forests of Minneriya or Kawudulla, learn the art of bird watching with the help of resident expert Professor Sarath Kotagama, or simply indulge in some volleyball near the adjoining children's playground. Any visit to Amaya Lake is incomplete without a trip to the nearby Sigiriya fortress and nymph paintings.
Less than an hour's drive from Colombo in the coastal city of Negombo is Jetwing Blue (www.jetwinghotels.com/jetwingblue), boasting 111 rooms and suites – decorated in shades of its namesake colour – and conveniently located right on the beach. If the sand is not for you, take your tots to the kids' pool for a splash. Parents can also drop off their kids at the professional child care centre onsite while indulging in a spa treatment or two, or bond with the family over a DVD from the hotel's collection. Babysitting is also available for a fee, and baby cots are available on request.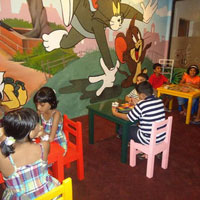 Heritance Ahungalla/ photo: hotel
Farther down the coast you'll find the Heritance Ahungalla (www.heritancehotels.com/ahungalla), another great Sri Lanka child-friendly resort. The staff is happy to accommodate small children with special children's menus and high chairs at restaurants, as well as provide babysitting services. At the Kids Club, those aged three to 12 can partake in activities like face painting, kite making, and magic shows, or get their groove on at the dance competitions. The resort also offers a comprehensive list of sports like horse riding, water polo, tennis, golf, beach volleyball, and more. Now all that's left is planning your own itinerary.
Cambodia – What's up at Angkor Wat?
A hop, a skip and a jump away from Angkor Wat, Sofitel Angkor Phokeethra (www.sofitel.com) is a five-star resort that combines luxury with heritage. Amidst its hybrid Khmer and French-inspired architecture, Sofitel Ankor Phokeethra includes a variety of facilities for all ages, such as an epic 18-hole golf course, a spa, five restaurants (including the W's Pub, which all offer child friendly fare) and Cambodia's "largest" free form pool. Babysitting options are available at a modest sum of US$3.50 per hour for those looking to shed parental duties for a while and soak in the surroundings.
Brunei – the Empire strikes back
The Empire Hotel & Country Club (www.theempirehotel.com) in Brunei is one of the world's largest resorts, with huge guestrooms to match. You may not be able to bag the Emperor Suite where former US President Bill Clinton has stayed, but all ages will enjoy the 180 hectares of gardens and beachfront location. Facilities, somewhat frayed around the edges, for kids aged three to 10 include a playground with a shallow pool, water slide and activity room. The activities are endless with tie-dye classes, hat making, shell decorating, kayaking, indoor bowling, badminton, beach football, board games, cooking and origami. And for mum and dad, there is an equally extensive menu, whether it be teeing off at the Empire's Jack Nicklaus golf course, or indulging in a sumptuous Chocolate Scrub at the resident spa.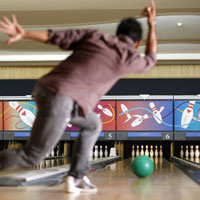 Bowling at The Empire Hotel/ photo: hotel
The E-Kids Club has its own "rainforest mascots" to encourage environmental awareness among children. While Timmy the Turtle might not be everyone's cup of tea, the kids will certainly be enthralled by this environmentally aware mascot. (Rainforest excursions are organised by the hotel.) Kids can rest assured they won't miss out on the latest movies while on vacation – they can head straight to the Empire Cinema in the middle of the resort, which has three screens showing different films every week. Bear in mind that Brunei is a "dry" Muslim country – but visitors are allowed to bring in a limited quantity of alcoholic drinks.
Of course, once the kids' club has lost its appeal and the welcome gifts and toys are discarded, it's quality time together that matters most. A family that plays together stays together. Go for it!
Send us your Feedback / Letter to the Editor