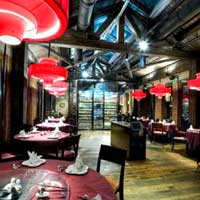 Duck de Chine/ photo: outlet
LEGEND has it that the first Peking duck was roasted in 1416 at Beijing's Bianyifang Kaoyadian ("Convenient to Everyone Roast Duck Restaurant"). The bird went on to put Beijing on the global gourmet map, but that's just the beginning of the culinary delights awaiting visitors to the city. Along with the hearty local specialties, the capital attracts a host of regional Chinese cuisines and trendy international outposts from Russia to Brazil and beyond. Add Beijing's characteristically laid-back vibe and friendly service, and this eclectic selection of dining rooms and funky lounges are sure to satisfy every appetite.
Before we chase into the netherworld of Beijing nightlife, best to tickle the taste buds. And, of all the excellent Beijing dining experiences, the aforementioned Peking duck stands out as one worthy to bear the city's name. You can still sample the roast duck pancakes in the restaurant that started it all – Bianyifang Kaoyadian, which now has 14 outlets around town. Our picks however are Liqun Roast Duck Restaurant (11 Beixiangfeng, Zhengyi Lu, northeast of Qianmen, Dongcheng District, tel: 6705-5578), a no-frills family-run joint located in a tumbledown hutong residence, or the more upscale, and slightly less greasy Dadong (1-2/F, Nanxincang International Plaza, 22A Dongsishitiao, Dongcheng District, tel: 5169-0329). For deluxe duck, you can't beat Duck de Chine (Courtyard 4, 1949 - The Hidden City, Gongti Bei Lu, Chaoyang District, tel: 6501-1949), which incorporates French culinary techniques and features a Bollinger Champagne Bar. Mind the bill.
Send us your Feedback / Letter to the Editor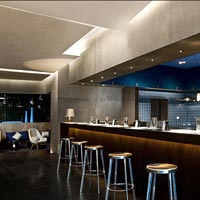 Sureno/ photo: outlet
Dongbei jiaozi, or northeastern-style dumplings, are another Beijing staple snack. You can see the thick wheat wrappers being swiftly folded with pork and cabbage in eateries across the city, after which they are boiled and served with dark vinegar and chilli. For over 30 varieties of dumplings in hygienic surrounds, try Orient King of Dumplings (Bldg 14, Chaoyangmennei Nanxiaojie, tel: 6527-2042). If you prefer the more delicate southern siblings of the dongbei jiaozi, head to Din Tai Fung, which has two outlets in Beijing (24 Xinyuan Xili Zhongjie, Chaoyang District, tel: 6462-4502; 6/F, Shin Kong Place, 87 Jianguo Lu, Chaoyang District, tel: 6533-1536). This legendary restaurant chain from Taiwan specialises in Shanghai-style xiaolongbao, steamed soup dumplings filled with minced pork and stock.
A highly refined form of Beijing's traditional fare is Imperial cuisine, once served to emperors in the Forbidden City. The Li family, whose patriarch was a steward for the Qing Dynasty Imperial court, has passed down several secret royal recipes, which present-day generations of the family now cook for guests in their own humble home in a hutong near Houhai. Family Li's Restaurant has five tables and is booked months in advance for lunch and dinner, so reserve early (11 Yangfang Hutong, Deshengmennei Dajie, Xicheng District, tel: 6618-0107).
Li's entrepreneurial grandson recently opened a second Family Li's Restaurant in the capital, just off Wangfujing Dajie. Although it is built in hutong style, interiors at the latest branch reflect the palatial nature of the cuisine (and success of the family business), with an opulent design and museum-quality collection of Imperial treasures dating back 2,000 years. The restaurant offers three set menus and reservation is required at least 24-hours in advance due to the long preparation times of many of the dishes. A single menu involves at least eight different varieties of meat and seafood and more than 10 methods of cooking (7 Dongtanzi Hutong, Dongcheng District, tel: 6522-0008).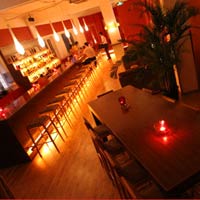 Q Bar/ photo: outlet
For Imperial-style dishes and updated Cantonese classics, step inside Tiandi Yi Jia's luxe courtyard mansion in a crimson-walled neighbourhood close to the Forbidden City (140 Nanchizi Dajie, Dongcheng, tel: 8511-5556). In a glass-topped courtyard under a canopy of upturned yellow parasols you can enjoy impressively presented dishes, like hairy crab salad with mango, and chilled sweet and sour spare ribs.
Continuing with our Beijing dining sampler, moving beyond local dishes, Dali (67 Xiaojingchang Hutong, Gulou Dongdajie, Dongcheng District, tel: 8404-1430) serves up a taste of the regional fare of China's southern Yunnan province. The alfresco courtyard charmer is hidden down a dark hutong near Nanluoguxiang. Set menus change monthly – choose from Rmb100-300 options and get set for a deliciously spicy onslaught of barbecued meats, omelettes made from sheep-milk cheese, and rare highland mushroom dishes from the Himalayan foothills.
Another regional Chinese restaurant worth seeking out is the bustling Qin Tang Fu from Shaanxi province (69 Chaoyangmen Nan Xiaojie, Chaoyang District, tel: 6559-8135). The menu has pictures and English translations, so be sure to point to the specialty pork burgers (la rou jia mo) and spicy flat noodles.
For Sichuan spice in an über-hot setting you can't beat Lan, flagship of the South Beauty chain of high-end Sichuan restaurants (4/F, LG Twin Towers, 12B Jianguomen Waidajie, Chaoyang District, tel: 5109-6012). The kooky 5,000sq m restaurant and club designed by Philippe Starck, also has a seafood bar, 35 private rooms inside chandelier-strung Mongolian yurts and a moody lounge with eagle thrones and visiting DJs.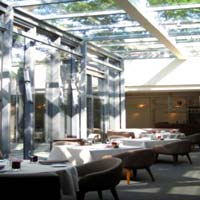 Ristorante Sadler/ photo: outlet
You don't have to be vegan to fall in love with Pure Lotus Vegetarian (inside Zhongguo Wenlianyuan, 12 Nongzhanguan Nanlu, Chaoyang District, tel: 6592-3627). Run by monks, this health-conscious vegetarian restaurant has a creative menu of healthy vegetable and mock meat dishes and heavenly presentations.
Beijing's pre-Olympic makeover gifted the city with several high-profile international restaurants, adding generous doses of glamour and sophistication to what was previously a largely casual nightlife scene. Most of the high-end Beijing nightlife and restaurant action is centred around the Legation Quarter, recently renamed Ch'ienmen 23. Built in 1903, this compound of historic stone mansions surrounding a green lawn was formerly the American Legation, where Zhou Enlai and Henry Kissinger planned US President Nixon's historic 1972 visit to China. It is now the preserve of two Michelin-starred chefs – Daniel Boulud at French restaurant Maison Boulud a Pekin (Ch'ienmen 23, 23 Qianmen Dong Dajie, Dongcheng District, tel: 6559-9200) and Italian Claudio Sadler at Ristorante Sadler (tel: 6559-1399). Both multi-level fine-dining establishments offer well-priced lunchtime specials in case you are visiting sans expense account.
Also at Ch'ienmen 23, sexy Spanish Agua (tel: 6559-6266) is dressed in ravishing red and serves Catalan chef Jordi Valles's creative tapas along with his talk-of-the-town crispy suckling pig and warm Spanish torrija dessert. Across the lawn, the Asian flagship of international steakhouse The Meat & Wine Co (tel: 6512-1761) occupies a two-storey glasshouse with a red-glass wine tunnel housing an impressive selection of New World wines to accompany prime cuts of house-aged beef.
Capital M (3/F, No. 2 Qianmen Pedestrian Street, Tian'anmen, tel: 6702-2727) is the first Beijing outpost for Australian Michelle Garnaut, whose M on the Bund and Glamour Bar in Shanghai and M at the Fringe in Hong Kong have long been dining institutions. With Tiananmen Square as a stunning backdrop, the elegant eatery dishes up modern European food in a glamorous 140-seat dining room, Oval Room, cocktail bar and several terrace spaces.
Another trendy new dining and Beijing nightlife district is The Village at Sanlitun, home to boutique hotel The Opposite House – see our Beijing Hotels Guide – and its two excellent restaurants, Sureno and Bei (11 Sanlitun Lu, Chaoyang District, tel: 6417-6688). The former is a mod-Mediterranean trattoria serving tasty pastas, meats and wood-fired pizzas using imported ingredients at reasonable prices. Bei references the cuisine of North Asia, incorporating Japanese, Chinese and Korean influences in creative interpretations. Breezy American café Element Fresh and after-work watering hole Blue Frog can also be found in The Village.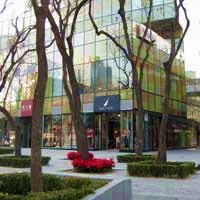 Village at Sanlitun/ photo: Verghese
For top of the city dining, head to China Grill on the 66th floor of the Park Hyatt (2 Jianguomenwai Lu, Chaoyang District, tel: 8567-1234). Beijing's highest restaurant offers 360-degree views and a mix-and-match menu of both Chinese and international dishes, from Boston lobster to Australian Wagyu and pot-sticker dumplings. Save room for the to-die-for dessert platter.
Coming back to earth, Hatsune (2/F, Heqiao Building C, 8A Guanghua Lu, Chaoyang District, tel: 6581-3939) rolls Japanese fare with a Californian twist, while Alameda (Sanlitun Houjie, beside Nali Mall, Chaoyang District, tel: 6417-8084) is a sunny Brazilian with great steaks, feijoada on Saturdays and a well-priced lunch rapido for RMB60.
For a top-end cool Beijing bar tipple, head to Face (26 Dongcaoyuan, Gongti Nanlu, Chaoyang District, tel: 6551-6788), a seductive Indo-Chinese bar in an old middle school with sophisticated cocktails, opium beds and a walled garden. For something a little more low-key, you could always go to Bed (17 Zhangwang Hutong, Xicheng District, tel: 8400-1554). Hidden deep in a hutong behind the Drum Tower, drinkers at this chilled bar kick back in cushion-strewn antechambers listening to the DJ spin underground electro and house.
Q Bar (Eastern Inn Hotel, Sanlitun Nan Lu, by Gongti Nan Lu, Chaoyang District, tel: 6595-9239), on an ambient rooftop, boasts one of Beijing's best cocktail menus. The Tree (43 Sanlitun Beijie, behind Poachers Inn, Chaoyang District, tel: 6415-1954) is a friendly pub behind the old Sanlitun North bar street, with excellent Belgian beers and thin-crust pizzas. For all-night schooners, 24-hour sports bar The Rickshaw (Nansanlitun Lu, Chaoyang District, tel: 6500-4330) tempts with a never-ending cycle of beer, sports telecasts, pool and glazed chicken wings. You'll likely chance upon this place during your Beijing nightlife and bars trawl.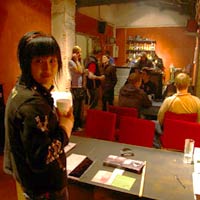 MAO Livehouse/ photo: outlet
The blonde-wood contours of basement club Song (B108, The Place, 9 Guanghua Lu, Chaoyang District, tel: 6587-1311) by Chinese contemporary designer/owner Zhong Song, are inspired by rice paddy terraces. Within their luscious folds young Beijing hipsters kick back to the sounds of the resident DJ spinning nu-jazz and house.
Meanwhile an eclectic mix of popular DJs spin the decks at much grittier basement club White Rabbit (C2, Haoyunjie Jie, 29 Zaoying Lu, Chaoyang District, tel: 133 2112-3678). It will either be grooving or graveyard-quiet – but you'll have to pay the door fee to find out. Live music aficionados congregate at voguish Yugong Yishan (West Courtyard, 3-2 Zhangzizhong Lu, Gulou, tel: 6404-2711) or in the MAO Livehouse bunker (111 Gulou Dongdajie, Dongcheng District, tel: 6402-5080), which hosts a regular line-up of underground punk, indie, metal and rock bands.