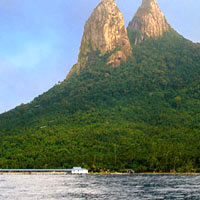 Mukut twin peaks/ photo: Jessie Kok
LEGEND has it that this pear-shaped gem of an island was once a dragon princess. While en route to her wedding in Singapore, she was bewitched by the gentle breezes and the golden sun, falling into a deep sleep and morphing, over time, into an island ringed by coral jewels. Of all the my-spouse-left-me-at-the-altar stories, this one probably takes the cake. Thus was Pulau Tioman born.
This whimsical myth describes the dreamlike landscape of Pulau Tioman to a T. Located 32km off the east coast of Peninsular Malaysia, the largest island in the region (at 133sq km), Tioman offers more than just nice beaches and coral reefs. One large waterfall sustains the flora, fauna and colourful eco-diversity, along with six major villages. The island's hills teem with life. Small wonder then the Hollywood classic South Pacific was filmed here in 1958, bringing intrepid visitors flocking.

Hotel Contact Information

See Slide Show
Getting to Tioman and around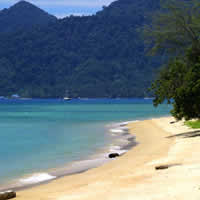 Berjaya beach/ photo: Justyn Olby
Tioman Airport in Tekek Village is served by small airlines like Berjaya Air (www.berjaya-air.com), which flies in daily from Seletar Airport in Singapore for just under US$200 per adult return (less for kids). Return flights from Kuala Lumpur cost around RM480 (US$1=RM3.44). If you don't mind a longer journey from Singapore you can pay about S$80 (roughly US$50) or even less for a roundtrip coach and ferry ticket, which runs via the Tanjung Gemok ferry terminal in Pahang. The journey takes approximately six-and-a-half hours including a ferry ride of around 45 minutes.
Send us your Feedback / Letter to the Editor
Singapore-based travel operators such as Discovery Tours and Travel (www.discoverytours.com.sg) can offer three-day two-night hotel packages that include transport, for as low as S$120 per person during the peak season. You will have to purchase a RM5 conservation ticket separately though, which goes to environmental programmes such as beach and water cleanups, coral research projects and marine park centres.
These schemes were introduced to combat the destruction of the coral reefs, which were badly damaged by littering and unethical snorkelling practices when tourism took off. They have worked. The white-sand beaches are cleaner, waters are clearer and biodiversity is alive and well.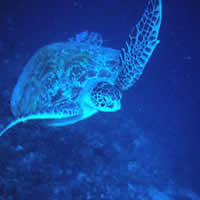 Tioman dives, turtles/ photo: Justyn Olby
Nevertheless, not all the coastal villages sport sand fine enough for polishing your silver with, so map out your holiday activities before setting off. Will you be bringing the 44-piece cutlery set, or the boogie board? Do you need white sand? Or azure sea? Or both? The lack of roads on Tioman means that getting around requires a boat. The cheap water-taxi system broke down a few years ago and the only way to get from village to village now is to charter a speedboat for a minimum of six people at RM70 per head. The boats are all individually run so it's best to approach your hotel's activity desk to arrange one.
Locating a speedboat is no problem. The islanders pretty much know each other by first name and the network will miraculously provide just when you thought all was lost. Although the price may seem steep, there's a little room for negotiation, depending on how many villages you'd like to visit.
Alternatively you can choose to pay a flat fee of around RM500 to have a boat all to yourself. But do bear in mind that the locals are more concerned over fuel costs per trip around the island than making a quick buck, so ask hotel staff to help recruit more passengers if you don't have a group. So on with our Tioman guide. Before starting out get oriented with our Tioman map.
Tioman treks, climbs and waterfalls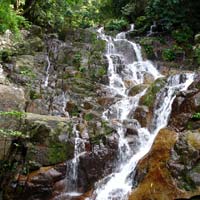 Mukut Falls/ photo: Jessie Kok
Pulau Tioman may be better known for its scuba and snorkelling facilities, but its treks have a lot going for them. As with the beaches, decide what level of exploration you prefer before picking your village. Paya Village has its own mini waterfalls just 15 minutes behind Paya Beach Resort that supply the entire village through pipes. To get there, turn right at the bridge connecting the Paya Beach Resort with Tioman Paya Resort, and follow the signs up the hill. You'll probably come across residents with fishing gear along the way. The walk isn't tough, and the diversity of tropical plants, incessant insect calls and the pervasive smell of rich, moist earth should keep your mind off the incline. For a bit more of a workout try the east-west hiking route from Paya Village to Juara Village. The traverse takes approximately three hours and passes through Berjaya Tioman Resort as well as Tekek Village in the centre of the island.
If you were hoping for something a bit more spectacular, head over to Mukut Village, at the base of the Asah Waterfall. There is only one route from the Mukut jetty to the waterfall, but the 20-minute ascent is muddy and fairly steep. Do have a good breakfast before attempting the climb, and bring a water bottle. No parasols needed here: the forest filters sunlight and the lush green surroundings double up as a natural air-conditioning system. At the top you'll be rewarded with a dramatic eyeful of crashing water, and the chance for a swim. The water here is crisp, chilled and potable. It also serves as a good spot for daily ablutions. On my way down I saw some of the locals making their way up the hill, toothpaste-laden brushes at the ready. Those must be some precious teeth to demand a daily uphill hike.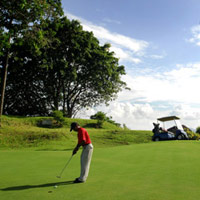 Golf at Berjaya/ photo: hotel
The waterfall stems from the famous twin peaks, Bukit Batu Sirau and Bukit Simukut; so do stop by for picture opportunities on your way back to the jetty and village. There are no roads into the mountains, but a picturesque view awaits if you are travelling to Mukut by boat from the west. The granite peaks that loom high above the forest canopy are popularly known as Chula Naga (Dragon's Horns, remember that princess?).
Juara Village is the ideal spot for rock climbing fanatics. Stretching along a wide sandy beach that is not particularly welcoming of boats, the village is a degree or two cooler than the others due to its location, surrounded by forests and facing the South China Sea. It also boasts one of the larger populations in Tioman and has its own primary school.
To reach the cliff you will need to wade across a fen at the end of the Juara Beach Resort. The fen is clean, just slightly clouded with sand, and a dirt track picks up on the other side. Follow it for about 700 metres. Some of the rough steps are cut rather high; so do be careful, especially after the rains. The cliff has up to 15 difficulty levels with metal hooks bored into the grey rock, but it doesn't fall under the purview of the village. Beginners can sign up for a professional course with The Juara Way (www.TheJuaraway.com). Half-days courses start at RM50, and scuba diving courses are also on offer. See our Tioman map.
Flora, fauna and turtle eggs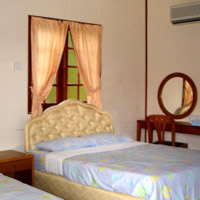 Juara Beach Resort/ photo: Jessie Kok
The local boatmen are your best shot at exploring swallow's nest caves. These can only be accessed by sea. There are two species of swiftlets here: the grey-rumped swiftlet and the black-nest swiftlet, both of which labour at creating their "edible" nests, providing a livelihood for some residents. As the swiftlets like to say: "Hey, what happened to my house?" My boatman, Benkris, steered the speedboat into a private alcove named Gua Laya on our way from Juara Village to Salang Village, and pointed up to a shadowy overhang, where hundreds of swallows flitted about. Against the backdrop of blue skies, soaring above the water, the cliff is a jaw-dropping vision, a pleasure heightened by the fact that not many get to see it in this manner. Most tourist boats pass by sights that the locals take for granted, but a friendly tone and genuine show of interest will go far. The boatmen here do like to share their world.
Turtle eggs are another huge source of interest. You can go to the Juara Turtle Hatchery in Juara Village, which is partly supported by the United World Colleges (UWC) for research and education purposes. There is more detail on its website. However, nothing beats a little detective work yourself – or at least by your guide. While we were on the white beaches of Tulai Island, Benkris broke a stick and prodded patches of sand, as if to test the depth, before crouching down and digging with his hands. It was a long process.
But, just as I was beginning to question his knowledge of local lore, he hit the jackpot, retrieving in the palm of hand, a sandy egg the size of a golf ball.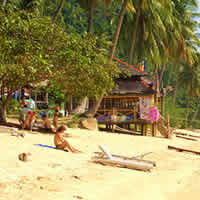 Paya is busy weekends/ photo: Justyn Olby
Sensing a turtle's nest two metres underground on a long stretch of sandy beach takes a special kind of talent, and it is this understanding and love of wildlife that makes Tioman residents different from those in many other tourist-driven destinations. After showing me the egg, a grinning Benkris laid it carefully back in its nest and covered it up, carefully restoring the surface to its natural state.
Tioman dives, PADI, and snorkelling
The main pull of Pulau Tioman still comes from its sparkling blue waters, white sandy beaches and diverse marine life. If this is the primary lure for you, make Salang Village your launch pad. There are boat rides from here to reefs or to nearby islands (like Pulau Tulai and Monkey Bay) for RM15-20 each way. If your accommodation is in Paya Village, the nicest nearby dive spot is around Renggis Island, which is often included in the resort packages for around RM185 per head. The clarity of the water here allows a crystal-clear view of marine life, from above or below.
Fish often approach snorkellers in hope of a good feed, but beware of the many sea urchins. Some resorts offer trips on glass bottomed boats, which leaves you in no danger of getting either wet or impaled, and fishing trips outside the marine park are also available. Dives schools such as the B&J Diving Centre (www.divetioman.com) on Salang Beach offer PADI open water courses, as well as "nitrox" (enriched air) dives, and the Paya Diver's Cove shop at Paya Beach Resort is a friendly base for dive trips.
Food, amazing nightlife – there's none – and spas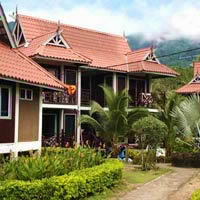 Paya Beach Resort/ photo: Jessie Kok
Malaysia is a foodie's paradise and its islands are no exception. Salang Village is the place to go for the widest choice. Try a "Ramly" burger: beef patties, lettuce and cheese wrapped in a fried egg, slathered with sauce and sandwiched between two thick buns, all for RM2.50. There's an excellent Ramly burger stand next to the Salang Dreams Restaurant. It's cheap, authentic and delicious. The Salang Dreams Restaurant does a very good Bandung noodle for RM12 – noodles with chicken, vegetables and egg in peanut sauce – and the Pattaya fried rice comes wrapped in an omelette.
For something a bit more tangy, "mamak" noodles are RM10-worth of chicken, seafood, vegetables and eggs fried in a tomato sauce. The nearby Salang Café will serve up ice-blended coffees, shakes and teh-tarik (Malaysian pulled tea – poured from a height) and Paya Beach Resort has good dishes at competitive prices. Those feeling under the weather (or suffering from sunburn) are advised to try the preserved vegetable soup with noodles. Preserved vegetables are known for their cooling properties. Barbequed seafood is also available at the resort, though the beach is lined with small eateries.
Tioman is not a place for night owls, but karaoke is available in most resorts. At the Paya Beach Resort you can belt out tunes until 1am in a basement function area stocked with beer. Many of the hotels have a pool table or two in the bar, as well as Internet rooms for those compelled to stay in touch.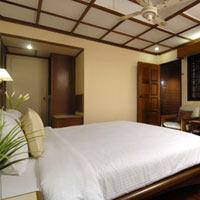 Berjaya Superior Chalet/ photo: hotel
Shopping here is about as varied as the nightlife and beaches are blissfully free of unwanted hawkers. Souvenir shops in Tekek and Salang Village sell colourful trinkets and cheap glad rags, and there are a few duty-free shops in Telek. Tioman spas and massage parlours are confined to hotels where an hour's back rub will set you back around RM120.
Tioman resorts, small hotels, and lodges
Though lodging and dining won't break the bank, getting around is pricey, so try to pick a village that best suits your needs. All the beach resorts and hotels here offer individual huts, with the exception being the Berjaya, which also has rooms in a main hotel-style building. Apart from the four-star Berjaya Tioman Resort, standards are rustic at best, so picking your Tioman resort tends to be more about location, and cleanliness rather than toiletries and Egyptian linen.
Berjaya Tioman Resort is as upscale as you can get on Tioman – a self-contained 268-room village in its own right. It sits halfway between Paya and Tekek Village on the west coast, with rooms that are clean, modern, and well designed. The facilities are definitely the most lavish, including an 18-hole golf course and a classy spa.
You won't find the latest flat-screen plasma TVs here, but at least housekeeping stops by on a daily basis. En suite bathrooms offer bathtubs and showers, there are in-room safes and, yes, a colour TV. Amazingly, the hotel also manages to rustle up conference and meeting facilities for 20 to 400.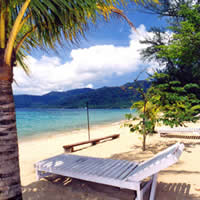 Beach at Babura resort/ photo: Justyn Olby
Just along the coast from the resort is the Tioman Island Resort. These seven blocks of studio and family suites are owned and run by Berjaya, but are separate from the main hotel. The suites are set on a rocky promontory and you will need to walk or take a shuttle bus down to the beach. Correspondent Justyn Olby adds, "They are best suited to families or larger self-catering groups since they are mini-apartments with living room, bedrooms and kitchen. They are generally a cut above the rest of the accommodation in Tioman, but are not as classy as the main Berjaya rooms."
In Paya Village the Paya Beach Resort offers the best services and facilities. Standard rooms are nothing to write home about but the superior and deluxe rooms are very attractive, with high roofs and beachfront views. Recent renovations have introduced nice chalets built over a pond, though the water is a little murky and there are mosquitoes. The cook makes a mean ham, cheese and mushroom omelette as part of the buffet breakfast and the food exceeds expectations. The hotel employs an astute in-house activity master called On, who will rustle up trips and travel buddies in a flash. Paya Lodge next-door, run by the Paya Beach Resort lot, is the cheapest choice on Tioman, and is popular with backpackers. It offers two bunks per sparse air-conditioned room, and a handful of rooms per "lodge". There's one central bathroom in each lodge. There's no TV but the place is very clean, and guests can use the tiny pool, spa and restaurants at the Paya Beach Resort.
Juara Beach Resort/ photo: Jessie Kok
Juara Beach Resort in Juara Village enjoys unparalleled views of the South China Sea and instant access to wide sandy beaches, making it best for quiet getaways. The huts are big, squeaky clean and well maintained, and there seem to be fewer pesky insects compared to the other villages. They also have TVs. The resort manager is particular about cleanliness and asks guests to rinse their tootsies before entering the sand-free restaurant. Grass covers the grounds, rather than the usual tufts of plants and dry soil in other villages.
Salang Village's Salang Pusaka Resort has a friendly ambience and sits close to the popular Salang Dreams Restaurant. The village is popular with westerners and the nightlife here is more vibrant than elsewhere. Salang Indah Resort has the cheapest package available on the island and is a little closer to the water, though rooms are less well maintained than those at Salang Pusaka. Both sets of huts are a little dark and have few frills.
Other cheap and cheerful options include Air Batang Beach Cabanas, 10 minutes from the airport by boat. The resort has air-conditioned cabanas with toilets and simple A-frame sloping roofs. Or opt for the Babura Seaview Resort Tekek that allows you to choose between regular air-conditioned chalets and others with fantastic sea views. This resort caters mainly to Chinese crowds and boasts a popular dive centre. Also look at the Persona Island Resort, a small, quiet escape, close to the dive centre. It is a small U-shaped building consisting of 24 air-conditioned rooms with attached bathrooms. All the rooms are tiled and very clean.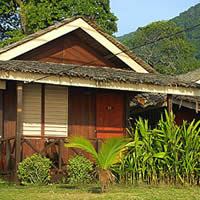 Paya Beach Resort/ photo: Justyn Olby
In Genting there is a choice between Genting Jaya Resort and Sun Beach Resort. Genting Jaya Resort is just 100m from the southern stretch of beach, with spacious rooms that range from beach bungalows to small chalets. Rooms come with attached bathrooms and are airconditioned. Those wanting a slice of their own beach can stay in Sun Beach Resort, which has furnished chalets facing the sand. It is one of the bigger establishments around. Be it on the beach or on the hill, you will almost certainly get a sweeping view of the sea.
That's our Tioman hotel and resort review. Dive in. Don't forget your toothbrush for that hike up to the waterfall.