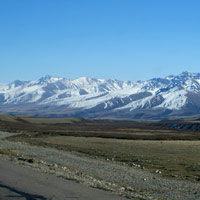 Bishkek mountain views
LIKE MANY travellers I arrived in Bishkek tired and dirty. Having spent twenty-nine juddering hours in a car sputtering laboriously over the mountains from Tajikistan, I was eager to take a few days off to luxuriate in the sinful comforts of the "big city". I was a man very much in need of a drink and a comfortable place to sleep. No more poorly sprung car seats and bottom-feeder gulags for me. Thus I set upon the city, dog-eared Bishkek guide in hand, in search of the best that Kyrgyzstan hotels could provide – fountains, marble toilets, dust-free 300-count linen and, of course, de rigueur views of the snow-capped Tien Shan range that glint and change colour as the sun inscribes its surgical arc across the sky. I looked at my wallet again. Well, a budget Bishkek guesthouse would do for now.
A common complaint about Bishkek is that there is nothing to see here. I must admit there is some truth to this sentiment but what the place lacks in conventional tourist attractions it makes up for in jaw-dropping eccentricity. Couple that with an exuberant and hospitable population and it really is a truly exceptional place to spend a few days.
Send us your Feedback / Letter to the Editor
Locals will assure you that Bishkek is the Paris of Central Asia. Compared to the nomad hutments, it probably is. Still, the city is one of the most developed and cosmopolitan in the region. The conservatism so common in the rest of Central Asia is absent. Gone are the headscarves and burqas, replaced by hip-hugger jeans and designer sunglasses. But if, while waiting for your laundry to dry, you hit the town in flip-flops and basketball shorts, the locals may glare and laugh at you and even pursue you yelling in Russian.
Bishkek, the capital of Kyrgyzstan, is reasonably attractive. The new city, which started life as a Russian garrison in 1865, is green and tree-lined, and rests at the base of the mountains.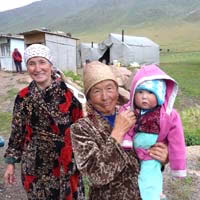 photo: Mahesh Mathai/AJ Williamson
Silk Road history buffs will be disappointed by the lack of history. Russophiles or anyone with a penchant for Soviet pomp and kitsch will be in Slav heaven. The city is a perfectly preserved example of rigid Soviet planning with roads rolled out in a grid formation, accompanied by irrigation canals and interspersed with a smattering of public squares and parks. The statue of the founder of the Soviet secret police has been removed but the Lenin statue stands proud – although recently moved a few blocks north of the main square.
Bishkek is Central Asia's most Russified city as well as its most diverse. At the bazaar you can expect to see Kyrgyz nomads selling yogurt and honey next to Kazaks with horse meat sausages, Koreans scooping kim chi into plastic bags and Russians with tables of smoked fish. There's less of the conservatism so commonly visible as you travel through Central Asia and more of the modern and the cosmopolitan.
Changing money is uncomplicated at the ubiquitous banks. The hordes of black market moneychangers supremely evident elsewhere in this region are absent here. The exchange rate for Kyrgyz soms is around US$1=KGS43.7. If bank rates sting, head over to one of the many official money changing kiosks, with some of the best rates at the Osh bazaar, just out of town. ATMs are beginning to pop up around the city. Be aware that this relatively new commodity can attract muggers. Stick to ATMs in the lobbies of the major hotels to be on the safe side.
Due to its modern town planning Bishkek is a joy to navigate. The city is almost entirely flat which, coupled with wide, leafy boulevards makes it a perfect walking city. If your feet do get tired taxis are omnipresent. Taxis in Bishkek fit the typical Central Asian mould. Stick your hand out and you're just as likely to be picked up by a private car as an official taxi. The distinction between the two is blurred at best. That said, Bishkek does have the region's largest fleet of official taxis, just don't expect a meter. Rides within the city limits should cost around two US dollars.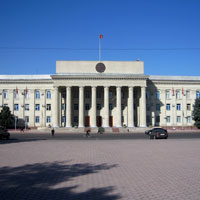 Bishkek Parliament building
If you can't resist the pull of the mountains, day trips are easily arranged for everything from trekking to horseback riding and skiing. The Silk Road Lodge is a reliable source of information on tours, although tour operators aren't exactly in short supply. You may wish to learn a few words in Russian before you go as almost nobody speaks or understands any English.
Bishkek guide to squares, museums and sights
Central Ala-Too Square (named after the mountains closest to the city) is Bishkek's largest public square and its social and official focal point. Here, along with manicured gardens and the obligatory monument to freedom, you can see the changing of the guards. At night Ala-Too Square fills with food kiosks and makeshift karaoke stalls (an oddity unique to this part of the world) but the square is famously unsafe after dark and should be avoided by travellers, especially those armed with 20 megapixel Japanese cameras and bulging wallets.
The real draw of Ala-Too Square is the imposing white building at its northern border. This is the State Historical Museum and the must-see Kyrgyzstan attraction. The entrance fee is KGS150 but we suggest forking over the extra 200 soms, which allows you to take pictures. The three-storey museum contains no English translations whatsoever. The first floor displays a collection of gifts from modern heads of state to Kyrgyzstan and a collection of photos of the Kyrgyz president shaking hands with an array of obscure statesmen. Note the traditional Kyrgyz rug with Stalin's face the lead motif.
The second floor is where things really get good. Here you'll find a huge collection of bronze statues and bas-reliefs depicting the workers' struggle. Don't forget to look up at the brightly painted revolutionary murals on the ceiling. The third floor contains traditional Kyrgyz crafts along with a full-sized yurt. The ceiling really comes into its own on the third floor and culminates in a mural of a skeleton wearing an American flag astride an atomic warhead. Stirring stuff. The museum store has a pretty impressive selection of Kyrgyz crafts and especially striking felt rugs.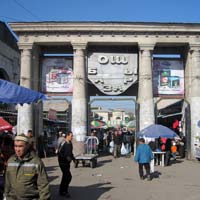 Osh Bazaar gets going
If you keep walking north you'll find the impressive Lenin statue just behind the museum building. The rear of the museum seems to be a popular spot for Kyrgyz youths to canoodle unseen – until a camera-toting tourist stumbles upon them. Before retreating back to ordinary, non-smooching society, take a quick look at the graffiti, which includes touching love notes in broken English.
Falling directly under Lenin's gaze is the Kyrgyz parliament building. It is an impressive edifice but closed to visitors. At this point you are standing between two of Bishkek's most interesting and pleasant parks. Head to the left and after about a block you'll run into Panfilov Park. If you've ever wondered what amusement parks would have been like if the Russians had won the Cold War, you can satisfy your curiosity here. It's a pleasant place to stroll around, with scenes of laughing children, young lovers holding hands and old men on park benches all set against the background of a brightly coloured and truly strange theme park. If you're safety-minded then you may want to avoid actually stepping on a ride, although the Ferris wheel is supposed to offer the best views of the city. North of the park is an orthodox church worth a visit.
The second, Dubovy Park, is a more traditional offering (no eccentric rides) and slightly smaller than its neighbour. Dubovy means oaks and the park is famous for them, with some over one hundred years old. Discover for yourself the long shady expanse of table tennis tables filled with Kyrgyz youth locked in intense competition, an open air art gallery and, if you're lucky, a wedding party complete with drunken, dancing, Russian uncles. After exploring take a seat at one of the few outdoor cafes. Edgar is a popular choice, serving up beer, passable pizza and extremely strange salads (prawn and cognac). Aside from the multitude of men in tall felt hats you could be in any capital city in the world.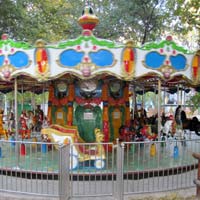 Panfilov Park carousel
The park's immediate neighbour is the State Museum of Fine Arts housed in what is possibly the ugliest building east of the Caucuses. It exhibits Kyrgyz art, modern and traditional, as well as international pieces including copies of classical and Egyptian statues. Continue northeast from the art museum you'll run into Victory Square, a huge second world war memorial apparently constructed in the shape of a yurt – I didn't see it. The park is hugely popular with Kyrgyz kids and, oddly, wedding parties. Brides and grooms in full dress line up three deep waiting for their turn to be photographed in front of the eternal flame. The juxtaposition is strangely compelling.
Although not exactly a shopper's paradise, Bishkek offers up crafts and souvenirs in abundance. Be sure to pick up a Kyrgyz hat. For about five bucks they're a steal and unique to Kyrgyzstan. If you're more in the mood for western brand name goods, head to the Vefa Centre. This is a modern shopping mall with modern prices.
For more local-style Bishkek shopping head to the Osh Bazaar. All of Bishkek's major bazaars are out of town and Osh is no exception. The bazaar complex consists of large vaulted buildings, vast covered markets and stalls lining the roadside and alleyways as far as the eye can see in every direction. What started as a food market has expanded to accommodate a panoply of items, though the food is still the main draw, representing different regions and the ethnic groups of Bishkek. Fancy sheep's head or fried bread covered in fresh mountain honey? How about a heaped plate of kim chi followed by a slab of Baklava for dessert? I arrived with six dollars and an empty stomach and left three hours later an extremely happy man. If stuffed and simply searching for handicrafts, try the westernmost building.
Bishkek nightlife – top of the pops in Central Asia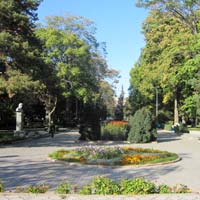 Dubovy Park offers nice walks
Night owls will love Bishkek. Locals and every Bishkek guide will be quick to point out that the city has the most thriving club scene in Central Asia (second only to Almaty). This was driven home to me when I asked the reception in my hotel if they had any nightclub recommendations. Pulling out a huge book the concierge coughed soberly and asked: "Disco? Pop club? Rock club? Lounge? Russian club? Jazz? Blues?"
Platinum (entrance fee KGS250) is one of the nicer options, hosting celebrity DJs, a huge bar and lounge and an eccentric futuristic Egyptian theme. A Bishkek standby is the grubby The Golden Bull, still inexplicably popular with expats and locals. The Pharaoh Club (another Egyptian reference), largely considered the best club in Bishkek, is little below par these days. It consists of a small bar and an even smaller dance floor, frequented largely by an odd combination of American frat boys, servicemen and middle-aged Kyrgyz couples looking to recapture their youth. When in Kyrgyzstan…
Although quick to sing the praises of the local party scene, residents are often just as keen to ward you away: "This is the best disco in Bishkek. It's amazing! But don't go. It's too dangerous." Even my helpful friend at the hotel, with a shrug said, "What can you do? These places are terrible. Very bad people. Have fun!"
Now I would be remiss if I didn't pass their warnings on as I am sure they are not completely baseless. However, my experience was completely tame. Most common problems occur outside clubs while waiting for taxis. If worried ask a car to wait for you although the venues visited for this Bishkek guide had clearly designated taxi stands full of cabs and large security details.
Best Bishkek hotels and the friendliest budget guesthouses
Hyatt Regency facade/ photo: hotel
In terms of accommodation Bishkek has something to offer everyone. The high end is dominated by the Hyatt Regency (191 Abdrahmanov Street, www.bishkek.regency.hyatt.com, tel: [996-312] 661-234). This centrally located five-star is 35 minutes from the airport offering 178 comfortable rooms and some of the best amenities in Kyrgyzstan. You'll find a splash of colourful culture in each 28sq m room, complete with Broadband Internet, satellite TV, safe, tea and coffee facilities and hairdryer. The hotel also offers several restaurants, an "Opera Lounge", outdoor swimming pool, six meeting rooms and a ballroom. Activities such as white-water rafting, heli-skiing, trekking, and jeep safaris can be organised via the hotel. Hyatt Regency claims to be the only five-star hotel in Bishkek and makes the most of it with sky-high rates (from US$280).
Also in the top-end range are a few locally-run Kyrgyz hotels. The Ak Keme Hotel (formerly the Pinara, 23, Prospect Mira, www.akkemehotel.com), 8km from downtown, has some decent amenities including an indoor pool, gym, sauna and two restaurants – one of which is on the 11th floor with views over the mountains. Rooms are not quite Hyatt standard but at US$160 for a single they offer good value for money. If Ak Keme draws a blank with your taxi driver, try asking for Pinara, the hotel's former incarnation.
The Golden Dragon Hotel (60, Elebaev Street, www.gdhotel.kg, tel: [996-312] 902-771) is a hotspot for high-end tour groups. Of the 43 rooms, the majority are fairly ghastly with basic amenities. But step up to one of the four suites (or one of two presidential apartments) and a concerted effort has been made with design. Ocean, Malevich, Indian and Japan themed rooms may not be to everyone's taste but they are certainly colourful and include huge flat-screen TVs and modern computers. Suites are 67sq m to 115sq m – a big leap from a 22sq m single room. The Golden Dragon also offers a casino and even a circular bed or two. Rates start at US$150 but if you're in the mood to splurge, a presidential suite, with Jacuzzi, sauna, piano, and four balconies, will set you back US$1,000 per night.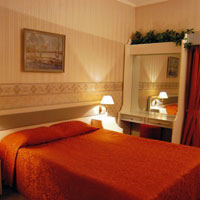 Ak Kerme Hotel room/ photo: hotel
An interesting choice is four-star, hotel-within-a-hotel, Club Hotel Dostuk (429 B, Frunze Street, tel: [996-312] 284-251). This hotel wins in the oddest location stakes as it occupies the fifth floor of the less luxurious Dostuk Hotel in downtown Bishkek. Staff will tell you that this means they can offer a higher standard of service. The Club Hotel Dostuk has 33 rooms, plasma TV, WiFi and an onsite nightclub. Perhaps the whole thing is just a glorified club floor.
And that's about the long and short of the good Bishkek hotels. On to the smaller hotels, where the Silk Road Lodge (229, Abdymomunova Street, www.silkroadlodge.kg, tel: [996-312] 324-889), makes a good impression with extremely friendly and knowledgeable staff who can help you with just about any travel planning needs. Of course it helps that it's run by the Celestial Mountain Tour Company. The small 28-room hotel sits close to the Central Park and is a few minute's walk from the many of Bishkek's best restaurants. Rooms start small (24sq m to 48sq m) but all are homely and delightfully kitsch.
Bishkek budget hotels and mid to low range accommodation usually arrives in the guise of a guesthouse. And these are plentiful. Well-equipped Bishkek guest houses run from around US$50 a night. One such guesthouse with a good reputation is Guest House Asia Mountains (1-a, Leneinaya Street). For around US$50 you can expect a clean single room with a bathtub, and breakfast is included. The hotel even offers laundry service and has an onsite sauna and bar with extra meals available upon request.
The Hotel Sayakhat-Asia (5A, Dushanbinskaya Street) offers rooms with mini-bar, WiFi, and cable TV, but no bathtubs. The Alpinist Hotel (113 Panfilov Street, www.alpinist.centralasia.kg, [996- 312] 595-647) is geared to the more outdoorsy adventure crowd (note the climbing wall) but it has remained a popular option for years. At US$45 dollars a night it's easy to see why. Rooms are clean and have Internet access. The slightly disconcerting statement "here you will have breakfast, lunch and dinner" need not be taken literally.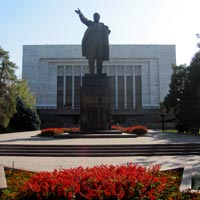 Lenin statue in front of museum
Also popular is the Guest House Radison (259 Abdymomunov Street, www.radisonhouse.com, tel: [996-312] 323-181), which has the added benefit of an English speaking family. Be warned, Radison is located within what is possibly the most difficult building to find building in Bishkek. Armed with a picture and map, you may still have trouble, made more difficult with a recent gate upgrade, taking it from green to grey. To prevent such difficulties Radison will arrange a taxi to wait for you at the airport and bring you directly to the hotel any time of day. From November, 2009 until April, 2010 the whole hotel is closed for renovations.
While there may not be a lot to see in Bishkek it will certainly feel like you've experienced a lot. And despite a lack of pictures in your camera, the stories of Kyrgystan travel to relay to friends and family will provide a far more colourful snapshot of this eccentric city.