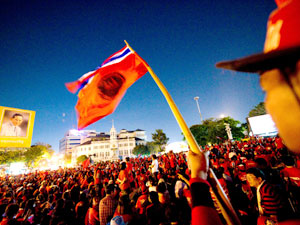 Rajdamnoen: painting the town red / photo: Nathawat Wongrat
ANYONE wishing to paint the town red cannot choose a more welcoming or livelier place than Krungthep, the City of Angels. Bangkok, Asia's undisputed party capital, has been awash in crimson. Not its chosen colour when it comes to politics. The red tide swept in on 12 March, 2010, the rout beginning innocuously enough as smiling, singing, flag-waving rural folk from the Thaksin Shinawatra heartlands of north and northeast Thailand were trucked into Bangkok to besiege Government House.
The convivial street theatre soon turned ugly as protestors took over key intersections, impeding parliament, disrupting transport, and choking commerce. The mob bayed for Prime Minister Abhisit Vejjajiva's resignation, the dissolution of parliament, and fresh elections. They were right to demand an elected voice but terribly wrong in how they pursued that goal.
On 7 April, 2010, Bangkok and its surrounding districts were placed under emergency rule with nighttime curfew. Through all this, the government acted with extraordinary restraint. The prime minister reiterated his intention to uphold the rule of law without trampling "innocent" people, in a sense, attempting to make scrambled eggs without breaking any eggshells. The government was in a quandary, not least over doubts on whether the police, or even the army, would enforce its diktat.
Send us your Feedback / Letter to the Editor

Share This Page
The troops were eventually summoned. On 19 May, as the city burned and plumes of dense, black smoke smeared the horizon, the bamboo barricades were overrun but not before sections of the mob had torched major shopping malls, cinemas and the stock market building in the elite central Ratchaprasong area, better known for Versace and Bally than violence and ballyhoo. It was a shocking spectacle.
Bangkok has briskly set about rebuilding the hardware. Rescuing "Brand Thailand" will be harder
An uneasy calm lies across the Thai capital now although street life after a massive citizen cleanup is, for all intents, back to normal. Burned out hulks of buildings serve as grim reminders of the carnage and, for the pessimists, a troubling portent of things to come. Scaffolding has risen rapidly to mask the mess and Bangkok has briskly set about rebuilding the hardware. Rescuing "Brand Thailand" will be harder.
Thailand is adept at bouncing back from crises, as it demonstrated after the tsunami in December 2004. This time the two-month shutdown cost an estimated US$1.5 billion to the Thai economy but the stock market and GDP indices are not unduly dented. An appreciating yuan will encourage Thai exports. The dust has been artfully swept under the carpet and no one is keen to talk about the proverbial elephant in the room.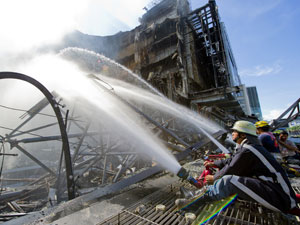 Aftermath: burned out Zen mall / photo: Nathawat Wongrat
The myriad fault lines running through Thailand have deepened and widened, causing angry, often irreconcilable, divides within families, corporations, political parties and districts. The Bangkok roughhouse epitomises a conflict that is at once north vs south, rich vs poor, the enfranchised elite vs the politically marginalised, the Bangkok intelligentsia vs country yokels, and the much demonised Thaksin vs Abhisit, the Oxford-educated dragon slayer. It is all very much present tense.
The colours of conflict – and loyalty – have played their part. Thaksin red shirts. Royalist yellow shirts. Pro-government pink shirts. Watermelons (army green on the outside and red on the inside), and military cat's paw blue shirts. While the Tourism Authority of Thailand, keen to sell its leisure idyll, would prefer "no shirts" at all, just bronzed, tanning bodies lining wondrous white-sand beaches, the multihued shirts are still on, the gloves off. It is as bewildering for foreigners as it is for Thais.
The question for the hospitality sector – a major casualty of the recent red ructions – is whether travellers will return in sufficient numbers, and speedily enough, to help fill Bangkok's resoundingly empty five-star hotels. Many hoteliers don't see this happening before 2011. Business travellers, those eternal road warriors, will be the first to return followed by regional travellers. Long-haul leisure travel will take longer to rekindle. Interestingly, while Chiang Mai (in the red north) was and remains hard hit with ten percent occupancies at top resorts, Phuket (in the yellow south) sauntered through the crisis with rooms full to bursting.
In typically Thai fashion, several Bangkok hotels held on to their staff. With the growing shindig outside and nowhere to hide, embattled hoteliers found the crisis helped bolster team spirit and build resolve to confront a common threat. Unlike many other sectors, the hospitality industry hung together, subordinating red and yellow to the hotel colours. Workers closed ranks to save their "brand" and livelihood. Says Rainer Stampfer, general manager of the Four Seasons Bangkok, "The Four Seasons family came first for our staff." The refrain was similar at other hotels. These were people who chose professional pragmatism over protest politics.
What travellers need is a quality product, invigorated service and a sense of safety, not just discounts
It is heartening to hear. It could be just the fillip for the hospitality sector to bypass cranky unions and set the focus on service excellence, training, and merit, building on newfound camaraderie. Thailand's hotels are already regarded among the world's best and they should not rest on their laurels. They need to provide a vision for the future, most of all to their own staff, and to people up and down the supply chain. This is the lure for returning visitors, not just cheaper prices though some incentives will be inevitable. What travellers need, and demonstrably so, is a quality product, invigorated service, and a renewed sense of safety resting upon rule of law.
The discounts are already coming thick and fast. In June 2010, two night air-plus-hotel packages were retailing in Hong Kong for as low as HK$900 (US$115). Informal shopping stalls are popping up around Bangkok at places like Amarin Plaza, and Soi Thonglor (a posh residential neighbourhood off Sukhumvit), with up to 70 percent discounts on designer brand items. These venues offer much-needed exposure for retail outlets displaced from CentralWorld and Siam Square. Premium mall Siam Paragon has also launched a Tourist Discount Card for its immediate neighbourhood, which offers 10 to 70 percent discounts for seven days.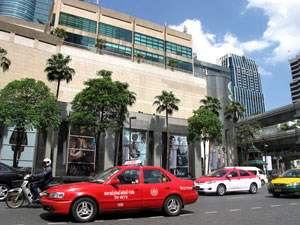 Back to normal, mid-June, Gaysorn/ photo: Vijay Verghese
How safe is Thailand? This is anyone's guess. Yet, even at the height of clashes, the Thais tried to ensure the wellbeing of foreigners and tourists. Should travel bans – and attendant insurance restrictions that have eviscerated leisure traffic – be lifted? Arguably yes. The red and yellow shirts have no truck with foreigners though rail and airport closures have caused disruption and inconvenience. Clearly, the underlying problems have not been resolved and nor will they be for some time yet though a promised election could prove a modest emollient. Abhisit has stressed "national reconciliation". He is right. Picket-line partisan politics has no place in the amicable "mai pen rai" (never mind) melting pot of Thailand.
Fewer visitors means fewer tourist dollars in a country where tourism receipts in 2009 totalled US$16 billion with 14 million annual visitors. That's a lot of goodwill. It is also a tidy amount of change. While tourism's share of the Thai GDP was just six percent, the attendant benefits and multipliers cannot be overstated. The country has a huge stake in tourism. Any tightening of the pilliwinks will have a direct impact on common people. Compare this arrival number with just over five million for India, and Singapore's 9.7 million foreign arrivals in 2009 (with tourism receipts of US$8.9 billion).
Looked at another way, Thailand has generated 10 to 14 million brand ambassadors annually
Looked at another way, Thailand has generated 10 to 14 million "brand ambassadors" yearly. These people offer an immense worldwide reservoir of goodwill that the country would do well to tap. They are familiar with Thai ways and the vicissitudes of Thai life, not always explicable. That knowledge, that familiarity, is important. The Tourism Authority of Thailand is right to target these visitors and attempt to bring them back, first, before persuading others, more timorous and headline-awed. In times of distress, count your friends. The focus on domestic tourism is sensible too.
Why the ruckus? A brief background for the uninitiated. On Tuesday 19 September, 2006, the army ousted PM Thaksin Shinawatra, a maverick politician whose wheeling and dealing had raised serious concerns about corruption. The junta took over. Following the Constitutional Court's banning of Thaksin's "Thai Rak Thai" (Thais love Thais) party an election was held in 2007. This saw a plurality for the People's Power Party (PPP) a Thai Rak Thai proxy. Abhisit's Democrat Party lost.
No sooner had the PPP launched its coalition rule than the People's Alliance for Democracy brought proceedings to a halt. The PAD (later know as yellow shirt on account of its royalist colour) had charismatic, but wilfully headstrong and profoundly undemocratic leaders like media tzar Sondhi Limthongkul who later argued for a royalist government.
The PAD yellow shirts went on a polite rampage, Thai style, to besiege and shut down airports in Phuket, Krabi and Hat Yai in the south and on 25 November, 2008, they famously stormed Bangkok's Suvarnabhumi International Airport. The siege came to an end when the reinvigorated Constitutional Court threw out the PPP government and Abhisit came in as premier following a vote in parliament on 15 December, 2008. That was a stopgap arrangement at best and one that needs to be put before the people. The soft-spoken Abhisit could well be the country's suave saviour. But he needs a mandate to be truly empowered. Now with haste to the hustings.
Do travel and always pack a good dollop of common sense. A white shirt could be your safest bet.