DISCOVERIES
A guide to Yuen Long cafes, coffee, flea markets, and the Tangs
In Hong Kong's New Territories, head West to Yuen Long for coffee, lazy breakfasts, bakeries, fun cafes, the delightful Red Brick House Market and the Ping Shan Heritage Trail where you'll learn all about the Tang family.
1 September 2023
SEE ALSO Hong Kong fun guide | Macau guide | HK business hotels review | Bali fun | Taipei fun guide | Best Bangkok sky bars | Phuket fun guide | Palawan guide | HK Haven Street food | Taiwan hot spring resorts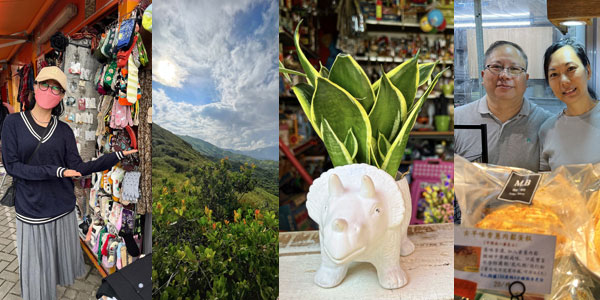 NOT MANY visitors to Hong Kong get to the New Territories that straddles the far north of the territory bordering China. The few who do are on coaches, hurried along by flag-waving guides. This is a shame as the area is home to heritage, history, hikes, and dinky eateries, hidden amidst the swathes of green farmland. Pretty much anyone who can follow an MTR map can now hop across to Yuen Long and Kam Tin (in the northwest on the Tuen Ma Line, via the East Tsim Sha Tsui Station) for an entertaining morning or day exploring offbeat cafes, sights, and markets.
A TOWN CALLED KAM TIN Start your browse in the old town of Kam Tin with its sleepy pace and friendly faces. Get off at Kam Sheung Road Station (18 minutes from East TST in the Tuen Mun direction). You will be confronted by the Kai Kung Leng Range that provides a wonderful backdrop and offers some exhilarating hikes for the intrepid. If you arrive early there are breakfast stops to sate appetites but if you reach around midday or later, do take a moment to walk through the bright red-and-yellow stalls of the Flea Market adjacent to the station's Exit B, along the car park.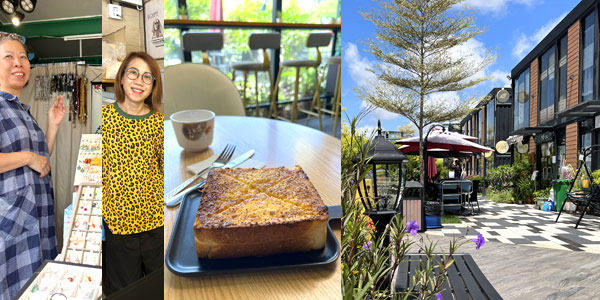 You will spot the place immediately as you exit to your right. Lacking marketing push by the local administration or the MTR (which owns the site) the place is struggling but offers fun oddities and cool drinks. Browse superhero costumes, dinky cars, potted plants, gemstones (Eva Chan runs a small stall), costume jewellery, snacks, clothes, and all manner of gewgaws. Look for Irene and her Indonesian rattan handbags that make for sturdy and smart accessories. The cheerfully animated Tiffany Lam who runs a corner space selling sweaters, scarves and socks, says she once helped source textile for Gwen Stefani's line at Lane Crawford. At one end of the market there are a few mini whack-a-mole setups for kids, and fresh vegetables line the entrance. Take your pick.
Send us your Feedback / Letter to the Editor
Going straight past the flea market with the cycle stands to your left you'll cross a pedestrian bridge over the Kam Tin River. This leads on to a nice shaded walk passing a smart all-black 'container city' (The Richfield) set in a very attractive landscaped tree-lined plaza, home to beauty salons, shops, and eateries. Try the cheerful CP Café (always packed with dogs and cats) where Fish, the interestingly named chef, dishes out scrumptious vegetarian fare like black truffle pasta - and a popular spaghetti tossed in fake-crab, orange-zest, and Parmesan. It's a no-brainer choice at HK$88. There's more meaty delights too.
The cosy MF Coffee & Bakery run by the industrious Mimi Chan who cooks, chats with guests and feeds dogs (who sit politely outside under shaded umbrellas). Patrons can sit outside amidst water features or inside. MF Coffee & Bakery does humungous toasts (two fingers thick) with all manner of toppings. A garlic butter drenching will hit the spot for many. Best to share it. The place is popular with morning bikers heading for Yuen Long's many cycle trails. In winter, the plaza's Szechuan hotpots are more inviting.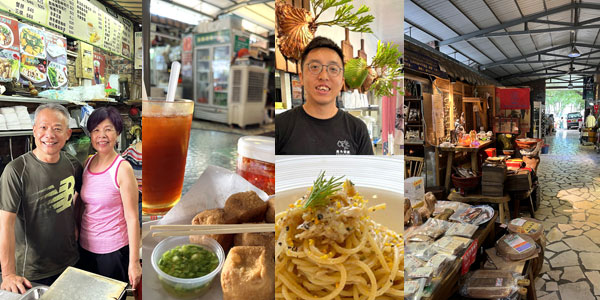 RED BRICK HOUSE MARKET Straight on from The Richfield, a five minute stroll along the pedestrian/cycle path to Kam Sheung Road, will get you to Kam Tin's best kept secret — the Red Brick House Market. This old Victorian candle factory has been brilliantly repurposed as a handicraft and flea market that stirs by 11am (Saturdays and Sundays) and is abustle by lunchtime or late afternoon.
Take a moment to stop at M&B run by the chatty and affable Bonnie who acquired a passion for baking and learned on the Internet before attending courses. M&B does fruit infused sourdough and other breads. Bonnie's speciality is a delicious Taiwanese style flaky-crust pork-vegetable-pepper bun that steals the show. An excellent pick-me-upper as you begin your Kam Tin circuit. Her husband Michael, the barista, blends coffees whenever he's around.
Red Brick House Market is stuffed to the gills with interesting stuff, from homeware, and paintings to clothes, (including the fun arty designer brand Jellynose featuring items from Belgium), accessories, greeting cards (one exclusively featuring cats and dogs), and plants. The shyly chatty Anson Ng has a long running art store and conducts painting classes. At one end of the concourse, celebrating the history of the place, is the long serving Angel Candle with a wide selection of scented and decorative candles for all occasions. Angel Candle is also open afternoons, Monday to Friday.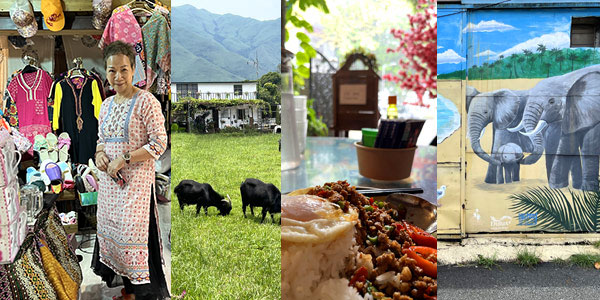 The adobe-style alfresco La Cafeteria, much favoured by Instagrammers, departed in 2022, to be replaced by another eatery with the same décor but stricter entry. The hugely popular corner dai pai dong specialises in fried tofu (cha dao fu served with a tart dip that comes alive with some chilli sauce) and quick noodles. The place is run by the beaming and talkative Ivan Chan who has been here for the past 10 years. His partner, Ms Wong, will flash a smile when she serves your table in the open common area surrounded by cooling fans. Heavy, fried, pork dumplings are available too along with extra-large cold lemon teas. The place starts serving by 10am or even earlier.
Along the side of the market at a fork in the road is the scenically wedged tree-covered, Elegant Thai restaurant with a tiny veranda section and a larger elbow-to-elbow interior airconditioned space. Friendly service, average to decent food with large portions. It is worth noting that just outside Red Brick House Market is a very clean and well-scrubbed public toilet. No problem washing hands and faces then, especially after a sweaty hike.
COFFEE, TOP BRASS, WALLED VILLAGE A couple of hundred metres along Kam Sheung road is the Sum Ngai Brass Factory, well known to Hong Kong old-timers. There is some limited parking for visitors. The brass factory has been in operation since the Sixties. The old folks who ran the place have exited but their children manage things with efficient aplomb and ready smiles.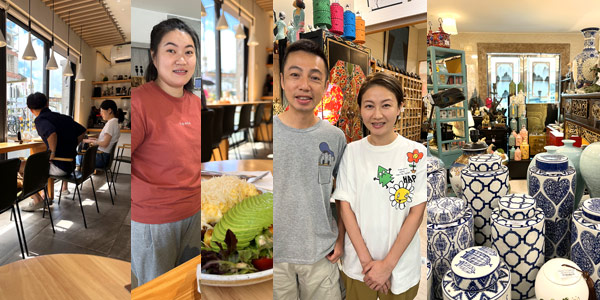 Sum Ngai is well worth a visit and an excellent spot for picking up gifts and mementos. Browse small lacquered cloisonne works, Chinese tea sets, ceramic vases, lamps with elegant lampshades, bedside cabinets and, of course, brass statuettes. Jimmy Tong works on the lamps (when his son tires of Ocean Park escapes) while his sister Alice (sometimes accompanied by sisters Yoki and Venus) patiently attends to customers, walking them through the maze of eye-catching wares.
Heading back up Kam Sheung Road to cross Kam Tin Road, a short walk north will bring you to COHEE that specialises in coffee courses, workshops, breakfasts, and all things brewed. The quiet and affable Kayi Chong has run this place for around five years and the spot has gained a following among coffee aficionados. Last year a second COHEE opened in Fanling. The Kam Tin 'studio' is small and cheerful on a sunny day with glass walls on two sides. Order a speciality blended coffee and dive into scrambled eggs drizzled with Parmesan on sourdough toast with avocado and sausage on the side. Tse Kin and Law are the studiously focused black-clad baristas here. The coffee here pretty much sets the bar for Yuen Long and will rate among the best in Hong Kong.
Just up Kam Tin Road heading east past the Kat Hing Wai walled village stone battlements and watchtowers and colourful wall paintings, is the small and sparse Japanese coffee shop, Kachimushi. Expect decent coffee and tasty morsels, from soup and meat cuts to eggs, sandwiches and cake. Kat Hing Wai dates back to the 12th century and is one of the Tang family's original Hong Kong beachheads. From here the clan later extended its presence to Ping Shan and elsewhere. Take some time to enjoy the Kam Tin murals. They're everywhere and even feature what appears to be a Kerala beach replete with palm trees and elephants.
Send us your Feedback / Letter to the Editor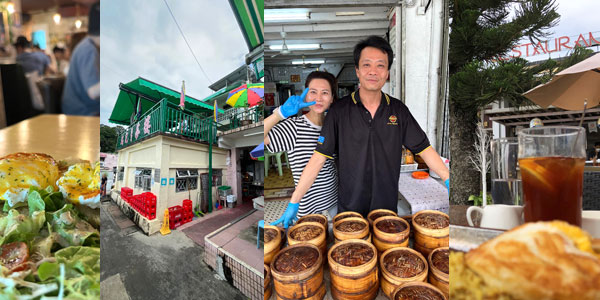 PET CAFES, EGGS, SHEK KONG In the opposite direction along Kam Tin Road and past the large roundabout, a 10-minute walk west will bring you to Sky City where another cluster of eateries awaits. Pickings are hit and miss but one spot worth a looksee is the pet-friendly HOLA where pooches, parrots and cats eye each other — and your food. The eggs benedict is recommended. Fun, friendly atmosphere. HOLA specialises in breakfasts and brunch. Parking is available for a small fee. It is reimbursable. Ask the restaurant.
If driving to Kam Tin or bussing in from Tai Po Market (KMB 64K) or Tsuen Wan (KMB 51 over scenic Route Twisk crossing Tai Mo Shan), you could stop at quaint old-world roadside hamlet of Sheung Tsuen hamlet just before Shek Kong, set amidst the rust-belt of car-breaking yards. The tiny street market is lined with old stores, a curry house, and noodle stalls, with excellent street-side dim sum at the far right (the prawn har gau with water chestnut is always excellent). The upscale air-conditioned old timer Golden Castle is at the far left, with a small car park that is full by 12 noon. Directed at local palates, Golden Castle serves steak, seafood, risotto, pasta, and some passable Thai, and curries. It has pet-friendly outdoor seating too that is particularly pleasant in winter when the crimson poinsettias are ablaze. This is one of the fancier places in the Pat Heung area.
On the flanks of Tai Mo Shan (KMB Route 51) in Chuen Lung Village just above a scenic stream with vegetable fields carpeting the area, is old timer Duen Kee that has a friendly do-it-yourself vibe. Just pick your dim sum from the large bamboo steamers, select your vegetables and give them for cooking, and make your own beverage from the sacks of assorted tea leaves on offer. Sit indoors our outdoors. It's informal and busiest mornings. Duen Kee dim sum is large portioned and rustic and the place is a favourite with hikers.
LONG PING TREATS, LITTLE INDONESIA Back in Kam Tin, from Kam Sheung Station the MTR line will whisk you in a few short minutes to Yuen Long and then to Long Ping. The low-rise Long Ping area is a throwback to the Seventies with its quaint Tai Kiu Tsuen walled village, colourfully painted houses, mature shade trees, florists and a profusion of small bakeries. Each block has its own flavour.
Expect cycle shops, local wet markets, dim sum, and even Indonesian in the area between the large bus station on Kit Yeung Road, On Ning Road and the riverfront Hi Lee path. (River is a euphemism for a concrete canal that serves to drain the area.) Around here, find Indonesian snacks, with rendangs, curries, and moneychangers. Pop into Tokosrikandi (for packaged snacks and crackers) or grab a bite at the unassuming and reasonably priced Warung Agung, manned by three toiling ladies who will size up all comers speedily and upsell you in an instant. I arrived to scout for nasi goreng (HK$45) and left instead with a large tub of beef rendang that cost HK$100. My aromatic shoulder bag caused a stir on the MTR.
Walking along Yuen Long On Ning Road will bring you to Indian and Nepalese restaurants like the alarmingly described 'Italian Asian Fusion' DnD Restaurant and Bar (try the flavourful 'pani puri' and 'momo' dumplings - or pizza if you're brave) and the more lofty Shreengkhala Curry House where the tandoori and curries will be  much the same but at vastly higher prices. Right next to Shreengkhala is the Bai-Yok Thai Restaurant. (Farther south on a side street facing a leafy park and with outdoor seating under a red awning is the inviting Shang Thai Thai with more tempting cuisine from Thailand.)
Old timers may recall Shaffi's Indian Restaurant (Halal) on the parallel Castle Peak Road just a little south of here. Shaffi's was running in the Nineties in Shek Kong at a time when the Gurkhas were stationed there. It briefly operated in one of the barracks as well. Shaffi's is now run by the youngest brother, Imran Ali, from Lahore, who offers a large range of dishes from kebabs and tandooris to curries and vegetarian fare, much of this now directed at local clientele and cautious palates. I picked up some chicken chapali kebab that did me nicely for a week.
A short stroll south from here is the mod PROTON café on Kau Yuk Road with the usual burgers, steaks, pasta, eggs and desserts. A 12-minute walk east is the impossibly small and tucked away The Third (69 Kin Tak Street) that does coffees and pastries. The savouries are not the strongest suit here – the eggs benedict hollandaise sauce is mayo and burgers are off the menu – but, if in the vicinity, the desserts (imaginative pancake creations, pastries, and canelé) are popular. On the way to The Third you might also consider stopping in at the popular dim-sum restaurant Old Fung Tea House at 66 Tai Tung Road.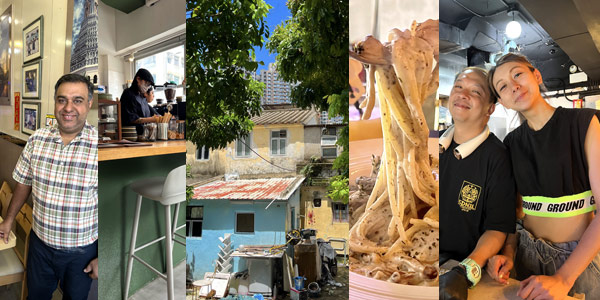 Heading back towards the Long Ping MTR Station Exit B2 on Ma Wang Road at 7 Fu Loy Garden, Block A, is the unassuming and tiny Next Station café. It is easy to find facing the main road below the elevated train tracks. Run by Jenny (the quiet and gangly barista who on occasion unleashes a brilliant smile) and the indefatigable chef Daniel who never seems to pause for a breath in between rustling up all-day breakfasts, scrambled eggs on bagel, carbonara and, the café's speciality — creamy mushroom spaghetti with truffle. At HK$95 it is something of a steal both for volume and taste (which beats many nose-up Italian restaurants in town). Daniel feels the scallops with garlic spaghetti are his top dish while Jenny's pick of the coffee is her sherry-barrel-soaked Honduran whisky-honey combo with accents of musk melon and chocolate. Of a weekend, owners might saunter in with their pets and it is not uncommon to be seated next to an inquisitive poodle or two. Jenny took barista classes while the affable Daniel is largely self-taught after taking a keen interest in his father's Chinese restaurant.
PING SHAN HERITAGE TRAIL, PIZZA, CARS Not far from here is the historic village of Ping Shan and its 1.6km heritage trail. You can hop onto the Light Rail (LRT) on Castle Peak Road near Shaffi's or, if in Yuen Long, head down to the convenient LRT terminus right under the MRT Station. This is where, on an insufferably steamy day, I boarded an LRT (Light Rail Transit) carriage that glided through this 'frontier' town to ancient Ping Shan and its shingle roofs. All the LRT routes from here will pass Ping Shan, about five stops away. There is a well demarcated Ping Shan Station and announcements are clear. If using a stored-value 'octopus card' the tap machines for entry and exit are on the platform (not in the carriages).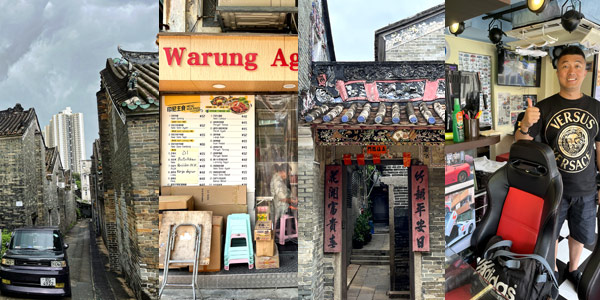 Getting off at Ping Shan, continue in the direction the carriage was moving in and turn right into Ping Ha Road. At the fork, veer right and stay right to walk uphill to the Ping Shan Heritage Trail Visitors' Centre. This old whitewashed former colonial police station is also a Tang clan museum and you can pick up a trail flyer with useful insights. Descending the hillock, visitors can cut through the village to arrive at the grand red brick Tang Ancestral Hall. This whole area is very much Tang Town.
The clan moved from Jiangxi province to Guangdong in about AD960 (Northern Song Dynasty), stretched out to Kam Tin and later arrived at Ping Shan in the 12th Century. They built a series of temples, study halls, walled cities (wais) and villages (tsuens) to establish themselves. The short heritage walk formally runs past Hung Shing Temple (Ping Ha Road), and the Shut Hing Study Hall, before turning right to pass the Ching Shu Hin guesthouse and the Tang Ancestral Hall. Various incense-wreathed structures dot this area.
Then head to the Yan Tun Kong Study Hall, the Yeung Hau Temple — devoted to a Tang General who fought for the Song Kings — past the Sheung Cheung Wai walled city and on to the Tsui Sing Lau Pagoda near the Tin Sui Wai MRT station (a good getaway point for the Tuen Ma MRT Line). There's an LRT station here too. Along the walk you'll pass Motors Café (formerly the F1 Café, with its unmistakable red car above the entrance).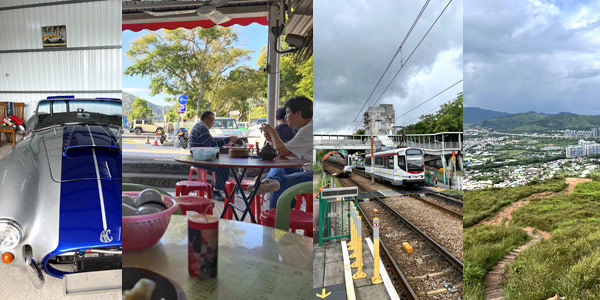 Alan Tang, a scion of the illustrious clan, has run the place for the past seven years and his passion for cars is everywhere, from the red leather car seats for diners to his collection of classic muscle cars in the lot behind the café. Spot sporty McLarens and even an AC Cobra. The café, fronting the Kun Ting Study Hall, makes for a fun pit-stop and Alan is an animated host.
Much further along at Ha Mei San Tsuen there's the local-style tea joint, Waso Café (also Mrs Tang Cafe), not for the fainthearted. Think 'pantyhose milk tea' (strained through a pantyhose) and pineapple bun, with fried egg, tomato and butter slab, interestingly described by one reviewer as, "fried eggs and a large piece of tomato, as long as 19 mosquitoes." The mystery deepens. But then, this is Old Hong Kong with its many fine secrets.
Send us your Feedback / Letter to the Editor