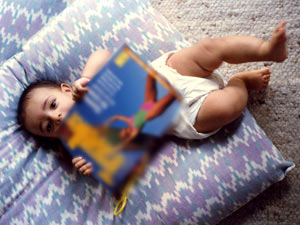 The last time my son read a print magazine
THIRTY YEARS is a long time. For a twenty-something it's a lifetime and a half. In an age of information on steroids, thirty years is an incomprehensible abstraction. That was even before my first birds-and-the-bees session with my son, now 21, when I took him aside to have a manly chat about life and all the amazing things I had learned reading Harold Robbins. "How did it go?" I was later asked. "Very well," I replied, "I learned a lot." Kids pick up a lot more in school than we did. And they pick up even more on the Internet.
And it was just 10 years ago when he first asked me why I wore my trouser "belted around the nipples". So they don't fall off, perhaps?
Thirty years ago I had subscriptions to around five magazines and one newspaper. I made time to read. And when I didn't, all that paper worked admirably as shelf-liner. Today I subscribe to no magazines and seldom buy a newspaper. All the reading I need is available, free, in the dentist's office, the airport lounge, the hotel room, my building, Toys R Us, restaurants and bars – in short, everywhere.
Send us your Feedback / Letter to the Editor

Share This Page
Why are magazines being tossed away free? It's a disturbing question that has one simple answer. The Internet. With information more immediately and universally accessible, readers have moved away from costly old media to the fast end of the information wave, the Web. Small wonder it's called surfing. Information has become a surplus commodity that no one wants to wait for or pay for.
Thirty years ago if you had a sudden urge to travel – and not just because your dad had received your school grades – you'd flip through a magazine, the glossier the better, the kind with big words that you could circle to impress your friends. This was where we came across those dreamy picture-postcard images of rooms with a view, villas in Portugal, hikes in the Himalaya, and the latest Mandarin Oriental or Peninsula in all its marble slathered finery. Pictures like that, even without the candid assistance of an Anna Nicole Smith, had people everywhere saving up for that dream holiday.
Thirty years ago the only brands that 'existed' were the few with ads in glossy magazines. Today there are 10,000 beauty queens on the online catwalk. Being seen is easy, getting noticed, tough
Pictures and travel go together like Angelina Jolie and just about every child in Malawi. Advertising was all about brands, about magnificence, about opulence and glamour, about history, and heritage.
But image-boosting placements in magazines cost a packet. So only the few advertisers with the money and the moxie ever made it into the pages of high-end magazines and highbrow Sunday newspaper sections. For average punters then, these were the only hotel or airline brands that existed. There was simply no other source of information, save for occasional word of mouth. Everyone knew about Hyatt and Sheraton, few knew any boutique brands. Thus when following in the fine British royal tradition of throwing open the home – to commoners, and in my case, to the rich and famous to show how shabby, impoverished journalists live, and finding no takers – I did not despair. After all, who had even heard about Villa Verghese. It was truly boutique, a word-of-mouth gem, and the bouquet, often of old underwear and unwashed socks, carried round the block, intriguing and warning all comers.
Today the boot is on the other foot. The supremacy of online media means EVERYONE can be seen, not just the five-stars and Dubai nine-stars. And on the Internet, where a no-star hotel and a five-star palace can look equally alluring, there is a fundamental dilemma for any brand. This is where the readers are. Not in print, where substantial brand dollars are wasted. The Web is where the brand must be built, maintained and grown, but how?
Imagine a beauty contest with just ten models on the stage. That was thirty years ago. These were the big brands whom you drooled over in glossy magazines. Cut to the present, and now imagine ten thousand beauty queens on the catwalk, each one more glamorous than the other. From the spectator's point of view, this is fun. For brands it is diabolical. Nowadays it is easy to be seen but it is incredibly difficult to get NOTICED. From one in ten, to one in ten thousand, the odds have got worse with every passing nanosecond on the Naughty Net.
In the online blogosphere it is the small boutique hotels that people talk about and visit while the big brands of yore have been relegated to fading word-of-mouth.
The entire world population is online – including my 84-year-old parents – and it is wistful thinking to assume that brands can still be successfully marketed exclusively in print. That's pure gobbledegook. The brand has to be strongly positioned "upstream" (online) to deliver results "downstream" (online) on all those sales and ROI efforts. Without this, the juicer is whirring away impotently with nothing pushing the fruit down into the blades. Print magazines have lost subscribers like myself and are sadly languishing unread in hotel rooms across Asia, and the world.
The better ones will fight back as they should, and return to the stage, more focused, more relevant, more purposeful. Till then, brand marketer or surfer, make the Web your ally. Don't wait another thirty years.