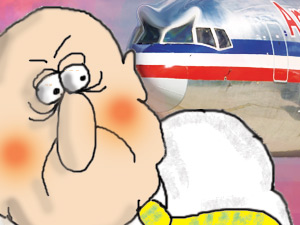 American Airlines gets tough/ illustration: Vijay Verghese.
THE Good Book states quite unequivocally that what God hath joined together let no man put asunder. As 2011 rolled in I thought this a pretty good reason to stop haring about like a headless chicken and plonked myself down in front of the TV, head and body conjoined in unfamiliar harmony. The Creator would have winced but all was well, save for one minor niggle – with my head actually on, my feet tend to hang a few inches off the end of the bed.
For those not in the know, this stern biblical injunction is directed as much at wobbly marriage unions as at kids experimentally yanking cats' tails in the noble pursuit of science. Yet, cats in much of the East wander about with missing tails and divorce is on the rise, and nary a thunderbolt from the heavens.
But when an airline pulls its schedules off an OTA web portal, all hell breaks loose. Travellers were incensed, and rightly. Why? Because most people over 12 and not in the army, haven't a clue about acronyms. Was someone bullying the Orthopaedic Trauma Association? Or the Ontario Tennis Association? As our readers are aware, acronyms were secretly introduced to Earth by aliens – via MSN chat – in a fiendish scheme to stop all normal adult communication.
Send us your Feedback / Letter to the Editor

Share This Page
The OTA (online travel agent) in question was Orbitz, one of the biggies. Size did not save it from getting the boot from American Airlines. Then as 2011 dawned, Expedia, the mother of all OTAs, in a fit of negotiating pique, "de-preferenced" AA and then swept it off its booking system. So what's the significance of this spat apart from further trauma to the ever-accommodating English language and the fact that no one can tell an OTA from a GDS from a CRS? We'll get to that.
Southwest Airlines, the original zany, US rebel with flight stewards rapping out the safety demonstration, is not listed on Expedia, Travelocity (Zuji in Asia) or Orbitz. Feisty low-cost AirAsia and Cebu Pacific (the latter with some incredible singing stewardesses who amply demonstrate that they can snap on a seat buckle and carry a tune at the same time), are not listed either. In Europe, easyJet harrumphed noisily when Expedia tried to offer bookings. These airlines know there are two things passengers love – insanely loud karaoke and absurdly low fares. And the smartest way to whittle down ticket prices is to cut out the middleman (and commissions) and go direct to the customer.
Therein lies the rub. In the past, airlines used a proprietary distribution system to get their fares (the product) to points of sale (travel agents) that in turn dealt with the customers (the market). The product reached the market through airline-sponsored computer reservation systems (CRS) that later came to be loosely known as global distribution systems (GDS) as they evolved into an amalgam of feeds. To get the hang of this visually, check out the delightfully uncomplicated cookie metaphor video at openaxisgroup.org/cookie.
United launched its Apollo system in 1976 and airlines followed suit, providing masses of free computer terminals (distribution) to travel agents, all niftily plugged into their own systems, and fares, often excluding competitors. Amadeus, Sabre, Galileo, Abacus, and Worldspan followed.
Airlines know there are two things passengers love – insanely loud karaoke and absurdly low fares. And the smartest way to whittle down prices is to cut out the middleman
Online travel agents need to link up with one or more GDS partners to offer comparative prices on their websites. Choice, unquestionably, favours the consumer. Airlines, on the other hand, would like to go direct and eliminate commissions and extraneous costs. Commerce tends to follow the shortest route.
American Airlines is keen to have agents use its new Direct Connect system. This, it believes, offers travellers real – not stripped down – prices that reflect realistic fare levels after add-on options have been selected, and without any pesky booking fees. No deal, growled Sabre (once owned by American), in an ample January display of tooth. It will end its contract with the airline in August 2011 and has already demoted AA displays on its system. Says Chris Kroeger, Sabre senior vice president, "American has taken action to impose a costly, unproven and unnecessary system, while withholding some fare content." Meanwhile, almost unnoticed, Delta, the world's biggest airline, dropped at least three smaller online agents.
Are airline ticket prices and online agency prices significantly different? Not really. The fares as communicated by airlines through the GDS to travel agents are usually in line with their own online offers. Of course an agent could heroically slim down his commission to pass on a price benefit to his customer. But then, commissions are rarer these days as airlines and hotels cut back or eliminate them. Hence the agency booking fees that often negate the slim advantage of a really cheap deal.
Adroitly exploiting the Web, budget airlines have given online travel agents the bum's rush. With dirt cheap prices there are no middlemen, just ever-tighter middle seats. But as you go up the cost-benefit ladder and the selection expands, it is harder to offer travellers Hobson's choice. The more people pay, the more they wish to shop around. And this is where the value of the GDS is immediately apparent. Booking an airline direct or through an online agent depends on personal preference. If you belong to the new Facebook generation, suckled on Internet beestings, either will be a doddle. Give me a human any day, a doltish travel agent, Dolly the cloned sheep, or even an inflatable doll.
For those who grew up on The Singing Nun, cheery warbling stewardesses are a logical progression. Meanwhile there is another OTA American Airlines shall have to seriously ponder – on time arrival.