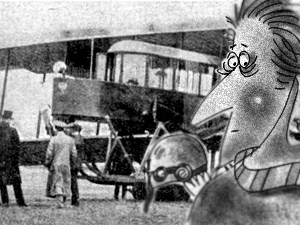 A genuine outdoor balcony/ photo illustration: Vijay Verghese.
ON a clear spring day there is nothing more delightful than driving with the sunroof off, feeling the wind in your hair. So it was that Southwest Airlines, taking a leaf from BMW's book and drawing on years of experience, peeled back a section of the fuselage to turn a Sacramento-bound B737-300 into a convertible, 30,000ft aloft. This nifty trick and brilliant piece of PR instantly won banner headlines, the escapade soaring grandly above all the usual garden-variety japes and ho-hum tomfoolery on April Fool's Day. It was revolutionary, perhaps even heralding the dawn of a new age in eco-travel, with passengers falling rapturously from the skies – communing frantically with their mobile phone, if not inner child – with nary a seatbelt, nor aeroplane in sight.
Larry Downey, seated right under the hole that blew open after the flight took off from Phoenix, Arizona, said, "You could look out and see blue sky." Another passenger described the event as "surreal". Those who weren't blown away by this innovation, obviously had their seatbelts on. We can imagine their delight. Now that's what we call flying.
Eyewitnesses reported some passengers "passed out", but this was clearly due to lack of oxygen, and not poor cabin service or long toilet queues, both far more serious issues afflicting the weary travelling classes. Investigators placed responsibility on a "lap-joint issue" – again a structural problem that has nothing to do with lap dancing in the cockpit. A similar incident in July 2009 had Southwest passengers enthralled as a hole appeared in the fuselage, just a foot long that time, and not nearly enough to give all the passengers a decent view. Clearly, the airline is trying.
Send us your Feedback / Letter to the Editor
The open-cabin technique was first pioneered by zesty Hawaiian carrier Aloha on 28 April, 1988, when the entire front-section fuselage roof blew away on a B737-200 en route from Hilo to Honolulu, serving up first class views for its first class passengers. Economy travellers in the neglected rear got wind and debris, but no views. You get what you pay for.
This takes aircraft design right back to its beginnings when pilots and passengers flew in open cabins exposed to the elements. In May 1913, Igor Sikorsky, the inspired Russian inventor, flew a four-engine biplane, Le Grand (Russky Vityaz), which featured an open balcony at the front. The second generation Ilia Mourometz (also Ilya Murometz) came with an open bridge section from where passengers could fully appreciate the rigours of arctic cold and also drop things on the unsuspecting far below. The concept proved so appealing that military spoilsports commandeered the aircraft in order to drop things from a height – mostly bombs – on the hapless Prussians.
This takes aircraft design right back to its beginnings. In May 1913, Igor Sikorsky flew a four-engine biplane, Le Grand (Russky Vityaz), which featured an open balcony
So the question is, why did Southwest stop short? They could have carried the open-roof exercise to its obvious conclusion and peeled off the entire fuselage to cut down on burdensome metal and carbon fibre, as well as dearer oil from those we're-in-charge-oh-no-we're-not Libyan rebels.
For a low cost carrier, this sort of stripped-down arrangement could work splendidly. Fewer frills and less airframe = less cost for passengers. Perhaps even no passengers. This, of course, is the ultimate goal of any airline attempting to achieve aeronautical nirvana as a fully "no-cost" carrier, sans planes, passengers, pilots, staff, and fuel surcharges. The introduction of fees for luggage, reserved seats, and perhaps toilets on Ryanair, displays fiendish foresight as it targets pesky passengers. Get rid of them, and you don't really need to spend on anything thereafter. That's how savvy airlines are bringing costs down to zero so they can get into something remunerative, like a Chinese laundry business.
Behemoths like United and Delta have tried other options, like septuagenarian stewardesses. But they clearly didn't do all their reading, having only got as far as Chapter 11 (of the federal bankruptcy laws).
Are sunroofs on aircraft safe? Interestingly, since the 1950s, mechanical failure has been responsible for just an estimated one fifth of all air crashes. Pilot (human) error was the culprit in 56 percent of the incidents. Sunroofs don't figure anywhere. Reassuringly, according to PlaneCrashInfo.com, the chance of meeting your Maker on a flight (looking at statistics for the top 25 airlines) is just one in 9.2 million, while the odds on the worst 25 airlines, are still not too bad at one in 843,744.
Following the Southwest incident, Boeing rewrote its maintenance drill, demanding checks be carried out for metal and joint fatigue every 30,000 cycles and not just every 60,000 cycles. The Southwest B-737 had undergone 39,000 take-off and landing cycles. For aircraft designed to fly 15 to 20 years but with life spans extended to 30 to 40 years through the intervention of amazing technological innovation and tightwad corporate accountants, this is a move in the right direction.
So while airlines rid themselves of passengers, I've been looking at the Audi R8 Spyder convertible. What a pleasure to have wind in the hair and clear blue sky above. I only wish the darn thing could fly.