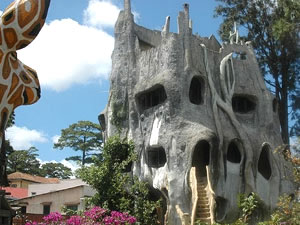 Hang Nga Guesthouse Dalat, Vietnam, is built like a tree
THERE'S no accounting for taste. In days of yore, when I wore my pants around the waist, as all God-fearing men of a certain age did, my deeply embarrassed son asked why my trousers were "belted at the nipples". This was clearly an uncool thing to do. Trousers are to be worn below the hip, halfway to the knees, with enough bottom cleavage to rival Wonderbra lift. This offers the double satisfaction of defying gravity and impressing your date. "I don't have a cleavage but my boyfriend does. Show them Bob!"
Even more uncool was my birds-and-the-bees chat with my son, then aged eight, when I took him aside with the sage words, "Son, the male reproductive organ is called a... um..." To this he responded brightly, "Yes, dad you can also call it Richard, Willie, Dick…" When I finally emerged, sanguine of face, my wife nervously asked, "How did it go?" to which I replied unequivocally, "It went very well; I learned a lot."
Now that my son has grown up to discover the joys of stringing together whole sentences and I am apparently less of a shock to the emerging world with all its foetal fads, there's a new scourge in town. It's called hotel design.
Send us your Feedback / Letter to the Editor
Time was when design meant planned space, form and function, proportion, and aesthetics, within the bounds of the Laws of Physics. That's Dullsville. Now, everyone with the right iPhone app is a designer. As the world moves online, power has gravitated from BMWs and boardrooms to prams and prepubescents. Forget Planet of the Apes and think Planet of the Babes. It's called devolution. Design has become accessible and it has gone wild. It will change your life.
Move over Gaudi. If Shanghai's Pudong looks like aliens tossed down some head-scratching stuff just so tourists could gawp and Twitter in awe, then the Oriental Pearl TV Tower is surely part of that intergalactic prank. Even Hong Kong's storied skyline presents the occasional mysteries. Ponder the faux-Roman Central Library building with its campy cross-dresser pillars. Architectural braggadocio keeps the masses entertained.
Modern hotel design has a spiritual aspect too. How often have you been humbled by the simple bedside light? I can never find the right switch and live in fear the butler may turn up
Modern hotel design has a spiritual aspect too. How often have you been humbled by the simple bedside light? I can never find the right switch and live in fear the butler may turn up. This is a profoundly Christian experience, revelatory, humbling, and far less messy than being thrown to the lions. Finding the nightlight can occupy a family for days, enabling bonding and building a healthy relationship with the brand. Then there are the hairdryers thoughtfully bolted to the floor with three-foot cords so you can genuflect while blow-drying your hair.
Step into one of those toilets with the fancy shower toggle and you suddenly understand the frightening complexity of an A380 cockpit. Some bathrooms are so dimly lit that there is no room at all for vanity – or shaving and makeup.
As our 2011 BEST IN TRAVEL Poll results underscore, there is a reason people like classics. A classic hotel is comfortable, safe, and dependable, like a fussing aunt. You can be yourself rather than pretending to be someone else.
But should your tastes run to the more extreme, here are a few outlandish choices. The unabashed Chaweng Resort in Thailand's Samui Island has a salmon exterior gussied up with more Roccoco gold trim than you could shake an elephant's tail at. The 1,000ft 105-storey Ryugyong Hotel towers above Pyongyang like a derelict Soyuz rocket with 3,000 resoundingly empty rooms in its steepling pyramid.
The Tianzi Garden Hotel, also called the Son of Heaven Hotel, in Langfang, Hebei, is built in honour of the ubiquitous Chinese Gods Fu, Lu and Shou (representing fortune, prosperity and longevity). But this is no ordinary cinderblock. The hotel is actually built in human form with giant statues complete with beards, coloured robes and regalia. At the First World Hotel in Genting, Malaysia, you can rub your eyes all you want but it'll still be there in all its hallucinogenic glory. In New Zealand, you can stay in a reconditioned aeroplane, a 1950s Bristol freighter, though Costa Verde's red 727 interiors are more sumptuous and inviting. Back to nature? The Hang Nga Guesthouse (referred to as the Crazy House) in Dalat, resembles a gnarled tree going through a midlife crisis with a giraffe looking on.
For those still standing, there's the remarkable Dog Bark Park Inn in a corner of Idaho, USA, where pups and peers stay in dog-themed rooms. This whimsical retreat looks like a giant beagle. It is a bustling place. As the brochure says, "Cottonwood, 924 population and the second largest community on the prairie..."
Last but not least, if you are pondering the question that so torments visitors to Sri Lanka – "Who is Helga de Silva Blow Perera?" – find out. At Helga's Folly in Kandy, whimsy is pushed to the extreme. Mahatma Gandhi stayed here so you should be just fine. You may need a jacket for a post-prandial stroll however. And trousers belted at the nipples are de rigueur.