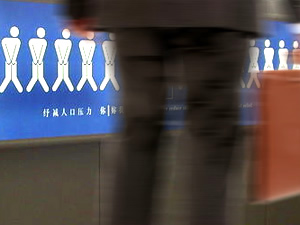 Beijing Airport toilet sign: less people = smaller queues
AT 7.30am on an autumn morning, Beijing Capital International Airport's gleaming T3 terminal is an imposing imperial vision of soaring red columns holding up a neat reflective celestial mantle that glints under the crisp blue skies. It is a monstrous, modern, melting pot. International travellers are whisked by train to a satellite concourse where, suddenly, the scale shrinks, and the endless vistas diminish abruptly. Here, immigration and airside security are unfathomably compressed into a tiny space, creating a logjam of swearing shuffling people. When it comes down to the nitty-gritty of processing people – as opposed to moving them around and awing them – this grand edifice fails spectacularly. Yet, our readers voted it the sixth best airport worldwide, a rank it will have to work hard to justify and hold.
But in the airline lounge, things are surprisingly friendly. A burly American walked up to me, his hair in disarray, smiling sheepishly. His MacAir was firmly shut. Another passenger seated by the long table, turned around and eyed the room before rolling his eyes and grinning. His laptop was shut. I closed my Mac too. People made eye contact, smiled tenuously, and volunteered cautious "hellos". Some read magazines, though a few had clearly forgotten this ancient art as they gingerly rustled paper. No one tapped on keyboards, or sat aloof, unsocially plugged into some hi-tech device trawling the Internet.
Send us your Feedback / Letter to the Editor
It was a throwback to the Eighties when passengers actually talked to one another and swapped stories about their lives. So how did a gargantuan modern airport bring about this beer hall bonhomie? China is no stranger to social experiments that bring about a warm and fuzzy feeling, usually after you have been cudgelled about the head. The principle here is simple. To access WiFi passengers need to surrender their passports before a unique individual password and user name can be provided. Travellers' surfing is directly linked to their passport details. This combination of Big Brother accountability and inscrutable service denial from time to time, ensures laptops are often closed, saving power, building a greener tomorrow, and encouraging communication involving the larynx and vocal chords. I surprised onlookers by speaking a few complete sentences to helpful lounge staff as they attempted valiantly to plug me into the Internet.
Many miles south, I flew in a single-aisle Garuda B737-800 from Hong Kong to Bali and landed at 8.30pm to find an unusually deserted airport. Having raced off the plane Hong Kong style, my colleague and I were the solitary passengers at immigration. The customary scrum was absent. This was a brief window of respite between international flights that would disgorge a fresh batch of scrambling people and red-faced misery. The sign at customs exhorts travellers to "Make good queue." Excellent idea. But how does one do this with just two people? We tried our best but were out of the airport in minutes.
At Shanghai's Pudong International Airport I was finally able to make "good queue" – for 40 minutes at immigration. It offered time for reflection and for this I am deeply grateful
Ngurah Rai International Airport did not make it to our readers' list of TOP 10 airports. Another small facility, the thatch-roof Samui Airport, where Hawaiian trolley cars ferry passengers to planes and sea breezes blow through the tiny open-sided "terminals", did. It ranked No.9. This is one of my favourites.
At Shanghai's Pudong International Airport I was finally able to make "good queue" – for 40 minutes at immigration. It offered time for reflection and honest soul searching and for this I am deeply grateful. The airport ranked fifth jointly with Bangkok's Suvarnabhumi where long, healthy walks await, the perfect antidote to creeping deep vein thrombosis after a long flight.
In Delhi, at the Indira Gandhi International Airport where the new Terminal 3 has carpets so soft and deep you need a boat or very high heels to ford them, passengers gawp in amazement. Escalators work and don't gobble up children any more, the air-conditioning is palpable, staff are brisk and professional and there is actually a car park outside. Astounded travellers ranked Delhi's T3 No.10 this year, worldwide. This is the very airport where just a few years ago my indestructible Samsonite bag arrived on the conveyor belt, split in two. Brought up on advertising showing rampaging herds of elephants leaping on Samsonite bags to prove they were unbreakable, I have stayed loyally with the brand, but old Delhi Airport at 2am was a challenge worthy of the Roman Coliseum. Samsonite very kindly informed me later it offers a warranty on damaged goods, but just for the handles, locks and wheels. Not the shell. This is akin to car insurance that covers the hubcaps and side-view mirrors only. Sensible. Smart folks are in charge of Samsonite. One day I'll drop a heavy suitcase on their heads in the interests of travel bag research.
Hong Kong's Chek Lap Kok Airport stormed up to No.1 after a brief hiatus when Singapore's cheerful and colourful Changi bagged top honours. With renovations continuing in Terminal 1, Changi still waltzed in second on our list, by a whisker. Seoul's Incheon International Airport moved up to No.3 and Kuala Lumpur International Airport rated a very creditable fourth best airport worldwide.
Right through September our indefatigable team fanned out through Asia to personally deliver our 2011 BEST IN TRAVEL awards to top winners – hotels, airlines, airports, and destinations – demonstrating our commitment to excellence and old fashioned foot work, and displaying impeccable taste in new ties and flashy shoes. Many gracious awardees took the time to chat, learn more about traveller brand preferences, and strike heroic poses before grand staircases. Some, lower down the rankings, sulked or refused to turn up to face the cameras and marvel at my Samsonite bags, still intact after a whirlwind trans-Asia expedition. Some were alarmed and enquired nervously how much the award would cost. They were surprised to learn there was no scalping nomination fee or expensive arm-twisting gala dinner.
Congratulations to all winners and thanks again to our many readers who took the time to vote. Safe travels all. Turn off that WiFi and TALK.