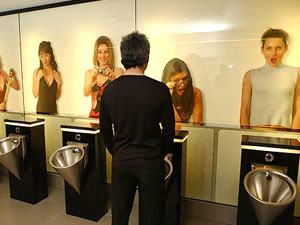 Don't be shy. An old view of the Sofitel Queenstown toilet
THERE ARE TIMES in life when, nagged by a vague disquiet, a man drops the mundane and mediocre to stride forth in search of challenge and chutzpah. I was a little over fifty when the realisation dawned that I needed to do something special with my life – hug a tree, save the planet, or join Facebook. I headed to Tokyo. And there it was, awaiting me in a hushed, dimly lit chamber like some beckoning primeval Arthurian throne, laying down a challenge.
My pulse raced but I was intrigued. This was the first time I had encountered a Japanese toilet. I had no idea how to use one and the instructions, while generously detailed, were all in Japanese. I did what any intelligent male confronted by a do-it-yourself IKEA cabinet would do. I looked around for a hard object to bang my head upon. I prodded, pressed, cajoled and moved levers to no effect until I spotted the bidet sign. I hit the button and, voila… a gratifying stream of water gushed out with laser precision and splashed my enquiring face. I recoiled startled, and it poured all over my trouser front leaving me dripping. Moral? Spotless they may be, but never peer into Japanese potties or mess around unless seated and meaning business.
Send us your Feedback / Letter to the Editor
I eyed the hand dryer and wondered if I propped myself up at a judicious angle and at a sufficiently safe distance whether it might remove the embarrassing wet patch without completely frying future generations of Verghese offspring. I tried my best dog-at-the-hydrant pose while sozzled salarymen wandered past without batting an eye. It didn't work. So I wandered out crablike and furtive, keeping well to the shadows, hoping no one would notice. This was before being handed the peanuts in a sealed plastic case bearing the precise instruction: "Not to be used for the other thing." Exactly.
I have been obsessed with toilets since an early age in India when, troubled by an unpredictable stomach, I was frequently called upon to produce a record-breaking Usain Bolt dash. Despite my growing agility and speed at sniffing out the best toilets – usually at the nearest hotel, thus kindling my interest in travel – success was rarely guaranteed. Much later, after a fed-up aunt dosed me heavily with Flagyl, thus curing me of chronic amoebic distress, I was suddenly at a loss. Gone was that adrenalin surge with the clock ticking and bowel churning. I rediscovered toilets at a less hurried pace and looked at them anew. You can judge a man by his socks. And you can judge a hotel by its public toilets.
Gone was that adrenalin surge with the clock ticking and bowel churning. I rediscovered toilets at a less hurried pace. You can judge a man by his socks, and hotels by their public toilets
Rural toilets in India leave quailing visitors perforce constipated for days. It is the survival instinct at work. And enough has been written about Chinese toilets to make Westerners pale. Small wonder the Japanese and now the Singaporeans too have developed a fetish for clean loos with competitions to select the best. In Singapore the Restroom Association issues star ratings under the Happy Toilet Programme.
In Japan you might encounter toilets with giant yodelling faces and others with sexy bent-over ceramic models (female of course). There are toilets that spookily rise up to greet all comers with proximity sensors that also set about warming the seat and playing music. Tug at a Godzilla toilet roll that roars dramatically or play Beethoven's Fifth to disguise your ablutions. Nothing is beyond the realm of possibility. Try massage, a botty dryer or potent air freshener to emerge from your experience smelling like fresh laundry.
Japan and things Japanese remain splendidly quixotic. Take the hotel brochure at a Japanese-managed hot spring near Taipei that reads: "Several decades of hot spring pool, compose adult well-being of thick art paper space." Now why don't people just tell it like it is.
Nipponspeak is at once puzzling, endearing, and wildly romantic. Like the heartfelt invitation from the aforementioned brochure to "roam the mountain forests of the moving". Dagnabbit, has that forest moved again? In English it would simply be cerulean skies (ho hum), verdant panoramas (boring), and state-of-the-art (barf) this and that. Why do hotels go to such extraordinary length to gussy up what is really just four walls and a bed when they could simply do it the Japanese way? Welcome to white cloud of the plump pillow sleep cat.
The vast flotsam following the Japanese tsunami – estimated to be about twice the size of Texas – is meanwhile floating nonchalantly across the Pacific. This heaving continent of splintered wood, refrigerators, cars and plastic – and, no doubt, intelligent toilet seats – is estimated to reach Midway Island in January 2012 and the West Coast of the United States in 2013 before pootling back to Hawai sometime in 2014.
Times are tough. But I can take comfort in my brochure. "Remove the heavy body bags," it urges, and "hug the Castle Peak colour..." Exactly.