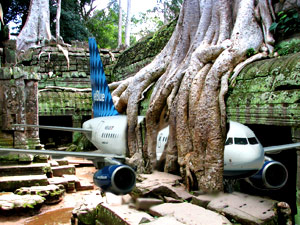 jetBlue delayed again? / photo-illustration: Vijay Verghese
I SHOULD HAVE BECOME A DOCTOR. From an early age I handed out Saridon for headaches – no namby-pamby aspirin – antihistamines for sneezes, and advice for just about everything else. I preferred Saridon as I had seen an advertisement that claimed it worked "four ways". That seemed impressive. No matter the caffeine charge – the equivalent of seven cups of coffee – had people racing about like headless chickens with their eyes bugging out. But medicine is at its heart a noble profession. I was deeply moved by the account of an American lady who related that in India, doctors were different. "I went to one for an ingrown toenail," she recounted, "and he said he'd like to see my breasts!" That seemed a sensible place to start. In between swotting for school examinations, I cultivated my art. "Dr Verghese, I had a bad dream last night." "Right. I need to see your breasts." A promising medical career was interrupted by journalism. Well, better late than never. My interest in ingrown toenails is as keen as ever and perhaps I shall return to the noble profession.
Except for phone bills, everything is late these days – dividends, planes, medical careers, and balanced budgets. So how late is late? That's the question on everyone's mind. As late as an Indian dinner? That could be 1am with the guests comatose and the curry only just being served. Late at the altar could be a lifetime, as the groom quakes in the cupboard, insisting his conference call is still not done. Hong Kong democracy may never arrive, waylaid in a thicket of red. And the end of the world, as the Moonies had it, was on my birthday a few years ago. As it turned out, that event too, was late, and my friends were forced to once again dig deep in their used-stuff cabinet to come up with the annual cufflinks.
Send us your Feedback / Letter to the Editor
As late as jetBlue? Now THAT's late. On 29 October 2011, jetBlue flight 504 with 123 passengers on a routine pootle from Florida to New Jersey had to divert to Hartford, Connecticut, where, it then stood, stranded, on a snowy taxiway, for over seven hours while the pilot pleaded with the airport to let people deplane. Food ran out. Toilets backed up. But, despite its best efforts to emulate Air India, there was no doubt that jetBlue was LATE. Then, an American Airlines flight from France was held up a bladder-busting 10 hours.
Okay, that was freak weather, but what about this? Austrian carrier Comtel Air detained passengers onboard in Vienna for six hours after it purportedly "ran out of cash" and demanded the travellers, on a flight from Amritsar to Birmingham, have a whip around to produce US$31,000 for fuel in order to continue. Failing that they would be offloaded along with their baggage. The passengers were politely escorted to ATM machines to produce the money. No doubt the care and service left them with a warm and fuzzy, and largely impoverished, feeling.
An on-time flight is officially one that gets you from gate to gate within 15 minutes of the arrival time shown on your ticket. Not chocks-off, or take-off, or we're-now-circling-Bangkok time
For those who need to know, an on-time flight is officially one that gets you from gate to gate within 15 minutes of the arrival time shown on your ticket. Not chocks-off, or take-off, or we're-now-circling-Bangkok time. Point to point. It's that simple. But try debating this with airline executives and you'll get an artful earful. Some would like to stretch "on time" to 20 minutes, others say informally it's 30 minutes, and the cleverer ones have already factored the delay into official timings. I have flown from Hong Kong to New Delhi in just over four hours. Perhaps we had a typhoon tailwind. Now my tickets routinely read five-and-a-half hours or more. How did this happen? Surely we're not flying Dakota DC3s anymore?
Monthly on-time performance charts are released by the US Department of Transportation along with explanations for delays. It makes interesting reading. For the 12 months ending August 2011, jetBlue Airways' reported on-time flight operations stood at 61.6 percent (against the US air industry average of 79.3 percent). Continental posted 74.3 percent and United 77.8 percent.
According to FlightStats Cathay Pacific's on-time performance rating from 15 August to 15 October, 2011, was as follows. The best route was LON-HKG with 92 percent of flights on time, followed by SEL-HKG (91 percent), with the reverse flight HKG-SEL a shade lower at 87 percent, HKG-NY (64 percent), and HKG-ANC (Anchorage) the lowest at seven percent, allowing for the vagaries of weather, polar bears and cranky Inuits.
Singapore Airlines produced a sterling performance on the BKK-SIN route with a 95 percent on-time record, followed by SIN-TPE (92 percent), SYD-SIN (89 percent) then dropping to 61 percent for SIN-HKG and 58 percent for JKT-SIN. THAI Airways was smooth as silk on the PHU-BKK run (89 percent on time), followed by BKK-HKG (85 percent), and SYD-BKK (62 percent). Malaysia Airlines scored well for KL-Kuala Terengganu (94 percent on time), and Bali-KL (92 percent).
India's Jet Airways produced a blinder on the Mumbai-Doha route (96 percent on time), followed by Toronto-Brussels (93 percent), and BOM-SIN (80 percent). Then it went pear shaped with only 54 percent of the flights Mumbai-Brussels and just 38 percent of the New York flights making it on time. Now that Jet Airways is interlining with jetBlue to increase access into the United States, factor in that extra seven hours. And, if you be a comely lass with an ingrown toenail, you know where to find my practice. Happy Christmas.