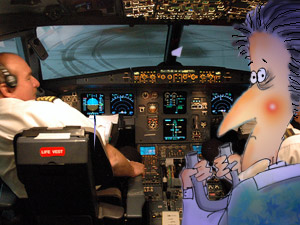 Don't forget the minimum six bounces/ illustration: Verghese
IN THESE days of overbooked flights, especially during packed holiday periods, dramatic upgrades are possible for frequent flyers with the right FFP affiliations. Imagine spending the night on a large, completely flat king-size bed just like home – your home – when the airline decides to bump you off a full flight. Service is homey and attentive or abusive and clamorous depending on whether you married for love or money, and whether a fill-in paramour was occupying your bed. The Family First Programme (FFP) saves dollars and shoe soles (unless leather is being vigorously applied, and rightly, to your no-good, lying, executive rump).
I've been upgraded from economy to the rarefied environs of business class where I have mingled with the beau monde and filled out weighty questionnaires – as only they know how – with several free ballpoint pens to prove it. I have never been upgraded from club to first, perhaps because I am too slim to securely tie down on a too generously proportioned seat, but it has happened to friends who actually bought business class tickets. Soon first class passengers will be upgraded to the cockpit where all they'll need to do is fly the plane. It's easy peasy Japanesey. Fly-by-wire aircraft do pretty much everything themselves. All a novice need do is futz around inflating dolls and shooting raunchy videos. That's how professionals do it. Hanging on to the joystick sweatily perusing navigation maps is so last decade. It's almost as deviant as holding on to a steering wheel – and not an iPhone – while driving a car.
Send us your Feedback / Letter to the Editor
You may be forgiven for thinking pilots are highly trained professionals with years of flying experience who have undergone rigorous tests like walking a straight line after landing a jumbo jet or blowing into a breathalyser tube. Not so. In January 2011 the Times of India reported that, "...some trainees who failed to become co-pilots or qualify as commanders on single-aisle Boeing 737s on Air India's budget arm AI Express were taken by the parent company to fulfil their dream on the wide body Boeing 777 that flies long-haul routes."
On a major UK carrier a "co-pilot asked if he could take a nap, which the pilot approved. But then the pilot fell asleep too – for about 10 minutes." The auto-pilot kicked in.
At least two pilots who allegedly failed to make instructor grade on the smaller aircraft and were asked to put in a further 200 hours in the air before the next try, were plucked out of Air India Express and given direct command of Air India B777s. According to the litany of complaint by the Directorate General of Civil Aviation (DGCA, India), a failed co-pilot moved up to co-pilot of a B777 and another erratic AI Express aviator who had issues with landing – and chalked up a record six bounces on one occasion – was "taken for a direct command" on an Air India B777.
As a frequent ballpoint pen acquirer I am miffed to say the least. I have not been called upon to serve as a commander on any kind of aircraft. In my youth I even made a bamboo and plastic flying contraption into which I strapped my kid brother for a test flight over Mumbai shortly before launching him off a high ledge in the garden. His glorious but brief, and vertiginously vertical, flight ended in the rose bush below. Yet with some tweaking we could have achieved more bounces. My brother gave up aviation and skedaddled to become a marathoner while I continued to pursue him with inflatable dolls and expensive video equipment.
Then there are all those pilots with fake licences. At last count, in India alone, almost 4,000 pilots were being audited to ensure they had valid certification documents. Not too long ago a Swedish man was arrested at Amsterdam's Schiphol Airport in the cockpit of a Turkey-bound B737 carrying a forged pilot's licence. And the exploits of confidence trickster Frank William Abagnale Jr who posed for a time as a Pan Am pilot and travelled the world – deadhead, or in the spare jump seat – are legend, now immortalised in the movie Catch Me If You Can.
A British Pilots Union (Balpa) survey released in April 2011 found that one in five pilots suffered from "significant" fatigue at least once a week that "compromised" his ability to fly, and the BBC reported pilots were falling asleep in the cockpit too. On a major UK carrier a "co-pilot asked if he could take a nap, which the pilot approved. But then the pilot fell asleep too – for about 10 minutes." The autopilot kicked in and flew the plane. The co-pilot recounted, "When I woke up, it was a big adrenalin rush. The first thing you do obviously is check your height and your speeds and all of your instrumentation." That's right. All by the book. Hurrah.
That particular flight landed safely but without the de rigueur six bounces, the hallmark of a true professional. Now where's my brother run off to...?