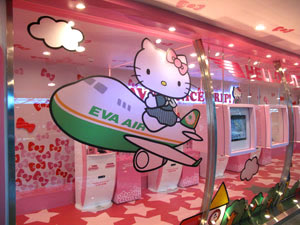 Heavens! A flying cat /photo: Vijay Verghese
CELEBRATING anniversaries is an art. This summer Queen Elizabeth will throw open her Buckingham retreat to enable the prols to prowl the palace and gawp at stunning jewels and diadems dating back to her 21st year. Much of this five-carat heft was borrowed from India in the days when colonial notions of laissez-faire meant the bling went to Blighty, and cricket – a laboured five-day sport – to Calcutta. While London revels in royal balls and an impending Olympic spectacle, hysterical Indians continue to toss and whack small red leather balls for as long as five days without a result. It builds character.
Throwing open palaces to the public is how diamond jubilees are done. It is the way of royalty to impress the multitude at regular intervals. As Smart Travel Asia entered its 10th year of online publishing I had an epiphany. Why not arrange an "open house" for royalty at my humble home in Hong Kong, a shoebox by any other name, and charge visitors a fancy sum to gain remarkable insights into how the oppressed and impoverished live?
Send us your Feedback / Letter to the Editor
The jewels in my crown could include rare glimpses of mouldy broccoli in my fridge that is about to mutate into an intelligent life form, my son's remarkable unmade bed that reverts to its rumpled state no matter how much starch and stretch is lavished upon the linen and, perhaps, my deshabille self, staggering about in sagging Marks & Spencer underwear attempting to make scrambled eggs. A solid average benchmark, no less, for royalty, politicians and sociologists alike.
We could have celebrated our 10th anniversary with a luxury cruise but ships these days that sail upright are hard to find. The more stylish option seems to be flipping sideways and gracefully sinking after hitting a large rock, in much the fashion of the Titanic (15 April is the 100th anniversary of its demise). Grand as that all sounds, sinking gracefully to the bottom of the ocean accompanied by a chamber orchestra, makes catching your return flight a tad harder, especially if you want to enjoy the whole performance. Costa Concordia makes a robust case that underlines the little understood fact that iron is heavier than water.
In the end we decided upon our tried and tested old-fashioned Faces of Asia Lucky Draw. It features nine splendid properties around the region, each offering three free nights to one lucky winner. All readers are welcome to enter the contest that runs through April. The winners shall be informed in May. My home of course remains open to all comers, particularly those that enjoy conversing with articulate vegetables.
We could have done a luxury cruise but ships these days that sail upright are hard to find. The more stylish option seems to be flipping sideways and gracefully sinking...
Ah, the art of celebration. And what better place to ruminate on this than in a boutique address that describes itself as "a premier 5-star hotel vibrating in the heart of Taipei"? Perhaps the earth would finally move for me. I eyed the soaring wood-panel walls, sink-in Edwardian furniture, faux-Swiss castle decor and guests dressed as if for Halloween, and stepped stoically into the Gothic gloom. Later, in Beitou, the hot springs escape a half hour from the city, I visited a modern Japanese-style hotel and scanned its elaborate brochure. "Several decades of hot spring pool, compose adult well-being of thick art paper space," it read. In Taiwan, people just tell it like it is – with a little help from Google Translate.
How are others marking their landmark moments? EVA Air, the feisty Taiwanese second carrier, is celebrating its 20th year with the colourful assistance of the popular Japanese kiddie character, Hello Kitty, who is emblazoned across the fuselage of three new A330-300s. These planes certainly look different from your normal stiff-necked business aircraft and heads will spin further at the all-pink Hello Kitty check-in kiosks at Taoyuan International Airport. On these flights to Hong Kong, Seoul, Tokyo, Fukuoka, Sapporo and Guam, expect Hello Kitty souvenirs, pink-aproned stewardesses, special pink play areas, and boarding gates all festooned with the unblinking gaze of that famous cat. There is no sign of Dear Daniel, Hello Kitty's childhood companion and fellow poster boy.
Celebrating its 10th year, budget airline AirAsia has rolled out its SkyRider Club, a frequent flyer programme for under-14s. Rewards include a member's kit with SkyRider passport, AirAsia knick-knacks, priority boarding at some airports, and 10 percent discounts on select hotel deals (where we imagine a mite-size bed awaits with a free king-size bed for accompanied parents).
Perks we feel that might galvanise young flyers more effectively could include tossing pesky parents out of airplanes 30,000ft aloft after they've asked a stupid question like, "DO YOU WANT A SMACK?" to which the only correct response is, "Er, not right now, perhaps 20 years later when I'm a six-foot 100kg brute." As a kid, whenever I was asked this question, one of the first of many imponderables in life, I politely demurred.
This is why, as adults, people cannot give a straight response to queries like, "Do you love me?" Far easier to switch to the football channel in oafish silence, or to watch cricket, for five days. Thank you England.